URBAN PI
This used to be Pasta Pronto. Home of THE BEST mango pie dessert my family and I have EVER had.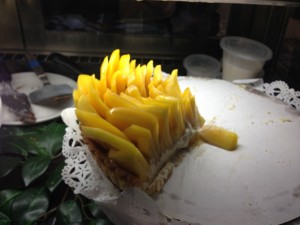 My family absolutely adores this pie. It's not your average apple pie with gooey fruit filling. Instead, it's freshly sliced mangoes on top of some whipped cream of sort. We've been buying this dessert for many years now and sis was recently (well, during Christmas 2012) devastated when she heard Pasta Pronto was out (and re-conceptualized?) but that their pie would still be served at Urban Plates in Del Mar (hence our question : are the two related b/c their prices are pretty comparable and the theme about the same?).
So CDJ and I ventured here after our visit to the Whole Foods Del Mar grand opening.
The place wasn't busy. And there was a very 'quiet' uncomfortable feel about it. I joked to CDJ that this would be a *great* place to take a first date b/c it would make the meeting even more awesomely awkward.
It's Subway (sandwich) style ordering. You go up to guy who asks what you want. The Urban Pi  menu is located on the wall when you order. None of their specialty pizzas or salads are more than $7.50. So that in itself is pretty amazing – especially in this neck of the woods (RSF/Del Mar).
Friend chose this: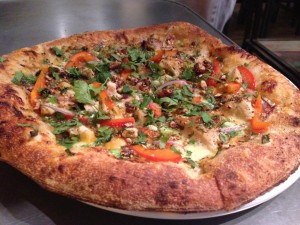 Thai Pi : $7.5
– organic cheese blend, Thai peanut ginger sauce, roasted chicken, bell peppers, marinated onions, chopped green onions, roasted peanuts, cilantro, roasted garlic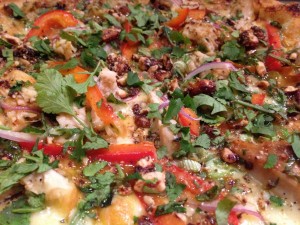 This wasn't bad. It literally tasted like a Thai chicken pad thai (minus the noodles) served on top of a pizza crust. It was ok. Better than I expected.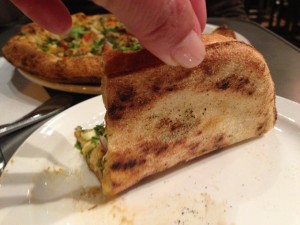 Not great but what can you expect for $7.50. I personally wished that the crust was crispier. There was a decent chew to the outer portion of the crust but CDJ didn't like it very much.
Ordering is a bit odd. You order the pizza. Then you stop at cash register 1 and cashier asks you if you want a drink/dessert/salad. Then I'm not sure if she punches something into register b/c you then move on to salad / dessert section. I asked  'Do we need to pay NOW and then pay a SECOND time if we order salad/dessert/drink' . She said nope.
Salad options didn't look appealing to us that night. Look at the gallery below for more pics.
We didn't order the mango pie that I was so happy to see still there. Instead, CDJ let me choose whatever dessert I wanted. Take a gander at this: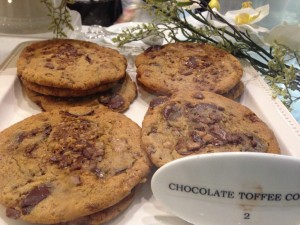 This CALLED out to me. It sang a sweet, customized lullaby to me and me alone. I was instantly mesmerized …b/c….well…just look at it man.
I was so full from a late lunch so I wasn't even hungry. But the few bites I managed of this cookie was heavenly.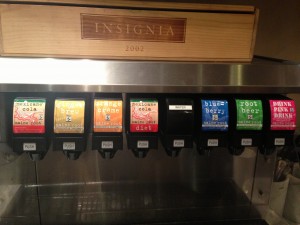 – Organic sweetened (fair trade) soda –
Cola, Diet Cola, Mandarin Orange, Root Beer,
Pink Cactus,Blueberry, Ginger Brew
CDJ doesn't normally care about soda. He just HAS to have some sort of soda during dinner. So he took his glass up there and started studying the options. I insisted that he try a few of the flavors so I can get an idea of their taste/flavor/etc (and also of this 'organic fair trade soda' bruhaha going around). He came back and didn't say anything after filling his glass. I asked him what's up. He just took a bite of pizza and said ' THAT was THE worst ginger beer soda I have EVER had' and proceeded to eat more pizza. The thing I love about CDJ is that he complains just once. That's it. He doesn't lament about it. As for me, you'd probably still be hearing about the ginger beer/brew up to the very end of this post.
Would I come back? I think so. You cannot beat the price. And I think this would be a fun place to take little ones or maybe have a quick meal w/ a friend. But I was observing the customers that night and everyone seemed very quiet. No laughter or boisterous conversations. Again , perfect for a first date.