I had to go to National City for some work related stuff and I remember seeing this Filipino strip mall that I've never visited. I don't usually eat Filipino food b/c I honestly have no idea what to order or what to eat. It's not something that I've grown up eating (i.e. if friends wanted to meet up, it was usually 'hey, let's meet for Chinese/Japanese/Vietnamese food'). So I was excited when I had about 30 minutes to explore what was in this mall. My office mate VN was with me and she was excited too. After getting my iced coffee from Starbucks (ahem…how ironic no…big ol' Starbucks in an ethnic shopping center), we saw Chic-Boy.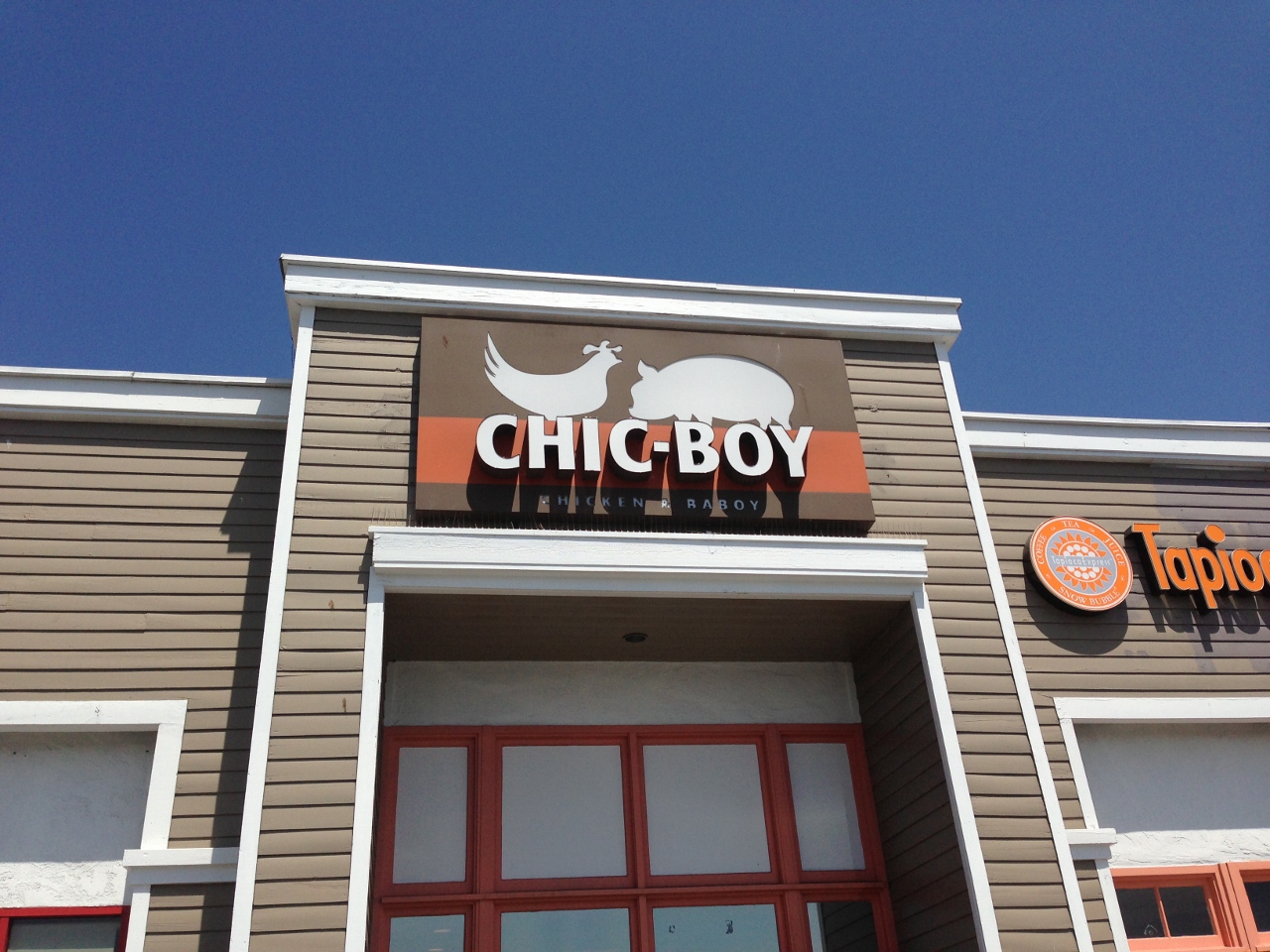 It's a tiny little Filipino take-out place. There were only about 2 tables in there. It reminded me of the fast food section at Sam Woo except 1) not as big ; 2) only girls worked here at  CB; 3) the glass container contained only meats and seafood and 4) really friendly vibe.
Here is their menu: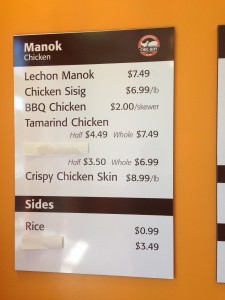 The menu was intimidating b/c I honestly had no clue what some of those items were.
VN and I were quietly observing the girls working there b/c we were too scared to ask questions.
We looked at the heated glass case  and THIS is what totally, utterly, completely caught my eye: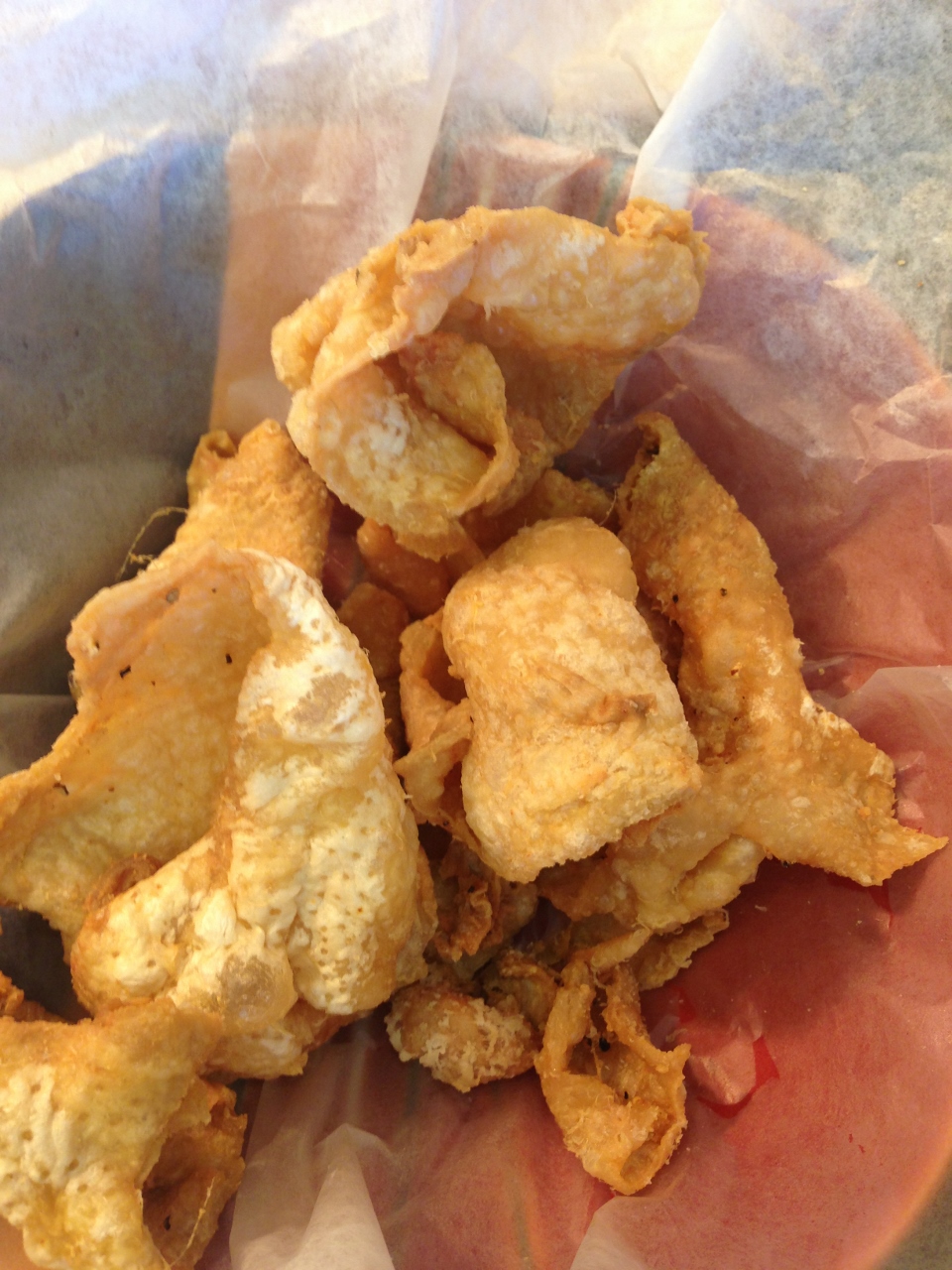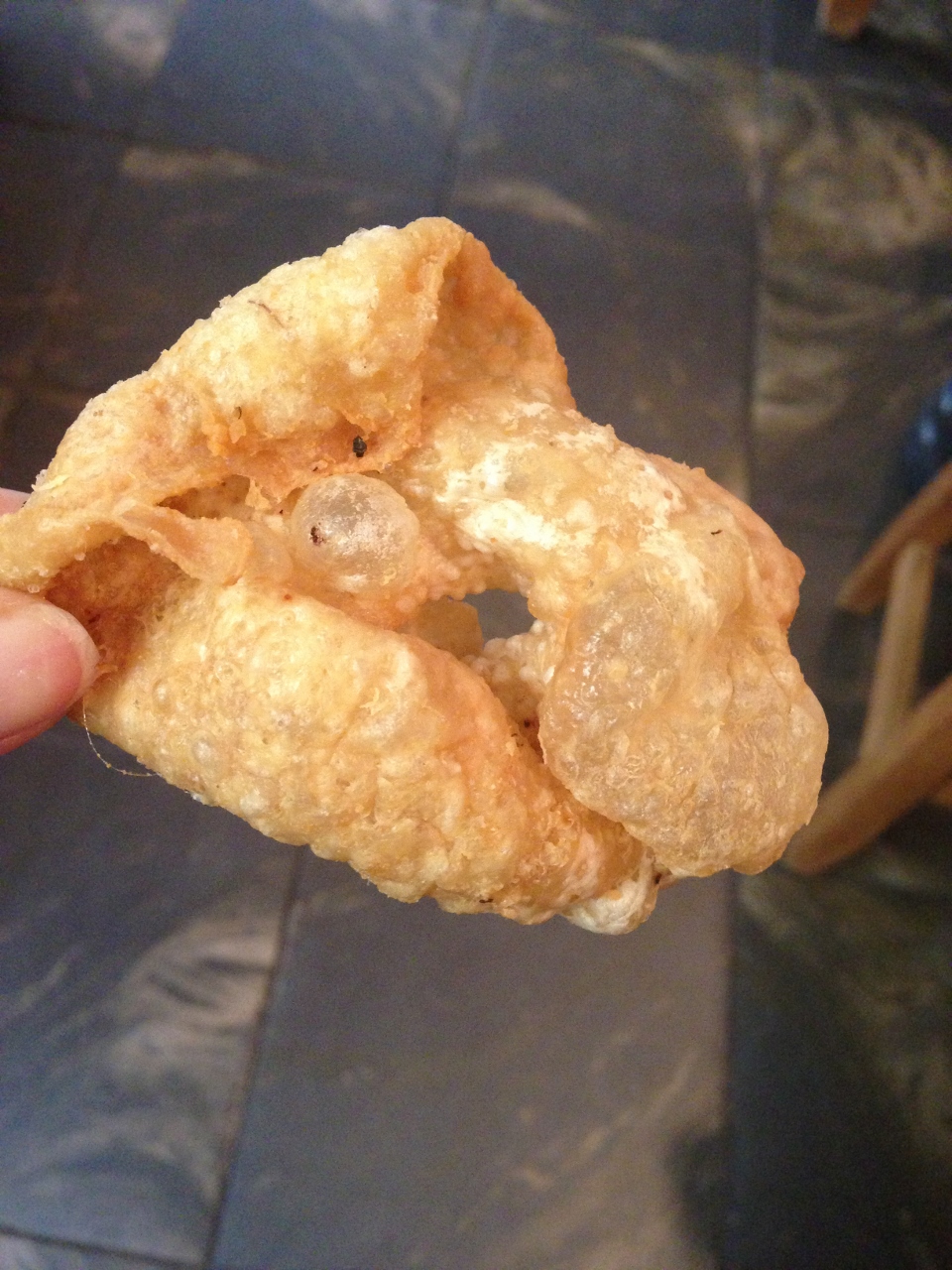 –
– Fried chicken skin $8.99/lb
Are you freakin' kidding me. I literally did a double take b/c I was blissfully shocked. I LOVE fried chicken skin. I held back my excitement as I didn't know how crispy these thing would be. You would think that I would love chicharrones (fried pork skin) but everytime I've tried them, I've hated them. So I was trepedatious to order this.
Jennifer, one of the girls working there, was so nice. She smiled and offered a sample for me to try. I asked how long they stay crispy and she said about a week.
And my goodness, were they crispy. Crackling good crispy. I wish they had more seasoning on them but I was quite happy to have finally found a place that sells these things. I've tried many times to fry chicken skin at home and it's such a pain. Totally not worth it in my opinion.
Here is what they offer for sale per pound and per skewer piece: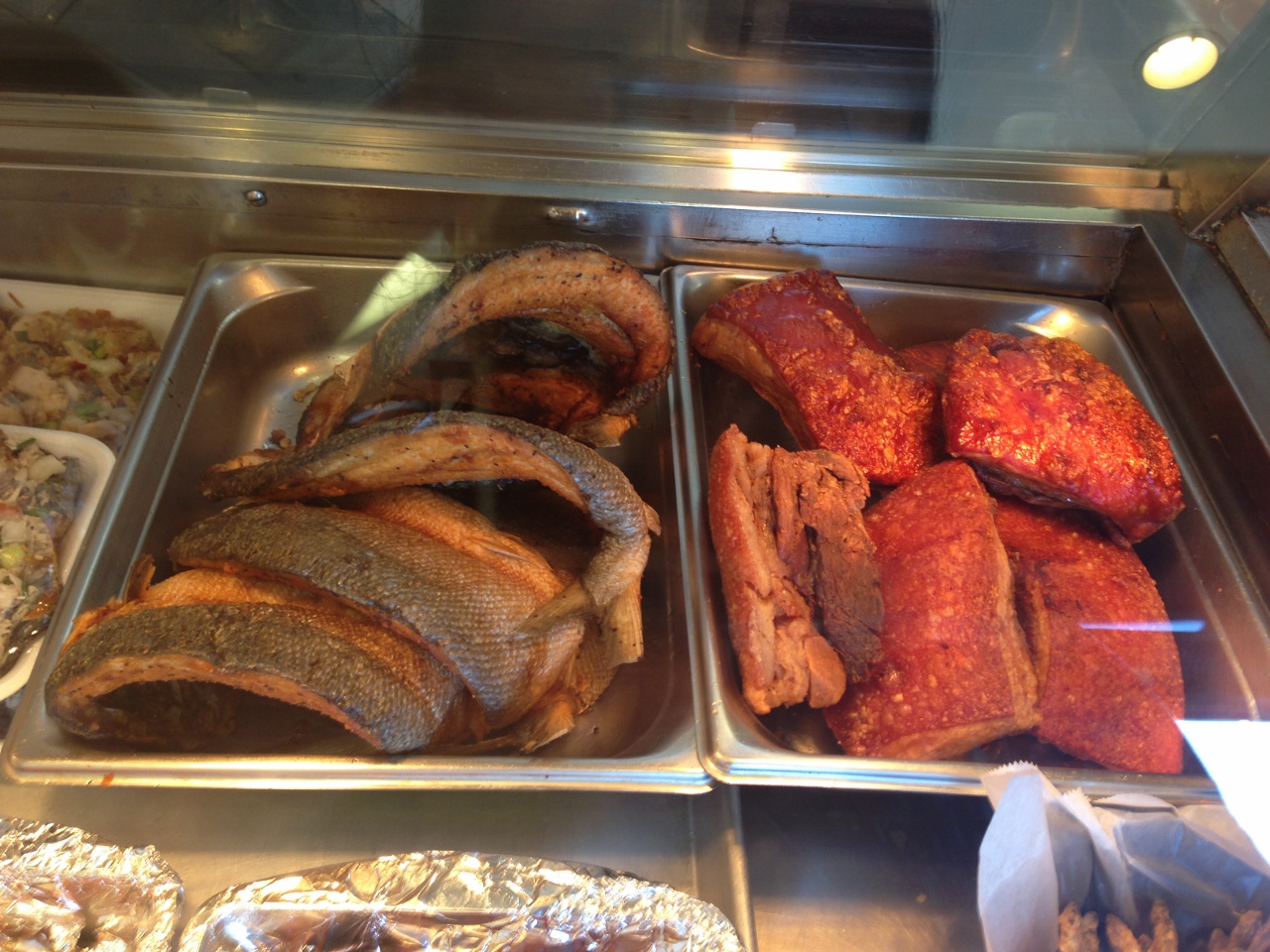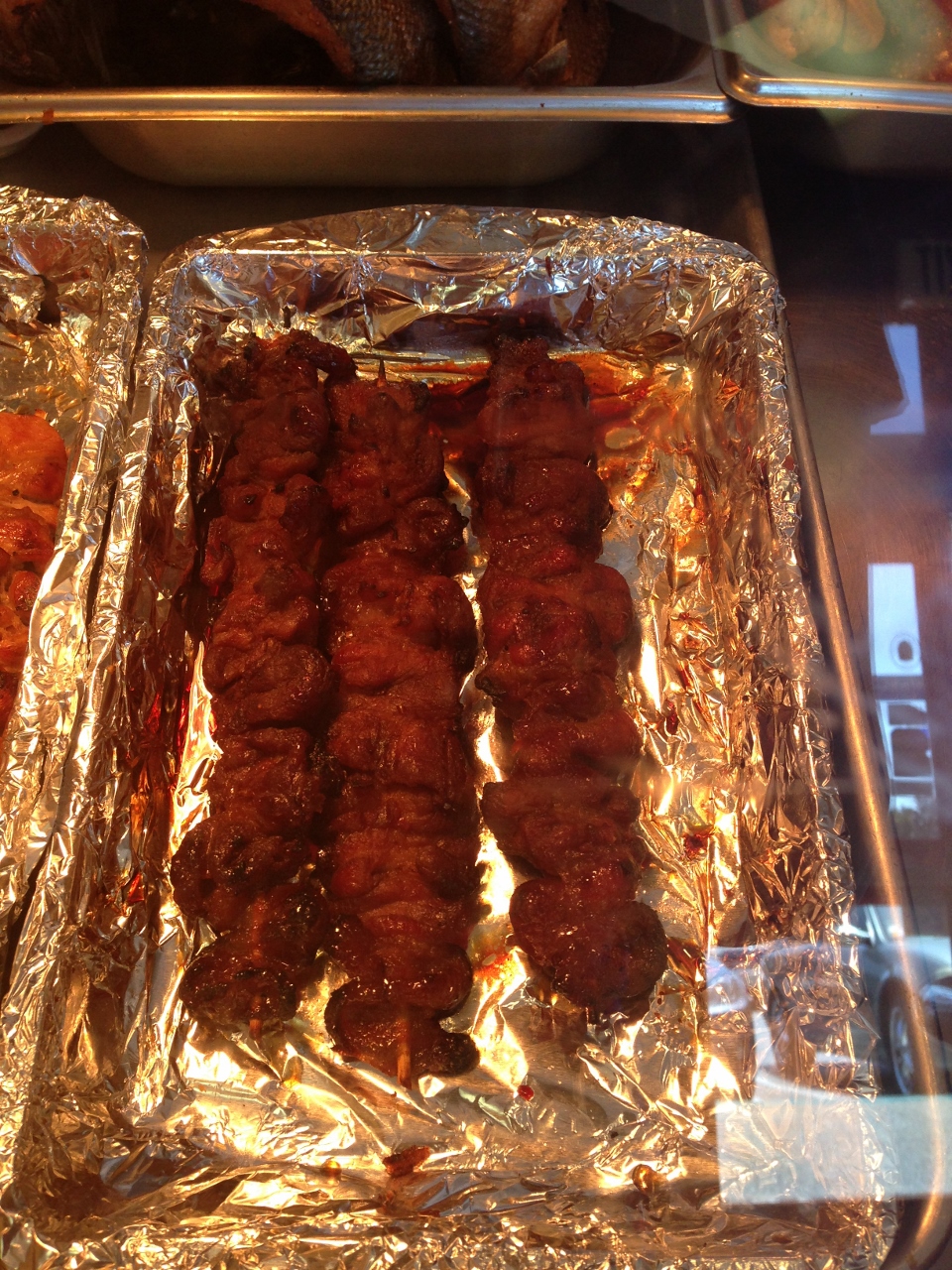 – Fried fish, roast pork, pork skewers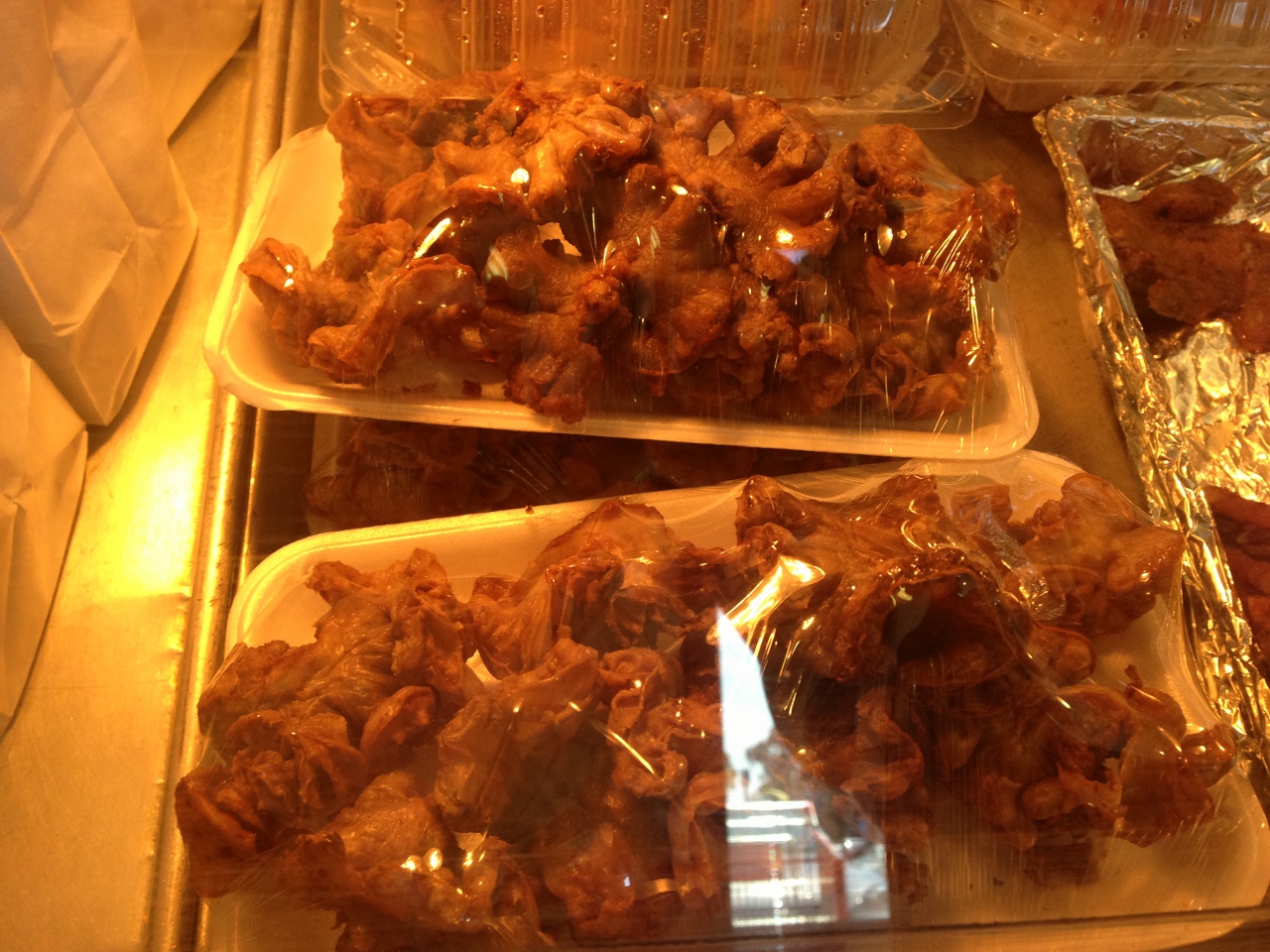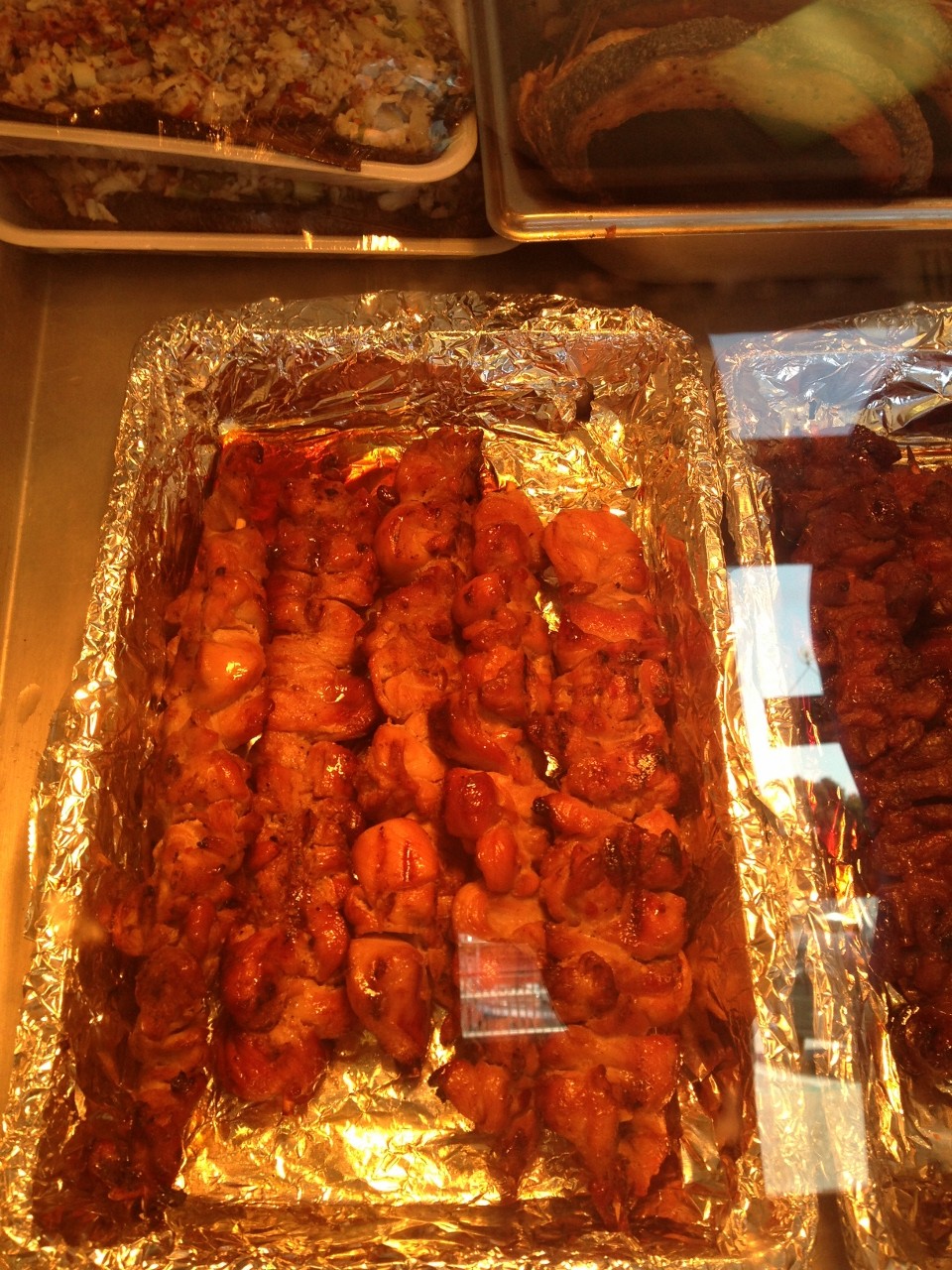 – Pig intestines , chicken skewers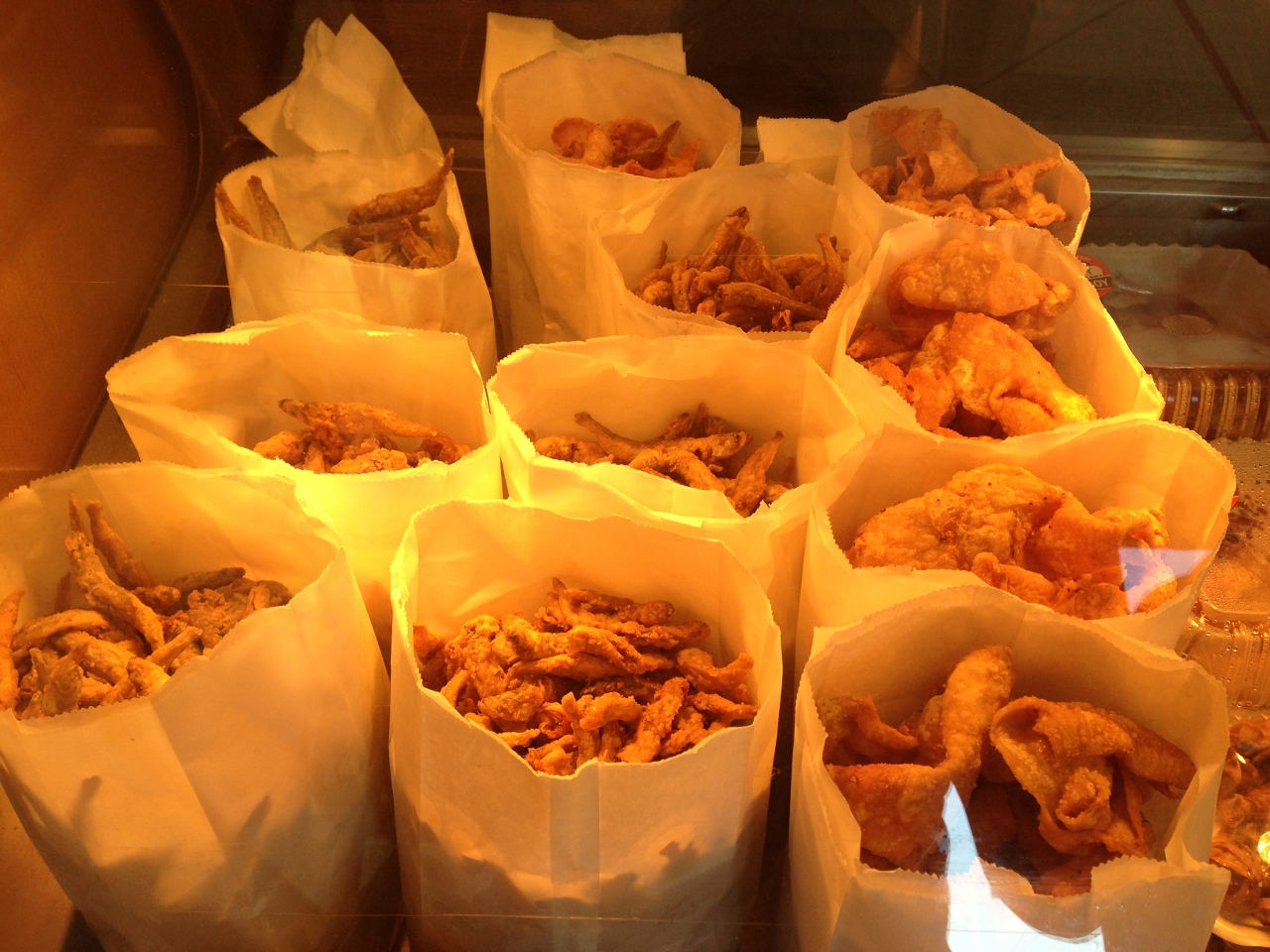 – bags of fried sardines and chicken skin
Jennifer saw us staring at the fried sardines. I haven't seen these sardines battered and fried like this before. Jennifer gave me a sample to try: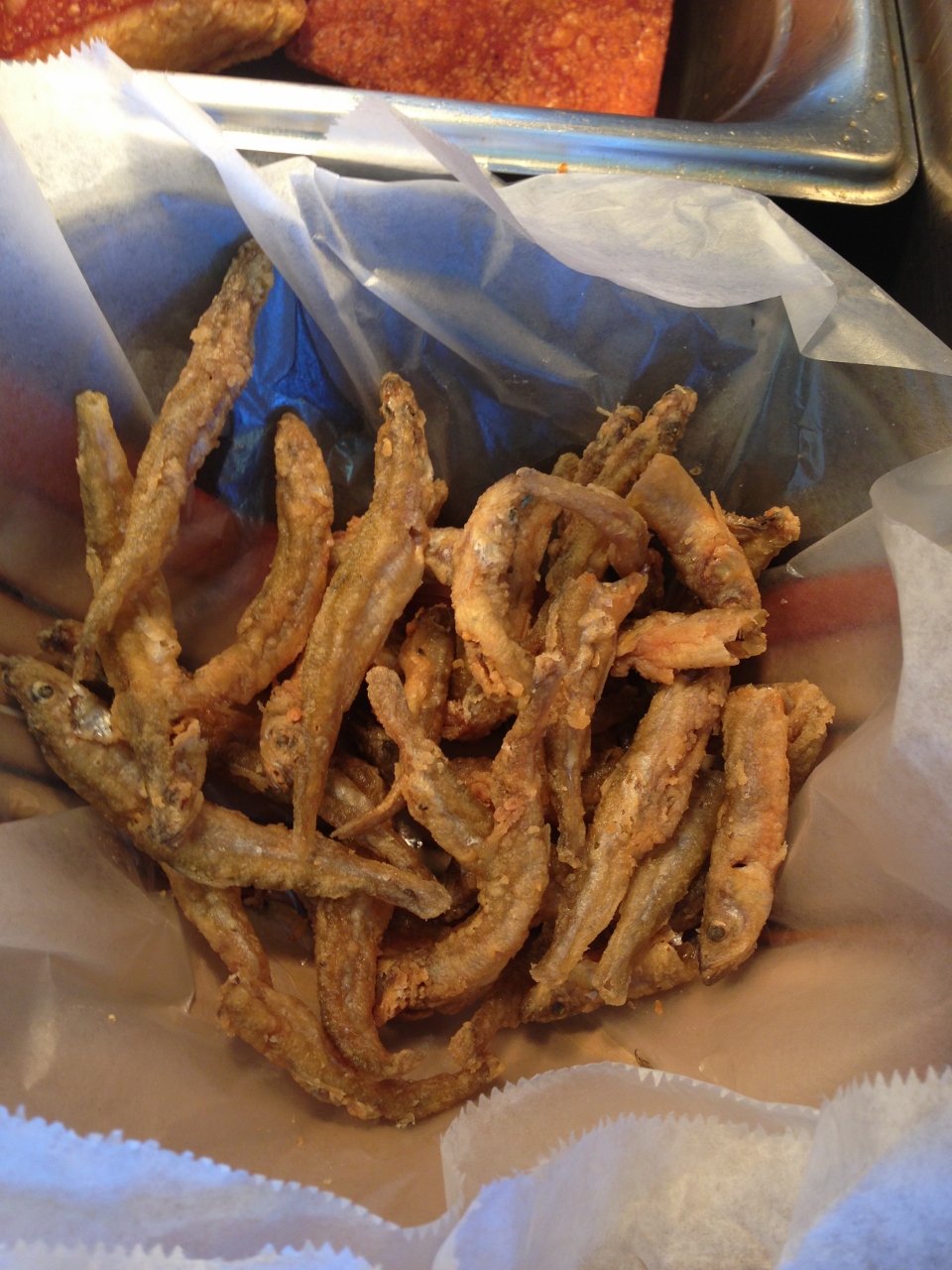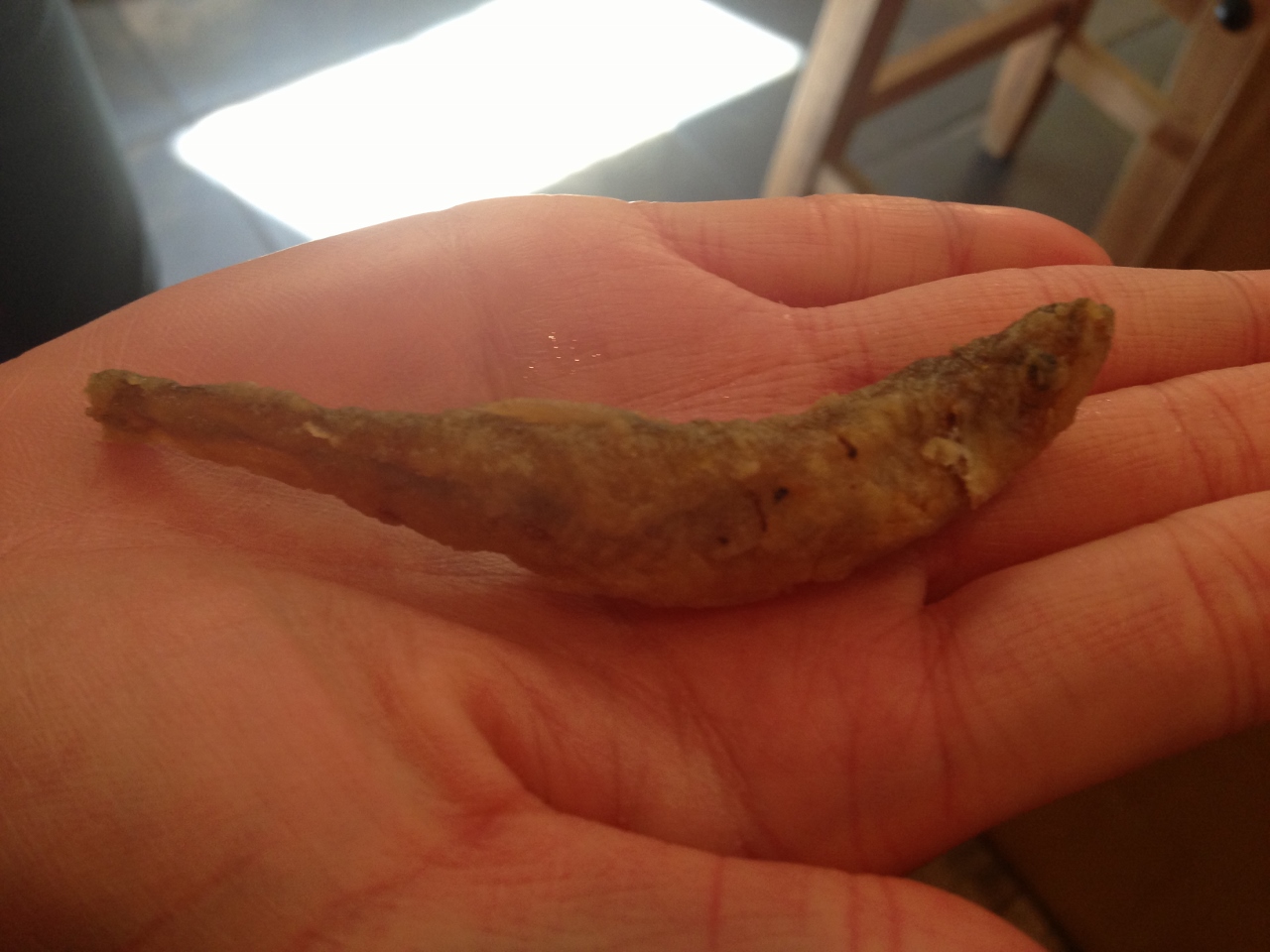 –
– Crispy Dilis $8.99/lb 
VN bought some to take home and the photo on the right is her holding a sardine for me to snap a pic. That one had a big ol' belly.
Did I like it? Not really. It was fried nicely. Super crispy. But it had a very fishy taste to it. Jennifer noticed my facial reaction and she said 'hey, we make a fried sweet version of that one'. And she promptly got me a sample. It was fried just as nicely and it did taste sugary sweet BUT it still tasted fishy to me (not that the fish was old or not fresh – just that sardines in general are pretty fishy to the smell and taste I believe).
I've had lechon in the past. It makes me think of Sam Woo's roast pork except that almost every version I've tried of lechon has been dry. AND the skin was never crispy. Jennifer said that they have two versions here – 1) fried (Lechon Kawali) and 2) roasted (Lechon Liempo). She recommended the roast pork as she felt I would prefer that type of pork skin over the fried version.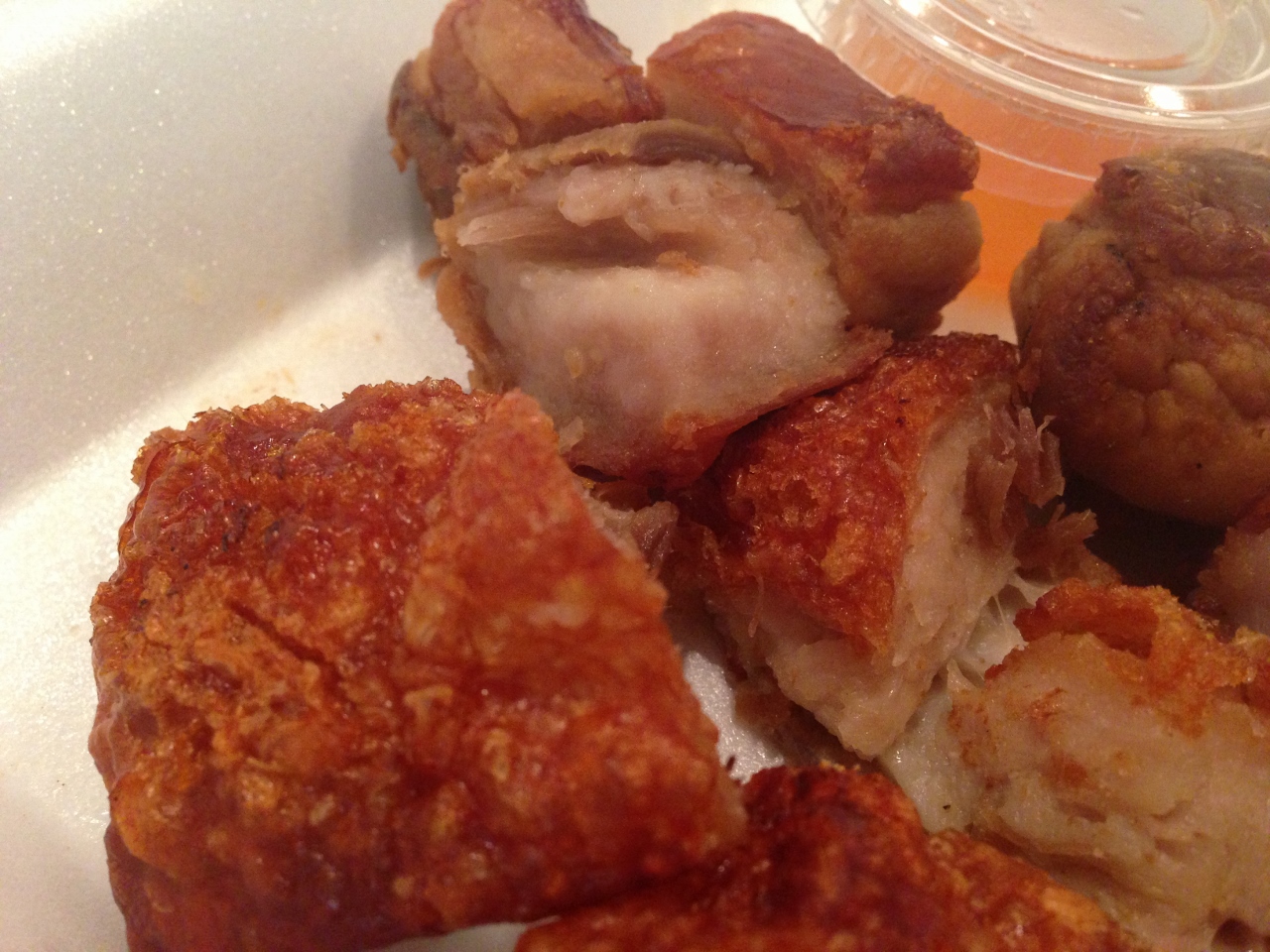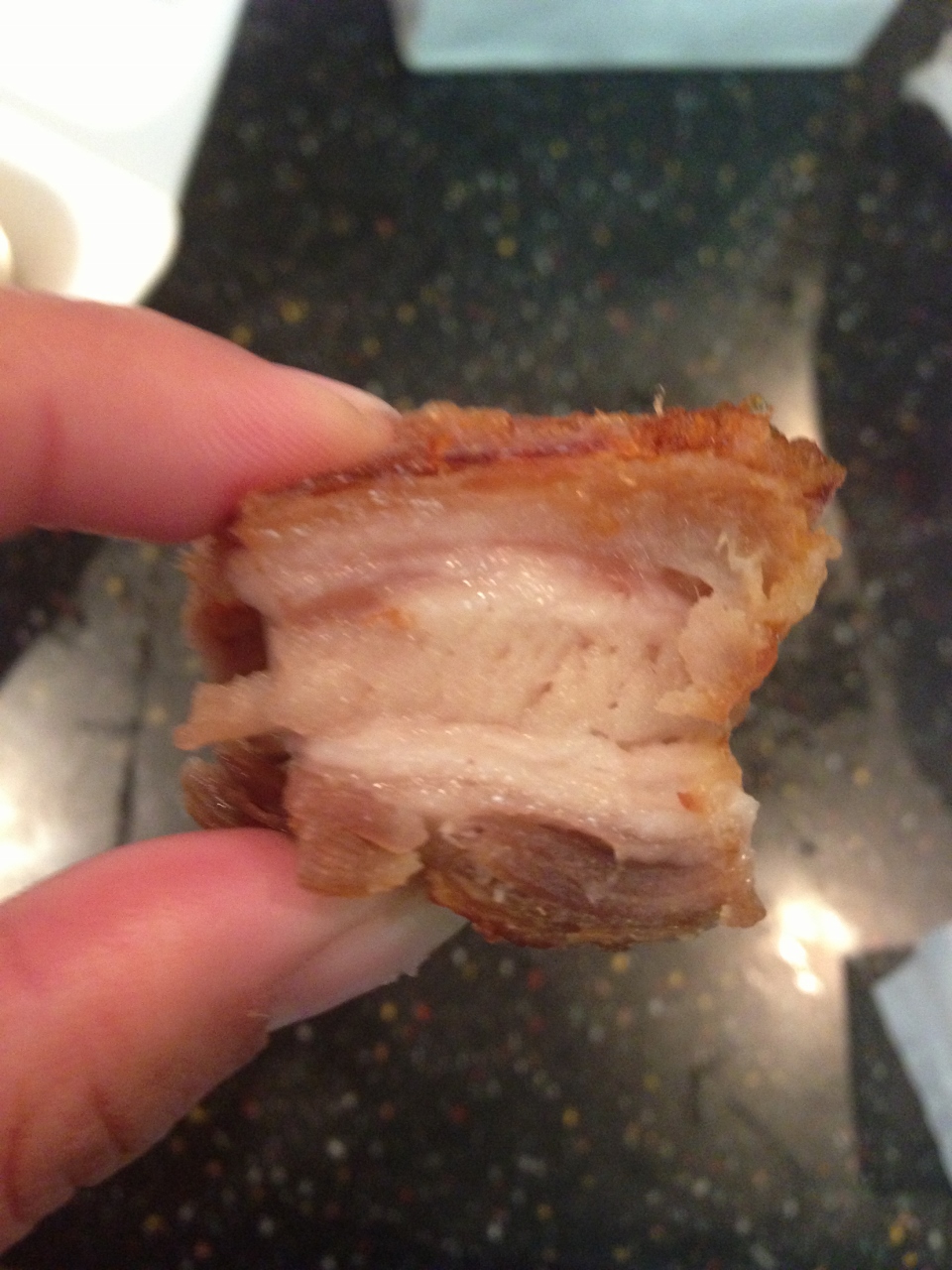 –
– Lechon Liempo $8.99/lb
Folks, this is the real deal. This was even better than stupid Sam Woo who's roast pork tends to be dry and skin not crispy (and let's not forget the horrible service you get at SW fast food section). The pork skin at Chic-Boy was crispy and stayed crispy until the evening we ate it. If you're scared of fat, oh well. You can easily separate the fat from the meat and skin though. You can see that some of the meat pieces were darker than others – I feared those pieces would be dry but surprisingly, it wasn't.
And you know what else makes them stand apart from other places (yeah I'm talking about you Sam Woo)…they offer you plenty of dipping/side sauce. They don't just give you one itsy bitsy container of sauce.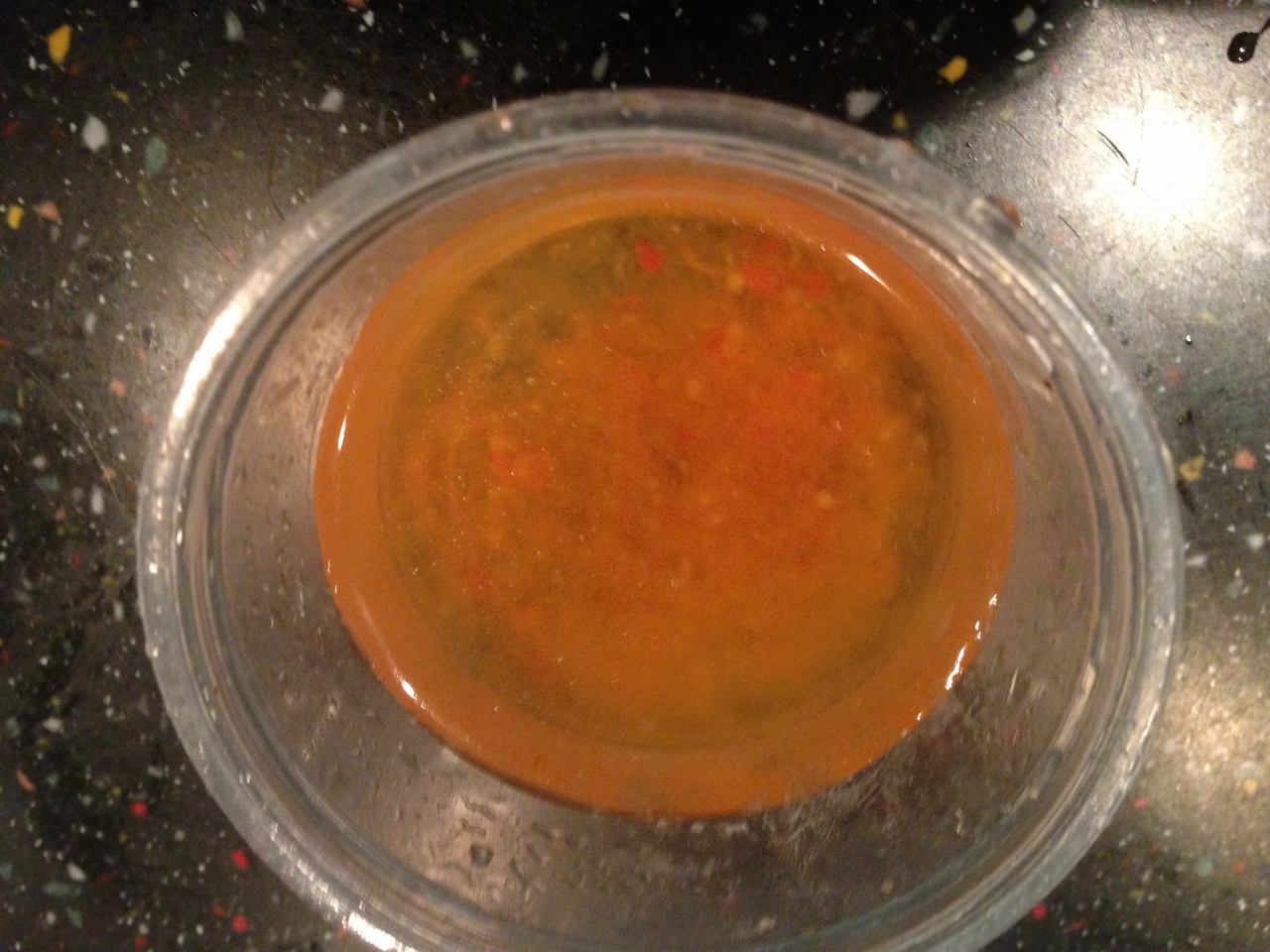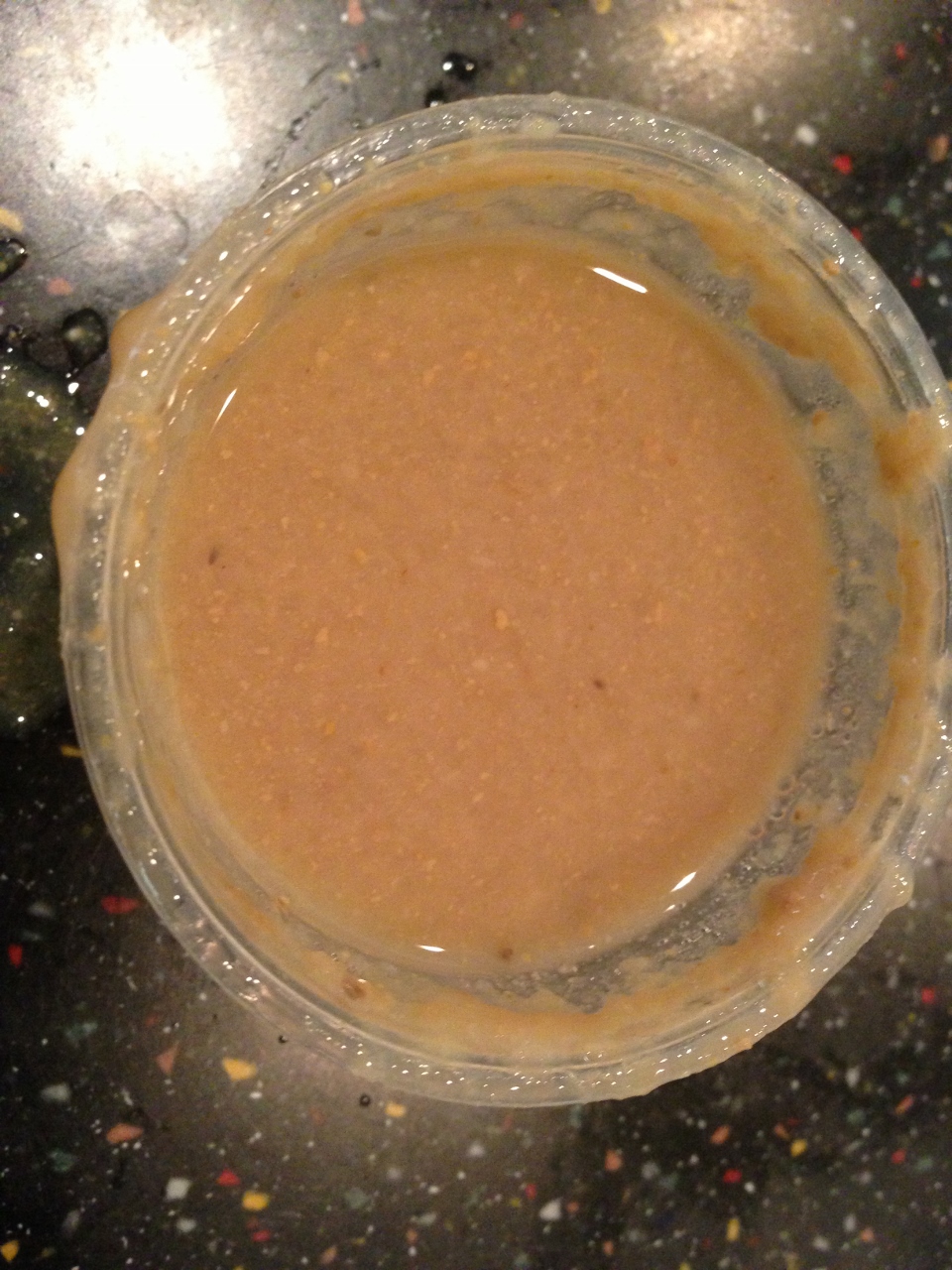 –
– left: vinegar sauce; right: liver sauce
The vinegar sauce was amazing. Really tart and flavorful. I think Jen makes it there. herself. I haven't tried the liver sauce yet because well, it's liver. But it didn't smell like liver. I just walked over to kitchen to try the liver sauce and yeah, there's a hint of liver but it's also a bit sweet. Not bad but I personally can't get over liver.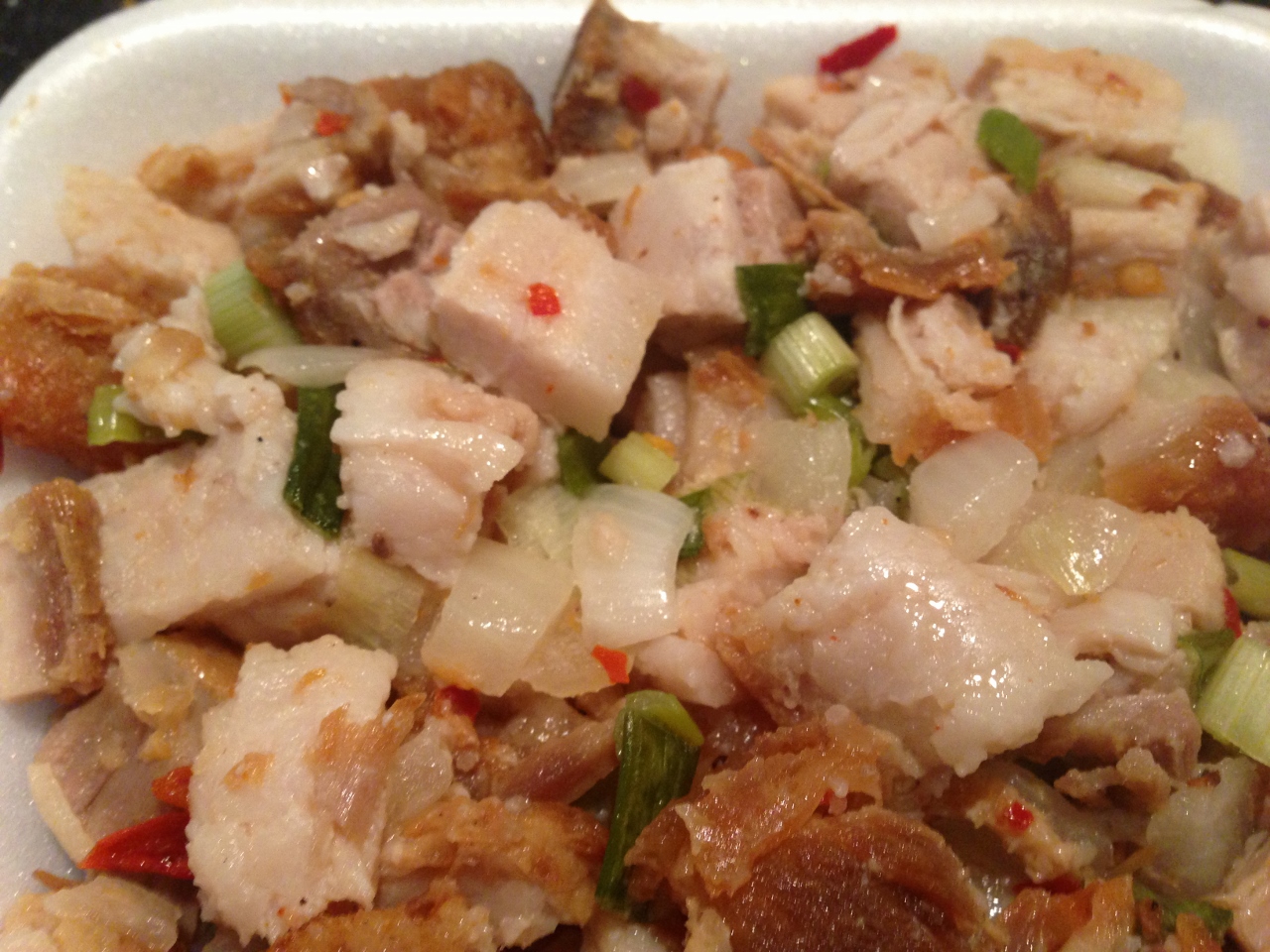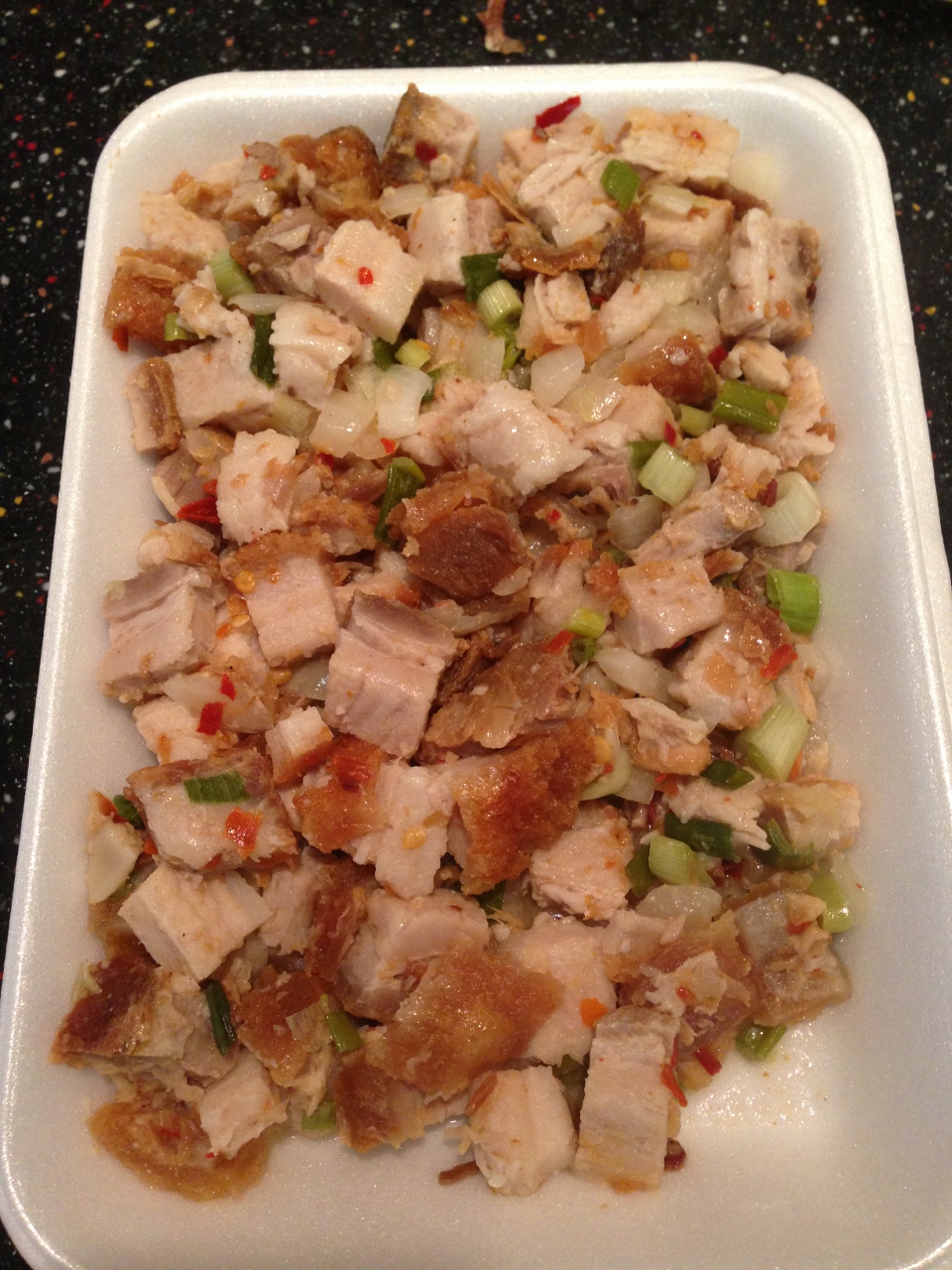 –  Pork sisig $6.99/lb
This is the roast pork cut into pieces and marinated in lime, green onion, spices and onions. The pork skin obviously will not be crispy b/c of the lime. I bought a small portion to try it for dinner that night. And you know what, it was pretty good. The pork was tender. It had a wonderful smell and taste to it. Almost refreshing I want to say. The only problem here is the pork fat – once you refrigerate it, the fat gets hard and cold. So I guess you have  to heat this dish up somehow. Jen said that alot of people buy their pork sisig and use it in their tacos – perhaps this might be the answer to my quest to find the most awesome tacos al pastor.  Brilliant.
Overall, I really enjoyed the food. The lechon still tasted great the next morning . And my bag of fried chicken skin is still crispy. I would come back again and also possibly use them to cater a dinner party as well. I'm patting myself on the back for finally writing my first post about Filipino food. It wasn't as hard as I thought it would be 🙂
2220 E Plaza Blvd
Ste T
(between Grove St & 12th St)
National City, CA 91950
(619) 472-2449