Note to self: Have I become that blogger that finds really cheap deals b/c *I* myself am cheap OR because I'm just always stumbling across great deals ? Or both? 
I find it funny b/c one of my best friend (who I nicknamed Peanut) recently went to The French Laundry in San Fran and had an amazing dinner. She texted me the following:
Peanut: Dude, I just had THE most amazing dinner
Me: how much
Peanut: how much what
me: please. How much did it cost
Peanut: I don't want to tell you
me: just TELL me
Peanut: well. It cost more than a Burberry trench coat
me: WTFFFFFF!!! ARE YOU KIDDIN ME!! ARE YOU CRAZY!!! WHAAAAAT???!!!
I've written a post on Pearl Chinese Cuisine for their dinner specials but haven't done one for their dim sum. Sis and I like coming here for DS b/c 1) it's something other than convoy ; 2) a nice sized restaurant (meaning shorter wait times on busy days); 3) there's a lake with ducks in the  background and 4) they have Dim Sum specials
They have a fun $2.85 price for ANY small/medium/large dim sum dish. The small normally goes for $2.85, medium $3.95, and large $4.35. So it's a decent deal. It's only offered Tues/Thurs/Fri from 11a-3pm.
Sis, her kiddies, V, and I went on Fri for an early lunch. At 11:30a, the restaurant wasn't too packed. We've gotten to know a few of the servers over the years and we kinda look forward to saying hello to them.
Not sure if we visited on a good day but almost all the items we ordered were incredibly hot and fresh. Everything we ordered was either a S/M/L so that we could take advantage of the $2.85 special (I'll post the menu at the end of this post).
( NOTE: best plan of action to take advantage of this deal is to look over the Large items and order as many items as you can from that list. AND, also get a table by the kitchen where the dim sum carts come out so you can ensure getting first dibs on fresh items ) 🙂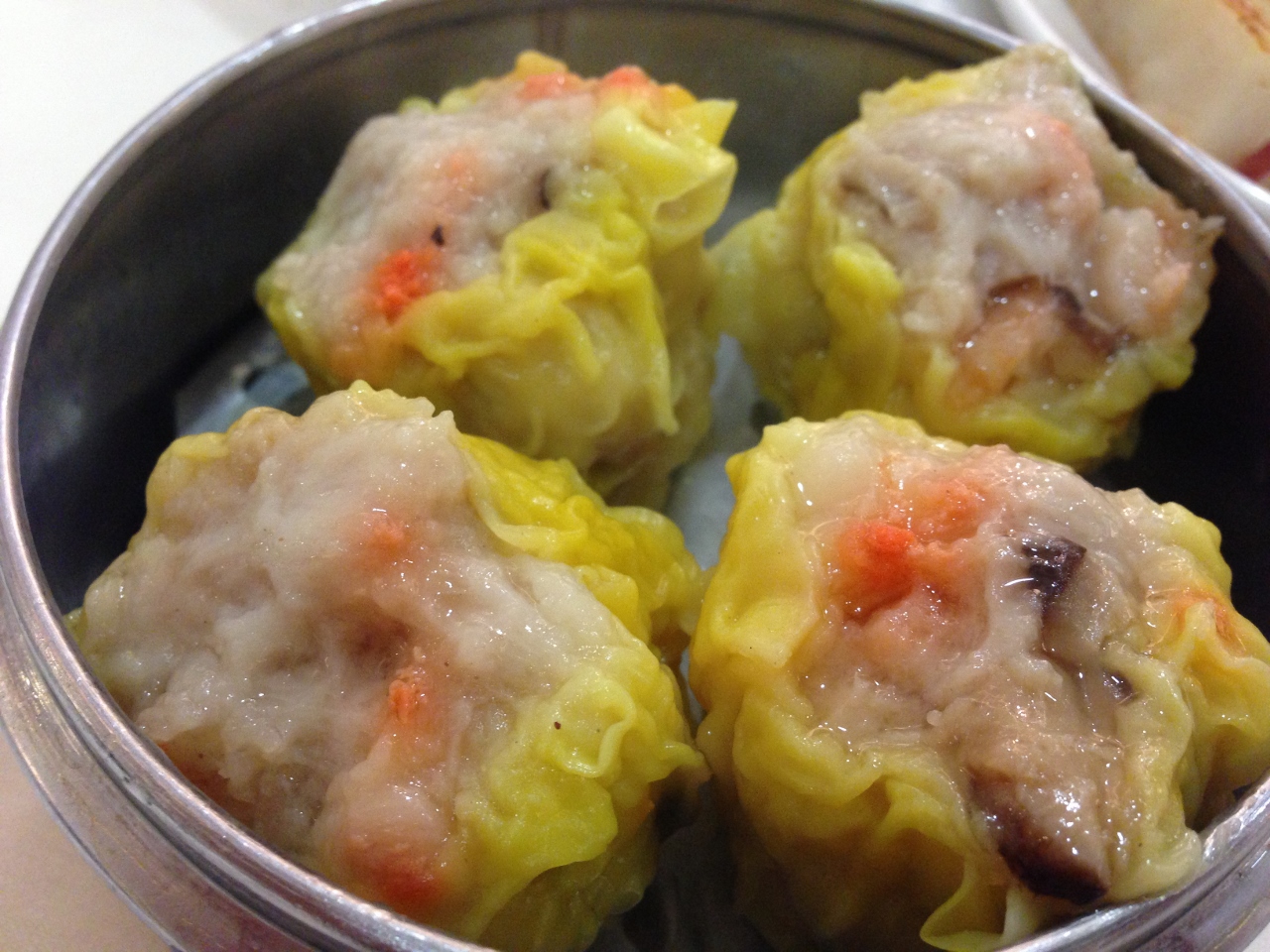 – Pork Shiu Mai $3.95
This is one of my favorites here at Pearl. The pork is so juicy and when the shiu mai comes outs piping hot, this dish couldn't be more delicious. I didn't realize until now that this is considered a Medium DS item – always thought it was a Small for some reason.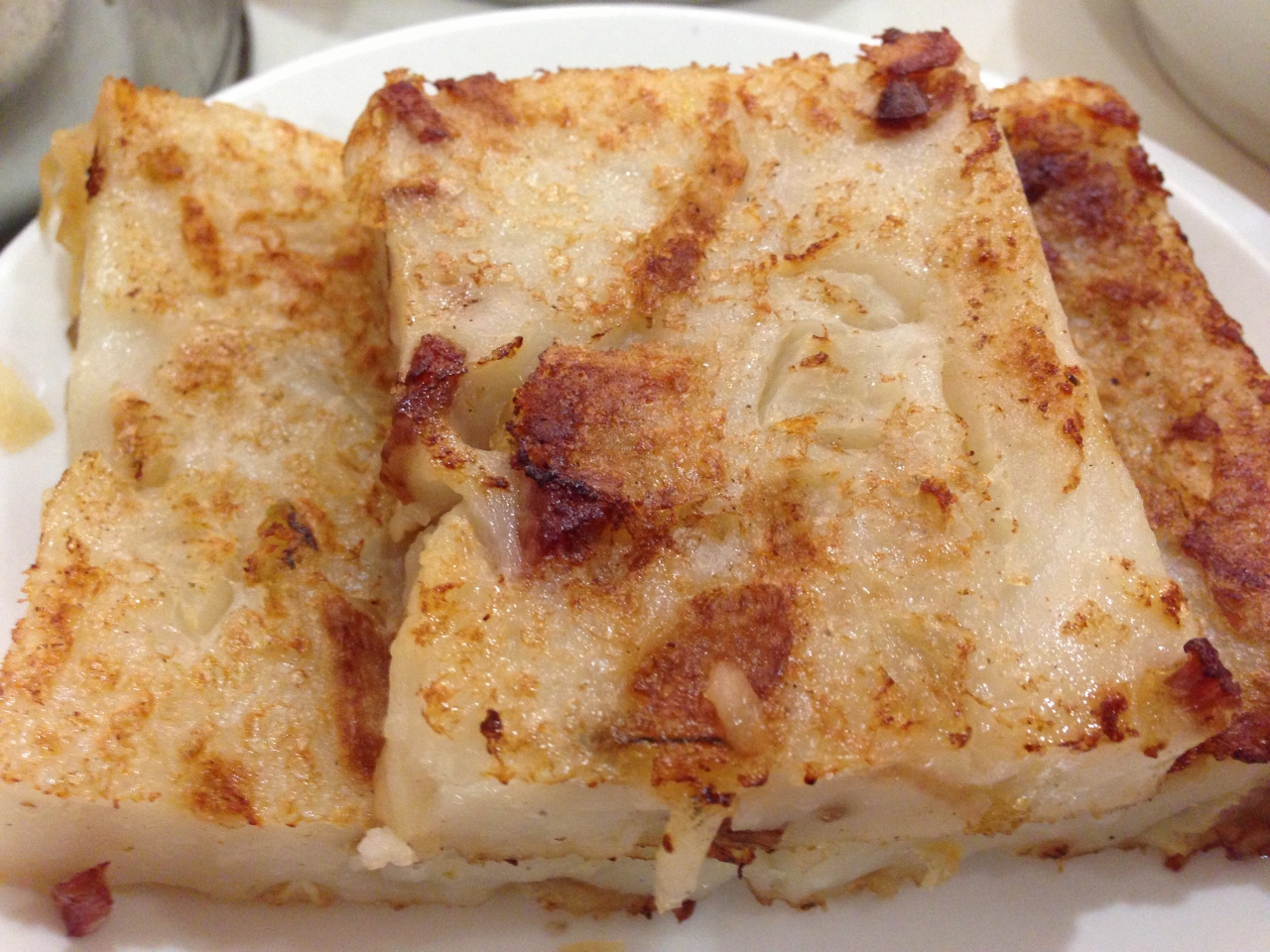 – Pan fried turnip cake $3.95
Three decent sized portions that are pan fried. This dish is really really good when it's served hot but sometimes it can taste lukewarm and 'meh'. You can taste the chinese sausage as well as the dried shrimp that's mixed into this dish. They have a great chili oil/paste concoction that I'm obsessed with. So make sure to ask more for more of that chili when you first sit down (I forgot to take pic of this chili – dang it)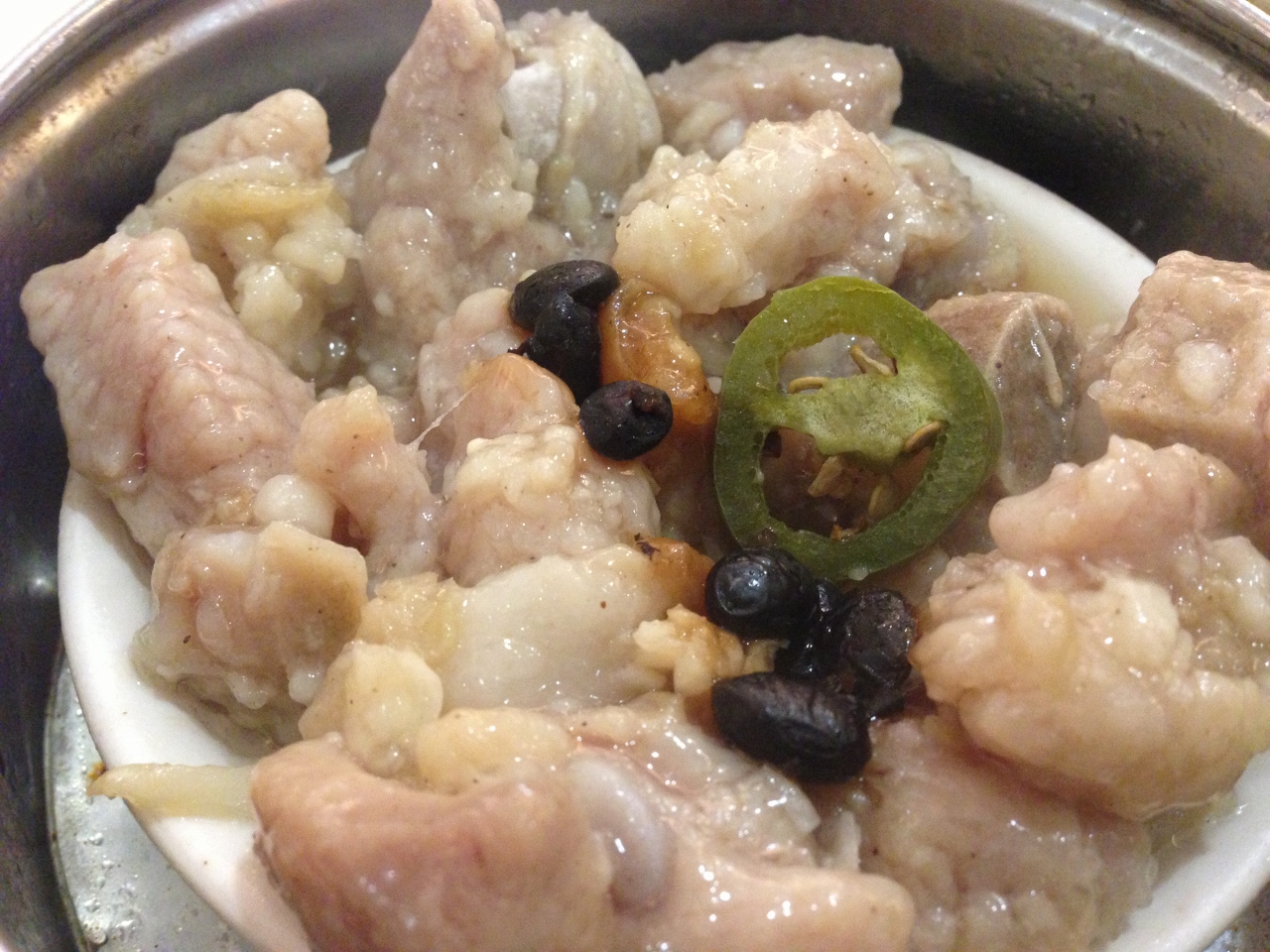 – Steamed spareribs in black bean sauce $2.85
This is another favorite of ours. Again, if it comes out piping hot, this dish is unbeatable. The spareribs are fatty and the meat is easy to chew. And the black bean sauce is so flavorful and oily in this dish.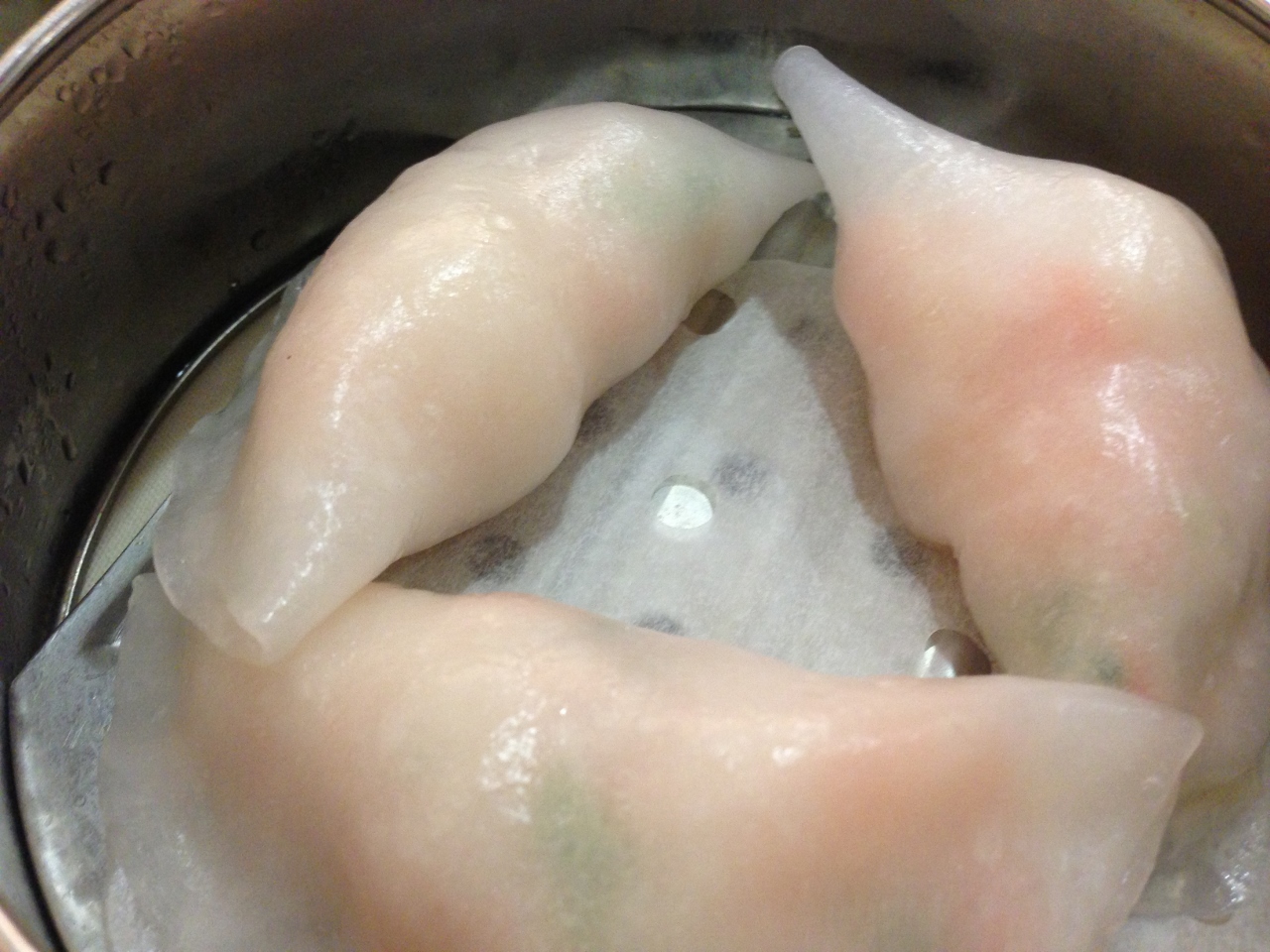 – Shrimp/scallop gow (?) $4.35
I don't remember what this was but it was 'ok'. Nothing special for me here. But most of the seafood dumplings will be Large so keep that in mind.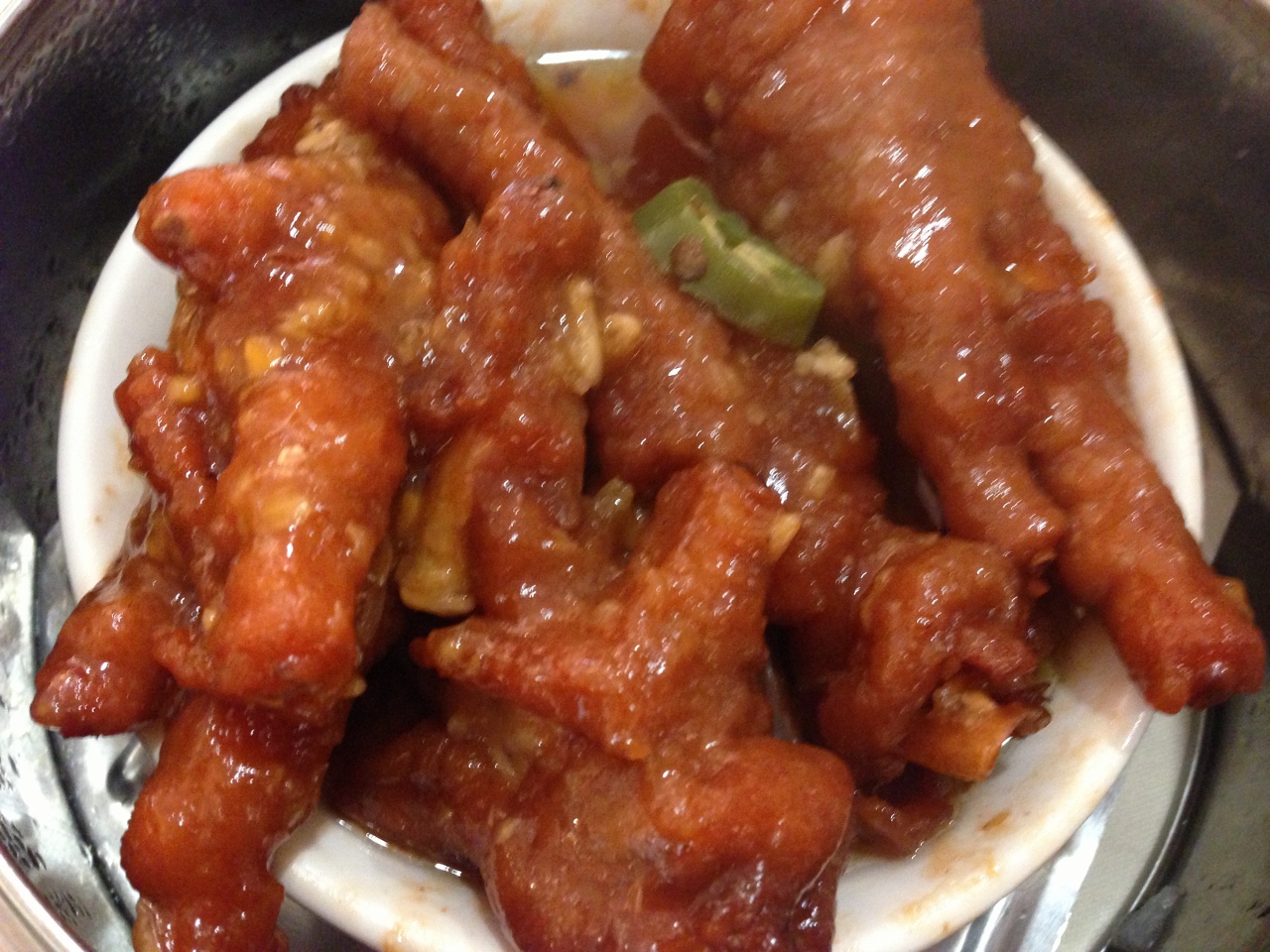 – Steamed chicken feet $2.85
Look how fresh and steamy this looks 🙂 I'm not a huge fan of feet (of any animal or people for that matter) but sis and VN love this dish. The chicken feet is stewed quite nicely and the sticky garlic type sauce is yummy.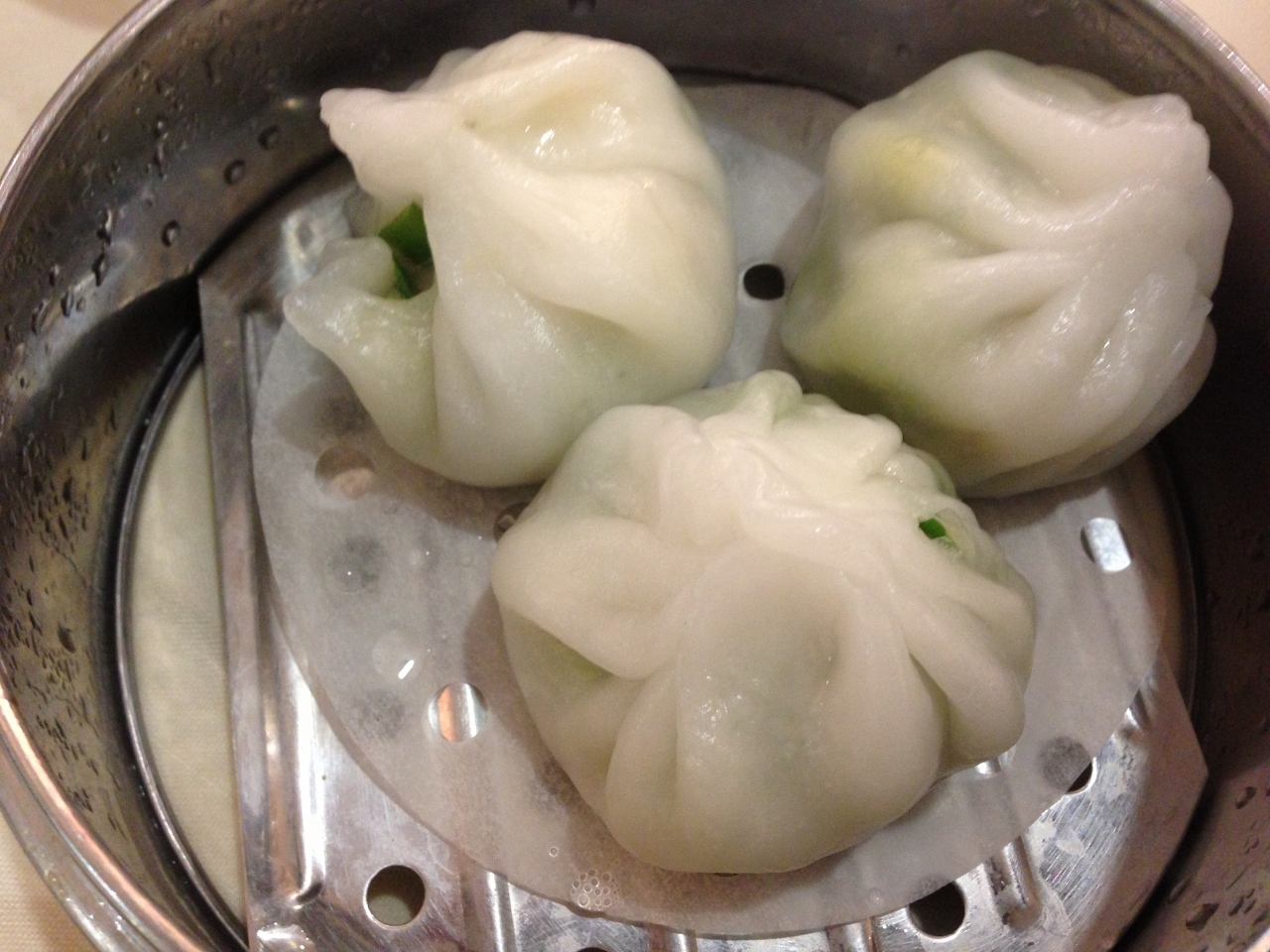 – Seafood gow (?)$4.35
Sis ordered this and it was ok. It has shrimp and baby snow pea leaves stuffed inside.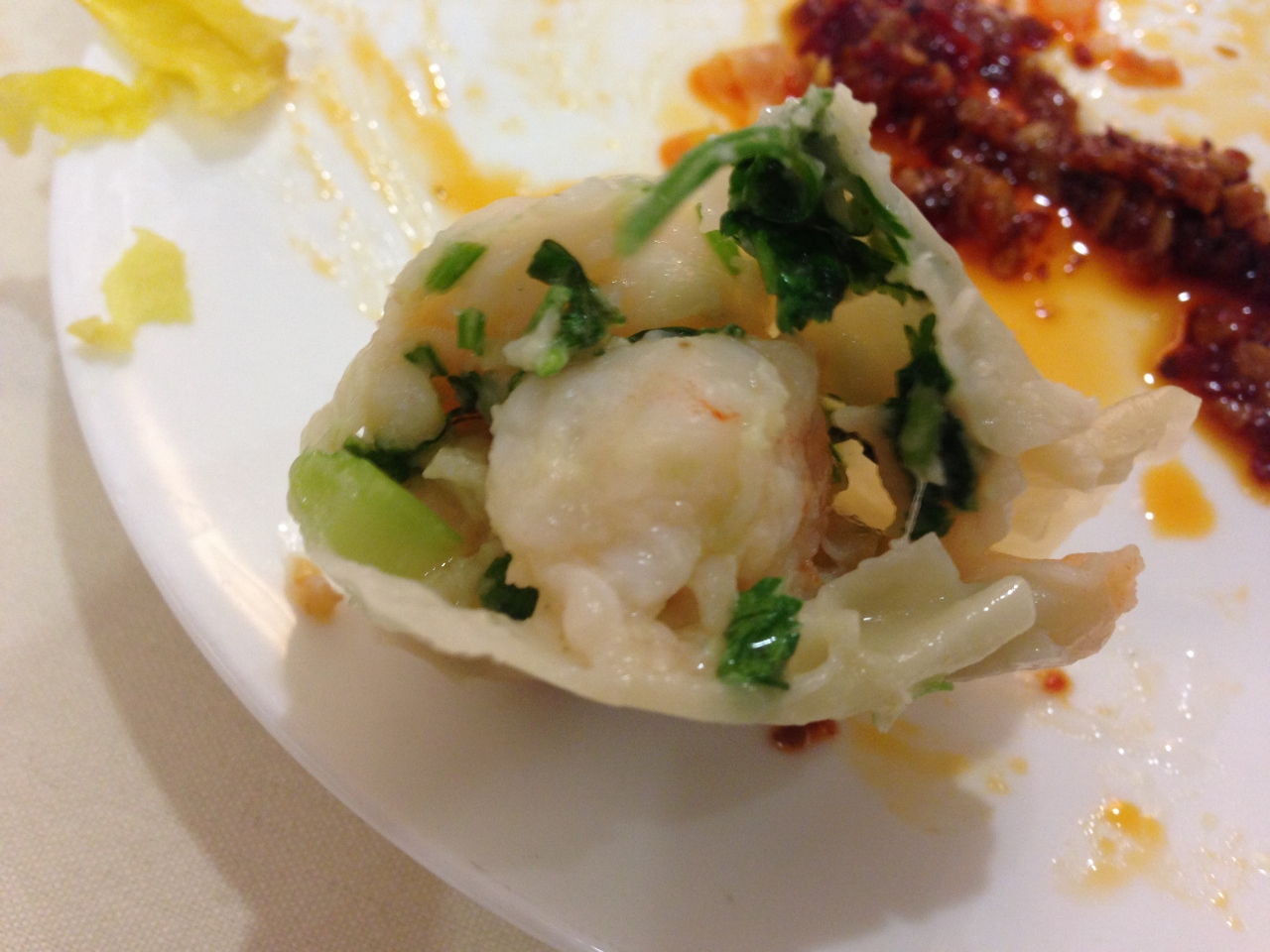 – Cilantro shrimp gow $4.35
They use a different dumpling skin now for this dish which we are not fans of. But what we enjoy most about these dumplings is the fresh cilantro. I don't know if there's an herb that I love more than cilantro. But these dumplings are really tasty and we look forward to ordering this dish every time we come here.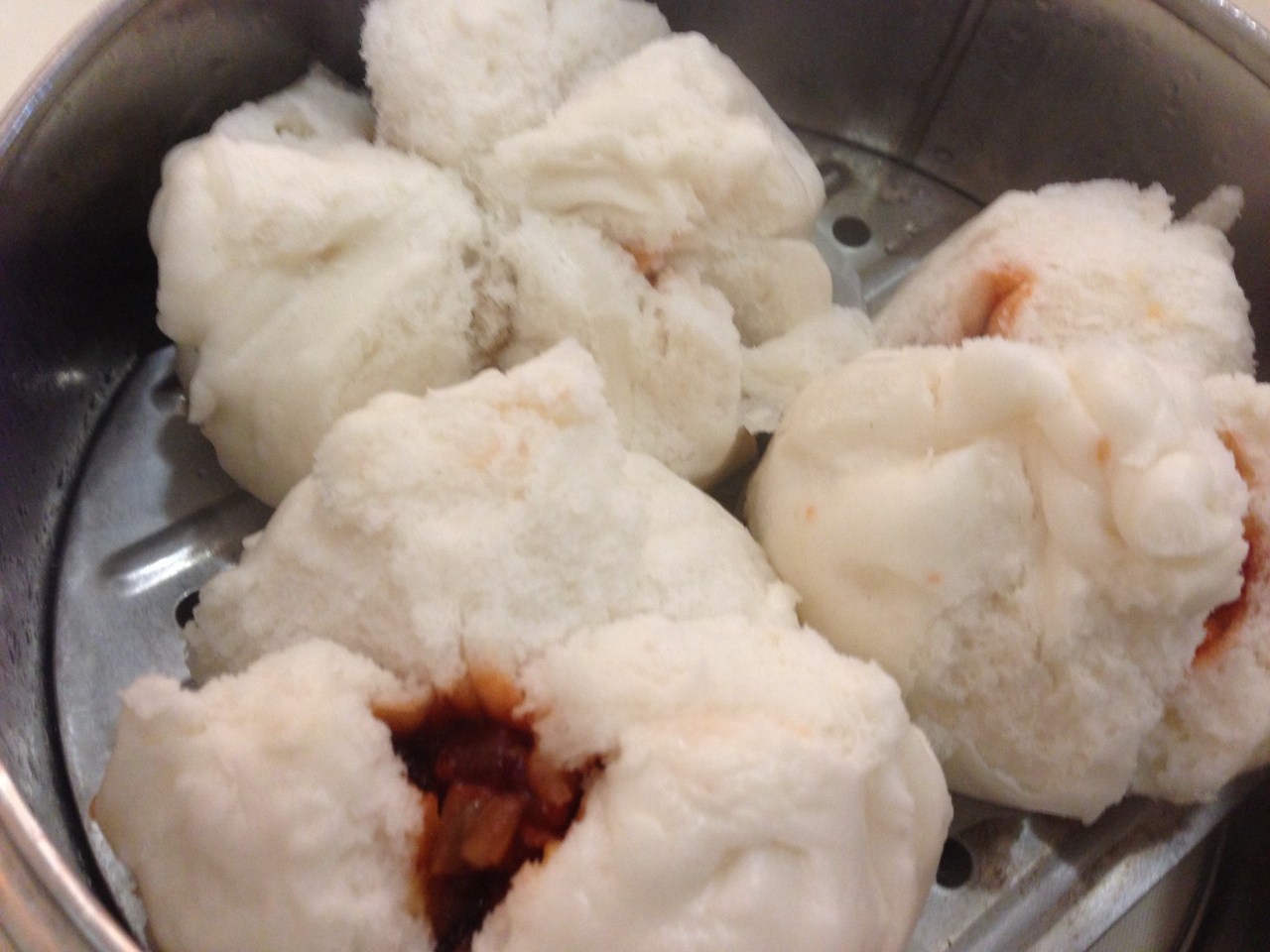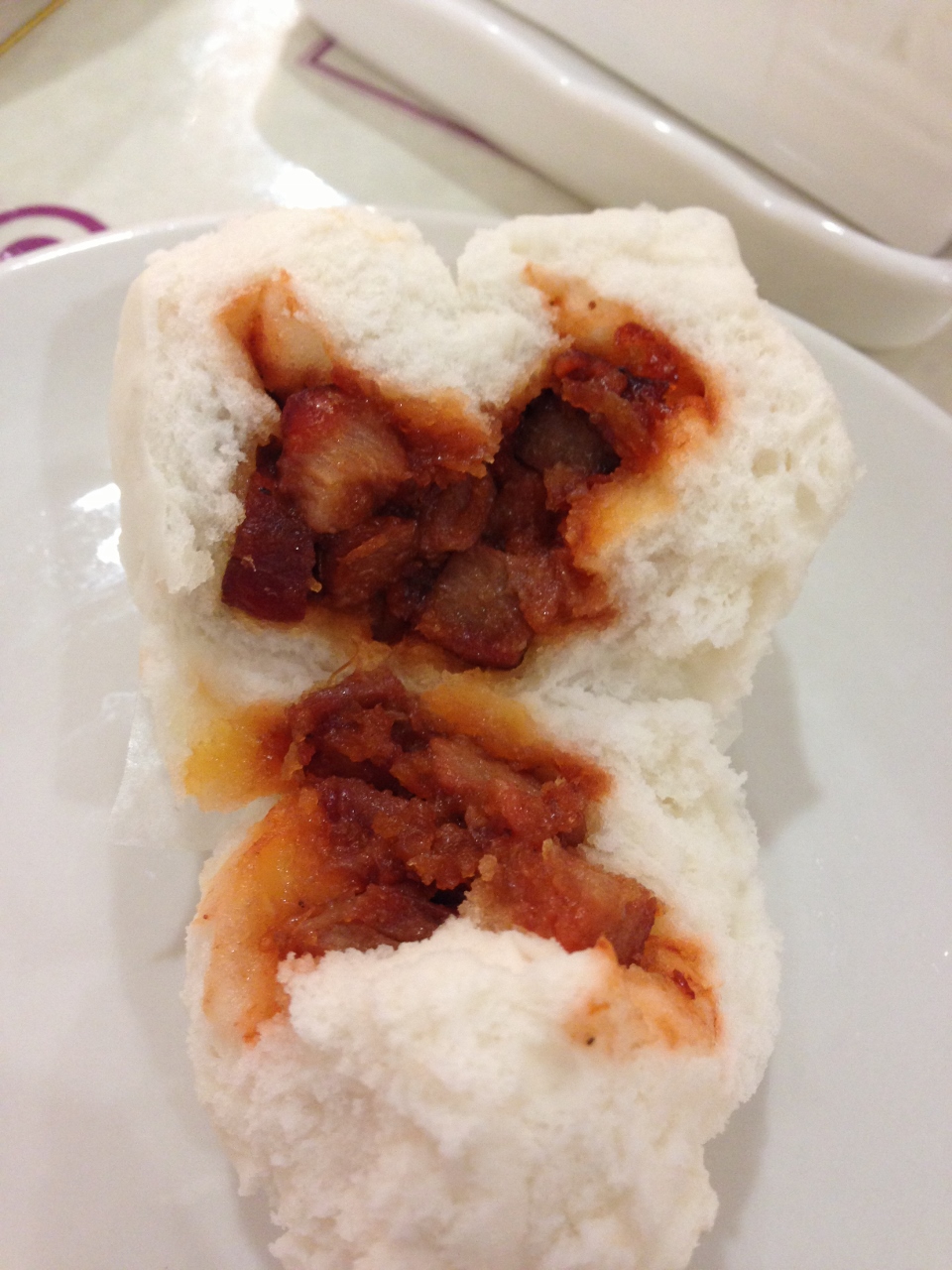 – Steamed BBQ pork bun $2.85 – 3 buns
Nice and fluffy buns – my nephews love these things. These sell really well so it's hard not to get a fresh batch of these buns. The BBQ pork is decent although a bit scant.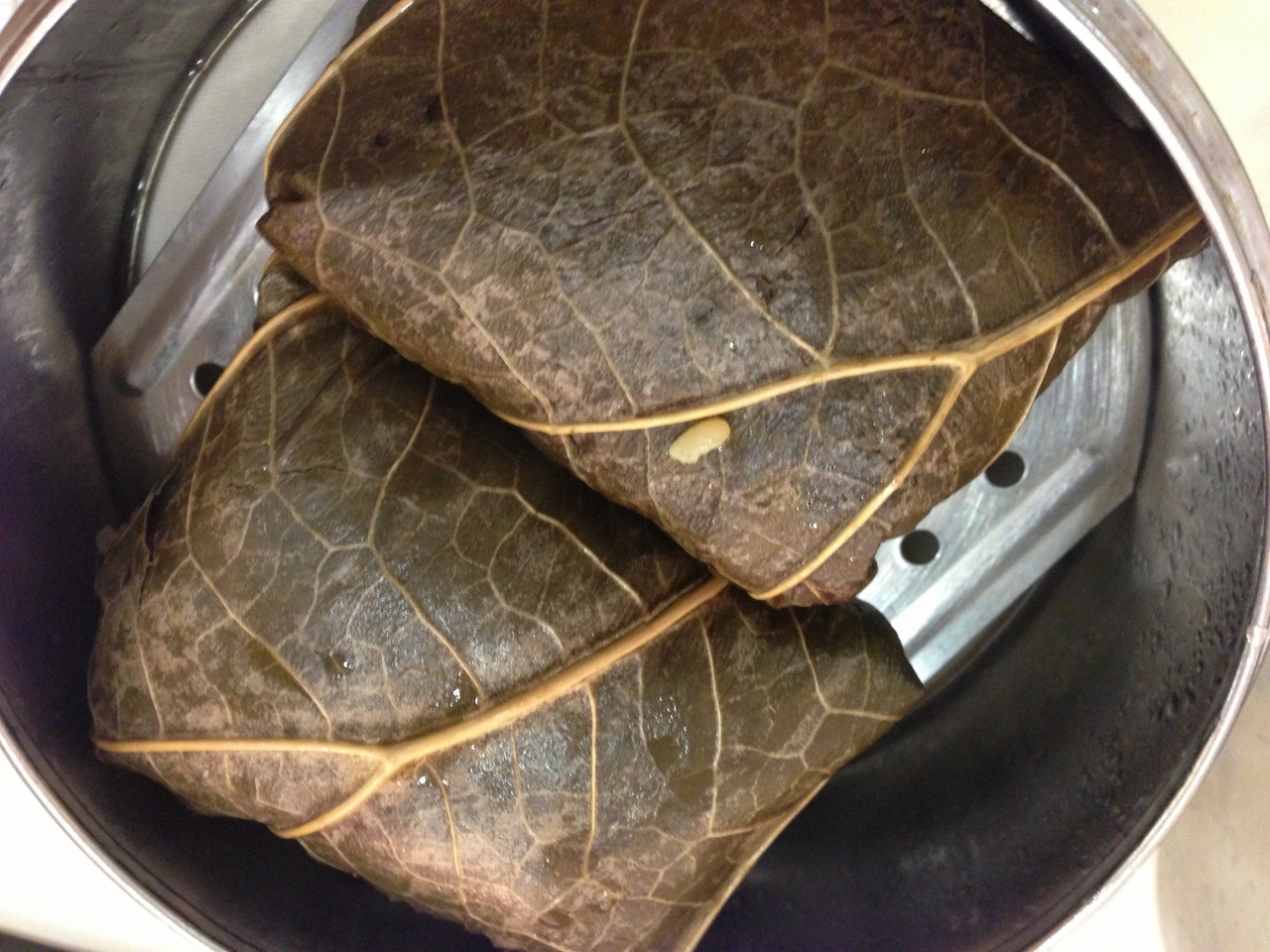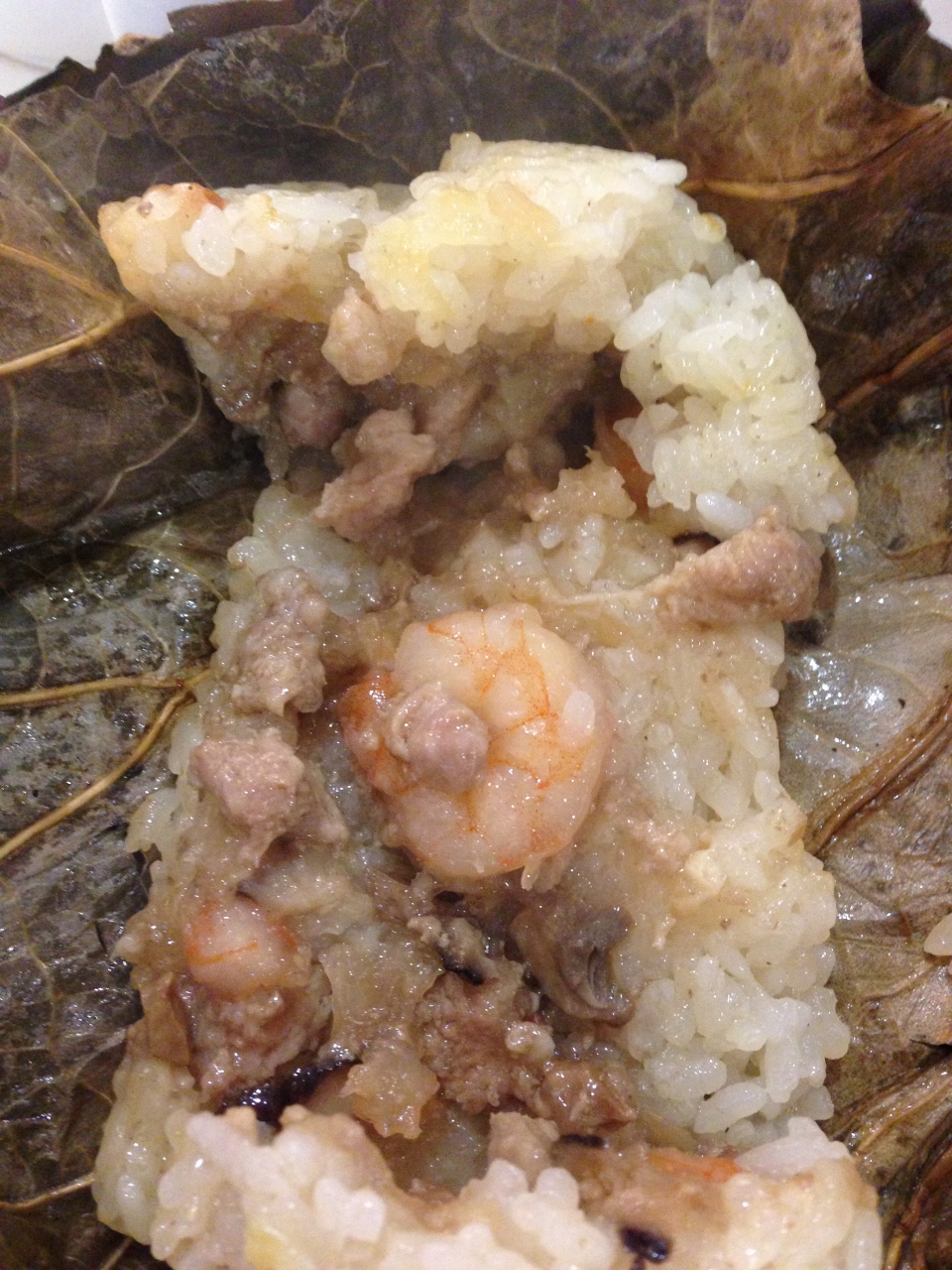 – Steamed sticky rice in lotus leaves : 2 pieces
Sis and I grew up loving this sticky rice in lotus leaves. You open up the lotus leaves, see a square shaped portion of sticky rice, split rice open, and find the goodies of pork, chinese sausage, shrimp, and sometimes a yolk. Their version here is excellent and it's hard not to eat two of these things on your own. I could not find this item on the S/M/L menu. When I called the restaurant to ask, the lady said that this item is considered a Super Large for $4.80. So not sure what's up b/c we were charged for a small item special that day for this  dish.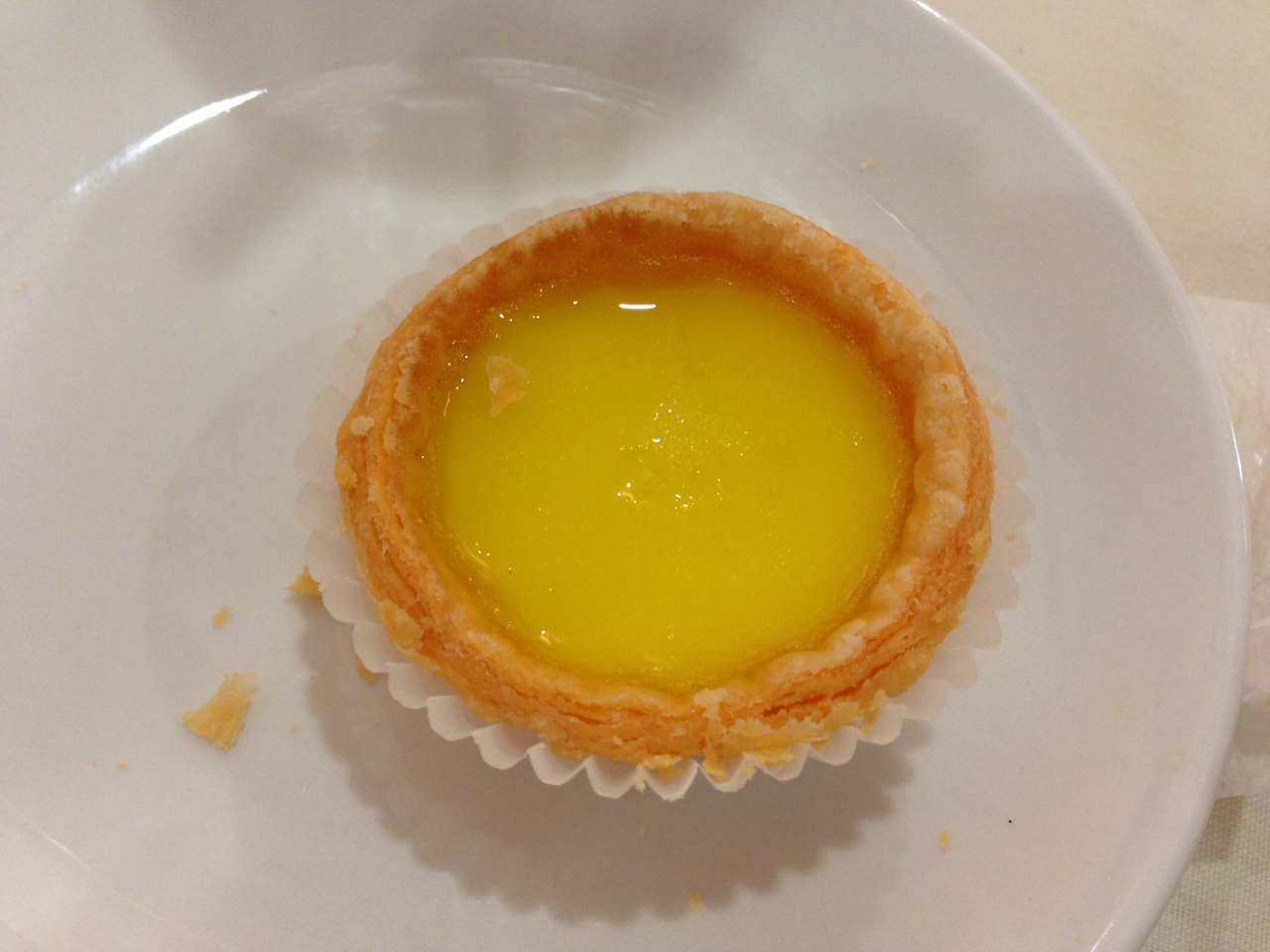 – Baked egg tart $2.85 – 3 pieces
Sis likes to end every dim sum meal with these dessert tarts. They're usually served room temperature but again, that day, they came out scorching hot and fresh. Francisco, one of the head waiters here, went to the kitchen to get a fresh batch for sis and the kiddies. I rarely see sis so genuinely happy when it comes to food but she did that day when she ate one of these egg tarts.
Overall, it was a really great dim sum lunch for all of us. They do charge $1/pp for tea so you can only imagine us trying to drink at least 2 pots of hot tea to get our three bucks worth 🙂 Our total was about $34 after tax so not bad.
– Left: Small dim sum items; Right: Med and Large dim sum items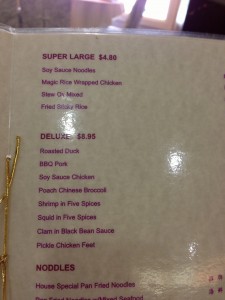 – Super Large and Deluxe dim sum items
Pearl Chinese Cuisine
11666 Avena Pl
(at Bernardo Center Dr)
San Diego, CA 92128
Neighborhood: Rancho Bernardo
(858) 487-3388