I didn't give this restaurant much thought as it's located inside the newly built Whole Foods in Del Mar. Trifecta was ridiculously busy and packed on opening day and I didn't see a reason to eat there b/c 1) it looked pretentious; 2) it MUST be expensive and 3) why would I eat at a restaurant INSIDE Whole Foods when there's a ton of other things to choose from in the actual supermarket.
But I read Cathy's review on Trifecta a few weeks ago and it looked promising. So last week, on a beautiful lazy Saturday afternoon, I was browsing the aisles of WF, just enjoying the time alone. One of the WF girls was looking at the same product as me and we started talking. She actually works at Trifecta so we started talking about the food. She said it's really a laid back restaurant and that it's quieted down over the last few weeks. AND, that they have some amazing specials during the week. Chelsea was incredibly nice and knowledgeable so she convinced me to try them out.
Here are their weekly specials:
Mondays: Pick 1 appetizer and 4 sushi rolls for $19.00
Tuesdays: street tacos and beer for $9.00
Wednesdays: Burger and Beer $10.00
Thursdays: Dessert + wine $9.00
Fridays: Four 5oz samples of beers for $6.00
I actually ended up going to WF the next day b/c a friend wanted to meet there as she's never visited the new supermarket. Friend wanted to order just soup and whatever from their deli section while I opted to try out a few things inside Trifecta. People can actually bring whatever they buy from the market and eat it at Trifecta. I was happy to see Chelsea working that afternoon too.
 – Simple, one page menu
They have a few appetizers, tacos, steamers, burger, flatbread, salads and sushi.
Chelsea said it's the same sushi from the supermarket but the sushi guys will actually make it fresh to order and you can modify your sushi rolls if you want (if you eat at Trifecta). And the prices didn't seem too bad.
I decided to try out a few sushi items.
– Salmon Carpaccio $8.00
Delicately sliced salmon topped with thinly sliced red onions, ume shiso furikake and olive oil
So originally I thought 5 pieces of raw salmon for $8.00 was ok. But unfortunately, this dish wasn't very good. The salmon was lukewarm – which made me nervous that they didn't keep the salmon in a chilled area before prepping the dish. And the olive oil drowned this dish. Not sure why anyone would pour straight olive oil on top of sashimi b/c that's ALL I tasted – pure olive oil. There was no side of ginger or wasabi put on the plate.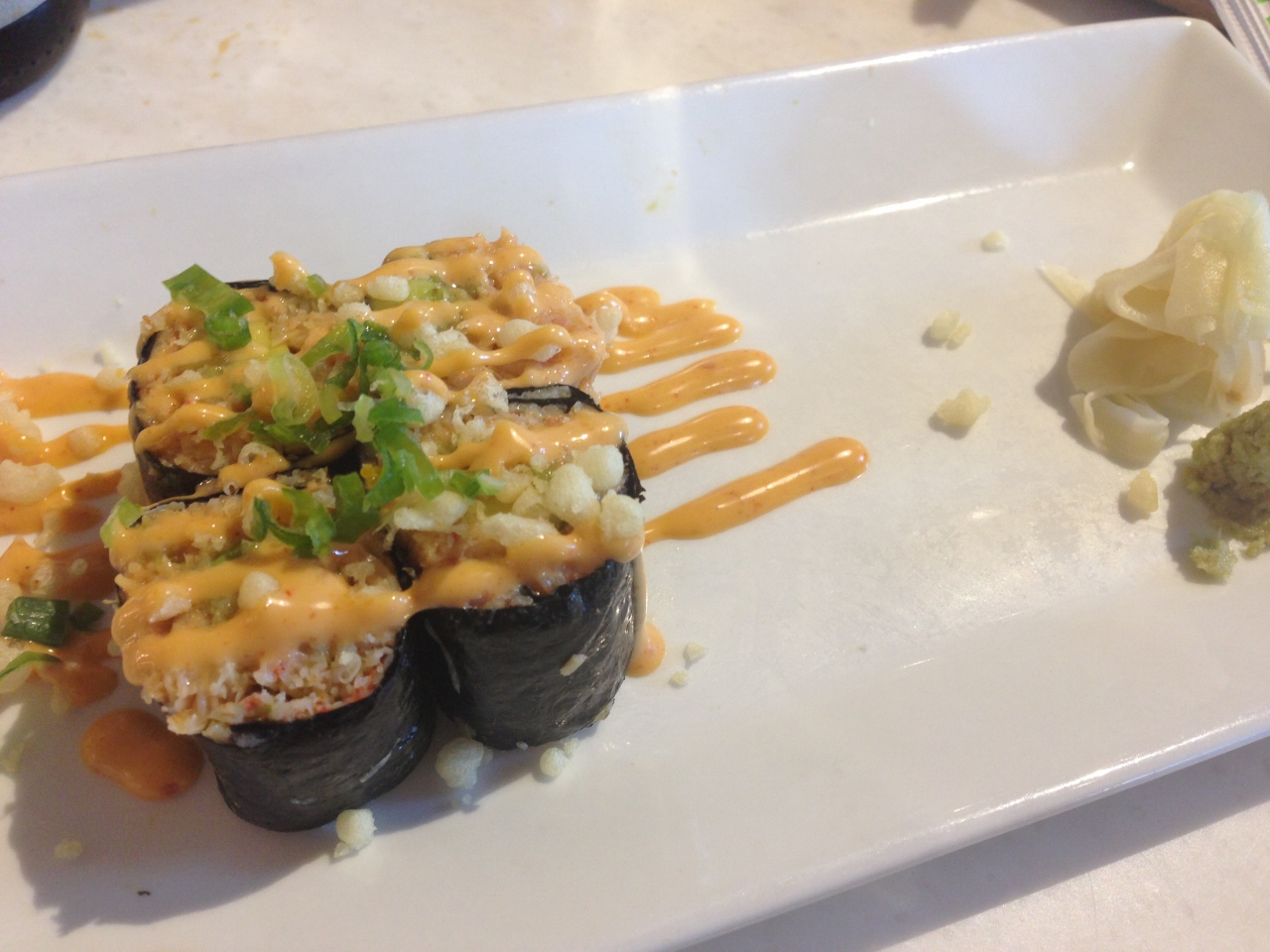 – Malibu Spicy Crunch Roll $5.00 (4 pieces)
Avo, cucumber, crabmeat, tenkasu, scallion and spicy mayo
I asked if they can make this w/ no rice and Chelsea said yes. She felt really bad when she brought this dish out to me b/c it was TINY. I don't expect much when I ask for a roll to be made without rice. But usually they'll throw in extra cucumber or scallions or something. But if they don't, hey, it's not their fault and they're not obligated to do so. But yeah, this cut roll was tiny and not tasty. The crabmeat did not taste fresh and the 4 bites of this roll was not worth the $5.00. I could not taste much of any of the components of this dish.
I was hesitant to order anything else at this point. But I didn't want to end the meal on a bad note. So I noticed they have chicken wings (habanero hot, buffalo, or sticky sweet). Chelsea said she loves the habernero but I opted to try the sticky sweet (and I was expecting the worst at this point).
 – Local Mary's Chicken Rotisserie Wings $9.00
You get five whole wings (joints/tips attached) that are deep fried (I think). They give you a side of ranch and blue cheese.
And whatdaayaknow, these were AWESOME. I don't know if I was a bit defeated from the sushi or what – or that I just expected the worst – BUT these wings were delicious. So juicy, plump, crispy skin, and fried perfectly. The sticky sweet sauce wasn't some gooey terriyaki sauce. It was just a mildly sweet sauce that seemed to soak directly into the chicken skin without compromising the crispiness of the skin. I couldn't get enough of these wings. I would gladly come back to order these again. Chelsea warned that it could be messy so she brought this out to me: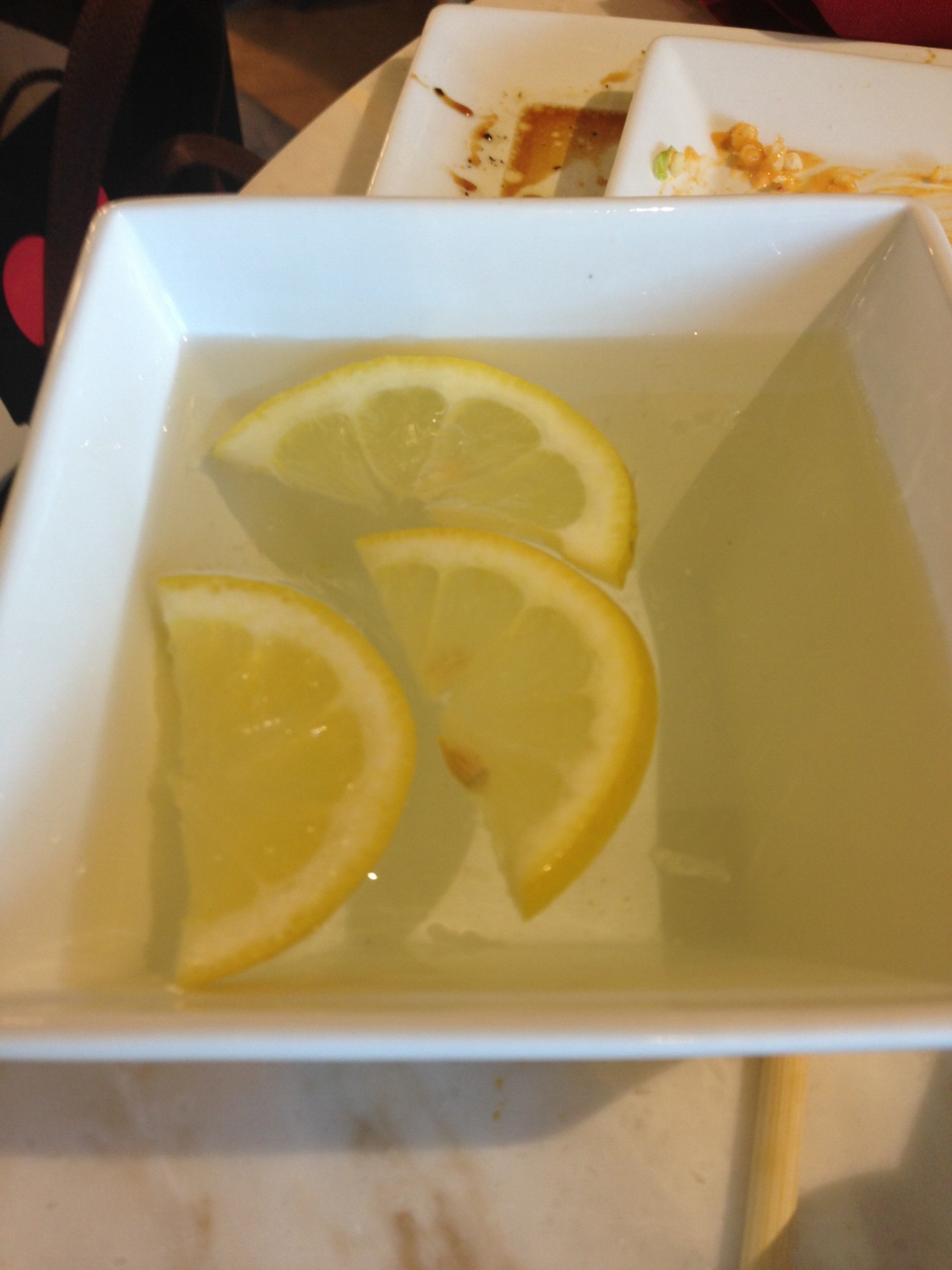 – warm water with lemon
You dip your paws in this bowl after you eat the wings. Magic.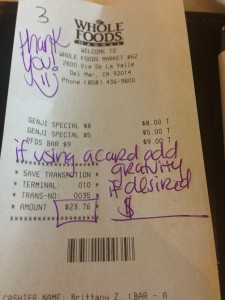 – Gratuity is paid before you give them your credit card
Bristol Farms does this too. Server brings out your bill and asks if you're using a credit card, to add the amount FIRST to the check and THEN the credit card is processed (with the total/tax/tip). Chelsea was wonderful and so nice. My friend ate w/ me even though she didn't order anything from Trifecta but Chelsea still brought her out a glass of ice water w/ lemon and a set of eating utensils.
So that eating adventure was alright. Food wasn't spectacular but I wanted to try their Wed  $10 Burger & Beer deal. So my very good friend SJC and I went last night to try it out. We were told that you can buy wine from inside Whole Foods and then drink it inside Trifecta with NO CORKAGE FEE.
WTF. Really. Like – NO corkage fee. Ok. Sure.
So SJC, being the wine snob that she is, bought a beautiful Italian wine for us to share (and b/c she knows I'd just grab the $2.50 bottle and be happy w/ that):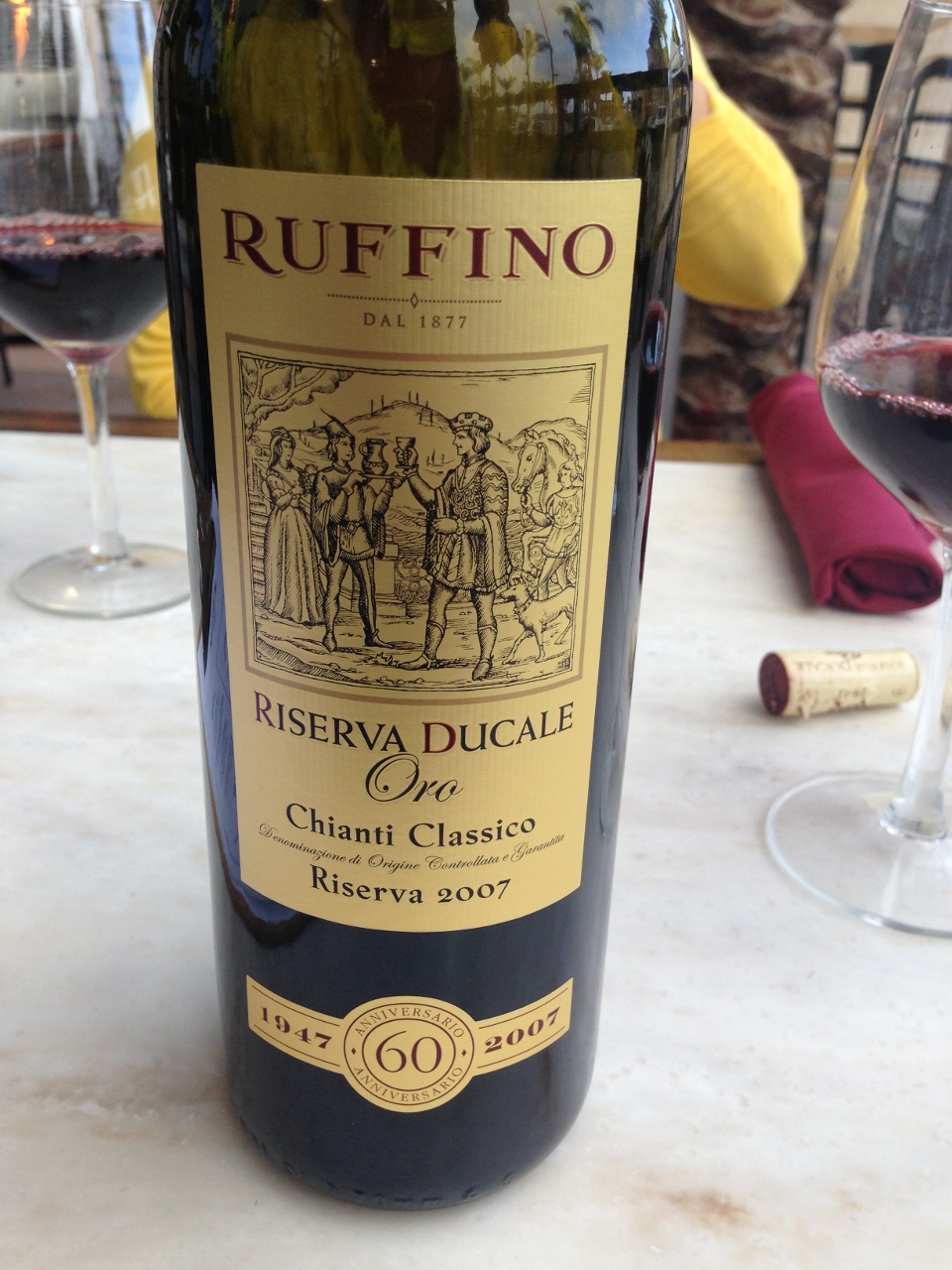 – Ruffino : Riserva Ducale Oro: Chianti 2007  $49.00
I have no ideahhhh if this is worth $49. I PERSONALLY wouldn't pay $49 but SJC has always taught me to just enjoy the moments when a very good friend decides to splurge on a beautiful bottle of wine. I'm honestly a blessed little girl to have friends like SJC 🙂 She can always make a terrible day into a better one.
The restaurant wasn't busy but we opted to sit outside in their front heated patio. Chelsea wasn't working that day (boo) but another nice girl , Tatiana, was. She checks your Whole Foods receipt to make sure you bought the wine there (dude, did anyone else think this is a brilliant idea?? I didn't even think that they'd check b/c it didn't even occur to me that people probably try to bring in their own wine to drink it there!!). Once that is cleared, she brings out 2 classes of wine, opens your bottle for you, and pours the wine into your glass. WTF. That's so over and beyond. I truly thought they'd give you a dirty look and say 'the glasses are over there, go get 'em yourselves'. But no – Tatiana was super cool about it.
– List of their Draft Beers and Wines
They have a crazy amount of beers. And you can choose ANY of the beers for $10 Burger and Beer. Chelsea (last time) told me you can also substitute the beer w/ their keg wines (I think it's called Keg wine b/c they're stored and dispensed in these baby keg like things).
 – Left: sample of Hess Grazias beer; Right: regular size serving of IPA beer
Tatiana let us sample the beer special of the week (Hess Grazias). But SJC opted for an IPA instead (sorry we don't remember which IPA it was). Her only comment was that the beer serving was small.
 – Hamburger : Wednesday $10 Burger & Beer special
Medium rare, cheddar cheese, and grilled onions ($1 extra each for cheese and grilled onions);  with crisp lettuce, tomato and red onion
It's served on a Local Sadie Rose Bun (not sure what that means but the bun was very good). SJC thought the meat wouldn't be good but she was surprised that the ground beef was cooked perfectly and tasted juicy. She usually only buys her steaks and hamburger meat from Bristol Farms so she was really surprised that she loved the burger here. I thought the burger was cooked exactly the way we requested but I felt it lacked a bit of seasoning. The plate comes w/ a side of ketchup but I also requested mustard and mayo.
Tatiana at this point asked if we wanted to pour our wine into a decanter. Are you kidding me. What planet are you from. Are people *normally* this nice and accommodating when you bring in your own wine. Granted, I'm not a big wine person and I have never taken my own $1.99 bottle of wine anywhere for free corkage…but come on….you're offering us a decanter? I was just so blown away by the nice gesture. My wine expert friend of course casually smiled and said 'no, but thank you, we're ok, this wine doesn't need a decanter'. I would have poured my water into the decanter just to make myself feel even more special that night.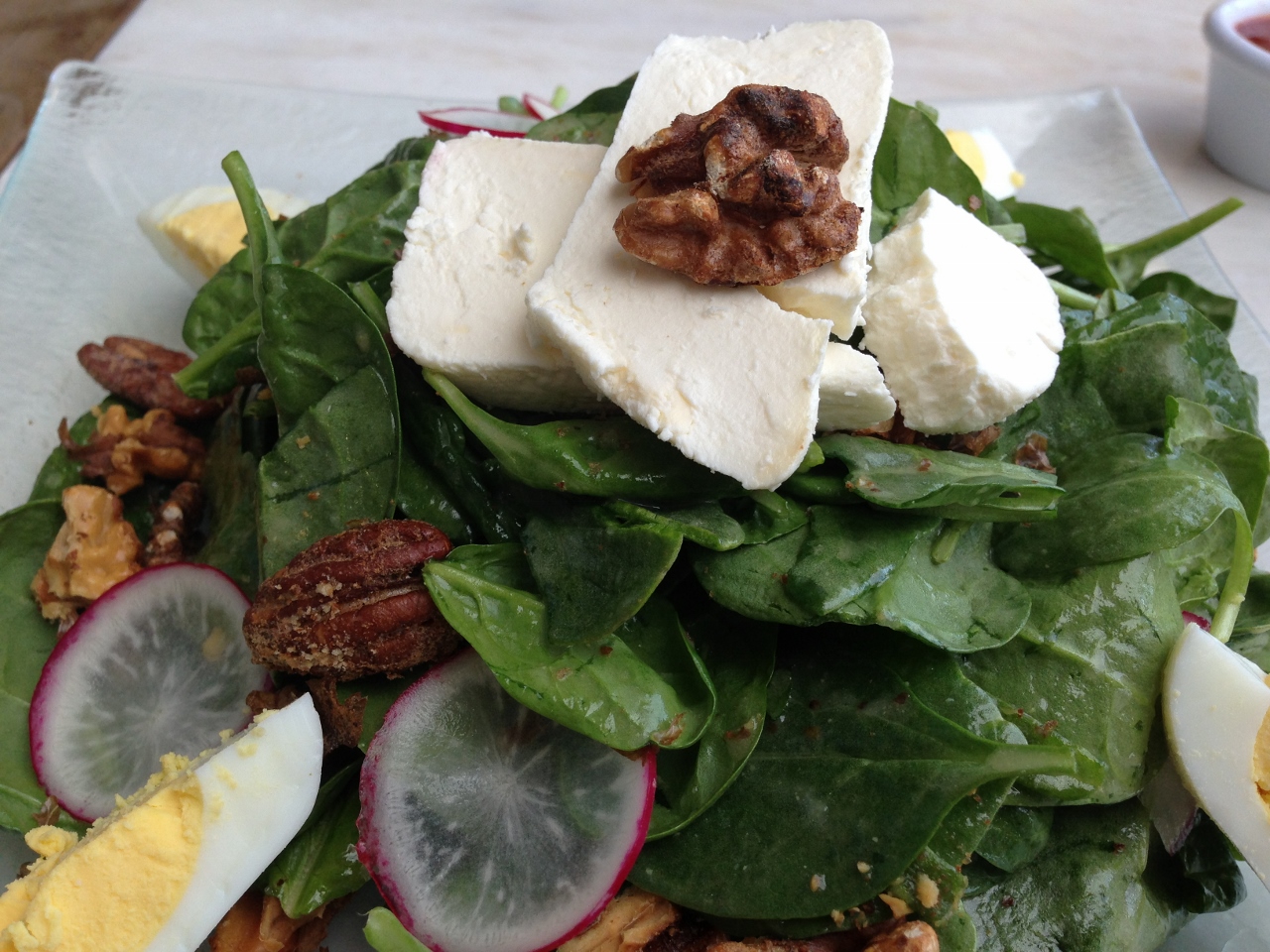 – Spinach Salad $8.00
Fresh spinach, goat cheese, spiced nuts, radishes, and a champagne vinaigrette
The menu must have been different that night b/c I don't see this on the previous menu. The spinach tasted fresh and the vinaigrette was light and wonderful. But friend found the goat cheese to be bland (I don't eat goat cheese so can't vouch for that one). And we both found the spiced nuts (walnuts or pecans) to be strange. We were hoping they were candied nuts but these tasted just weirdly spiced.
So the total was $6.00 (Burger), $4.00 (beer) and $8.00 (salad). I thought we made out like bandits. This Wednesday night deal is so awesome.
I think the tipping thing is still a bit awkward b/c most people find it uncomfortable to tell the server how much you want to tip them before you hand them your credit card (I don't remember if Tatiana asked me for the amount or I answered her before she could show me the receipt?). But it didn't matter to me because she deserved a generous tip for that night regardless.
SJC and I both felt really satisfied w/ the food, drinks, service and each others' company (obviously). She makes me appreciate the people that surround me in my life and she always gives me that gentle 'kick in the butt' encouragement that I need at the end of a long day. So yes – absolutely – try Trifecta Tavern on Wednesday nights. And I'm hoping to try their Dessert Thursday special in the near future.
Trifecta Tavern
(inside Whole Foods – Del Mar)
2600 Via De La Valle
Del Mar, CA 92014
(858) 436-9800 phone