Ok. Maybe I am realizing I try to find the best deals when it comes to eating out in San Diego. BUT. That's only because sis and I are cheap and we try to maximize our dollar(s) when it comes to eating out. And, we kinda make it into a game to see who can find the best deals. Which usually *I* win.
Royal India recently remodeled the previous Indian restaurant (Star of India) that was located in this Carmel Valley strip mall.
– Sculpture in the Carmel Valley mall
We actually liked SOI because they had a great $10.99 AYCE lunch deal Mon-Fri. And even though their dinner menu was expensive, the quality of the food was excellent and well, there aren't alot of Indian restaurants in CV. So it was sad to see them close. But we soon found out that Royal India took over and remodeled the entire place.
– Beautiful brick stone wall and an amazing waterfall inside the restaurant
– Left: cool chandelier and another view of the waterfall ; Right: buffet set up for Lunch
I saw that they have a $10 for $20 deal on yelp and was wondering if it applied to their new $9.99 AYCE lunch special.
 – $9.99 AYCE lunch buffet and their outdoor patio
I called them to ask and the guy said yes, the yelp deal can apply for their $9.99 AYCE (the yelp deal cannot be combined with any other coupons or deals though). So sis and I thought this would be a freakin' amazing deal if we both ate there for lunch.
Royal India kept the same employees from SOI so we were happy to see that. Service is quick and water is constantly being refilled.
 – Left: salad, sauteed veggies, and ?; Right: chutneys, mixed pickles, raita
Nothing special here – salad looked sad and depressing. But I'm a huge fan of their mint and tamarind chutney.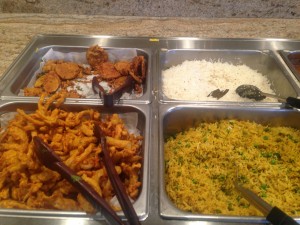 – Fried potatoes (?), onion bhaji, basmati rice, and Pulao rice
We didn't try the deed fried potatoes b/c they looked a bit stale. But the fried onions were nice – crispy and well seasoned.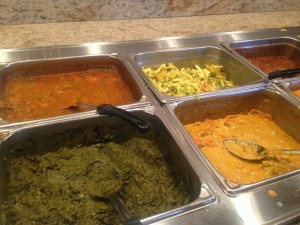 – Aloo matar, Pakak Paneer, Cabbage Masala, and Veggie Korma
The cabbage masala was a bit too mushy for me.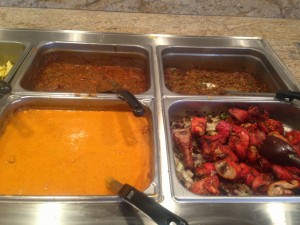 – Karahi Chicken, Chicken masala, Keema Matar, and tandoori chicken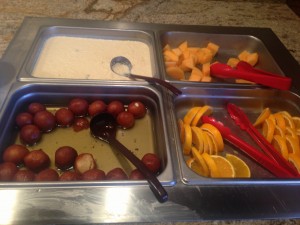 – Dessert station
I got a little bit of everything so everyone could see. The tandoori chicken isn't very good – it's incredibly dry.
 – Left: Paneer; Right: hot, fresh Naan
It's funny b/c I don't really eat Indian food all that often b/c it's something that I didn't necessarily grow up eating. But sis likes Indian food so she's the one that kinda got me interested in trying more stuff. So when I first heard of paneer (fresh, soft cheese), I was skeptical. But you know what – I REALLY like paneer. It doesn't even taste like cheese (maybe that's why I like it?). It, to me, tastes like really good squishy tofu (covered in curry or spinach or whatever).
My only complaint with this AYCE item is that there wasn't enough paneer in the tray. I only managed to get 3 pieces of paneer while sis got zero (she personally doesn't like paneer anyways).
The naan here is good. They give each table a basket of freshly made naan during the AYCE lunch. The waiter told us that they now brush it w/ butter (versus being brushed with oil in the past). The bread has a nice chew to it and I personally like the crispiness of the bottom. The naan itself doesn't have much flavor to it so using it to soak up the curry sauce is the best way to utilize this gratis bread 🙂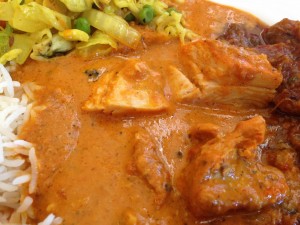 – Chicken masala
They do a nice job w/ this curry (especially for the buffet). The chicken pieces (I think they use both white and dark meat) are tender and the curry is flavorful. This is my favorite curry here.
–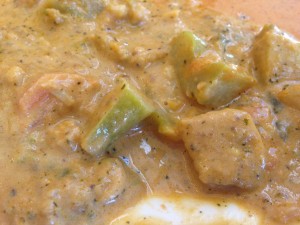 – Veggie Korma
This wasn't something that I'd initially wanted to try but sis said I'd like it. And she was right. The korma sauce was rich and creamy. And I loved how they used broccoli stems in this dish.
– Indian donut (?)
I'm sorry but they didn't have this dessert labeled and we have NO clue what this is (but we've seen it at pretty much every Indian buffet we've visited). But if you look at the buffet tray of this dessert, you can see that it bathes in some sort of sugar water. It looks like it was originally deep fried then set in the sugar water to soak up the flavors. Needless to say, the bathing of something crunchy in liquid makes me anxious so this dessert isn't really my cup of tea. It tasted like a soggy cinnamon churro to me (which I think some people might like).
So, what was the total for this lunch excursion …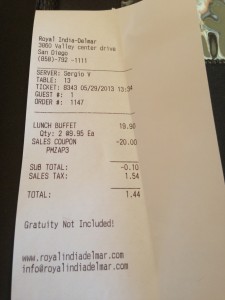 : Total = $1.44
So it pretty much cost us $11.44 ($10 yelp deal + sales tax) to eat as much as we wanted to at a cool Indian restaurant for lunch (we tipped about $5 though). Not bad yo.
I was speaking to the waiters and I asked how everything was going. When I used to visit SOI, I remember the owner being a really humble man. He always had a smile on his face and he just made people feel welcomed. The waiter said that owner sold it to a family member so the recipes are about the same but amped up a bit. And when sis was reading the main menu, she gasped 'OMG, this place is in the UTC mall!!" We were shocked b/c we've tried the Indian food at the UTC food court but didn't love it (granted, it's FOOD COURT food) but sis thought she could taste the similarity in their curries now.
The dinner prices here are still high. I think the chicken masala goes for $18.
But I would highly recommend trying this restaurant. It's incredibly affordable for lunch and you can use the yelp deal for dinner to help w/ the cost. And with the new remodel, this would make an excellent place to take someone for (romantic) dinner.
San Diego, CA 92130
Neighborhood: Carmel Valley
(858) 792-1111
Lunch Buffet 11a-2:30p