You *know* you have driven by this restaurant without even giving it a second glance. I never thought the Hazard Center was much of a location and aside from visiting their run-down theater every few years, there's not much to enjoy in this strip mall.
So when friend suggested that we try out Randy Jones Sports Grill to watch a UFC fight one night, I literally yawned and thought 'yeah rigggght…*I'm* not driving all the way to Mission Valley to watch a stupid fight at a restaurant/bar that doesn't seem all that great…And who the heck IS Randy Jones anyways?'
But he convinced me that they seemed to have decent BBQ AND they don't charge a cover to watch the UFC fights.
Fine. So something will be free. So fine. I'll go.
I was surprised that there was still plenty of parking even though the restaurant seemed packed. No bouncer was in front trying to check ID or collect a cover charge, so that was another plus. The bar area was too busy so friend got a small booth table by the entrance. There are tons of tv's everywhere so we didn't mind sitting at the booth. BUT…
– if you sit at booths, there's a minimum order of $20/pp I think (on the night of the fight)
– they weren't showing the UFC fights in the front of the restaurant so our booth was kind of a bust
No matter. The friendly hostess said there's a back patio where we can sit and there's NO minimum to spend per person. And I was surprised that the back (covered) patio had two large flat screens where people could enjoy watching the fights. There were lots of long tables so you're kinda forced to sit next to people you don't really know. But hey, we're all there for the same reasons that night right.
 – Sweet Potato Fries $5.95
With Red Chili Aioli Dipping Sauce
Friend ordered this and I thought it was pretty good. I'm not a big (french or sweet potato) fry person but anything that's super crunchy I will like. I am not sure if these are freshly cut or frozen from a bag. The aioli dipping sauce was strange though – didn't seem to work w/ these fries. I could taste the red chili and but couldn't tell if they used mayo or what as the base for this sauce.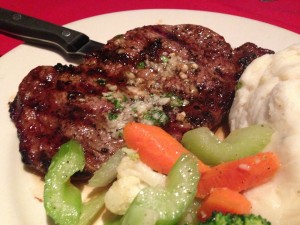 – Blackened 12 Oz. Rib Eye Steak $19.95
Cajun Seasoned, Grilled, Garlic Butter
OMG – this LOOKED sooooo amazing. Friend ordered this for himself and I *rarely* get envious of other people's food. But THIS dish made me frown and pout like a little girl b/c I was kicking myself for not ordering this myself. Look at all the beautiful GARLIC BUTTER on the steak!
But, unfortunately, the steak was terrible. I mean, not just bad, but like..terrible. It was an incredibly hard piece of meat to eat for some reason. It was over cooked (friend requested medium rare) but it came out pretty well done. And the garlic butter needed a bit more seasoning I think – or maybe we just expected too much of this butter to save the steak somehow. But the veggies of carrots, cauliflower, broccoli, and celery were delicious.
This meal was some months ago but I still look at that picture of the rib eye and my mouth waters.
–  Aztec Burger $10.95
Smoked Mozzarella, Avocado, Tomato Salsa, Lettuce 
Hand Crafted Burgers of 100% Angus Ground Beef
Chuck. Served with Our House Made Kennebec Potato
Chips. Substitute a Mixed Green Salad with White Wine
Vinaigrette, or a Caesar Salad, for a $1.75
Well. This just made me smile because 1) this burger was delicious and 2) my friend ordered something that wasn't better than mine.
The burger was cooked a beautiful medium rare and it was so juicy. I didn't get the tomato salsa. The side salad was incredibly fresh and yummy as well. I just wrote about the burgers at The Counter and I can say that I enjoyed this burger so much more. Would I come back specifically for this burger? Perhaps, if I was in the area. But if I come back to watch another fight or maybe even a Chargers game, I would have no hesitation to order this  burger again. (tap on wood , tap on wood, tap on wood….PLEASE let this burger be this good next time…)…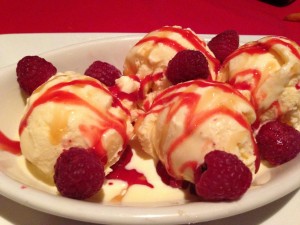 – Ice Cream 'n Berries $5.50
Two Scoops Vanilla Ice Cream, Fresh Raspberries, Chocolate and Raspberry Sauce
Yeah. Pass. Store bought ice cream and raspberries. Friend ordered this and of course he finished it b/c well, he's a dude. I think they forgot the chocolate sauce. I didn't think it was worth $5.50.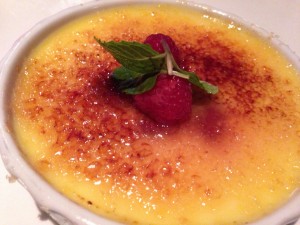 – Crème Brulee $5.50
Caramelized Hawaiian Vanilla Bean, Fresh Raspberries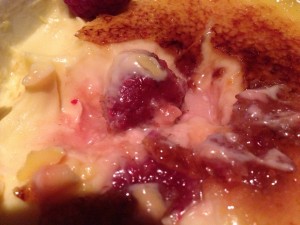 – fresh raspberries INSIDE the brulee
This was a nice dessert. I was completely surprised to see the berries buried inside the brulee ! What a cool concept. I really only eat the caramelized sugar on the brulee and take a bite of the actual custard. So the raspberries inside were a real treat for me.
The service was great. Usually service is terrible on fight nights b/c the poor servers are so stressed trying to take care of all the customers. So we really appreciated our server (sorry forgot her name) that night. Friend got his sweet potato fries comped by the manager b/c of the whole snafu w/ the front booth earlier in the evening.
I would love to come back to this place to watch another fight or football game in the future. And it's incredibly hard to find a restaurant/bar that does NOT charge a cover during a PPV fight. It's a laid back atmosphere and there's a cool vibe about the place. I know they've received poor yelp ratings but I can only say that my own personal experience was pretty good. I still wish that rib eye was better 🙁  Regardless, this is a fun place to visit if you're in the area. And, you gotta love me for this one, I just found a coupon for a FREE dessert with an entree purchase. You're welcome 🙂
Randy Jones All American Sports Grill
7510 Hazard Ctr Dr
Ste 215
San Diego, CA 92108
Neighborhood: Mission Valley
(619) 296-9600