There's not many wine bars off the 56 fwy in the Carmel Valley and Rancho Penasquitos area. Actually, I don't think there are any. Twisted Vine Bistro & Wine Bar recently reopened to new management and a remodel of their restaurant.
My very good friend SJC and I visited them last Feb 2012 and had a miserable experience. Horrible service and mishandling of our credit card charges.
But when I heard they had reopened under new management, I thought it was worth another try, especially if it supported a local wine bar. And I heard that Via Capri, just a few doors down, bought this place. How interesting – seems like you'd be adding to your competition and/or taking business away from your staple business.
I went a few weeks ago to try out their Happy Hour. I figure that would be the best way to ease myself back into this place. I met my friend LL there around 530p on a Friday evening.
The restaurant looks about the same. But there are now 2 bar areas. The primary bar area has comfortable seats and a decent flat screen TV. But the new 2nd bar area faces the kitchen which is odd to me because it's not exactly something cool and hip like I had imagined it would be. I found 2 seats by the main bar though so I was happy about that.
– Veramonte Cab $4.00 ; List of Beer and Wines for Happy Hour
It was an 'ok' pour for $4.00 (I'll get to that later). They have only a few reds and whites to choose from for HH. No biggie. This wine tasted ok.
–  Shrimp and Bacon flat bread $7.00
 Rock shrimp, crispy bacon, piquillo chile, mozzarella
I immediately knew this would not be a good flat bread. The crust was thin but soggy. And the crust reminded me of saltine crackers for some reason,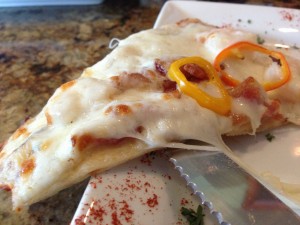 The mozzarella tasted lonely if that makes any sense. There just wasn't anything about this flat bread that made it tasty. It needed seasoning or some sort of garlic pesto sauce (or any sauce) underneath the cheese.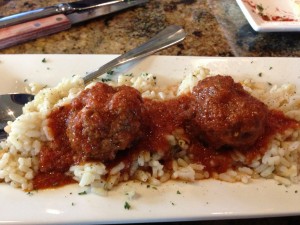 – Spanish Albondigas $7.00
Ground beef meatballs stuffed with hard-boiled egg, chipotle sauce, saffron rice
I thought it was great that there was an egg inside these meatballs. But the meatballs didn't taste piping hot and the ground beef tasted dry. But the chipotle sauce (it tasted like marinara sauce) was nice. $7.00 for 2 meatballs (and that's the HH price) seemed excessive after seeing the pics just now.
Service was nice though. Our bartender Shawn was friendly and helpful. We had ordered another tapa to try out and it never got delivered so Shawn comped one of our HH drinks.
I purchased a Groupon deal for Twisted Vine the other day. The $20 for $40 deal made me want to go back and try some more items so I can write about it. The catch w/ this deal is that it may not be used for Happy Hour (booooo but understandable). So I called SJC and we headed over.
– Left: 6 oz pours; Right: List of wines
SOOOOOO. Ahem. This is where I'd like to say 'wow, I'm a dummy'. But then I thought 'Hey!…*I* wasn't the one that ordered the wines – SJC did – it was alllll SJC'.
I didn't take a great picture of the wine list but I must tell you that they charge for either a 3 oz pour or a 6 oz pour. If you enlarge the wine list pic, you can see that there are 3 rows of prices (3 oz, 6 oz, and bottle prices). Anyhow, SJC is one of my smartest friends. She has her PhD and she studied toxicology or something smart like that. And whenever she does something dumb, she'll say 'well, I have a PhD ya know…they don't just *hand* those things out you know'. And we bust up laughing every time she says that b/c she's just so ridiculous. So she had the task of ordering the glasses of wine that night. I always dread it when she orders b/c she doesn't care too much about price (and that gives cheapskates like me anxiety).
So my PhD friend ordered this:
Daou, Cabernet Sauvignon, Paso Robles, California '11
She thought the price of the glass of wine was $11.00 b/c she saw '11 at the end of that wine description. Not sure if you study this in your PhD program yo – but '11 means the YEAR 2011 you idiot. And if you look to the right of that description (on the wine list), it's $7.00 for a 3 oz pour and $14 for a 6 oz pour. Nice one SJC. We only noticed this AFTER we got the check. So it would have been nice if someone asked us what size pour we wanted when we first ordered because we didn't know there were 2 options.
She also ordered the Sequana, Pinot Noir, Santa Lucia Highlands, California '10. This one was priced at $15.00 for a 6 oz pour. Jeez.
SJC disliked both these wines. The Sequana was very earthy and almost too harsh to drink. SJC and I had a bottle of wine once where it *literally* smelled like a barnyard filled to the brim with manure. So since then we always joke when we smell a wine that comes remotely close to that experience. So the Sequana, to her, was too earthy. And the Daou wasn't something that was incredible to drink – especially for the price that was charged.
I did want to point out that I asked friend if it was a bad bottle of wine – perhaps it sat out too long or something. And she said she did not think so. That it was just probably the way the wine was made and nothing more. So it's not the restaurants fault that we didn't like these wines.
Her last choice of wine for the both of us was another red called Renegade. I don't remember the details but we both enjoyed this glass of wine SO much more than the previous two. It was $26.00 for these two glasses of wine – so $13/glass – yikes.
Onto the food shall we….
– Choose 3 for $12.00; Choose 6 for $18.00
We decided to try the 6 for $18.00
– Left to right: Jamon Iberico, Havarti cheese, Spanish Chistorra, Manchego
The Iberico was the closest thing they had to prosciutto. It was a tad too salty for us. Havarti tasted ok but store bought.
The Chistorra reminded me of the baby hot links you get in those Hillshire Farm gift packages. SJC thought these were tasty albeit salty.
– Left: Vela sausage and Havarti cheese (double order); Right: manchego cheese topped with quince jam
The vela sausage was ok – but again, salty. It was nice and chewy but we found ourselves asking for water refills several times while eating this meat/cheese board.
We asked one of the server what was on top of the manchego cheese and he said he didn't know how to say it in English but that it's Membrillo in Spanish. For some reason I knew that translated to quince. And I have to say that I thought it was a nice touch to this cheese. Very fruity – reminded me of the fruit leather I used to love and eat as a kid.
And I thought it was nice that they added smoked almonds and green/black olives to the board as well.
The meat/cheese board was a nice value for $18 but we didn't think the quality of all the items were amazing. It was 'ok' but not great. I'm all about quantity v quality most of the time but even this time around, I wouldn't have minded if we got less on the plate if we were given better quality of meats/cheeses. As SJC said, she could easily have thrown this together at home but it's nice sometimes to go out and have someone else do it for you.
 – fresh made bread and tapenade dip
Well. Wouldn't ya know. *THIS* was amazing. We had asked for bread (they didn't give us any w/ the cheese plate) so they immediately brought out a small basket of warm baked bread. I believe they said they make the bread there. And the tapenade had vinegar, olives (I think), garlic, olive oil – it was MAGIC. And I hate olives (hence why I'm not certain if olives were in this but SJC said she heard server say there were). But the tapenade was vinegary, tart, savory – we couldn't get enough of it.
– "Twisted" stuffed Avocado $9.00
Rock shrimp and Dungeness crab salad, tomato, onion, capers, mildly spicy honey-mustard vinaigrette
I saw a review where they said this dish was too expensive at $9.00. And it was indeed a small portion for $9.00. It's only half of an avocado and it's depressing seeing it come out b/c it's so small. BUT – I love these nice 'BUTS' – this dish was delicious. The vinaigrette was creamy and oh-so-good. And the rock shrimp and the dungeness crab tasted so beautiful in this dish. I can't say there is ONE component in this dish that I didn't like (except for the potion and price tag but hey – wasn't *I* the one that just wrote 'I'm all about quantity v quality most of the time but even this time around, I wouldn't have minded if we got less on the plate if we were given better quality of meats/cheeses'. ) So yeah, Miss SmartyPants blogger, STFU already.
– Scallops and Lentils $8.00
Grilled sea scallops, sautéed lentils, oven roasted tomatoes, garlic, onion, bacon
There's 3 decent sized scallops served in this tapa appetizer. The scallops were cooked a bit too long but still tasted alright. But, ( here's another 'surprising' BUT), – the lentils were ohhhh-soooo-gooodilcious! And I don't even like lentils. I rarely eat them so when I see them on a dish, I usually ignore 'em but this time around, I decided to give it a shot (even though they looked really mushy and blech). I'm not sure how you make lentils but they totally soaked up the flavors of the garlic/onion/BACON!/tomatoes. The reminded me of super flavorful soft beans.
The same bartender (from my previous visit) was our server that night and he was nice. It was hard for him to walk from Bar 1 and Bar 2 but that's understandable. And most of the younger servers were super cool and fun to talk to behind the counter.
So the total monetary damage that night? $97.20 (after tax). For FOUR glasses of wine and TWO appetizers and ONE cheese/meat board. Yikes. I saved $20 from the Groupon deal and I still tip based on the full amount. But jeez louieese, that was expensive. I won't come back to try their wines as they're just too pricey. But I would love to come back and try some more of their food though. So we'll see. Sometimes I see a coupon for them in the mailer so if I get another one, I think I'd come back. Carmel Valley and PQ really need a place like this in the neighborhood so I'm hoping they succeed. Regardless, our experience this time around was FAR better than our visit last year so I was grateful for that. And any chance I get to spend time w/ SJC and share about her ridiculousness is worth every penny I gots 🙂
Twisted Vine Bistro & Wine Bar
7845 Highland Village Pl
San Diego, CA 92129
(858) 484-9463