Kirk posted a recipe for Spicy Tuna Poke awhile back and I knew immediately that I wanted to try to make it. I used salmon instead of tuna for my version though. But the first attempt wasn't great – AND when you add up how much I spent on ingredients (I bought the ingredients from Nijiya), I felt my attempt was a bust.
SO. Kirk recently made the poke for the Missus and I again had to try to make my own (with salmon). Besides, I couldn't imagine having something better on a beautiful Sunday evening.
First off, this is my sous chef. My second-in-command (did you know that's actually what Sous Chef means!) when it comes to the kitchen. Useful lookin' bugger don't ya think.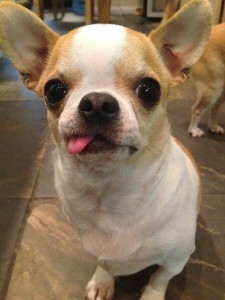 So I went to H Mart to get all my supplies. SOOO much more affordable than Nijiya.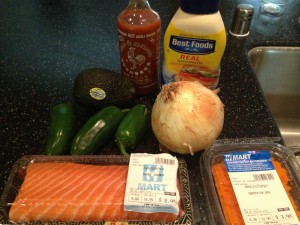 The pics aren't going to be very great b/c it was early evening so the lighting was terrible in the kitchen.
Salmon sashimi $8.99
Sweetfish Roe (tobiko) $3.90
4 Jalapenos $0.42c  
1 Yellow Onion $.054c 
1 Haas Avocado $1.29
Total $15.14
The recipe also calls for mayo and Sriracha which I already had at home.
– Step 1: dice raw salmon into small cubes
As you can see (on the left picture), I use a glove when I cut any fish or meats. Not b/c I'm worried about sanitation but more b/c I cringe at the thought of touching raw seafood/meats with my bare hands. So those plastic gloves come in handy.
– Step 2: dice up large yellow onion
– Step 3: cut jalapenos in half, discard seeds and stems, and dice the the jalapenos into small pieces
I like my poke salad to be spicy. The jalapenos I bought were huge. I used 3 of the 4 that I purchased for my poke salad.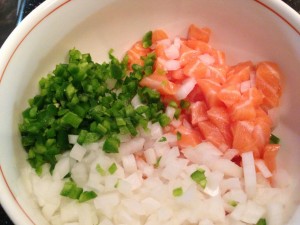 – salmon, jalapenos, and onion in bowl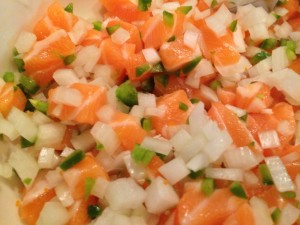 – gently combine the salmon, onions, and jalapenos
– mayo and Sriracha
I don't know how to measure this – it varies depending on how 'saucy' you want your poke. I am a mayo FREAK – I love me my mayo so I don't skimp on this spicy mayo concoction. And I love the orange sherbet color – (hey, on a side note, did ANYONE else call it SHERBERT instead of sherbet? I just googled the word b/c sherbert was showing as misspelled on here so I was shocked to see that it should be called SHERBET?)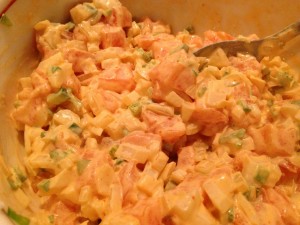 – combined with Sriracha mayo
Sorry – this picture turned out so orange (maybe that should be the theme in this post)
– combined with Tobiko
After you combine the mayo sauce, add the tobiko and gently fold into the mixture. Tobiko is a flying fish roe and tastes briny and crunchy. I used to be afraid of it (YouTube how they extract any type of fish roe and you'll see what I'm talking about) but I've come to love the taste/texture of the Tobiko. HMart has it labeled as Sweetfish Roe. I added two large spoon fulls to my bowl.
And I must say, I thought the poke was pretty good. I think I would have wanted it to be spicier but then you take away from the beautiful taste of the salmon sashimi. So I think I added just enough Sriracha and jalapenos to this dish. I did, however, not add any salt/pepper or sesame oil to the dish though. I felt the Sriracha and the brininess of the Tobiko was enough for this dish (for me). Regardless, the poke was wonderfully creamy and the tobiko really does bring this dish up a notch ( ick – I hate sounding like Emeril….)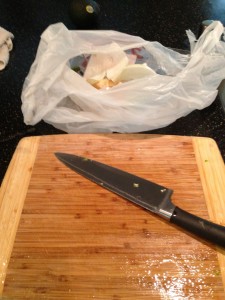 – my prep station after
This is my mock prep station – I learned from Rachel Ray (don't hate me) this trick…put a bowl on your kitchen counter when you cook and use that bowl as a 'trash can' to keep things organized and clean on your kitchen prep area. Well, I don't have a fancy bowl like she does and I hate washing more dishes than I need to, so I use a plastic bag as my little trash bin.
My avocado wasn't ready to be eaten. It's still hard as a rock and I felt stupid even buying it b/c I knew I'd have to wait a few days. So I can't do a final presentation of this dish for you. I was going to add diced avo to the poke and/or put the poke into 1/2 a peeled avo.
– Soy wrappers made by Yamamotoyama
I got this awhile ago at Nijiya b/c I was always so curious to see what it was all about. I've had sushi rolls made from soy wrappers before but never bought any. They claim to be gluten free, low carb, no preservatives and ready to use. You'll find this product in the same aisle as the seaweed (used to make sushi).
There are 5 flavors in the pack – Turmeric, Sesame, Paprika orange, Original, and Spinach Green.
And no joke – they looked exactly like Origami paper. I was so confused. But if you enlarge the pic where I fanned them out, you can see how thin and perfectly square the sheets are.
I tried out the Spinach Green with my poke (but this is after I ate a bowl of the poke first so I was kinda stuffed).
I sliced the Spinach Green soy sheet in 1/2 and tried to make it into a hand roll. I wish I had some sliced cucumbers or sliced avo but alas, I did not. The soy wrap tasted ok. It becomes really soft and mushy (with the poke mixture) so it's intended to be eaten right away if you stuff it with something. But overall, it was alright.
And I didn't see this until after I opened the entire pack. But it says this 'After opening package, please consume as soon as possible'…
Dang it…
I used 1/2 a soy wrap so what the heck am I going to do w/ the 4 1/2 other sheets. Do I refrigerate them. Do I put in zip lock and put it back into pantry? Oh well.
So there you have it. I spent about $15.14 for the groceries (not including the soy paper which I got months ago and also not including the mayo/Sriracha I had sitting in my pantry). So I was happily surprised that this meal was pretty affordable and will give me at least 2-3 left over meals. I usually blow $45 on groceries if I make a two course dinner for myself (it also doesn't help that I grocery shop when I'm so hungry either) so I was glad to see that $15 actually can actually go a long way 🙂