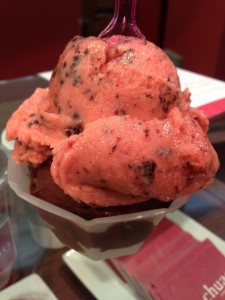 – Modena Strawberry Sorbet
Light, yet creamy strawberry gelato with hint of balsamic vinegar and flecks of dark chocolate throughout
This will probably be more of a thought provoking post for me so stop reading after the food pics if you're here only for the food stuff 😉
I'm a huge fan of Chuao (pronounced chew-WOW), a local Chocolatier here in SD. And while visiting their Del Mar location the other day, one of the employees mentioned to me that their UTC location was shutting down due to landlord issues. And it just made me think of a few things: what makes one happy in life. Yeah, weird question to be pondering when I'm inside a Chocolatier place talking about lease resolutions/issues. But I just thought 'dang it…I really love their Modena Sorbet – it literally makes me happy'.
Are there things in my life , or in your life, that just simply make you happy.
Before delving into that one…let me finish my post on Chuao UTC. They close 6/23/13 but will shift most of their non-gelato sales to their neighbor Bottega Italiana (who currently manufactures all of Chuao's gelatos). Bottegga (located right next to the ArcLight theater) will also then carry two of Chuao's gelatos (Spicy Maya and Modena Strawberry) that Bottegga currently does NOT carry in their own line of gelatos.
So many different flavors to choose from. But my favorites are the:
Mayan Chocolate: dark chocolate lovers rejoice! This gelato tastes exactly what I thought it would. Deep dark chocolate with a faint tease of a spicy kick at the end.
Modena Strawberry: so light, smooth, tart/refreshing – and there's nothing more magic than tasting a fresh, chilled strawberry dipped in a slightly bitter, dark chocolate (at least that's what I'm thinking when I close my eyes and enjoy this gelato). It gives me *that* moment, as an adult, to give in to a certain indulgence that I normally think I should refrain from but what the heck for. Kinda like when my dad would take us to Thrifty's ice cream as kids and we'd be so ridiculously happy eating the cheap ice cream together and sharing dad/daughters moments (Chocolate Malted Crunch for me, Butter Pecan for dad, and Rainbow Sherbert for sis). Why can't we have those same ridiculously carefree happy moments now as adults.
To eat as much ice cream as we want, laugh, and have your hero put you to sleep every night. Is that TOO much to ask 🙂
So I knew my Chuao post would be short as there's only so much I can write about gelato. But again, it gave me a chance to ponder what in my life, right now, makes me smile. Yes, usually it's food, as you can see from this blog. But there are other things too. So if you're curious about them, please read on.
– Lifu, my friend
The pic on left is when I tried to cut the nails on his tiny (yet super Frodo, the Hobbit,  wide) paws. Sis was holding him and I totally nicked him and he started bleeding. Sis and I both freaked out so she handed him to me and we started looking for gauze or a band-aid (WTF- for a dog?!) or something. But I didn't have anything, so we improvised : with a cheap restaurant napkin and a rubber band. I think that pic is pretty priceless – I mean, look at his face and then the size of the first aid ghetto-help sis and I provided.
The pic to the right is with him sitting next to my mom on the sofa. This was around the time I first got to know him. Mom brought him back from Taiwan a few years ago and as you can see in pic, he's quite fond of her. Look at his short front legs resting on her thigh, with one batwing limp ear, and his weird tongue hanging out.
It took some time for me to warm up to him b/c my mom was really super in love with this dog and would protect this dog to no end, like for example, to name calling (ahem…from me and sis). She'd pick him up, shower him w/ hugs and kisses, baby talk to him. Freakishly NOT like the mom we know and fear. So sis and I, would stare at each other, then stare at her loving this dog, and I think we developed some Freudian complex of jealousy towards the stupid new dog from Asia. Sis and I would text each other  'WTF man… mom was NEVER that nice to US when we were kids, or like now, or like EVER'. Then we'd pout like little girls to try to get her attention.  The conversation I had w/ her last Christmas, when I got him, went like this:
Mom: 'can i tell you a secret'
me: 'what'
Mom: 'but you can't tell'
me: 'yeah ok, what'
Mom: 'i'm going to write an autobiography about Lifu'
me: 'but he's like 2 or 3 yo. He doesn't have enough about his life for you to write'
Mom: ' no, but he does. He had to come here (to the States), traveled on a plane, had to                fight for acceptance here in States, doesn't understand English…'
me: 'stop…talking'.
Then we started laughing uncontrollably. So this dog really has brought some much needed laughter and joy into our lives. There's alot more to this story but this was my silly intro into this.
– Beautiful Sunset
I captured this some time back at a park close to my house. I'm not one who enjoys the fresh air, or the beach, or the sun, or the hillsides…you get the point here….so it's rare that I take that moment, *a* moment, to slow down and enjoy something to it's simplest and to it's fullest degree. So it was a quiet evening – not alot of people – so I sat on a table and just listened to the 'quietness' . And to be able to capture the progression of this sunset brought a smile to my face.
I've distanced myself from a close friend recently. Nothing to be shared here right now. But  the last few weeks have been difficult to process.
What do you do when a friend *unintentionally* breaks your heart. What do you do when someone you looked up to all of a sudden looks nothing like the person you thought s/he was. That in a blink of an eye, a friendship can change so profoundly that you cannot imagine moving forward with this person. Forgiveness is one thing. Forgetting is another. So I'm having a hard time with this one. I might need another sunset soon I suppose.
– Dwarf blueberry bush $7.99
I bought this at 99 Ranch here in San Diego b/c I've never seen a dwarf version of this berry (actually, I've never seen any version of a blueberry bush!). So bought two of them and was going to keep them in their little cheapo plastic pots until I knew what to do with them.
But look at how it's producing beautiful blueberries! It makes me soooo happy for some reason to see fruit growing on any bush/tree. And *I* was doing a good job with this little dwarf !! It wasn't dying on me (and trust me, plants of any kind don't like me).
SJC recently told me she had surprise for me. She went to Armstrong Nursery and picked out two oh-so-beautiful ceramic vases for my blueberries!! The heavy, ceramic vases matched perfectly with my yard and landscape. So she helped me plot the bushes in the pot and here we are – here *I* am – triumphant with my first blueberry bush 🙂
– Apple tree from Evergreen Nursery
My next goal is to plant a few fruit trees in my yard so I've been happily searching for the trees that I want to grow (or the trees that are less likely to die under my care). Let me know if anyone has suggestions for 'easy fruit trees' to grow in SD.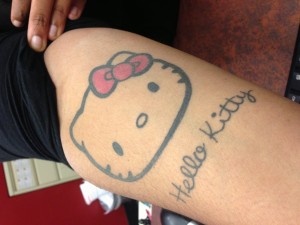 – Hello Kitty tattoo
You like my new tattoo? Just kidding. Isn't it awesome though. This is a REAL tattoo from a bank teller. I know right – not sure what's more funny – that it's a HUGE HK tattoo right up your forearm or that you're a bank teller with a huge HK tattoo right up your forearm for everyone to see. Kudos to her b/c she's proud to show this off. Unlike whimp-me who secretly loves Hello Kitty but too embarrassed to show it.
– hand picked roses with my little nephew
Sis has tons of rose bushes in her yard. And these are our favorites. My nephew, who's itty bitty, likes to go with her when the roses bloom and help cut a stem or two for his mom to put in a small vase. So this time around, he went w/ his favorite auntie to cut the roses. Makes my heart melt every time I spend time with my nephews.
So that's a few of my favorite things (Sound of Music anyone….). Hope everyone is having a great Thursday evening.