I've wanted to visit this brunch place for ages now. It isn't the typical Sunday brunch buffet where you have all these different stations you can go to for food. Instead, here at Pranzo, while the variety of stations are available, you are given the opportunity to order one entree (per person) to partake during the brunch. I loved that. I'm so used to losing my mind trying to get my money's worth at ANY buffet so this concept of ordering an entree really appealed to me.
So the guy (I honestly have to give him a nickname for this blog) knew I wanted to try this place out so he made a reservation one Sunday afternoon.
Pranzo, meaning lunch in Italian, is located in the Park Hyatt Aviara Resort in Carlsbad. They offer this brunch only on Sundays in their Vivace restaurant.
It was pretty empty that day which surprised me b/c when I tried to get a table few months back, they were completely sold out for a good three weeks. Maybe my new guy reserved the entire place for me. Hmmm. Nahhhh…
We choose a table by the indoor fireplace.
Our server came over with the menu.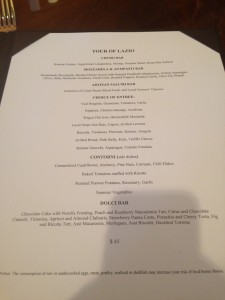 – Pranzo menu $45/pp
Sorry for the horrible pic. There's a choice of 7 entrees. They haven't updated the menu on their website unfortunately. But there's a decent variety of entrees you can choose from: Veal Bragiole, Rigatoni, Wagyu steak, Sea Bass, Baccala, Pork Belly, and Gnocchi.
You also get a choice of one side dish per person: caramelized cauliflower, baked tomato stuffed with risotto, roasted potatoes, and summer vegetables.
We didn't put in our order right away b/c I read somewhere that you should take your time sampling their brunch stations before you even think about placing an order.
The dessert station was right behind us and my date really really really loves dessert. So I'm putting those pics up first right now.
– Dolce Bar
They had a good amount of desserts to sample. More pics of the items later on in this post.
Artisan Salumi Bar:
– Prosciutto station
THIS is one of the reasons I was excited to try this place. I love prosciutto. And it was amazing to see someone slicing it fresh for me.
Unfortunately, the prosciutto didn't taste that great. It tasted almost 'stale' or old to me. I'm used to Prosciutto de Parma which tastes so lusciously fatty and porky. But this prosciutto really lacked in flavor and texture.
– Variety of meats and cheeses
– variety of salads and fresh bread
– Freshly made Mozzarella
The guy making this was soooo incredibly nice. He showed me how they made the cheese here. You add the curds to the hot water (that's infused w/ basil!), let the curds slowly melt, then you take the melted curds and stretch the heck outta 'em, form into a smooth satiny ball, and then put in ice bath.
– flake sea salt and extras you can add to the mozzarella
This wasn't just normal sea salt. They were beautiful flakes of sea salt that tasted truly like ocean mist to me. And their aged balsamic vinegar was so wonderfully sweet and tart.
– slice of the fresh mozzarella and fresh ricotta
The mozzarella tasted 'ok' . I was sad that it didn't taste amazing, especially after seeing the guy put all that work into making it. The mozzarella tasted a bit rubbery and bland.
My guy liked the fresh ricotta but it was a bit too 'tangy' for my taste. But it looked delicious on a fresh piece of bread though.
Crudo Bar: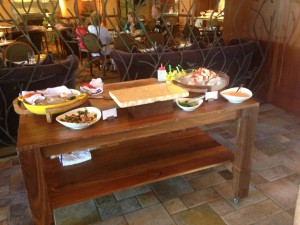 – Kumiai Oysters, shrimp, Skuna bay salmon and octopus salad
There's someone there to actually shuck the fresh oysters for you. The only issue is that there's no cocktail sauce or horseradish. They have a mayo based sauce you can use for the oysters and the shrimp.
– Skuna bay salmon
They slice it fresh for you and sprinkle sea salt and fresh lemon on top.
Unfortunately, we didn't like this salmon. Sounds silly but we would have preferred this to be served w/ soy sauce and wasabi. The salmon didn't taste the best of quality to me.
Here are our plates of food from the stations:
The crudo bar man was able to track down some fresh horseradish for me. And it helped me enjoy the oysters alot more. My guy opted to put a jalapeno slice on his oysters.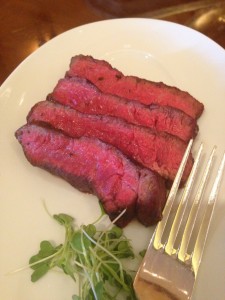 – Wagyu flat iron
This was my entree. It was prepared a perfect medium rare. But, augh I hate these 'but' in this post, I didn't like the steak. It was under seasoned and a bit chewy. I've always heard that if you *want* to ask for A1 sauce for a steak, the steak must suck b/c a good piece of steak doesn't need *any* type of steak sauce (and I LOVE A1 sauce so I'm not hating on any other A1 lovers out there).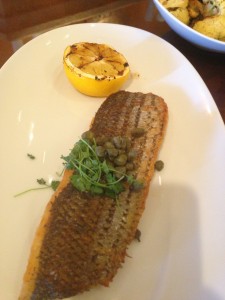 – Local Stripe Sea Bass
This was my guy's entree. It was prepared really nicely. The skin was crispy and the flesh of the fish was moist. We weren't blown away by this dish but we weren't disappointed either.
– Baked tomato stuffed w/ risotto
My guy (honestly, i gotta come up with a nickname, this 'my guy' thing is getting redundant and silly) ordered this b/c our server said it was the special of the day. But, augh, this wasn't very good. It tasted like wedding food to me – mass prepared and not very fresh.
– Caramelized cauliflower
FINALLY!!! The winning dish of the day. Sad to say as there was quite a bit to sample that day. But this dish was delicious all the way. I loved the hint of anchovy and garlic in the olive oil.
Onto the dessert which is what he was waiting for the entire time. He told me that he's a dessert freak and that he, at every buffet, needs to try every single dessert item being offered. I thought he was joking but nope. This dude likes his desserts.
Dolci Bar:
So the desserts were just 'ok'. I asked the server if they made their desserts in house and she said yes. But we felt the desserts tasted pre-made or store bought or was out sourced. The cannoli was the worst in this bunch though – tasted incredibly stale and the cream filling was way too sweet.
Was it worth the $45/pp. I think so. It's a fun experience but I don't know if I would return. Though the food wasn't impressive, the concept of Pranzo is. So I think if mom or sis wanted to try it out, I'd take them.
Here's a few pics of the hotel and their landscape. It was a beautiful afternoon so it was fun strolling their grounds before we left.
Pranzo at Vivace
Park Hyatt Aviara Resort 
7100 Aviara Resort Drive
Carlsbad, California 92011
Phone: (760) 448-1234