The last few weeks have flown by hasn't it? I'm not even sure how it's even 9/10/2013 today. I feel like I'm in some sort of time warp b/c I was just here in Taiwan less than 3 months ago – and here I am today – in Taiwan – AGAIN.
The weather here is as crazy humid and hot. But surprisingly, it feels like I'm in SD and LA b/c the weather in SoCal was just as miserable when I left last week for Taiwan. So forgive the delay in food blog posting b/c my life has been a bit 'all over the place'. I'm going to really TRY to be more consistent with postings after I return from this trip. It's funny b/c I realized the other day that my general routine in life has changed the last few months – if you read my intro to this blog all those months ago, I used to read food blogs all the time – and it made me sad realizing that I haven't been able to keep up w/ some fellow food bloggers over the past few weeks.
Anyhow – moving on – I'm here in Taiwan and trying to make the most out of my 10 day trip. And it always seems like it's food based 🙂 That's what we do here in Taiwan w/ family. Eat. And eat. And eat. How do family members show their love for you here? We eat. We take each other out and freakin' eat. I think it's hard to convey emotions here in Asia so expressing it through food is honestly the easiest way to show our love and appreciation for one another.
Xiao long bao has always been a fascination of mine. ALWAYS. Not sure why – there's something about the soupy dumplings that drives me loco en la cabeza for some reason. I think I've tried my fair share of XLB – from Taiwan to LA to SD (yeah, I know, San Diego – big whoop for XLB pickings right). But the point is that I've tried ALOT of XLB I think. Din Tai Fung seems to be the motherlode of all XLB dumpling houses. As Givenchy or YSL is to a designer empire. I have never, personally, understood the intrigue of DTF.
My grams took me to my first DTF many years ago in Taipei City. It was sooo crowded and all 3 floors seemed to be a cluster of tourists. Perhaps the hype of the DTF name ruined it for me – but I know that their XLB really didn't do it for me. I didn't think the soup in the dumplings was all that great or superior compared to others that I've had in the past. But that's just my .02c right.
So this trip, mom insisted that we try the new DTF in the 101 building. We stumbled across the newly opened restaurant after mom sent me and MG to the top of the 101
Oh..did I mention MG is on this trip w/ me 🙂
Din Tai Fung (101 Branch) B1F, No 45, Shifu Rd, Xinyi Dist, Taipei City 110, Taipei, Taiwan
It never ceases to amaze me the crowds of people waiting to get into DTF. Like it's some sort of newly opened Disneyland ride or something. Mom already got a ticket number for a party of 3 by the time MG and I arrived.
– Chili oil, soy sauce, black vinegar, and freshly sliced ginger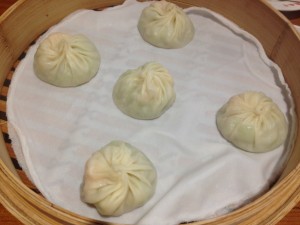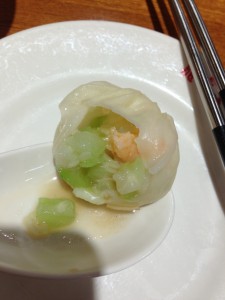 – –  – Green squash and shrimp XLB (1/2 order = 5 pieces)
Green squash is one of my absolute favorite things on the face of this earth. I can't get enough of it…when it's done right. Often times, the squash can be very bitter. Or just bland. And unfortunately, in this dish, I didn't find the XLB to be flavorful at all. The squash and shrimp were tender but where the heck is the soup in the dumpling? Maybe the seasoning of this XLB comes from the fresh ginger and vinegar you are to use to dip the XLB in. But I was hoping for more flavor within the little dumpling itself.
– Pork and Crab Roe Xiao Long Bao
Now we're talking. This XLB had a lot more soup within the little pocket of dumpling. I'm not a huge fan of crab roe but I did appreciate that you could taste the egginess of the roe in this dish. Warning : if you don't like 'fishy' or 'seafood-y' stuff , I'd probably pass on this dish.
MG thought the crab decal in the middle of the bamboo carrier was real cool though. Funny observation huh.
– Pork Xiao Long Bao
Their claim to fame. And sorry – not sure what to write about here. The XLB, in my opinion, had VERY little soup in them. The pork was flavorful but the XLB was disappointing b/c not enough hot soup spurted out to make this an authentic XLB experience for me.
The best XLB experience is when you're panicking to catch all the XLB soup coming from the dumpling when you bite into it. *THAT* is when you know you have a true XLB contender on hand (in my opinion). And unfortunately, this XLB did nothing for me. It's like going on a really boring first date.
– House steamed chicken soup
The broth was amazing in this dish. Chicken was alright – mom and I both commented that we'd rather have more broth than chicken that was offered in this dish (which is weird for me b/c I'm usually all about value). But there was alot of chicken in this small bowl of soup – at least 3 pieces of meat. Not bad. But the broth tasted incredibly clean – you could just taste the incredible quality of the chicken they used, along with the green onion and I believe ginger as well. I would order this soup again in a heartbeat.
– Sesame and taro dessert bao
It was funny to see the two little baos being served in a huge bamboo container. Both mom and MG loved these dessert baos. They came out piping hot and fresh. MG commented that you could really taste the actual black sesame in the bao.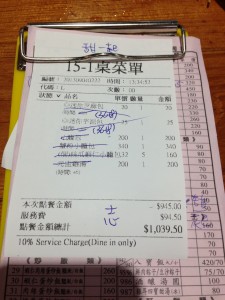 – Total $1,039.50 NT (includes a 10% service charge)
So about $35 – not bad – but not "OMG AWESOME!!". But hey, it's Din Tai Fung AND it's in the all-so-touristy-101 so what can I expect right.
– Din Tai Fung toothpick
Mom insisted I take this photo for this post. MG and her thought this was one of the coolest toothpicks EVER. Um…ok….
– views of employees making XLB and interior pics of restaurant
A-Chiu Soup Dumpling Restaurant – Taichung
I always go to Taichung to see my great-uncle and great-aunt. They both hold a special place in my heart. And I'm forever grateful to them for a lot of support and love they have given me. Plus, they feed me like a little lab rat that I can be and spoil me to the nth degree 🙂 But I have a lot of other relatives that live in Taichung as well so every time I am there, I have to bargain with them on who will treat who – and they always win – so yeah – it's hard to complain here right ? But one of my favorite aunties (my mom's cousin) lives in the city and insisted on taking us to a brand new XLB restaurant that opened up in the City.
It's truly very modern and very sleek. I think they're trying to compete w/ the cleanliness of Din Tai Fung. When you walk in, you can see a glass case showcasing a bunch of their a la carte (cold) appetizers being offered. Mom and Auntie went CRAZY ordering these appetizers for us.
– Lotus root; Tofu sheets w/ bitter greens
– Pork spare ribs; stewed pumpkin
– Eggplant in garlic sauce; Green beans with minced pork
– Cucumber and (?) in peanut sauce; Bean curd strings
The (?) from what I understand is the white foam that floats to the top when you make green bean something (sorry – this is what I heard but didn't ask too much about when the manager was trying to explain to us). But I wasn't a fan of the white jelly thing at all. But the bean curd strings were awesome – especially eaten w/ the fresh ginger they serve at each table.
– Kimchi and taro
Auntie and mom insisted on ordering the kimchi. It wasn't very good – not that it wasn't fermented enough or that it tasted horrible – it just didn't taste like authentic Korean kimchi. The funniest thing about my auntie is that she proceeded to tell the manager EXACTLY what SHE thought was wrong w/ the kimchi and how SHE would make it better. Ballsy I tells ya. But the manager was super cool and seemed to be receptive of her 'suggestions'.
– Minced pork Noodle dish
Lots of ground pork and fresh green onions. You mix everything together and serve accordingly. Everyone liked this noodle dish and even commented on how much pork they actually give you.
– Fresh ginger and black vinegar on each table for XLB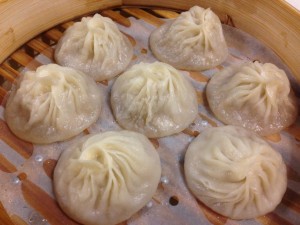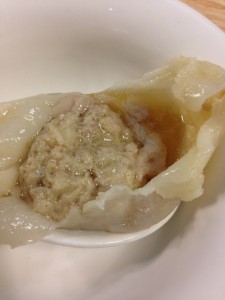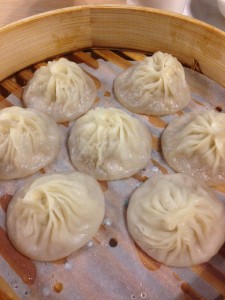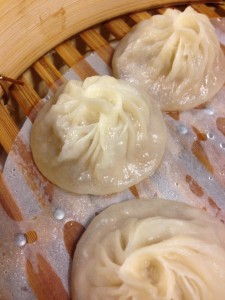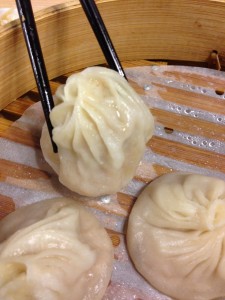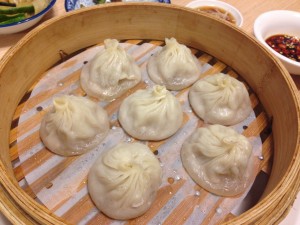 – Pork Xiao Long Bao
OMG. SOOO much soup in these dumplings!! The pictures do NOT do these little suckers justice. I've never seen so much soup in an XLB. I swear the interior of the dumpling was filled 1/2 way with soup.
Everyone but mom agreed that the XLB here was wayyy better than DTF. But mom, being the DTF freak that she is, disagreed. I found the pork filling to be incredibly tender, flavorful, and juicy.
The XLB wrap was beautifully pleated and was just the right amount of thickness/thinness for me. MG felt there was TOO much meat in the XLB. He felt you can't experience the true beauty of an XLB if there's too much meat inside. He actually makes a valid point but he's talking to a gal that general loves pork filling in ANY dumplings (so I just nodded like a good GF to him).
We ended up ordering 3 bamboo steamers of these dumplings. There was just sooo much food.
– Steamed vegetable dumplings
These dumplings were so magnificently wrapped and stuffed w/ the greenest and freshest veggies. I wasn't sure what kind of vegetable they used so I asked the wonderful manager for more information. And look what he brought out for us:
I am not sure if this is mustard greens (?) or perhaps bok choy – all of us weren't 100% certain on the translation. But he said they boil the vegetable first, then blanch it in cold water, and then chop it up for the dumpling filling.
Man – there's something about the chicken soup here in Taiwan that I just love. Again, this broth tasted so clean, so much of fresh cut chicken with ginger. And I hate to say it again, but there was TOO much chicken in this soup. W.T.F.
I NEVER thought I'd ever say that for ANY dish. But I could have sipped this soup by the gallon(s).
– Pork Rib soup
Same thing here – super clean tasting. Honestly, not sure if I had too much of the chicken soup at this point b/c this pork rib soup tasted almost the same (as the chicken soup).
– Pork XLB after 20+ minutes
Have you ever wondered what happens to an XLB after it sits for a bit? Usually I would never let that happen b/c I panic about the soup in the dumplings absorbing into the dumpling skin or the soup disappearing somehow.
So this is what it looks like. Not that much soup left – it does look like it got absorbed into the dumpling skin. Cold dumpling of any kind isn't all that tasty and this was no exception.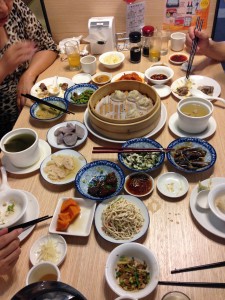 – Our lunch time feast
We eat SO much in Taiwan.
– Total $1648 (includes 10% service fee)
So about $62 – again, not the cheapest you can get in Taichung but I felt it was well worth it b/c the quality of the restaurant (really clean, lots of a/c, great service) and the food was spot on.
Another thing that I found so cool was my Auntie asked the manager if I could go to their XLB kitchen in front to see how they make the XLB. Again, she's gots BALLS man. Love her. And he thought about it, said wait a moment, left to the back, and then came back and said yes, come with me 🙂 It was also Sunday afternoon so the restaurant was pretty empty and the kitchen seemed pretty peaceful.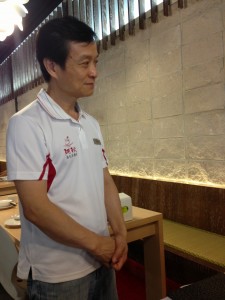 – This is Leo: Just THE most amazing manager ever
So he took me and MG to the XLB area and introduced us to the head XLB chef (who's been making XLB for 30 years I think). It was truly memorable b/c 1) I've never been in an XLB kitchen; 2) the XLB chef was so incredibly kind and thoughtful; 3) my boyfriend was there!; and 4) I learned some tricks of the trade on making XLB (well, I *think* I did).
I must have spent a good 15 min with the chef and I can honestly say it was such a highlight of the trip for me. My Auntie was laughing at me (or with me) saying that the both of us are so much alike  – we just love food and have no qualms asking people for their .02c on food related stuff 🙂
Gong Cheng Xiao Long Bao – Hualien
My mom loves Hualien b/c it's sort of a getaway from the hectic pace of Taipei. We usually end up in this beautiful city towards the end of my trip b/c we both feel quite at peace here.
One of the most amazing thing about my great-uncle is that he always, always, surprises me in the mornings. He knows how much I limit my carb intake but he doesn't care. He knows my love of all things baos so he buys me freshly steamed baos in whatever city we're in.
He introduced me to my favorite baos ever – and it was in his hometown of Taichung. Imagine a xiao long bao but instead of the dumpling wrapper, imagine the soup dumpling being wrapped with a light, fluffy, yeasty, doughy bao. I don't think I've posted pics of that perfect bao b/c it's on my old laptop. And unfortunately, I wasn't able to try that bao again when I was in Taichung this time around.
But there's a soup bao place here in Hualien that is quite famous. It's open 24 hours and I've seen the horrific lines this place garners on weekends.
Great-uncle woke up early one morning and brought back about 2 dozens of these fluffy soup baos for us to have for breakfast. I'll show the pics of the baos he brought him after these pic of the actual bao stand.
There's only a few tables inside the actual place for people to sit down and eat. You can see how high they stack their bamboo steamers filled w/ the baos.
The baos are steamed so perfectly. I didn't have any that night we visited b/c we were all so full. So I cannot say how 'soupy' these baos were. But the actually fluffy bao was delicious.
Beautiful huh? All hand wrapped – all hand made.
Here are 3 photos of the baos my great uncle brought home. They still tasted delicious even after a few hours sitting in the plastic bag. But it didn't have the 'soup' that I was craving or longing for. Augh – I sooo wish I had pics of the soup bao I had in Taichung last trip 🙁
Regardless, these baos were good and I wouldn't mind having them again. And they still taste good few days later warmed up in the steamer or microwave.
So there you have it. My adventure in XLB and soup baos. Not bad so far for this trip. We leave tomorrow back for the States. But I can say that we are so 'fooded out' right now – it's almost hard to look at food b/c my family has been stuffing the both of us like little piglets.
It's been an interesting and memorable trip so far. I always learn so much from my family with each visit. And my grandma and great uncle/aunt aren't getting younger. So it's been harder and harder for them to travel to the states to visit us. It hurts quite a bit to see them age but I think it hurts even more to see them take care of me like they're still in their 50s and I'm still 9 years old or something. I don't know how I can ever show them how much I appreciate and love them as much as I do (I had to get up just now b/c I don't want MG or my mom to see me getting teary writing this).
Anyhow, enough of the happy/sad tears. It's now Wed afternoon and we're going to our last sightseeing adventure before we leave for Taipei tomorrow. So it's happy times for me right now.
Hopefully everyone is doing well where ever you all are right now 🙂