Ikiru Japanese has been on my " Must Eat" places in SD for some time now. It's hard to find a new Japanese restaurant that you can fall in love with. I have my regular Japanese/Korean sushi places I frequent but there's not really one specific place that I'd say is *THE* sushi place to go to.
Sis is a fan of the infamous Sushi Ota. Me, not so much. My parents would take us there when we were kids and I didn't find the sushi all that great. Sis says I MUST go back and give it another shot b/c she lives for their sushi (and it's 100% Japanese owned). But I guess me being the rebel that I am, I refuse to buy into the hype of Sushi Ota and I refuse to pay their outrageous prices.
So, I had been researching Ikiru in Point Loma for some time now.
I was so excited to come to Ikiru for my birthday dinner. It's a tiny little place inside Liberty Station. LS is huge so it's hard to describe where a tiny restaurant is located in this behemoth of a 'mall'. So I can only say that we parked by the Trader Joes and walked towards the Tender Greens restaurant near the fountain (sorry, that's the best I can do in terms of giving directions to this place).
We made reservations but the place was pretty empty. Only one person was sitting at the sushi bar. And what made this birthday a bit different was that I agreed to sit at the sushi bar for first time ever to have dinner. I cringe sitting at sushi bars b/c I don't want to feel obligated to talk to the sushi guy or have him watch me possibly eat something he made that *I* may not like. But hey, there's a first time for everything so why not try right.
This is a Japanese/Korean owned restaurant and the servers and sushi guys were nice. Bar seats maybe 8 (?) people. I knew exactly the two items I wanted to try : fresh live uni and white fish tuna (Ono).
But then I looked at the prices of the sushi and cringed (yet again). I mean, they seem on par with what Sushi Ota would charge. Oh no….
I hate having someone treat me to a meal and have it turn out to be really expensive. I didn't realize that some of the prices here were really high.
I realized something that night though. That you KNOW you've made it big when you (1) can order room service at a fancy hotel and not think twice about it and (2) when you can go to a sushi restaurant and order ANY M.P. item off the specials board and not even flinch. That's my personal dream I guess…sigh…. sorry, had momentary brain fart for a sec…
Luckily, we had a late lunch so I wasn't terribly hungry. But sheesh, I always eat with my eyes first you know? I tend to over-order b/c I have no self control when it comes to food sometimes.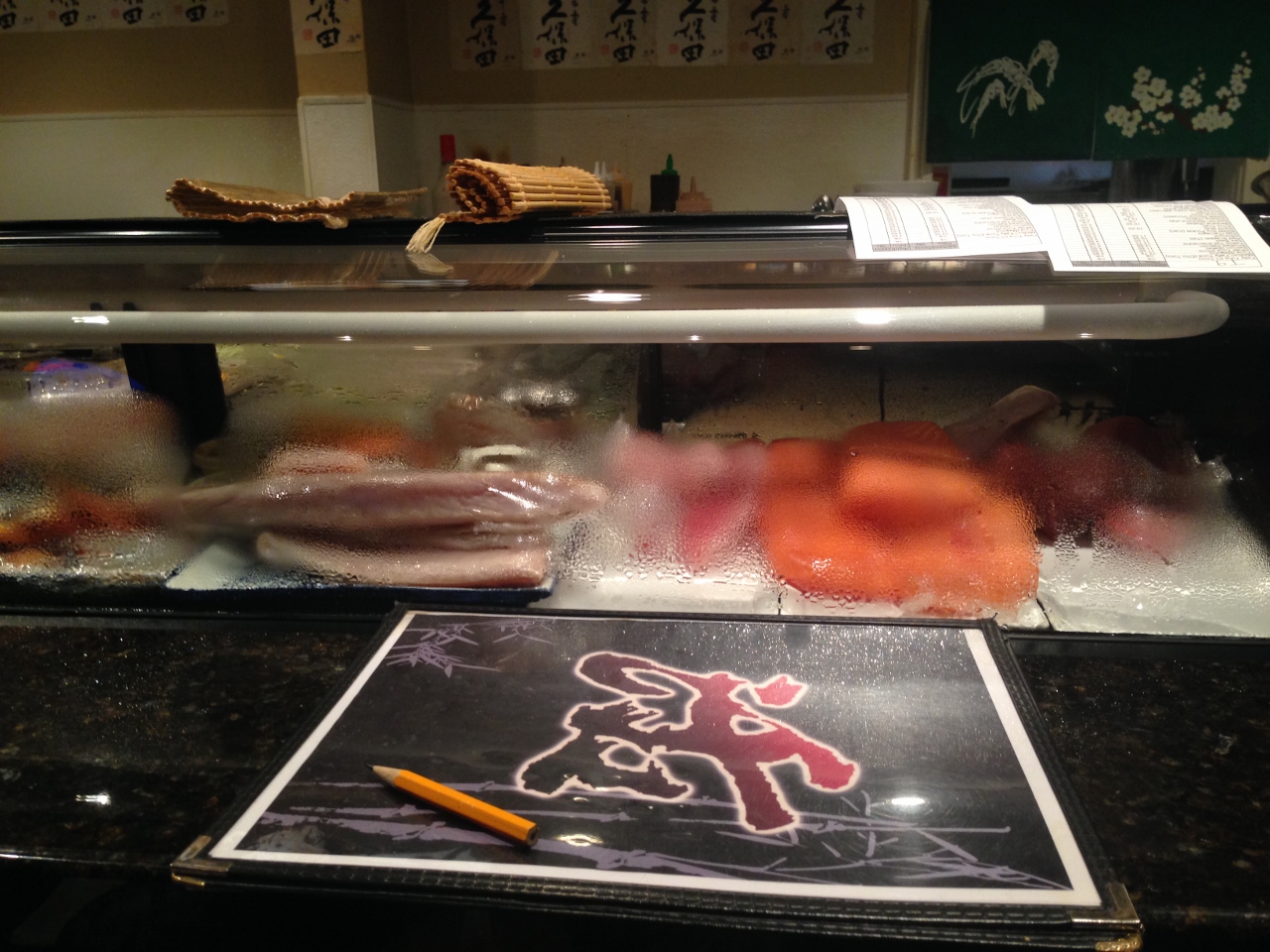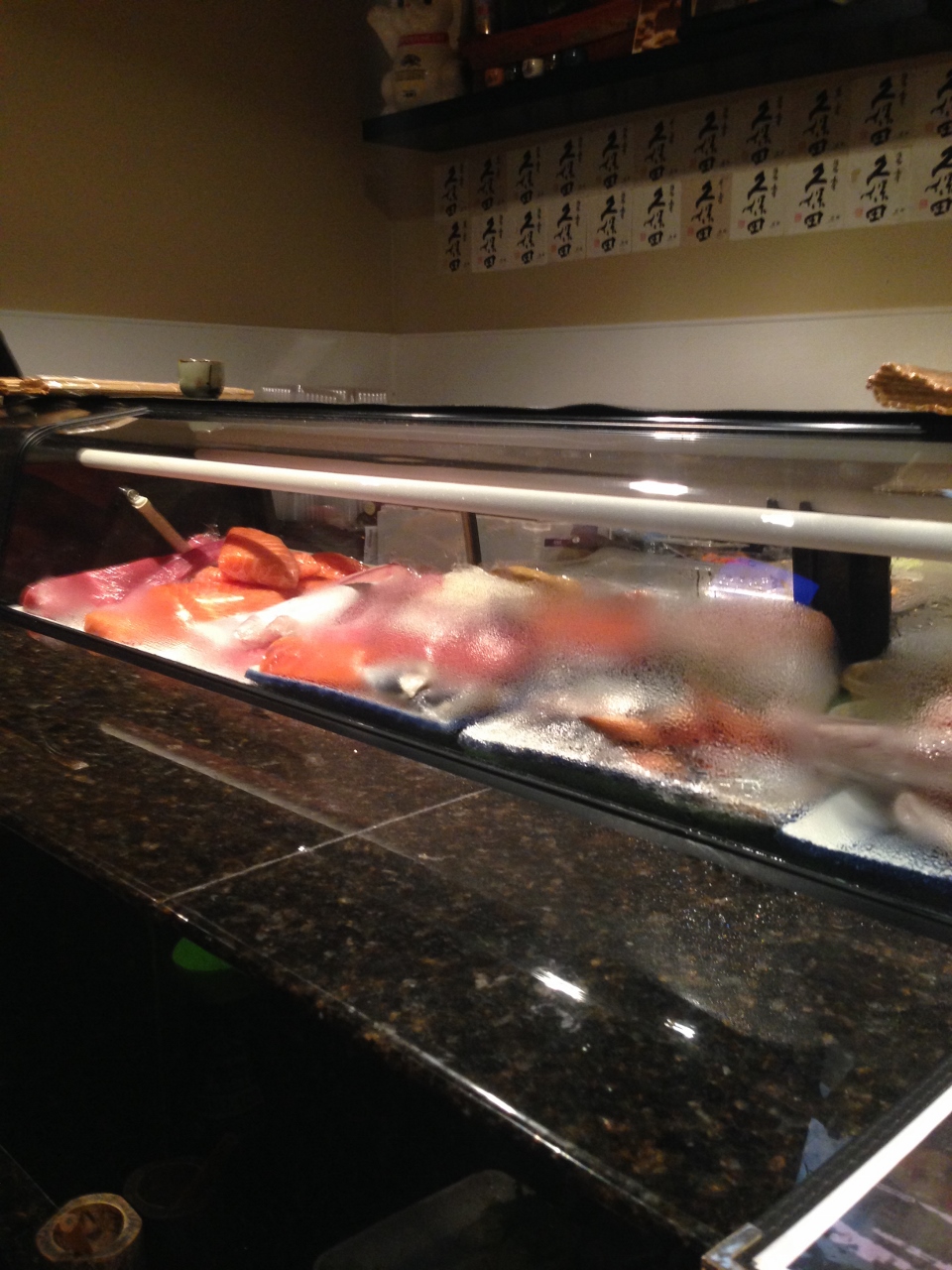 – Sushi bar
– Miso soup and salad; side of ginger, seaweed salad, wasabi
The miso soup was nice and warm. But I must say the side salad (I think it comes w/ the sashimi platter we ordered) was yummy. The salad dressing was great (not sure if it was ginger based?).
I always admired the people that sit at the sushi bar b/c I noticed how they would always get a  side of ginger/wasabi and possibly a small gratis side dish placed right in front of them. That appealed to me for some reason over the years.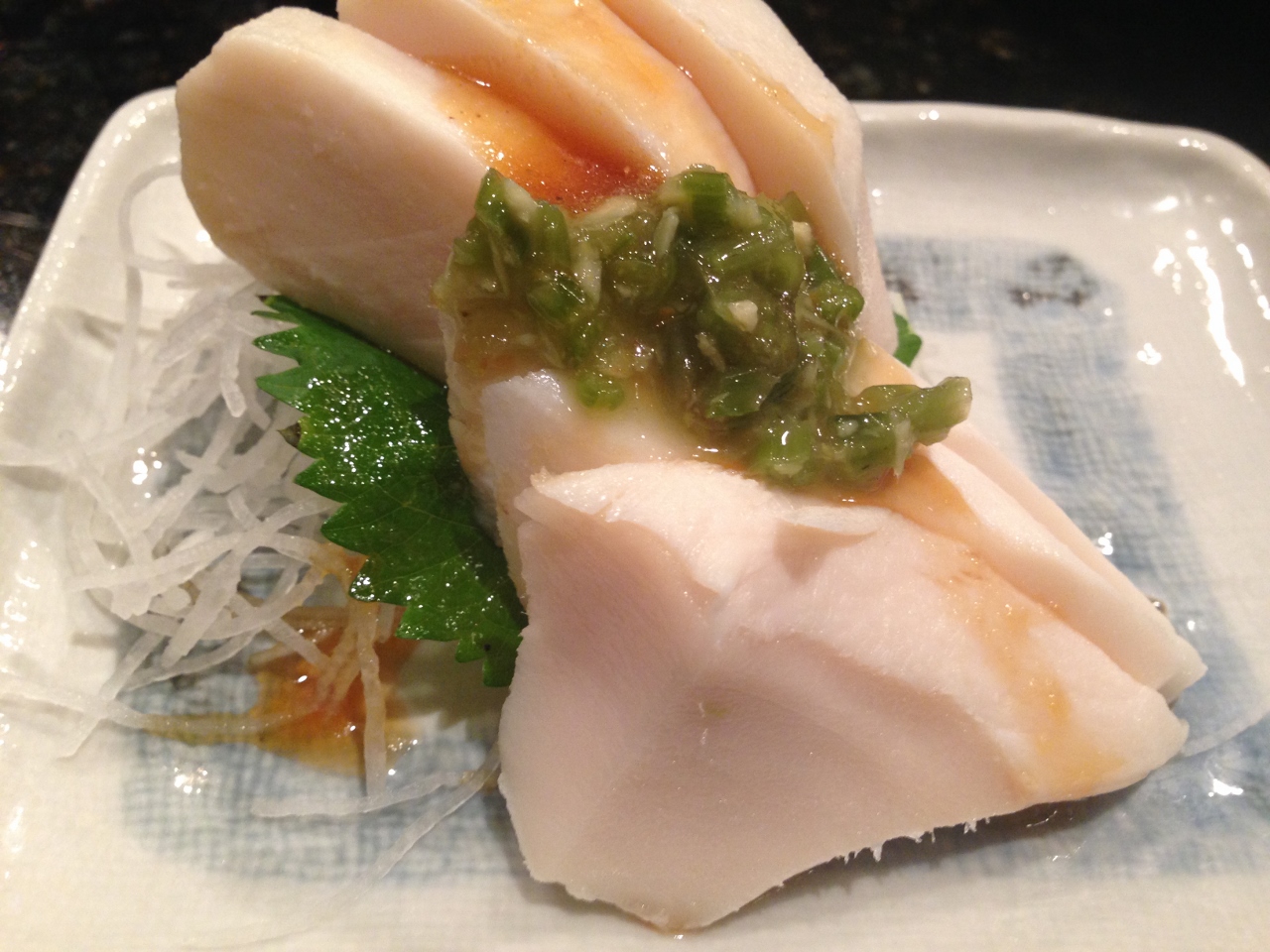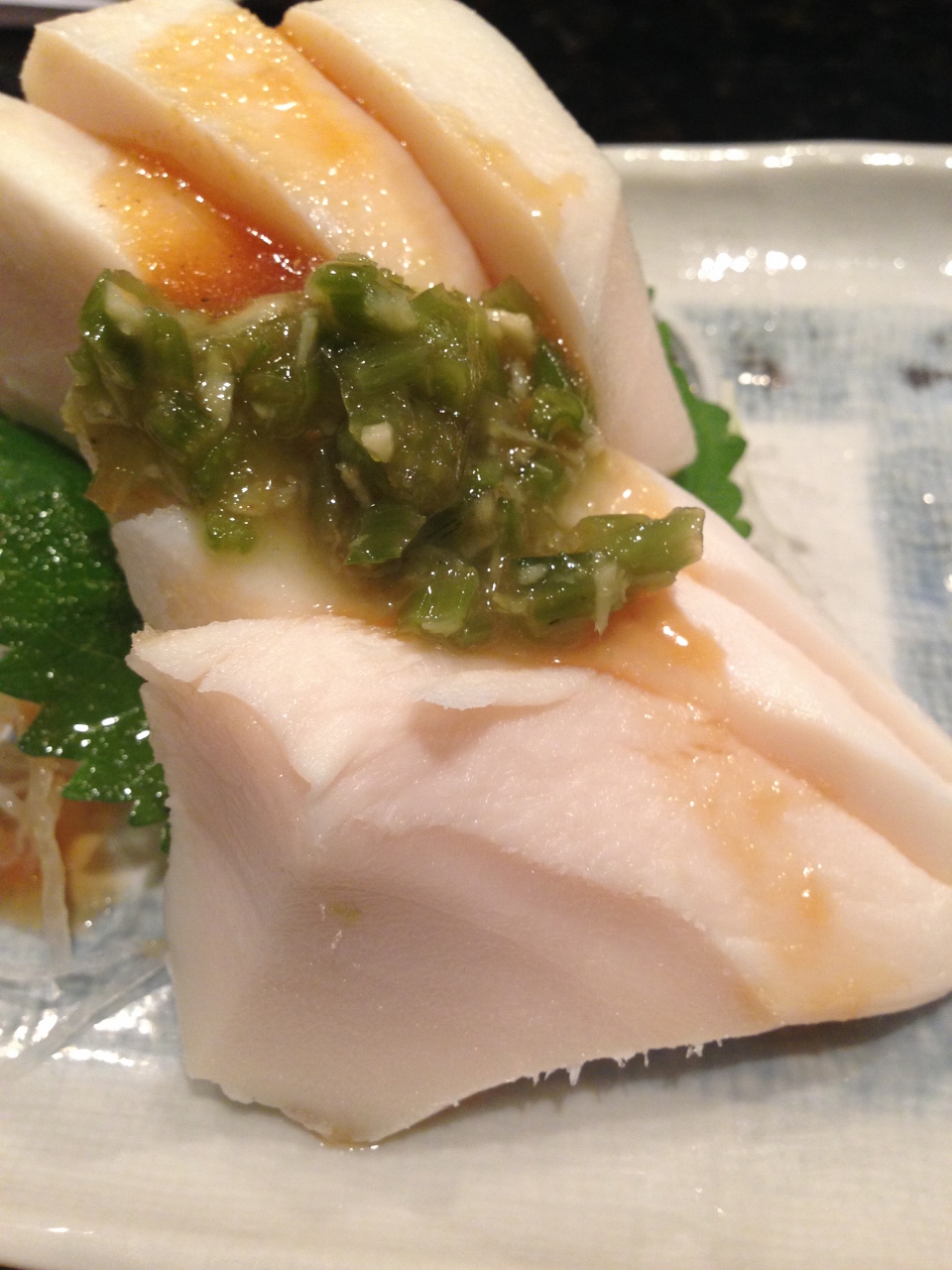 – Ono Sashimi $15
I've been obsessed with Ono the last few months. There's something about this particular fish that makes me incredibly happy. It's buttery, soft, not abrasive, and just perfect in every way. But it's been hard to find that lately with the ono I've tried. I'm not sure why. And the ono sashimi here wasn't that good.
First off, Ikiru offers fresh wasabi on their sashimi and sushi. You can see it on top of the ono – it's the green looking stuff. And it's quite nice, I didn't find it terribly spicy at all.
But the ono here tasted too cold, almost not-quite-dethawed-ish. It makes it impossible for the fish to taste buttery and soft in this state.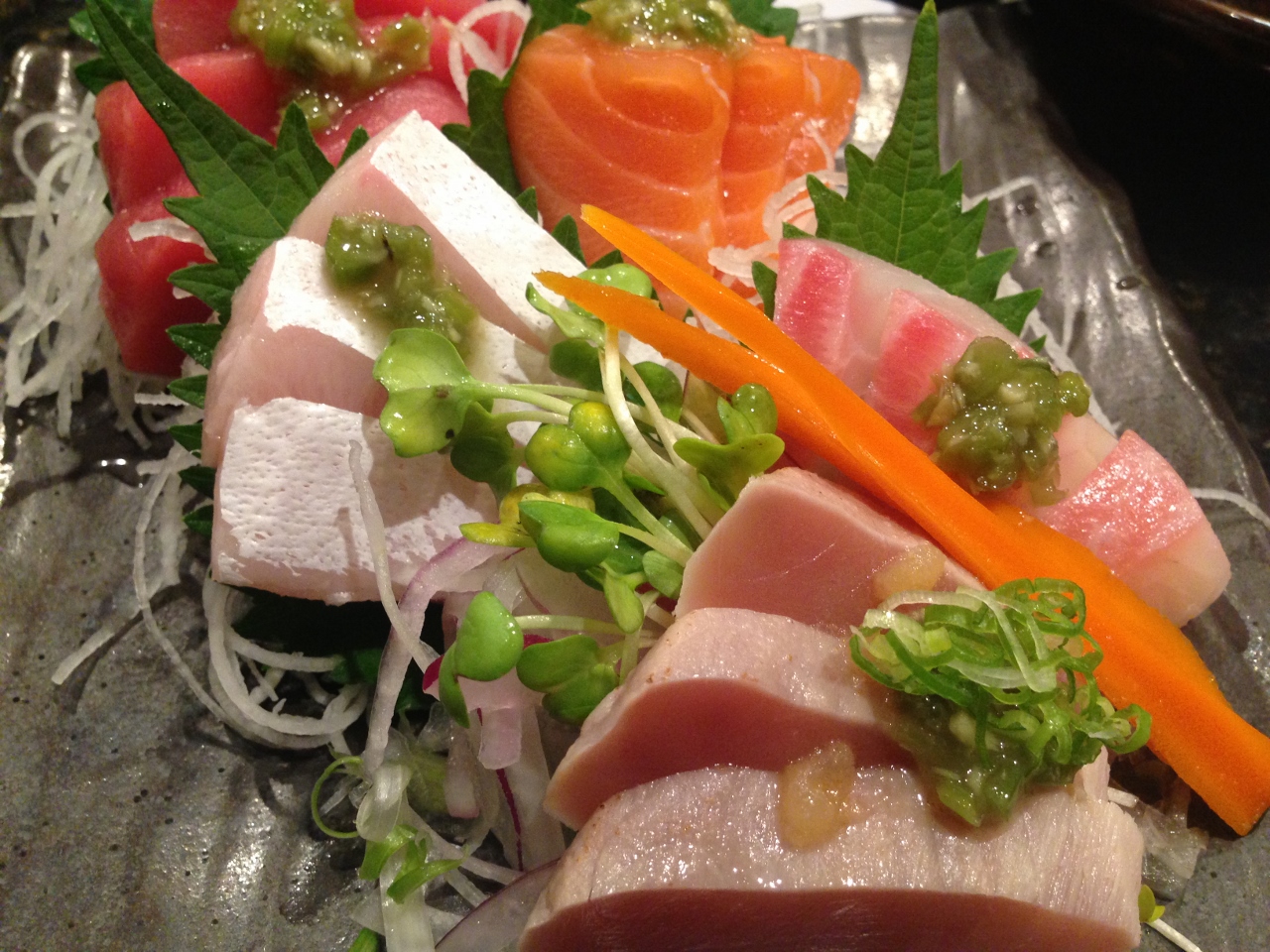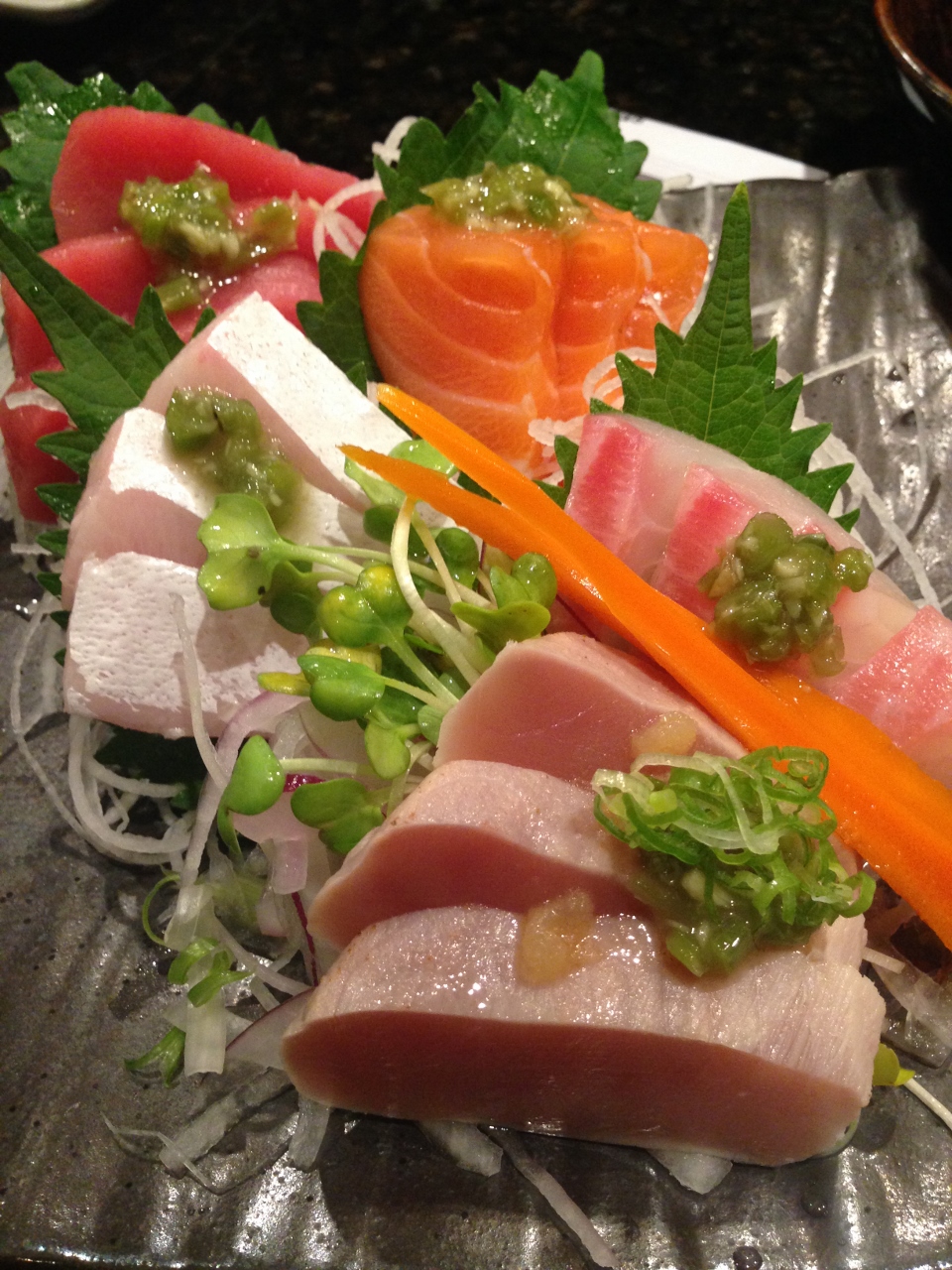 – Sashimi 3×5 : $24.00
This consisted of tuna, salmon, hamachi, albacore, and red snapper ( I believe). It's 5 different kinds of fish, 3 pieces/slices of each.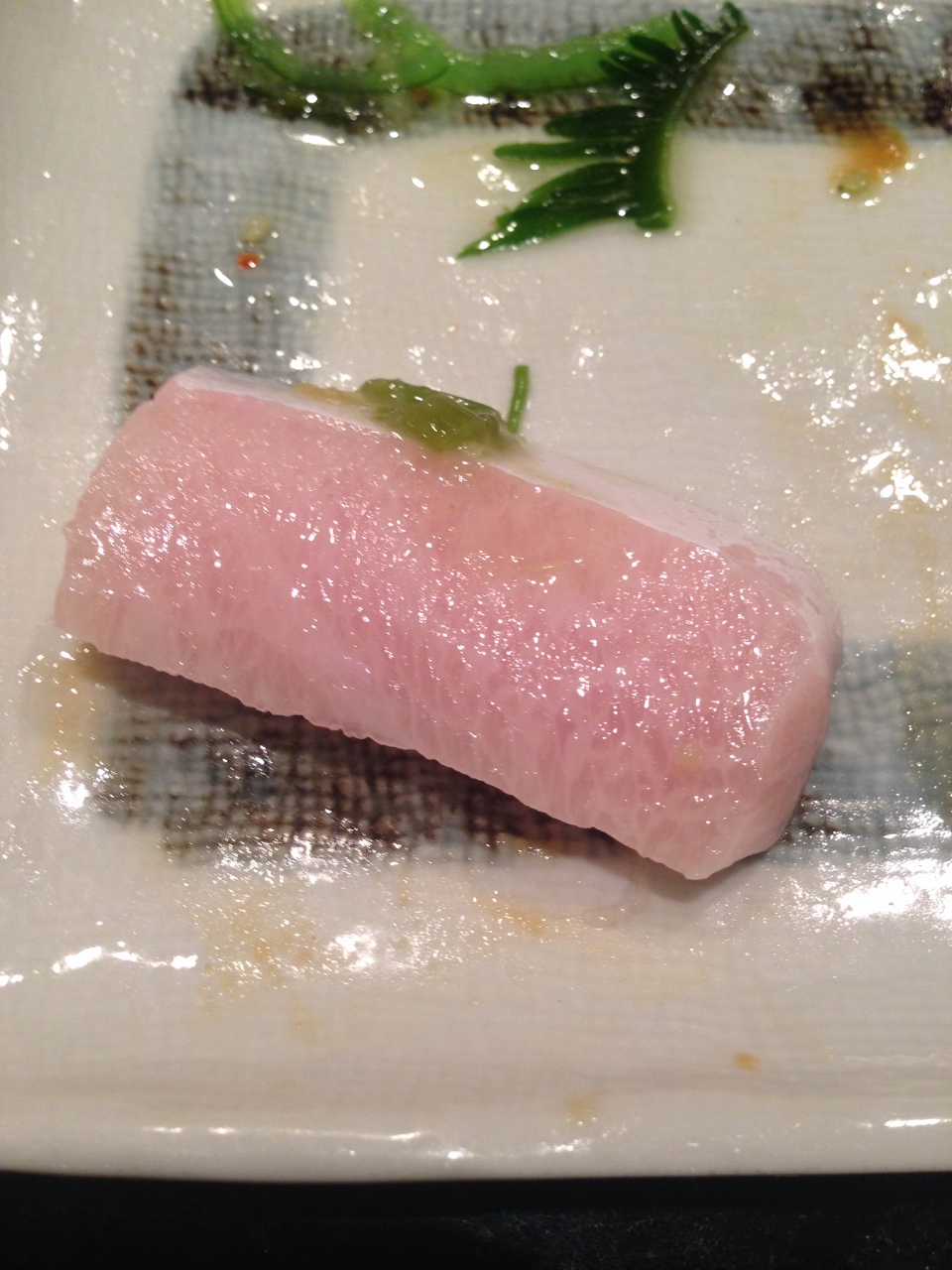 – close-up of hamachi sashimi
The presentation of this sashimi platter was beautiful and again, the fresh wasabi was nice. But the overall taste of the fish wasn't that amazing. The hamachi sashimi (which used to be my favorite before I found Ono) looked buttery and yums but it failed to reach that 'melt in your mouth' amazingness that I had read about it (for this restaurant). Perhaps it was an off day for them. I'm not quite sure.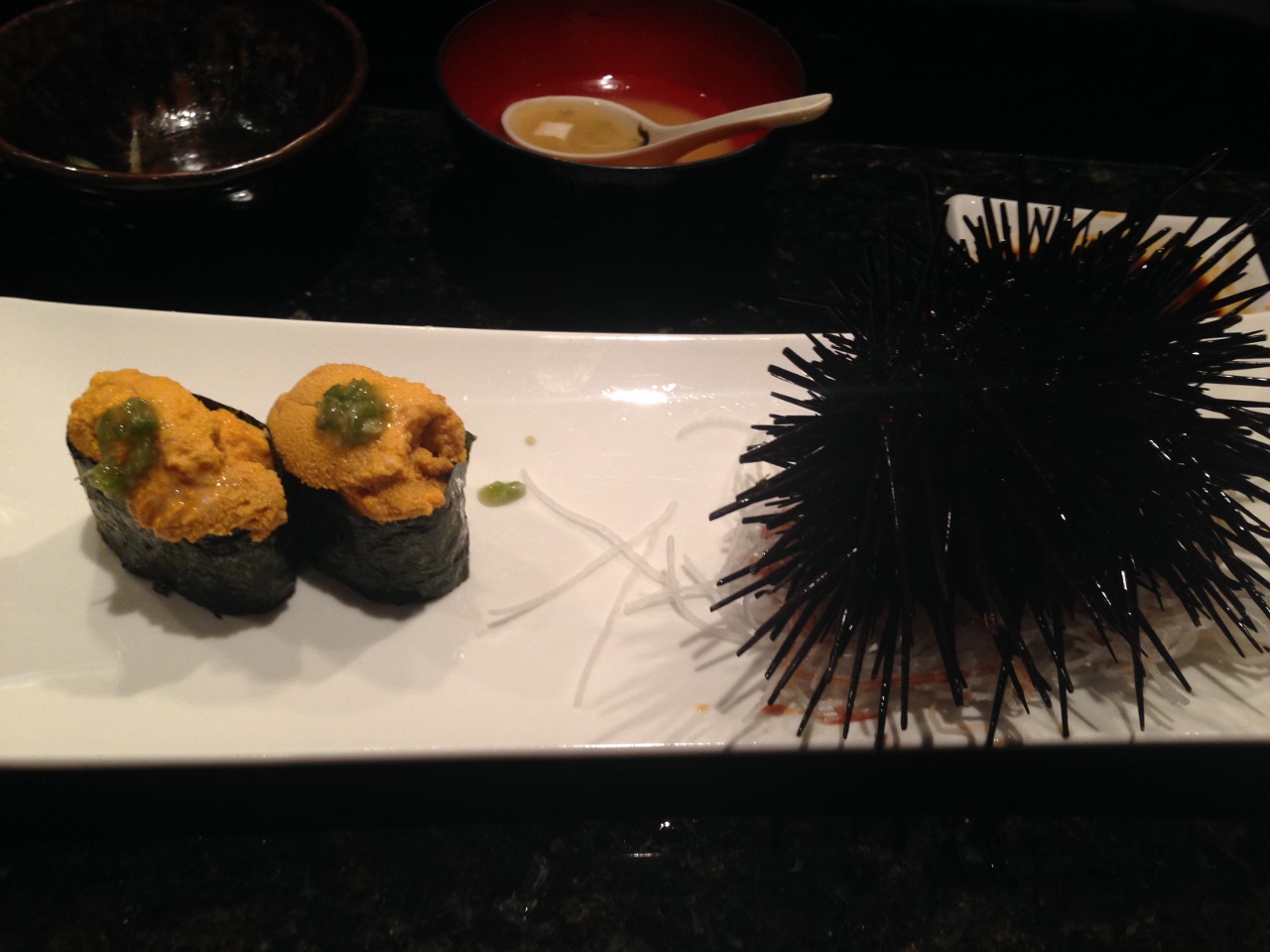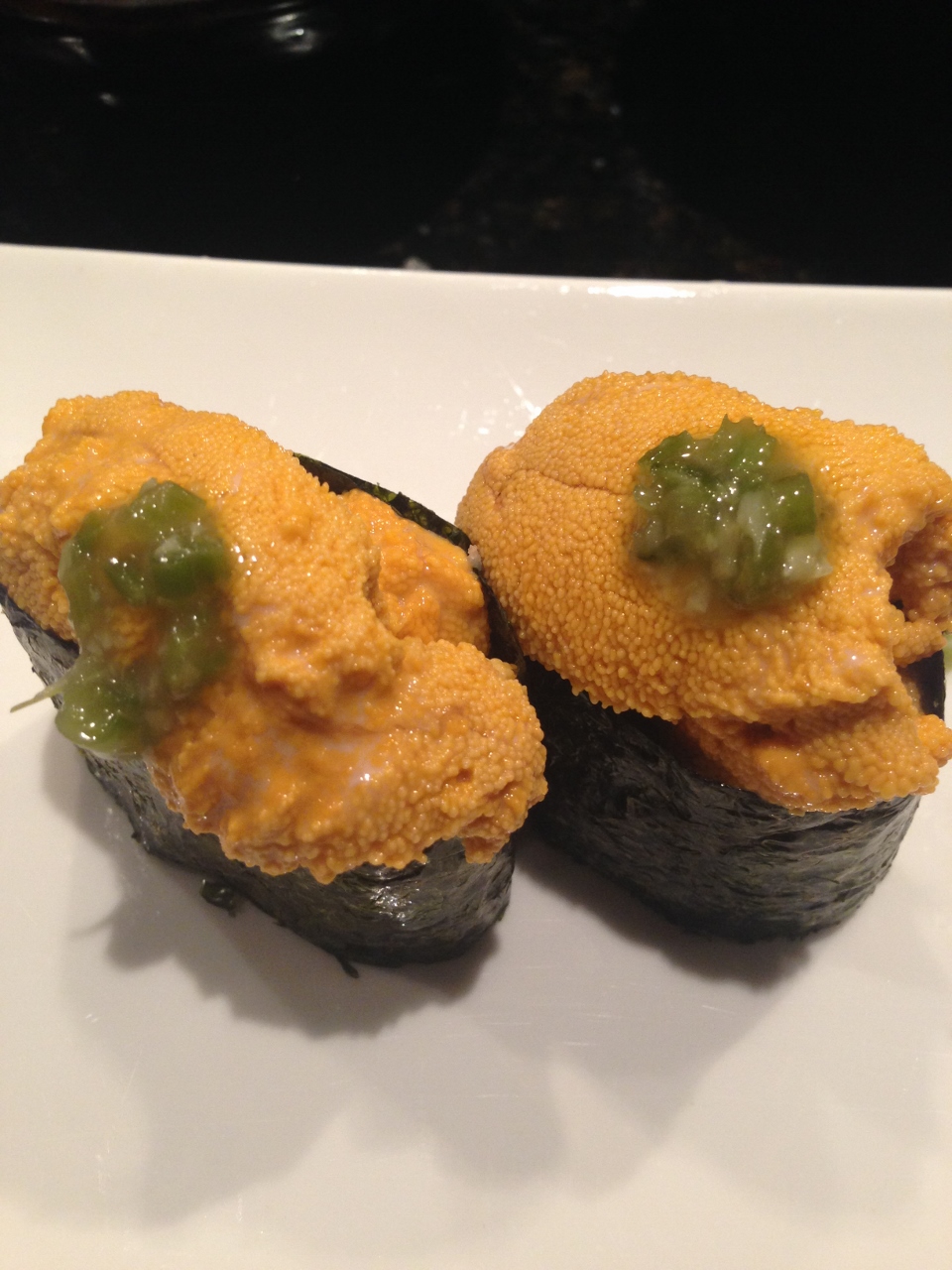 – Live Uni nigiri $15.00
I read so much about their live uni and the pics/reviews on yelp were awesome. I've tried uni several times in the past and have *tried* to love it. But I think I've come to accept that I'm one of those people that probably won't ever be a crazy die hard fan of this thing.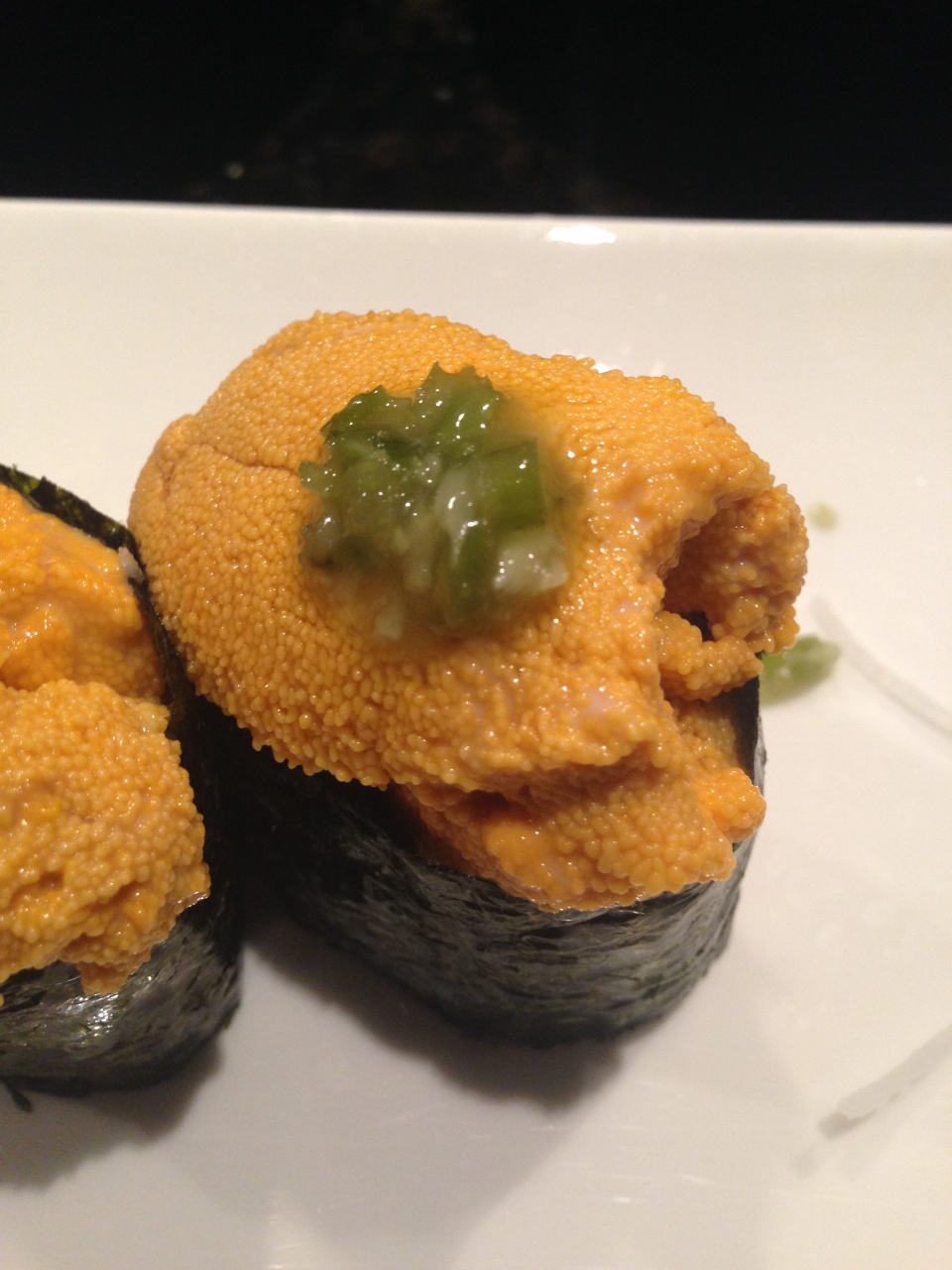 The presentation is pretty cool. The uni is gutted and served nigiri style with the fresh wasabi on top. It's pretty fun to see the uni shell still moving on the plate. I tasted a bit of the uni and thought it was nice. There wasn't much oooohhhh-ing and ahhhh-ing while eating this though. And $7.50 per piece of nigiri – yikes – but maybe that's the going rate for live uni.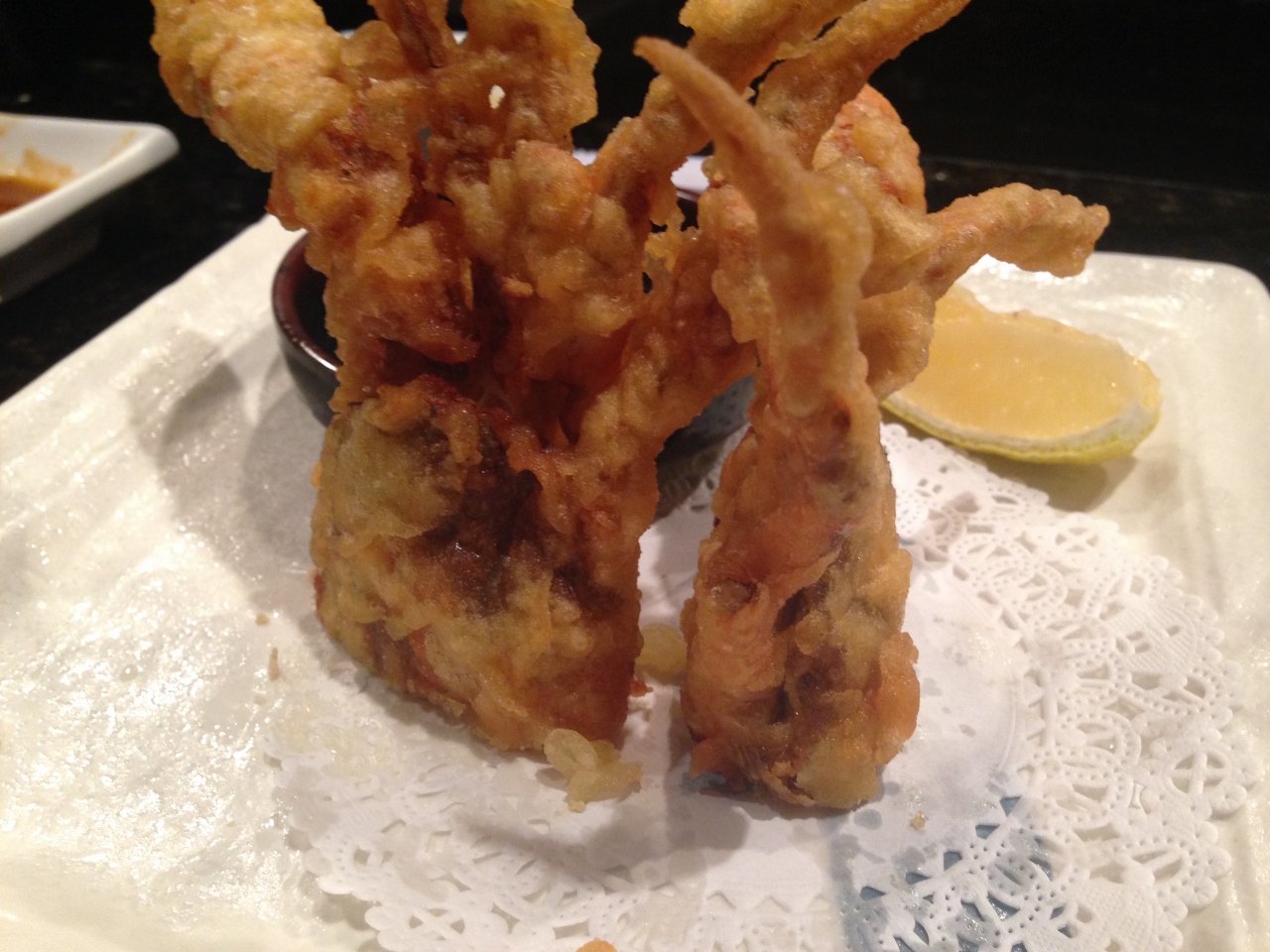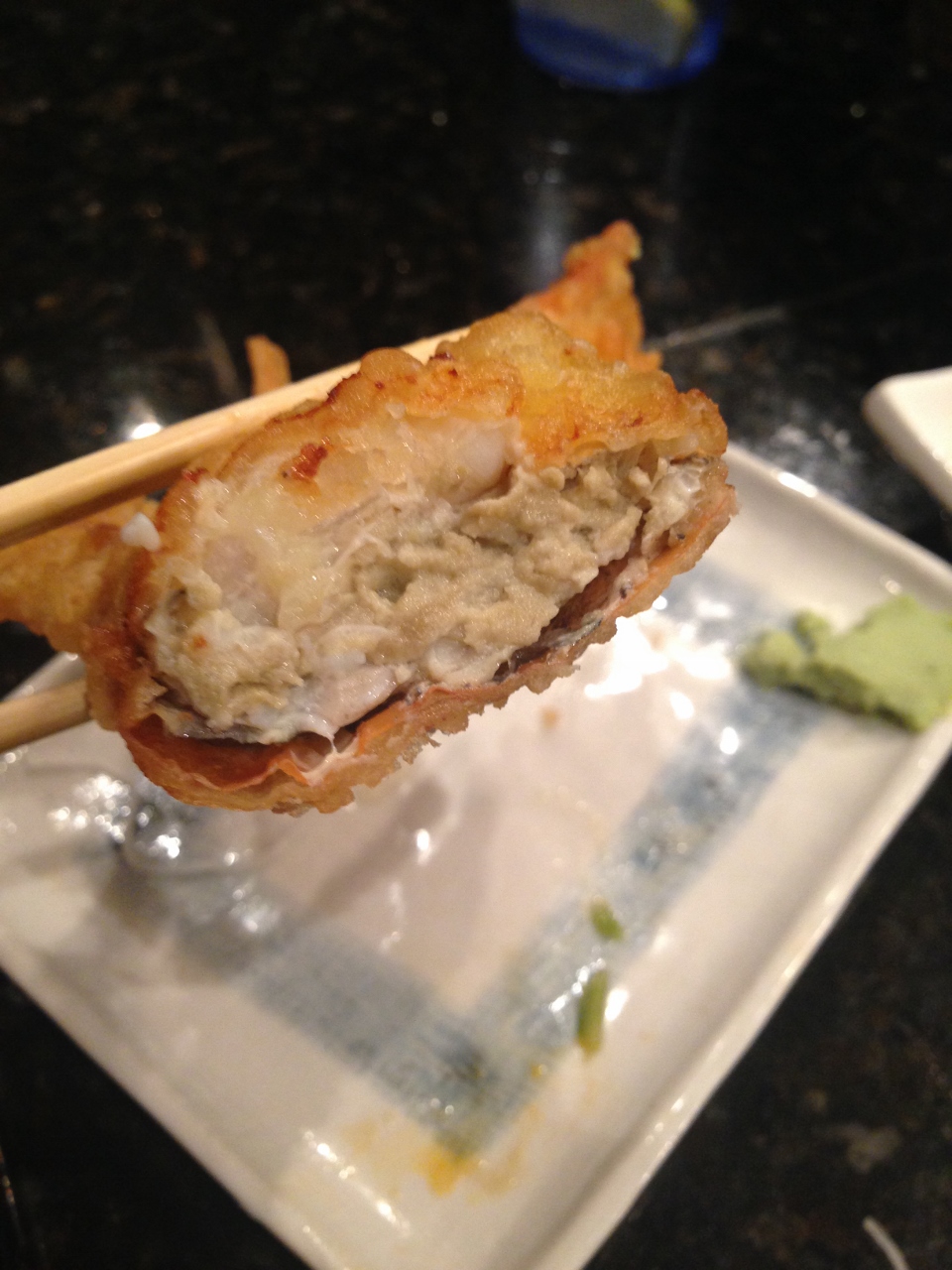 – Soft shell crab $5.99
Oh this brings a smile to my face. I think my dining companion knew I was secretly hungry but too embarrassed to say anything. Or maybe he knew that I love love love soft shell crab. But this was ordered as the last thing we ate that night. And I could not have been happier.
The soft shell crab was fried perfectly. It was so crunchy and the actual crab meat/innards tasted fresh and amazing. I could have had three of these, no joke.
Would I come back? Not sure. I'm surprised that the best thing I liked that night was something fried. Does that mean I prefer fried stuff over fresh sushi – no. But for that night, the fried appetizer (at the end of the meal) was the most memorable thing to me.
Actually, no, that's not true. It was being lucky enough to celebrate another birthday year with someone at a new restaurant that I've been wanting to try for some time. That was the most memorable part of the evening.
So of course I texted sis all the pics and we started talking about Sushi Ota YET AGAIN. And I think it's time for a revisit to Ota. I'm a deal finder by heart and I pride myself on finding THE best deals. She suggested I suck it up and try Ota one more time to prove to myself that you DO get what you pay for. Sucks soooo bad when you have to concede to your sister on a food related issue….
Ikiru Japanese
2850 Womble Rd
Ste 105
(between Decatur Rd & Truxtun Rd)
San Diego, CA 92106
Neighborhoods: Liberty Station, Point Loma
(619) 221-1228
http://ikirusushisd.com/
…
….
….
So this is the Skinny Fish rambling. I had to drive to LA for work yesterday and sometimes these long drives makes you think of the strangest things. For example, I was driving non-stop with NO traffic for a good 70 minutes and couldn't believe it. NO TRAFFIC. I was thinking ' WHO'S going to believe this? NOOO traffic??!!! Holy shiznit!' Then I thought that would be like saying the Easter Bunny is sitting in my passenger seat right now, drinking an iced coffee with me.
Really Faye. The EASTER BUNNY. The bunny from Easter. THAT'S who you picked to sit next to you to use as illustration to show the craziness of driving in NO traffic for 70 min.
So yeah, my mind just wanders sometimes when I do long distance drives. Then I remembered a conversation w/ my mom awhile ago. It's one of the funniest skype conversations I've ever had with her. She's the most brilliant woman I know but sometimes she's also the most ridiculous. She's had a passion for law and language for some time. And she had this dream of possibly being a court translator or something one day. So she'd practice as much as possible w/ translating whatever she could.
So. This was our skype convo:
[9:11:01 AM] mom says: faye
[9:11:08 AM] mom says: one english question:
[9:11:22 AM] FAYE says: yeah
[9:11:22 AM] M says: i am translating something
[9:11:41 AM] M says: and can we say " i am cooking a skinny fish"?
[9:11:49 AM] FAYE says: why is it a skinny fish
[9:11:57 AM] M says: it's a translation from chinese to english
[9:12:14 AM] M says: the chinese said "i am cooking a "thin" fish
[9:12:17 AM] FAYE says: is it a proverb
[9:12:19 AM] M says: no
[9:12:26 AM] FAYEsays: is it a recipe
[9:12:30 AM] M says: haha
[9:12:31 AM] M says: no.
[9:12:41 AM] M says: in chinese, it means very small and "thin"
[9:12:50 AM] M says: but i don't know how to express it in english
[9:12:55 AM] FAYE says: if it's a recipe then skinny sounds weird
[9:12:56 AM] M says: it sound weird
[9:13:01 AM] M says: not recipe
[9:13:04 AM] FAYE says: but if it's a proverb then yeah i guess its 'ok'
[9:13:12 AM] M says: no. not proverb
[9:13:19 AM] FAYE says: but otherwise in english, even though it sounds fine, we don't really say it like that
[9:13:35 AM] M says: like very slim
[9:13:47 AM] FAYE says: yeah 'no meat', trying to think of another word
[9:13:50 AM] M says: which word should we use for english
[9:14:02 AM] M says: lean?
[9:14:39 AM] M says: ?
[9:14:54 AM] M says: thin, ?  — it's for people
[9:15:25 AM] FAYE says: i'm cooking a small fish
[9:15:34 AM] FAYE  says: that would prob be the most obvious
[9:15:38 AM] M says: i know
[9:15:41 AM] FAYE says: never heard of lean fish
[9:15:47 AM] M says: but it is not that
[9:15:51 AM] FAYE says: lean meat, yes – which means very little fat
[9:16:02 AM] M says: what kind of proverb
[9:16:05 AM] FAYE says: maybe 'emaciated'
[9:16:09 AM] M says: haha
[9:16:13 AM] FAYE  says: i don' tknow!
[9:16:17 AM] FAYE  says: it sounds liek a proverb for some reason
[9:16:21 AM] M says: what word?
[9:16:25 AM] FAYE  says: bc no one says cook skinny fish
[9:16:28 AM] FAYE  says: it's just weird
[9:16:33 AM] M says: i know
[9:16:38 AM] M says: i think i should use "small"
[9:16:47 AM] M says: it's from chinese to english
[9:16:53 AM] FAYE  says: emaciated means really really skinny, no meat, like starving ethiopian ppl
[9:17:44 AM] M says: i know
[9:17:49 AM] M says: i understand that
[9:18:00 AM] M says: but if i used in translation.
[9:18:08 AM] M says: don't you feel weird still
[9:18:54 AM] M says: and do we say "a" fish?
[9:19:02 AM] M says: cook a fish or cook fish
[9:19:38 AM] FAYE   says: 'i am cooking a fish' is ok
[9:19:51 AM] M says: ok
[9:19:53 AM] M says: thanks
[9:20:01 AM] M says: i am going to use emaciated
[9:20:31 AM] FAYE says: yeah but that means you are very serious about the condition of the fish
[9:20:48 AM] FAYE says: b/c if you use that word in sentence it sounds either 'serious' or 'funny'
[9:21:01 AM] FAYE says: bc emaciated is kinda dramatic
[9:21:07 AM] M says:  right
[9:21:26 AM] M says: but  when i read the chinese , it does not mean funny, nor serious
[9:21:36 AM] M says: it just meant the fish does not have lot of meat
[9:22:09 AM] M says: we use the description as to people. like saying "faye, you look skinny
[9:22:26 AM] FAYE says: i guess 'thin fish' is ok
[9:22:41 AM] FAYE says: it's just something i don't think we'd 'normally' say here in USA when we are cooking fish
[9:22:43 AM] M says: i think "thin" is better than skinny
[9:22:53 AM] FAYE says: i'd make fun of someone if they said that . Like 'oh your english sucks'
[9:22:58 AM] M says: i know
[9:23:03 AM] FAYE says: yeah skinny fish would be worse
[9:23:14 AM] FAYE says: sorry – i'd make fun of 'skinny' not 'thin'
[9:23:23 AM] M says: talki about translation: we don't translate word for word
I love my mom. How could I not. She's so funny without even realizing it. But it's moments like this one (the Skype conversation) that makes me appreciate what I have even more.
Hope this little story made you laugh or smile today – Cheers….