I was invited by Seasons 52 some weeks back to try out their Autumn Menu. I was really excited as my birthday was coming up so it seemed like the perfect place to have a small celebration.
I've visited and posted about Seasons 52 in the past for their Flights & Flatbread deal. They still have that, everyday, until 6p. It's still such an amazing deal. For $15, you get 3 sample pours of reds or whites, then you get a FULL pour of whichever one of the three you liked, and THEN you get to choose any flatbread on the list. I guess this is their version of Happy Hour but who cares – it's seriously a great deal. I just looked and they now have a $20 version of that for more 'acclaimed' wines that can be poured (I know, I'd personally stick with the $15 version).
My experience here actually comprised of two separate visits. We had to leave early the first night due to some unforeseen circumstances but Seasons 52 was so gracious to invite us back a second time so that we could get the full experience.
–  Roasted Mushroom Flatbread $10.95
Features black trumpet, oyster and Portobello varieties. The trio of mushrooms is complemented by a delicate garlic confit, spinach and green onions atop Seasons 52's signature, crisp flatbread. 
I've tried their flatbreads before and specifically wanted to try this one since it was on the Autumn menu. Unfortunately there's goat cheese in this but our waiter said they could replace it w/ a different cheese (I think he said feta or mozzarella could be used instead).
The flatbread came out nice and quick. You can tell it's going to be super crispy b/c it's so thin. I took one bite and knew immediately there was goat cheese in it. The waiter said the chef assured there's no goat cheese on it so I shrugged it off. But I knew without a doubt there was goat cheese on there and if you take a good look at the pics, you can see the small white baby globules on top of the flat bread. The manager and chef came out and I felt bad b/c I didn't want to make a big deal about it. I guess the issue was who was right but to me, I didn't really care all that much that night b/c my friend was able to eat the goat cheese but I still wanted to be honest w/ them. No biggie.
– Organic baby spinach salad $8.75
Subarashii Kudamono Asian pears, toasted pine nuts and gorgonzola cheese
This was a nice refreshing salad. The Asian pears tasted crisp and (naturally) sugary. They put the gorgonzola cheese on the side too for me 🙂
– Cedar-Plank Roasted Salmon & Vegetables $20.50
Red bliss potatoes, dill-mustard sauce, grilled lemon
The salmon was grilled on the plank PERFECTLY. I have to say it was one of THE best plank salmons I've had. Look how it's still a bit rare in the middle of the salmon. This entree was on the regular menu (not the Autumn menu). I would order this again in a heart beat.
– side outdoor patio
On the second visit, friend and I decided to sit outside as it was a beautiful early evening. And I have a weird fascination with outdoor fire pits. And the ones here at Seasons 52 is super chic and cool.
We were able to get a four seat table and our server, Disney, helped us that night. (Honest to goodness, that was her name…and CDJ of course tried to make a funny by saying something like 'Oh, did Cinderella meet her Prince Charming at Disneyland….' — I about cringed when he asked that…nice one ya moron). But she actually laughed at his jokes (told you she was cool) and that made CDJ very happy that night.
Here is the menu :
– Seasonally inspired cooking with every item less than 475 calories
So this is another interesting component of this restaurant. NOTHING on the menu is over 475 calories. NOTHING.
The chef came out later to tell us there's no butter or cream anywhere in the restaurant. Normally, this would make me signal waitress for the check as I'm incredibly partial to butter and cream. But I was also curious to see how the food would taste if each item was only allotted a mere 475 calories. Doesn't a Venti Frapp have more calories than that.
– Glass of Anna's Vineyard
It's nice that they bring the bottle out to the table and pour a sample for you to try. It makes me feel like a grown up 🙂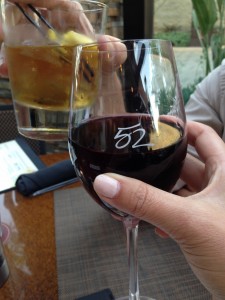 – Johnny Walker Black on the rocks with a twist of lemon
This was CDJ's drink for the night. He has ordered the same drink all these years I've known him.
So this was him making a bday toast to me that night which went something like this:
CDJ:  "So, here's my toast to you. You ready."
Me: "Yeah"
CDJ: "Well…your life is like, a third over…" (he pauses a sec and tilts his head as if he's confused)
ME: (silence…TOTALLY like WTF are you talking about right now…start blinking b/c I'm confused and border line aggravated )
CDJ: "and…(Pauses yet again and starts getting figgity b/c I'm staring at him with big wide confused eyes getting angry)…and, hopefully…ahhhh….next year your life will be better than it is right now…"
WOW. What a toast. I'm sitting there glaring at him and he seriously has scared look on his face.
CDJ: "ummm…no? No good?"
Then we started laughing. I guess everyone has their own whacky sense of humor right 🙂
Moving on..
– Sushi-Grade Ahi Tuna Seared Rare
chilled and sliced, Asian cucumber salad, sesame crisps
CDJ ordered this as he enjoys ahi tuna quite a bit. The tuna was a beautiful raw red and it was fresh. But for some reason, I didn't enjoy it as much as I thought I would. It seemed to lack a bit of seasoning, or a bit of 'something' , even when dipped in the soy and wasabi.
– Shrimp and Clam Cioppino
This was on their Autumn menu. I wanted to try a soup so I could write about it. I'm a fan of clam but not a big fan of tomato based soups. But their other soup (Butternut Squash) on the Autumn menu didn't really appeal to me.
But the soup was pretty good. I was impressed by how much seafood was inside the bowl. The broth wasn't too thick so that was nice for someone who isn't a huge fan of tomatoes in general. The bread the served on the side was alright – I think a piece of sourdough or french bread would have gone better w/ this Cioppino.
– Oak-Grilled Filet Mignon
cremini mushrooms, steamed leaf spinach, mashed potatoes, red wine sauce
Of course the dude ordered this. And dang it, was it good! Nothing upsets me more when friend in group orders a dish that's better than mine. Dang you.
The steak was grilled the most impeccable medium rare. It tasted so moist, almost buttery, and had intense flavor. I personally would have liked to see more of the red wine sauce on the dish but hey, 475 calories remember? (Hey, I wonder if you can request more sauce on the side. Even if it breaks the 475 calories.)
– Wood-Roasted Pork Tenderloin & Portobello
soft herb polenta, broccolini, caramelized cipollini, roasted onion jus
This came highly recommended by the manager Kenneth that night. He said the pork is prepared medium so it would come out a bit pink. I asked Kenneth if he was afraid of trichinosis (which for some reason made CDJ gasp as if I asked something totally egregious). But Kenneth smiled and said no, the quality of the pork is great and the chef knows what he's doing. Good enough (of an explanation) for me 🙂
Unfortunately, the pork came out really well done. I was kinda surprised as I thought maybe this is *their* version of medium for pork.
But Disney and Kenneth both assured me this was grilled medium. I think Kenneth later took another look and silently agreed that this was grilled well done. Which hey, pork should be right. But I was excited to try their pork tenderloin grilled medium and somewhat pink. Overall, we didn't like this dish as the meat was dry and not even the roasted onion jus could do much for this dish.
– pic of the outside towards later in the evening
It's honestly super nice on their side patio. Look at the candles and all the fire elements.
– Cappuccino
I liked the presentation of this coffee. The cappuccino tasted hot and yummy (this was friend's coffee but I took the first sip). CDJ did catch them on something though – that the cappuccino was served with half and half (cream). So doesn't that break their no cream/butter rule 🙂
– Dessert tray
Chocolate Peanut Butter Mousse
Key Lime Pie
Mocha Macchiato
Pecan Pie with Vanilla Mousse
Pumpkin Pie with Ginger Snap Crust
Belgian Chocolate Rocky Road
Raspberry Chocolate Chip Cannoli
It's fun how they bring out the dessert tray right to your table. I don't remember the exact offerings that night and the list above was what I found on their website just now (but most of them sound familiar with the exception of the Pumpkin pie).
– Rocky Road and Chocolate Peanut Butter Mousse (?)
I don't remember the exact ones CDJ picked out. They're served in cute square shaped shot glasses so that's pretty obvious how they keep the calories under 475 in these babies. I took a bite of each and found them ok. REALLY rich somehow. Oh, and once you pick your dessert, they actually lift them from the tray and give them to you (remember when they desserts on the dessert tray were FAKE back in the day?!). So for some reason, this made me giggle silently inside (maybe b/c it would secretly make me happy to see friend take a bite of stale old dessert…just kidding).
It was a fun night for sure. We weren't rushed and the pace of the dinner was just right. I've already raved about this place for their Flights & Flatbread deal. But I know I'll be back with friends to try out more of their seasonal menu.
Seasons 52 (UTC)
4505 La Jolla Village Dr
Ste C-1
(between Executive Way & Towne Centre Dr) 
San Diego, CA 92122
Neighborhood: University City
(858) 450-1252
http://www.seasons52.com/
Although we tried to pay, Seasons 52 treated us to the meal. All opinions stated in this post are my own. Thank you to Sarah M for inviting us 🙂