I didn't put the (!) at the end of Eureka because I was blown away by this place FYI…
That's how their name is listed on their website and in their restaurants – which is a bit odd to me. Feels like they're shouting.
I met friend at the UTC mall last Sunday evening to watch the last NFL game of the night (Vikings vs Greenbay – yawnnnnn). But I was in the mall doing some last minute birthday shopping but wanted to eat somewhere that was casual and had TVs to watch the game. I've been to Eureka! in the past but thought it was alright. But perhaps this visit would fare better.
My appetite has been coming back but I still have been skipping dinner as I'm not really hungry at night. So I got nervous when I realized that having burgers for dinner probably won't be a good idea for my stomach that night. But whatever, I'm the one that suggested the place so I had to suck it up right.
Eureka! is located in the 'desolate' part of the mall. It's by the Macy's, Abercrombie, and Victoria's Secret. It actually has a cool front fire pit thing where I've seen people gathered around socializing and drinking a beer.
The bar and restaurant was pretty empty that night. Not sure if that's a bad sign on a Sunday evening when football is on. They have happy hour until 6p but there wasn't much on their HH list that appealed to either of us. Sorry – I didn't take a pic and their website doesn't list their HH items.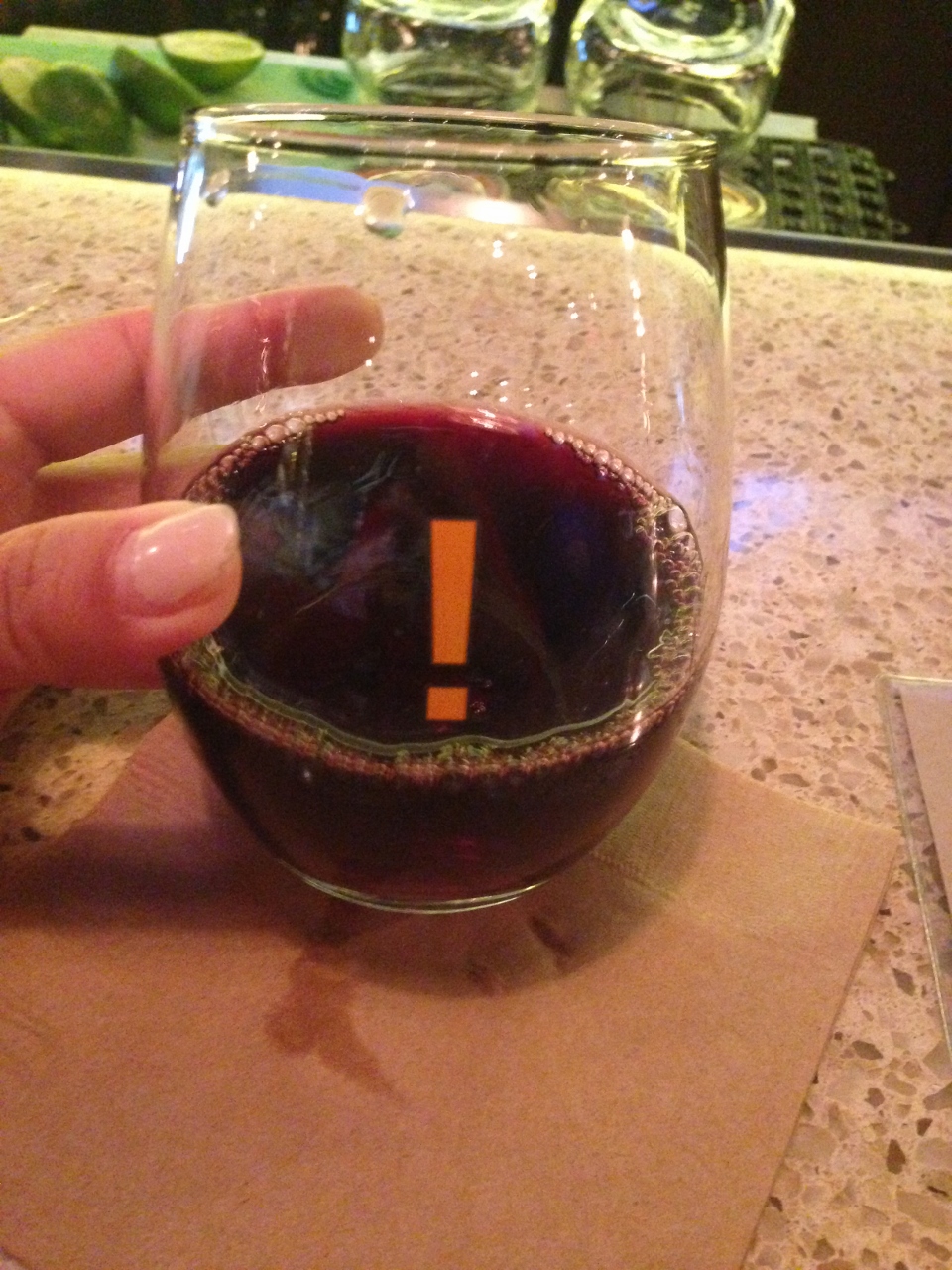 – Clayhouse: glass of red wine $6.00
I was waiting for friend to show up and it was about 10 min before 6p so I shrugged and decided to take advantage of their HH drink specials. I believe it's $2 off glasses of wine during their HH. The wine is served in these cute exclamation mark glasses (I totally didn't understand that night why there was an exclamation mark on the glass until I wrote this post). Friend comes in few minutes later and is appalled that I'm having a glass of wine for Sunday night football. The wine was ok – nothing special but was ok for what was paid.
The female bartender was our server that night as well. Not the most friendly person but it'll do. I'm there to watch a game at the bar and eat a burger so I don't expect much. But friend tried to get his mac on with her that night and flirted shamelessly 🙂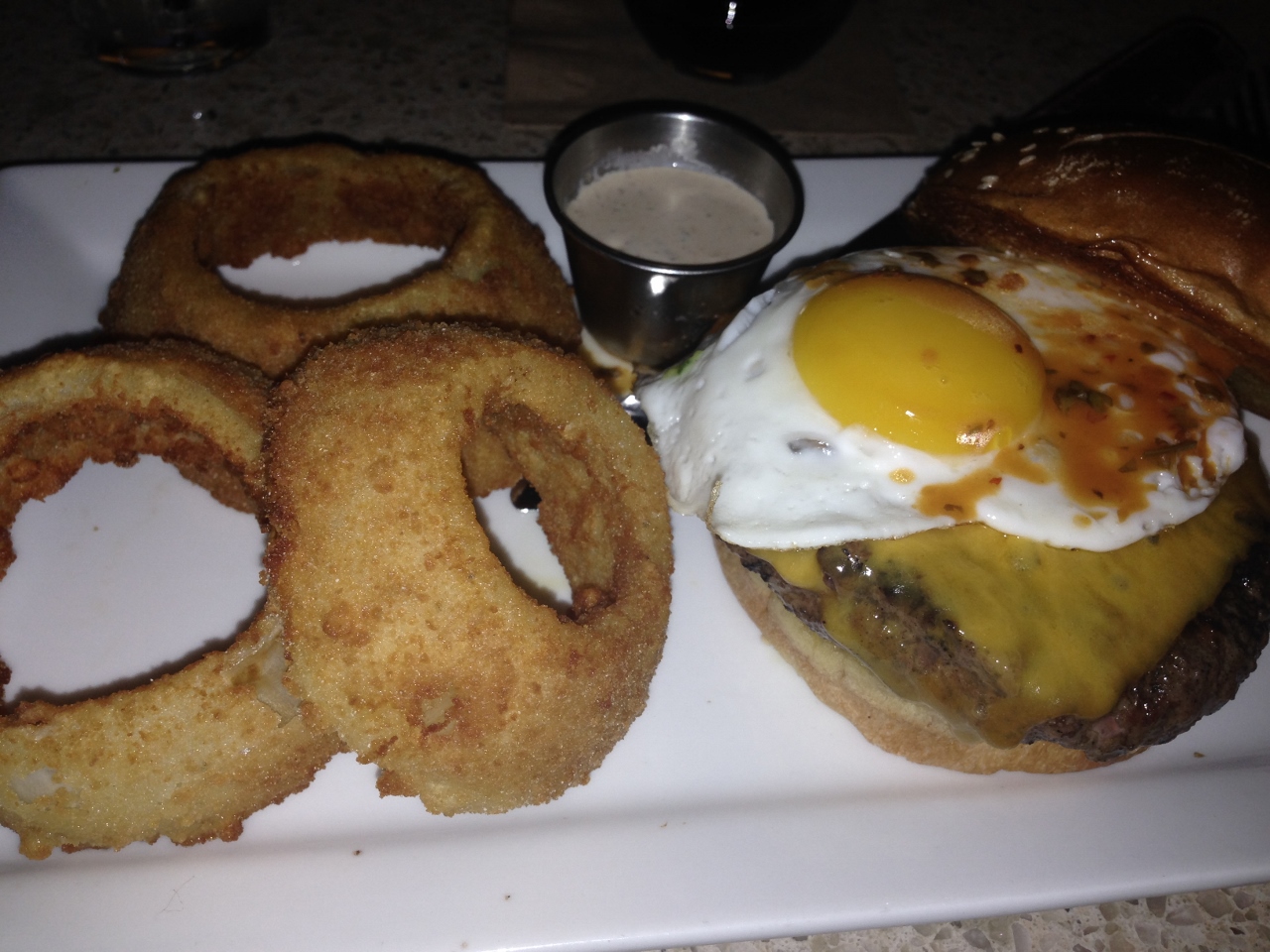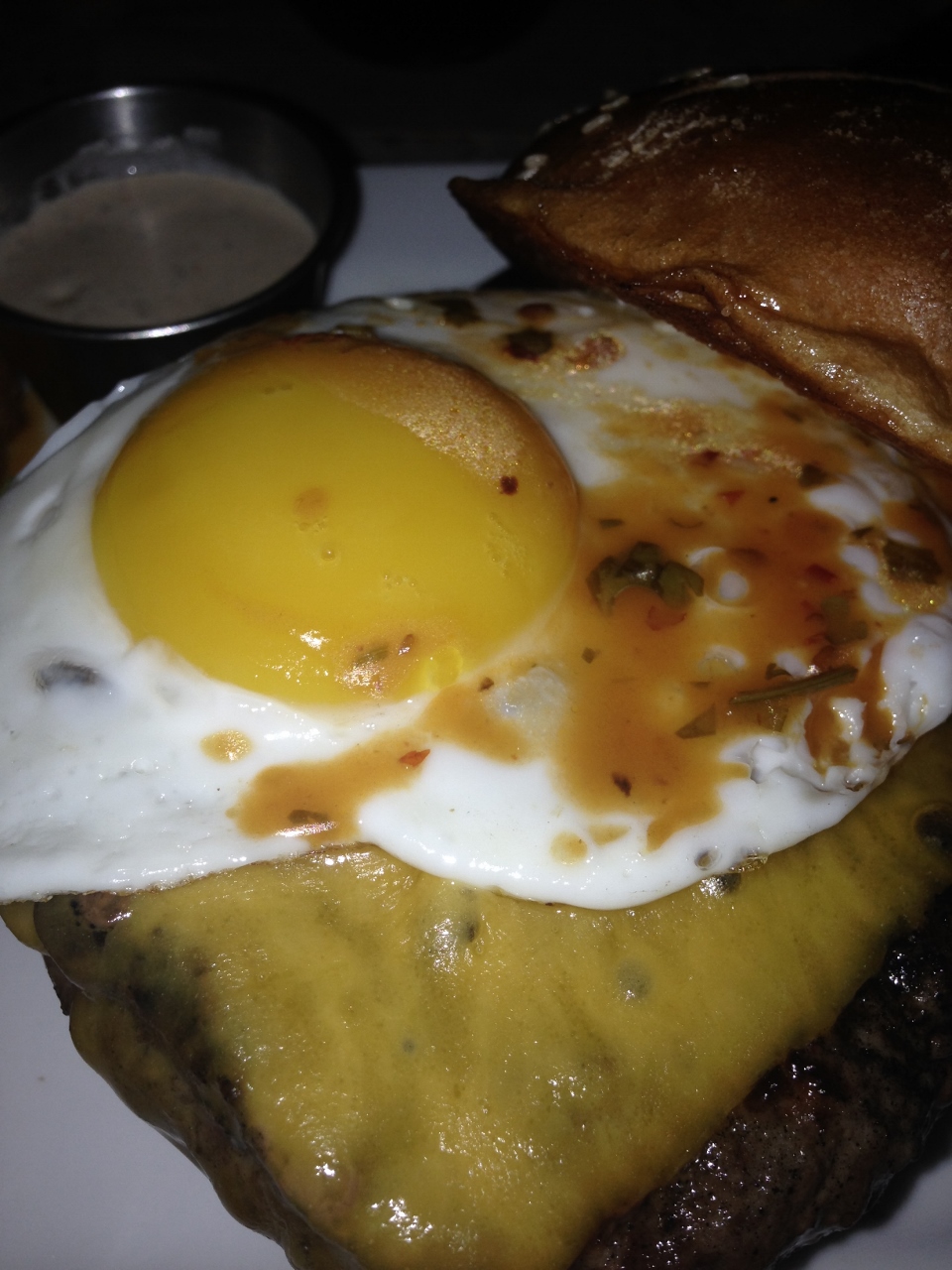 – Jalapeno Egg Burger
Fried egg with melted cheddar cheese, crispy bacon, spicy chipotle sauce, garnished with jalapeno peppers. 11.50
Honestly, there weren't any burgers on the menu that really called out to me. I'm not sure if it was b/c I wasn't terribly hungry or I felt that In-n-Out could have sufficed the same for me that night (wouldn't it be fun if In-n-Out offered fried egg, fried bacon, or other stuff on their burgers?).
I got the bacon and jalapenos on the side (as well as a bit of mayo).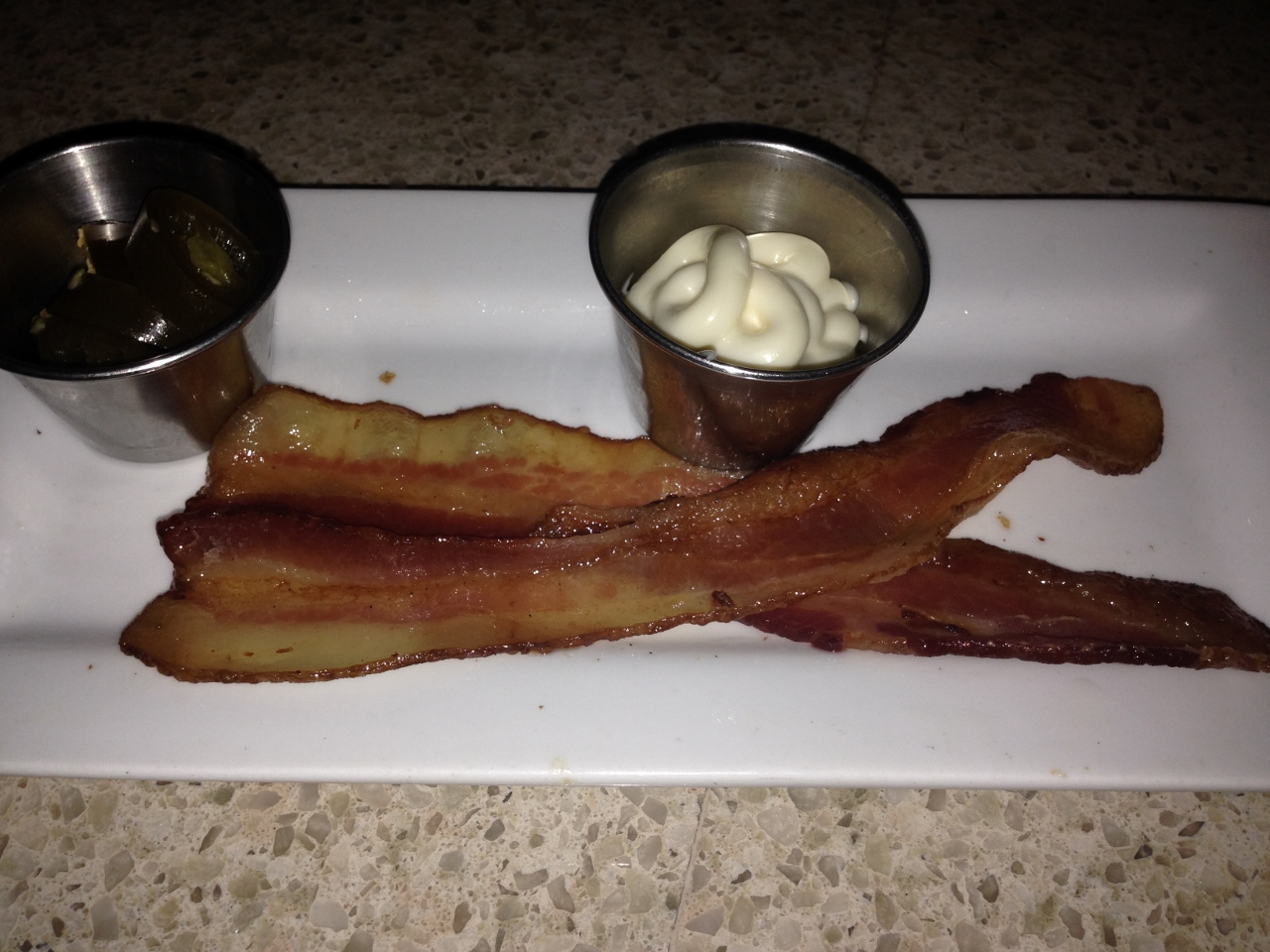 I'm not sure why I don't like eating burgers with strips of bacon on top. It throws me off for some reason. The bacon wasn't crispy and was limp. I was surprised that both strips were less than lukewarm as well. But it tasted ok. Jalapenos tasted canned but at least they weren't raw.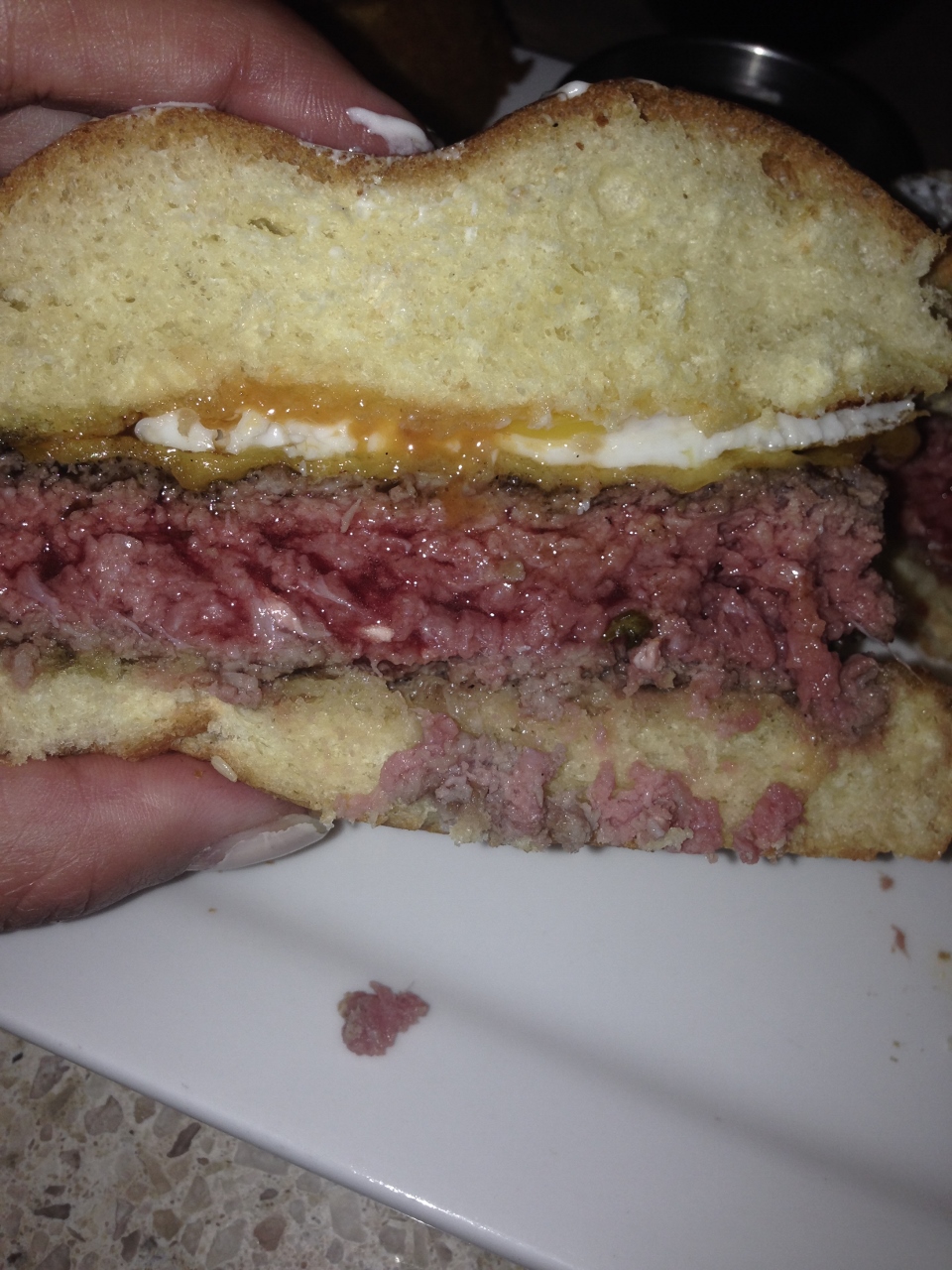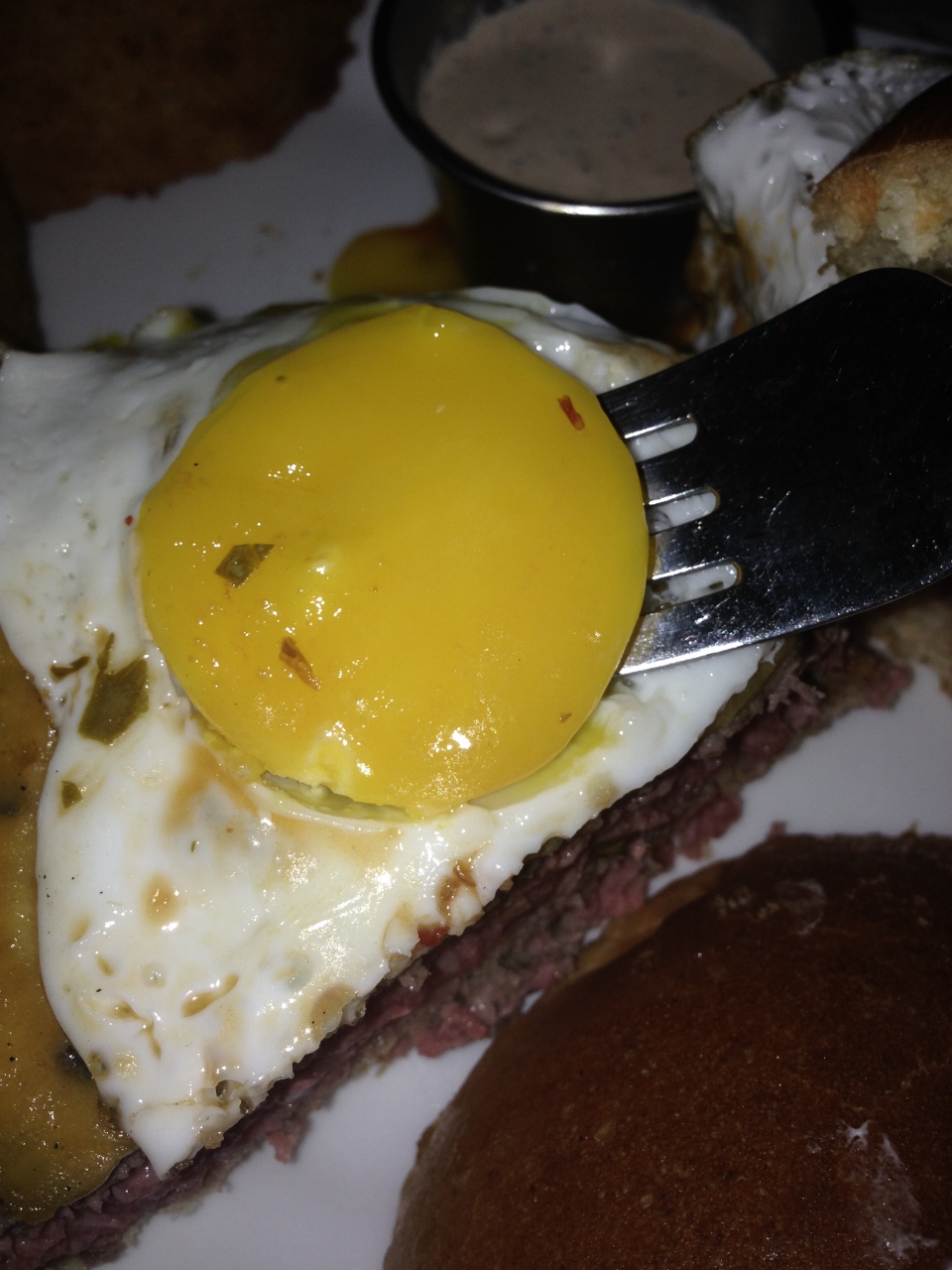 My burger was cooked a perfect medium rare. The meat tasted well seasoned and juicy.
I have a thing w/ runny yolk but am fascinated by it regardless. I LOVE the way it oozes out on a burger BUT just not on *MY* burger 🙂
As you can see, the yolk wasn't runny much. I was able to pick up the yolk w/ my fork but there was still a little dribble (of yolk) that remained.
I ate about 1/2 my burger that night.
–  Fresno Fig Burger
Homemade fig marmalade, melted goat cheese, crispy bacon, garnished with minced tomato, onion and arugula dolloped in a spicy porter mustard. 11.25
Friend ordered this b/c he wanted to try the homemade fig marmalade. I told him I tried this last time and thought it was 'ok'. He said he doesn't care b/c I always modify my burgers and always asks for things on side so my opinion is skewed. Thanks alot dude.
He found the burger to be 'ok' (see…told you so Mr Smartass). The fig marmalade was very 'figgy' and definitely a unique component to the burger. I've had fig maybe once or twice when friends make a cheese board so it always reminds me of cheese and wine (see, not a bad idea I had that HH wine that night huh).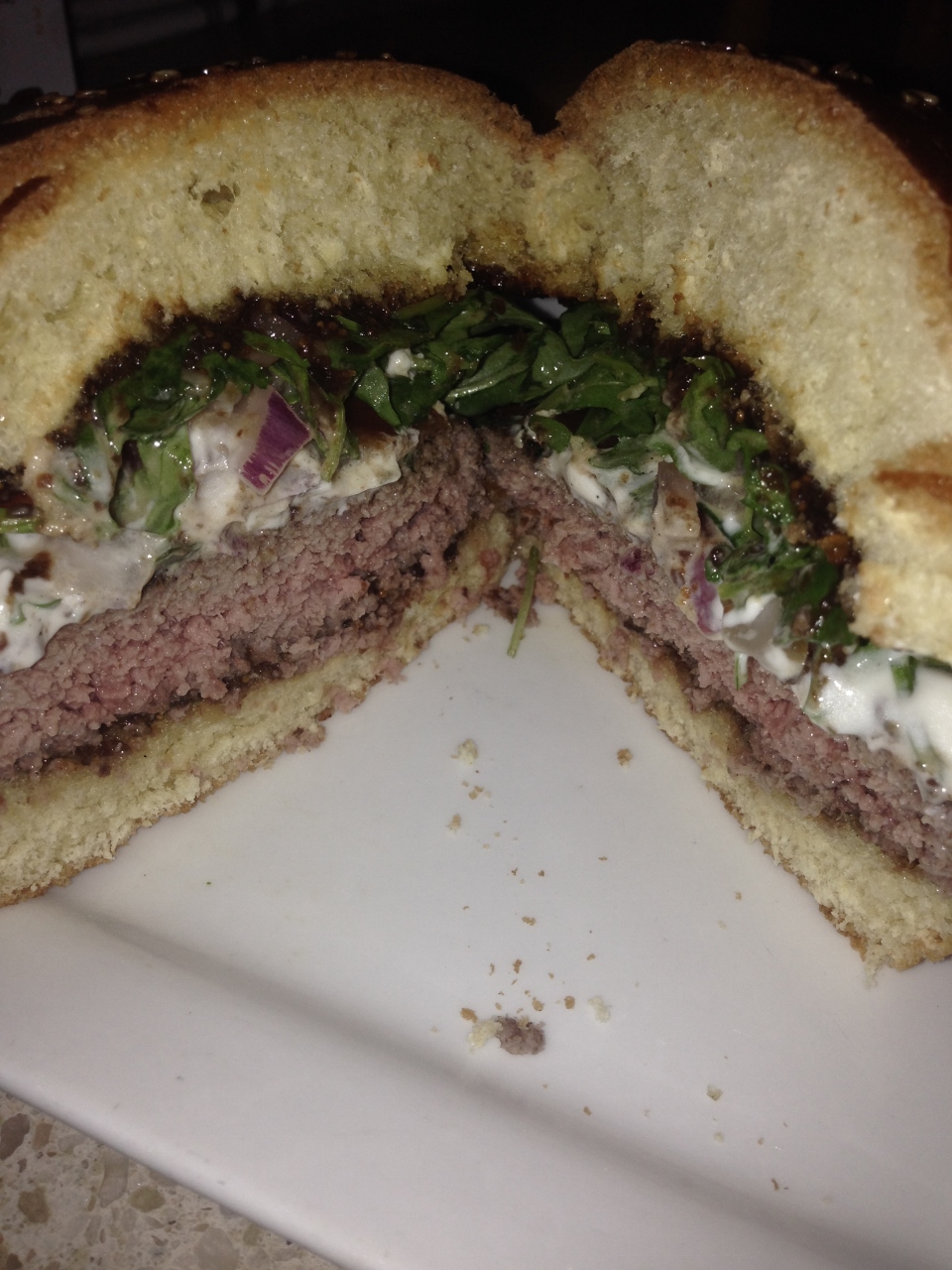 – up close of the Fresno Fig Burger
He ordered this medium and it was grilled pretty much to that.  There's goat cheese in this so I didn't try this version this time but again, friend found the burger to be satisfactory (even though he only ate 3/4 of his burger that night). And it was his artistic genius to put the one piece of sweet potato fry in between the burger (for this pic).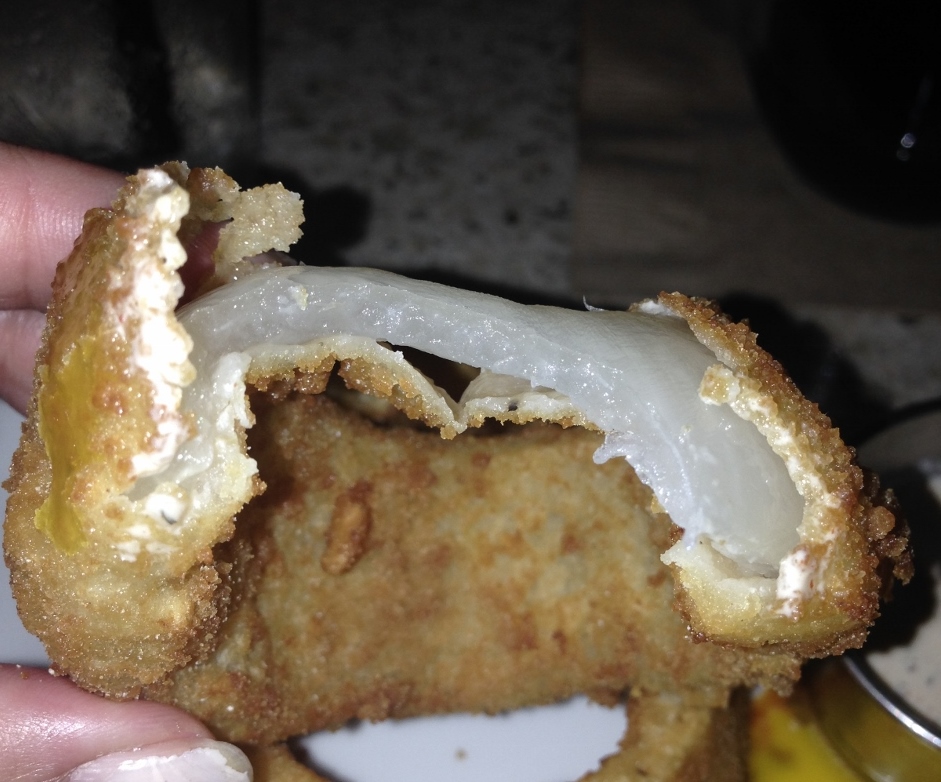 – side of Sweet Honey Cinnamon Potato Fries $1.25 and Panko Crusted Onion Rings $1.25
All their burgers come with their signature fries but we both opted to upgrade to sweet potato fries (for him) and onion rings (for me).
They gave me 3 large onion rings with a side of their homemade chipotle ranch. There's quite a bit of crunchy panko crust on here. Personally, to me, that distracts from the actual sweet onion so I tend to peel off some of the crust. The onion inside was thick and sweet though. I liked these.
Friend ordered the Sweet Honey Cinnamon Potato fries. They definitely give you a generous portion (compared to the onion rings). It's worth the $1.25 in terms of that. But the fries tasted limp and a bit soggy. It's probably from the honey they drizzle over the stack? I think it would taste better if they put the honey on the side and have the customer drizzle it over the stack themselves (hey, that's actually a pretty good idea right?!, sometimes my brilliance shocks me ).
The bill came out to be about $33 that night total. Their bar area isn't that large and their TV's aren't Hi Def. I think they could offer more food options for their Happy Hour but perhaps that will change later on.
So…needless to say, my stomach felt HORRIBLE once I got into the car. I knew it would be a long night. I had THE biggest gut bomb ever. It felt like there was a truck sitting dead center in my gut. I called friend that night moaning that I felt like I was dying. He in return lectured me about my eating habits the last few weeks and he asked what did I expect.
I seriously have the worst friends (I kid, I kid).
But I couldn't eat until the following day (in the afternoon). I'm not sure if it was what I ate that night or if it was my pathetic stomach. Oh well.
Eureka! (UTC mall)
4353 La Jolla Village Dr
(between Executive Way & Bus Access Rd)
San Diego, CA 92122
Neighborhood: University City
(858) 210-3444
I'm currently in LA so I was able to finish this post just now. I had to come up last minute to help youngest sis with some things. She treated me to dinner tonight (which will probably be my first "WORST Chinese food EVER" post I think) . I've been obsessing about Shengjian baos lately so this latest quest hasn't exactly led to success.
Can't believe it's November already! Crazy…