Not sure if it's really a Shhhhh! thing but I don't see this anywhere on their website and we personally think it's an AMAZING deal. Sis has two beautiful little boys (and nooo, I'm not biased) and is a bit compulsive with her/their eating routines (I'm not sure where she gets that from). But she told me about the deal Luna Grill had some time back because it's honestly the best bang for your buck that you can get on a Tues evening. I am not sure if it's only offered at this location though. Luna has about seven (?) locations here in SD and a few in Orange County as well.
The Mediterranean food here has been consistently good and they recently remodeled this location I believe. It's the type of place to grab a quick made to order meal or take the family for a no-fuss type of dinner. They have two tvs that play sports so that's kind of a plus.
Be warned though – Tues nights are a cluster frek'. Lots of kids (sometimes screaming) and lots of parents (who look frazzled and rightfully so).
You can order the free kids' meal to go but honestly, you really should eat it there if you can b/c the food tastes 100% better when it's served right then and there. Trust me on that one (we've ordered here on Tuesdays and taken it home to eat and it pales in comparison to what you experience when you eat it there).
You order from the cashier, pay, and they give you a number to place on your self seated table/booth. Credit cards are accepted and they have a self serve fountain drink station as well.
Here's the kid's menu that you can choose from:
KID'S MENU
Ages 10 and under. Includes choice of milk or fountain drink.  
(0 – 130 cals)
CHOICE OF FRIES OR RICE   
CHICKEN KABOB   6
GYROS MEAT   6
GROUND SIRLOIN KABOB
JUNIOR BURGER   6
Add cheese   .75 
You get one free kid's entree with the purchase (each) of a regular entree. So two regular entrees = two free kids meals 🙂
– Flat cut chicken kebab $10.50
Every entree comes with rice, side salad, cucumber yogurt dip, and choice of carrots or roasted tomato.
Sis prefers their flat cut chicken for some reason (over the regular chicken kebob option which is $1.00 cheaper). I've had the flat cut chicken before and it tasted a bit dry. But this time around, it was incredibly juicy and moist.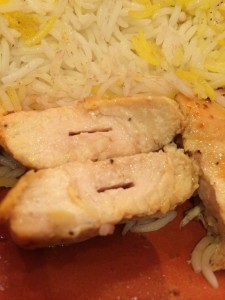 – Flat cut chicken close up
Thinly cut pieces of savory chicken
You can see they actually skewer these things and grill them (look at the skewer holes in the middle of the chicken).
I hate carrots so sis orders the grilled tomato for me instead (not a real fan of tomatoes either but when grilled, they actually taste pretty good). The house salad is incredibly fresh and is topped w/ red onions, cucumbers, and tomatoes. The house vinaigrette is tart and tangy – quite perfect for me. And I love how they don't just serve boring lettuce as the greens – they actually use an assortment of leafy greens for this salad.
The side of pita bread that comes with each dish (all 4 dishes) are plentiful and is served warm. But not sure if it's made in house or not – not a big deal. Their cucumber-yogurt dip is refreshing and served chilled.
–  GROUND SIRLOIN KABOB ENTRÉE   9.5
Traditional Persian style kabob made with all natural ground beef and seasonings.
This was our other adult entree. It's ground up beef formed into a flatten meatball of sorts (sorry, that's how we describe it). Their version here is good albeit salty this visit. But it comes out hot, hot, hot which we totally appreciate.
Sis adores the rice here. She enjoys the portion where the chicken and beef drippings soaks the rice underneath (the above pic doesn't do it justice).
And this was the kids french fries – I cannot stress how crispy and hot these things are. Almost perfectly so for us. It's also well seasoned with salt and something else – can't pinpoint that 'something else' though. But all four of us enjoy the fries here.
I don't remember what sis ordered for the kids meals – except fries for both meals.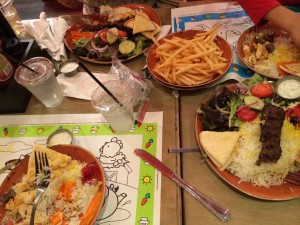 I think she ordered one chicken and one beef? Regardless, trust me, the kids portions are generous. Sis and I laugh b/c there's no way anyone can go to McDonald's these days with a family of four and leave without spending less than $25 probably. So the Tues deal here is crazy wonderful (I'm trying to refrain from saying 'crazy stupid' these days).
– Condiments on each table: ketchup, salt, pepper, ketchup, tapatio, and tumeric (?) powder
Update: Thanks to CC and Ben for pointing out that the seasoning powder is sumac 🙂
Service has improved greatly. Our last visit there blew us away b/c Wendy, the manager, was on top of the Tues night madness. They accidentally gave us rice for both the boys' meals but she quickly brought out freshly fried french fries upon hearing of the mix up.
This is only offered on Tuesday nights so if you've never been here before, try to go on this night to get a chance to try a few things 🙂
I also just noticed that they have a happy hour menu…
Not sure if I would come here to watch NFL football on a Sunday but it's worth a chance though. Especially with the HH items listed.
Luna Grill
7825 Highland Village Pl
San Diego, CA 92129
(858) 566-5862