I visited Wich Addiction in Mira Mesa with Mary and CC some months ago to try out their sandwiches. I had heard great things about this place and was happy to have an opportunity to check it out.
It's located in Mira Mesa (literally in the middle of MM so it doesn't matter if you take the I-15 or I-805 fwy). I'm not a fan of this location b/c there's not a lot of parking and it does take awhile to get here (since Mira Mesa is infamous for their red lights).
Ordering is easy – you go to the cashier, place your order, and they call your name when your order is ready. Cash/credit card accepted.
It's a small parking lot so parking can be a pain if you get there during their peak lunch hours. They are only open Mon-Fri 10a-3p.
So visit #1 was w/ CC and Mary as mentioned beforehand: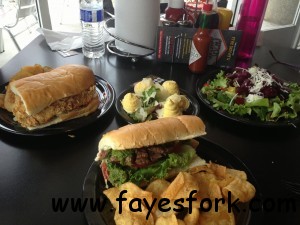 – Our lunch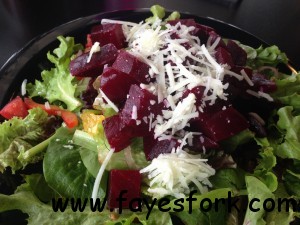 – Roasted Beet and Citrus Salad $6.50
Red Pepper, Red Onion, Manchego and Citrus Vinaigrette
This was CC's lunch choice that afternoon. I don't eat beets so I can't really recollect what this salad tasted like. I believe CC liked it though.
– Deviled eggs
It's not listed on their menu anymore so I have no idea what I paid for this (ha, I just re read Mary's post and found out it was $2.99 for the order). I ordered it b/c I had heard such great things about these eggs and thought it would be fun to share w/ the gals. I'm not a fan of egg yolk but sometimes I crave a good deviled egg. The version here was ok. It didn't really stand out to me though – maybe I wanted more spice or more salt.
– Buttermilk Fried Chicken $7.95
Sriracha Aioli and Provolone on French Roll with LTO
This was Mary's amazing sandwich. I was kicking myself for not ordering this (dang you Mary!). It's a really generous portion – they don't skimp on the fried chicken. The sandwich ws .10c less when we visited (I'm pointing that out not b/c I'm that big of a cheapo – but b/c 1) I revisted the place today like the OCD  freak that I am and 2) I noticed it's now $7.95)
– Chimichurri Steak $9.50
Brazilian Style Citrus, Garlic, Parsley, Olive Oil and Avocado on French Roll with LT
These pics suck and don't do this sandwich justice. I LOVE this sandwich. They slather the beautifully cooked steak with lots of chimichurri sauce. The avocado is located on the bottom of the sandwich. The french roll tastes amazing b/c it's toasted (I think with a little bit of butter too).
Visit #2
–  Chimichurri Steak
I told you I was obsessed w/ this sandwich. And it was magnificent. Steak was prepared medium rare and the chimichurri sauce tasted so herby and yummy. The avocado really stood out this time too b/c they used slices that you could visually see this time around (I wish they did this all the time). You get a choice b/w a side salad or potato chips.
– Pesto Turkey $7.95
Provolone and Arugula Lemon Pesto with LTO
I think this is the Pesto Turkey. I don't remember much about this sandwich as it was a while ago but lunch compadre seemed to enjoy it.
Ok, so the next item is what blew me away at this sandwich shop:
– Tomato bisque soup
I was craving soup that afternoon and this was the only one they had available. I am not a fan of tomatoes. And I detest the famous tomato soup at Nordstroms cafe b/c it ALWAYS tastes like Prego spaghetti sauce to me. Always. So that Nordstrom tomato soup has made me weary of other tomato soups.
But goodness gracious, the version here is delicious. It tastes nothing like Prego sauce. It tastes just incredibly fresh and warm. There are scraps and pieces of actual tomato in the soup. The soup looks orange in these pics and I am not sure if they add any dairy. Regardless though, I was pleasantly surprised how much I enjoyed this.
Visit #3
I typically eat lunch alone and have no issues w/ it. The only time I have issues (eating alone) is when I want to order a lot food and look like a piggy to other customers. So usually I'll say 'Party of 2 please….she's coming in a bit'. And then pretend sis/friend stood me up and then I have no choice but to eat the food I already ordered for sis/friend 🙂
Sad. I know.
I came back here yesterday afternoon around 2p. I wanted to try their Buttermilk fried chicken sandwich and have another bowl of their tomato soup.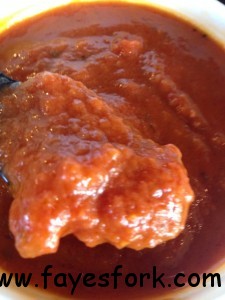 – Tomato bisque soup
It's a nice size portion for under $4. The soup color here is a true tomato red (compared to the orange color from the previous visit). I don't think there's any dairy in this soup. It tasted, again, so fresh and so comforting. I kept asking myself ' don't you HATE tomatoes???!!'.
So I didn't order the fried chicken sandwich b/c I'm a creature of habit and had to order the chimichurri steak sandwich again.
– Chimichurri Steak sandwich
I guess they really put alot of chimichurri sauce on top of the steak. I opted for the side salad this time (it's dressed w/ simple black vinegar and olive oil).
You can see in this pic that the steak is prepared medium rare. I believe they use a hanger steak so it can be a bit chewy.
The french rolls they use are so soft and delicious. They don't cut these sandwiches in half when they serve them.
Because my sis failed to show up (ahemmmm), I was able to partake in the side of buttermilk fried chicken I ordered for *her* before she so rudely stood me up (ahemmm….).
– Side of crispy chicken $4
I was totally disappointed when I saw this side order. I remembered Mary's sandwich being so much more grand, so much more stature.
But this? This looked like a breast cutlet that would be served by the crabby women in the Costco sample aisles.
I thought there would be more 'crunch' to this chicken. Like extra crispy, extra fried yummy breading or something. The actual meat tasted moist and juicy but the breading failed for me. I am not sure if this is the same fried chicken they use for their sandwiches?
I have no doubt I will be back to try more of their sandwiches (well, assuming I get their chimichurri steak one outta my system). It's a cool little place to have a quick meal and be happy.
Wich Addiction
6625 Flanders Dr
Ste B
(between Mira Mesa Blvd & Mesa Rim Rd)
San Diego, CA 92121
Neighborhood: Mira Mesa
858-412-3735
Hours:
Mon-Fri 10 am – 3 pm