Go ahead and laugh. I know you want to.
When was the last time anyone (over 21+) has gone to Benihana. And for LUNCH.
Well folks, that would be me and my friend MK (my guy friends nicknamed her Munchkin b/c she's cute and they all have a mad crush on her). I was going to LA for work and always try to see MK when I'm there. I asked her where we should have lunch as I was driving up from SD and wanted to see her. And her first suggestion? Benihana.
W.T.F.
So random MK. And you're, like, a grown up. A working professional.
I was getting my Grande Americano from Starbucks when she suggested this. As I had my iPhone smashed to my face while trying to use my hands to do a WTF gesture in the air, I wondered 1) who the heck goes to Benihana for lunch; 2) have you *seen* the prices of their food lately?!; and 3) it's BENIHANA for crying out loud (how embarrassing).
She threw out some other ideas: dim sum, tortas, soup/salad place. But she said that Beni has some great lunch deals. Ok, fine then. I'll go, I'll go, I'll go…
City of Industry really has a LOT of Asian food. I didn't even realize this until I drove there. My grams used to live in Hacienda Heights which isn't too far from Industry.
Benihana opens for lunch at 11:30. I got there on time but MK was running late. I noticed quite a bit of people walking in right at 11:30. I was going to wait in my car but thought maybe it's best to put our names down.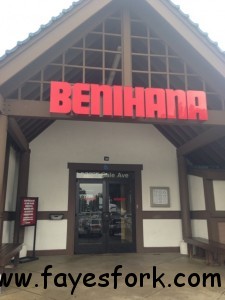 The manager wasn't the friendliest and said 'minimum 15-20 wait'. I looked around the restaurant and there were MANY open teppan tables empty. Um, ok – I'll wait then. MG got there and the group after me got seated before me. Greatttt. No matter though, the manager said that he could seat us as well.
I knew RIGHT AWAY this is how this place works. They seat in you in front of a teppan table that fits about 7-8 people. UNTIL they fill up those 7-8 spaces, you wait…and wait…and wait…until the last seat or so gets filled. So we waited, with another group of 3 for about 15 min before they seated a party of 2 at our table.
Their lunch specials are actually quite reasonable.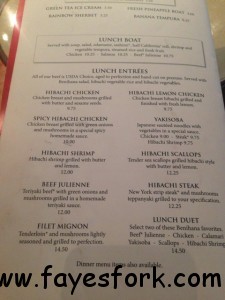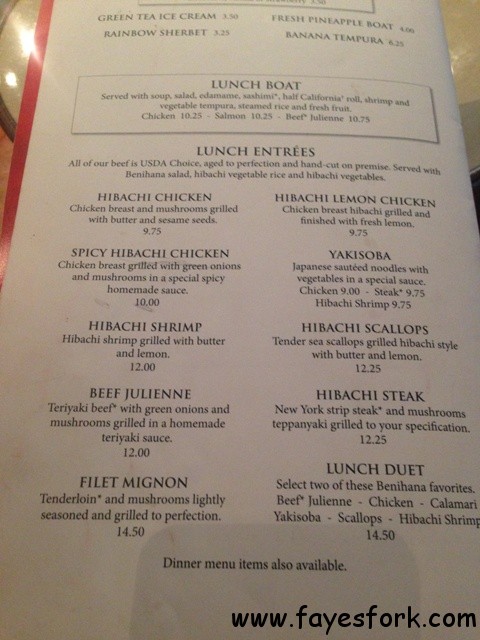 All their lunch entrees come with soup or salad, hibachi vegetables, and hibachi fried rice.
Side note here: I rarely eat rice and don't ever crave it. BUT. Benihana's garlic fried rice is THE only rice on the face of this earth that I have EVER craved. And I mean *EVER*. The last time I had this rice was over 15 years ago I think.
I was so happy to see that nothing on their lunch menu is over $15.
MK decided on the Hibachi steak $12.25 and I opted for the combo of chicken and beef julienne for $14.50.
Our non Japanese chef came to our table some time later. I was trying to psych myself up for the 'show'. During LUNCH. What the eff.
– salad and soup
I opted for the salad and MK got the soup. Salad was ok – nothing memorable but it did taste fresh. I believe they use a ginger dressing for this salad.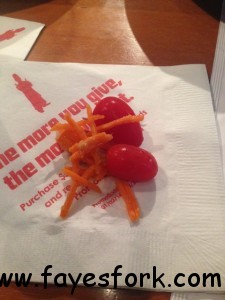 – carrots and tomatoes picked out to the side
I can't help it 🙁
At this point, MK and I both realized it's going to be a lonnnggg lunch. So we both decided to order a glass of wine which we've never done before (for lunch). But heck, her bday was coming up and mine was last month so eff it. And we were probably going to be here for another 3 hours at the speed this lunch was going…
– glasses of red wine
We ordered two different wines but we're pretty sure we were both poured the same red wine. Whatever. It's not like we're Master Sommeliers here at Benihana (note the sarcasm dripping from that sentence right there…)
So side note, it's weird to be seated in a communal table like this w/ random strangers. It's not like you have a choice of who you want to sit with right. So while drinking our wine, MK pulled out her phone and started texting. I thought 'wow, that's kinda rude you stupid friend…'
But then my phone pings me and I take a look and it's from MK (who's sitting right NEXT to me mind you). Our texts (and keep in mind we both had our poker faces on at this point and not looking at each other b/c we're slick like that):
MK texting: The couple next to us look realllllly happy 
(she's being sarcastic b/c the couple next to us said NOTHING to each other, didn't even look at each other or anyone, etc)
me texting: I know right! They look miserable. Look at 'em
MK texting: that's me and 'ex' out to dinner when he's in a bad mood
Then I started laughing out loud soooo hard. I mean, come one, who texts each other gossip about someone when you're sitting right besides her. Me and MK. That's who.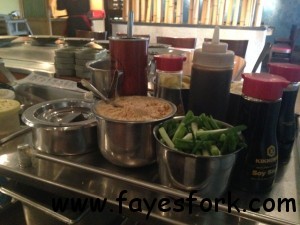 – cooking condiments for chef
I was 'lucky' enough to be seated in corner where chef parked his cooking station. He wheels this thing in. This cart has the garlic butter, scallions, soy, veggies, and proteins that were selected by everyone.
– two types of dipping sauces
The left one is a ginger based sauce which I preferred. I don't remember what the other one was – perhaps a miso or sesame based sauce? I didn't try it.
– making the fried rice
I was rolling my eyes when the 'show' started b/c I'm sarcastic and pompous that way. But then I saw the chef doing something with the eggs that I hadn't seen before.
What the heck is he drawing with the raw eggs.
Hellllooooo!!! Sweet holy moly!!!! Is that….is that….Spongebob whatever-pants??!!
My whole perspective of that lunch started to shift right then and there. B/c now it's ON. ON like Donkey Kong (is that how you say it?).
The rest will mostly be pics of the cooking:
– that's the GARLIC BUTTER they put on just about everything
You won't find no complaints from me on this 🙂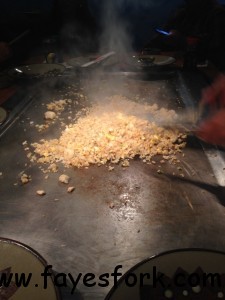 – mixing butter, rice, onions, chicken together
– garlic fried chicken rice
You have to pay extra for the chicken garlic fried rice but the nice chef gave everyone chicken that lunch 🙂 I think my eyes actually welled up w/ tears.
The rice is everything you THINK it will be. So delicious. So buttery and garlicky. I heard Justin and Jay Z's 'Holy Grail' song in my head when I ate this.
– he poured tequila (so he said) into the onion volcano and it did indeed steam
– grilled vegetables
Pretty darn good man. Pretty darn good.
– beef julienne and chicken $14.50
This was mine. And I LOVED it. Beef was cooked just right and the chicken wasn't dry.
– Hibachi steak $12.25
MK choose this one. They use a New York strip steak for this. It wasn't the largest portion and MK noted that she wished she choose the combo option instead of this one. It tasted pretty good though but portion wise, the combo option is better.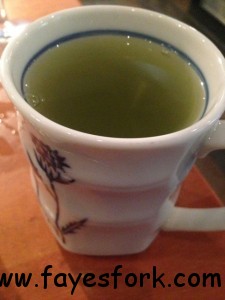 – complimentary green tea
Bliss. Hot green tea served after a heavy butter meal is always a good thing.
Service was amazing. I cannot remember our server's name (Danny maybe?) but he was so cool and hard working.
After the non-talking couple left, the group of 3 sitting across from us started laughing. I looked up and said 'dude, did you all SEE that?!' And all five us started laughing hysterically b/c it was THAT awkward for everyone seeing the other two people eat in silence and looking so miserable.
Turns out the girl in their group was there to celebrate her bday that lunch. And Danny was gracious enough to give an ice cream sundae to both the girl and MK.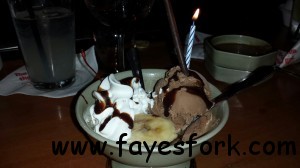 They also commemorate it by taking a digital picture of you and putting it in a Benihana paper photo frame.
Needless to say, I had a BLAST. I mean a bust-your-gut-from-laughing-so-hard BLAST. Food was delicious AND affordable. Company was amazing and I can truly admit that I will never forget this meal.
Benihana is located everywhere. There are two locations here in SD and I highly recommend going there for lunch if you have 5 hours to spare (j/k…more like 2 hours). If you sign up for their bday thing, you get $30 towards your meal!!! Too bad I didn't realize this until way after my bday (you can also read about the bday gift from Mary's post). Oh well.
Go check it out (for lunch). Totally worth it.
Benihana 
17877 Gale Ave
City Industry, CA 91748
(626) 912-8784
Lunch: 11:30a-4p (I think lunch ends at 4p)
….
….
….
Today is MK's bday. She's been one of my best friends for quite some time now. I met her in LA after I graduated college and we've been close ever since.
She has a heart of gold, a spirit that touches everyone she meets, and a faith that never fails. I can say, without a doubt, that we share the same hopes, the same beliefs, the same dreams.
I pray for her every night. Not because I worry about her (which I do) but because I want for her to be happy. And for her to have the courage to wait. To be still when times call for it.
We talk often and we compliment each other b/c when I'm down, she encourages me and vice versa. She rarely curses but I think she's used every bad word in the book when it comes to my ex's 🙂
And she rarely cries. But when she does, I cry with her b/c sometimes I don't know how else to take away the pain.
Someone once told me that family and friends will always side with you b/c they love you. I find that to be false. Family and friends shouldn't side with you because they love you but because they want their honest truth to help you. MK and I have always been honest with each other and there have been many tears and laughter shed because of this brutal honesty at times.
I'm so fortunate to have a friend like her. I have a smile on my face right now thinking about the journey I've had with her all these years. We mirror each other in so many ways (the good and the bad). We often laugh about how many boy stories we've had over these years.
I just totally remembered something just now – last year, we were both bored on a Fri night so we called each other. And basically that night, two single gals, one in SD, the other in LA, propped up their feet, got comfy on the sofa and planned their weddings to non-existent fiancees (I mean we both broke out our laptops and got real: from what type of dress we were going to wear, the venue, the food, etc). It was so funny yet so us at the same time.
I cannot wait to see how both our stories turn out 🙂
So Happy birthday MK. Have the courage to wait. Someday someone is going to walk into your life and make you realize why it didn't work out with anyone else.