This was the first Thanksgiving I think we've ever had that had NO Asian food. Like zero, zilch, none. And the turkey wasn't just a centerpiece for everyone to look at and pass over for fried rice, noodles, or roast duck.
– Prime rib
I usually cook this medium+ because of the family's kids, etc. But this year there were no kiddies around so I was able to experiment with a medium/medium rare version. It turned out really nicely .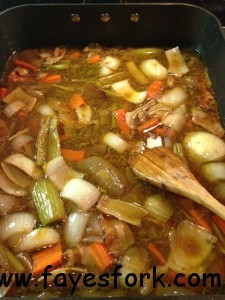 – prime rib au jus
This is my own recipe that I'm too lazy to go into details about right now. But I suck at making sauces but this sauce is my claim to fame in my picky hard to please family.
After I take the roast out to rest, I simmer the vegetables and drippings with a few other ingredients.
– creamed corn, mashed potatoes, and roasted cauliflower
– Roast Turkey
My nanny once told me the trick to roasting a bird is to put the breast side down so that it stays moist from the basting and it's own drippings.This turkey was a fresh Butterball turkey and about 10lbs. I didn't grow up eating stuffing so I usually put a ton of garlic, celery, granny smith apples, butter, onions into the bird cavity.
This year, I took the bird out a bit earlier than I wanted (I think I was just super un-stressed about how the food would turn out b/c I was completely comfortable that everyone would be ok w/ whatever I served that evening you know?) . Having that stress taken off me, I think, changed the dynamics of how I prepped everything. So yeah, the turkey actually tasted good – I think we were all kinda surprised.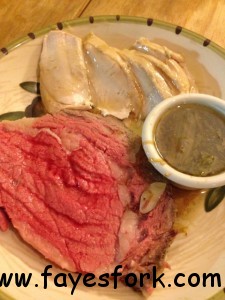 – Voila 🙂
– cranberry sauce
So sis tried to make cranberry sauce for pancakes the next morning. Keep in mind she's never used cranberries before either. I think it was our first time even eating a raw cranberry (it tastes like a super sour, super tart, super not sweet little tiny apple). She added sugar to the cranberries and reduced it. I didn't try it b/c it just sounded really weird the next morning but mom thought the sauce was super tart.
– funny socks
My great uncle bought these socks for me when I was in Taiwan earlier this year. I thought these toe-separator socks were so adorable so he got me a few pairs. Never wore them so mom and I decided to try them on while watching TV that beautiful Friday morning.
I told mom and sis that we just HAD to go to the mall for Black Friday. No one really wanted to but we figured it was late enough that morning where most of the crowds were probably already gone.
The mall wasn't disastrous and I managed to find parking pretty quickly. We hit up Macy's first and it was a total mess. I don't do well with crowds and neither does mom. But she wanted to duke it out with the others.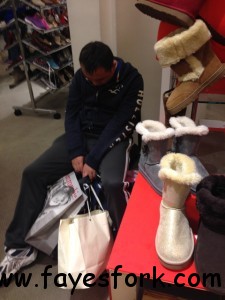 Poor fella.
The pic above is of a guy (probably a dutiful boyfriend or husband) inside Macy's by the women's shoe department. He's carrying a few bag loads of stuff and it appears that he's just exhausted (and napping) from a very long morning with his girlfriend. I wanted to go to the furnishings department and get a blanket on sale to put over him. Is it weird that this gave me hope that there are nice guys out there 🙂
– Tender Greens
We went to Tender Greens inside the mall for lunch. I had the cobb salad, mom had Thai Shrimp salad, and sis ordered the chorizo mussels.
– William Sonoma
I love this store. I would furnish my kitchen with all their stuff if I had the moo(lah) to do so. You know they actually have a small tiny prep kitchen inside? So sometimes they bake up little treats for people to sample. So that morning, they were baking their Bouchon double chocolate cookies and one of the girls added WS's dark chocolate peppermint barks on top. So freakin' good. I mean, soooooo good.
They also sell the Starbucks kcup espresso machine thingies. The handsome coffee man offered to demo the machine to me and make me a double espresso latte. Do I look like a girl who would say no to that. Gimme my latte and thank you very much 🙂 It was a generous portion too AND it was piping hot. Perfection.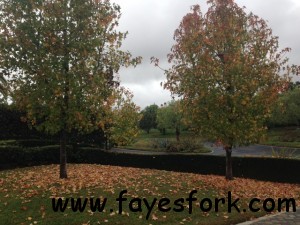 – sister's trees
I love looking at this picture. Makes me think of Ben's rain quote (well, probably because it was raining that day).
Friend and I met up Fri night for a late dinner. We wanted something fast and cheap. So Mimi's Cafe sounded good for some reason.
– French onion soup
I wasn't even in the mood for this but it was so dang good that night. Our amazing waitress Leanne was the best. The server prepares the soup for their customers so I requested mine w/ no crouton and less onions (more broth instead). The soup was hot, intense (onion wise), and cheesy. Delicious.
– Spinach salad w/ honey mustard dressing; complimentary bread basket
Salad was great too – their honey mustard made this dish. Bread basket had carrot bread and not-so-good french bread.
– chicken pot pie
Piping hot, creamy, and the crust was pretty good.
– Brioche Croque Madame
Open faced sandwich with ham, swiss cheese, and fried egg. Kinda salty and it was a smaller portion than what we had imagined. No matter. It was late and the day after Thanksgiving. The food overall was good and Leanne was just the coolest.
I can't even remember what I had planned for Saturday. My friends from Orange County were driving down to see me later that day but I wasn't sure what time. CDJ and one of his best friends wanted to do a hike at Lake Poway. For those that know me, I'm no country bumpkin – I'm not into hiking, nature, etc. But they convinced me to go so fine….
– Nutmeg Bakery & Cafe
We were going to meet up somewhere on Poway Road for lunch but we didn't exactly know where. We found Nutmeg by chance and it turned out to be a cute place to have a late lunch 2p on a Saturday.
– Capri: Roasted Chicken, Organic Walnut Pesto, Fresh Mozzarella, Sundried Tomato Spread, Roasted Garlic
Not sure what's up post Thanksgiving – but all of the food I've had since then has been pretty darn good. This sandwich was no exception. The bread was delicious and I enjoyed the melted mozzarella inside the panini. CDJ ordered same thing as well.
– Permalosa: Salami, Prosciutto, Port Salut Cheese, Grain Mustard, Pickled Shallots
Friend had this panini and he liked it quite a bit. This friend (who I'll call NY) is the coolest b/c he lets me take random pics of his food AND let's me take the first bite outta his food before he gets to try it (not b/c I'm a selfish brat but b/c I'm weirded out by germs 🙂  ).
NY paid for our lunches. They were taking their sweet ol' time eating when I kindly reminded them that the park/lake closes at 5p which would give us about 2 hours to trek up the trails to the top of the Mount Woodson. I think they purposely were eating slow so they wouldn't have to hike as much.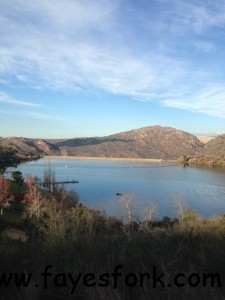 – Lake Poway and Mount Woodson
This was my first time here. I couldn't believe it. It was truly beautiful. The park closes its gates at 5p so you MUST be out by then or you'll be stuck w/ your car there. It was about 3:08p by the time we started hiking. Mount Woodson is known for its Potato Chip Rock. I didn't really care at first but then I saw a few photos on yelp and decided it was worth the trek.
None of us knew how long it would take to get to Potato Chip but we had to be back in less than 2 hours so it was looking really bleak. And the boys were sooo slow getting started. Jeez. Come on. They're both from New York too. You know what they did best the entire time? Cuss. Like ALOT. It always makes me giggle in awe when New Yorkers cuss. It sounds so serious. So mean.
It was apparent we weren't going to make it to the very top. Every 20 minutes, NY or I would ask someone coming down the trails 'How much farther to the top, man'. And EVERY one would say 1.5 hours. Even after an hour of hiking, each person would say 'you better hurry your pace' or 'yeah you have another 1.45 hours to the top'. How is that possible.
NY and CDJ wanted to call it a day and head back down as no one wanted to be locked in this park after 5p. At least the sun setting was really beautiful and serene. NY took the pic of me standing on a rock – pouting – to see if I could get a glimpse of Potato Chip (which there was no way since we were still so far away from the top).
It was such a great afternoon though. I've met NY a few times and he's so genuine, funny, and jovial. I don't think there was a moment during the lunch/hike when one of us wasn't laughing from the other person saying/doing something totally ridiculous.
– The Lake after sunset
We all came back to my house afterwards to have left overs and watch the UFC fights. My friends from OC came down soon after so we all just hung out at home. It was the perfect night. There was no planning. No obsessing. No need to entertain or to be a great hostess. It was just ending November with a group of friends that I felt safe and comfortable with.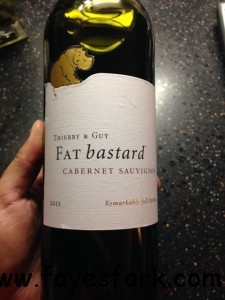 This was a bottle of wine that I bought in honor of Lifu (j/k). Everyone liked it though. Isn't the hippo cute?
Sunday came around and it was a big day for me. I usually help w/ the kids Sunday school but that day, I had to teach the kids by myself. I was nervous and anxious trying to prepare last week but I figured my angst should take a back seat to the actual task at hand. We always get together 30 min before we start and are given words of encouragement, etc.
The quick message that morning was that this is the season (the month) of hope for a lot of people.  Remember there are people out there with a different (difficult) journey than yours. You might just be an answer to their prayers and not even know it. So be that light in someone's life. Be that spark of hope. Intentionally make this month more special.
I was going to meet up with family afterwards for lunch at Uncle's house but I was tired. So I went to HMart to get stuff to make for lunch (and dinner). HMart always has great live seafood deals (usually they beat 99 Ranch by a few bucks per pound). But look at this deal!
$4.99/lb!!! For LIVE lobster. I am not sure how they do it here though. They have a tank of live lobster that sells for $6.99/lb. Then they have a guy manning a box (with no water) with live lobsters for $5.99/lb. Then I see the same guy inspecting a few of his live lobsters and putting a few choose ones in the show case box (over ice and the ice fog show). The lady behind the counter said it's $4.99/lb for these chosen lobsters. I asked if they were dead or somehow defective (I don't freakin' know). But she said they're alive and tried to show me a few dead ones (this had me laughing a bit). But there were a few that were still moving so I got two of them.
They were only 2.85 lbs but who cares. The beer in the pic was used to steam the lobster (ok, fine, I did take a sip before I used it to steam the critters). I was really happy w/ the price tag and it made for a really great late lunch that Sunday (even though the stupid Chargers game was blacked out and they lost to the Bengals anyways).
So it's December you guys! I hope this post finds you well and that your stomachs are gearing up for this December season….
Oh and it's Cyber Monday right?! I'm getting emailed mostly free shipping & handling offers though (big whoop right).