I recently met someone here for dinner. I usually like to suggest (or dictate) where to meet for dinner but I've recently taken a back seat to that. Friend suggested Piatti Ristorante & Bar in La Jolla. I have never been there before and had heard nice things about this place. He's not originally from San Diego so his research showed that Piatti's had a beautiful outside patio with some sort of large tree (maybe that's my new theme for places to try out this season – restaurants with big giant old trees – sounds so quaint and romantic in a way).
I couldn't find really any blog reviews about Piatti's. It was kinda frustrating but finally on the 5th page of my google search, I saw Jinxi's review on the place 🙂
Parking S.U.C.K.S in La Jolla Shores. It sucks during the day and it sucks at night. Dinner was at 6:30p but I have an OCD thing about always being on time so I made sure to get there 15 min early in case I couldn't find parking (meaning, in case I was forced to parallel park which can easily tack on an extra 10 min for me). It did indeed take me 20 min to find parking that Saturday evening.
The bar was packed. There wasn't a seat left. And there was a line to actually check into the restaurant. Strange. Was this place THAT popular/good?
We weren't able to get a seat on their back patio (with the tree) but the side patio, with heat lamps, was available. We both preferred that as it was quite noisy inside the restaurant.
– complimentary dipping oil and fresh baked bread
Friend noticed I was taking pictures so he actually posed their water bottle behind the dipping oil to make for a better pic.
I had read MANY reviews about their gourmet dipping oil. Everyone, and I mean EVERYONE, raved about this garlic oil. And I hate jumping on the bandwagon, but this truly was THE best dipping oil I've ever had.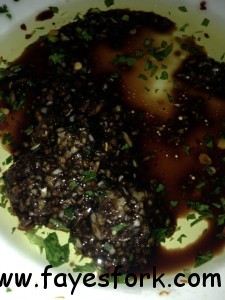 It's comprised of olive oil, fresh garlic, balsamic vinegar, olive oil, parsley, and chili flakes.
How do I know this? Because the waiter told me! I guess it's no secret to what they put in this. Also friend surprised me with something at the end of the meal that helped me enjoy this dipping oil (and evening) even more.
– Seven Falls, Washington 2010
Friend picked out the wine the night. He asked the waiter for his suggestion between the Seven Falls merlot and Piatti's own merlot brand. The waiter was kind enough to bring us a sample of both wines and we both unanimously agreed that the Seven Falls merlot was much better than Piatti's own merlot brand. I believe the Seven Falls is more expensive than Piatti's merlot but this was the one time where I felt it was worth it for the more expensive bottle. The wine really was nice though – smooth, soft, silky and light on tannins. I don't think I could have asked for a better wine that night. Very nicely done by friend.
– Herbed Cauliflower Cakes $8.95
Friend wanted us to try an appetizer so the waiter suggested this one. I love cauliflower. So I was really curious about this dish.
Unfortunately, it wasn't very good. It tasted very much like thick potato pancakes. You wanted to taste crab b/c it kinda looked like flattened crab cakes. But once you take a bite, you mostly taste potato/flour or some sort of starch. We really couldn't taste cauliflower all that much in this dish.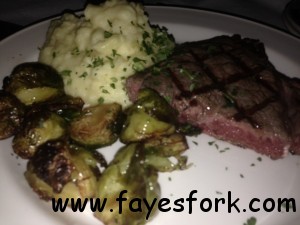 –  Grilled Rib-Eye: Garlic mashed potatoes, roasted brussels sprouts
Since I don't really eat pasta, we decided it would be nice if we split this dish as one of our entrees. It was nice of the restaurant to split this into two portions on separate plates (I am not sure if they charge extra for that).
I requested the rib eye to be grilled medium rare which it was. But the steak itself didn't taste right. It was incredibly chewy and had quite a bit of fat/gristle. There was barely any seasoning on the steak which made it harder to eat. I was disappointed because I knew this steak was probably the most expensive item on their menu and therefore should have tasted better than it did.
The brussel sprouts had a nice char to it and tasted good. I wish it had been served hot but I'm not sure if it was because we were sitting outside and perhaps it got cold from not being eaten right away.
– Saffron Pappardelle: Shrimp, tomatoes, garlic, chili flakes, arugula, lemon, white wine broth
Friend choose this dish as the waiter highly recommended it and said it was quite popular with customers. Again, the restaurant split this pasta dish onto two plates for us which was really appreciated. I believe the pappardelle is made in house.
The pic on the left was my portion. It barely came with any sauce so that made eating the pasta a bit tough. The shrimp was cooked nicely and tasted ok. The pic on the right is of friend's portion and you can see that he received a pretty good amount of sauce. I believe he liked this pasta dish.
To be honest, this was what I was nibbling on all night: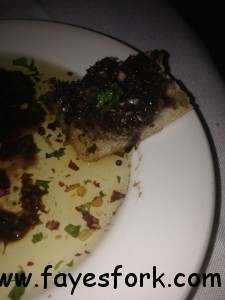 Sorry for the terrible pic. It's a piece of bread soaked with that garlic parsley oil. It's truly *that* good.
I'm not sure why boys always insists on ordering dessert after a meal. I've noticed my female friends don't really do this. I mean, sometimes I want the girls to order dessert but I don't want to seem like the piggy that wants it right.
My tummy was pretty content (from the beautiful wine and bread…hello). But two desserts were ordered regardless. Ain't complaining here…
– dessert port wine (?)
He ordered this as I'm not a fan of dessert ports. I took a sip and I swear it tasted like Chinese medicinal-something. It reminded me immediately of my grandparents.
– Affogato: White Chocolate Gelato, Espresso, Amaretto, Shaved Chocolate, Whipped Cream
This is usually served with white chocolate gelato but the waiter was able to substitute that with their dark chocolate gelato for me (WTH right, I guess my tummy wasn't *too* full after all). The picture on the right is the hot espresso.
I asked waiter if they could put the espresso on the side since I have that phobia of cold stuff melting b/c of hot stuff (like a piece of warm whatever-fruit pie and a scoop of whatever-ice-cream on top). I thought I was the only one with this phobia but CC made mention of it too in one of her posts.
The waiter said no worries: they put the hot espresso on the side. Whewwwww…..
This dessert was DELICIOUS. Why couldn't they do this with the entrees. The dark chocolate gelato was nice and bitter (in that dark chocolate way)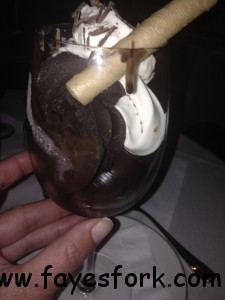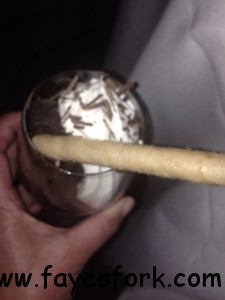 Friend let me eat as much as I wanted before he poured the espresso over the gelato and whip cream (I took out the wafer cookie so it wouldn't get soggy..of course right).
– pouring hot espresso over gelato
Friend was really cool b/c he suggested I take some 'action' pics of him pouring the espresso over the gelato so people could get a better image of the dessert as a whole.
– the final mess 🙂
I must admit. And this is a first. The hot espresso over the dark gelato tasted GOOD. I don't know what happened. There was something magical about putting a spoonful of cold chocolate gelato covered in warm espresso into my mouth. It tasted creamy and cold but warm at the same time.
I'm writing this at a coffee shop right now, sitting next to one of my friends. I read the last paragraph to him. He's laughing b/c he just said to me 'dude…it's just coffee over ice cream, you freak..'
Then I heard him mumble under breath 'Something magical…what the frek…spoonful of cold yet hot…frekkin' Faye…'
Thanks buddy. ThanksAlot.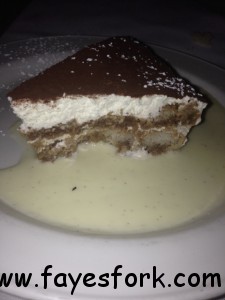 – Tiramisu: Lady Fingers, Espresso, Amaretto, Mascarpone, Chocolate
Friend got this one for us to try as well. The waiter said they make a large fresh batch in a sheet pan (or something) every day. The tiramisu wasn't the best I've ever had but it was still good. My favorite part of any tiramisu is the mascarpone for some reason.
Service was spot on that night. The waiter was really friendly and knowledgeable. There were no eye rolls when I asked the waiter or busboy for more bread and dipping oil. Our water was consistently refilled and the left over food was neatly packaged for me to take home.
Friend surprised me with this at the end of the meal. The waiter had mentioned earlier that Piatti bottles their famous gourmet oil. So friend bought me one which was so incredibly thoughtful. I'm not sure how much this bottle sells for but the bottle is really William Sonoma-ish pretty.
It was a nice evening and it was fun to finally try out this restaurant. I'm not sure I'd come back for the food as I wasn't too impressed by the appetizer or entrees from that night. But I think I would come back for their wine, bread/oil, and desserts.
Piatti Ristorante & Bar
2182 Avenida de La Playa
(between El Paseo Grande & Calle De La Plata)
La Jolla, CA 92037
Neighborhood: La Jolla Shores
(858) 454-1589
I was pretty excited to try the bottled oil the next day. And to be honest, it pales in comparison with what is served at the actual restaurant. There's too much oil in the bottled version. Even if you give the bottle a few good shakes, it's mostly olive oil that comes out.
Actually, I'm re reading the label now and here are the ingredients listed in this bottle: Garlic Extra Virgin Olive Oil, balsamic vinegar, parsley flakes, oregano, crushed red chili flakes. So I guess the only presence of garlic in the bottle is in the olive oil (or infused in the olive oil I should say) and that's it. What a bummer b/c the dipping oil we had at the restaurant definitely had fresh garlic in the dip.
The End.
I don't even  have anything witty or funny to say right now b/c my hands are so cold. Even this hot cup of decaf latte is doing nothing for me. AND – I think my little vermin of a cute nephew got me sick with his gross germs. My nose has been runny all day and I have the worst chills. Or maybe it's just the freezing weather. I FINALLY turned on the heater last night and have to admit that I slept like a baby for the first time this week (I tried to spite SDG&E for raising rates this year).
Hopefully everyone is staying bundled up and taking good care of themselves this beautiful frigid first week of December…