It's cold. I'm too lazy and too cheap to go get food sometimes. So what's the best solution? Asian store bought dried ramen, udon, and noodles. We're going back to college days – gangsta style.
This season, I've been a bit obsessed with the dried ramen packages you purchase at the Asian supermarkets. There are always SO many to choose from. I remember growing up on the standard Maruchan ramen (do you remember those?!!). Maruchan was literally my friend quite a few dinner nights a week when I was in college.
But how times have changed. There are no so many different ramens/udons/noodles available for the masses. It's no longer ramen in a cup that you pour hot water over.
I always see ramen for sale at my local H Mart. I frequent H Mart b/c it's the closest Asian market to me and they have some pretty cool deals on ramen. So I thought I'd do a test run on a few packs I picked up from the market. And how many times have you seen ramen/noodles packs and wondered 'what the heck is inside these packs anyways'.
I was really curious about these Korean brands because they always have different seasoning packets inside the package.
– Shin Ramyun BLACK
This was the first one I tried out b/c it was on sale. I don't remember the price. But it was on sample and I like the way the soup tasted. I don't care too much about the actual ramen noodles b/c I think the dried ramen noodles tastes the same in about every pack.
It seems that most of these dry ramens come with 3 packs of seasonings: dried vegetables, soup base, and I don't know what the other pack is b/c it's written in Korean.
I was told this ramen broth was pretty spicy but it really wasn't. I added two habaneros to the broth but fished it out about 5 min into the simmering process. I also added a raw egg and cooked it well done (as I dislike yolk).
I found this ramen brand to be 'meh'. Maybe I added too much water but the broth didn't taste as intense as I had hoped. Just a bit bland I suppose. I didn't add any protein or fresh veggies to this ramen as I just wanted to try out the broth/noodles on its own.
– Premium Spicy Udon
Ok, so it's not dried ramen. This is the fresh udon soup pack that they sell in their refrigerated section. I love udon and have never seen a premium version before (not sure why it's premium but I liked how it was fresh noodles).
The broth was decent in this udon pack – not as spicy as I had hoped but it had a decent kick to it. Noodles were nice and it's cool that you can cook it as al dente as you'd like. This udon would have tasted better if I added fish cakes, egg, black mushrooms, and a shrimp tempura (Nabeyaki style).
– Spicy Noodle $3.99
Not sure why there's French written on this package. This is by far the best fresh noodle pack I've had so far. The seasonings used for this noodle soup is actually really good. And the fresh noodles make the soup a bit thick and starchy.
– added one habenero and a little bit of fresh onion
– soup base and fresh garlic
You can see the dried shrimp in their dehydrated soup base cube. I also added a few cloves of fresh garlic to the broth.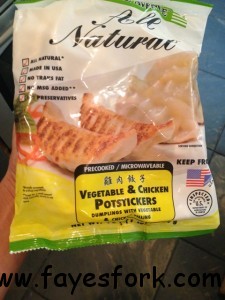 – frozen dumplings
I think I make really good home made dumplings but let's face it. It takes FOREVER to do so and as I've mentioned earlier, this post is about being lazy. I sampled this at H Mart a while ago and loved it. I think this is my favorite brand of frozen dumplings so far. So I decided to add it to the soup.
Oh man. This was really good. Really hearty, really spicy, and it warmed my cold belly on a freezing afternoon. The fresh noodles make a HUGE difference. It adds a different quality to the noodle soup – it tricks you to think that you had enough moo to order this from a restaurant instead of throwing it all together at home (like a broke college kid).
– Jinjaa: Flaming hot & Nutty noodle soup
I'm not sure if I got this b/c there was a sample that weekend. But I do remember getting it b/c the 5 pack was on sale for cheap (like $3.99 marked down from $6.99).
Hands down, BEST DRY RAMEN ever. I think I ate 4 packs in one week b/c I loved it so much. There's something about this particular broth that I absolutely adore.
The broth is the spiciest of all I've tried in this post. And I'm not sure what is inside their 'nutty' powder but it makes the broth even better.
– dried vegetables added first
Ok. These pics aren't the greatest and look kinda sad and pathetic. But I don't have to add anything to this. I don't feel the urge to add garlic, onions, raw egg, protein, veggies, etc. I just straight up love the spicy broth. If you can't handle spicy, then this ramen isn't for you because it's pretty darn hot.
They no longer sell this ramen in the 5 pack but they sell it individually now (boo). It's still worth it (even though it's like $1.50 per pack).
So to there ya have it. A grown woman's take on cheap ramen/udon/noodles 🙂
…
…
….
I wrote before how friends and I attempted to hike up Mount Woodson after Thanksgiving. We failed, not b/c we're old and fat, but because day light ran out. Last Friday, we all decided to take the afternoon off and make the trek up Mount Woodson to the infamous Potato Chip Rock.
– look how serene and beautiful everything is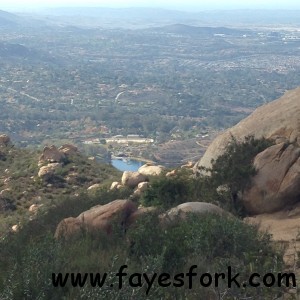 – view of Lake Poway from the top (well, 3/4 to the top)
It was FREEZING that Friday afternoon. I didn't really want to go b/c I was fighting a small cold that I knew would get worse if I went on this hike. Oh well. You only live once right.
It got super cold once you got to the top of the mountain. So windy and so blustery. But once I saw Potato Chip rock, I knew it was worth the almost 2 hour hike up.
It's literally a thin ledge that you can jump onto and admire the view. But it's so thin, so scary looking, so crazy looking. There was a crowd of people already there and people were debating whether or not to jump onto the ledge. I politely told them that while they were thinking about it, I'd cut in front of them b/c I wanted to get this over with and I was really hungry.
As you can see in the left pic, you have to jump from one rock to another rock to get onto Potato Chip ledge (please ignore the smile on my face as I wasn't even feeling smiley at that point). I think I'm pretty athletic but this jump scared even me. I was perched there for a bit waiting for others to finish taking their pics on the ledge.
NY was taking photos of me. I planned on doing a few cool jumps or something stupid but I'm not kidding you when I say that I GOT REALLY REALLY SCARED. I kept looking around and thinking that ' IF I fall, I'd really really hurt myself or break every single bone in my body'. My hands were sweating and my knees, honest to goodness, started shaking.
But I didn't trek up there for nothing. So here was my first attempt….
Everyone was cheering me on so I felt a bit better.
My second attempt:
Success 🙂  I think I represented pretty well and I was so shocked with the pics NY took w/ the iPhone!
This is a shot trying to come down Potato Chip. It was harder than climbing up the ledge. You either shimmy your way down, w/ your arms braced against the rock, or you try to slide down on your butt (which is the way NY told me to do it). There's no graceful way to do it.
After we all had our chance on Potato Chip, we all took our time to take it all in.  AND, keep in mind that I'm not a nature person. It was just an amazing moment to be still, reflect on a few things, and give a quiet shout out to people that matter to you.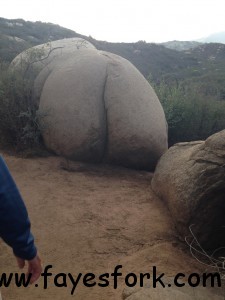 Hate to break the beautiful reflective theme I had going here but had to show this rock to everyone. I made NY and CDJ pose w/ this rock and kiss it 🙂  They made me promise not to show that pic.
This was the view of the lake and the trees when we got to the bottom. I don't think the day could have ended any better.
Except that I was freezing AND starving…like STARVING…
I treated the boys to Stir Fresh Mongolian grill b/c it was the closest thing to us and I had a coupon. The place was empty around 4:30p so we were able to make a mess and try out a few weird combinations of stuff to cook up.
I don't have much to write about the food b/c I couldn't eat much of it. I knew, without a doubt, that I was getting even more sick. The high of the hike and Potato Chip rock was wearing off and I was going into zombie mode.
So I've been sick last few days but it's ok. It was the weekend and I was more than happy to wear the same sweatpants and sweater for a few days.
It's going to be chilly tonight – my iphone is now saying 39 degrees. Hope the ramen review helps out others who are jonesing for a cheap, hot meal!