I had such a fun time at Benihana for lunch a few weeks ago. I was surprised at the value and the quality of the food we received that afternoon.
It was one of those days here in San Diego where it was a long morning and everything that could have gone wrong went wrong. You know those days. I skipped breakfast and didn't realize how hungry I was until I noticed it was already 1:30p. Usually I go to bed wondering where I'll be eating for lunch the next day. But that day, I honestly had no craving for anything in particular.
So I remembered Benihana and the lunch deal. I didn't have two hours to burn for lunch BUT I felt like something teppanyaki for some reason that afternoon. Maybe watching someone throw food in the air would make the day better 🙂

Friend told me Shogun had a nice lunch deal. I hadn't been there in ages so I thought it would be fun to try out that afternoon. I heard their lunch 'shows' aren't as long or slow as Benihanas so ok, let's go.
Someone at our table said they thought this was an old Benihana location. It looks kinda like it I guess with the temple theme they have going on here.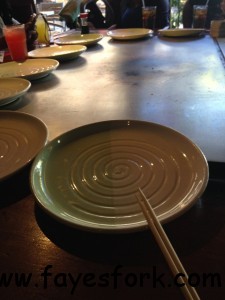 My friend was already seated by the time I got there. There ended up being about 8 people at the teppan table that afternoon. I appreciated how the server took all our orders quickly.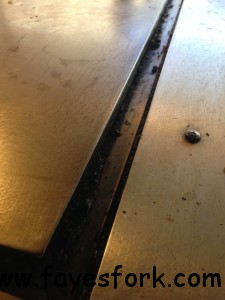 I was placed at the corner again (I wonder if this is a good or bad thing). I was making mental observations about how this place differed from Benihana. The grill area seemed pretty run down and kinda dirty. So I'm not sure what to make of that. I guess I feel bad bashing a place that is serving me affordable food that's being prepared right in front of me.
Lunch entrees come with a choice between salad and soup. The salad was pretty good with their ginger dressing. Friend got the soup and we both thought it was nice.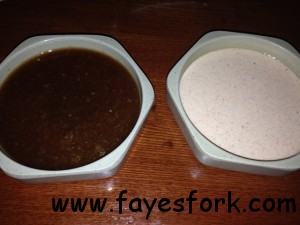 – two signature dipping sauces
I believe the darker sauce is the onion based ponzu/soy. The other one pretty much tastes like thousand island salad dressing.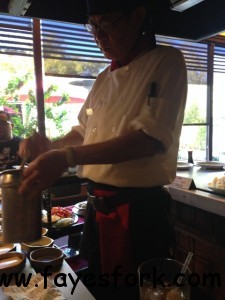 – our chef (Alan?)
Oh how I liked this guy. He wasn't overly showy and flashy.
– making fried rice
– Fried rice $2 extra
They don't use nearly as much butter as Benihana but this fried rice still tasted pretty good. Friend ordered this and said he never saw me scarf rice so quickly. I guess my theory is that the faster I eat it, the more I hope no one sees?
– vegetables and onion fire volcano
Ok – I must admit – I giggled and applauded like a 2 year old when he set the onion volcano on fire. I couldn't help it. They didn't do that at Benihana.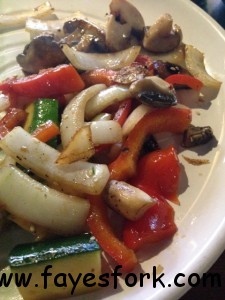 – vegetables
Man oh man oh man. Shogun gives you WAY more vegetables than Benihana. Way more.
The veggies consisted of zucchini, mushrooms, onions, and bell peppers.
There was a boyfriend/girlfriend couple at our table that couldn't eat onions. The chef had no problems making a separate batch of vegetables for them with NO onions. Bravo.
– Proteins for our table
I'm amazed at how the chef can prepare ALL this simultaneously.
– Sesame Chicken and Samurai Shrimp  $13.00
Friend got this combo and we both felt the $13 price tag was really incredible. The shrimp was plump, delicious, and seasoned just right.
They use breast meat for the chicken and it was a bit dry. I noticed on the dinner menu that you can choose either dark or white meat but they only served white meat for lunch (at least during our meal).
– Filet Mignon and Sesame Chicken $15.25
I chose this combo and enjoyed the filet quite a bit. They usually ask how you like your steak prepared. Mine came out more medium well (than the medium rare I requested). But hey, it still tasted fine and I give mad props to the guy for multi-tasking all our food at the teppan table that afternoon.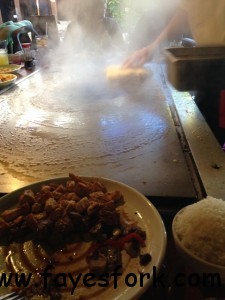 – cleaning the teppan
I don't like when they do this when we are trying to eat but I totally understand it. I'm the same way after I stir fry something in a pan – I HAVE to clean it asap or I panic. Pans are easier to clean when they're hot right. But the chef cleans the teppan pretty quickly so no biggie.
This lunch was much faster than Benihana. I think we were in and out in about an hour and ten minutes or so. Not bad.
It wasn't as cheap as Benihana but I thought Shogun gave you a lot more food. I'd happily come back for lunch. Although I'm not a fan of lunch being made into a 'show', I do 100% appreciate that I can see my food being prepared fast, fresh, and piping hot right in front of me.
Shogun Kobe Japanese Restaurant
5451 Kearny Villa Rd
(between Clairemont Mesa Blvd & Monel Ave)
San Diego, CA 92123
Neighborhood: Kearny Mesa
(858) 560-7399
Lunch: Monday – Friday:11:30am – 3:00pmSaturday & Sunday:12:00pm – 3:00pm
…
…
…
It's my hope to get a Christmas tree every year but then I realize how much work it is. I've only had ONE xmas tree the entire time I've lived in my current place. Peanut and I went to Home Depot and bought a really nice tree that year and decorated it together. It was awesome.
So I was going to get a look-a-like xmas tree for my kitchen counter (like a rosemary or pine bush trimmed to look like an xmas tree). But sis said that was stupid as all sh*t so she took me to Evergreen Nursery to get a real tree.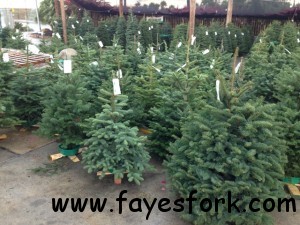 This is their section of the little Christmas trees. It's kinda sad b/c each one looks like they wanna be adopted by a good family.
Then we stumbled on this one.
Really? Total Charlie Brown tree.
They were selling this thing for like $18 too. Sis made a good observation that this is obviously the chopped off top of a Christmas tree. But look at it. Who would buy this poor thing. *I* did 🙁
Sis screeched that I had SUCKER written all over my forehead. She's so mean.
She bought me another tree instead which I'm happy with. But I hope that Charlie Brown tree found a good home 🙂