My junior high school friend (nicknamed Tiger for this post) and I wanted to meet up for happy hour. We recently reconnected this year and I can honestly say that it's been a highlight in my life seeing him again after all these years.
It was Monday night and I wanted a place that was showing football BUT it couldn't be a dumpy place. That's pretty much my criteria these days.
He suggested La Jolla Strip Club in Costa Verde. For those gasping that I'm visiting a strip joint – calm down. It's a cook-it-yourself steak place that's not too shabby. They have a decent Happy Hour menu but I've never heard of their Monday Night Tailgate Party. You can choose a steak, chicken or kabob for $10. It comes with a salad and garlic bread too.
Their regular Happy Hour menu is in effect on Monday as well (4p-7p).
I got there right at 5:30p and found Tiger watching the game in the bar. He found a two person booth with a great view of the TV.
– $7 vodka on rocks and $4.50 glass of red wine
All their vodka cocktails are $7 during HH. They have three wines available during their HH. I think mine was a merlot. Nothing spectacular about the red wine. Tiger seemed to like his drink though even though there was a gross olive in it.
They don't have A1 sauce at this steak house. How is this possible. It's not Ruth Chris or Donovan's here. They do have their own steak sauce though. It tastes like a terribly sweet BBQ sauce with a huge dollop of molasses added to it. (Note: I had to re type the word 'molasses' a few times because I kept misspelling it – so after I googled it, it helped for me to read the word as mol-asses. Like a mole on your butt. Sorry – I have weird ways of trying to make words stick in my vocabulary).
– side salad for two people (included in $10 special)
They bring a nice size bowl of salad to your table to share. The salad had croutons, carrots, cucumbers, and I think a few tomatoes. I was able to grab the majority of the carrots and dump them on Tiger's plate. The salad was already tossed with quite a bit of salad dressing (it was a creamy dressing but I don't remember what kind it was).
We both opted for the steak for our deal and Tiger asked the waitress to put the steaks by the grill for us (instead of bringing it to our table). Nice. I didn't know you could request that. I asked him what happens if someone jacks our steaks. He assured me the restaurant will replace our steaks if that happens 🙂  Ok, good to know then…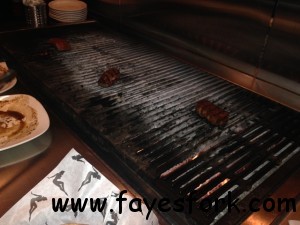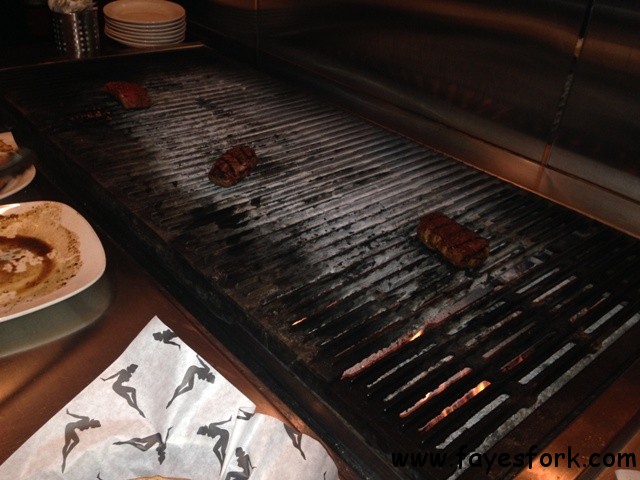 – communal grill at bar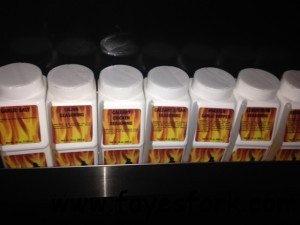 – spice selection at grill
The grill is HOT. I mean like H.O.T.
I don't know how to bbq at all. Unless it's a George Foreman grill. No joke.
– $10 steak !!
The pic on the left is someone else's steaks. Tiger unwrapped our steaks before I could take a pic. The pic on the right is of our steaks though.
The steaks here are ALWAYS presented wrapped in plastic. I'm not sure why. Maybe to ensure freshness or something? I don't think it's the most 'elegant' thing to do and they get a lot of criticism for it. For me, it's alright. No harm done.
I honestly didn't care how he prepared my steak that night (as long as it wasn't grilled more than medium well). So he took the liberty to season the crap outta both steaks. We joked how both steaks looked so different than one another. I gave him the bigger longer one as I didn't really have a preference b/w the two steaks.
I have NO idea what he put on these things. He must have grabbed 5 different spice containers and two different sauces (Worcestershire and Tabasco). I stopped him from putting Tabasco on mine though (never had a steak seasoned with Tabasco and didn't want to start that night).
I was asking Tiger if he knew how to grill streaks. I don't understand why guys get so butt hurt when asked this question. Like it somehow insults their manhood or something. He, of course, scoffed and said he owns like 8 different bbq contraptions at home and has grilled countless steaks.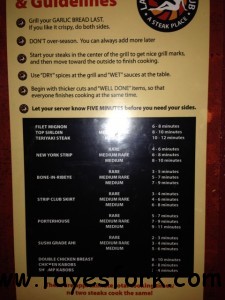 – Grilling instructions on the wall
I've never seen anyone reading this. Not sure if it's really helpful or not. But I was the only person at the grill that night reading this. Did I mention that everyone grilling were dudes. Not one of them (dudes) took a look at the instructions.
The grill is a decent size. It's a great place to goof off and actually talk to some new people.
– my standing neighbors' steaks
The guys next to me were pretty cool. Obviously they weren't cheapos like me and Tiger. because they had the Guinness steak, porterhouse, and top sirloin. I think they were college kids too (UCSD is near by).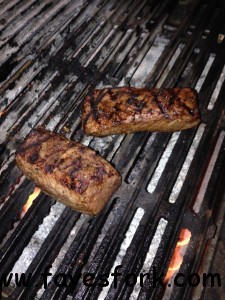 – our Monday steaks
Looking pretty good so far.
The instructions on the wall suggests you grill the bread last.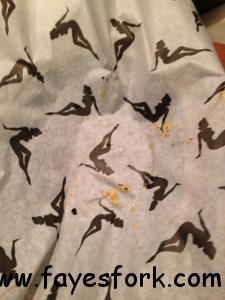 I commented to Tiger how there were 'promiscuous' women on the paper (I used other 'choice' words besides promiscuous actually).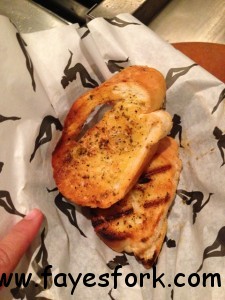 – grilled garlic bread
Pretty delicious I must say. The french bread gets really crunchy and you can definitely taste the garlic butter that's slathered on there.
– Happy Hour draft beer and red wine cabernet $4.50
This was our second round as we were going to be watching the game and catching up.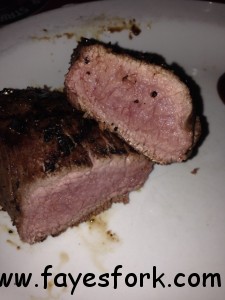 – my steak
He grilled it a nice medium. I liked. The steak itself isn't the best cut of meat but what can you expect for $10 (including salad + bread too!). It's a bit chewy but it was still a decent steak for Happy Hour.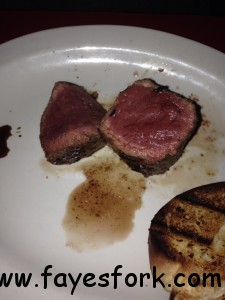 – Tiger's steak
His was grilled medium rare. Not sure if he meant to do this as he grilled both our steaks at the same time. But his steak was thicker than mine so that could explain the medium rare (which tasted just fine as well).
– their steak sauce
As I mentioned before, this tastes like a REALLY sweet bbq sauce. I hated it before but it went really well w/ the steaks we had that night. Maybe next time I'll add some sort of hot sauce to this steak sauce to give it more of a kick (and take away from that yuck sweetness is has).
I think this $10 Monday night NFL deal is pretty cool. They could easily charge extra for the salad and bread so it's nice that they give that as part of the $10 special. You also can take advantage of their weekly Happy Hour special that same night too. I've been here twice for UFC fights as they only charge a $5 cover for those nights. Not bad.
This is a 21+ only restaurant though. I asked if it's possible to bring people under 21 to just eat here and the hostess said no. They did card me that night as well even though it was only 5:30p.
This is a great place for Happy Hour. I don't know of another place that offers this kind of $10 steak deal as well on Mondays so it's worth taking advantage of.
La Jolla Strip Club
4282 Esplanade Ct
(between Bus Access Rd & Genesee Ave)
San Diego, CA 92122
Neighborhood: University City
(858) 450-1400
Happy Hour:
Mon-Fri: 3pm – 7pm
Sat: 5pm – 7pm
…
…
I'm so glad this week is over. It's hard to believe that there's only two weeks left of the year. This month has gone by so fast hasn't it.
I saw another amazing dusk the other evening. I was running up my stairs and caught a glimpse of the sky. So I threw on my jacket and ran outside. I actually met my neighbor and her son there too taking pics!
One side was beautifully purple/pink/blue. And the other side was such a crazy fiery orange/red. It was truly breath taking. My neighbor is originally from Chicago so she said this type of dusk is really cool for her to see. We didn't know if the sky has been like this b/c of the weird temperatures lately. Regardless, it was just amazing. Best yet.
I'm teaching my second Sunday School this weekend so I'm nervous yet looking forward to it at the same time! It's been pretty humbling having this opportunity so it kinda puts a smile on my face to know that I'm exactly where I should be right now, right at this very moment.
Hope this post finds everyone well…Happy weekend…