My earliest memories of Wolfgang Puck was in college. One of the University's dining areas had Wolfgang's pizza and salads. I remember the food being really expensive AND their Chinois chicken salad being really spicy (wasabi-spicy).
My college buddies and I used to joke that we would make a special trip to Cut (Puck's famous steak house in LA) when we make our first bazillion dollars or something.
My friend Arrow (nickname to be explained later) is a huge foodie. He has no issues dropping a hundo on a bottle of wine or on a very good steak at a restaurant. He's the one guy in my life that loves food as much as I do and we can talk about food for hours. Plus, he's quite the relationship expert. You never go to Arrow if you want compassionate advice on a relationship. You go to him knowing that he will give you the absolute truth about someone – it doesn't matter how much you try to sway him to believe otherwise. I guess that's the attorney in him.
Arrow knows people in the food business and goes to alot of private dinners or soft grand openings. I'd always hear about them and sigh in silent jealously that he always gets these opportunities. He recently moved to Orange County from San Diego so he has even more restaurants and such to try out.
I consider him to be my older brother and he calls me at least once a week to check in on me. Recently he was invited to the new Puck's Tavern at the Honda Center in Anaheim. I've never been to the Honda Center and heard it's a really cool place. He said this was a 'test dinner' where you go and try out their food. I asked if it's tray passed appetizers or something and he said no – it's a full service deal so that they can see how everything goes.
Hmmm. Sounds interesting. It was on a Thursday night at 7p so traffic from SD would be horrible. Oh well – what's another 2 hour drive to see a friend and to eat at a new restaurant. I drove to Costa Mesa to pick him up and then we headed to Anaheim.
The Honda Center had an event that day so the entrance to get in was a bit confusing. I was worried that we had to pay for the Center's parking but our friends, who were already at the restaurant, said to tell the gate people that we were here for the dinner event. I'm not sure if the restaurant will somehow 'validate' parking for customers in the future. B/c I personally wouldn't pay the $15+ for the Center's parking to eat at any restaurant.
The Honda Center is really cool though. It reminds me of Petco Park here in San Diego (but without the outdoor baseball field). I wish San Diego had a Center like this (I guess our version is the Sports Arena which is a travesty in itself).
We thought there might a hockey game that night (Anaheim Ducks plays there!) so we both got really excited. Arrow swears the best place for a woman to meet a good dude is at a hockey game.
Unfortunately, the event ended up being Disney on Ice.  Pretty hilarious and ironic if you ask me.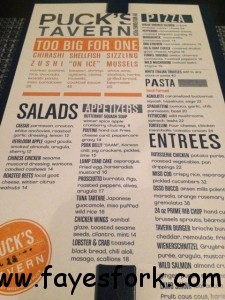 The restaurant looks brand new. It reminds me of the Karl Strauss and Gordon Biersch restaurants in San Diego. The walls were a bit bare and the restaurant seemed a bit empty at 7:15p. After a bit of confusion, the hostess sat us with our party. We had a high table for four right by the kitchen.
The menu was a bit confusing to me. Were they a seafood place? A steak place? Maybe a pizza place? Everything seemed expensive too. I think I was forgetting that this restaurant IS located INSIDE a sporting center though (where food tends to be more expensive).
Our waitress was nice if not a bit stressed out looking. She took our drink orders and quickly came out with some fresh baked bread.
– fresh baked bread and goat cheese spread
OMG. These breads LOOKED precious. Shiny, plump, fluffy and oh-so-yeasty. The waitress said it's baked in house. I believe the darker bread was made with squid ink (Jinxi and Kirbie would like this) but there wasn't much of a squid ink taste to it.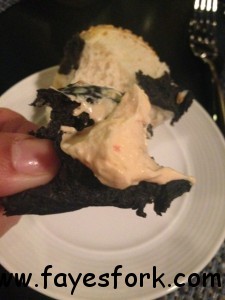 I can't eat goat cheese but I 'buttered' Arrow's piece of squid ink bread with the spread. Every one at the table said the spread was good.
– Moscow Mule
Two of us ordered this drink. I don't remember what's in it other than Ginger Beer and vodka. I know there was a candied ginger on top though. We were both disappointed that the Mule wasn't served in a copper cup. That was pretty much all we had to say about this drink. It tasted 'ok' but not as memorable as we had hoped (the copper cup probably would have helped).
– Sizzling Mussels $20
white wine, shallots, herbs, grilled bread, béarnaise
This portion was HUGE. Like MASSIVE. It comes out sizzling and steaming for all to witness and admire. I don't like mussels but I am usually ok w/ the broth that it's served in (for me to dunk the bread in).
One girl doesn't like mussels either but she tried one and said it was pretty good. The other people enjoyed this dish quite a bit.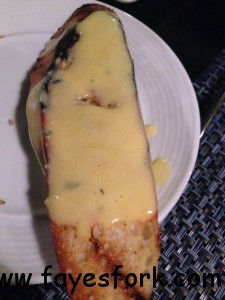 – grilled bread covered w/ bearnaise sauce
This was my favorite part of the mussels dish. The creamy sauce was absolutely delicious. I'm used to shellfish being steamed in white wine but this bearnaise sauce was so creamy, almost tangy. I couldn't get enough of it.
– Lobster & Crab $18
toasted black bread, chili aioli, masago, scallions
The waitress suggested this item. It's lobster and crab, tossed in a siracha aioli, and then topped on toasted black bread.
There were thinly sliced cucumbers on top of the toasted bread (under the lobster/crab mix). The pic on the right is a shot of the black bread. The cucumber didn't do much for me though.
The lobster and crab tasted nice (although mine had some shell in it). This dish is spicy so be careful of that. I think this dish would have been better if not served bruschetta style. Perhaps the lobster/crab mix would have been served alone and the toasted bread placed on the side.
– Butternut Squash Soup $8
One of the girls ordered this and loved it. It would be her favorite dish of the night. She said it incredibly flavorful yet light.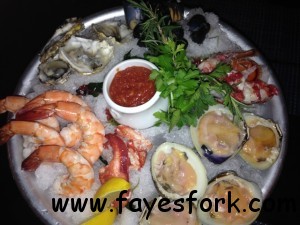 – Shellfish on Ice $45
– raw clams, jumbo shrimp, fresh oysters, mussels, and lobster
I thought this would be served 'tower' style but it was served on one large ice platter. It was a generous portion for the price tag. The cocktail sauce had a nice kick to it (b/c of the horseradish). I don't know if one particular shellfish stood out though. I thought the oysters probably tasted the best to me.
– Miso Cod $32
crispy rice, asparagus, pickled cucumbers
Two of us ordered this Miso cod that night. I've never really ordered miso cod before. Not sure why. I know Japanese restaurants do a nice, expensive rendition of this dish but I've never ordered it.
The first pic is of my cod as I asked for no crispy rice (they gave me extra asparagus).
I was pretty speechless after my first bite of the miso cod. It was sooooo soft. Soooo moist. Was this better than my beloved Chilean sea bass?
Ummmm…that night…I think it was!!!
The fish tasted so fresh and perfectly prepared. I wish it had a bit more miso or sauce on it but that's just me. I didn't finish my dish as we ordered a few more things to try out. BUT, the miso cod tasted amazing as left overs the next day.
– Lamb Shank $32
Moroccan spices, dried fruit cous cous, harissa
One of the girls ordered this (which was odd yet funny as she's this tiny little thing). It was a large portion and the lamb, from what everyone told me, tasted good. Friend said that the dish was a bit heavy for her taste.
– Tavern Burger $17
brioche bun, aged cheddar, remoulade, fries
Arrow ordered this as his entree. I asked him why in the world would you order a burger to try out on a test menu. He shrugged and said sometimes dudes just want a burger for dinner (I think Ben might relate to this).
He loved loved loved the burger. It was grilled a perfect medium and the meat tasted juicy.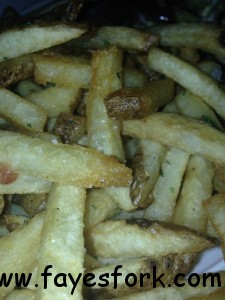 – burger's fries
I'm not a big french fries kinda gal unless the fries are extra crispy. And folks, these fries, that night, were SO crispy!! They tasted amazing – I don't know how to explain the crunch that I love so much. It's the end parts of the fries that usually captures my heart – they typically have the most crunch and punch (crunch & punch!! hahah!).
– Flor de campo pinot noir $8.00
Arrow ordered this pinot for me to try as he is a wine S.N.O.B.
He said this was a beautiful pinot that I would love. I joked that's probably b/c it's the cheapest glass on the wine list for $8 bucks right. He laughed and said no, it's because it's a REALLY good pinot. And I hate it when he's right. It was the best drink we had that night.
– Osso Bucco $38
ansen mills polenta, marsala, orange rosemary gremolata
We ordered this for the table to share. I believe this is veal. I'm not a fan of veal but the bite I had tasted moist and flavorful. The winner in this dish was the gremolata – you could really taste the garlic, parsley, and orange zest.
– Fennel Sausage Pizza $16
pesto, charred tomatoes, roasted peppers
Who can come to Wolfgang's and NOT try a pizza. That's what he's known for right.
We were all pretty full at this point but had a bit more room in our bellies to try it.
They have their own pizza oven in the kitchen.
The pizza was a bit soggy in the middle but that didn't bother us. I liked the combination of the fennel sauce and roasted peppers together. The crust had a nice char to it (and the pizza actually tasted good re heated the next day).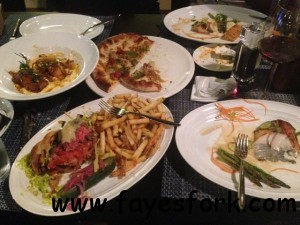 Everyone shoved their food in front of me so I could take one grand pic of it all 🙂
While everyone was chatting, I took time to stroll around the restaurant (and wait for my full stomach to settle a bit).
Their bar area is spacious and had three large flat screen tv's in the background. They have quite a selection of draft beers as well as premium hard liquors.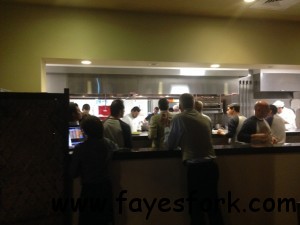 – partial view of kitchen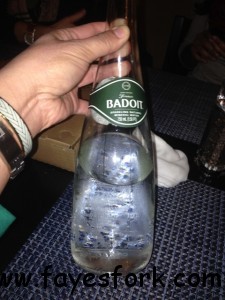 – sparkling water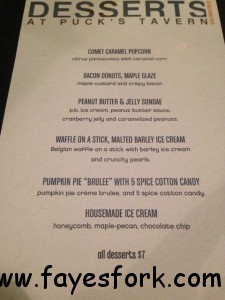 – dessert menu
I didn't want any dessert but Arrow said we had to try a few.
– cappuccino
Three of us were from San Diego so two of the girls ordered cappuccinos. The cappuccino was served in a large cup and looked really frothy.
– Bacon Donuts, Maple Glaze $7
OMG. I have YET to try any type of donuts that has bacon in/on it!!! This was going to be *MY* chance to do so and I was going to tell everyone how amazing it was!!!
I'll take one order please Miss Waitress…
Unfortunately, the donuts were really heavy and really dense. They weren't light and airy as I had envisioned (kinda like a Krispy Kreme donut when it comes right outta the fryer). The little oblong things on the plate were donut holes and they tasted just as heavy. We were told the maple glaze was the best part of this dish but no one felt like it did much to this dessert. And the strip of bacon tasted like a breakfast bacon – savory and salty. Which made this dessert a bit stranger tasting for us.
– Peanut Butter & Jelly Sundae  $7.00
PB ice cream, peanut butter sauce, cranberry jelly and caramelized peanuts
Arrow ordered this on the recommendation of the waitress. I have had Peanut Butter & Jelly (together) ONE TIME in my life. ONE TIME when I was like seven years old and it grossed me out so bad (I think that's when my no-food-mixing/touching phobia set in). So I wasn't going to try this dessert.
I heard Arrow say that he could only taste whip cream. My ears perked up like Lifu hearing the word 'cookie'. I grabbed a spoon and stuck it in the dessert cup. Right as I was taking that first bite, I heard one of the girls exclaim 'omg…what is that weird jelly thing I'm tasting….'
And sure as all things holy, I felt the jelly cube thing in my mouth. I can't stand anything jelly or boba in my desserts. It's just somehow so off putting and so strange to me. I grabbed a napkin and quietly spit out the jelly cube.
This is NOT to say this dessert was terrible or something was wrong with it. It's just this dessert wasn't meant for a person like me. On the drive back, Arrow commented that he just wanted a PB&J sundae without having to taste some weird jelly cube thing in there as well.
–  Pumpkin Pie "Brulee" with 5 spice Cotton Candy
Let's be honest here. We all know why this dessert was ordered. COTTON CANDY man.
The pumpkin pie brulee was ok – it could have used a bit more torched sugar. But the cotton candy – it was pretty fun and cool. It was a great way to end a meal. One of the girls was playing with the cotton candy (last pic) and we were both laughing at how it just brings back childhood memories.
Service was ok that night. It's understandable as it was just the test dinner. I felt the busboys were great though. The waitress spilled and broke a full glass of wine right behind me and it got all over my trench coat and white purse. I am not sure if she apologized as she left rather quickly afterwards. I guess that's understandable too but still….
The busboys came over to clean up mess and they noticed me trying to clean off the wine stains on my purse (my coat was black so that was ok). They immediately got a warm cloth for me to use to wipe of the wine splatters on the purse. So thank you to the them for that.
I would definitely come back here if I was watching a game or attending an event at the Honda Center. I just looked online and it says that it opens TWO hours prior to an event. So maybe they don't open to the public during non-events?
Regardless, it was a fun night.
Pucks Tavern
2961 E Katella Ave
Anaheim, CA 92806
P: (714) 704-2992
I was invited by a friend that night who was a guest of the restaurant. The meal was complimentary. The views on this posts are my own.
…
….
Christmas is almost here. I can't believe it. I'm picking up sister from LA today (leaving actually right now) so that she can come down here to spend the Holidays w/ me (and help me wrap all the presents). I'm running late and I'm terrified I'm going to hit traffic again. So forgive me if there are errors in today's post as I'm scrambling to get everything done…
This is what happens when you rush and then fall down the stairs …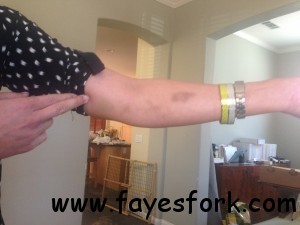 This happened Friday. I always bruise myself somehow when I rush. Oh well.
Hopefully everyone has a short work week and is enjoying this crazy warm weather!