Bleu Boheme
The title of this post isn't meant to be filthy or trashy…There's a story to the title that I'll expand more on later…
PJ and I decided we would each get to pick out one $45 dinner option during Restaurant Week. Bleu Boheme was her pick. Their RW dinner menu looked great so I thought it would also be a fun place to try out since I hadn't been there before.
PJ and I think alike. That's how you know when someone is worthy to be a new friend (I'm kidding…). But we both knew to order the more expensive appetizers and entrees during RW in order to get the most out of the $45 sticker price. For example, we both agreed it would be stupid to get a dumb ol' french onion soup or simple salad for the appetizer; and we be danged if we were caught ordering boring chicken or mushroom raviolis for our entree.
I don't frequent Kensington often because I don't know much about this area. Plus, I heard there's no parking anywhere (meaning, you will have to probably parallel park – gasp!).
The hostess told me over the phone that you can use the bank's parking lot in the back after 6p. I guess everyone knew about this b/c the bank's lot was full by the time I got there.
Our reservation was early (I think 6:30p). I got there a bit early and the hostess said it will be a few more minutes before our table is ready. We didn't get seated until 6:50p though.
The restaurant is dark and intimate. Which made me instantly remember I actually came here, YEARS ago, on a blind date. How the heck did I forget that. Nice guy too…sorry…got side tracked…
PJ and I commented that this would be a great place to meet a blind date for the first time (for drinks, not dinner like I did) b/c the bar is pretty laid back and there's a romantic feel to the place.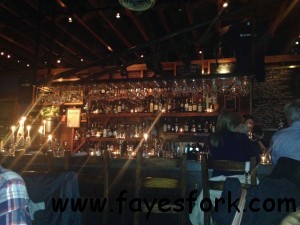 I think we were pretty much the only non-romantic couple that Monday night at dinner, sitting at a romantic table for two.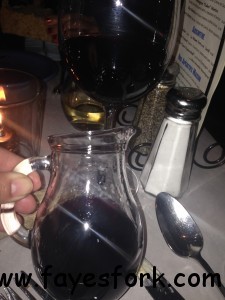 – 1/4L Vin du Maison Syrah $9.00
This is a better picture of the glass of wine. They bring it out in a cute little baby pitcher. PJ noted that they sell their glasses of wine by the liter (well, 1/4 liter or 1/2 liter). PJ said it's about 1.5 glasses of wine for 1/4 liter so $9.00 isn't a bad price. I really loved this glass of wine. She tried a glass of the  Vin du Maison Chard ($9.00) which was a crisp white wine that she enjoyed.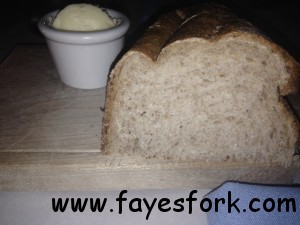 – gratis bread with butter
Nothing special about the bread here. It wasn't warm and the butter was a bit too hard.
– Coquilles St. Jacques
sea scallops with wild mushrooms, chervil and white wine sauce
This was my appetizer that I was so looking forward to. The dish tasted a bit lukewarm and the scallops weren't as plump and big as I had hoped for. It almost appeared that they sliced a jumbo scallop in 1/2 to use for this dish (with the second half of the second scallop used for another person's plate). The sauce was nice although I felt the wine tasted a bit too light.
– Escargots à la Portugais
escargot in red wine with tomatoes, chick peas, linguiça sausage, bleu cheese potato croquette
This was PJ's choice of appetizer. I was dreading her ordering this because I knew she'd want me to try it.
Just a little bit of a back story to me and snails, and please keep in mind that this has NOTHING to do with the quality of the escargots at BB…
When we were little, my parents would make sis and I go to yard and snail-hunt. The snails would destroy the plants or whatever and I remember there would be tons of snails everywhere in the mornings. There was nothing more horrendous, at the time, when I was a little girl, than hearing the sound of a snail shell shattering/crunching when you accidentally stepped on it. And gathering the snails, putting them in a plastic container, where you could see their slime and antennas moving all around…bleecccccchhhh….it makes me CRINGE right now thinking about. No one hired gardeners in our neighborhood – everyone did their own gardening/pruning/etc. But I always equated:
SNAILS = mom/dad didn't have enough money so they used kid labor (sis and me) to pick up these gross buggers
Yeah, it was a total stupid association but I was little and so terrified of these things. And to this day, I can't touch a snail that I see ANYWHERE.
Ok…breathe Faye…it's ok…
So coming back to the escargots at BB, I didn't know if I could really do it. And the version here isn't the one I was praying for. I think almost anything will taste better in garlic and butter (well with the exception of lamb and stinky cheese) . I thought I could manage eating snails if they were drowned in garlic butter. But the version here is un-shelled and served sauteed in red wine and tomatoes.
Oh mannnn. I tried to get out of it by pleading w/ PJ that there was blue cheese in the dish. She kindly reminded me that the cheese is only in the croquette. Dang you PJ. Dang you.
So, fine. I'm a mature, grown up woman. I'm not that scared little 7 year old girl anymore. PJ stabbed an escargot with a fork and handed it to me. I took a deep breath and quickly shoved it in my mouth. I was trying to envision it tasting like a clam b/c I love clams. I love the taste/chewiness of a clam.
"This tastes like a clam right Faye…" my fake cheery mind kept repeating over and over in my head. But something tasted different. It didn't taste like clam. AT ALL. I was starting to panic and all these weird snail memories kept coming back in my head.
And then, PJ said something that cinched it for me…
" It tastes DURRRTY right…"
She didn't say it in an 'OMG , it's a filthy slimy snail' way. She said 'durrty' the way I heard Christina Aguilera sing it in her one song called Dirrty (when she went through her weird I'm-a-badd-ass-phase).
PJ nailed it with that word though b/c she said you can taste the earth, dirt, of the snail. And yeah, that's pretty much what I thought it tasted like.
At least I can cross 'taste an escargot' off my bucket list (funny how it was NEVER on my bucket list in the first place).
–  Flétan "Oscar" 
local halibut sautéed with crab, asparagus, tomato salad herb roasted Yukon potatoes and sauce Béarnaise
BEST DISH of the night (for me). I was so happy I ordered this entree. The halibut was beautifully cooked – it was flaky, moist, and so incredibly flavorful. I usually can't taste the crab when a seafood entree is prepared 'oscar style' but the crab in this dish was so good. It tasted fresh and clean. I wish there was more Bearnaise sauce on the dish but that's just because I couldn't get enough of it. Truly a great dish that night.
–  Entrecôte de Porc
honey/curry marinated pork ribeye steak, spinach, bacon pommes purée , fig and port wine pan sauce
I can't remember the last time I saw a pork ribeye steak. We both knew immediately this would be one of the entrees we both wanted to try that night. The pork was prepared a nice pink medium. You don't see that very often anymore. I wish I remember more about this dish. I thought the bite I had of the pork tasted alright – but nothing like how I envisioned though (melt in your mouth kinda thing). The wine sauce was a bit sweet for my taste.
– Mousse au Chocolat
rich dark chocolate mousse with seasonal red berries
I researched this dessert option for some time. I couldn't wait to try it out. My heart has a very soft, special place for dark chocolate. And when it's in a mousse form….sighhhh….I faint (ok, not like literally…but you get the idea). I liked the mousse dessert here. It was light, creamy and not terribly sweet.
–  Profiteroles 
choux pastry puffs filled with vanilla ice cream and dark chocolate sauce
I've been quite lucky finding a friend like PJ because we somehow always agree on what to order (to share between the two of us). We both were eyeing the Profiteroles even before she ordered it. I wasn't a fan of the pastry puffs but the vanilla ice cream with the dark chocolate sauce poured on top was quite good. Hey, did we pour the dark chocolate sauce over the chocolate mousse too?
Service was attentive and great. Our waitress (Angela?) was incredibly helpful and didn't rush us at all during the meal. Granted, it was a Monday night but we appreciated the fact that we weren't being treated like cattle (which happens when they become busy during Restaurant Week). Our next RW adventure to Pamplemousse kinda displayed the downfalls of Restaurant Week.
Was this meal worth $45. I wasn't a fan of my appetizer but I enjoyed my entree. I normally wouldn't order dessert but if a friend wants to share a dessert, I won't say no. My fish entree normally is $28.95 on their regular menu. So that leaves me about $16.05 to spend on other items (assuming I had a $45 allowance to start with). I'm not sure if I would spend that $16.05 on an appetizer or dessert though. I think if I had $45 on a normal non-RW week, I'd use the extra funds to upgrade my glass of wine or try another glass of wine.
Regardless, their appetizers run between $13.95-18.95 and both our desserts are normally priced at $8.95. So we did indeed get a good deal from the $45 that we spent that night for the 3 courses.
Bottom line, you can make out like a bandit on their Restaurant Week deal if you don't order drinks or upgrade any dishes. Otherwise, the $45 (after drinks, tax, gratuity, etc) can easily become $70+/pp.
It was a fun night AND, I forgot to mention, that I paralleled park my car in ONE TRY that night !! And I didn't hit anything…I swear.
Bleu Boheme
4090 Adams Ave
(between Kensington Dr & Terrace Dr)
San Diego, CA 92116
Neighborhood: Kensington
(619) 255-4167