What a weekend. Fri = Chinese New Year; Saturday = Cupcake Crawl; and Sunday = Superbowl. I don't think I can explain how gross I ate this weekend. I'm still recovering from Saturday's sugar rush and Sunday's fry-fest. So it's been hard getting a flow to this current post…
Mary of This Tasty Life recently organized a get together for a Red Velvet Cupcake Tasting. She asked friends and fellow bloggers to buy 2 red velvet cupcakes (from an assigned place) and meet up at a designated location to try them all out. She gathered a group of people together and it was fun to see a few of the other bloggers ( Kirbie, CC, and Darlene ). And, it was finally nice to be able to meet Mr. K and Jake. There were about 12 people that afternoon so I believe there were about 13 cupcakes to taste (I think someone bought an extra cupcake to sample).
I am calling this a Cupcake Crawl because that's what I've been calling it (in my head) since I received the email from Mary. I think all food crawls should be like this. The group of 12 didn't have to go door to door and try out different cupcakes. Instead, we all went to our assigned places, bought our cupcakes, then met up at a designated location where we could relax, enjoy, and be lazy while judging cupcakes. Seemed so much more efficient than an actual crawl. But hey, I've never been to a food crawl so what do I know (except that this 2014 Chinese New Year/Superbowl weekend was meant to be L.A.Z.Y.).
So not sure if anyone else would call this a Cupcake Crawl per se but I did 🙂
Everyone met at Social Life Pizza beforehand to have a bite to eat before the tastings. We had the option to skip that part if we couldn't make it and to meet up instead at 3p at the same location. I felt like such a jerk because I got lost and made it there around 3:08p where everyone was waiting patiently around a large table. Sorry.
Mary pretty much labeled all the cupcakes with letters. Each table would get to sample one of the two cupcakes that was purchased. I honestly thought, before I got there, that this tasting would take no more than 30 minutes. Not sure why I thought that. I pretty much knew it would take longer than 30 minutes when Mary set this sheet of paper in front of me: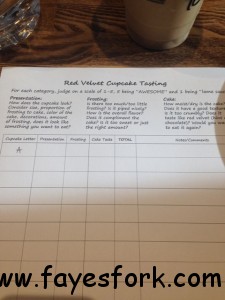 – Score card sheet
Really. Really Mary. I was BLOWN away. These bloggers are LEGIT. This score sheet was intense. She had a few categories (Presentation, Frosting, Cake Taste). We were to give a score of 1-5 (five being the best) for all 3 categories and then tally up the 3 scores for a grand total. Each cupcake was only labeled a letter so no one really was supposed to know where that cupcake was purchased from. Me likes. Nice blind tasting with no influences (except Jake messed me up a few times with this!).
So pen in hand, I was ready. I already labeled "A" on my sheet in anticipation for the tasting. There were 6 people at my table: Kirbie, Mr. K, David, Allison, Jake and me. I didn't know David and Allison but Mary pointed out that David was the 'minion' on her blog. I instantly squeeled and asked 'Oh YOU'RE the minion?!" We were all laughing how people know each other from their given 'nicknames' on these blogs.
Note: We all took notes and gave scores but I didn't take a copy of my score sheet so alot of these cupcakes will just have the names of the bakery (Mary sent us the list of bakeries last night). Mary will probably post more details on each cupcake as she has everyone's score sheets/comments ). 
A – Yummy Cupcakes
I remember the frosting being quite sweet.
 B – Yummy Cupcakes (with cocoa frosting)
Kirbie sliced the cupcake into sixths and I opened up the wrapper. I think it resembles a blossoming flower.
I couldn't really taste the cocoa in the frosting
Side Note: I don't know why I'm thinking about this now, but…um…I've never been a fan of red velvet 'anything'. I never understood the appeal of red velvet or the way it was supposed to taste. I rarely order it from a dessert menu (if it's there) but will take a bite of it if someone else orders it. So, that being said, I did my best that afternoon with my critique.
This is how I would taste my sample. I take a small bite of the cake (then jot down score/notes), then take a tiny bite of frosting (jot down notes), THEN take a bite of the cake & frosting together (jot down notes, tally the total score).
The hardest part for me was the frosting on each cupcake. I'm not a frosting type of gal and I usually scrape off the frosting on cinnamon rolls, cupcakes, etc.
C – Sweet Sisters
Mary even had a cupcake stand for each table ! Talk about putting a cupcake up on a pedestal (get it…hahhaha…no?).
D – Love Cupcake Cafe
The presentation of this cupcake was cute – we all noticed the heart confetti sprinkled on top.
Alright…SO…at this point, everything started to taste the same. This was only the 4th cupcake too. I whispered to everyone that I was having a hard time scoring the frosting b/c everything started to taste the same to me. We all laughed b/c I guess others were having the same issues too.
E – Elizabethan Desserts
The photo doesn't do this pic justice – this was THE most florescent PINK cupcake I have ever seen. It was like neon pink. I remember not liking this cupcake at all – I thought it was going to be my least favorite of the day.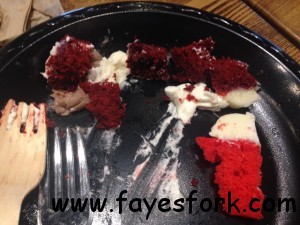 – My plate
So this is what my plate looked like. As you can see, I didn't take more than a bite or two of each sample. Everyone was taking a swig of ice water in between tastes because there was a lot of sugar that afternoon.
F – San Diego Desserts
I think I wrote that this cupcake reminded me of Costco's version. It was pretty large and reminded me of a frosted muffin.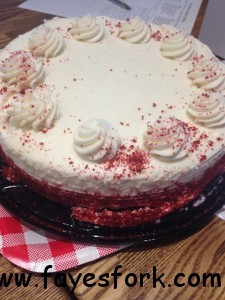 G – Ralph's
Obviously, this isn't a cupcake. It's a red velvet cake from Ralph's. The presentation was standard and the red crumbs that decorated the sides of cake were cool.
– Spit Bucket
Our table was getting full from the samples: the cupcake wrappers, our sample leftovers, etc. So Jake grabbed a discarded cupcake box and we started to use it, as Jake lovingly called it, as our Spit Bucket. There's a crazy story at the end of the post that comes from this bucket.
H – Pure Cupcakes
I – Sugar Scribe Bakery
Oh this was such a pretty cupcake. What girl doesn't love purple sparkly glitter on their beautifully wrapped cupcake. I wish I could remember the details on this cupcake. I found a blurry copy of my notes but I can't make much out of the pic.
Kirbie and Mr. K had to leave early so it was just 4 of us left at the table I think at this point. It's hard not to make comments when you're sampling the cupcakes but I reminded everyone, earlier on, to be quiet when judging b/c you don't want to influence anyone else's opinion. But Jake would sometimes blurt out a comment about the cupcake and I'd do a facepalm " JAKE! Shhhhhh!! You're influencing my notes!!! " We would all start laughing because sure as sh*t, I'd write out his exact blurted-out sentiment in my notes' Tastes like a Brownie '. 
Facepalm…dang you man…
J – Heaven Sent Desserts
Yeah, the bucket is filling up….
I made a comment to Jake that we should make someone eat the contents of the bucket at the end. His face lit up, he nodded, and started separating out the wrappers from the cake/frosting bits. What the heck is he doing.
K – Babycakes
I remember everyone calling this the Blood Cupcake because of the red crumbs and red goo gel that was on top of the frosting. The red goo had a weird berry flavor to it.
L – Bread & Cie
Now, THIS was the worst cupcake of the day. I gave it a total of 4 points (out of a possible 15). The cake was terribly dry and the frosting was horribly sweet. We didn't know which bakery produced this but we were all shocked when Mary revealed (about 15 min after we were done with the entire tasting) it was Bread & Cie . Bread & Cie is quite revered here in San Diego for their breads. So I couldn't believe that #L was produced by them. I am curious to see what the others thought about this cupcake.
Finally, the last cupcake…
M – Sprinkles
Ironic how I got assigned to purchase this cupcake as I'm not a fan of the famous Sprinkles at all. But my sis is ridiculously in love with a few of their cupcakes (namely their chocolate banana cupcake) and has their cupcake schedule memorized.
The cupcake is meticulously decorated and I appreciate the way you can tell a tiny spatula was used to smooth out the frosting. The cupcake is $3.75.
I wasn't blown away by this cupcake and felt that I'm not the type of person that would fall for this "Hipster Cupcake" (that's what David called it at the table and wouldn't ya know it…his words ended up in my head and ended up in my notes…dang you David!…j/k). I didn't hear alot of complaints about this cupcake. BUT, this was THE last cupcake of the crawl so I think we were all just seriously relieved.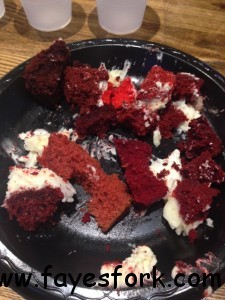 – my plate after 13 cupcakes
Jeez. Are you kidding me.
– Final Cupcake 'Spit' Bucket
I didn't think I could showcase the grandeur of this spit bucket. So Allison suggested we hold it up together to see if that would make for a better pic.
So why, you ask, was Jake removing the wrappers from the spit bucket earlier? I thought he knew I was JOKING when I said someone should eat the spit bucket at the end. But he wasn't – he said his son T would totally eat it. T was sitting at the other table and I'm not sure if he knew exactly what was going on.
T's seriously the coolest 15 year kid. He has such a happy-go-lucky disposition about him. I called out his name and asked him to sit on the bench next to me b/c we had a surprise for him.
I was part of the Greek system in college and had to go through a bit of the 'hazing'. This spit bucket reminded me of such a time. I remember we asked the pledges to drink a glass of water with a live goldfish. We would then blindfold them and give them a glass of water with a dollop of jello (versus a live goldfish) inside the water. We'd shatter glass on the floor and ask them to walk bare foot across it. We'd then blindfold them and use Dorito chips instead to mimic the sound of crunching glass with your foot. Good times man…good times … 🙂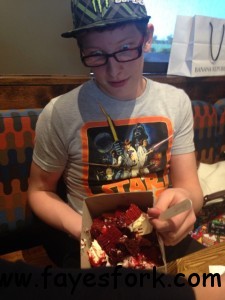 – "T" : the 15 year old destroyer
His dad handed him the spit bucket. I couldn't tell if T was actually going to do it. Look at the expression on this face.
It's like driving past road kill on the street – you know that *look* of horror/disgust you get on your face when you see the roadkill but you *still* have to take another peek at it?… THAT's the look I had on my face watching T hold up this bucket.
But the hazing must go on. Let's see how far this little man will go. He's surrounded by 7 of us at this point. All adults. All waiting to see what happens.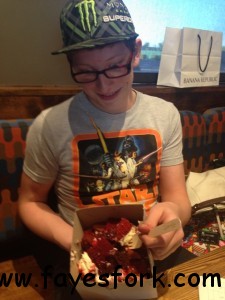 Is he gonna or not gonna…
Maybe he needs some help…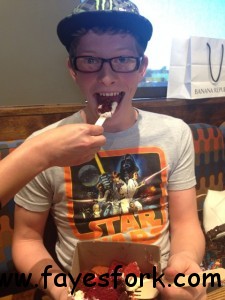 There yaaaaa go little man…
We were laughing, uncontrollably, hysterically at this point. I was literally holding my stomach because I was cramping from laughing so hard. I couldn't believe how much fun I was having and how this kid was making the entire place just laugh.
But all of a sudden, I sat back up and gasped to everyone:
" OMG….I THINK I'M HAVING A SUGAR HIGH "
I don't really eat a lot of sweets so I think the 13 cupcakes literally made me delirious that afternoon.
Regardless, it was a memorable afternoon. I could not have asked for my first 'crawl' and cupcake tasting to be more fun.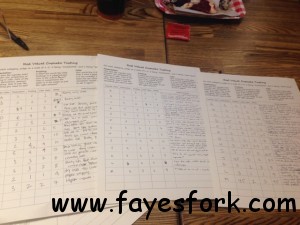 This was David, Allison, and my scorecard at the end. I forgot I took a quick pic afterwards.
So thank you to Mary for planning such an event. It was incredibly cute to see her and Jake together (barf right?). You read about a blogger's significant other and it was cool to see the both of them interact and banter back and forth that afternoon.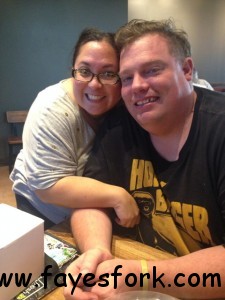 And as if that pic isn't cute enough for the upcoming Valentines Day…
Here's this pic that they happily posed for me to take…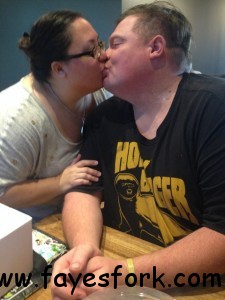 Get a room, man…get a room…
Just kidding 🙂
I know Mary's working on the results from this tasting so I'll post a link to the results when it's up.
Here it is: http://food.theplainjane.com/2014/02/05/the-best-red-velvet-cupcakes-in-san-diego-redux/
Here is CC's review as well: http://pinkcandlesatridgemonthigh.blogspot.com/2014/02/the-red-velvet-cupcake-taste-off.html#more
Sugar & Scribe (which reminded friend Josh of a stripper he met once named Red Velvet…wtf…so random..see his ridiculous comments below) came in 1st place.
San Diego Desserts came in dead last in this Red Velvet Throwdown. That surprised me as I thought Bread & Cie or Elizabethan Desserts would hold that title for last place. 
My stomach is still on Pepcid mode after this weekend. Sunday was spent at Toxie's eating 'You Name It , We'll fry It" foods. That was pretty much the theme of their Superbowl party. I have some fun food pics from that day that I'll share in another post.
Hope everyone had a good jump start to this week…