Ruth's Chris Steakhouse
That's Ruth's Chris description of their $7 Happy Hour. I don't think I'd ever use Sizzle, Swizzle, Swirl in the same sentence. It's Toxie's birthday soon so my ode to her will come at the end.
We met up last week because I had a crazy dream and had to share it with someone. She was the first person I emailed/texted in the morning. I was so over Happy Hour b/c 1) I've been to every freakin' place in the area and 2) I was soooo over the yuck HH food.
BUT. I remembered Ruth's Chris in Del Mar and wondered if they had a nice Happy Hour. It's in such a weird commercial office area. I went there literally 10+ years ago. We would eat in their bar area (full price menu) and I remember the sun would shine DIRECTLY IN YOUR FACE when you sat at the bar (close to sunset). It wasn't beautiful or pleasant. It just felt super stuffy and warm in the bar area. BUT, I so so so love their rib eye steaks and their BBQ shrimp. Service, at the bar,  was always great ( it was great to see Bubba's face again after all these years ).
CAB had a nice anniversary dinner at this location and Jinxi recently had a Restaurant Week dinner meal as well (at their downtown location).
RC's Happy Hour is Mon-Fri from 4:30p-6:30p. They have valet parking which is a bit deceptive because it makes you think that's the ONLY parking option for this restaurant. BUT, it is NOT. When you first pull in, there's a self park section before you head down (to the front of the restaurant). So use that instead of paying for valet.
The bar area still looks the same. The bar is to the left and a few small tables are to the right (of the bar).
The tables were all taken by the time I got there around 4:50p. And there were about 4 girls sitting at the bar already.
I grabbed two seats and the bartender quickly came up to say hello. I noticed his name tag "Donovan". I kinda tilted my head in confusion and asked if that was indeed his name. I thought he was wearing the wrong steakhouse's name tag for a second. He laughed and said yes, he got confused too in the beginning.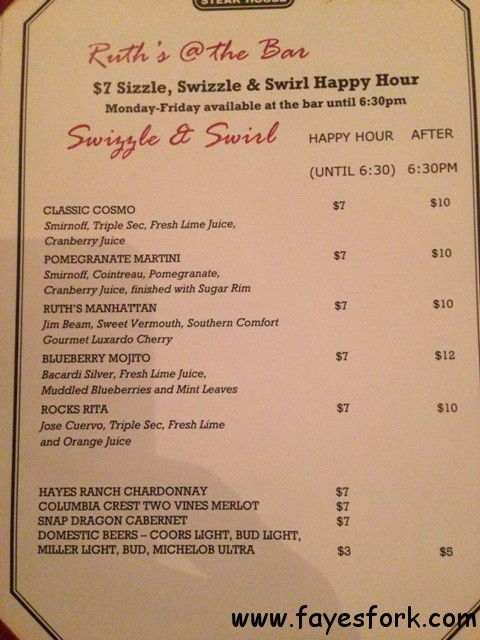 – HH Drink Menu  
This is their Swizzle and Swirl part of the Happy Hour I guess. Not a bad selection of cocktails for $7 (normally priced b/w $10-12). I was curious to see how good these drinks could be.
Toxie hadn't gotten there yet so Donovan and I were deciding which drink would best suit me. I opted for the Blueberry Mojito.
– Blueberry Mojito $7 (normally $12)
Bacardi Rum, freshly squeezed lime juice, muddled blueberries and Mint Leaves
I didn't see simple sugar listed so I was happy. But Donovan said there IS simple sugar in this drink. He said he could easily omit the simple sugar but the drink might be a bit 'tart'. No worries there. I'd rather have tart than sweet in my mojito.
Oh man. Words cannot describe how I loved this drink so (dang…why can't I say this about a guy). The drink was incredibly refreshing and beautiful. I could taste the fresh blueberries (some left whole and not muddled). I'm a huge fan of fresh mint as well so this mojito was truly a delight for me. The portion size was alright ( the drink had a tad too much ice) but hey, it's happy hour. Easily the best cocktail I've had in 2014 (well, granted I haven't exactly had many cocktails this year).
Toxie finally got there. The bar area was 100% full at this point. It was probably 90% women too (single guys out there *rejoice*…single women out there *frown*).
Toxie prefers wine and HH is the only time I think she'll ever deviate from her normally refined sommelier palate. Donovan was honest and said the red wine offered during HH isn't *the* best per se BUT it gets the job done ( all three of us were laughing so hard at that statement).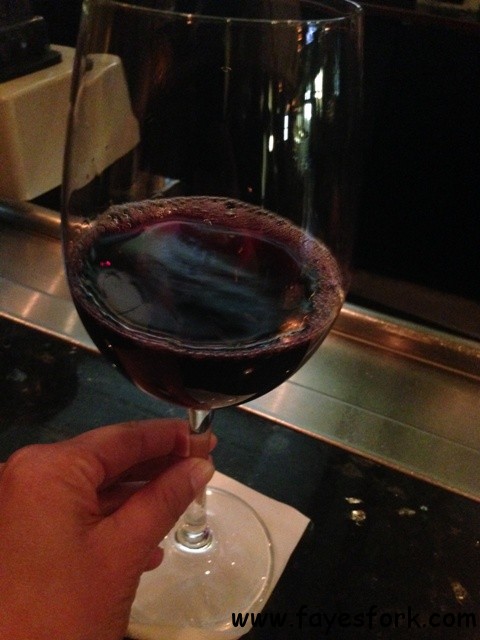 – Snap Dragon Cabernet $7
I don't think this was the actual pour. They were a bit more generous with the pour than what's show by my pics above.
– Happy Hour food $7
Not sure which pic is easier to see. Sorry.
I guess this is the Sizzle of their Happy Hour menu.
The HH food items were somewhat impressive as they didn't seem to offer the generic HH-bar type foods I'm used to seeing by now.
Just noticed it's 7 items, all $7 bucks. They should title their HH that instead of Sizzle, Swizzle, Swirl.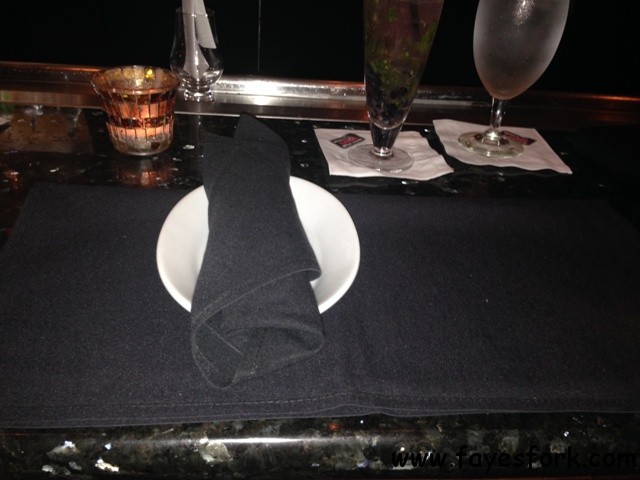 – table setting at bar
They actually set up the bar for you with plates and cloth napkin after you order. Always thought this was a nice touch.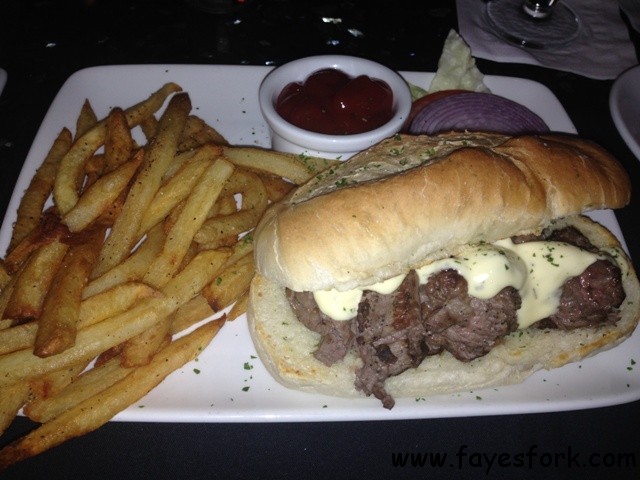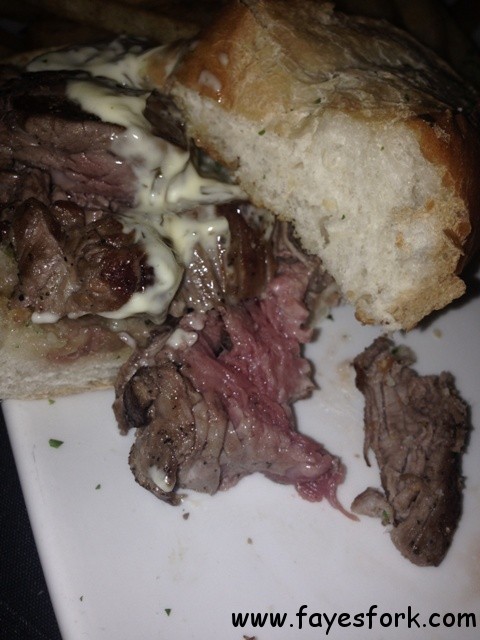 6 oz sliced filet prepared with bearnaise sauce and side of french fries
Donovan said this was the best item on the HH menu b/c the use real filet and it's a 6oz portion. We asked if we could substitute the fries with something else and he said he's tried in past but they won't allow it. I believe he asked how we wanted the steak prepared and we said medium rare.
The sandwich was alright. The steak was prepared nicely but it was a bit chewy. Usually I'm a lover of bearnaise sauce but their version was a bit strange to me. Bearnaise typically has butter, white wine vinegar, shallots, herbs, egg yolks. But their bearnaise just tasted muddled and unappetizing that night.
The french fries weren't seasoned enough and most of them weren't even crunchy.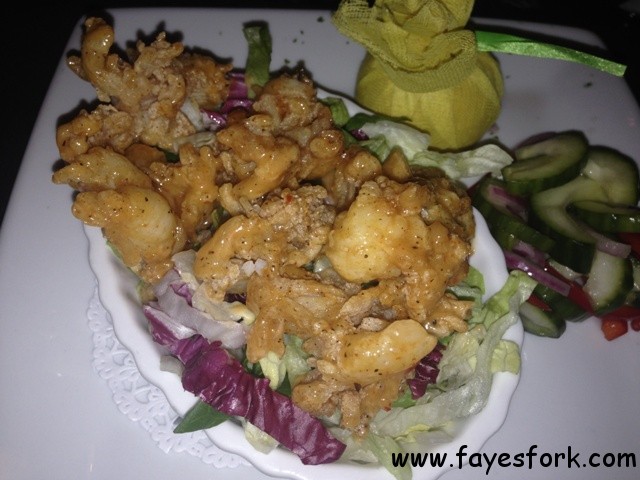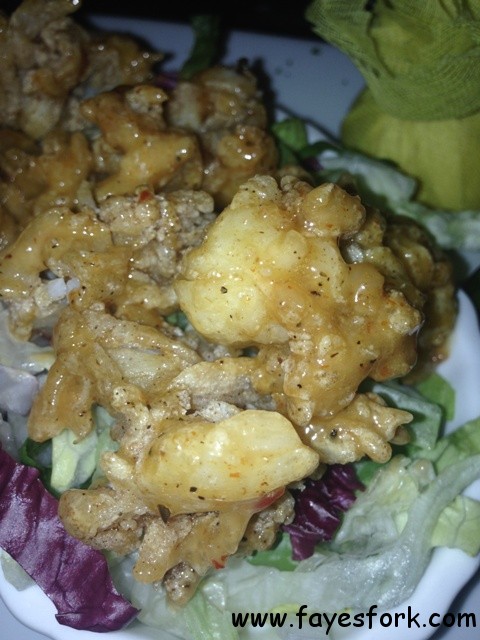 Of course I had to get this because it was the most expensive normally priced item on the HH menu (see what a good thinker I am when ordering…taps finger to temple)…
Toxie never says anything when I order b/c she's just too nice. But I felt like a real idiot b/c I didn't know she didn't really like lobster.
I'm not sure if they use real lobster in this dish. I thought at first it was langostino versus actual lobster. But now, thinking about it, I'm not really quite sure. This dish tasted like Honey Walnut shrimp with the creamy white glaze over the fried crustaceans on the plate. It was a bit spicy and tasted alright. But, it was mostly batter I tasted in each bite versus actual 'lobster'. It was served piping hot which was appreciated as the batter was crunchy at first. The pickled cucumber on the side was terribly limp and tasted a bit too sour for me.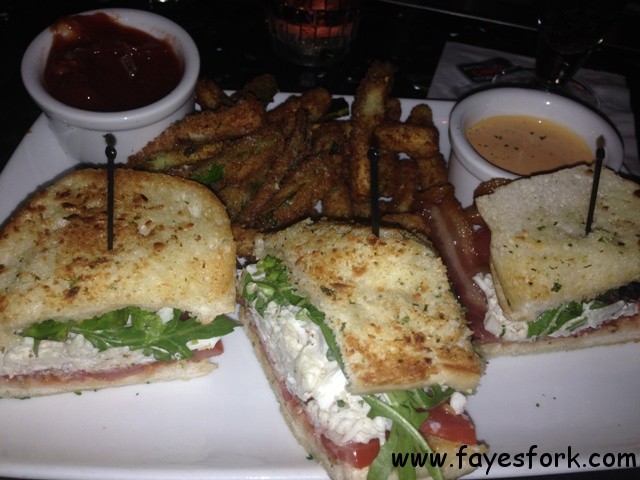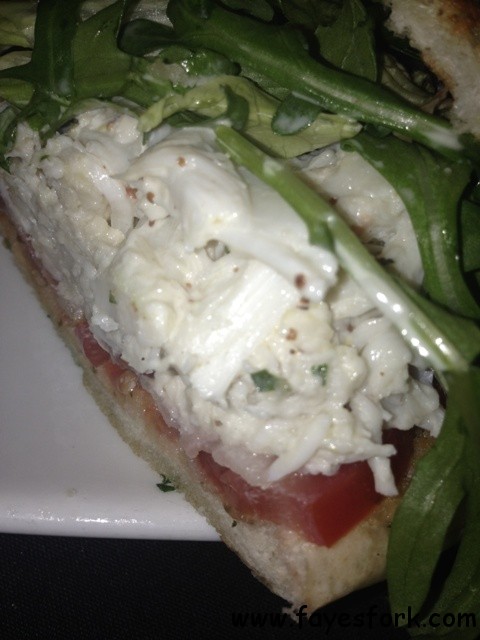 grilled garlic bread, roasted red pepper ranch
I thought this would be the normal kind of crab cake sandwich I've tried before. Like a breaded crab cake, pan fried but served b/w two bread slices.
But it was actually just crab meat with no fillers served between two slices of garlic bread. The bread was yummy as all heck but the crab meat tasted a bit 'fishy' to me. Bummer b/c good fresh crab meat is AMAZING. I didn't really notice the bacon on there until Toxie pointed it out. She didn't touch this sandwich b/c, augh, she doesn't like crab.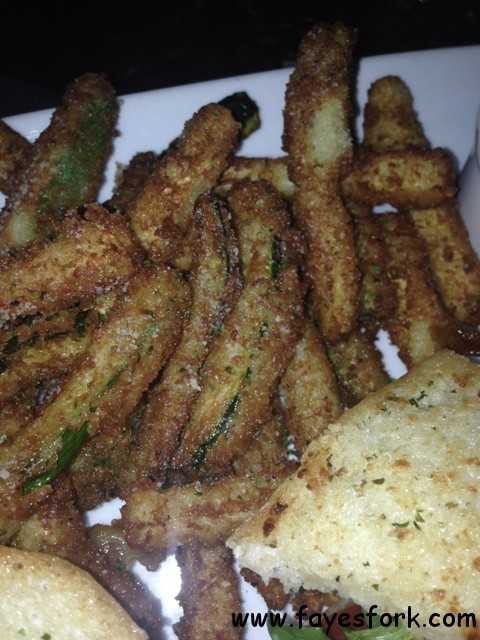 These came w/ the crab BLT. They're zucchini spears, breaded and deep fried. Not much to write about here. There wasn't much taste to these things which was depressing b/c I adore fried zucchini (anyone remember the good ol' fried version at Carls Jr –  no joke). These had no flavor and the majority of them were soggy.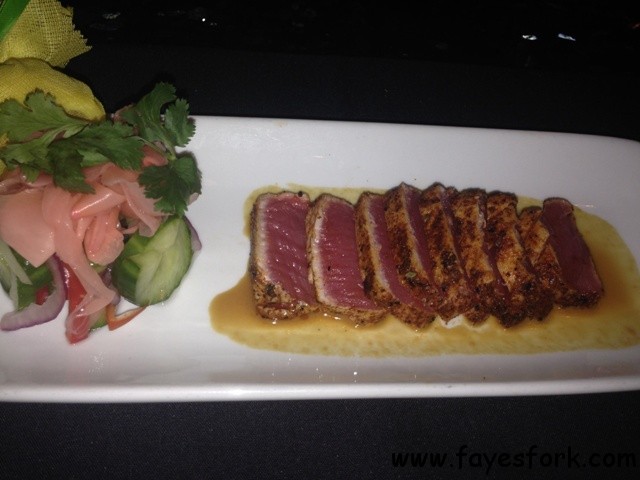 We didn't order this but the guy sitting next to me did. He noticed me staring. He offered for me to try it but I was too full at that point. He said he orders this all the time and really likes it (and this is the SECOND most expensive thing on their HH menu – so nice call my good man…nice call).
Service was attentive and the bar area was still bustling with lots of people by the time we were done. Toxie and I both agreed that the happy hour food was just 'shrug-alright'. I felt disappointed b/c I wanted to show her how good Ruth's Chris could be compared to her beloved Donovan's Steakhouse in LJ. She said she felt the Happy Hour at Donovan's was better than Ruth's Chris (I swear it's b/c Donovan's hands out free prime rib sliders but you gotta stalk them like a hawk for those things).
We had a nice night but I don't think we'd come back for the food. I still stand by their Blueberry Mojito though – that was definitely the best thing from that night.
Ruth's Chris Steakhouse
11582 El Camino Real
(at Arroyo Sorrento Rd)
San Diego, CA 92130
Neighborhood: Carmel Valley
858-755-1454
Happy Hour: Mon-Friday 4:30p-6:30p
…
..
…
My Ode to Toxie for her birthday:
Roses are Red
Violets are Blue
You are my best friend
Because we both make fun of poo
– an original by FayesFork
Alright. That literally took me 20 minutes to come up with. I'm sure I could have come up with a better poem if it was later in the evening and a glass of wine later. But, it's the middle of the day and I've been struggling to finish this post.
I was thinking last week how, after a certain point in your life, can you still meet good, quality friends. Your years of high school, college days, are over. You've met all the necessary co workers in your life. You've established close knit bonds years ago. As an adult, can you meet someone, NOW in your life, that you can truly call a close friend.
And the answer would be yes. I did with Toxie.
I met her some years ago. The story of how we met is truly crazy and spooky (but in a good way). We both smile that it must have been divine intervention because everyone still shakes their heads when they hear the story.
Toxie is a force to be reckon with. Not because she's a wrecking ball with her smarts, wit and personality. BUT, because of her grace and her absolute conviction of what's right and wrong.
And her ridiculous educational pedigree is so defeating to someone who just has a BA. She's so dang smart. But, she can't send a text WITHOUT a few million typos to save her life (suck it Toxie).
She's held me together the last few years through a few heartbreaks (losing my dog some years ago was the first heartbreak). I knew it was his time to pass as he was getting old and Toxie and her husband had prepared me for that (for quite some time). And when I woke one morning, I knew he had passed. I couldn't handle it. I was alone in the house. Toxie somehow found out and she immediately left work. She and husband were at my house within 25 min. She just held me for a few good hours while I processed everything. She never left my side. If you've read this blog for a bit, you know my family isn't big on hugs or emotions. So having Toxie there, just holding me, while I had nothing, absolutely nothing, to say was something that I will be forever grateful (to her) for.
She's had her own journey over the years and through that time, I've just stared at her in awe because she has handled all of it with class and a loving grace that's hard to describe.
The only time I've ever heard her say " I can't " is when I forced her to eat a live uni. But even with that, she powered thru it and ate it (well, let's just say she gives in easily to guilt and mocking).
She's taught me that having your own family doesn't necessarily define you as a woman or a person. She's always reminding me that today is not yet *YOUR* YET. That certain doors are closed for a reason and sometimes there is nothing you can do to change the ugliness of a situation or of a person. She's taught me to look within myself, to SEE and FEEL the truth, and to look UP to the heavens/sky EVEN when things are tough.
And she's taught me that the wine I buy tastes like crap for a reason. Because it's CHEAP and sometimes a person deserves a non-cheap bottle of wine for a change. Maybe deep down she knew I thought I only needed cheapo wine because I subconsciously didn't think I deserved better or something (I mean, it's just wine right).
I'm sniffling right now because she reminds me of that scene from the Joy Luck Club. Remember the scene when the mom was talking to her daughter about the crab?
Suyuan (the mom): "That bad crab, only you tried to take it. Everybody else want best quality. You, your thinking different. Waverly took best-quality crab. You took worst, because you have best-quality heart. You have style no one can teach. Must be born this way. I see you."
That's my Toxie. She's the non Asian sister that I've been praying for all these years. The one person that can communicate and show tenderness that very few truly are able to. That's Toxie.
I'll leave you with a story I remember about us one day in her car:
Me: I think my feet stink in these ballet flats
T: Why
Me: Because my sister told me they stink and she has a weird sense of smell
T: I have a powerful sense of smell too
Me: Yeah. So.
T: Gimme your shoe
Me: Why
T: Because I bet it doesn't stink
Me: What?
T: Gimme your shoe so I can smell it and prove to you your feet don't stink
Me: Come on. Really?
T: Yesss!! NOW! 
I take off my right ballet flat and hand it to her (mind you she's driving too). She's so hardcore. She doesn't even take her eyes off the road. She sticks my shoe right under her nose and takes a sniff.
T: It doesn't stink (hands the shoe back to me)
Me: Are you SURE
T: Yeah. Positive. I have epic sense of smell. Doesn't stink. Trust me. So what do you think we should order at the restaurant when we get there…
She's so ridiculous that way. I mean, WHO does that. Sniffs a shoe then nonchalantly changes topic to a restaurant.
You guessed it. Toxie does.
Happy birthday my friend. May we have many more stories to share with every year…