Carlsbad isn't a part of town I visit all that often. It just seems like a far drive for some reason and I haven't been a fan of that outlet mall for some time now.
NY and CDJ wanted to get together recently. It had been a while since all three of us had met up. Actually, our last time together was for the feeding frenzy at Rei do Gado.
Weird how we always choose buffets to visit when we meet…
Sorry, got side tracked there…
They suggested a bunch of places that sounded terrible to me. CDJ suggested Carlsbad and for some reason, Bellefleur came to my mind. I couldn't find too many detailed reviews about their Sunday Brunch so I thought it would be a nice place to finally try out with friends and post about.
Parking is a disaster on weekends at this outlet mall. I was lucky to find parking within about 5 minutes though.
Warning : this post has an obscene amount of pics. I couldn't find many brunch pics of this place. So I took quite a few photos for those that prefer to read/enjoy a post with pictures versus words …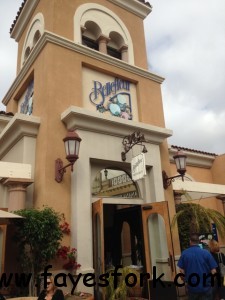 – Front entrance
There were quite a bit of people waiting outside that morning. I was hoping they didn't have a reservation and that I could flaunt my Party of 3 reservations in front of their faces. I'm terrible.
NY was already there and said CDJ was still trying to find parking. I asked why they hadn't seated him yet and he said he was just waiting for everyone to get there. Whatever – that's way to nice. I went to the hostess and asked if we could get seated b/c I really wanted to get started (with the pics and to take in the entire buffet).
NY always shakes his head because he says I'm more New York than SoCal with my bulldog ways. I don't see it as being bulldog. I see it as maximizing the full potential of an AYCE brunch dang it…
– front entrance ceiling
It's pretty magnificent. There's something about this huge chandelier, the pristine white walls, the wood beam ceiling that just made me smile. It felt quite grand.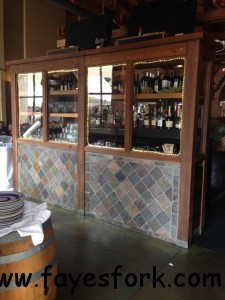 – view of the bar (from entrance)
I knew IMMEDIATELY this was going to be a fun buffet. There were so many different stations set up everywhere.
Rob, our waiter, was great. I asked him for his strategy on how to tackle their buffet. He said he likes the Mexican station in the front patio and the seafood chowder towards the back. He suggested avoiding the made-to-order omelette bar because, well, you can have an omelette anywhere. He highly suggested the carving station in the back as well.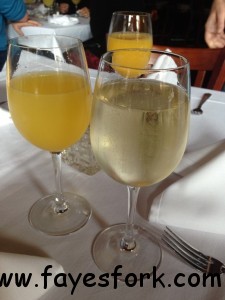 – endless Mimosas
" I'll have a mimosa, hold the orange juice… "
That's how I ordered mine 🙂
I'm not a fan of champagne or orange juice. But I wanted to try out their champagne separately. NY said that you can't eff up a mimosa with bad champagne because the orange juice usually saves the drink. Good point.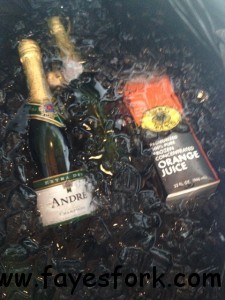 I was able to take a pic of this when I walked by the servers station later that day. They use orange juice concentrate and Andre (?) champagne.
It's been hard trying to write this post because I just took a lot of photos and they weren't in any particular order. So trying to organize them, somehow, for this post has been painful. So bear with me here.
– Omelette station
I went for this station for my third plate. So it wasn't the first thing I ate. But it was the first pic I took of the stations so there you go.
They have a ton of omelette fillings to choose from: baby shrimp, ham, mushrooms, peppers, jalapenos, etc.
You can choose either mozzarella or cheddar for your omelette. I liked the way they prepared my omelette. I asked Rob if they make their own guac and he said no BUT they doctor it up with their own spices.
– sausage and bacon
They were low on bacon obviously. Not sure if they used the bread to soak up the bacon fat?
Outside/outdoor patio: 
This is located in front of the restaurant and it's pretty cool (AND  I'm sure it lures in tourists).  It's covered with a canopy I believe.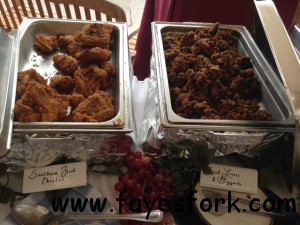 – fried chicken and fried liver/gizzards
– empanadas, fajitas, BBQ chicken and pork ribs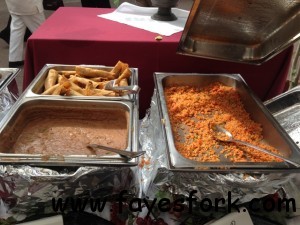 – beans , rice
– taco station; hand made tortillas
– enchiladas, chile rellenos, salsa bar
On to to the carving station, made to order pasta, and waffle station in back:
Next is the soups/breads/dessert section :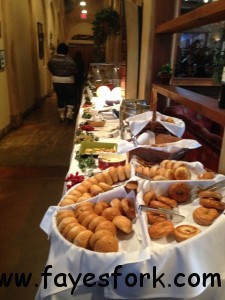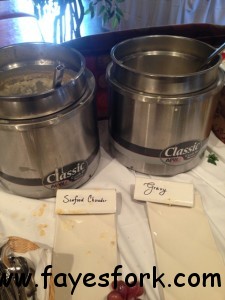 – the seafood chowder and gravy
Skip the gravy – I tried it and it was thick and tasted too much like flour.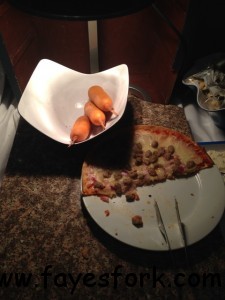 – corn dogs and pizza (I think this must be for the kids)
– warm desserts
Alright, on to the MIDDLE section of the restaurant :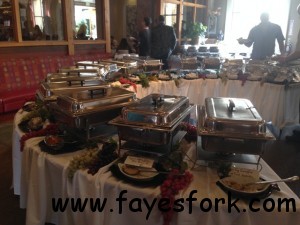 – SO MUCH to choose from!!
It's all HOT foods in this section.  I was so giddy from all the variety.
– chicken with stuffing and chicken marsala
– eggplant parm and cajun white fish over rice
– stir fry swordfish
They were bringing out a new batch of this dish and let me take a quick pic!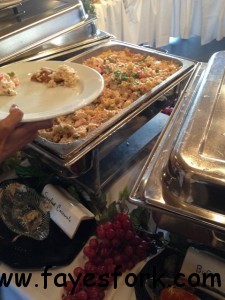 – stuffed casserole
– meatball pasta and mac & cheese
– green bean casserole and liver with onions
On to the cold seafood section:
– clams, mussels, peel and eat shrimp
Nicely chilled over ice and clean presentation.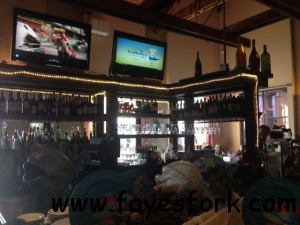 – view of their bar
Whewwwww….
That was a lot. I'm cross eyed right now from jumping pic to pic (in WordPress library) trying to do the best pic compilation of these stations.
Ok, finally I can talk about we ate. I'm kinda hungry right now actually.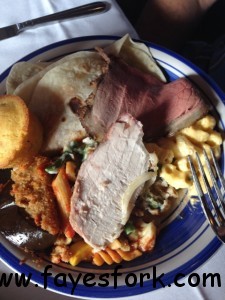 – CDJ's first plate
His first plate at a buffet NEVER makes any sense. Like WTF is on this plate.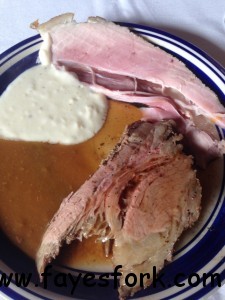 – roast beef and ham
This was mine. I went to the carving station for my first plate. The roast beef was alright. I didn't get the best piece b/c it was chewy and quite fatty. The ham was alright.
I put a bit of horseradish sauce and gravy on the side as well.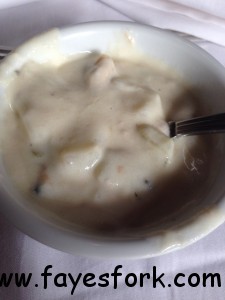 – Seafood chowder
Tasted like clam chowder to us. We weren't blown away by it but it wasn't bad.
– chorizo tacos
Ahhhh, NOW we're talkin'. This was CDJ's tacos he wrapped himself He said the chorizo and freshly made tortillas tasted delicious.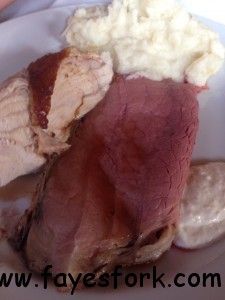 – NY's 1st plate
He went to carving station for his first plate too. His roast beef looked and tasted ten times better than mine. He loved it and also said the slices of turkey were great too.
I was eyeing the Mexican station for a while b/c I was waiting for the Toritilla woman to come back and start making fresh tortillas (there were a bunch already made but I desperately wanted a fresh one).
– carnitas and FRESH batch of chile rellenos
The rellenos were alright. It had quite a bit of eggy batter and the red sauce + cheese was plentiful. But it lacked seasoning.
– NY's seafood plate
He was complaining how he HATES to peel his own shrimp. I asked him how much more he would pay for a buffet with peeled shrimp. I think he said he'd pay $3 bucks more. Not sure how he came up with that number.
NY loved the shrimp and said you can tell it's fresh b/c the shell peeled off easily.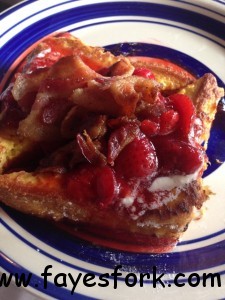 – French toast with strawberries and Bacon
I'm pretty sure this was CDJ's 2nd plate. He said it tasted pretty good.
Finally – the tortilla woman is back. (CDJ and NY said my stalking and lurking in the area probably freaked them out so much that they pressured Tortilla woman to hurry back)
The woman was friendly and she said that it's a basic tortilla recipe they use (flour, water, salt, baking powder). I think that's what she said but my Spanish hasn't been all that great lately.
– my 2nd plate
As you may know, I'm not a fan of Mexican food. BUT, I love freshly made tortillas. I put chorizo, onions, and freshly chopped cilantro on top of the just made tortilla.
Sorry to say, I wasn't very impressed. The tortilla didn't have the elasticity or chew that I so love about a freshly made tortilla. And the chorizo didn't taste very flavorful at all.
BUT, keep in mind, that I don't eat Mexican food all that much so I'm not sure if my judgement of my self-made taco is all that accurate. I made the boys try a bite and they seemed to like it.
– ham and roast beef
I was able to take better pics of the carving station.
The ham has a nice fat cap on it. Nice right!
The beef is nicely rare but I noticed one customer saying he wanted it more well done. So the carver gave a slice to the kitchen (which was right behind him) and had the slice warmed up to a more well done temperature for the customer.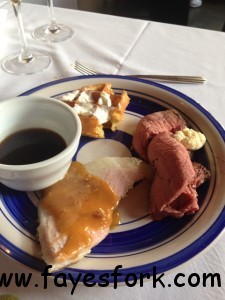 What plate am I on now? I don't even know. I can usually tell it's my plate because I don't like stuff touching on a plate. I went back for a better selected cut of ham and roast beef. Total success as both meats tasted better this time around. The cup was a side of au jus. I also picked up a slice of waffle because, ahh, I don't know why.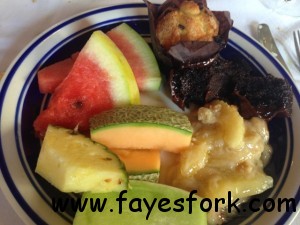 Yeah CDJ threw in the towel at this point. He finished with a plate full of fresh fruit and desserts.
NY was close to being full but he could sense my wrath. He scoffed and said ' Pal, I'm kidding, I'm not done eatin'…'
He was waiting for fried chicken because the chaffing bin had been empty for some time now. And wouldn't ya know what came out…
It was alright. Tasted nice and hot but again, lacked seasoning. We both thought the dark meat pieces were fried nicely though.
So after that, I told NY we had to get up and try their desserts. He looked defeated but whatever. He follows me up to dessert and I start telling him what he *should* try. We started to get in this HUGE argument (we were standing between the bread/dessert and carving station). He was telling me " No effin' way am I going to eat that "and "Are you crazy ?!!!". Then me losing my mind and yelling ' You're EATING IT !!!!' and " Just put it on your plate !!!!"
We stopped mid sentence because this older gentleman was standing right next to us, shaking his head. He looked at NY and said 'wow, she's hard core'. They started laughing and I walked away to the waffle station.
This is Carlos, the waffle man. He was awesome. I was waiting for a fresh bowl of whip cream to be brought out but it was taking forever . He offered to make me a fresh waffle while I waited.
I think this is Bert. He was the carving guy. He had my waffle ready by the time I got back.
– freshly made eggplant parm and chicken marsala
They were bringing these out of the kitchen (when I was getting my waffle) so Carlos suggested I take a quick pic. It was 1:50p at this point and the brunch closes at 2p. So I think this would be the last batch of hot foods they would make that afternoon.
I was too full to try any of these hot item.
– NY's dessert plate
He actually ate the entire plate. He said all the desserts tasted great. I don't think they make them in house though.
Needless to say, I'm fanatic about whip cream. Freshly whipped cream that is. Not that stuff that comes outta a can (which still tastes alright).
The whip cream here is light, not too sweet, and is the perfect accompaniment to my fresh crunchy waffle. And no… no one is ever too old to add sprinkles and chocolate chips to their dessert.
Service was alright. We didn't see much of Rob but there really wasn't much of a need. I did wish our plates were cleared a little faster (when we were away from table getting more food) and our waters refilled before we had to ask. But it was super busy that Sunday and all the servers were hustling like crazy.
It's $23.95 per person and includes bottomless mimosas. It's a bummer coffee isn't included. One of the guys ordered coffee (with free refills) and I believe it was an additional $2.00.
I would highly recommend this place if you've never been here before. They have so much to choose from and I never once felt rushed. Make sure to make a reservation (I didn't see them on OpenTable though). I'm pretty sure people got there right when they opened at 10am and stayed right up until 2p when they close down the brunch. In fact, I saw one lady stumbling out the front door (her date was helping steady her – what a dude). So I'm pretteh sure that girl got her moneys worth that afternoon.
NY treated us to brunch that afternoon which was a nice surprise. I thought I was done with the laughs after we ate but more hilarity ensued after we left the restaurant.
Bellefleur
5610 Paseo Del Norte
Ste 100-B
Carlsbad, CA 92008
(760) 603-1919 Brunch: Sunday 10:00a-2:00p
Price: $23.95 (AYCE and bottomless mimosas) … … … These guys call themselves my own squad of dumdumbs. Sometimes boys provide a comic relief that girlfriends can't.  They'll get together and stupid text me lame stuff like
"Hey Faye, Dumdumb1 here…we just wanted to tell you we blew up the toilet last night from Korean bbq….". 
We figured we would walk around the outlet and try to burn off the 8000 calories we just consumed. Shopping with guys isn't my thing and NY had an agenda of items to get. He asked for my help at Banana Republic so that took about 35 minutes because he acts like a girl and takes FOREVER to make a decision on ONE PAIR OF PANTS. I told them afterwards we had to split up b/c I can't shop with them next to me. I ended up at the women's Coach store browsing through their stuff.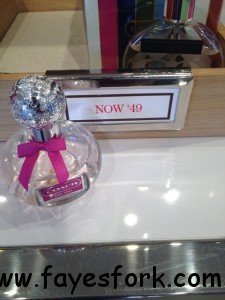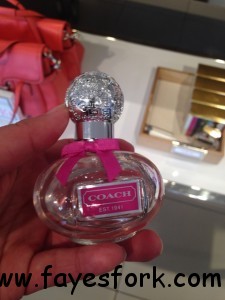 Side note: Have you noticed things aren't really that much cheaper here. I had to add these photos to make this post more girly. But this was a pretty perfume though. 
All of a sudden, I feel someone grab my arm and I was about ready to clock the person square in the face. It turned out to be Dumdumb1. I sighed and asked
'What are you doing here'.
NY was all giddy and his eyes were as wide as saucers. 
NY: " We followed a girl here with *THE* BIGGEST boobs "
me: " Followed from where "(I'm browsing thru some coats hoping people don't think I know this guy and can't hear our conversation)
NY: " From the men's Coach store. Dude, Faye, she has THE biggest…"
me: " I HEARD you the first time. Pipe down. People can hear  (I then discreetly scan the room and don't see said big chested girl). I don't see anything "
NY: " Ohhhh mannnn – I SWEAR she was just here – hold on "
me: " Dude, get away from me. You're seriously messed up. Go away "
So they leave and do their own thing yet again. I get a call 20 min later asking where I was and if I had NY's iphone. That's strange. Why would they ask that. So I met up with them and NY was freaking out b/c he couldn't find his iphone. I personally thought it was karma from him oogling the big chesty girl. He thought he gave the phone to me at Banana Republic which was 100% wrong. But perhaps he left it there. I was determined to find it b/c I know how stressful it can be losing your phone with all your contacts, pictures, etc on that particular phone.  So *I* start running around like a headless chicken trying to track down HIS phone. Went back to Banana and the Information kiosk. We retraced all his steps. I tried calling his phone several times but I was sure the thief wasn't picking up b/c he knew some crazy Asian woman was going to go off. Finally, on my 10th try calling the phone, when the rest of the guys had given up, someone picked up the phone. And guess where the phone was. Men's Coach store. We didn't even
think
of checking there. But guess why the phone was there. B/c Dumdumb1 was sitting down in the store, admiring the big booby girl, and his phone fell out of his pocket.  Ironic. I seriously should have pretended no one picked up the phone and taught NY a valuable lesson. The guys were laughing so butt hard about it. And there I was, sweating from running around, panicking, trying to find some dude's phone. I didn't see the humor in that.  But. In the end, it was funny. How could I be mad at these dummies. I mean, what else was I going to do that Sunday afternoon.  Happy Monday everyone – hope you're staying warm this cold(er) evening…