The Buffet
( Just a precursor : This is a long post with LOTS of photos about the buffet. FYI… )
I don't introduce random people to my family. It takes awhile for me to even introduce friends to them. It's just that my family isn't the warmest or most social of beings if that makes sense. You don't just go over to their homes and have freshly baked cookies and a glass of warm milk if ya know what I'm saying. It's more come over to Faye's house for dinner, say hello to family who probably won't remember your name when you say hello and goodbye, and eat at the 'kids' table all night (you know what's funny that I'm totally thinking about right now…my sister has kids now and even *she* still sits at the kids table).
For the friends who have met my family, they (my friends) find my family pretty entertaining. I am not sure why. Maybe because they're amazed by the way my family interacts with one another. Or the way we put each other down like we mean it. It's quite hard to take in if you don't know the dynamics.
BUT. And this is the strangest BUT. All my friends, and I mean the close handful that have gotten to know my family, the FIRST question my uncle or mom will ask said Friend is the following:
"Oh! Have you been to Valley View? They have VERY GOOD all you can eat lobster – yes, LOBSTER!! – buffet!! "
My friends ALWAYS, and I mean ALWAYS, glance over to me. Looking for help. Wondering if it's a trick question or something.
But you get what I'm sayin'? Like really mom. Really uncle. Do you *THINK* my friends have driven to an Indian casino 50 minutes away to eat an AYCE lobster buffet. Do we LOOK 80 years old. Do we.
Whatever, I caved recently and went to Valley View Casino on a Tuesday night. I had heard about the long drive, the long lines to get into buffet, etc. But that Tuesday night wasn't all that bad.
Drive to casino:  40 min (once you exit the 15 freeway)
Wait to get Player's card (in order to get free lobster buffer for first timers) : 20 minutes
Wait to get into The Buffet: 0 minutes
Time needed for family to gamble : 2.5 hours for crying out loud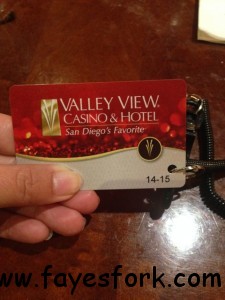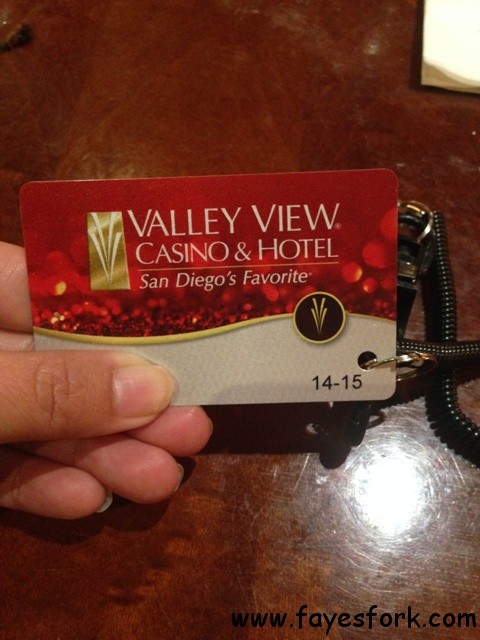 This is the Player's Card that took so long to get. You have to give them a valid form of ID, they log you into their data base, then you get this card thing. They asked if I wanted that retractable rope thingy attached to it. I was confused but mom answered for me, grabbed the card, and made me run over to the buffet. She gets so intense that way.
There was absolutely no line for the buffet that Tuesday evening. But they will NOT seat you until your entire party is there (hence why my mom was running/dragging me to The Buffet as uncle/aunt were there waiting).
They recently modeled, from what our server Anna told me later that evening. The place kinda reminds me of the Las Vegas buffets but just now as grand or magnificent.
Alright, let's just get to the pics.
– Bread station ( 9 varieties that evening)
– soups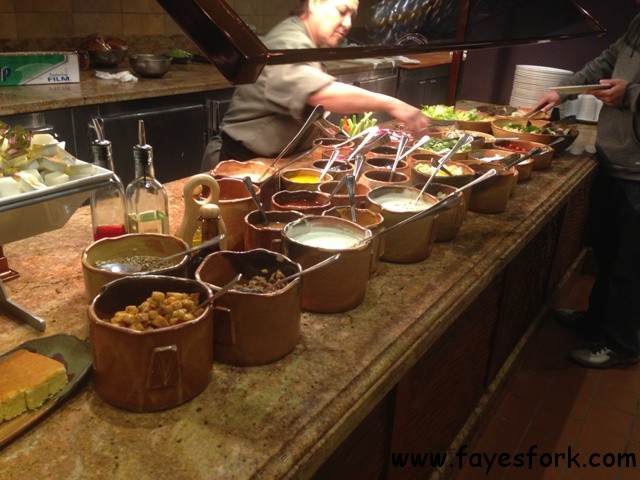 – salad station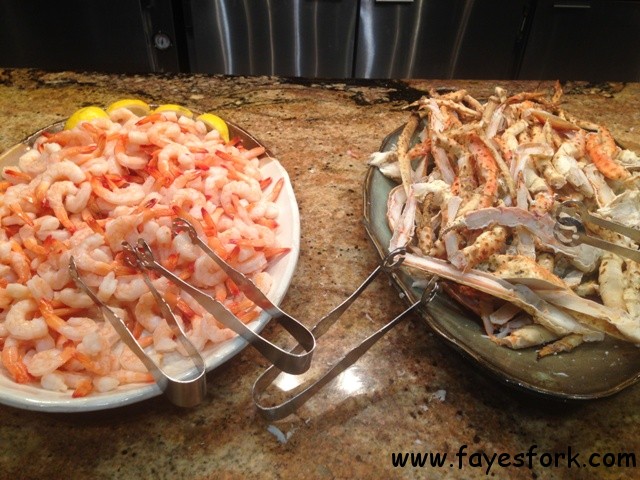 – peeled shrimp and crab legs
– sushi / nigiri station
– Chinese/Asian station
Shrimp tempura, beef and broccoli, stir fried tofu (?), and sweet spare ribs (right pic)
The guy in photo was too funny –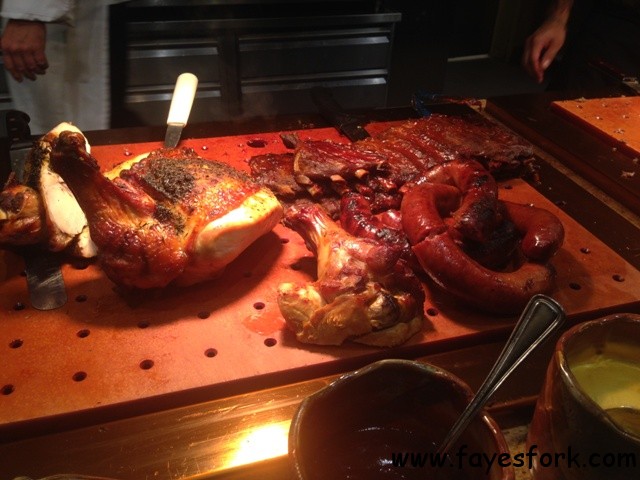 – Carving station
Prime rib, sausage links, turkey, ribs, whole roasted heads of garlic (!!)
– fried chicken, mashed potato, gravy, creamed spinach, carrots, asparagus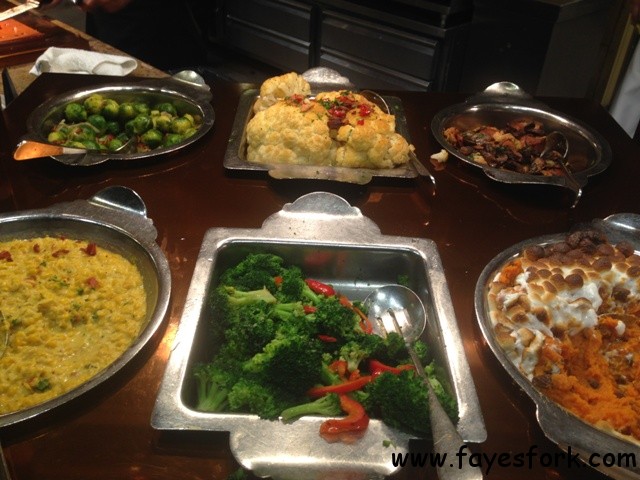 – Collard greens, black eyes peas, salmon w/ lobster orzo, pork chops, bread pudding , glazed sweet potatoes, roasted cauliflower, and pinto beans
– more salads
1/4 avocados !! They were so good…
– Broccolini, sausage & peppers, chicken tortellini pasta, chicken picatta, chicken parm, shrimp and saffron risotto , swordfish with crab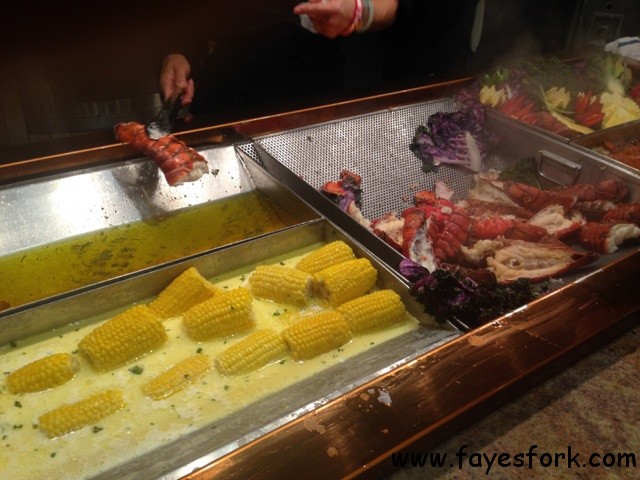 – lobster station
There's a vat of hot butter they dunk the lobster tail in. You can only have ONE lobster at a time.
Alright, that was the first round of photos I took before I finally got a plate to eat.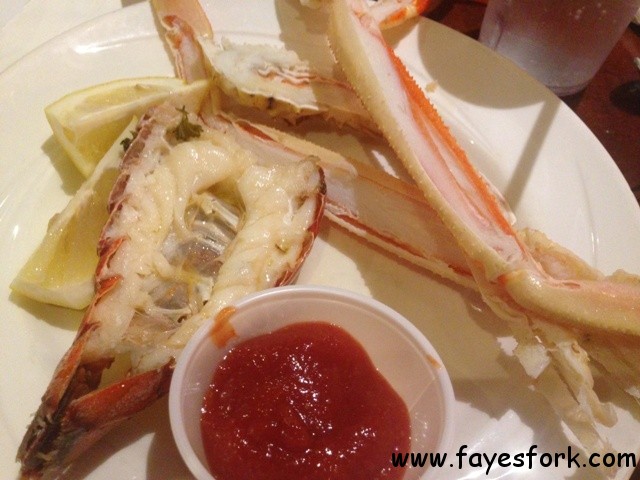 – my 1st plate
Lobster tail and crab legs
They give you a baby fork to help w/ the lobster tail and crab legs. But my uncle told me I'm a dumb lobster tail eater if I used little fork so he showed me how a larger fork is best suited to extract lobster tail from shell. Like I'm an infant or something. Thanks Unc.
Was the lobster tail amazing. Not really. I wouldn't have eaten it if the melted butter wasn't offered because, let's be honest, anything can taste better dipped in hot butter (except lamb and stinky cheeses – gosh, where have I said that before …oh that's right ….the scary snails…). Family said that sometimes you can get a dry piece of lobster and to ask the lobster lady to grab you a better piece.
– Uncle's 1st plate
Yeah. Not sure why he got a chocolate mousse dessert and orange juice too.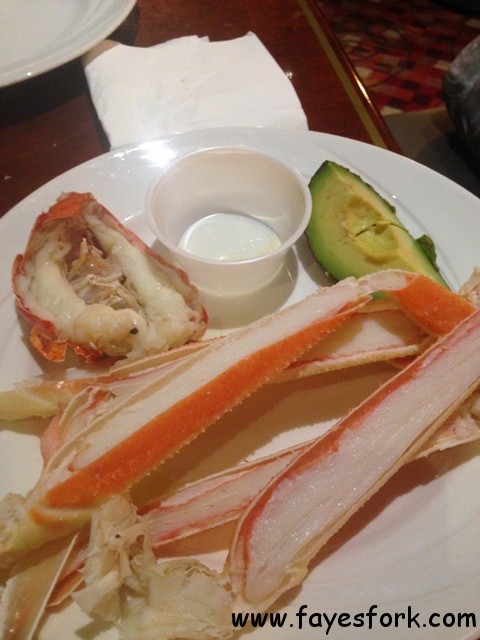 – my 2nd plate
The avocado really is delicious. It was ripe, creamy, and tasted oh-so-awesome w/ the lobster and crab legs.
If you want extra melted butter, you have to ask your server. I tried to ask the lobster tail lady and she told me to go back to table and ask the waitress.
The crab legs were ok – they're served cold. But again, dipper in butter the crab legs tasted magically better.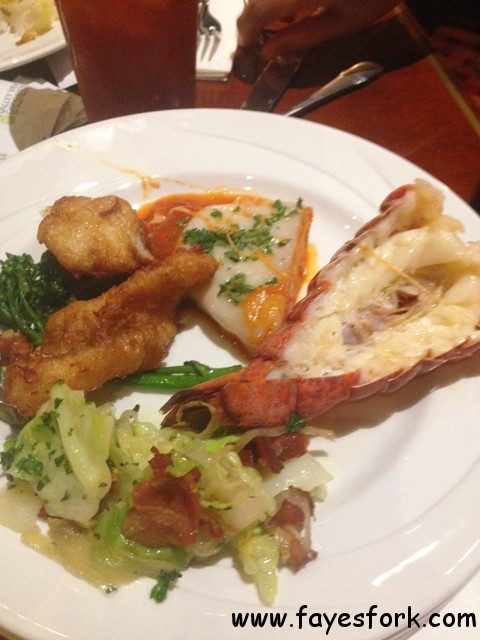 – mom's plate
Lobster tail, napa cabbage something, fried cod, and I think chicken parm.
She liked everything on her plate but she loved that fried cod for some reason.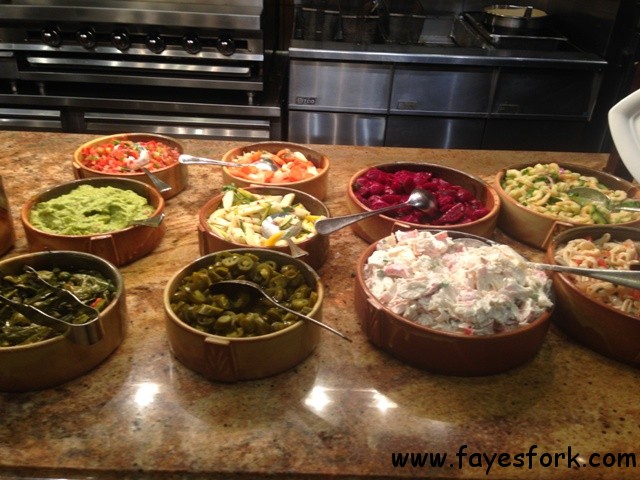 – Mexican station :
guacamole, pickled carrots, pico de gallo, jicama + mayo, shrimp ceviche, calamari salad, crab salad
I took these photos on my next trip up. Aunt said to bypass this section b/c the stuff isn't that great. The crab salad looked tempting even thought it was imitation krab.
It's SO hard for me to say no to bread. It's cardinal sin #1 to eat bread at an AYCE because it fills and expands in your tummy. But aunt whispered that she'll share some of the bread with me so that I can try a few.
We got three different types of breads and they were all pretty bad. I think this was the onion roll and the jalapeno cheddar. They didn't taste very fluffy and yeasty as I had hoped.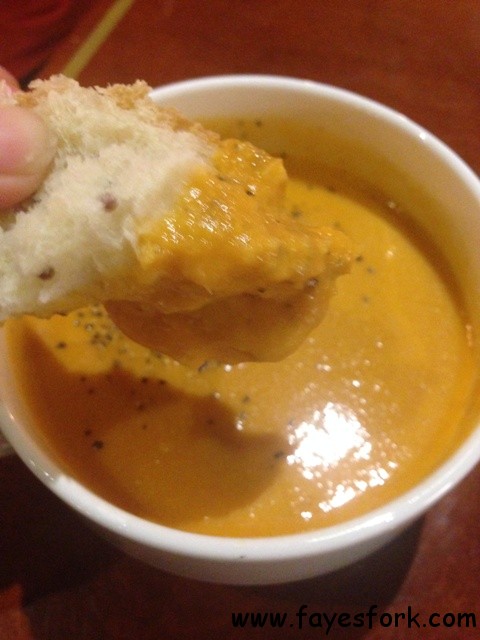 – Lobster bisque
OH SOOOO GOOD!!! Aunt and I were super surprised how great this soup was. It was incredibly creamy, tasted abundantly of lobster (essence), and had a little bit of lobster meat in there too. And the icky bread tasted a thousand times better dunked in this bisque. Duh…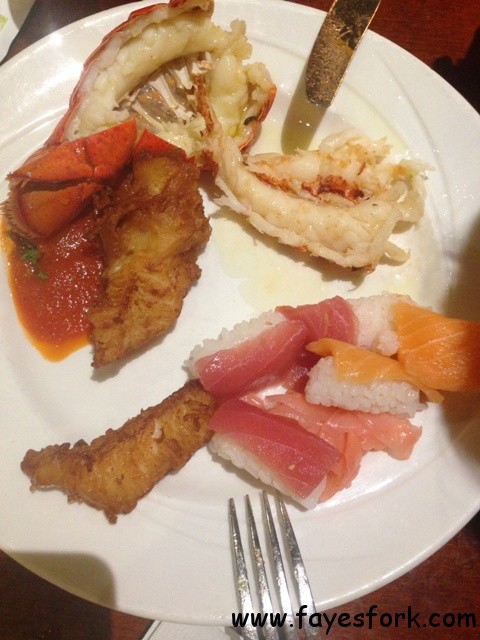 – mom's plate
See. She really likes that fried cod thing. She didn't like the sushi all that much. Aunt told mom that she should have asked the sushi person to give her straight sashimi versus grabbing for the nigiri. I saw one other customer doing so but the sushi chef looked super annoyed.
This was my plate. Not sure why I got the avocado again. The salmon was delicious. Nicely prepared and didn't taste dry.
Skip the Asian short rib though. It was dry and not pleasant to eat.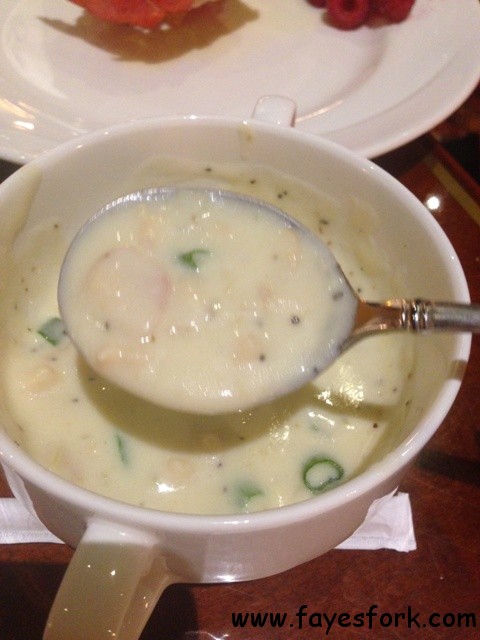 – Clam chowder
Aunt got this and said to skip it (go for the lobster bisque instead)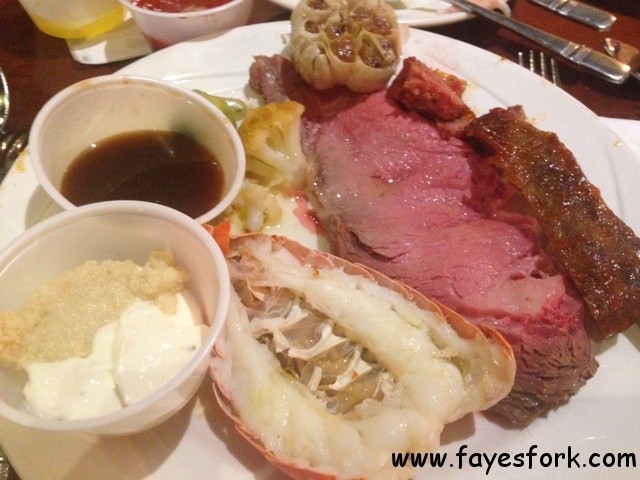 – my carving station plate
I'm such a piggy. The trick was to get a lobster tail every time you get up – whether or not you want it b/c someone at the table will more than likely eat it (saving person from making another trip to get lobster…team work people…team work…).
The guy manning the carving station was so nice. I think he was surprised by my overall giddiness. I just wanted to sample the prime rib but he insisted I try a few other proteins as well.
The prime rib was top notch – it was prepared a beautiful rare/medium rare. They offer au jus, horseradish, and horseradish cream sauces on the side (I put mine in a container that's used for the wasabi in the sushi section).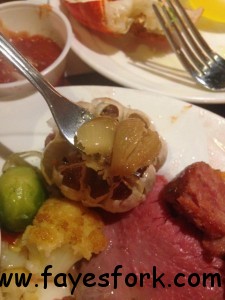 The roasted bulb of garlic was alright – I'm just not a general fan of garlic prepared this way for some reason (even though I adore garlic).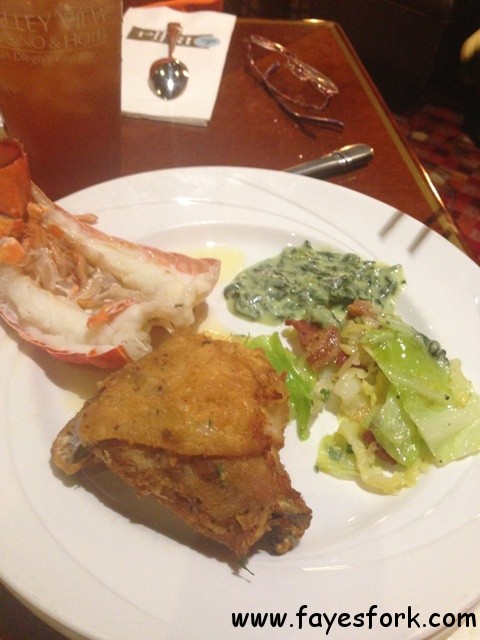 – lobster, fried chicken, creamed spinach, napa cabbage stir fry (?)
Not sure why my mom got these items on her plate. She said the chicken skin was tasty.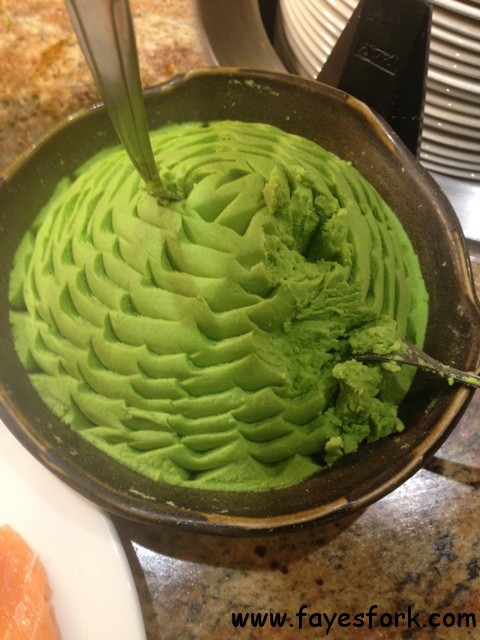 – wasabi flower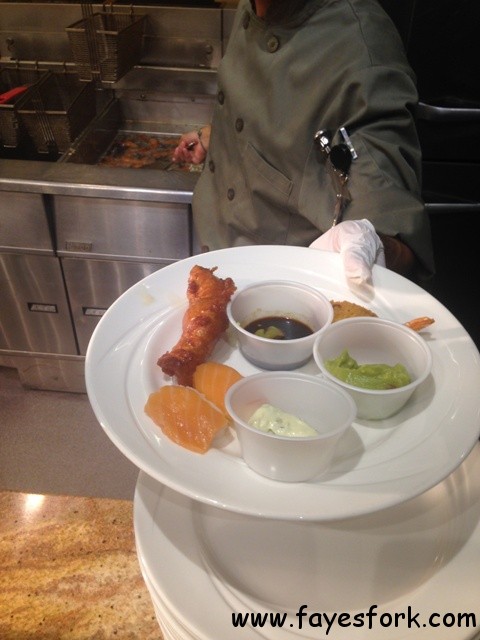 – freshly fried cod
So I was up for another round and had to try this fried fish my mom was raving about. There was a batch under the heat lamp already but I noticed the guy frying up a fresh batch. He noticed me watching him and I busted out my terrible Spanish to ask if I could possibly wait for a freshly fried piece. He smiled and said yeah.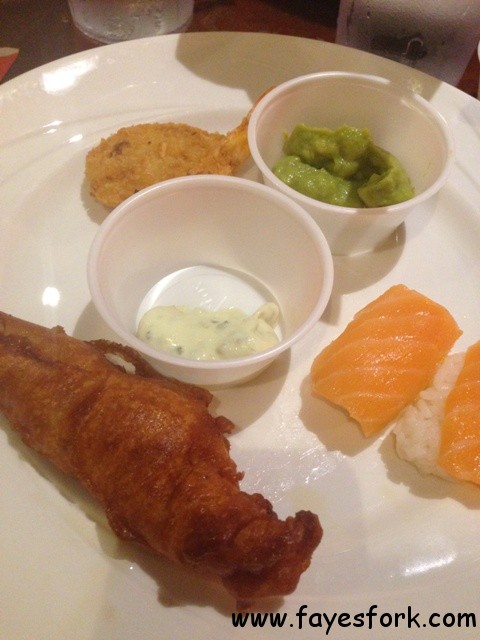 – fried fish, salmon nigiri, coconut shrimp
Yeah – um – I was kinda getting full.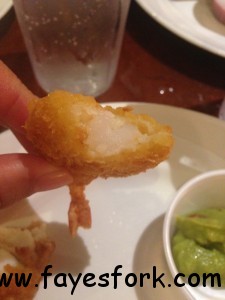 I didn't like the coconut shrimp. Maybe because it wasn't fresh outta the fryer. You can definitely taste coconut though.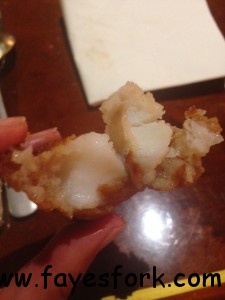 – fried cod
Remember from my last post how my uncle said "You eat too much, Won't taste Good" in Taiwanese.
Well, this was the point of the meal where my stomach was telling me that NOTHING was making sense anymore.
Alright, so it was finally dessert time. I had heard so much about their dessert selection from Reader Soo so I was quite curious. This portion of the post is dedicated to a ridiculous amount of dessert photos:
My mom started with this as she doesn't like chocolate or sweets all that much.
– ice cream and toppings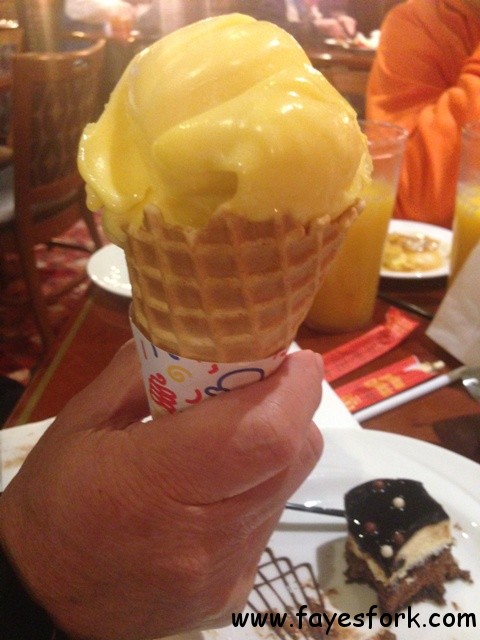 – Uncle's scoop of mango in waffle cone
He loved this. Said it was very refreshing and yummy.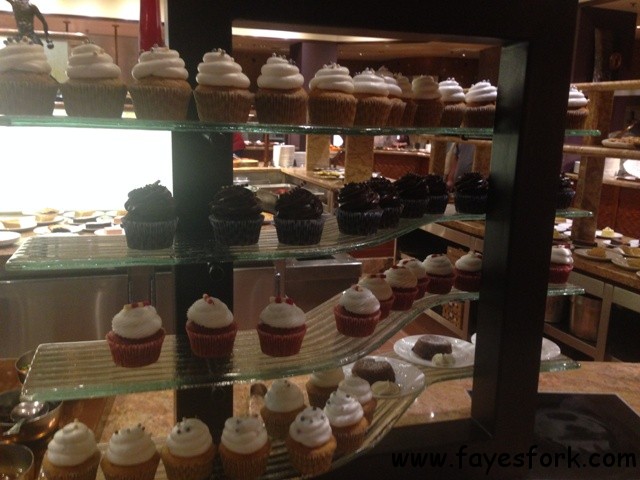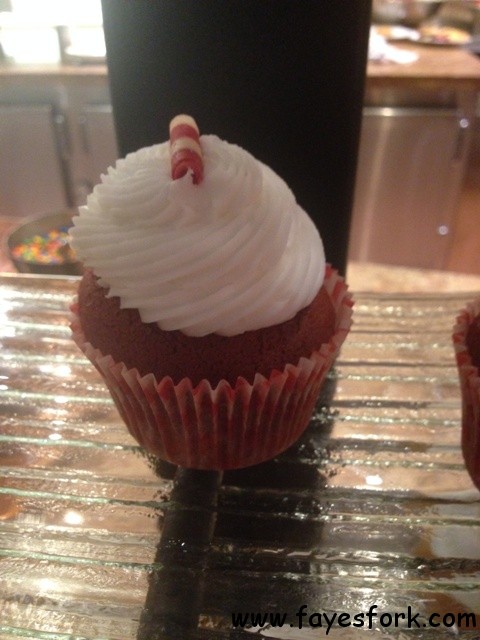 – Cupcake station (about 5 different flavors)
I took a close up pic of the red velvet one because I still have nightmares from that Red Cupcake throw down from a few weeks ago (thanks Mary).
– Chocolate fountain
I wanted to stick my face in there so bad.
I thought they would have stuff we can dip under the fountain but alas…no.
– chocolate dipped rice crispy treat and strawberry
These were already pre made and sitting on the counter. I don't think they used the chocolate from the fountain though because the chocolate on this strawberry was hard.
– chocolate cups (?) and cake pops
– warm desserts and pie station
The next four photos are of the Shortcake station :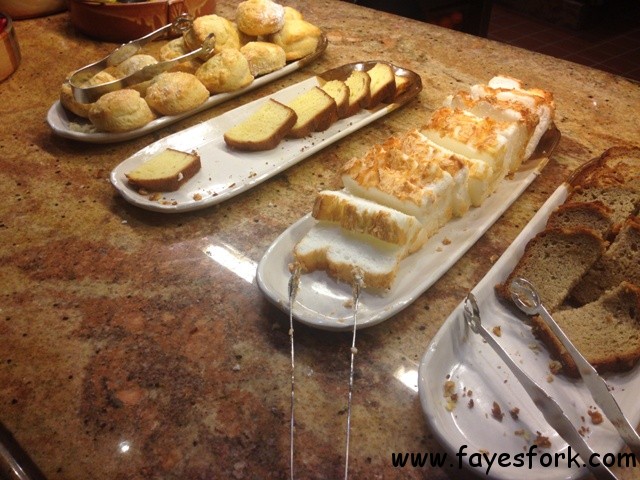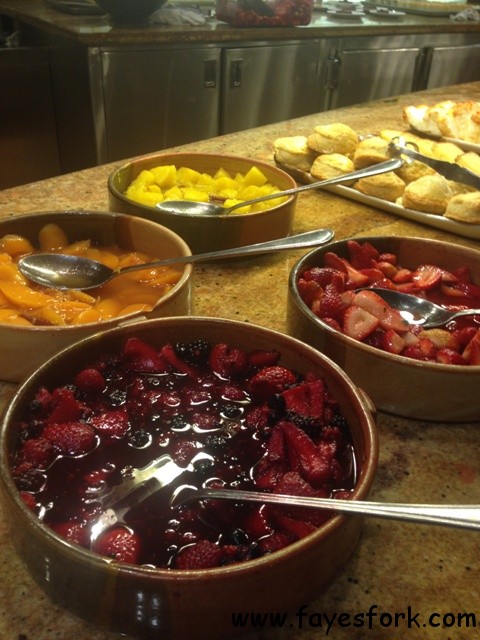 How cool is that?! With toppings too!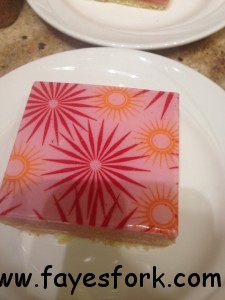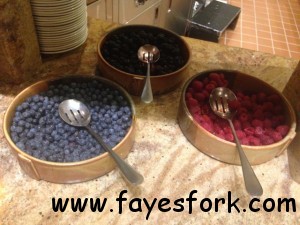 Ok, now I'm finally able to sit and try a few items…
– pre made chocolate dipped strawberry
I LOVE chocolate dipped strawberries. If I'm having a bad day, just slide some chocolate berries under my door (yeah, I know that's not possible but you know what I mean). Ok fine, don't slide under door…just throw it over my fence or something.
I like when the chocolate hardens b/c it tastes so good with the sweet ripe strawberry.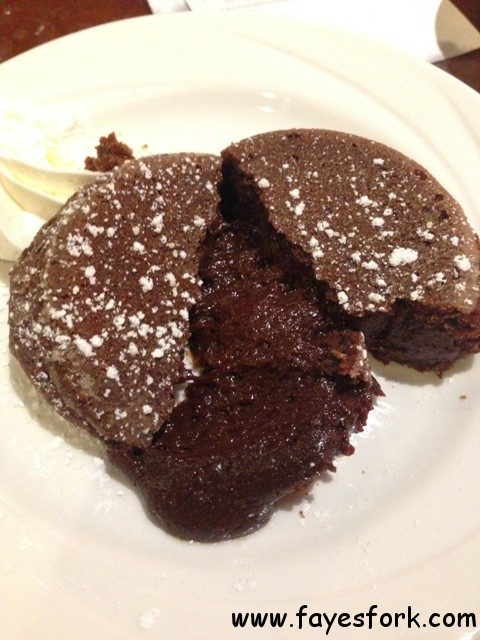 – chocolate lava cake
SO DANG good. I usually hate these things b/c they remind me of Roy's so called souffle (anyone who knows Roy's will know what I'm talking about).
I typically don't like this type of dessert b/c it makes me think that the cake batter wasn't baked all the way through and that has always grossed me out (same thing with eating raw cookie dough – blechhhhh). BUT, this cake was utterly good. The cake was moist and had a delicious dark bitter chocolate taste to it.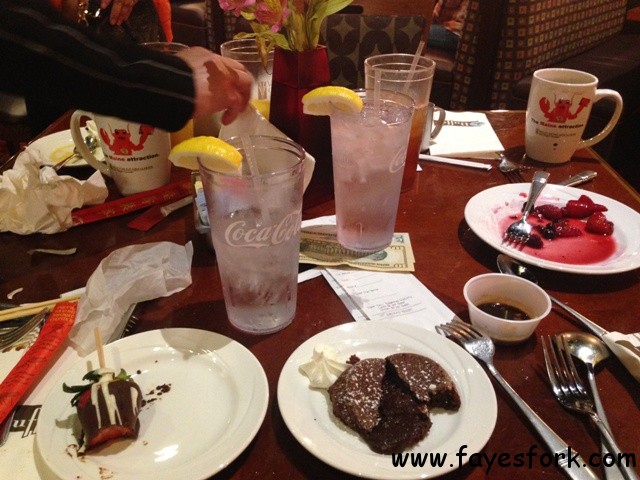 This is the point of the meal where everyone wanted to bail and go gamble.
I stuck around because 1) I didn't want to gamble and 2) I wasn't done trying the desserts.
I cannot say enough how fantastic our server was. Anna blew me away with her attentiveness, enthusiasm, and overall sense of ease.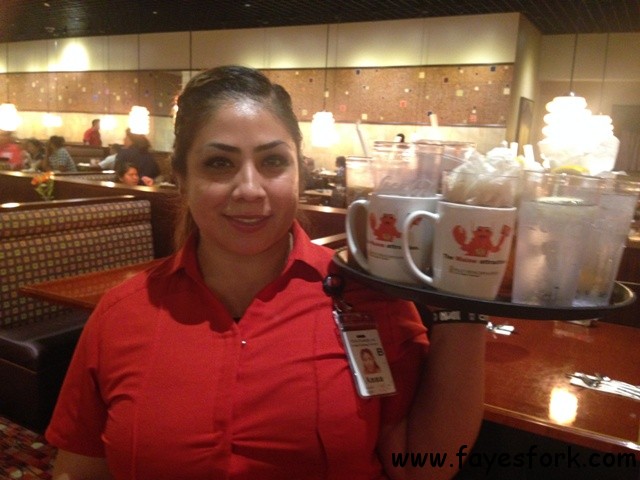 I told her I was really full but wanted to sample a bunch of stuff BUT felt guilty about not finishing stuff. Anna told me to not EVEN worry about it. That I can sample AS MUCH AS I WANTED and not get in trouble if I don't finish.
Mom – did you hear that?!!! 
– warm cinnamon rolls and more cupcakes
These red pears made me smile. I don't know why. Maybe it's because the beautiful warm red color reminded me of Autumn or something.
I was wandering the dessert area taking more photos…
Look closely at the last pic – the dessert with the decorated chocolate topper and some sort of caramelized toasted marshmallow. I wanted to put it in my palm and just stare at it.
Then I saw a random guy/customer making the following…
I asked him if I took a quick photo of his short cake creation and he happily said yes.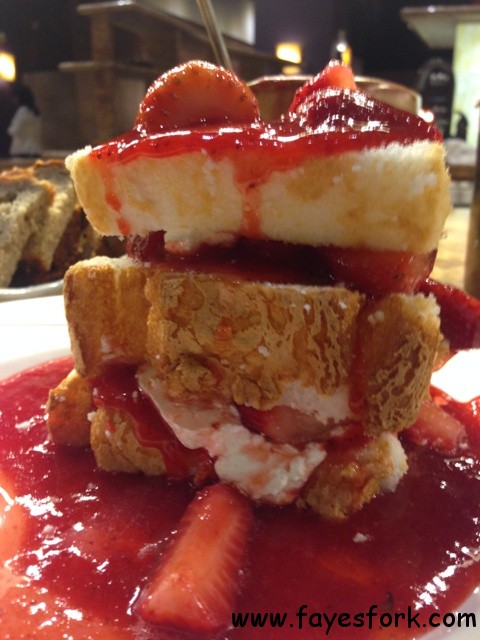 I was so focused on taking a good pic that he started laughing. I think he said he took a quick pic of ME taking a pic of his shortcake so he could post on Instagram. Just greattttt….
But my goodness – look at his dessert – he stacked it so high w/ 3 layers of angel food cake, fresh strawberries, and mountains of whipped cream. Brilliant I tell yas…brilliant…
– Sugar free desserts!!
– Chocolate fountain
I didn't see anyone dipping anything under the chocolate waterfall. I was determined to see something (anything!) dipped in the fountain. So I asked the ice cream scooper man if he could just chocolate cover one strawberry for me so I can take a pic and try it out.
I told you there were a lot of dessert photos. I just figured there must be one dessert freak that reads this blog.
So I head back to table with a few items to try out…
– Chocolate fountain strawberry
I waited more than 8 minutes before I even tried it. But notice how the chocolate didn't 'set/harden' the way I thought it would. No matter, the berry still tasted great (especially with the little bit of whipped cream I covered it with).
I don' t know what this is. None of the cake desserts were really labeled.
This was alright. Tasted a bit too sweet and like a brownie to me.
Anna and I were talking up a storm and some of the other girls came over to say hi. I think they've all know each other for some time now so it's nice to see just a cool camaraderie between all of them. Almost like sisters 🙂
Did you  know that the AYCE includes free soft drinks AND coffee AND tea?! B/c I didn't until Anna reminded me.
I asked if every customer gets to take home this lobster coffee mug. I don't know why I thought that. I think I was just on a roll of getting everything for free that night.
But no, you do not get a free coffee mug at the AYCE buffet.
Anna sensed that I wasn't done exploring the desserts. She was seriously the most amazing person. Usually I would think the servers would want you outta there as fast as possible. But no, this girl encouraged me to stay, to take my time, to ENJOY myself.
I told her, almost to see if she would call my bluff:
'Ok thennnn…I'm getting up…RIGHHHHHT NOW (I actually stand up from chair)…and heading over there to try out MORE desserts…."
She's looking at me like I'm a total whacko but she just smiles, nods and says 'Go!! It's OK !! '.
I felt like the dumb kid who tries to outsmart their mom and *then* thinks the mom is using reverse psychology on her or something.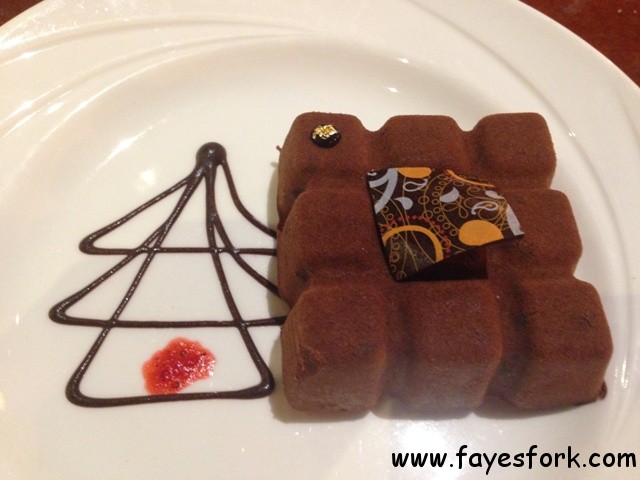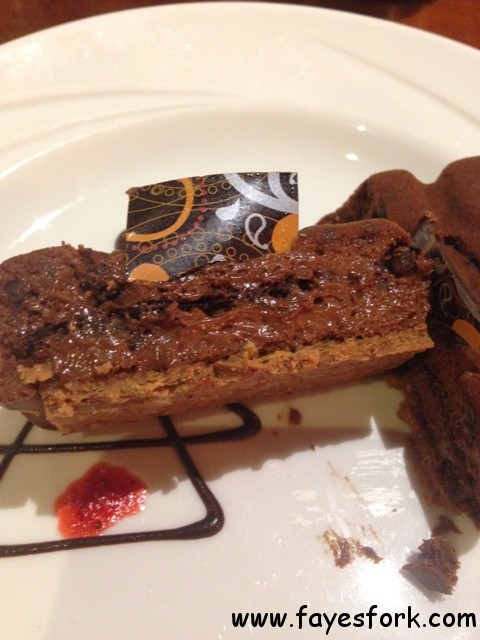 – Chocolate mousse crunch cake
I don't know what this dessert was called but goodness gracious, this was a GREAT dessert. It was a chocolate mousse studded with some sort of chocolate crunch. Not too sweet and just tasted perfect. I wish I had tried this dessert in the beginning.  And can the presentation be any more beautiful? Me thinks not.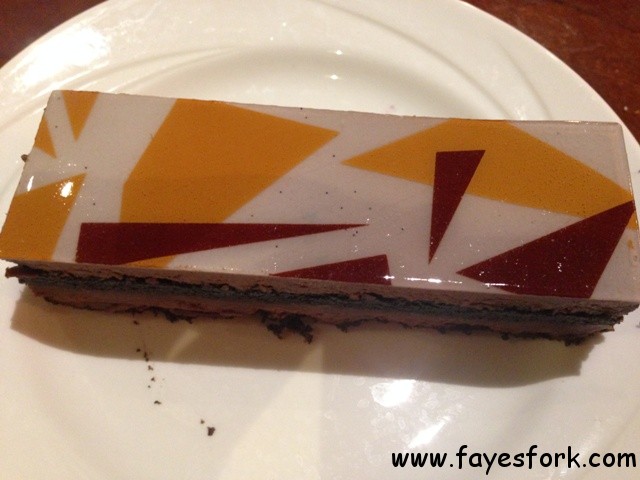 – Sugar free mousse cake (?)
Anna said their sugar free desserts were quite good so I decided to try the chocolate one. It's decorated beautifully and you know what, it didn't taste sugar free at all! Not bad.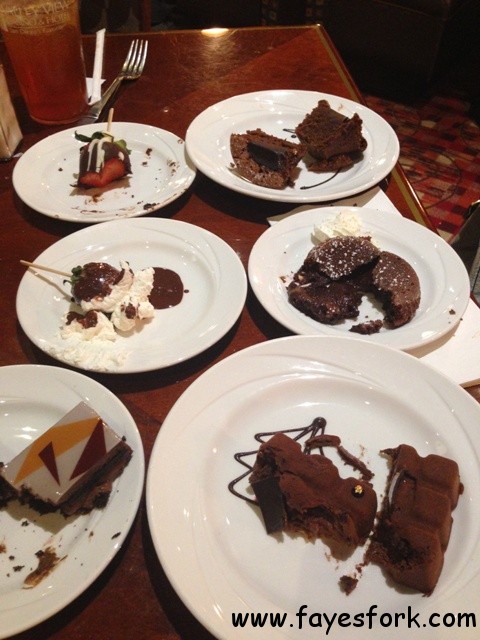 Yeah – what can I say – I tried and I conquered (let's just pretend I did ok).
Anna and I spent some time afterwards talking. I asked her if there was anything I was missing out from the buffet. She had a few suggestions:
– you can take the cold crab legs and go to Asian section and ask the guy to saute the legs in either sweet garlic sauce OR curry style
– weekends are usually packed and people have been known to wait for hours
– end of the month can be busy b/c alot of the VIPs will come in to use their free buffet voucher before the voucher expires
– come on a weekday evening like I did – there's usually no wait
I asked her if people try to walk out with some of the food. She says yeah, all the time. The ice cream in the cone is pretty standard and it's convenient for people to take their cone to the gambling floor after they eat. But she told me a funny story how a woman put prime rib and lobster in her purse, went to gamble, ate the prime rib in purse after few hours, then got sick (or something like that). So yeah, don't put prime rib in your purse. Thought that would be a given but hey, maybe you REALLY want to snack on bloody prime rib when you gamble.
I didn't want any ice cream but asked if it was ok if I took a piece or two of fruit.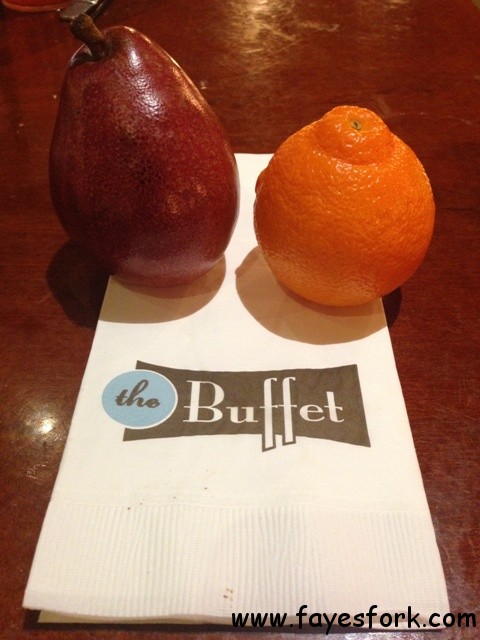 My mom ate this orange later on during the night when she was losing all her money at the penny slot machines.
I noticed customers asking for coffee to go. I asked Anna if I could get a hot tea for my mom to go? And man, look at how it's served…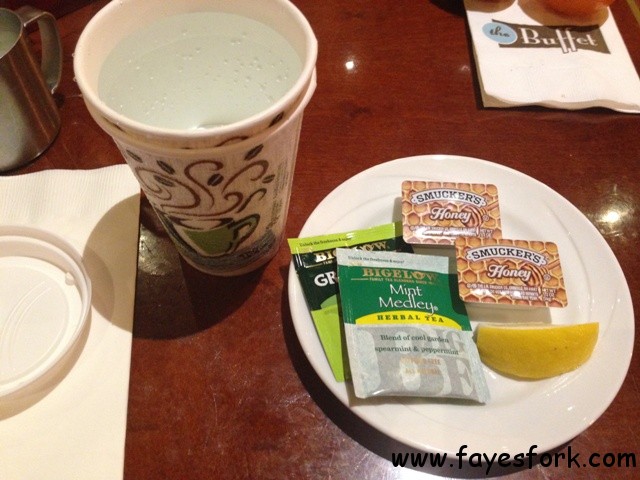 Anna – you rock.
She gave me two different green tea bags to sample as well. Mom appreciated this tea later on in the evening as well (FYI : you can also go up to any of the bars in casino and ask for hot water refills).
Was the trip to Valley View worth it for the AYCE.
Let's summarize:
Drive to casino:  40 min (once you exit the 15 freeway)
Wait to get Player's card (in order to get free lobster buffer for first timers) : 20 minutes
Wait to get into The Buffet: 0 minutes
Time needed for family to gamble : 2.5 hours for crying out loud
And factor:
– $0 cost for buffet (for first timers)
– quite a bit of dessert to try out if you're a dessert fiend
– unlimited lobster, crab legs, peeled shrimp (NY would love that), prime rib
– unlimited coffee and hot tea
– you can leave with a waffle cone stuffed with ice cream (or a piece or two of fruit like me)
– and finally, just awesome awesome awesome service (Thank you again Anna!)
The dinner buffet usually costs $32.99. Would I drive here in the future JUST for the buffet. Probably not. It's still a very far drive and I have to consider that the next meal won't be free. BUT, this lobster dinner buffet is still a must try if you haven't been here before.
I'm not sure how the above mentioned 'factors' would be a 'plus' in your experience if you had to drive more than one hour to get here AND wait two hours for the buffet. That pretty much would ruin any meal for me.
Anna was asking me for my AYCE recommendations. She said her friend recommended this AYCE in Miramar that sucked. Anna lives pretty far away so I think it was like an hour drive for her to eat at this AYCE place. I told her if you're GOING to drive all the way down to SD for an AYCE, it better be an EPIC buffet b/c otherwise, why freakin' drive so far. The first place that came to mind, that I suggested for her to try, was Fogo de Chao. To me, I think she would be most impressed by that place ( considering she works in the AYCE industry too). Fogo is probably the last AYCE place I visited that truly blew me away.
Regardless, this place is worth a visit if you have the time to come here. I must admit that I did gamble (I think I gambled about .50c because I don't remember pushing the 'spin' button more than 50 times…I told you I'm weird about gambling money away).
Hope this long post helps a few others that are curious about this buffet –
Cheers…
Update 2/28/2014:
Look what I received in the mail this week:
$10 free slot play AND a free lobster buffet?!!!! Sayyyy whaaatttttt!!!
I'm seriously such a sucker. I got all excited that maybe they gave me VIP status. I emailed mom, uncle, aunt right away with the above pic and exclaimed 'I think I'm VIP!!'.
I'm not sure how it's possible to scoff someone so coldly in an email but all 3 of them successfully did it to me. Mom emailed a simple, matter of frank 'You are not VIP'.
So oh well. Got a little excited there over nuthin'…