Peanut and I were depressed b/c we were hoping to see each other this month. But I didn't have the time or discretionary funds to fly to San Francisco and have a fun girls week with her. And the bugger went sky diving too (maybe it was a GOOD thing I couldn't make it up to SF then…)
So it got me thinking. 'Self…what can we do to give you a vacation….Self, where can we go today…'
I had a budget. I checked my wallet.
I'd like to say to that I'm booking my flight to Bora Bora right now. And I'm staying in one of those luxury tiki homes over the water and having a monkey (a nice, friendly monkey…not like the rabid monkey from Outbreak) fetch me a coconut from a nearby tree.
But, yeah…no. I gots $25 bucks in my wallet. What the heck can I do with $25 for a much needed vacation.
Ah-hahh. I gots it.
I'm going to take an Afternoon-cay (Afternoon + Vacation = Afternooncay).
I dd a lunch time work out (I'm doing this aerial Pilates thing now – totally cool) and decided to take the afternoon off. I was in Del Mar, had my computer, and thought I could visit a coffee shop somewhere. I remembered the Pannikin Coffee & Tea in The Flower Hill Promenade. I used to go to the Pannikin when I was in high school. We'd all meet up here if everyone was in the area.
I looked at my $25 and thought 'hmmm, I wonder if I can use this $25 and make it into a mini afternoon-cay for me today'.
So I thought I'd wing it and see what happens. So here was my own little Afternoon-cay at The Promenade that day..
Whole Foods (1st stop):
Whole Foods is in this strip mall. It's been open for almost a year now. They have a juice bar that is ridiculously expensive BUT they honestly use the best organic stuff AND they don't add ice to their specialty juice drinks.
– Doctors Orders $7.00 (16oz)
parsley, spinach, cucumbers, celery, apples, ginger, and lemon (I think)
Like I said, they don't usually add ice but I like this drink super cold. Plus, I feel they give you more when you ask for your order in a larger cup (24 oz as shown above). It took me some time to get used to this drink because 1) it's expensive and 2) it can be a bit 'bitter'. But they really use ALOT of fresh produce for this ONE drink and I think it's worth the $7 if you take into consideration the cost of each single item in this drink PLUS the time it takes to juice it.
Reader Soo sent me a groupon link to Whole Foods (the $5 for $10 deal is no longer available though)  – so hopefully others took advantage of that deal. Thanks Soo!
I love walking around Whole Foods. There's just something about the colors and the organization that makes me happy. You can read about it from one of my super early posts when I first started this blog. Here are a few pics that best represent how mesmerizing I find this supermarket: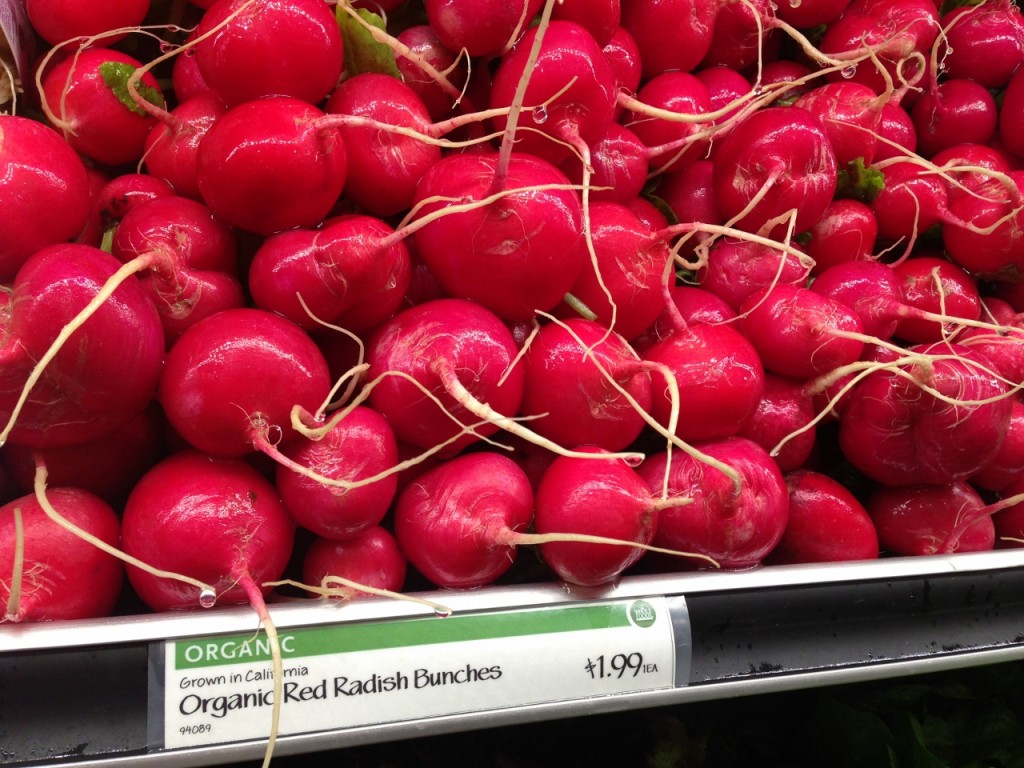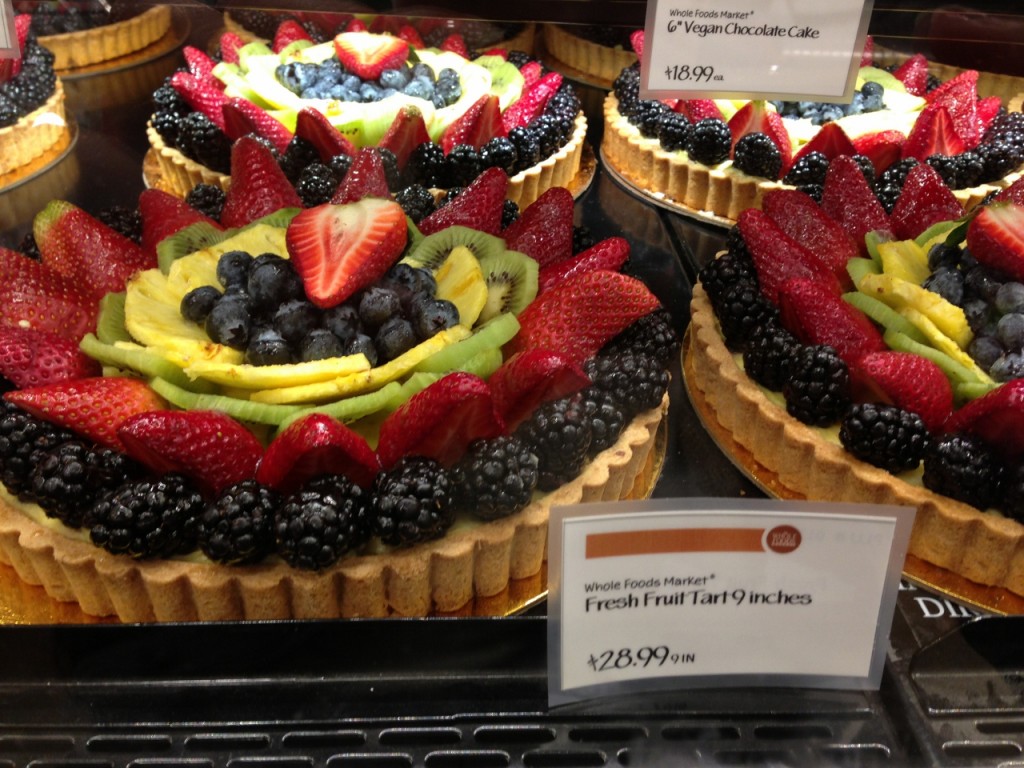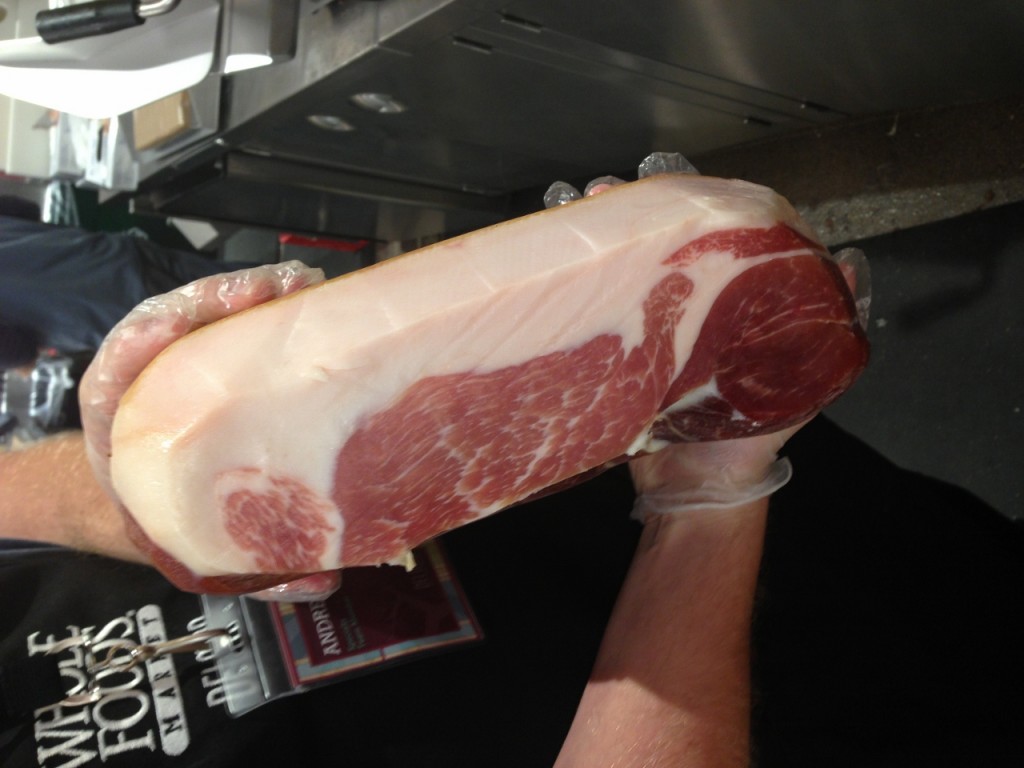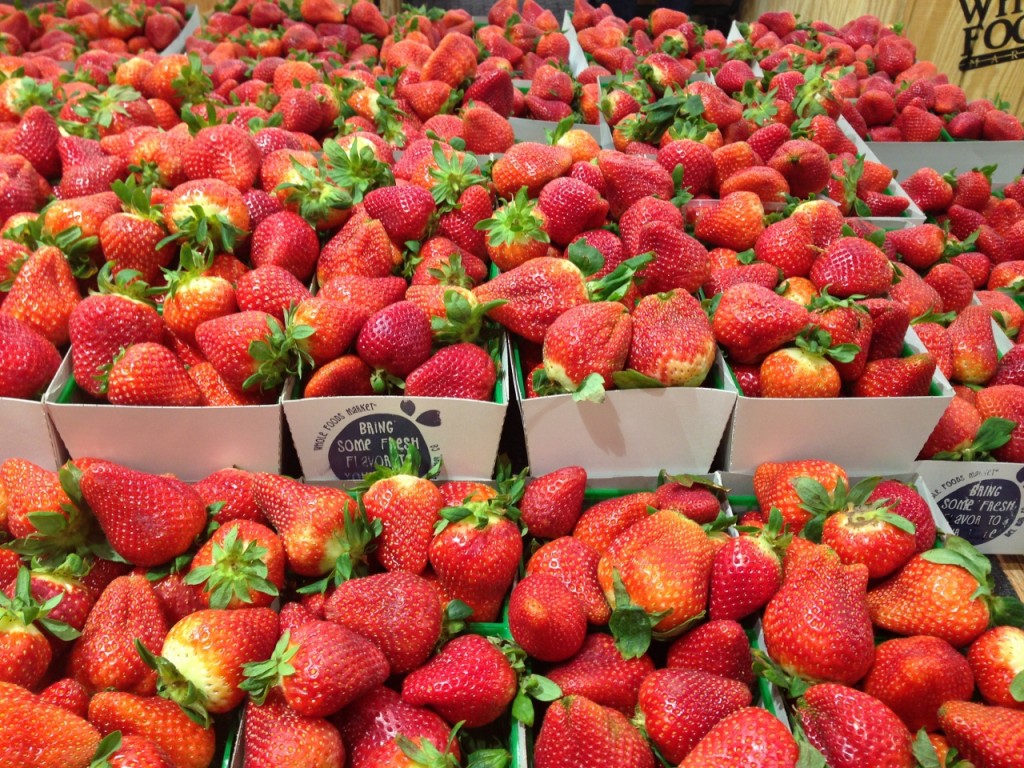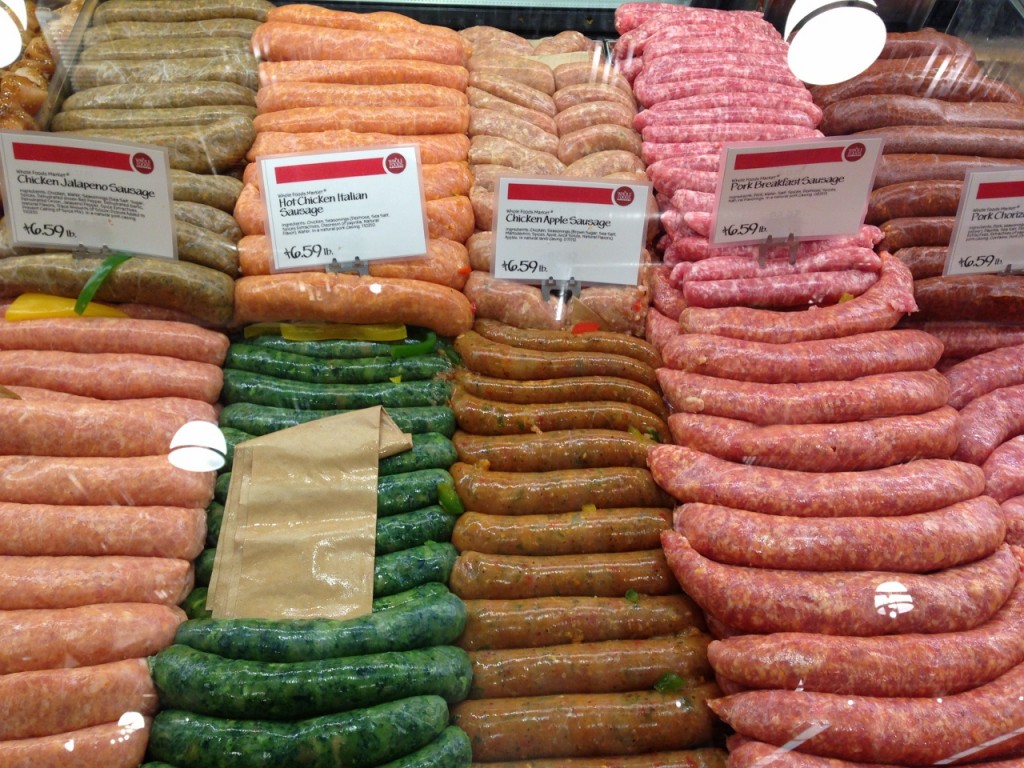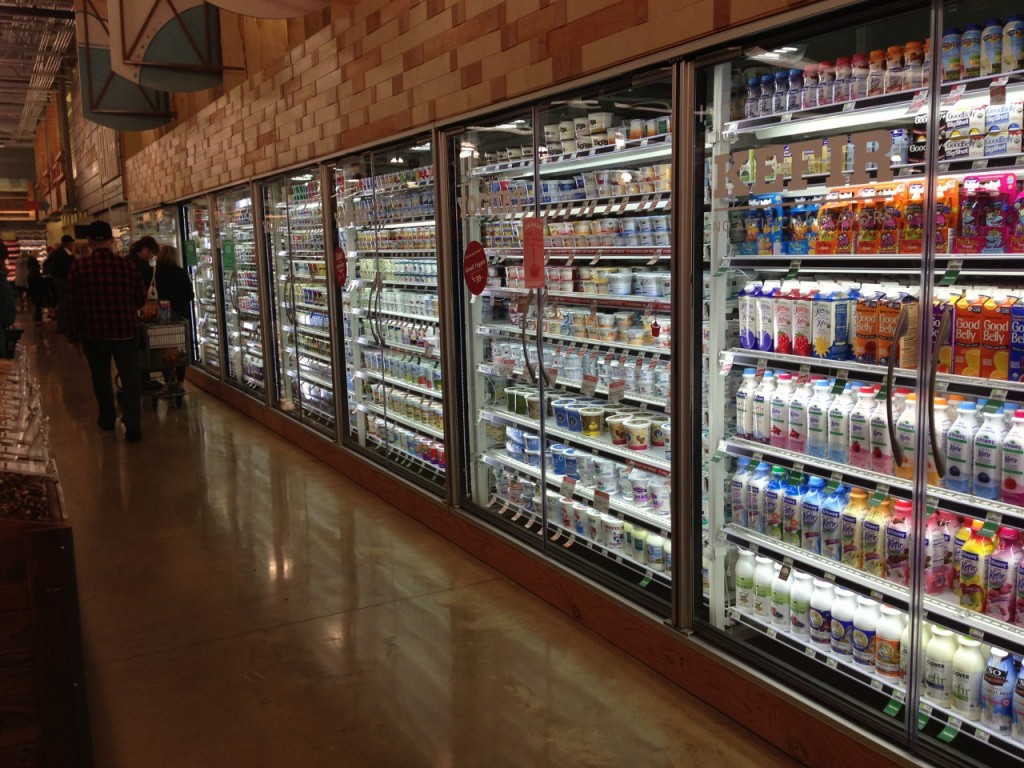 I come here quite a bit by myself. I don't even always buy stuff. So it's nice to get my expensive juice and peruse as many aisles/items as time permits.
Pangaea Outpost (Stop #2):
After Whole Foods, I decided to head over to Pannikin and maybe get some work done on the computer. I barely remembered where they were at this mall because I wasn't sure if they had been moved by management. There used to the cutest bookstore adjacent to this coffee house so I was super surprised to find Pangaea Outpost.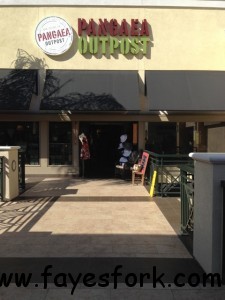 This Outpost has a ton of random stuff (and it's attached kinda to the coffee shop). They have books, keychains, clothes, shoes, lotions, etc etc…but most importantly, they have my favorite candle in the whole wide world!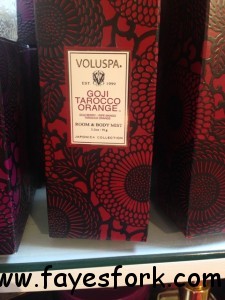 – Voluspa: Goji Tarocco Orange
This isn't the actual candle but it's a Room & Body Spray with my very favorite scent!! For those who know me, I have a borderline disorder with scents. Peanut googled it one time when we were roommates because she said she's never seen anyone 'sniff' things as much as I did. She said, according to her research, that my propensity of smelling everything is actually an OCD behavior. Go figure.
There were SO many candles here at this store that I wanted to smell.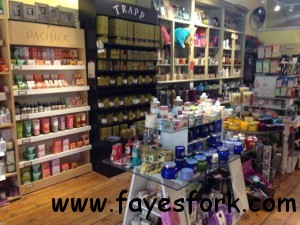 But I was holding all this crap in my arms (computer, notebook, juice drink, etc) that I knew I needed to come back  after I got some stuff done.
Pannikin Coffee & Tea (Stop 3):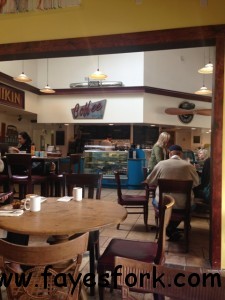 This is the view of the Pannikin from the Outpost. There's no wall dividing the two places.
I wasn't done w/ my juice drink yet but I couldn't just sit there at the coffee shop and not order something. The place was super packed but I was lucky enough to get a small table.
– Counter to order
You have to go up to cashier and place your order there. I think these cookies/pies are freshly made there.
– Cafe au lait $2.50
I cannot remember the last time I was served coffee in a REAL cup (at a coffee shop). I'm so used to a plastic container or a paper cup thing. So it was a nice treat to have fresh coffee with steamed cream served in a real white cup (hey, even small things like this make the afternoon-cay special right).
– my work station
It wasn't pleasant to drink hot coffee and juice at the same time. But forget that part. I started to notice how the juice started separating. Not sure why it's pink like that.
Here's a view of their front entrance and outside patio
So there's a fancy chocolate shop right next to them (I noticed this b/c there's a glass wall that separates them). I heard so much about this chocolate place but knew it was expensive.
Dallmann Fine Chocolates (Stop 4):
I just wanted to take a quick peek inside. It's a tiny little shop and there was one nice girl working there that day.
Look how pretty these are. I think she said it's cheaper if you buy them by the box versus by the piece (I want to say it's $3/piece?).
They also do some sort of cheese and chocolate pairing.
Maybe I should get this for my ingrate sister who eats all her favorite chocolates in box with her husband and gives me their crummy leftovers…dumb mean sister….
Joking aside, they do seem to have some nice chocolates. I'm just personally not the type of person who would splurge on a piece of chocolate for $3 bucks. BUT, I would come back here and purchase something for a friend/family member who adores gourmet chocolates.
The Burger Lounge (Stop 5):
Ok now I was getting hungry. I'm not a big burger person and when I do crave a burger, In-n-Out more than suffices. Sis always raves about Smashburger but she's never been to Burger Lounge. So I thought I'd try this place out and rub it in her face.
You go up to cashier, place your order, pay, and they give you a number to place on your table.
I just realized the 2nd pic might look sad b/c it looks like I'm drinking only water to save money (and make the $25 go further). No worries – I don't like soda or ice tea so I usually drink water with my meals 🙂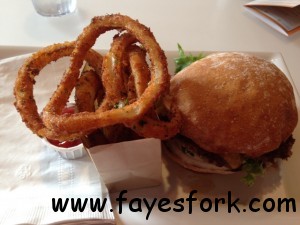 – The Lounge Burger $7.95 and Onion Rings $3.99 (small)
The onion rings come in the most adorable baby paper bag with a side of ketchup. They kindly brought me a side of ranch as well. The rings were indeed crispy but they mostly tasted of the crunchy batter. If you look at the second photo, you can barely see the super thin slice of onion. It's honestly all batter (which is awesome if you like just straight up crunch).
Served "Lounge Style:" Lounge Bun | Organic Cheese – White Cheddar or American | Fresh or Grilled Onion | Crisp Lettuce | Fresh Tomato | House-Made 1000 Island
They verbally tell you that the patty is prepared crispy on the outside but pink on the inside. I asked if I can have mine prepared medium rare which the nice cashier boy noted and said yes.
But as you can see, the patty was prepared well done. It still tasted alright – not too dry. a yelp friend, Cindy, came here some time ago and said she found the burgers to be too greasy.
I may have to agree with her on that but I found the grease alright in this burger (the grease helped w/ the moisture of the well done patty). Take a closer look at the last pic. The bottom of the bun was beautifully shiny. And I think that shine came from the grease. Yum yum gimme some right…it wasn't too bad though. The buns were toasted quite nicely but did get soggy quickly.
So that was about a $12.90 lunch (after tax).
Nothing Bundt Cakes (Stop 6):
I used to come here quite a bit (prior to the mall's remodel) to buy little bundt cakes for friends. I'm not a huge dessert person but I think the bundt cakes here are quite extraordinary. PJ actually told me that I should have gotten a Red Velvet cake from here for the Cupcake Throwdown a few weeks back. And I facepalmed my self after she told me that b/c I have a feeling that NBC would have won that Cupcake Throwdown. No joke.
This location is completely remodeled (exterior) so it's much more bright and noticeable.
And wouldn't ya know it…
LOOK what free samples they had that afternoon…
– Red Velvet with frosting
F…M…L.
Are you kidding me.
Out of ALL the samples you could have put out that day, WHY…WHY did it have to be red velvet. Why. I'm not kidding you when I say the Red Velvet Throwdown gave me nightmares. I couldn't eat anything red velvet after that event. I couldn't even read Kirbie's recipes about red velvet because anything, and I mean ANYTHING, red velvet would made me think of that cupcake spit box. So seeing these samples literally made me gulp in fear and take a few steps backwards towards the door.
(Weird flashback to college years but this red velvet phobia reminds me quite fondly (NOT!) of my Jagermeister phobia. I can't touch anything Jager now. Hmmmph. Interesting….)
But I remember their bundts being delicious. And look at this tiny baby sample w/ the swirly frosting,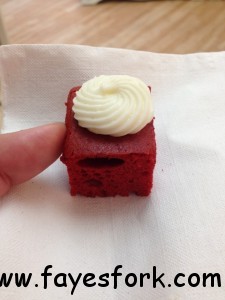 That's my thumb trying to steady it for the pic.
I wasn't sure if I was going to try it as I was probably comparing it to a Jager shot at that point. But whatever, it's just flour and sugar right. And gosh darn it, Phobia Be Gone!!!
Thank goodness this a small sample. It took me 3 bites (I eat weird – sorry). It was yums though. Like super duper yums. I wish I had bought this cake for the RV Throwdown instead of that lame Sprinkle's one.
All their cakes come frosted and is stored in the fridge. The cakes still, somehow, stay so moist.
Pangaea Outpost : Stop 6.5
Ok had to go back and smell the candles.
This red currant candle made by Trapp was my favorite (of a new candle brand that I hadn't seen before).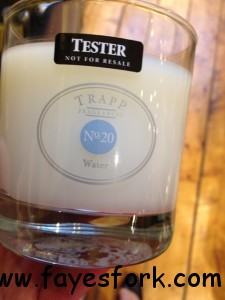 – Huh?!
How is there a candle scent for Water? Like how would one describe the scent of water.
Still smelled beautiful though.
– Local honey!
It's hard to find local honey at supermarkets (even Whole Foods) so I was excited to see this here. I am not a fan of honey (I actually kinda hate it) but everyone has been telling me that eating local honey will help me with my awful allergies. So I'm going to have to come back and get one of these honey bears.
The Wine Connection (Stop 7):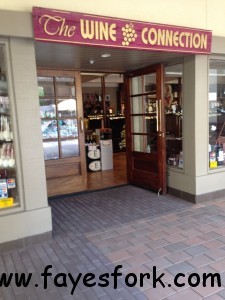 This was the wine shop I purchased my first really expensive bottle of wine for a client many years ago. I haven't been here in ages so decided to take a quick look and I was curious to see how expensive their wines can be.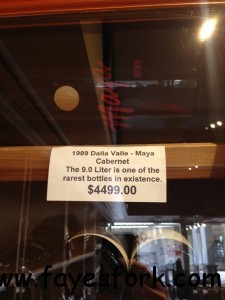 – 1989 Dalle Valle – Maya Cabernet 9.0L : $4,499.00
Hey, great deal. Let's see here (opening my wallet…)
Whole foods juice:  $7.00
Cafe au Lait:           $2.50
Burger/Rings:         $12.90
Total: $22.40
Ok, so…hmmm….that leaves me with….$25.00 – $22.40…
Yep. A whole $2.60 left.
So, if my calculations are correct, I only need about $4,496.40 (can't forget the .40c right there) to buy this sucker (assuming store waves the sales tax).
I break my wine glasses all the time so I was nervous when I picked up this wine glass and saw it priced at $99.99. WTF man.
I didn't even know they made wine purses (last pic) ! Did you?
Venissimo Cheese (Final Stop – #8):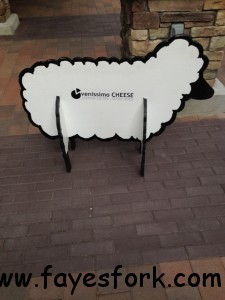 I had such a fun time on my last visit here that I thought I'd stop by and take another smell look.
I also remembered that Jinxi stopped by here some time ago as well.
I was so happy because the two same girls were there: Summer and Tami. The store was empty so they had some time to catch up with me and show me a few cheeses.
Yippeeee 🙁
You know what I was thinking on the drive home afterwards…
Cheese to me is like…a Fart.
It stinks and it's an afterthought.
You can patent that phrase if you want. I thought it was pretty brilliant when I was saying it outloud in the car.
Summer and Tami both know my fear of cheeses so they try to give me 'milder' cheeses to sample.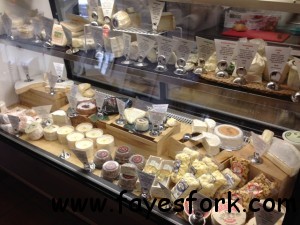 – I think this is the 'milder' cheese section?
– This is Tami giving me a sample of a brie
– REALLY stinky cheese section
Tami was too funny. She was telling me how she hated bleu cheese at one point but that now, she's able to eat it. This section has all the stinky cheese, refrigerated, and on 3 shelves. I felt pretty comfortable with these girls so I kinda just asked earnest 'I can't believe you just asked that Faye' questions:
"So, like…the bottom shelf…is that like the 'not as stinky' cheeses. And like…the top shelf…is that like the TOP SHELF creme de la creme of STINK."
And we'd all just look at each other, blinking b/c you just know it's such a stupid analogy…but…omg ….all three of us just started laughing. I think she said perhaps that's how they organized that section of stink cheeses. But as a wine bar uses price to gauge their bottom and top shelf selections, I guess a cheese shop can use the bottom/top shelf concept to gauge the stinkiness of a cheese (or at least that's how I envisioned it).
– two of their bleu cheeses
– I still don't believe this
Well. I did it. Or, they got me to do it.
I must give credit where it's due. No one has ever gotten me to try bleu cheese. Not my sister. Not my blood relatives. Not the guys I've dated. Not that I take great pride in that – it's just I can't handle bleu cheese. If it's somehow, even accidentally, on my plate or in a dish, I'll more than likely send it back.
But, I was having so much fun here with Tami and Summer. And they were encouraging me to try different cheeses. They both picked one bleu cheese that they loved and found mild enough for me to try. I was shaking my head like a kid getting ready to get a vaccine shot. But they both had a great idea to help me sample the cheese better:
They said bleu cheese paired with honey will make the taste less harsh for me. But why try 'something' that has to be covered with honey in order for that 'something' to taste good. Made no sense.
Summer said to first taste the honey, then the cheese, then chase it with the honey (I'm laughing out loud right now b/c it seriously reminding me of those drinking years in college). 
Well, I tried it, followed their instructions to the tee, and you know what…
I still cannot handle bleu cheese 🙁
I'm sorry. I can't bear it. It tastes so bad – like so so so bad.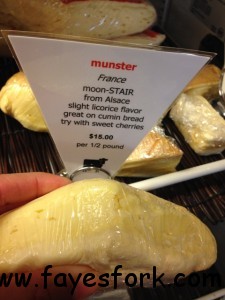 – Munster from France
Behold, dear readers, THIS is their STINKIEST cheese in the shop. They taught me that the rind of these stinkiest of cheeses will always look different than the other cheese rinds b/c the cheese maker constantly wets the rinds to encourage more bacteria growth.
Well ain't that effing dandy. 
They both said that they cannot eat this cheese b/c it was too strong for them. They let me smell it (maybe I do have OCD) and let me tell you. Words CANNOT even describe the funk of this thing. They all took another whiff too and we were all just howling from laughing. Like "OMG. WHO in their right mind would smell THIS and say Oh gosh, I must put in mouth'. But they said people LOVE this stuff and buy it . That there are customers who come in here, shove a piece of this cheese in their mouth, and proclaim it to be THE BEST cheese they've ever eaten. Sucks to be the girlfriend of that particular dude.
We heard the door chime and a customer walk in. And wouldn't you know it – it was my mentor's husband! He strolled in and was there to buy a few cheeses to surprise his wife that night.
So more samples ensued.
I believe these are a few of his favorites.
– 3 milk soft cheese: Goat, sheep, and cow (?)
He took the lid off so I could take a few pics. He said this is one of my mentor's favorite cheeses. Do you see all the hardened bubbled up rind on top.
This cheese 1) looked scary as all frek and 2) smelled horrible. I think they said the mold grows from inside out or something? Which produces that weird rind on top.
– Look at the mold on this one.
I tried ONE more time to confirm that I cannot do bleu cheese. Let me try to explain how this particular cheese tasted. Do you remember when you were little and your parents would take you to the Wild Animal Park. There was a petting zoo there where little goats would be running around. Remember the distinct smell of dirt, hay, poop, goat, etc. all combined.
THAT is exactly how this bleu cheese tasted. Like barnyard poop funk.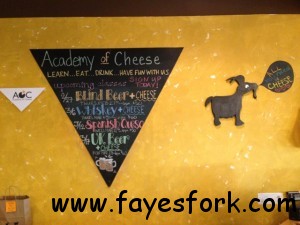 Could I have ended this Afternoon-cay any better.
Me thinks not.
I was driving back and still tasted bleu cheese in my mouth (from the two little nibbles I took – I know – it was probably all in my head). So I stopped at Starbucks to get an iced coffee.
– Grande iced coffee in Venti cup $2.50
This is a Starbucks located inside a Vons so this iced coffee is .05c more expensive than a regular Starbucks. They had samples of their pumpkin bread too. Score.
So let's recap:
Whole foods juice:  $7.00
Cafe au Lait:           $2.50
Burger/Rings:         $12.90
Starbucks:              $2.50
Total : $24.90!! I was under my budget! No way. By .10c too.
Under budget + free samples + belly laughs = Successful Afternooncay
I hope this post is finding everyone well this beautiful rainy Friday…