The Cheesecake Factory
I wouldn't normally do a blog post about The Cheesecake Factory because it's like, yawn, The Cheesecake Factory. Don't get me wrong – they have ok food. But the long wait to get a table, the quickly churned out food, etc etc doesn't seem appealing to even write about.
But a weird 'return a cheesecake' story IS and a helpful 'hey, did *YOU* know TCF has a Happy Hour?!' was worth sharing with everyone.
A Cheesecake Factory opened up in North County Fair. It's actually a brand new build out, meaning they didn't actually just take over a free standing restaurant at that mall (like I had originally thought).  The build out is located on the 2nd floor and you can see it if you enter the mall off the Via Rancho Parkway exit.
…
(bypass this section if you only want to read about the happy hour highlighted in bold few paragraphs down) …
It was brother-in-law's birthday last week so sis wanted to get him a nice dessert cake. She researched and decided that Cheesecake Factory had a great 30th Anniversary Chocolate Cake Cheesecake that would be great to have after the birthday dinner.
To make a very long story short, the $52 cheesecake she paid for tasted pretty bad and only two (out of the 12) slices were consumed that night for a group of 7.
Sis was really sad and rightfully so. You would expect the most excellent of a cheesecake if you paid $50+ AND if the cake is from a place called The Cheesecake Factory. She called our cousin, who loves TCF, and cousin suggested to call the restaurant for a refund. Sis came over the next day and asked what she should do. I told her we can call together.
She started clapping her hands (it seriously runs in the family). I begin looking over the receipt and googling for a bit more information (if they've had faulty cheesecakes in past, customer complaints, etc). Sis starts packing up her stuff and heading out.
me: "Where are you going"
sis: " I'm leaving man"
me: " Why. I'm calling right now"
sis: " No way. I'm not listening to you do yo 'thing'. It's too uncomfortable. Okthanksbye"
And she leaves. Just like that. Big frekkin' weanie.
The manager asked several questions about the cheesecake and ultimately said 1) bring the cake back and 2) exchange cake or get a gift card. He wanted the cake back to send to quality control (and I'm sure to make sure it wasn't mostly eaten). Whatever – there's 83% left of this cake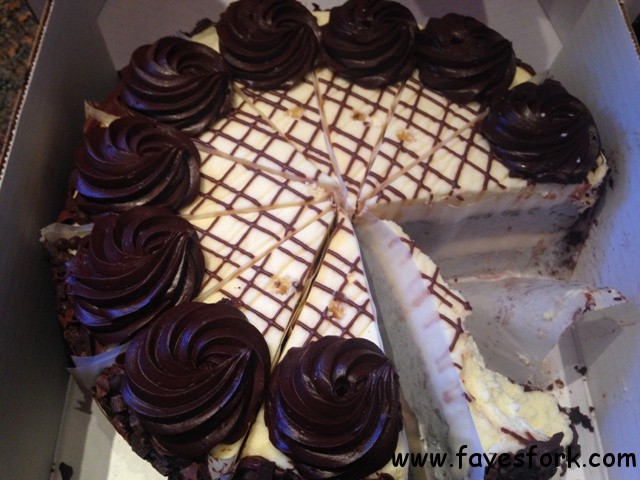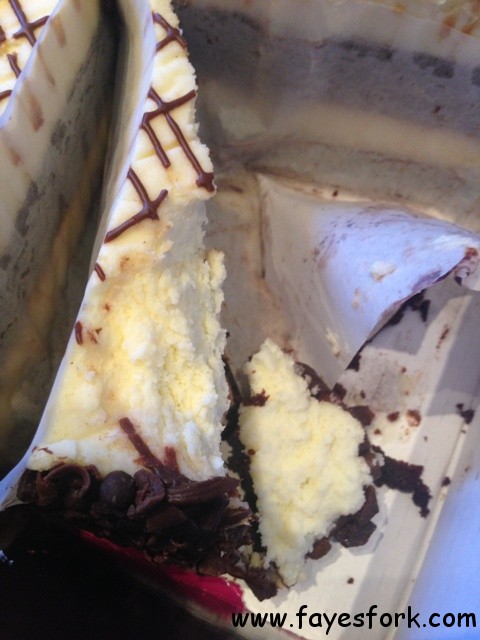 Sis and her family didn't want another cheesecake so manager agreed to issue a gift card. It took a long time as he was having issues putting funds onto a gift card for some reason. So after 20+ minutes of waiting there (hence why I discovered their Happy Hour), he finally came back with a gift card for $50. Not $52, the amount that was paid, but $50. He said that was the most the computer would allow him to do.
Huh.
I was getting a bit miffed b/c we just drove 23 minutes to get here and had to wait another 20+ minutes for you to issue a gift card (not a refund on a credit card, mind you, BUT a gift card). I wanted to break out my time value of money analysis and go off as I was getting irritated at this point. But sis and I work well together as a team. She gave me the "DON'T" look and I quietly backed off. She was fine with the $50 gift card and that's the most important thing. Hopefully she can come back here with husband to make up for his birthday dessert.
….
Moving forward…
Happy Hour: 
Toxie said she owed me Happy Hour (story at the end) so I suggested we try out the one I just discovered at The Cheesecake Factory.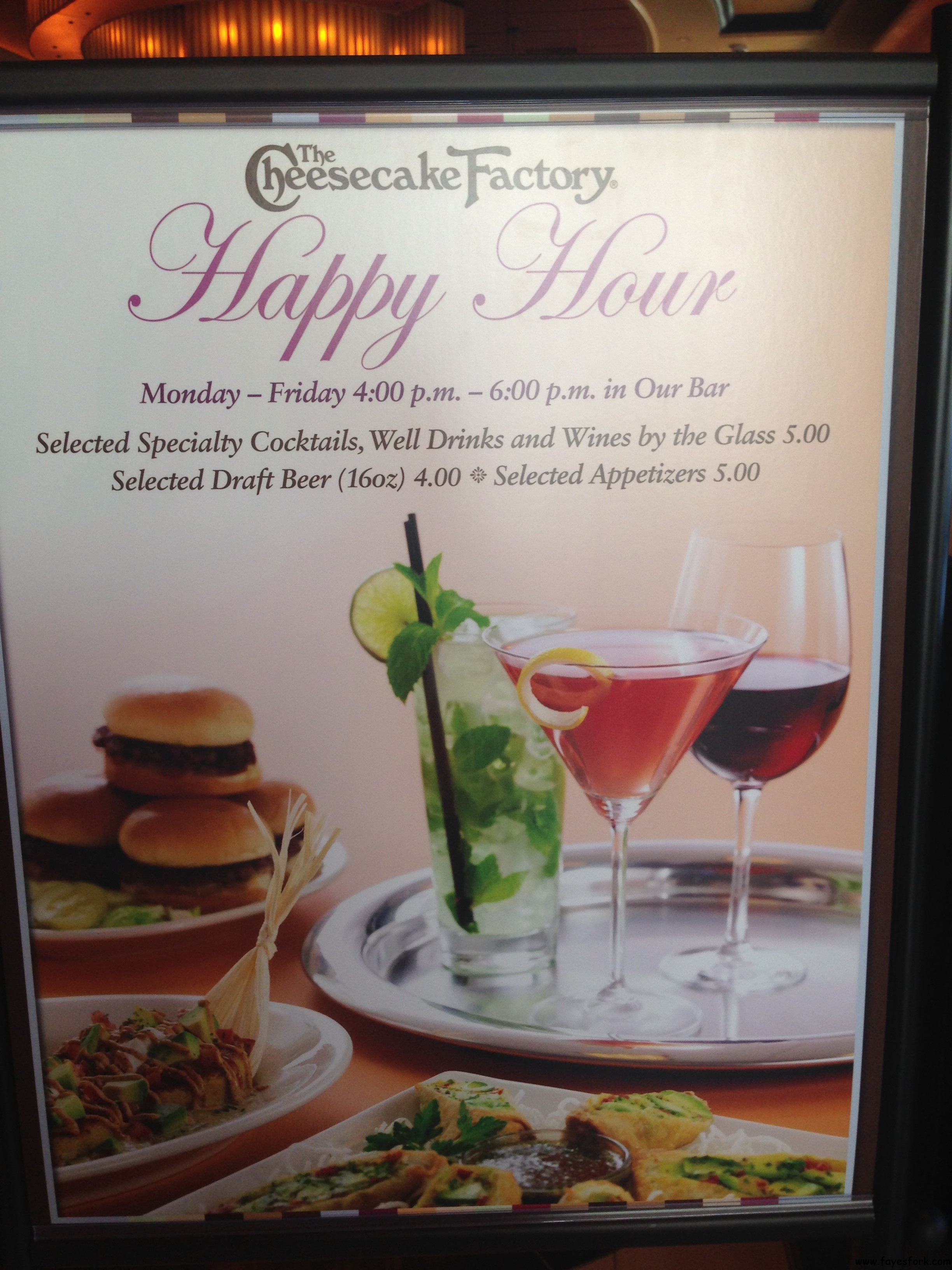 – Happy Hour: Mon-Fri 4:00p-6:00pm Bar Area only
I've never seen TCF offer a happy hour b/c they're always so packed and busy. So I wanted to see how good their HH can be. Besides, one of the girls I spoke to that day (while waiting for manager to issue gift card to sis) told me that the portion size of their HH items are regular portion sizes.
They really had a lot of items to choose from – 16 total ! And notice the price. Hello. EVERYTHING is $5.00. Yes – FIVE BUCKS. The beer is $4.
There is no mention of this Happy Hour anywhere on their website.
Here are the list of the 16 items on their Happy Hour menu:
Roadside Sliders
Hot Spinach and Cheese Dip
Avocado Eggrolls
Fried Macaroni and Cheese
Sweet Corn Tamale Cakes
Southern Fried Chicken Sliders
Warm Crab & Artichoke Dip
Vietnamese Shrimp Summer Rolls
Guacamole Made-To-Order
Tex Mex Eggrolls
Fire-Roasted Fresh Artichoke
Factory Nachos

Buffalo Blasts
Chicken  Pot Stickers
Crispy Crab Wontons
Parmesan-Garlic Cheese Bread
I dislike their website. Their appetizers aren't in alphabetical order so it was tedious trying to jump from my pic I took of their HH menu, then to their website's list of appetizers, then try to cut and paste it back onto here.
Regardless, I'm sure there's at least ONE item on that list of 16 that you've tried before and would love to try again for just $5.
We got there around 5:25p or so. The bar area was busy but there were two high-top tables open.
Toxie and I look at our watches and decide to just order everything all at once. We're pros like that.
Our waiter might be new b/c I inquired what's in their mojito. He wasn't quite sure so Toxie kinda told him how I like my mojito (she's a weirdly good HH date that way) and Corey said they can make it however we wanted. I kinda assumed it would be a tiny portion but I was pleasantly wrong.
– Mojito $5.00
Look at all the fresh mint in this thing. I love mint in cocktails. I really liked this drink and even Toxie said it tasted surprisingly good.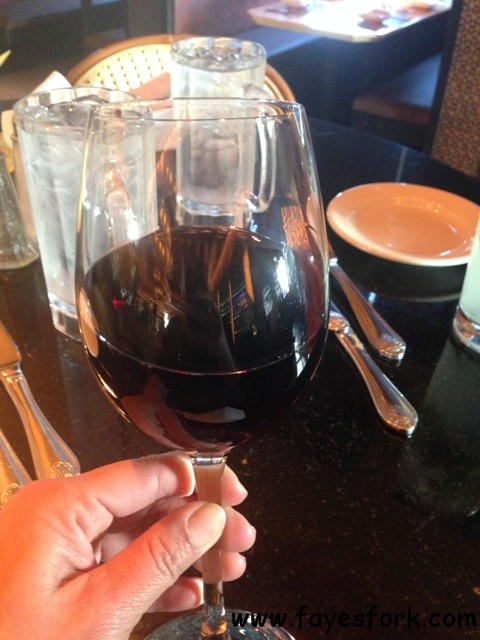 – Happy Hour cabernet $5.00
It's a nice size pour. Toxie said it tasted just 'ok'.
The rest of the pics aren't going to be very good b/c the sun was setting and the entire bar area had a strange lighting to it.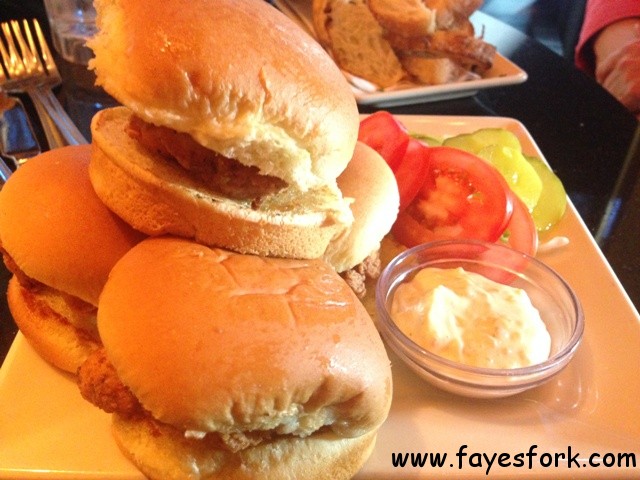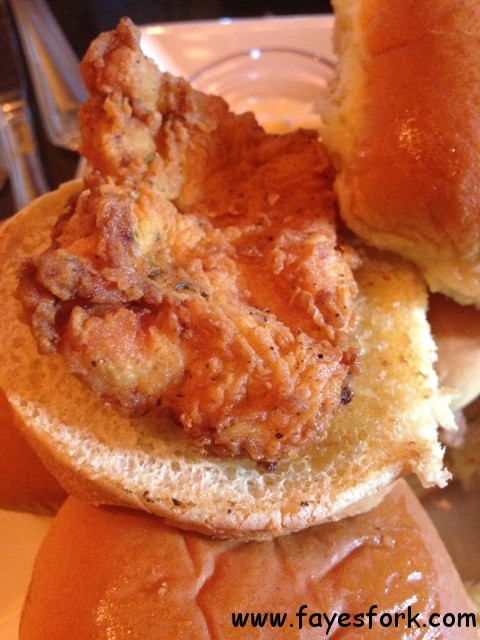 – Southern Fried Chicken Sliders
Crispy Fried Chicken Breast on Mini-Buns Served with Lettuce, Tomato and Pickles
Four sliders come out and each sweet roll has a fried piece of chicken. The sweet rolls are buttered and grilled (yummy!). I thought the fried chicken was dry but Toxie thought this was a really good slider.
I made a mega slider for her : piled high w/ the tomatoes, pickles, mayo, and some tarter sauce thing they had on the side.
– complimentary warm bread
This came out way too late as all our HH items started to arrive all at once.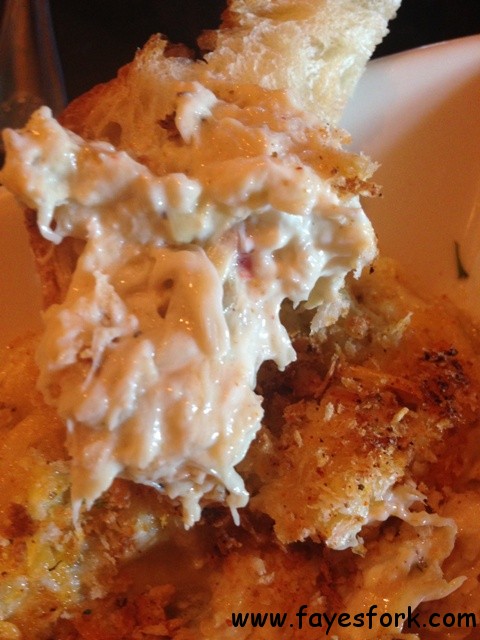 – Warm Crab and Artichoke Dip
A Delicious Blend of Crab, Artichokes and Cheese Served Warm with Grilled Bread.
I was surprised that Toxie picked this as there was also a Spinach dip on the HH menu. I thought she didn't like crab but she said she wanted this dip because it came with grilled bread (spinach dip comes with chips).
It's not a large portion but it's sufficient enough as the cheese is pretty rich. I was still hurting from the Vampire Dip from the other night so I didn't eat much of this appetizer. Toxie liked it quite a bit though. It did taste like real crab was used as well. I wasn't a fan of the toasted bread crumbs on top.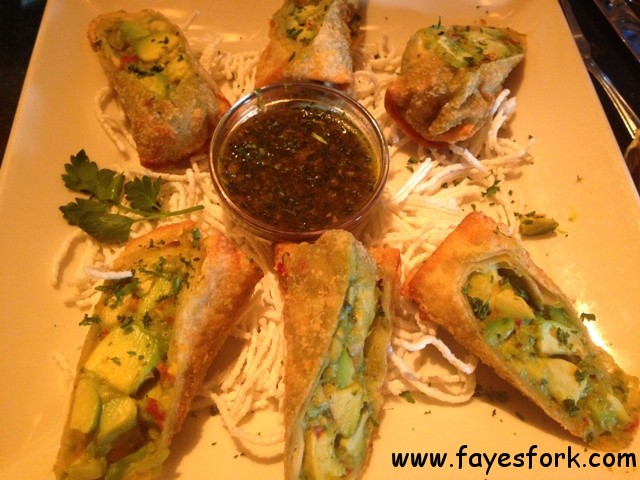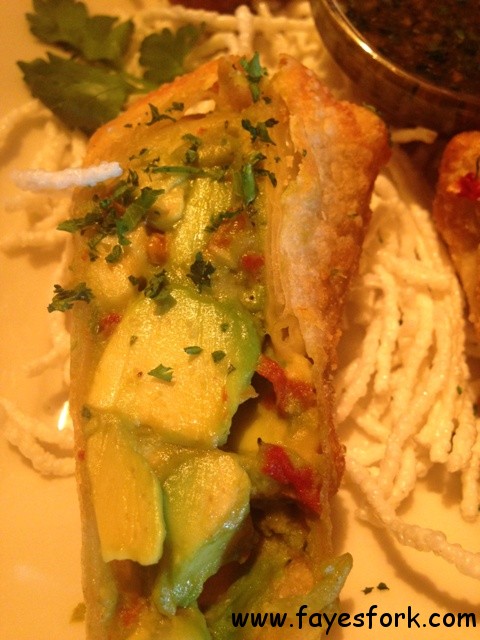 – Avocado Eggrolls
Avocado, Sun-Dried Tomato, Red Onion and Cilantro Fried in a Crisp Wrapper. Served with a Tamarind-Cashew Dipping Sauce.
This is my favorite appetizer here at The Cheesecake Factory. I never liked avocado served warm as I always thought it was best served cold in a sandwich or as guacamole.
But the deep fried avo eggrolls here are divine. The avocado is creamy and plentiful. The eggroll wrapper is fried perfectly and provides a nice crunch to this dish. The selling point really is the tamarind dipping sauce. It has such a unique sweetness to it that I just love so much.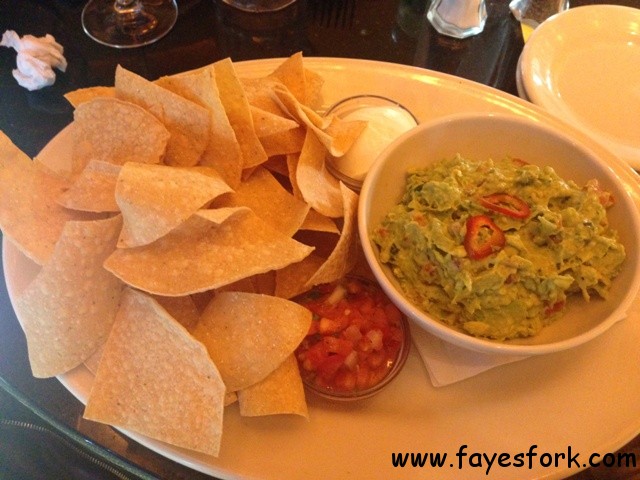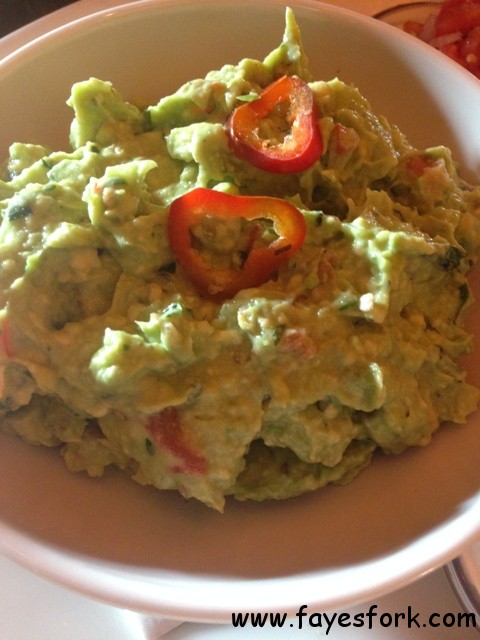 – Guacamole : Made To Order
Toxie chose this one too. I thought she hated guacamole. What the hay is going on here. Corey asked how we wanted this made: mild, medium, spicy. Now I KNOW for a fact Toxie can't do spicy so I suggested mild. But she chuckled and said "Look around…I'm pretty sure *their* spicy is not going to be the spicy *you're* thinking of." So she requested it spicy. Corey said if it was too spicy they can make another one for us.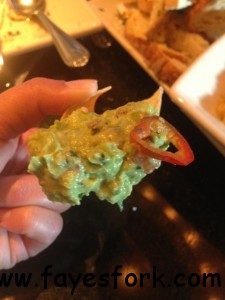 They give you an abundant amount of chips. The guacamole wasn't spicy at all and needed more seasoning. There were two little slices of red (?) jalapenos or peppers on top. I thought at first it was habanero and I was going to show off to Toxie that I could eat this pepper slice with no problem. Thank goodness it wasn't a habanero b/c that woulda really hurt.
Service was alright. Corey was busy with quite a few tables but he seemed to handle the traffic well.
Was it the best happy hour we've been to? I wasn't too impressed with the food but I wasn't all that hungry that early evening. But when was the last time you had the chance to choose from 16 items on a Happy Hour menu. When was the last time you saw ANYTHING on TCF's appetizer menu for $5.
It felt like finding a nickle on the ground (versus a penny). You know that feeling…
Take advantage of this HH if you're around this area. I heard a rumor that the Fashion Valley location might start a happy hour as well.
The Cheesecake Factory (North Country Fair Mall)
200 E Via Rancho Pkwy
Ste 370
Escondido, CA 92025
(760) 743-2253 Happy Hour: Mon-Fri 4:00p-6:00p … … … My dad used to make fun of the boy cousin in the family. Boy cousin was much younger than the rest of us (mostly girls). He was the 'prize' of the family as he was pretty much the only boy. So his sisters and female cousins secretly
tortured
resented him. His sisters would dress him up as a girl and I'd make him fetch me stuff because I was too lazy to run upstairs to get it myself. He was such a cute little thing 🙂 So dad would always try to man him up and ask firmly
" Are you a man or a mouse ?! " 
And I kid you not, my cousin would just answer with a squeak… 
"a mouse".  
Sucks to be a dude in my family. J/k…
I thought of this story the other night b/c of Toxie. I rarely watch scary movies. Like, EVER. I would NEVER watch one in a movie theater b/c you can't pause the movie and ask whoever is sitting next to you 'what's going to happen next'. And I rarely watch a scary movie at home because I know I'm scared of the dark and will have hard time sleeping.
I don't remember who I commented to recently that I watched Silence of the Lambs for the first time ever the other night. It was being played, with commercials, on TV so I thought they'd edit out, like, the 'bad stuff' (meaning scary stuff).  I was watching it on the sofa but then paused it so I could finish watching it in bed.
Let's just say karma had a total payback for all those years I made fun of boy cousin for being a mouse…
The movie started to get like REALLY scary though and then Toxie started texting me:
Toxie: "what are you doing?"
me: "I'm watching a really scary movie and about ready to pass the eff out from fear"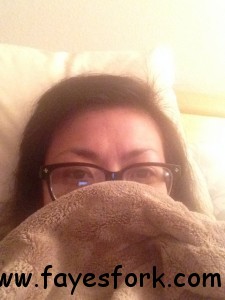 Toxie: "What movie"
me: "Silence of the Lambs but like with commercials"
Toxie: "ARE YOU CRAZY!! TURN IT OFF!!! ABORT!! TURN OFF TURN OFF TURN OFF"
me: " Oh sht…something's bads gonna happen…OMG…OMG!!…how can they show this on regular tv…"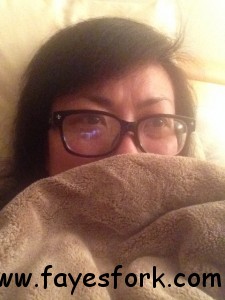 Tox: "Dude, turn it off!!" Oh BTW can I have your compost garbage can" (WTF right – so random)
me: "Dude, you can have stupid can! Leave me alone! This guy is killing random female bloggers! I'm so scared 🙁 "
Toxie: "So, like, can I pick up the can tomorrow"
me: "I'm going downstairs real quick to check doors and dogs. If I don't text you in THREE minutes then something bad happened to me"
You like how she was more concerned about the compost garbage bin than my safety. I gave her my stupid bin, hence why she treated me to happy hour at The Cheesecake Factory. She reminded me that night at HH that the bad guy in the movie killed random chicks and not random female bloggers. 
Oh.
I hope everyone had a great weekend 🙂