Casa de Bandini
Beautiful Sunday, fresh warm chips, amazing salsa, pescado con cangrejo…I can feel the breeze coming through the patio and closed my eyes to take it all in…then an older gentleman with a younger boy starts serenading the area with the most beautiful song I've ever heard.
What the heck is going on here.
I'm having *THE* most amazing date EVER.
With myself.
I know it sounds ridiculous (and vain as my friends were texting me). But I could not believe how calm everything was, how amazing the restaurant felt, how simple things were, and how just EVERYTHING seemed to fit into place that afternoon.
Why the heck can't all dates be like this. Seriously.
Hence, why I am the perfect date. For myself. Good luck to the next guy who goes out with me.
Just kidding. Kinda.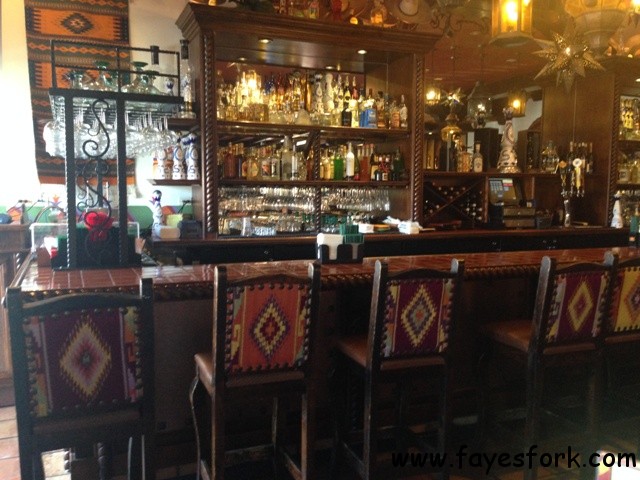 I wasn't even planning on coming here for lunch that Sunday. I was in the area and for some odd reason, Mexican food sounded good to me (which is weird because I don't eat Mexican food). I think it was the aroma of the freshly fried chips that suckered  me in here.
This is a pic of their bar area. It wasn't very busy so I felt comfortable having a solo lunch there that afternoon. They have a few tables and one/two tv's playing sports in the background. Everything and everyone seemed so laid back.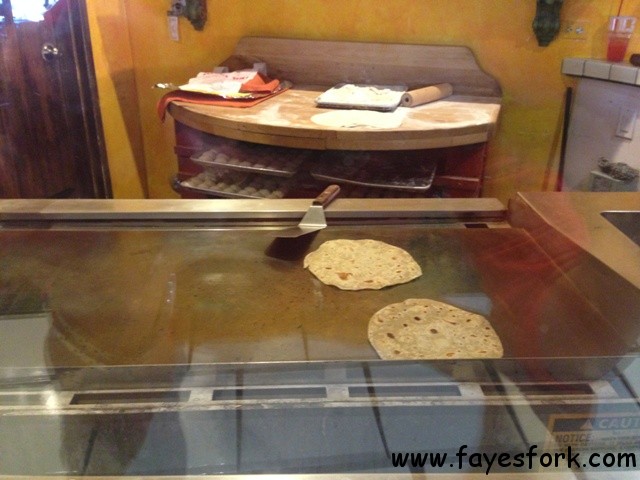 Who can resist a woman making fresh flour tortillas. She was so friendly too. I didn't know if she was making random tortillas 'for show' or these were legit tortillas given to the customers.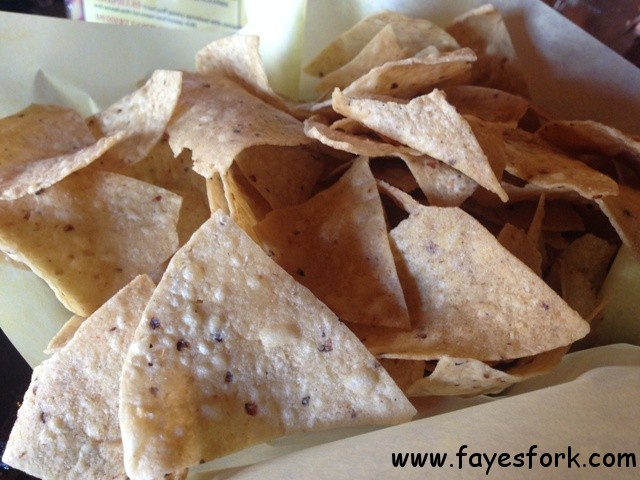 – warm chips
Eloy, the waiter, brought these out quickly. What is it about fresh chips that drives a girl crazy. Granted, I don't eat a lot of chips and I don't indulge all that often in this carb BUT dayum – these chips were amazing. They were so warm and perfectly salted.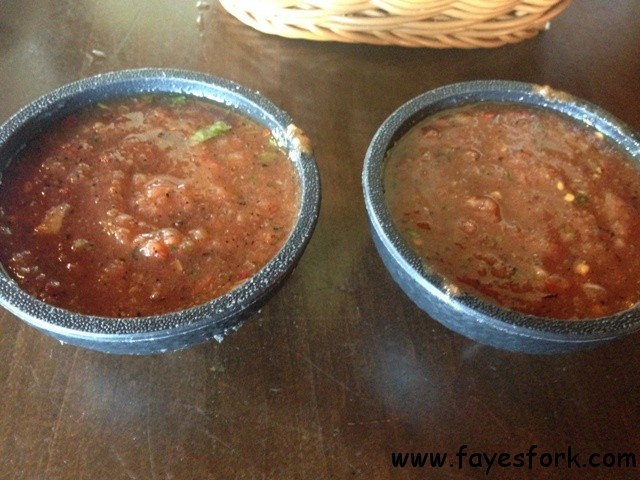 – salsa
I think these are two identical salsas. It was truly one of the best restaurant salsas I've ever had. It wasn't too chunky or too watery. There was just the right amount of ratio of tomato, salsa, onions, spices.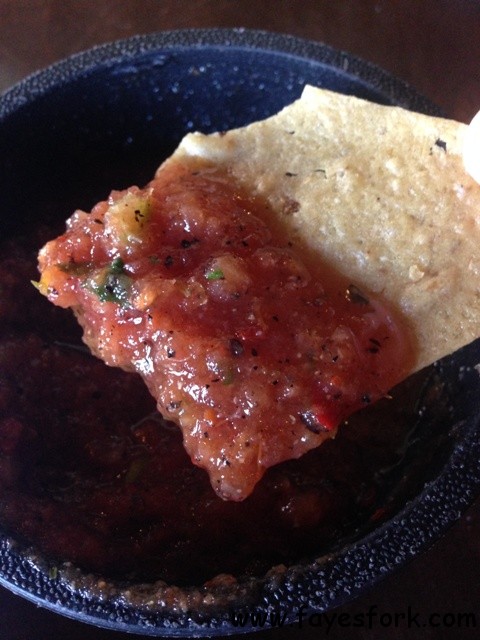 I was super confused because I'm telling you that I really don't eat Mexican food all that often. I visited Bandini's sister restaurant in Del Mar (Casa Sol y Mar) some time ago and was terribly disappointed with the food/service. Could this restaurant be better? It was looking positive.
Eloy sensed my fears and told me that if I didn't like what I ordered, he'll simply take it off the check and we'll get something else. Easy peasy. I liked that alot. It just took some of the stress off (I always get stressed when I eat Mexican food because I don't ever know what to order).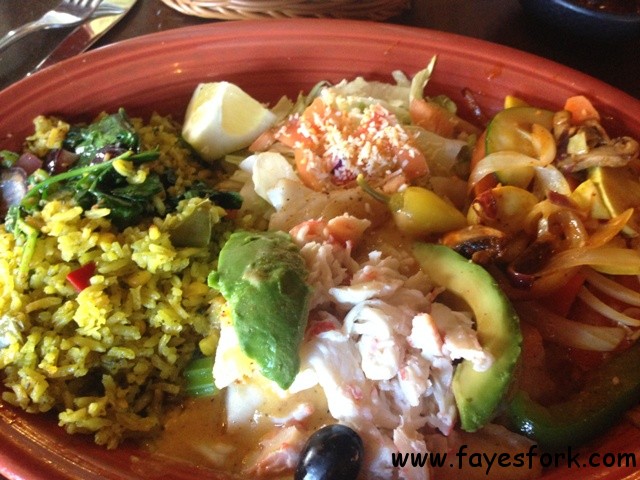 – Pescado a la Diana
A magnificent combination of pescado blanco filet with crab legs and avocado. Topped with a spicy jalapeno bearnaise sauce. 
It was served with achiote vegetables and fiesta (?) rice. I usually substitute the rice for extra veggies but felt like trying out their fiesta rice that day (and dang, why not go for broke in the carb department).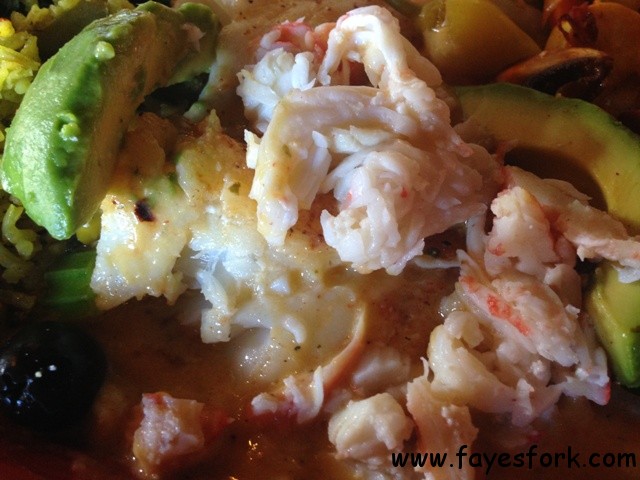 I enjoyed this dish. Shocking – I know. The white fish was cooked nicely and you can SEE and taste the generous crab on top of the fish. The bearnaise sauce was creamy and yummy.
I was super impressed with their fiesta rice. I thought it would be the same ol' tomato orange colored rice I see served everywhere else. But NO. This rice was served hot and fresh. It had sauteed SPINACH (!!),  onions, and peppers. It didn't taste like they just scooped this rice from some warming bucket and onto my plate.
Even the little salad that came with it (above the fish/crab on the plate) was refreshing. I loved it even more when I scooped some of the chip's salsa on top of it 🙂
The date was going well. Like, I'm blowing it outta the water.
I eat alone all the time. I usually go to the same places so I don't usually take the time to take in a new environment because, well, I just don't care. But this restaurant, that afternoon, quietly nudged me to take note of a few things I'd normally shrug at.
I'm not a sunny, breezy weather type of gal. But the bar area just had the most comfortable feel about it with the patio doors open. There was something about eating, feeling the cool breeze brush my back and legs, and feeling happy. There wasn't too much noise. Perhaps that was it too. I didn't have that weird sensory overload that I usually get when I go eat at new places.
It was just incredibly comfortable and easy to people watch (without looking like a creep).
Then my gaze remembered the tortilla woman.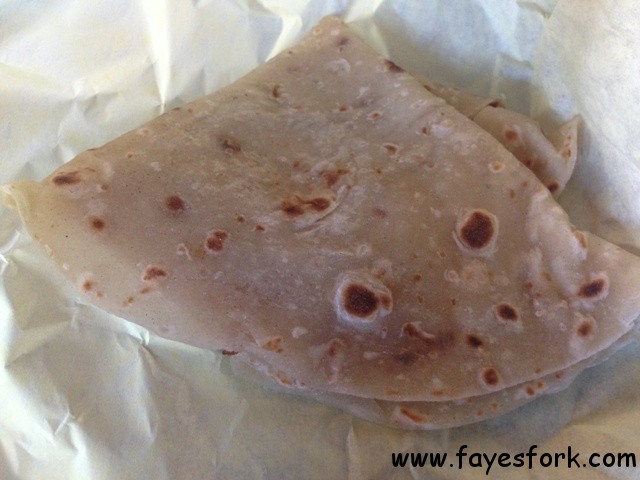 I asked Eloy if my entree came with tortillas and he said yes it does. He asked if I wanted flour or corn tortillas. After I replied 'flour', I watched him walk to the tortilla woman and start chatting with her.
A few minutes later, he set two HOT freshly made tortillas right in front of me.
The tortilla woman, indeed, does make these for the customers. It wasn't just for show 🙂
Freshly made, hot off the griddle tortillas is like beef noodle soup. It MUST be eaten right away. It's worth burning the roof of your mouth. Because once cold or lukewarm, fuhgettabout it.
I wanted to snuggle with these things. I'm pretty sure I looked like an idiot putting them to my face and smiling when I took a sniff of em.
And as if things couldn't get ANY better. Look…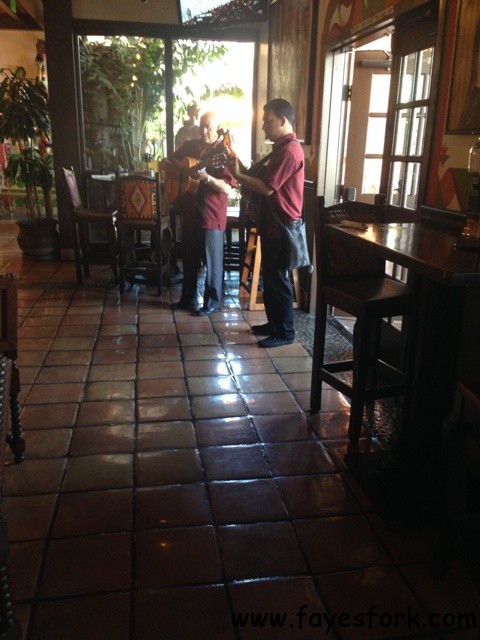 I CRINGED when I initially saw these guys. I THOUGHT they were mariachi dudes who were going to play loud, obnoxious music. But then I took a closer look at the younger man's face. He wasn't flashy. And then I heard his partner start singing.
I couldn't believe this older gentleman was the one singing this beautiful song. Hearing him sing it and watching the two of them strum their guitars….gosh…it was just so…romantic.
Like not in a barfy way. But romantic in a way that you feel like you're in Tolum, in a small restaurant by the water, and hearing just authentic, non touristy music being played to you.
The song was Toda Una Vida. It's truly so beautiful.
The guys were stopping by tables taking requests. Some customers were bashful and said no. Others welcomed it. Then they came over to me. The younger boy said that this is his father's production and that usually it's him and his dad that sings. But today, it was his uncle. How awesome is that.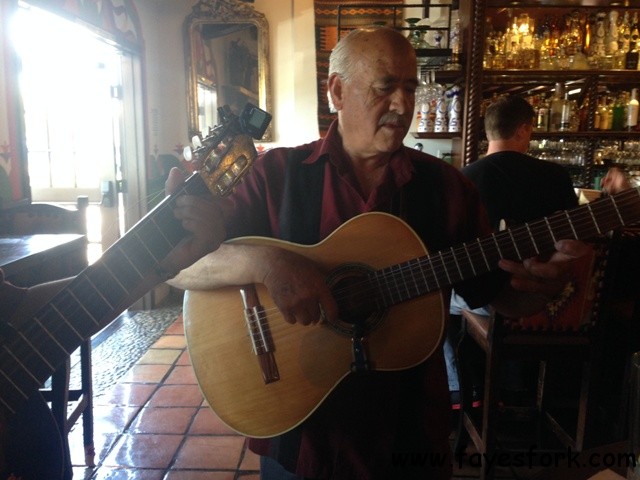 Then they asked if I'd like a song. This normally 'leave me alone' gal would normally hide under the table before being serenaded. But not that day.
The boy said they are there Sat-Sun 12-3:30p and Mon-Tues 6-9p. You bet I'll be back to hear them play again.
Does this change the way I feel about Mexican food. Maybe a little bit. But I think this entire experience would have been different had the restaurant been crowded and/or I had a different server. BUT – this is the first Mexican restaurant, in a very long time, that I can say I'd be excited to try out again.
Yeah. I totally smashed it. I'd SO ask myself out again.
Casa de Bandini
1901 Calle Barcelona
Carlsbad, CA 92009
(760) 634-3443