Original Pancake House
Look. *I* don't think I eat like a weirdo but all my friends and family do.
It's rare that I don't somehow modify a dish (as stated on menu) when I order. I don't see that as a bad thing because 1) I'm paying for it and think it's only right to eat what I'm paying for; 2) I'm not hurting anyone (being  a pain the buttocks isn't the same thing ); and 3) I'll pay extra if needed (sub mashed potatoes for extra veggies, etc).
The people I eat out with the most have gotten so used to me doing this that it's almost expected out of me. CDJ and NY have been scolding me about my dinners with new acquaintances. They always say 'BE NICE (to guy) and DON'T ORDER LIKE A WEIRDO (modify everything)'.
Thanks for having so much faith in me guys.
So I figured I'd show you an example of how I modify a dish (for breakfast). I've been having serious insomnia lately AND waking up super early (5am). I used to go out to breakfast alone all the time. Not because I love breakfast. But because I loved having a quiet cup of coffee, reading the paper, and sitting at a booth that I'm familiar with.
Original Pancake House in Poway is pretty cool. I prefer this location over the Convoy location (hated my last visit there).
They have booths AND an outside patio at Poway.
Forget the details of this pic. I don't care about that. The only thing I care about is ONE item. One PARTICULAR item. It was driving me bonkers.
Wanna take a guess…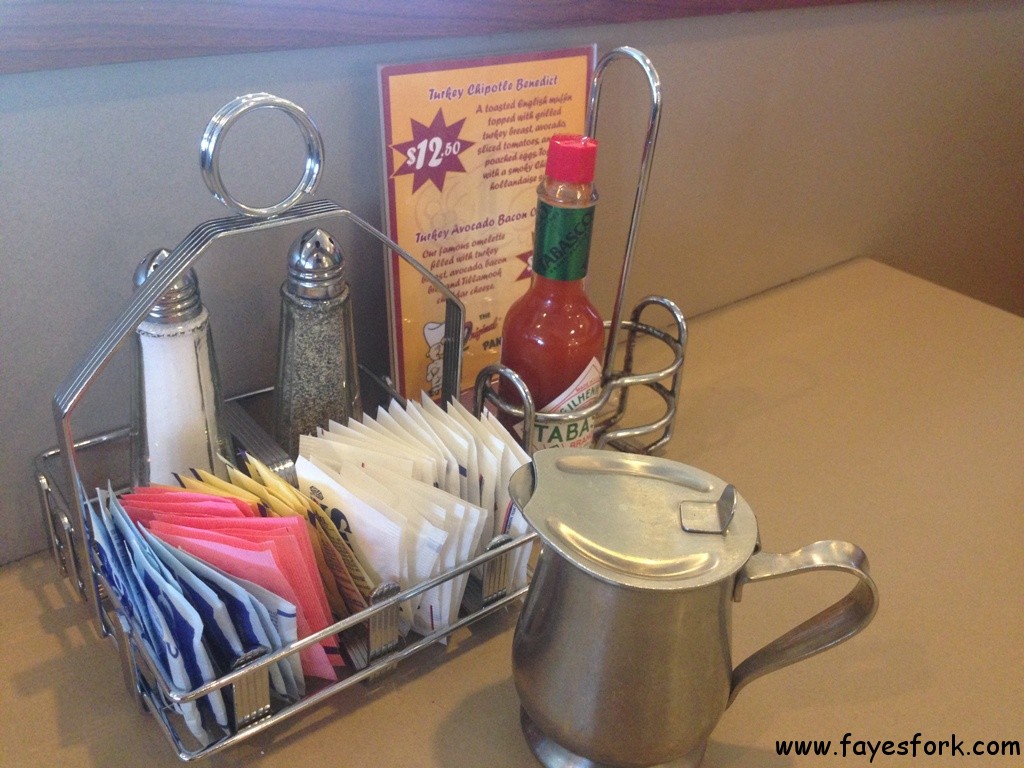 Be gone you stupid Ketchup. Be gone.
I actually just put it in the empty booth behind me when no one was looking. Don't worry – I didn't chuck it at the waiters face.
Coffee $2.95
If you've never had their coffee before, you need to JUMP IN THE CAR, right now, and go try it. Their coffee is, in my opinion, the best restaurant coffee I've ever had. Granted, pouring heavy whipping cream into any cup of joe is heaven. I honestly drink 3-4 cups when I'm there (free refills duh).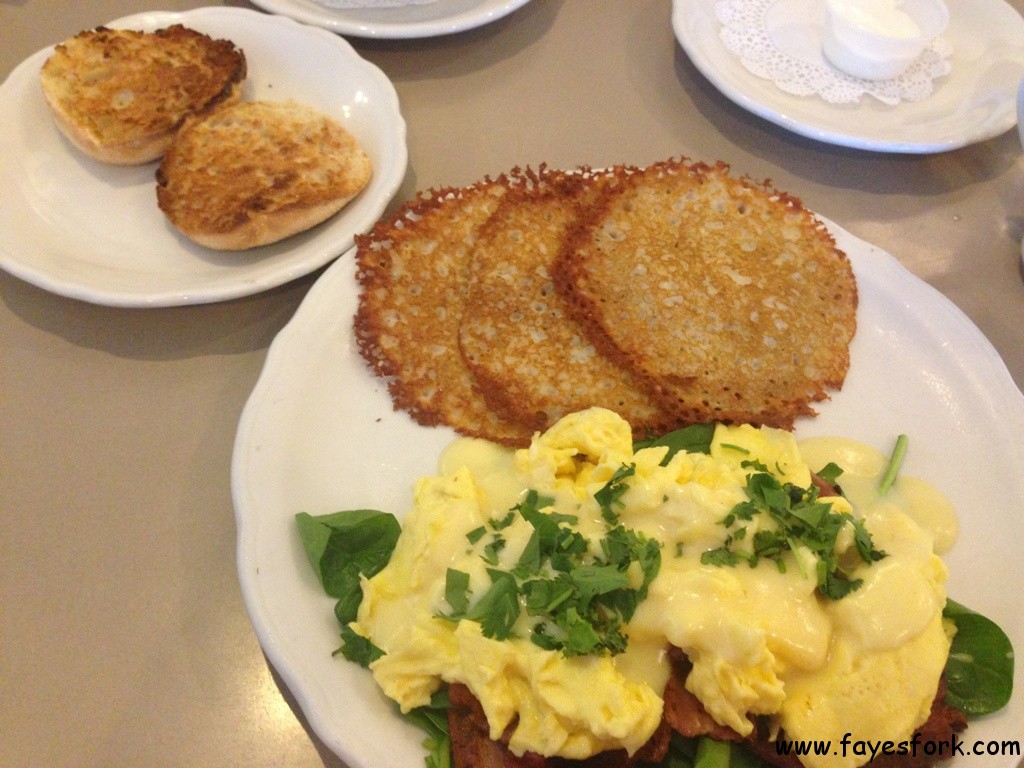 Eggs Florentine $12.95
Alright. Let's just start modifying shall we.
I always try to break it down in parts too. So that the waitress doesn't think I'm a COMPLETE neurotic weirdo.
Can I have the eggs lightly scrambled, not poached. No tomatoes but can I get cilantro instead. Egg muffins on the side, extra toasted please with a side of butter & jam if possible. And yes, I'll take potato pancakes as my choice. 
🙂
I have wanted, so badly, to whisper 'bacon on the side too' but think it's a bit too, um, much?
Poway offers cilantro here (where as Convoy doesn't have cilantro, like, at all). The servers here at Poway seem to be super cool and very efficient.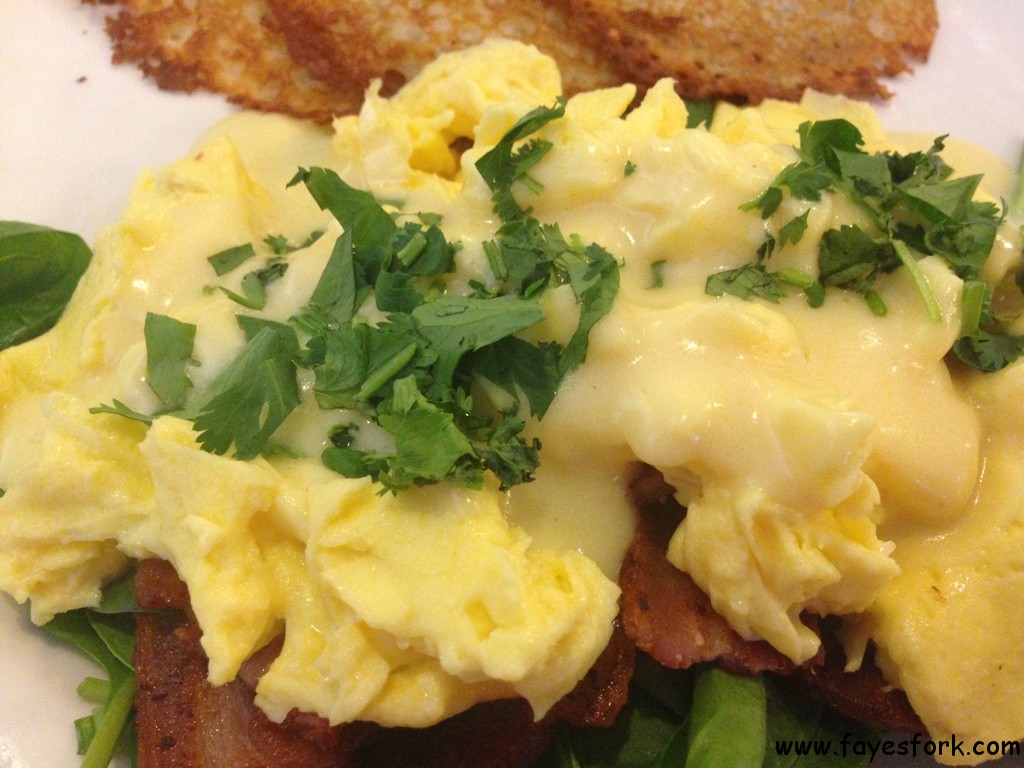 I also noticed that I paid $10.95 for this dish at Convoy last year. Not sure if the prices went up for the general franchise?
I so love the hollandaise sauce here. I honestly wouldn't order this dish if the sauce wasn't included. It's THAT good.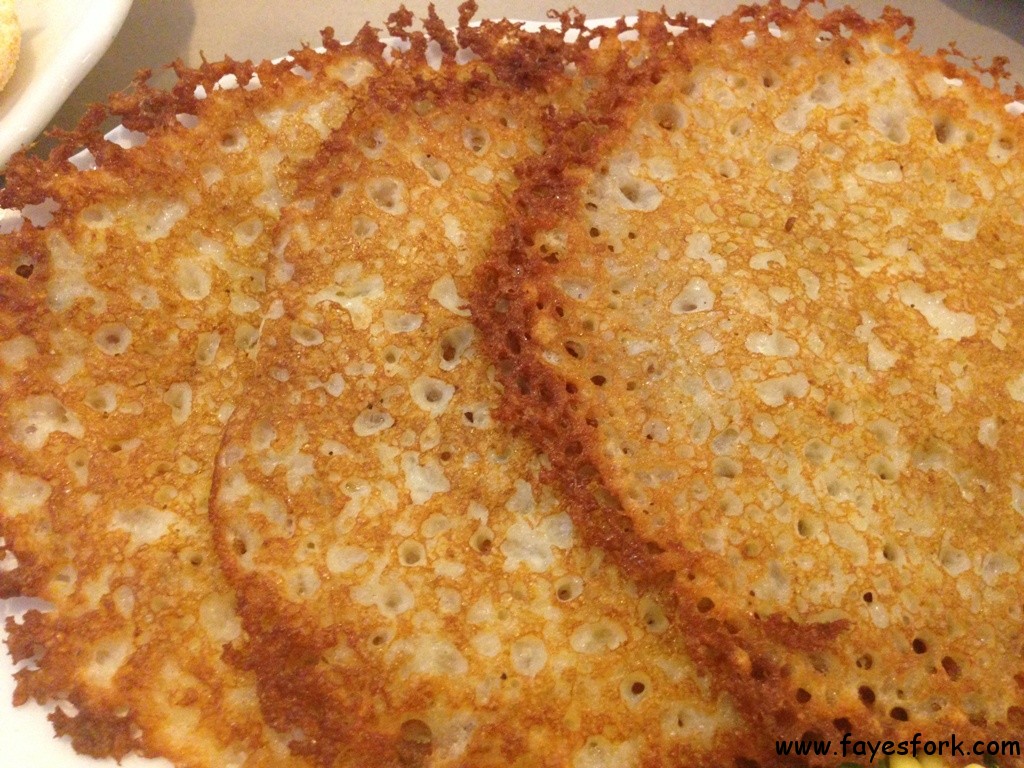 – potato pancakes
I appreciate how their Pancake House Originals come with the option of potato pancakes. The version here is great: lacy-crispy around the edges and almost creamy in the middle. I only eat the edges and it must be with lots of sour cream. It comes with apple sauce (blech). Sis and I never understood why people eat these things with apple sauce.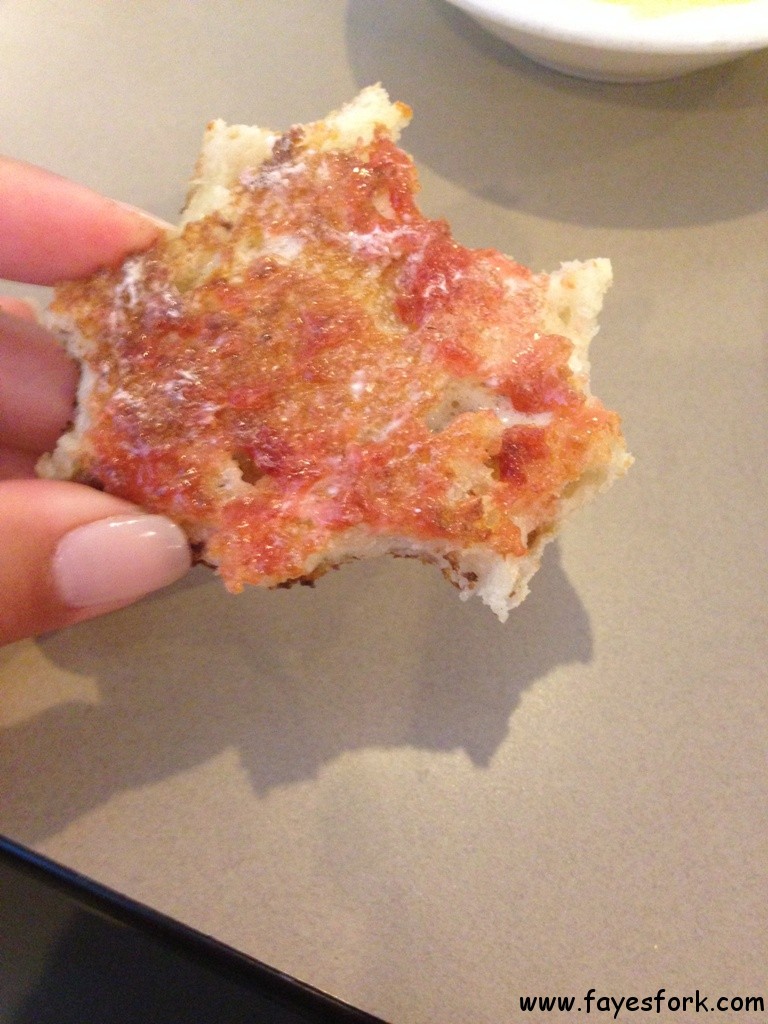 – english muffin
CDJ always laughs when he sees me eat this. He says I look like a dang mouse eating ONLY the edges AND, to add further insult to injury, I pawn the mouse-chewed-edges off to him like it's some gift that he should be thankful for.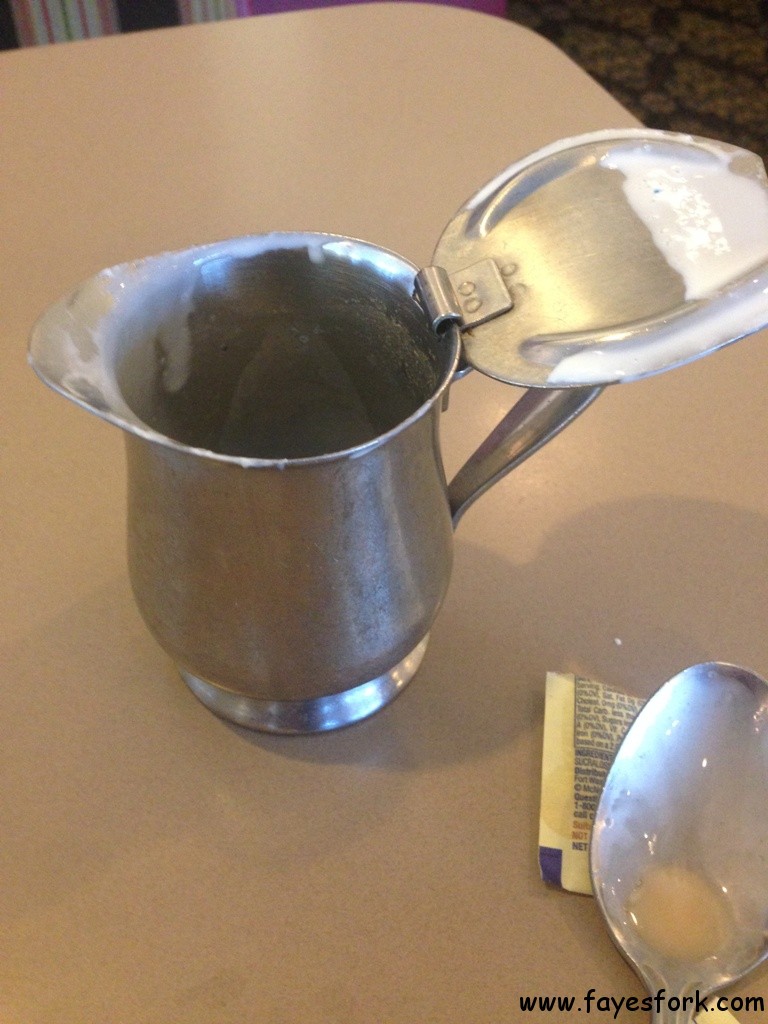 – hot tea experiment
This is the little container they use for the heavy whipping cream. I tried to do an experiment. We usually open the lid of the hot tea pot (at Asian restaurants) as it's a quiet sign to the servers that the pot needs more hot water. I thought I was all clever to see if this 'quiet request' method would work at an American breakfast restaurant.
It KINDA did but after like ten minutes. No biggie. It would have been easier if I just asked 'can you refill the cream' vs staring at the container and hoping, eagerly, for some one to refill it.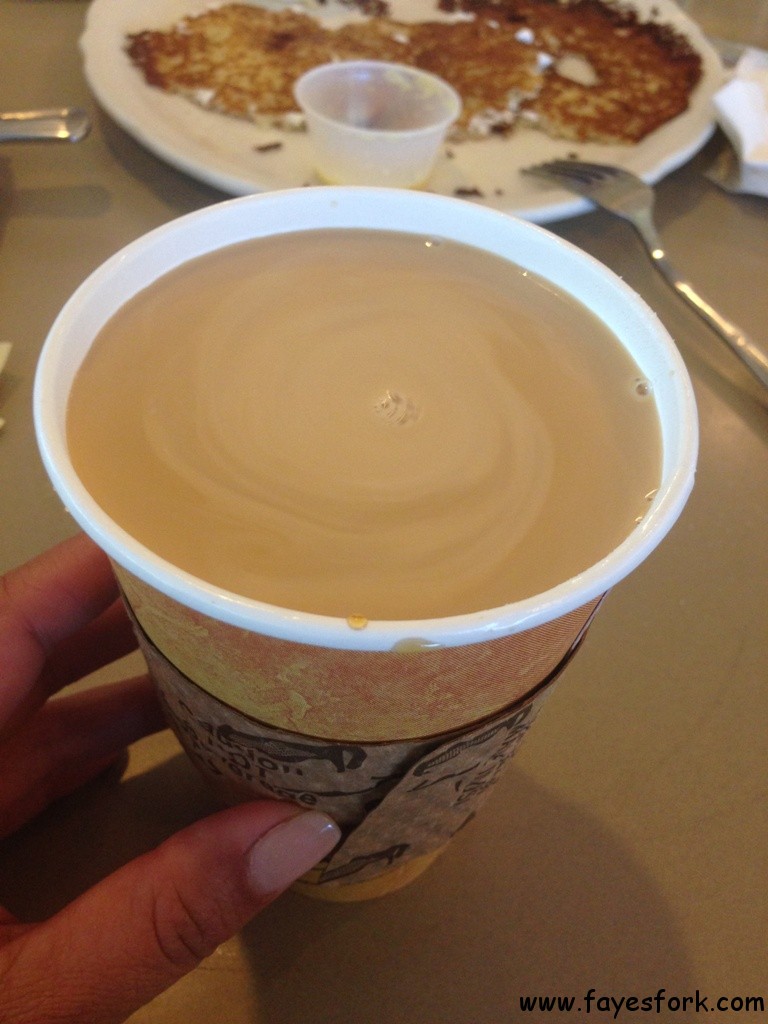 The coffee isn't cheap here so I always ask if I can get my 'last cup' of coffee in a to go cup. Smart right. It's a generous cup size and makes for a most excellent iced coffee later in the afternoon.
So there ya have it. One of my breakfast modifications.
Original Pancake House 
14905 Pomerado Road
Poway, CA 92064
858-679-0186
Open Daily: 7a-3p