Catalina Offshore Products
Who hasn't heard of Catalina Offshore Products. Or more so about their fishmonger Tommy Gomes. I've heard so much about him. I'm not all that into his superstardom from being on Bizarre Foods with Andrew Zimmern. That doesn't phase me all that much. What does phase me is all the readings on him from other bloggers, chefs, etc.
Kirk recently paid a visit to their warehouse so it was the 'trigger' that I needed to finally visit Catalina.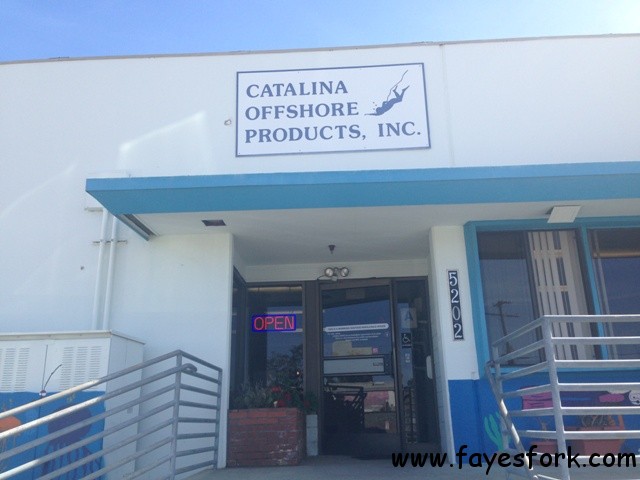 My insomnia has been wretched so I've been getting up at the crack of dawn. Catalina opens at 8a so I figured I'd get there early and check out what they have. Besides, won't the freshest of the fresh be available that early in the morning.
I read mixed reviews about the people that worked here. A few customers said that no one directed them where to go. But on my visit, a nice gentleman told me to walk thru the double doors and I'll see the seafood. Great  – thank you kind sir.
I was expecting to see a Costco size seafood warehouse for some reason. I don't know why. It didn't seem to be a very big place.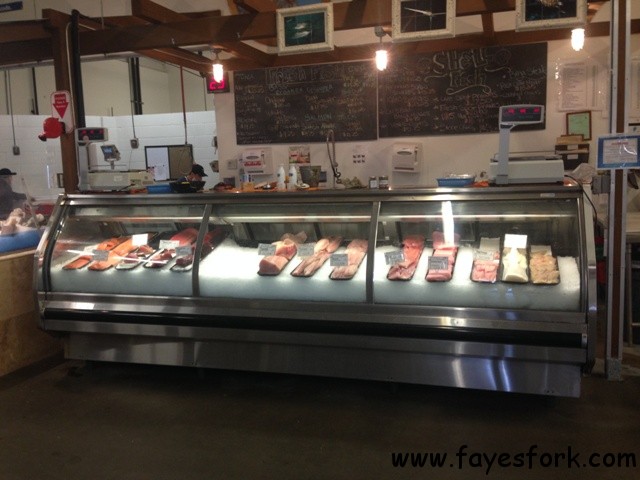 – Fish selection (sold by the pound)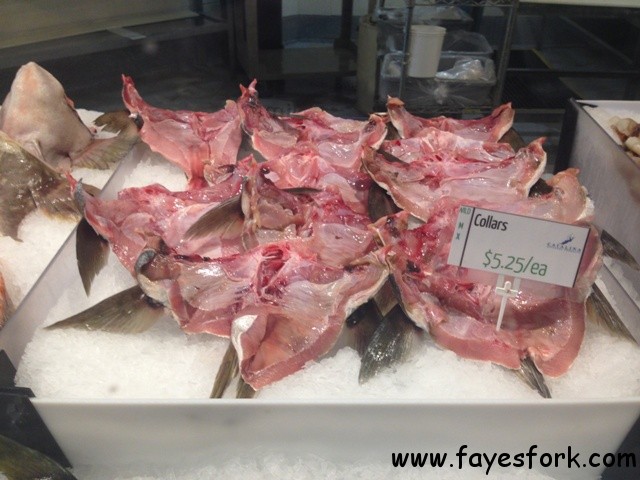 – Hamachi Kama $5.25/ea
One of my FAVORITE things in the entire world. These were meaty pieces too. And $5.25/each?! That's a GREAT price. Go check out the prices of kama at any Japanese supermarket.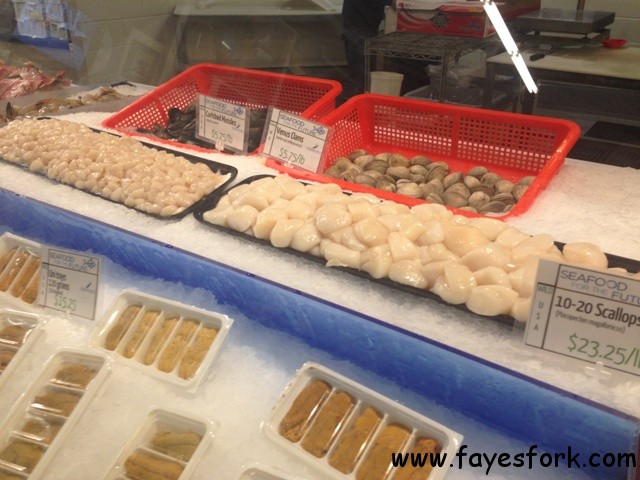 – scallop and uni
Now THIS is what I drove here for. I wanted to make scallop nigiri for dinner that night and I had seen pics of their scallops offered here. $23.25/lb (for the larger ones) didn't seem too bad.
I was just minding my own business when someone gruffly asked 'can I help you'.
I turned around and about gasped when I saw Tommy Gomes standing in front of me. I felt like I was standing in the famous soup kitchen restaurant from Seinfeld. I gulped in fear and eeked 'no, no….I'm just, um, looking'.
I had read enough about Tommy Gomes to formulate what, I thought, was a pretty good judgement on the guy. Besides, what you read on the internet must be ALL TRUE right (note sarcasm here).
I figured he would be surly (sorry inside joke on that word), cantankerous, and gruff (or grump/grouch/whatever 'g' word you want). And I assumed, because he's well known here in San Diego, that he would, in his OWN mind, think he's famous and therefore won't EVEN be at the warehouse.
So I was just taken aback when he was standing right in front of me. I don't know what happened next. Perhaps he noticed my frightened Meerkat glazed eyes.
But all of a sudden, we were chatting. I don't even remember what we were talking about because all I kept thinking was 'wow, he's not an ahole'.
I remembered Reader Ben wanting to try out Wrench and Rodent Seabasstropub. I had researched the restaurant (some weeks ago) and guess who supplies W&R fish inventory. Yup. Tommy Gomes.
I asked Tommy about this restaurant and what he thought of it.
"Let's Go".
What. I didn't think I heard him correctly.
"Let's Go. I know the boys there. Let me know when."
In fact, the chefs of W&R were coming in later to pick up fish for the restaurant and that he'd introduce the guys to me.
Say what. Are you serious. This can't be happening. Sensory overload.
He stepped away to talk to an employee so I wandered around a bit more.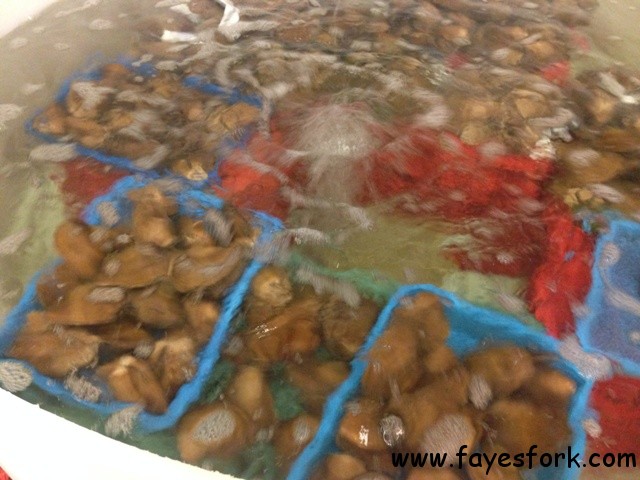 – Chocolate clams $2.50/each
This is what Kirk purchased on his last visit. I didn't know if I could just stick my bare hand in the tank and grab a clam to take a pic. So this was the best I could do. It was a large tank though.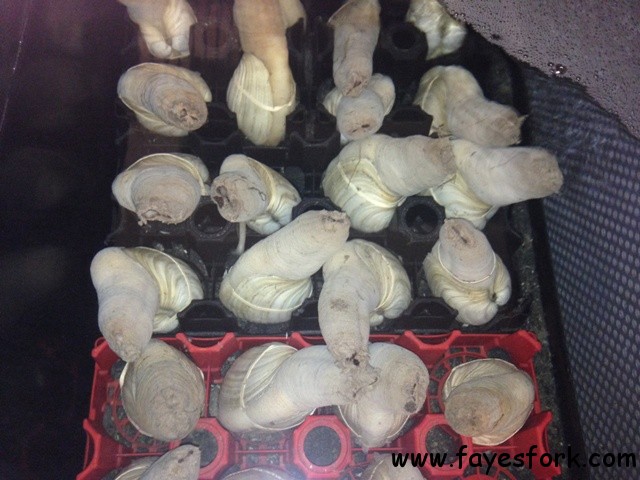 – Geoduck
This has to be THE strangest spelling for any shellfish (in my opinion). I always want to call it Geo (like the car) Duck.
This is the setup right as you enter the back warehouse. I believe the desk is where you pay the cashier. The very last station is where they do their sample tastings of that day (I think).
Tommy came back and said he was going to the back of warehouse to do something. I just nodded and was going to thank him but then he asked 'do you want a tour'.
He talks in a very nonchalant way so I never know if he's joking or not. That's why I probably looked so lost (like a mental person probably).
"Yes?" – really Faye. You had to say that with a question mark. Nice one dummy.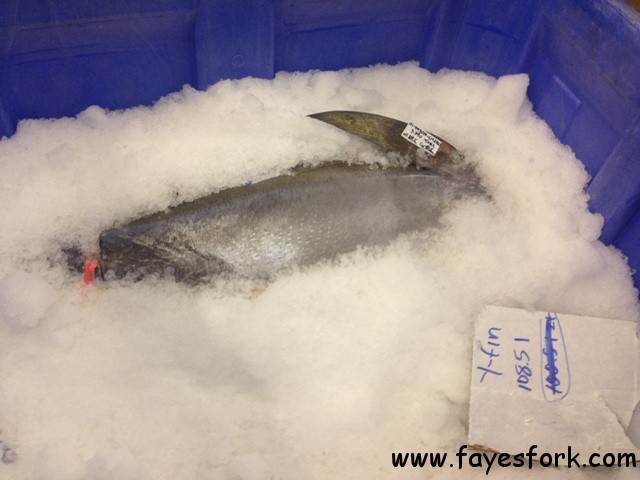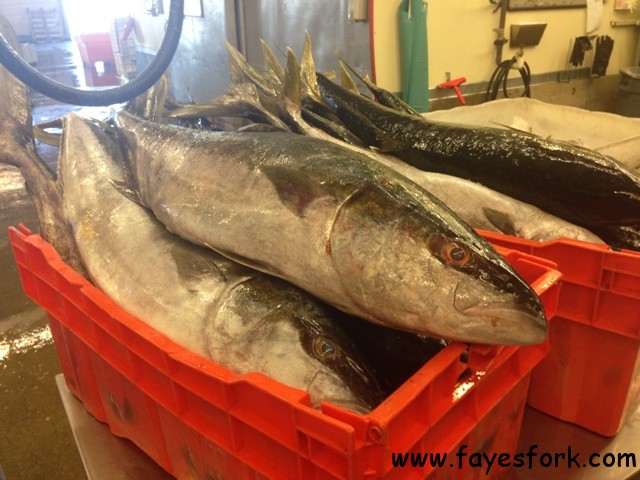 – Yellowfin tuna
Reminded me of that famous Japanese fish trading floor. This fish was HUGE.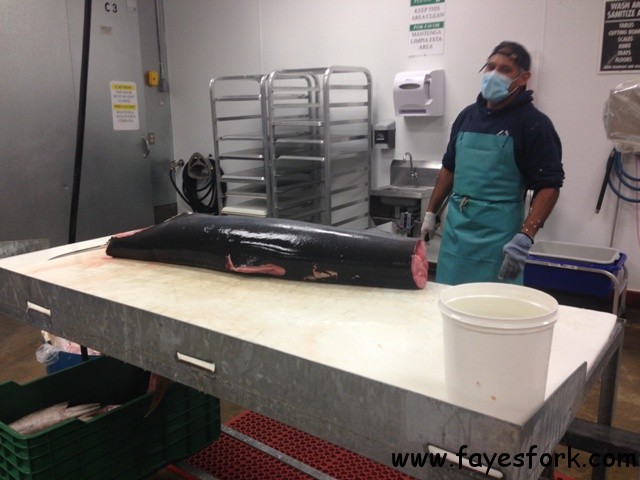 Look at this ridiculously ginormous fish. I'm pretty sure it would be my height if I fit it with a pair of my stiletto heels. This area is where a few of the guys butcher the fish.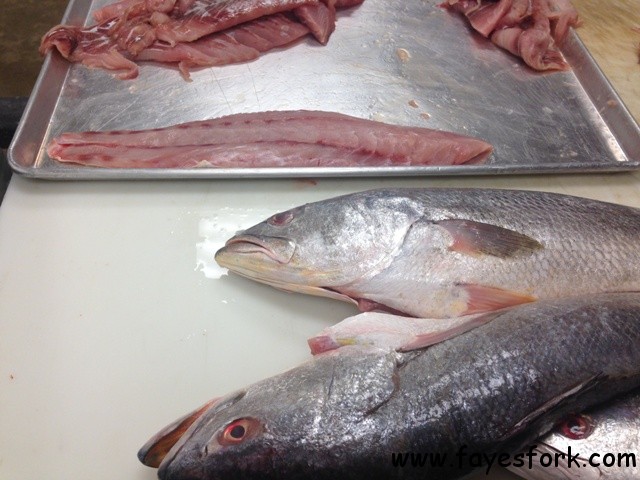 – fresh fish filets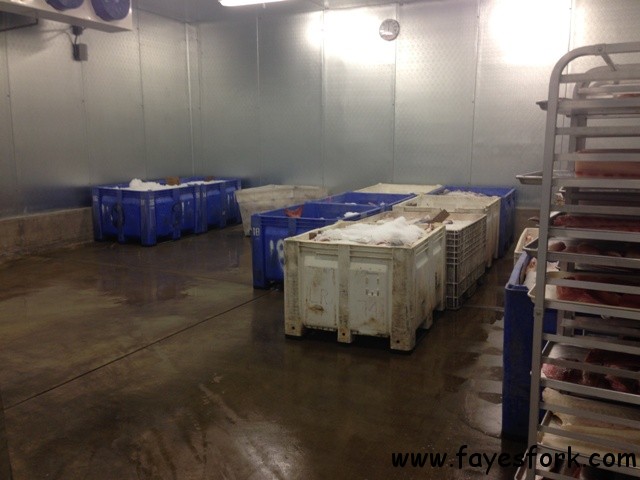 – Super cold storage room
They have a few of these in the back. The doors to these rooms were shut tight so I was happy when Tommy opened one for me to have a look.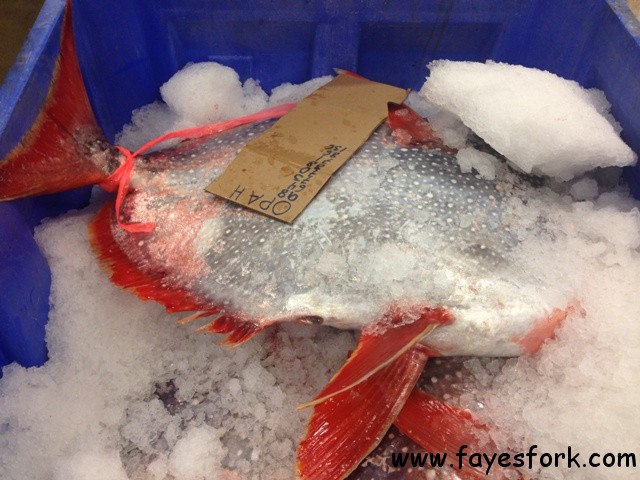 – Opah!
My great uncle introduced me to this fish when I visited Taiwan last year! I actually watched it being pulled in to shore by a TRACTOR because the one they caught was the size of a house. No joke. I've been trying to locate that photo but dang it can't find it at the moment.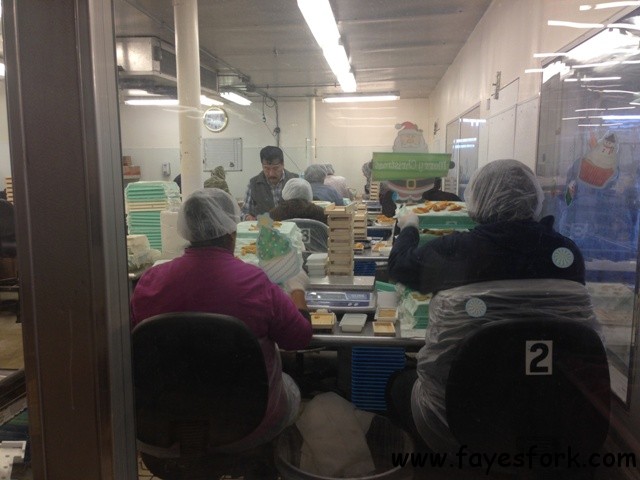 – Uni sorting room
Catalina Offshore receives an insane amount of live uni. There's a special room where workers harvest the internal roe and separate the roe, based on quality, into different wooden trays.
– Chilean Sea Bass!!
My ABSOLUTE favorite fish in the entire world. It was the first fish my dad ever cooked for me so it just holds a special place in my heart. Plus, it just cooks so beautifully.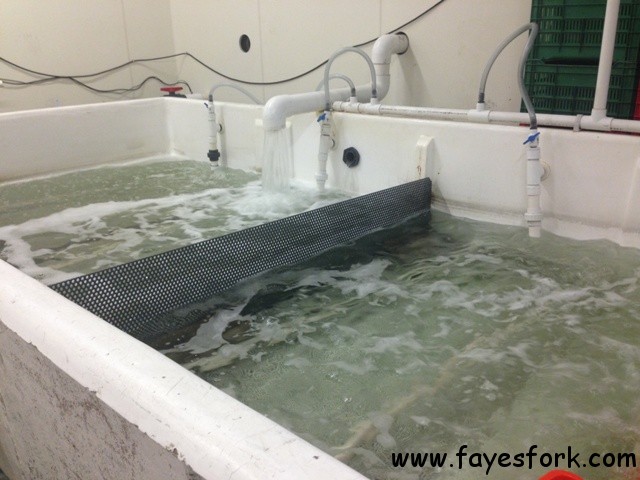 – Water tank area
I just found this room fascinating. Tommy said they usually have live shrimp and other critters in this room.
He picked up the following for me to take a picture.
– Live abalone
I don't eat abalone but my family loves it. Mom used to tell me that abalone is super expensive (especially the live ones) so I should stop whining and eat one (it sounds mean when spoken in Chinese BTW).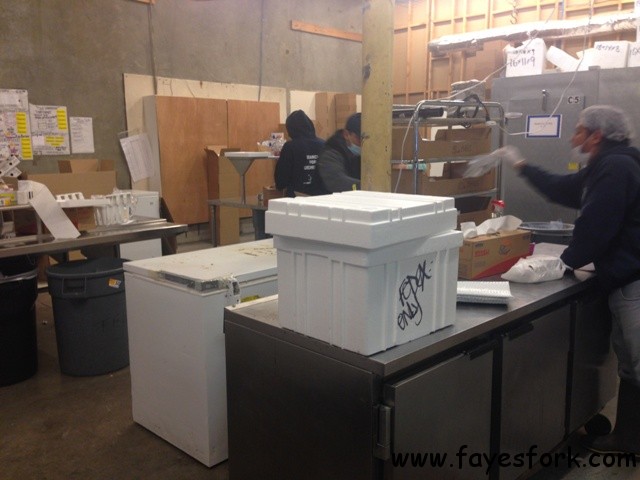 – Shipping/Packaging area
They ship anywhere in the US I believe. I made  a comment to Tommy that the prices I was seeing on the items that day were alot cheaper than what I had seen online. He explained that the prices online are indeed higher and the prices at the warehouse, if you stop in, will be cheaper.
– Salt Farm
I was so happy to see these salts as I remembered J.S. from SunDiegoEats raving about them. Catalina carries quite a few of their salts. A few of them smelled so incredible. I wasn't a fan of the Bonfire – it smelled like bonfire ashes to me. Sorry.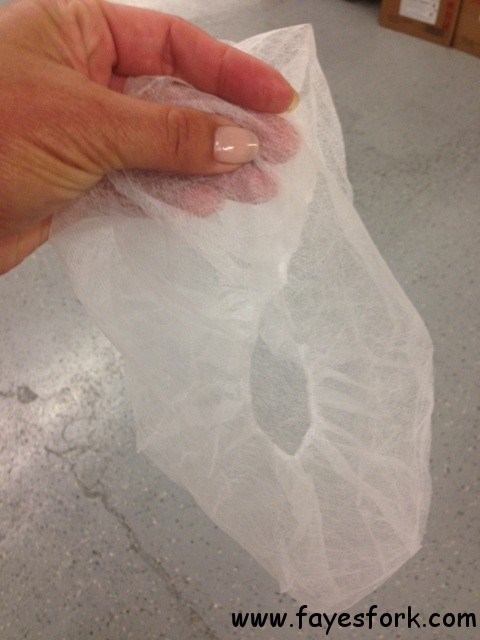 This was when I realized I could take off the hair net. Forgot to mention that you are required to wear one if you want to visit the non-public portion of the warehouse.
So conclusion. Or how about FayesFork lesson (or I hate cliches) of the day.
Don't judge a book by it's cover. Dumbest cliche ever as how else does one buy a book (just kidding). But that's how I felt about Tommy and Catalina by the end of my visit. Usually the book (or person) being judged gets all butt hurt but not this guy. He's such a straight shooter about his seafood products and about his reputation.
We had a moment at the end where he asked me about my blog. I didn't even want to talk about it as I'm just a guppy in the huge food blog fish pond. But he asked me tough questions like 'where do you see it in 5 years; what are you DOING to make that happen; how are you promoting it; you need to be more social'.
I asked him how he managed to find his happiness (I'm telling you – it was such a weird morning because who the heck asks a fishmonger THEY JUST MET that question).
" Life is being served to me on life's terms " – Tommy Gomes
Could I end this post with anything else. Me thinks not.
Catalina Offshore Products
5202 Lovelock Street
San Diego, CA 92110
(619) 297-9797
Hours: Mon-Fri 8a-3p; Sat 8a-2p; Sun CLOSED