Cellar Door
Tommy informed me of an underground supper club event. I asked where it was going to take place.
"I can't tell you that. Then it wouldn't be underground" was his reply.
Let me tell you a recipe for disaster at FayesFork.
Sitting at a table with random strangers + No knowledge of menu = FML 
Whatever. I gotta bust outta my 'leave me alone' rut.
I researched as much as possible about this supper club. Cellar Door's website simple states:
We are a private Supper Club in San Diego, CA. 
We host dinner parties in our home for our friends and their friends, so we can all try new, exciting types of food!
Dinner starts promptly at 7p. Tommy and I arrived around the same time (6:50p). The supper takes place at Chef Logan and Mixologist Gary's home. You walk up a flight of stairs and enter through their front door to find a dining table set for 10 people. There were already two people sitting at the dining table.
Tommy introduced me to Chef Logan and Gary who were working away in their small kitchen. I asked if it was ok if I snapped a few quick pics.
– Meatloaf wrapped in bacon
OMG. I cannot remember the last time I had meatloaf.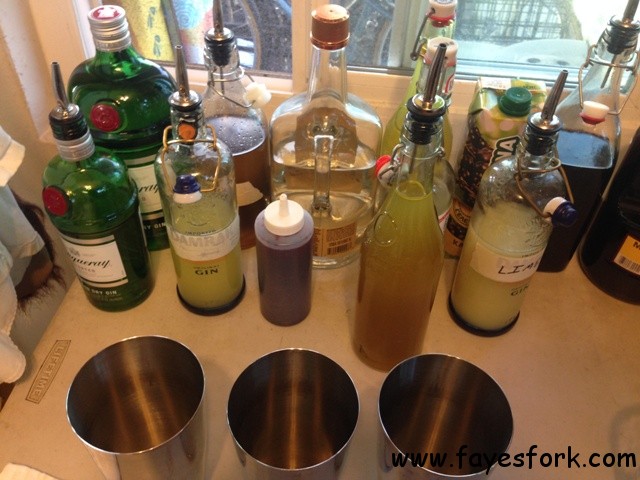 – Bar station
This is where Gary prepared each drink that paired with each course that night.
We went back to the dining table and took a seat. Gary asked Tommy to sit at the head of the table as it made for easier seating for others to come.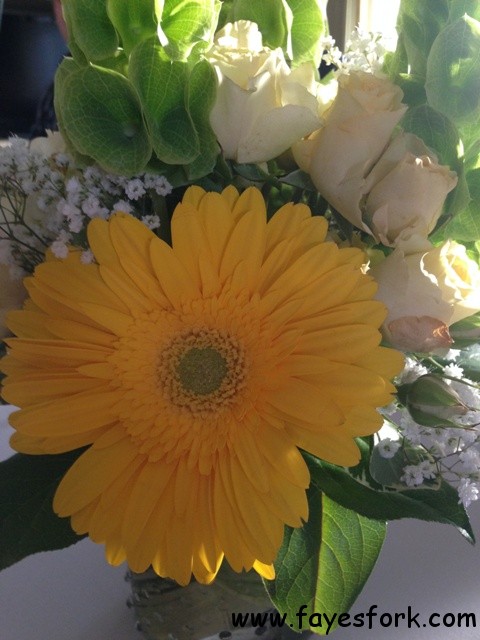 Look at this pretty arrangement on the table!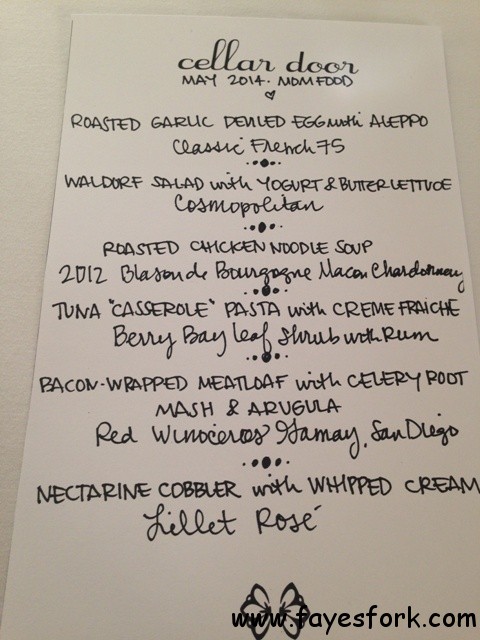 – May 2014: MOM FOOD
I thought it was PERFECT that the menu be themed around Mother's Day (which happened to be the very next day). This handwritten paper menu was one of the many simple touches that I noticed that evening.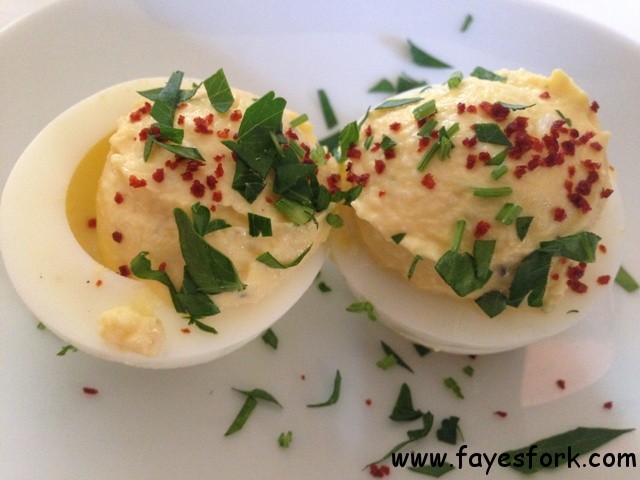 Course 1:  Roasted Garlic Deviled Egg with Aleppo Pepper
These deviled eggs were delicious. I don't like egg yolks very much but I don't mind them when they're in deviled eggs. The version here was made with yogurt instead of mayo. The Aleppo Pepper, which I believe is a Turkish spice similar to what we consider red pepper flakes here in the States, brought a nice heat to this dish.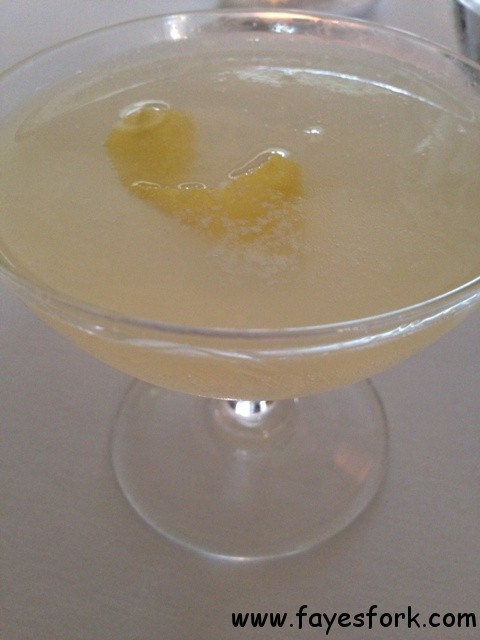 Classic French 75
I didn't want to drink all that much that evening so forgive me if the alcohol portion of this post is a bit vague.
This was a gin based drink with simple syrup. It was served chilled, no ice. Loves.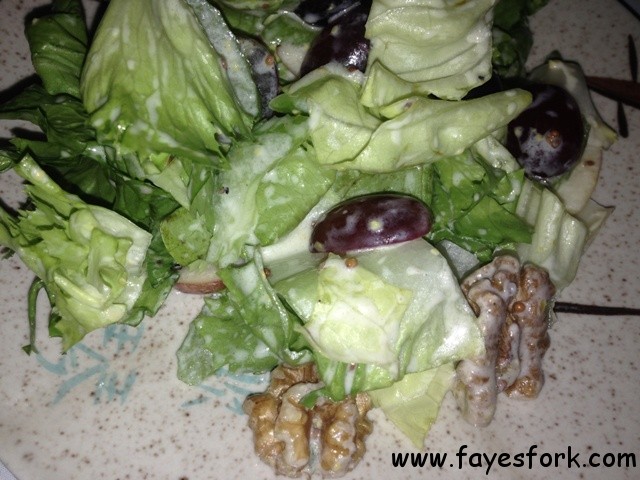 Course 2: Yogurt Waldorf Salad with Butter Lettuce and Escarole
You could not ask for fresher ingredients. The butter lettuce was crisp as were the slices of apples. I would have preferred the walnuts to be candied but this was my first time having a Waldorf Salad so not sure if my preference is the norm.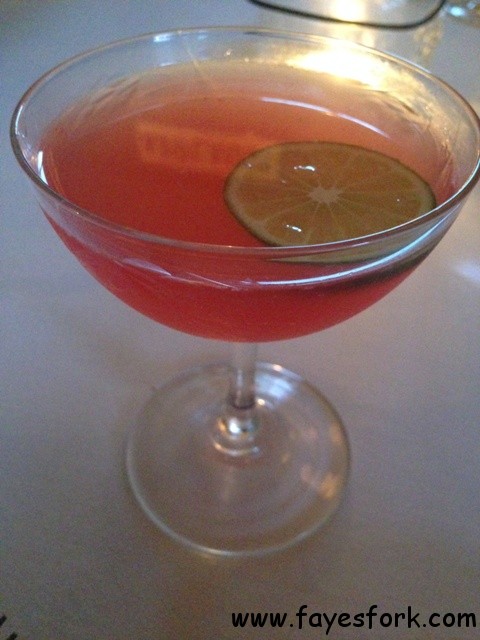 Cosmopolitan
Vodka, splash of cranberry juice, lime juice, orange liquor
These were the ingredients I jotted down as Gary explained this non-Sex in the City cosmo to the table. The drink definitely didn't taste like the overly sweet versions I've had at restaurants in the past (well, back when Sex in the City was cool and every chick had to order it when she went out with her girlfriends). Gary's version here is simple yet strong. Like, VERY strong.
Course 3: Roasted Chicken Noodle Soup
I took a peek earlier to see how this soup was being prepared.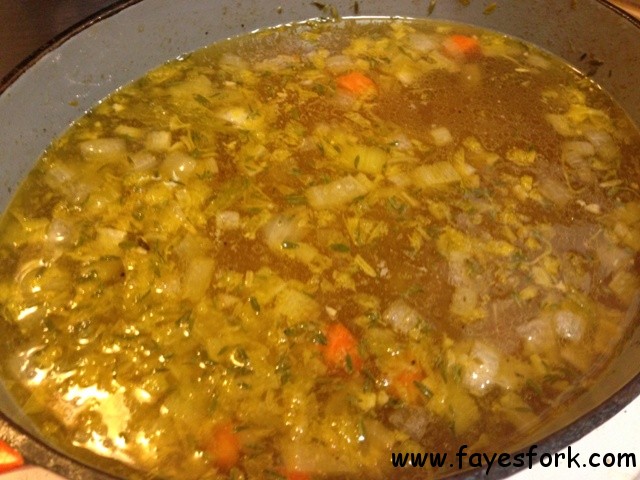 I think I make a pretty darn good chicken soup but Chef Logan's version is out of this world. She served it in a pretty cup. I believe she said she roasted a few chickens and then used the roasted bones (from chicken) along with a raw chicken to make the broth base for this soup. This broth had an intense, unforgetting taste of a succulent bird. It was oh so very good.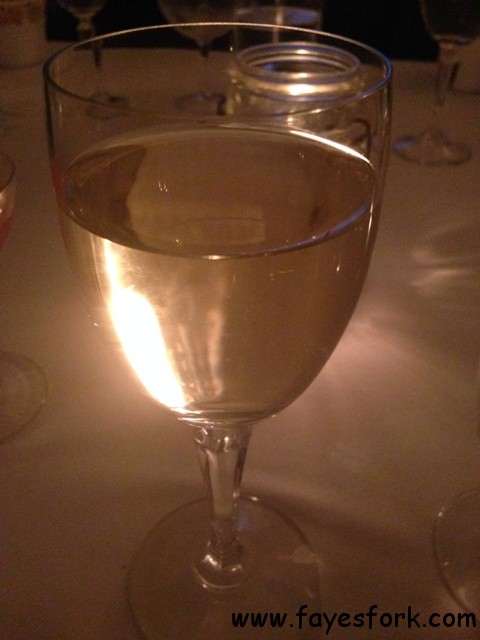 2012 Blasoude Bourgogne Macon Chardonnay
Apologies for the bad pics here on out. The evening had set upon us and the lighting was pretty dim (and I didn't want to be the ahole eater that took pics with blinding flash at the table).
I don't remember the specifics of this white wine other than that it paired nicely with the chicken soup.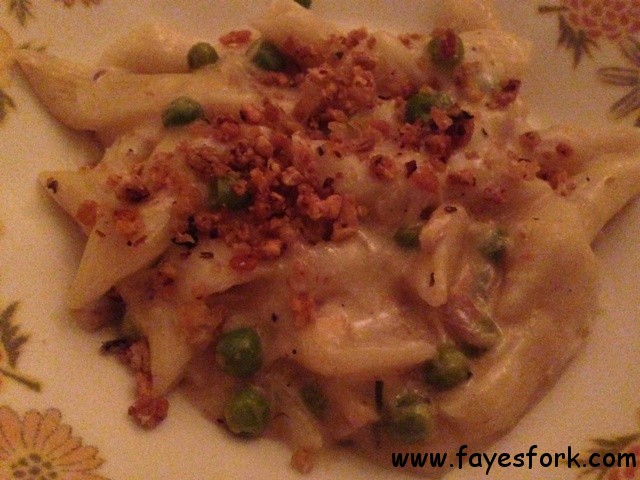 Course 4: Tuna "Casserole" Pasta with Housemade Creme Fraiche and Hazelnut Picada
Chef Logan purchased fresh yellowtail tuna from Catalina earlier that day. I've never had tuna casserole before (hey that should have been another item on my 20 Randoms).
The pasta was purchased from Assenti's and it was prepared a nice al dente. The creme fraiche made this dish wonderful creamy and Catalina's yellowtail was a wonderful match to this casserole.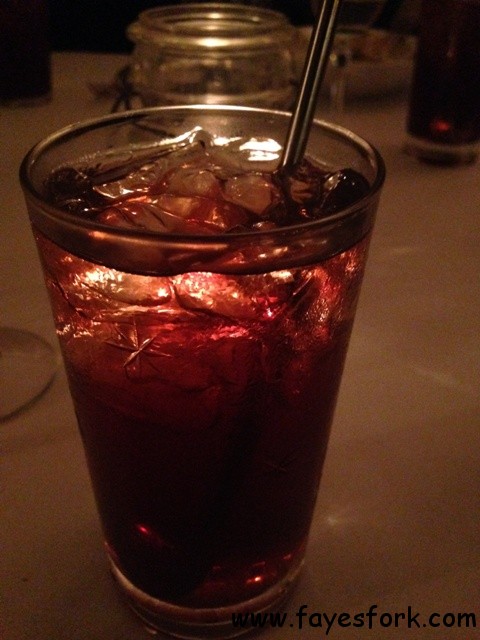 Berry Bay Leaf Shrub with Rum
I have balsamic vinegar and macerated strawberries in my notes for this drink. And that's about that. I only took a sip of this drink so I don't remember too much details about this one.
This is where the 10 of us started to get comfortable with one another. Tommy does a great job sharing stories and I would say the majority of the guests knew who he was. What was really interesting about this crew was that we all JUST LOVE FOOD. No one spoke about their profession or what degree/license they have. It's like check that stuff at the door. We were all, that evening, just regular people who simply wanted to eat good food with others that shared the same sentiment.
The G-rated "JT SNL Crew" title in post will be explained in a bit.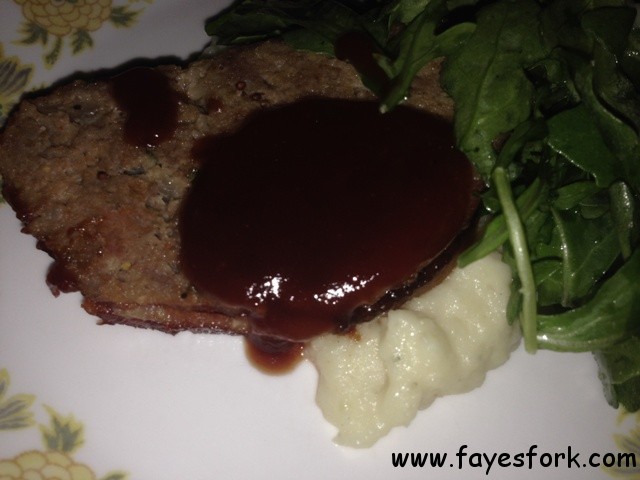 Course 5: Bacon-Wrapped Meatloaf with Celery Root, Mashed Potatoes and Arugula
Chef used three meats for this meatloaf: beef, pork, and lamb.  I can't give an opinion on this dish as I only took a bite or two of it. At least I can say that Cellar Door got me to try lamb that night. The others all seemed to love this dish.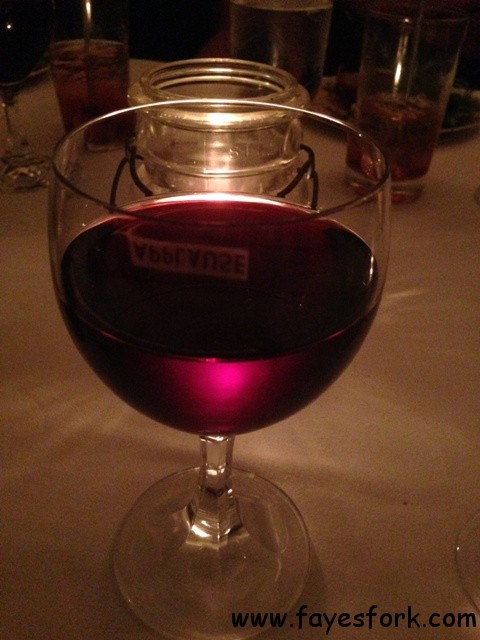 Red Winoceros Gamay San Diego
I believe this was the 5th vintage.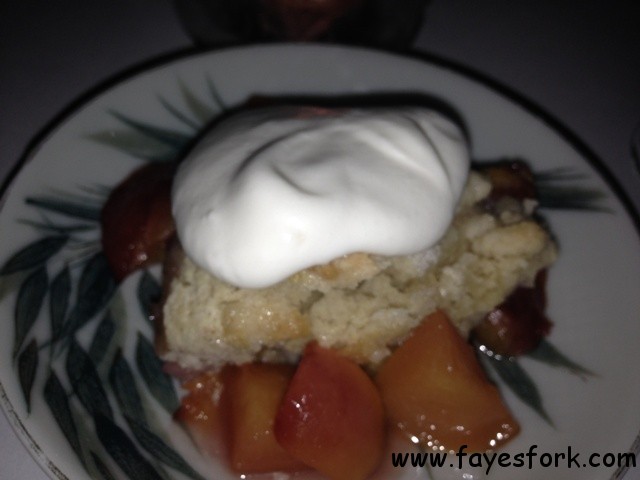 Course 6:  Nectarine Cobbler with Vanilla Scented Whipped Cream
Everyone oooh'd and ahhhh'd when this dish was placed in front of us. I think this dish evoked some sentimental 'mom' nostalgia that night for a few people. The cobbler portion was perfectly crumbly and I really loved the vanilla scented whipped cream.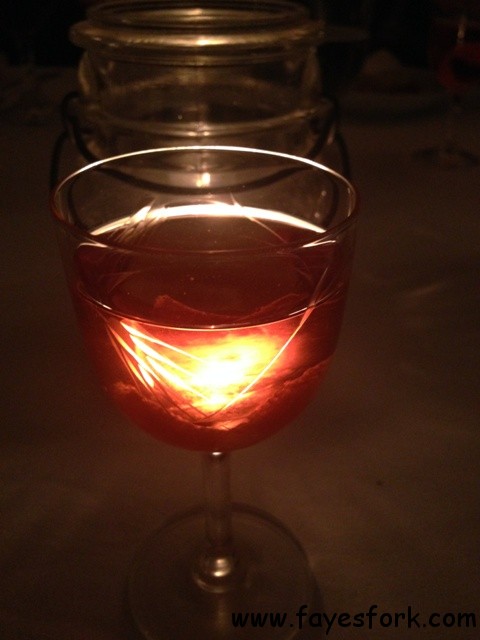 Lillet Rose
This was the last wine/drink of the night. The sip that I had of this wine was cold and sweet.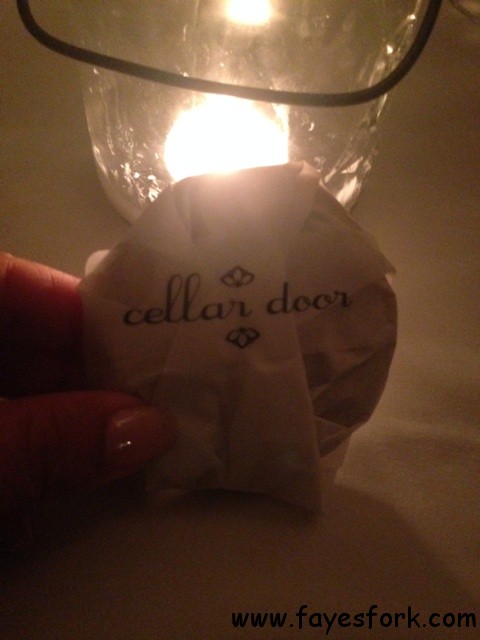 Chocolate chip cookie
This was just too cute. Each freshly made cookie is individually wrapped.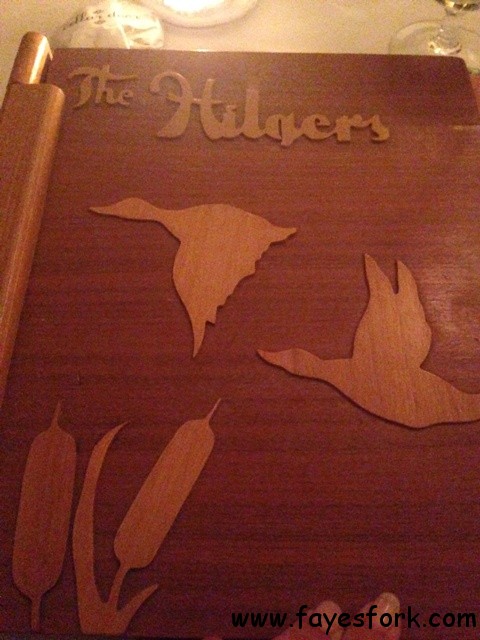 Chef Logan and Gary asked if we could all sign their guest book. I was the first one to get the book and asked my 9 compatriots what I should call our 'crew' that night.
Everyone, collectively, said Dick in a Box. Story to follow should you be curious.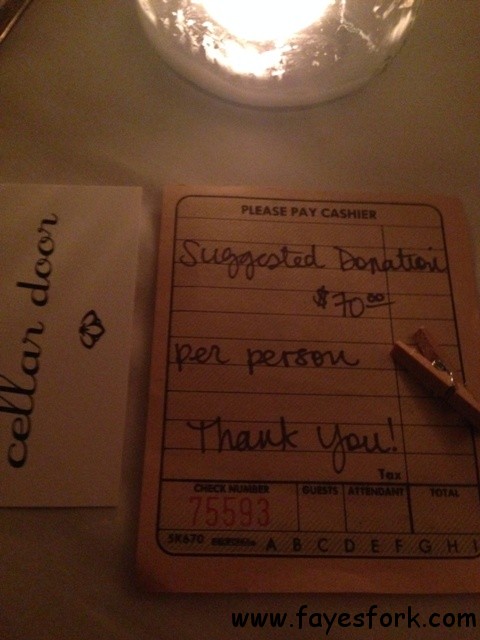 – Suggested Donation : $70
I thought this was a more-than-fair price for what was served that evening at supper. Six courses, six drinks, AND the perfect group of people makes $70 seem like a steal.
This is a food blog, first and foremost. I've come to realize that although I have a passion for food and writing, I also have a passion for seeing how food and people manage to come together. Maybe that's where this blog is headed.
So my original math formula for a FayesFork disaster ( Sitting at a table with random strangers + No knowledge of menu = FML ) turned out to be incorrect that evening.  I'll gladly take that F+ grade for another supper with this crew at Cellar Door… any day.
Cellar Door
35th Street
San Diego, CA 92116
…
…
…
Alright, so here's the infamous story from that night.
Most everyone that night loved music. I didn't really have much to contribute to that topic nor did I want to (as I don't know much about music). But undoubtedly, someone asked me for my opinion on a musician. I want to say it was about Neil Diamond because I asked 'is that the guy who wears the sparkly shirts when he performs'. Because I don't know the difference between Neil Diamond and that other Neil singer. Everyone started laughing and one of the guys asked what music I do like. I told them that I've been to an N'Sync concert when I was younger (I COULD NOT believe I just admitted that). I thought they'd start making fun of me but people started to say that Justin Timberlake was a genius and if I watched his skits w/ Fallon on SNL. That's when I said I loved his D*ck in a Box skit.  They all joked that someone (me) should get up and do an impersonation of the skit that night.
I had asked Tommy if there had been awkward groups in the past (he's been to 13 dinners here at Cellar Door). He said yes, absolutely, there's been memorable awkward moments. He told the story how there was an older gentleman who brought his mistress to the dinner. The gentleman even brought his own flask of vodka. We were all listening intently to this story and one of our guys (at the table) mentioned that he, himself, cannot drink vodka because he'll end up running around naked in the apartment if he does (his adorable girlfriend nodded in 100% agreement).
Tommy then said it got SUPER weird because the gentleman and mistress started arguing, in front of everyone, about their relationship, the wife, etc. He said everyone felt incredibly uncomfortable and it made for a strange night.
Me, being the competitive one and wanting OUR crew to be the most memorable, quickly broke the silence with:
"QUICK SOMEONE DO THE DICK IN THE BOX SCENE RIGHT NOW TO TRUMP TOMMY'S VODKA MISTRESS STORY !"
And that's when all hell broke loose. I'm not sure if it was hearing this conservative uptight Asian girl say that last sentence out loud. Or if it was just truly the dumbest thing I've ever said in front of people I barely knew. But we all started laughing and everyone kept yelling for the blogger to get up and do the skit, while I kept pointing to the 'I can't drink vodka or I'll run around naked' guy to start drinking vodka.
All of us were holding our sides from laughing so hard. There were even more stories shared that night that had all of us in stitches (Did you say you named your dog Horchata…Did you say your neighbor has a bar club in his GARAGE).
Even the usually serious, no nonsense Tommy Gomes wiped away a few tears from laughing so hard that evening.
So to my Dick in a Box crew (Stacy, Dalton, Gayle, Mark, Bryan, Trish, Jen, Dave, and Tommy): Thank you ( along with Chef Logan and Gary) for the funniest, most memorable supper of 2014.