It's still strange to me why they rebranded this restaurant to it's current name, Roy Yamaguchi. I still just see this place, simply, as Roy's.
Toxie, Snooks, and I finally were able to get together yesterday. They let me choose a place and I suggested Green Acres as they were having a Wine Wednesday 'get together' that was being promoted on their website. That turned out to be an epic bust/fail so the three of us drove around the area looking for another option. Toxie suggested Roy's. I hadn't been to Roy's in ages but remembered they recently remodeled their bar area. So alright. Why not give it another go.
We walked in around 5:20p and the bar wasn't busy. That was a surprise to me as I remembered always having to stalk for a table when I used to come here all that time ago. I believe they took out that private dining room to make more space for the remodeled bar.
Their Aloha Hour states $6 Appetizers and Drinks. You can order pretty much any of their specialty drinks for $6 which is a great deal. But, there are only six appetizers you can choose from (during Aloha Hour).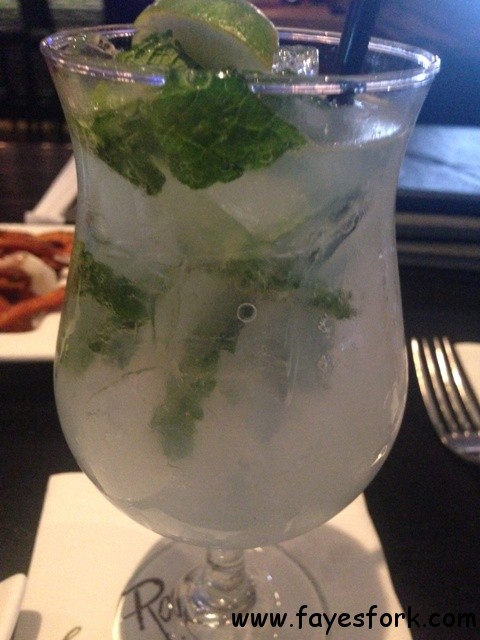 Mojito
Don Q Cristal Rum, Fresh Mint & Fresh Lime Juice
I enjoyed this mojito and thought it was a nice drink at the discounted price.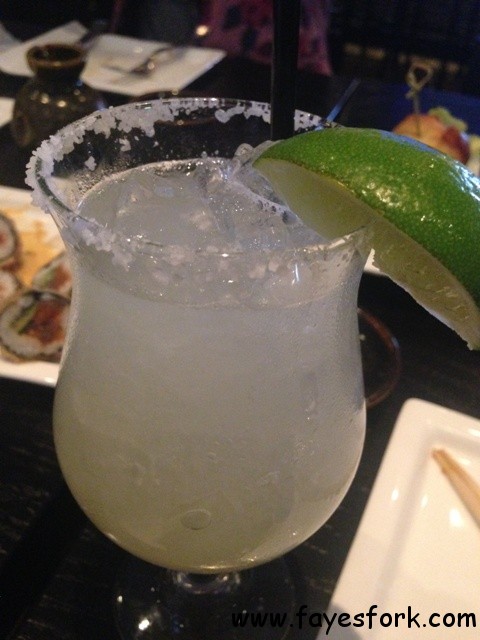 Patron Skinny Margarita
Patron Silver Tequila, Patrón Citrónge, Sugar Free Triple Sec, Lime
The girls both ordered this. They were questioning how the Sugar free Triple Sec would taste but were happily surprised how much they liked this drink.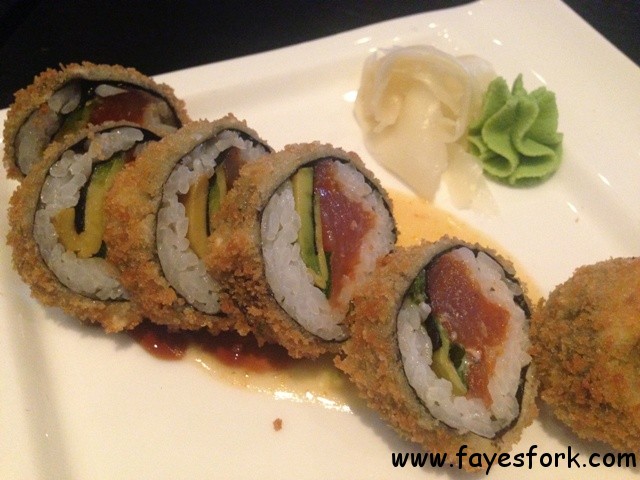 Tempura Crusted Spicy Ahi Roll
I knew, instantly, this would be a disappointing happy hour for the three of us.
The portion was so small.  I don't expect much from happy hour when it comes to the quality of the food. But I do expect the portion size to be fair.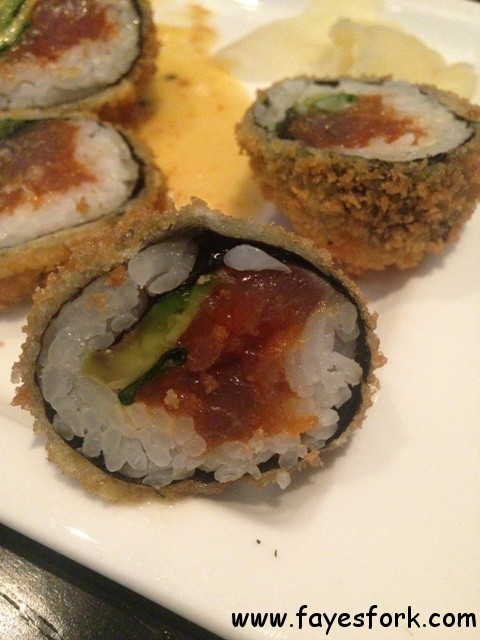 The 6 pieces (let's keep in mind that would equal $1 per piece) weren't very good. The sushi rice was overly sticky and I could only taste the hard tempura crunch that encapsulated this fried sushi roll.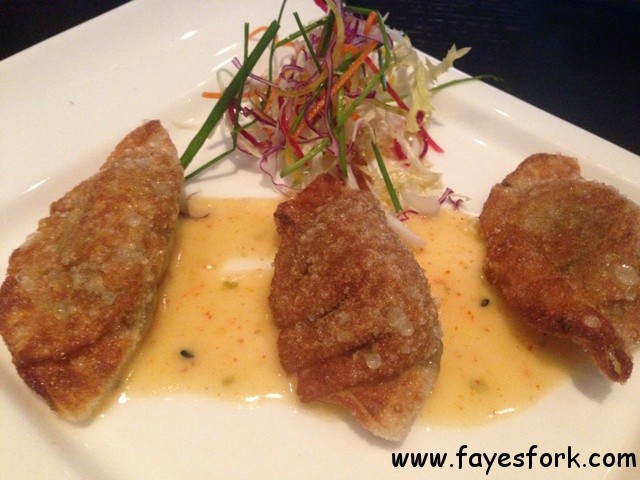 Lobster Potstickers
Yeah. Wow. We were a bit speechless when this dish was placed on our table. Three pieces of deep fried (almost flat) dumplings. Let me help you with the math on this one. That would equal $2 per potsticker.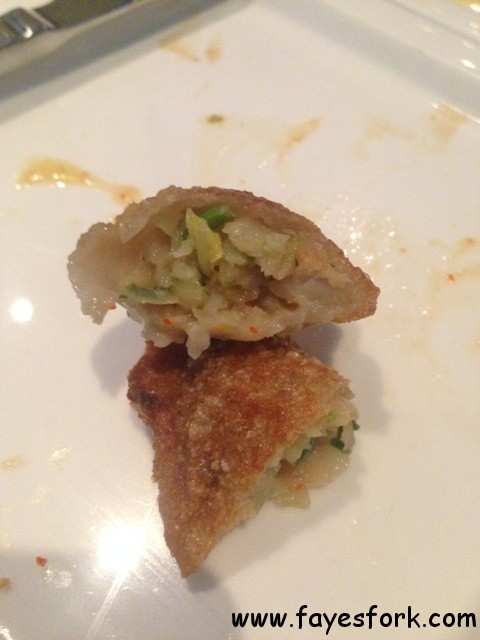 I didn't even want to try this dish out of protest (I get food political like that). I asked if they could, at least, taste lobster in this deep fried dish. It was a resound NOPE.
I don't do a food-political-protest fast all that well so I ate the garnish that you see at the top of the plate.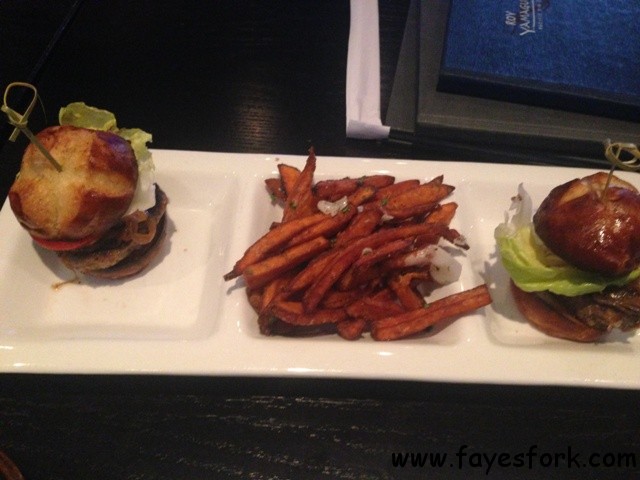 Wagyu Beef Sliders
Alright, NOW we're talking. I ordered this item as I had heard nice things about these sliders.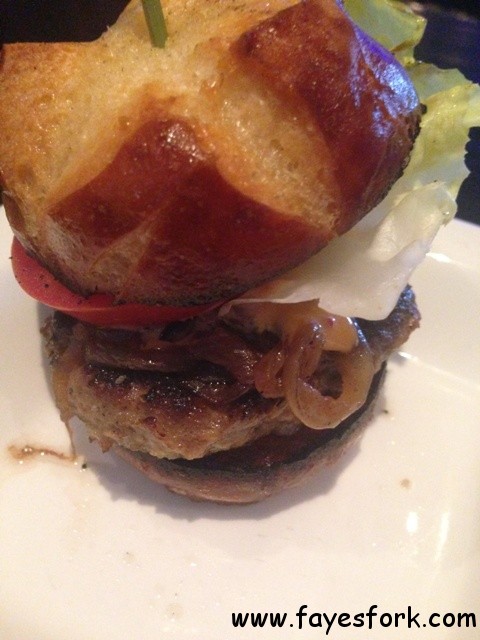 I am not sure if it's served on a pretzel bun but it didn't matter. The little buns were toasted to perfection. The beef patty was incredibly juicy and flavorful. I don't usually like caramelized onions but it worked well in this burger (or maybe it's because I was just super hungry at that point). The sweet potato fries were nicely fried/seasoned as well. We ended up ordering another one of these sliders.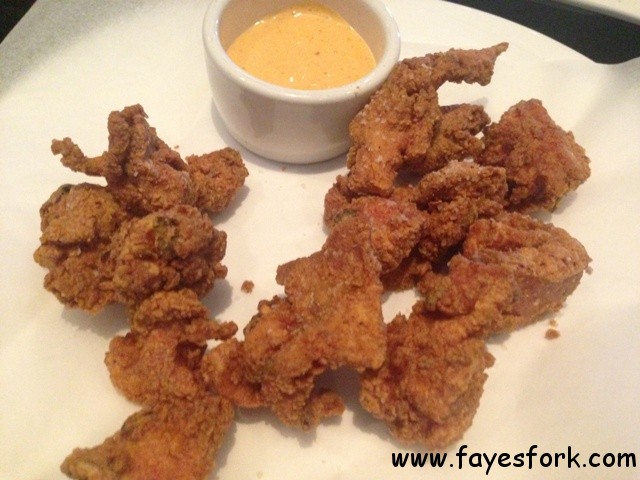 Chicken Karaage  $8.95
This wasn't part of the Aloha Hour but I wanted something protein. I felt defeated (and a bit embarrassed) when this arrived at the table. The presentation was sloppy and plain. Am I at Roy Yamaguchi's or am I at Chick-fil-A. I mean no disrespect (to either parties) as Chick-fil-A makes great chicken items right. But it was a disappointing dish.
The dark chicken pieces were overly fried and not even the mayo dip could save these pieces. I just felt bad for ordering this dish (especially when it wasn't on the Aloha Hour side of the menu).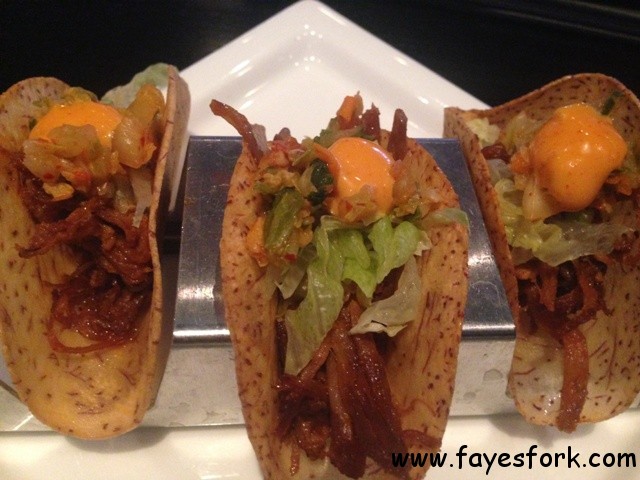 Beef Short Rib Tacos
The presentation of these tacos were nice. But again, it's just a really tiny portion. I believe the taco shell is a fried taro chip.
The short rib tasted ok if not a bit dry. The girls commented that this dish would have been better if there had just been a little more meat in the tacos.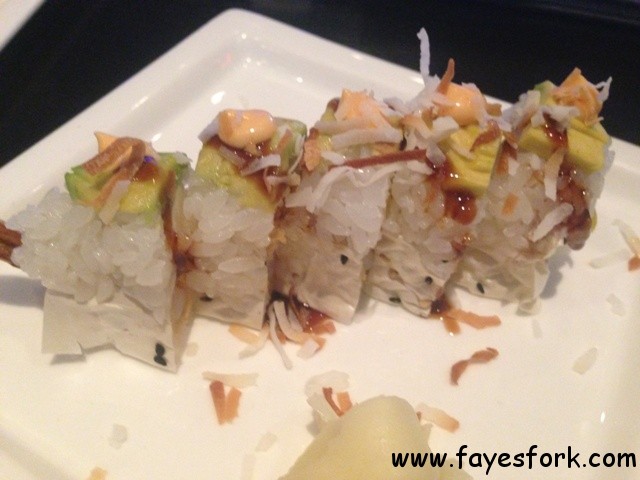 Big Island Ebi Roll
Shrimp Tempura, Coconut, Cream Cheese, Mango, Avocado, Habanero Aioli and Nitsume
So this roll had 5 pieces. I don't think I can convey the heaviness of our sighs when we saw this appetizer. We didn't do this in front of the server.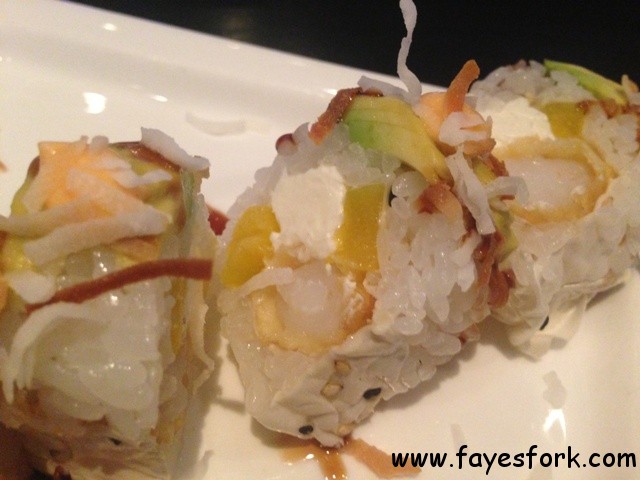 They used soy paper instead of seaweed for this roll. The combination of cream cheese and mango, together, tasted off to us. I've never had a roll with coconut so perhaps that's why I mostly remember that component of this appetizer.
We ordered another round of the same drinks mid way through. I thought mine still tasted the same but the girls commented that their Skinny Margs, the second time around, tasted bitter and not very pleasant.
Service was fine. They probably had about 3 waiters working the bar area. We spent around $33 each that evening.
We could not remember the last time a Happy Hour was this disappointing. Tox and Snooks both wanted me to write that they both felt this was THE worst happy hour they have ever tried.  I would have to agree.
I forgot I had not taken a picture of the front entrance. I told the girls to get outta the way or they're going to end up being in the pic. Tox bolted but Snooks snuck in a hand sign right when I took the pic :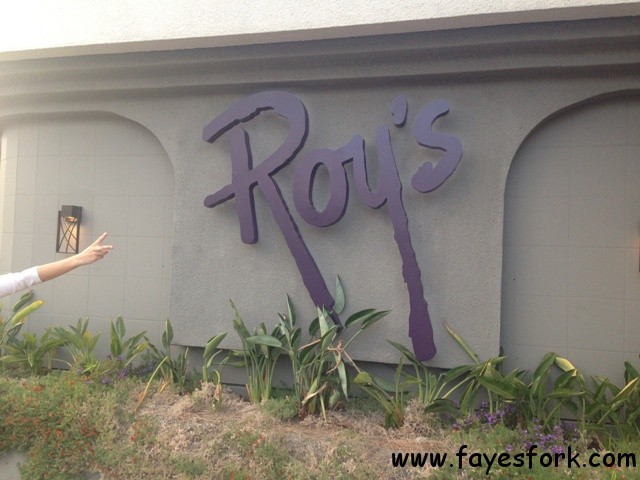 That's peace out. Not the middle finger.
Even though the food was disappointing, it was incredibly comforting catching up with these two. We joke that we might be working professionals but when we get together, we're just like sorority sisters who can just be idiots around one another. It's going to be hard when one of these three muskateers leaves soon.
Happy Thursday everyone. The long weekend is ALMOST here…
Roy's Yamaguchi's Pacific Rim Cuisine
8670 Genesee Avenue
San Diego, CA 92122
858-455-1616
Aloha Hour 4:30-6:30p Nightly in the Lounge/Bar Only
You can also read Oh So Yummy's review on Roy's Happy Hour here