RICHARD WALKER'S PANCAKE HOUSE
The weather has been so insanely beautiful the last week. I normally don't take the time to enjoy what we have here in San Diego. I've been finding myself looking for places to eat that forces me to open my eyes and start loving (again) what San Diego offers her citizens.
I received a coupon in the mail some time ago for the new Richard Walker's Pancake House that opened in downtown La Jolla. It was $5 off $15. It was expiring the next day so I figured I'd go to an early mid-week 'Party of 1' breakfast. I heard nice things about this restaurant but never wanted to drive to their downtown San Diego location. So this coupon and new location gave me a nice incentive to try them out.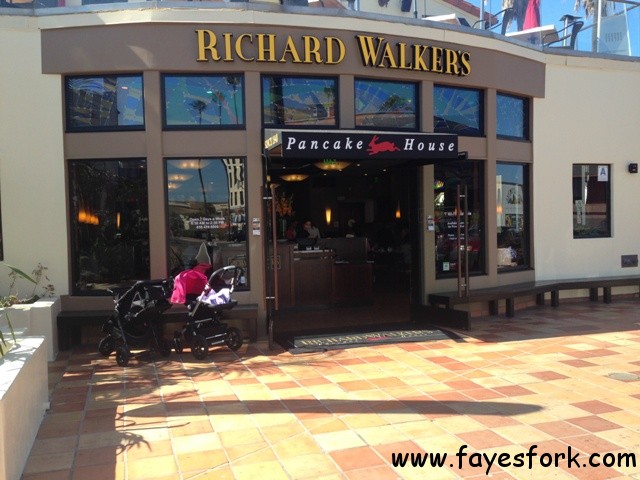 They took over Forever Fondue's location (does anyone else remember Forever Fondue?). They have garage parking but it's $8 (on Faye Ave across from Best Western Hotel). The paid garage parking might be a nice idea if you're going to spend some time in LJ later that day but for me, that morning, no thanks. I'll drive an extra 15 minutes than pay $8 bucks. It was surprisingly tough to find street parking that midweek.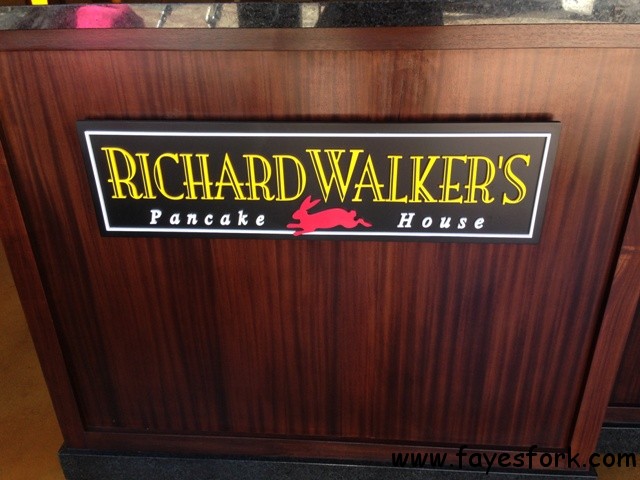 The restaurant was busy but not full. There wasn't anyone at the hostess stand to greet people so I stood there for a while before a busboy noticed me. He pointed for me to sit in the chair. I was a bit confused as I wanted to at least put my name on a list or something. More people started to show up so I got nervous that my place in a non-organized line was in jeopardy (I'm so militant that way). The manager came up and said hello to everyone. He then told me to have a seat and when I did, he said 'no, not there…THERE'. He wanted me to sit side by side (even though there were multiple chairs available) with the 1st couple that was already waiting. Then he instructed the 3rd couple to sit next to me. He did this for the others that were waiting after us as well. I think this was his way of knowing each person's place in line. The girl next to me started snickering and we both whispered 'wtf, are we in the first grade again'. 
I was seated about ten minutes later in a huge booth. I'm so used to the friendly prompt service at the Original Pancake House. The girl/guy who seats you (at OPH) always asks if you want coffee or water before your waitress comes out.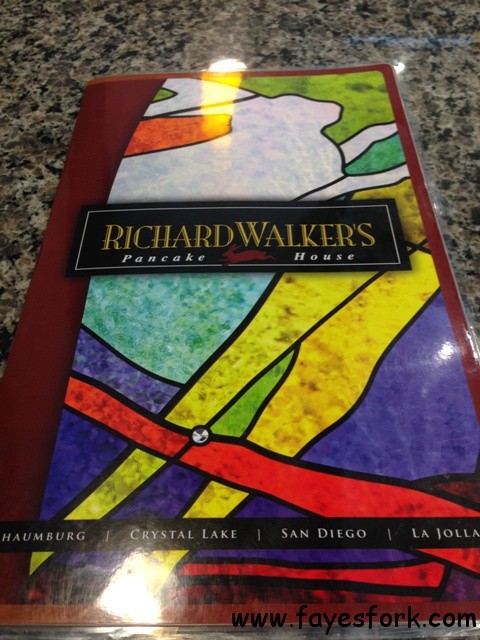 I was only given a menu and that was it. No biggie but it took awhile for the waiter to stop by.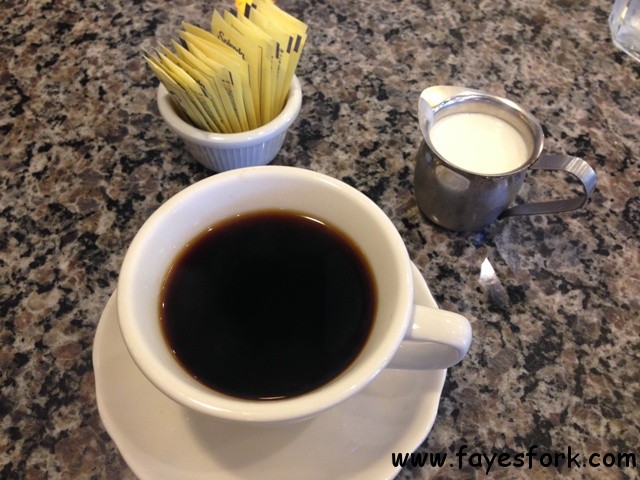 COFFEE $2.95 (FREE REFILLS)
They serve Boyd's coffee I believe. It's the same brand that OPH uses so I knew I'd like this coffee. There was no sugar or cream on the table so I had to ask the waiter to bring them out. They do not use heavy cream here. Boo.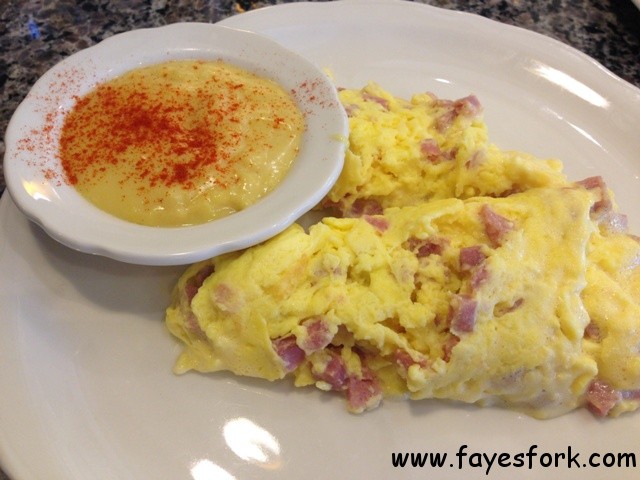 DICED HAM AND SCRAMBLED EGGS $9.95
I ordered a side of hollandaise sauce ( to blog about of course) 🙂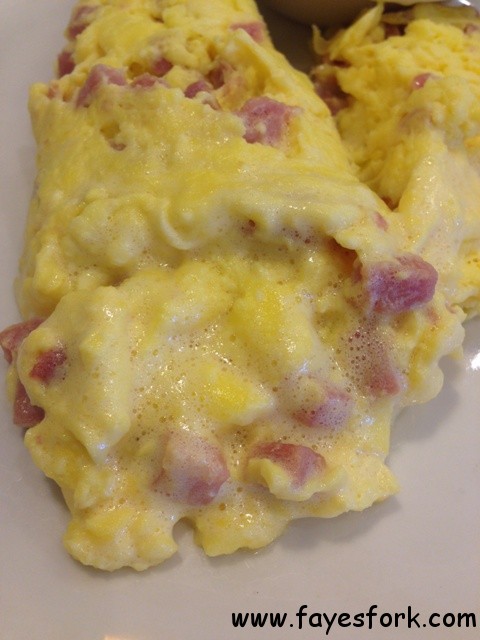 I asked for the eggs to be runny. This was the runniest they could do (according to waiter). The eggs were more fluffy than anything. The diced ham tasted ok.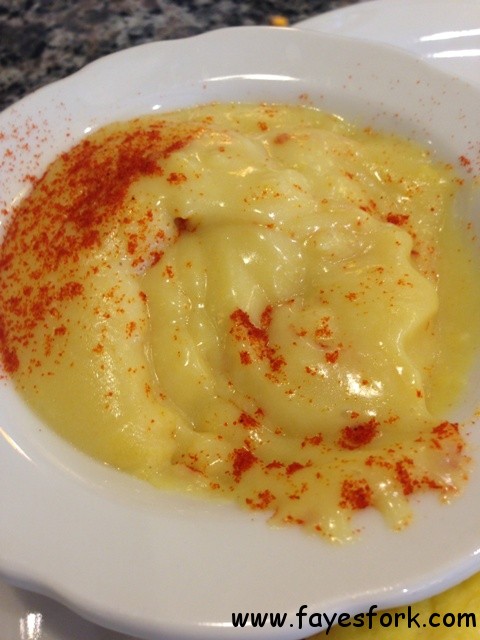 HOLLANDAISE SAUCE
This was the winner for me that morning. The sauce was uber rich and luscious. I still prefer the hollandaise at Original Pancake House though.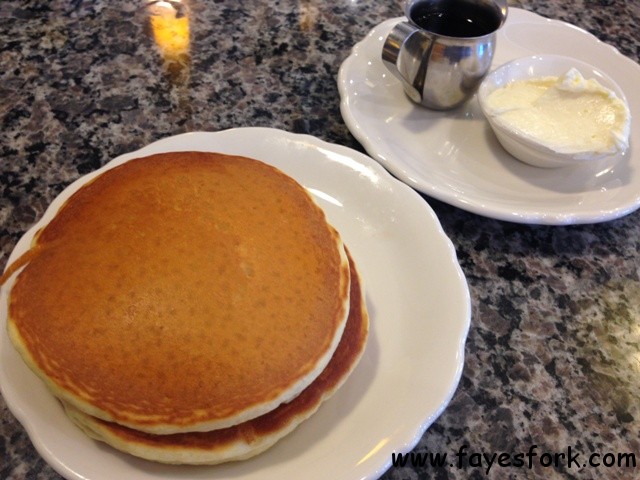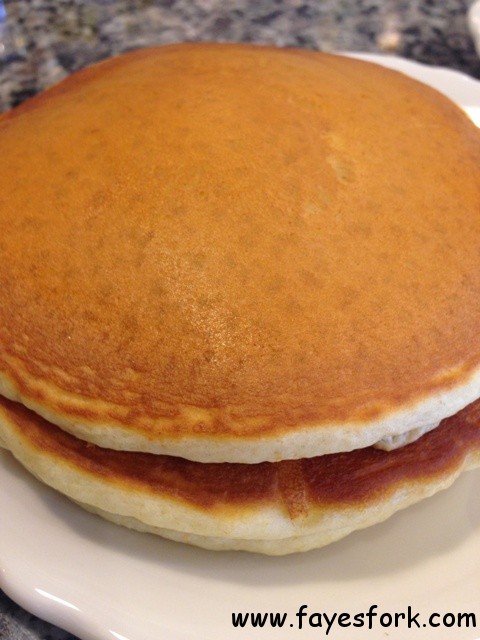 3 BUTTERMILK PANCAKES
This comes with my diced ham and eggs. It comes with the standard buttermilk pancakes but you can upgrade to their other pancakes for an additional charge.
I don't eat pancakes all that often but when I do, this is how I do it…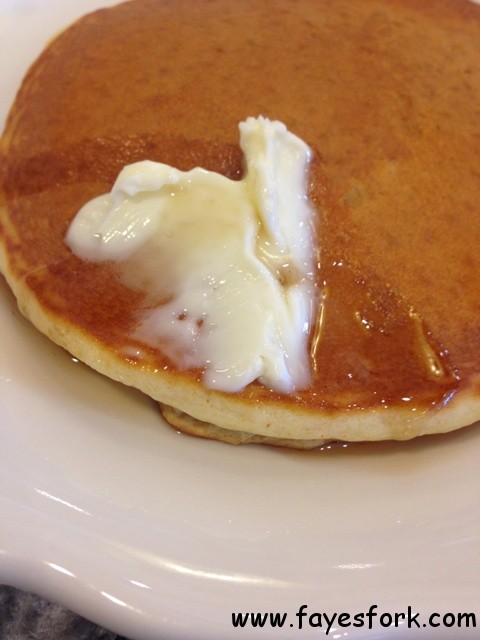 Lots of butter and a tiny bit of maple syrup 🙂
The pancakes come out freshly made so that's always a plus. I don't think there was anything amazing about these buttermilk pancakes but I don't ever get blown away by pancakes in general.
Service was ok. Coffee and water could have been refilled a bit more often. I'm used to always saying 'no thank you' to the coffee girl at OPH because someone is constantly trying to refill your coffee (this is a good thing when you LOVE their coffee). And keep in mind that Richard Walker serves the same Boyd coffee.
My bill ended up being under $15. He didn't charge me for the hollandaise sauce so I didn't quite make the $15 mark (in order to get the $5 off). I wish he had asked me if I wanted anything else before he set the bill on the table. I might have ordered a side of bacon to try (ahem, for the sake of the blog and to make the $15 min mark).
I liked the to go container for the pancakes and he gave me a cup for my left over coffee.
Would I return to Richard Walker's for a future breakfast? Sure – if I was in the area and the wait wasn't too long. Would I drive here over going to the Original Pancake House (in Poway). Probably not.
Regardless, it was a beautiful morning to have breakfast in La Jolla.
Richard Walker's Pancake House
909 Prospect Street
La Jolla, CA 92037
(858) 459-8800
Open everyday 6:30a-2:30p