To barf…or not to barf. That is the question.
A few of us went out Monday night for a final Happy Hour as one of the girls will be leaving us at the end of the month. I suggested the restaurant too.
I came home around 8p and immediately knew something felt 'off'. I wasn't in the mood to watch tv, catch up on VM, read blogs, etc. I just felt, not sure how else to put it, 'OFF'.
I decided to go to bed early. Then it happened.
I needed to barf.
I'm not sure if there are easy barfers out there. I'm not one of those people. I'm scared to barf. It frightens me to imagine kneeing in front of the toilet and trying to upchuck stuff from my stomach. But something was terribly wrong that night. I could FEEL it. I was sweating hard from trying to push the feeling down to barf. I was DETERMINED not to barf and just survive until the next morning.
I started getting stomach cramps. PAINFUL stomach cramps. I don't have kids so I never understood what 'contractions' felt like until last night. The cramps felt like gut wrenching contractions in my stomach. I would sometimes go into a fetal position in order to dull the contraction pains.
My body was telling me I needed to throw up. But my mind was telling me NO.
That's kinda what it feels like when I go into my OCD mode. The body is saying one thing but the mind is saying another. Kinda like when I almost went dumpter diving to find moisturizer I thought I'd lost.
I didn't sleep at all that night. I was too busy fighting the urge to vomit and holding my stomach to ease the cramping. I was having delirious nightmares/images of me possibly having appendicitis because could food poisoning be THIS BAD. I was ready to call my sis or best friend, around 3a, because I literally thought my life was ending and I needed to go to the hospital.
My eyes opened at 6a and I smiled as the urge to vomit had subsided.
It worked Faye. You did it.
But the cramps came back with a vengeance. It felt like my body was punishing me for not purging the poisons when I had the chance to. I guess I would be mad too.
I couldn't get out of bed. It was that bad. I texted my girlfriends from the night before and they all, collectively, said what item must have made me sick. They reprimanded me for not purging the night before as that's the best way the body heals itself.
Ok great thanks. Now can we move on to what I do NOW to feel better. 
Suggestions: Pedialyte. Gatorade. Stay hydrated. And that's about it.
It was about noon. I was still in bed miserable and hurting. I decided to get out of bed and head to the store to find something, ANYTHING, to help me.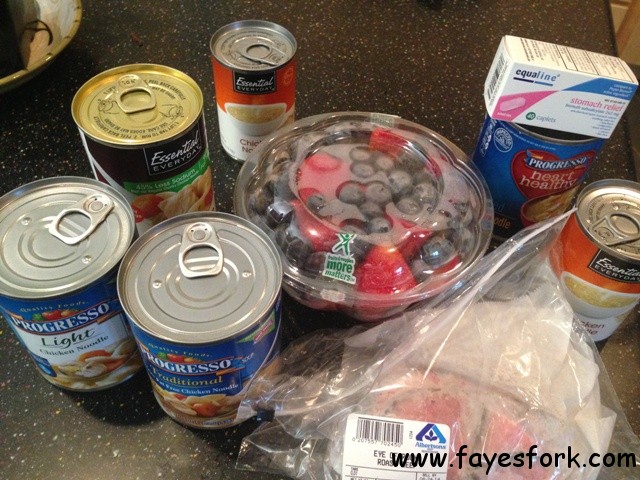 This was my bounty after deliriously wandering the aisles for about 30 minutes. Four different kinds of chicken soup, fruit, pepto bismol (suggested by pharmacist who ALSO mentioned I effed up by not barfing the night before), deli meat (which made NO sense).
So how do I feel this morning. Better. The cramps are still there but they're not as frequent. Canned chicken soup has so much noodles and carrots in 'em – have you ever noticed that. I'm hungry but not really if that makes any sense. The thought of food makes me weary, if not nauseous at this point.
Needless to say, that's why I'm posting a non restaurant review today. The thought about writing or reading about food makes me shiver. Literally.
Not sure if anyone else has had this same type of food poisoning experience but if there's an alternative solution to easing the current cramps and nausea, please do share. Chicken soup + pepto hasn't been the most delicious (note sarcasm here) of ways  to ease my tummy's anger.
Let's hope this week gets a bit better –