I wanted to work on this post earlier last week but decided to put it on the back burner (as the thought of writing/posting pics, after food poisoning, of cracking open a live uni & then eating it, made me nauseous…like, LITERALLY).
Uni has been a seafood item that I've wanted to fall in love with. It reminds me of love actually. Or dating (to be more accurate). For example, on paper, uni sounds amazing and the descriptions of this prickly shellfish should be quite compatible with yours truly. But once you get to know uni, what if the chemistry isn't there. You give uni a chance, uni gives you a chance…and… what if there's just NO chemistry. Makes sense?
I can't believe I'm using uni to describe my dating life. I wasn't going to use uni as a metaphor AT ALL but I guess that's what I'm thinking right now so there ya go. I'll post about that paper chemistry another time perhaps.
I had my first experience with a live uni at Poppa's Fresh Fish at one of the farmer's markets. One of his customers actually helped named this blog all that time ago.  Look at the beautiful uni I tried back then: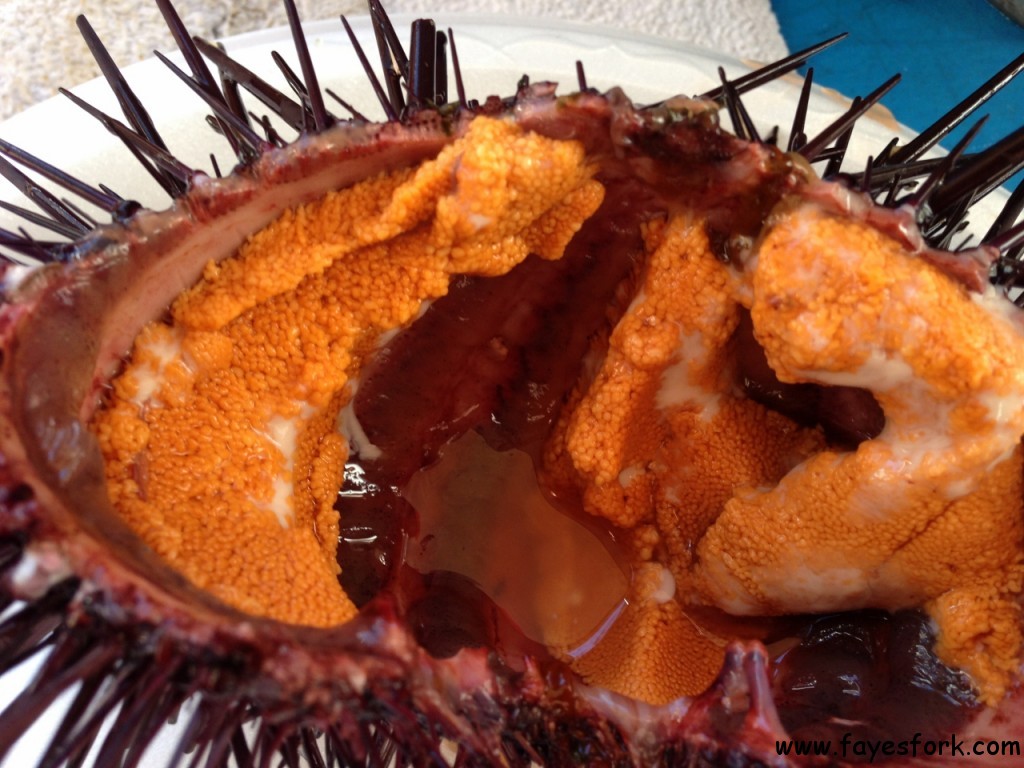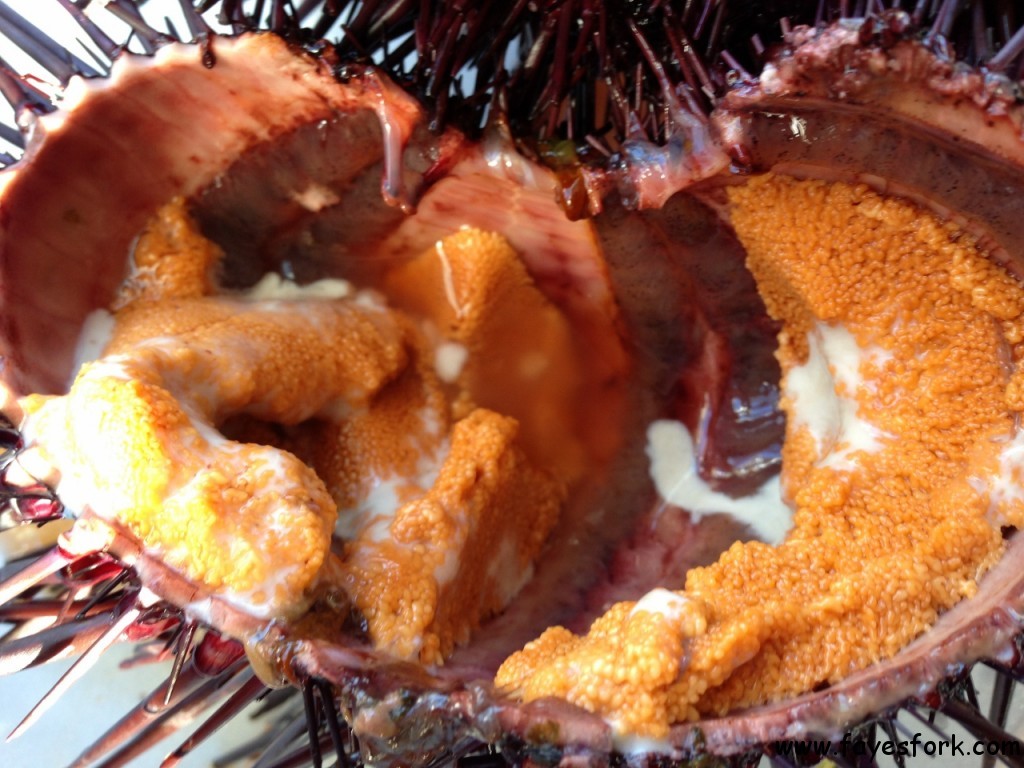 The bright orange roe, leaking a bit of what seems to be uni milk (is there such a thing?), still takes my breath away. These are the best pics I've ever taken of a live uni.
But you either love or don't love uni in my opinion. Oh crap, is that another dating metaphor…
I've tried several times to fall in love with uni and it's been hard to even move onto a third date with him it.
I've been jonesing for live uni recently. Like BAD. Well, before I got sick last Monday night. I was at H Mart on weekday picking up stuff to make for dinner that night.
I was beyond excited to see that the seafood department was selling live uni for just $5.99 (each). The uni(s) were in a big tub of water (being pumped with air) so I was able to pick out which uni I wanted. It was nice not having to drive so far to find live uni for a change.
I called V to come over later as she's never seen a live uni being opened and eaten.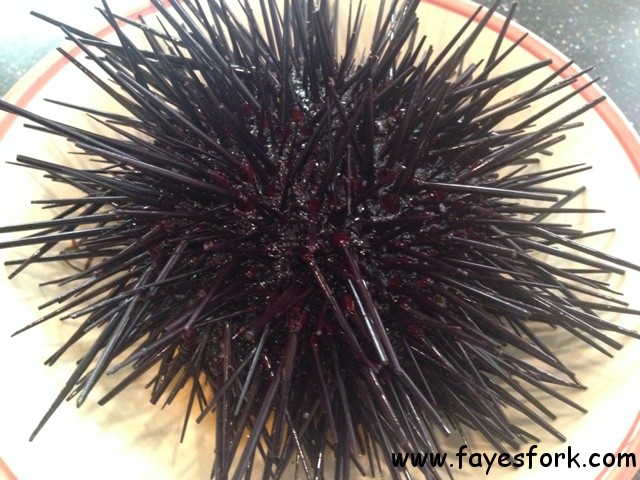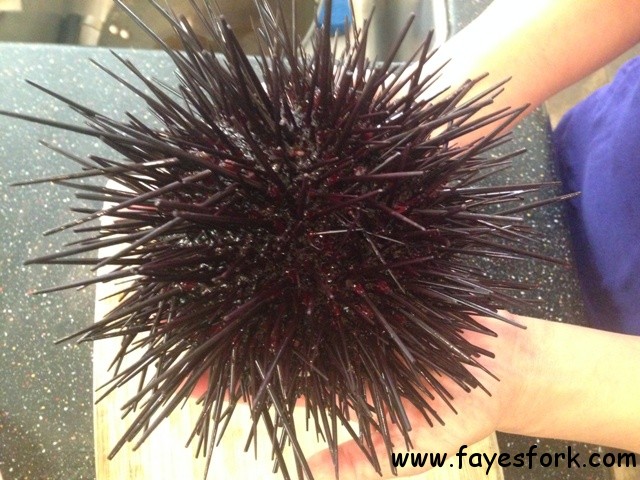 Pretty big right. That's V holding the uni with both hands.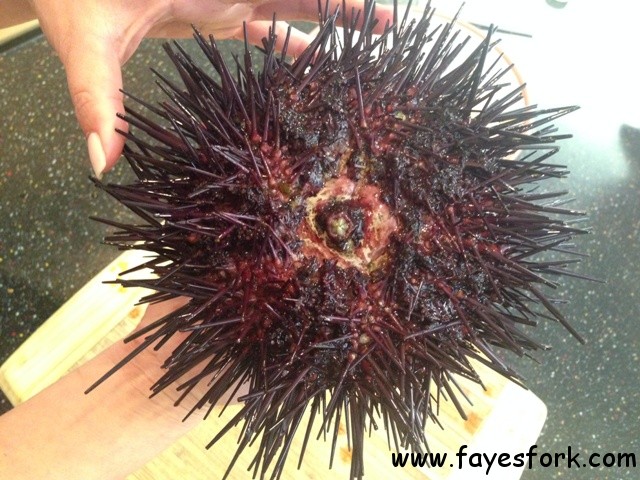 Here's the mouth side of the uni.
I've opened a live uni before but used scissors to cut the shell in half. That's how I was taught and had seen others using the same technique.  But I recently saw a 'how to open uni' video on Catalina Offshore's website that seemed way easier (and smarter).
Using two spoons, with their backs to each other, was genius.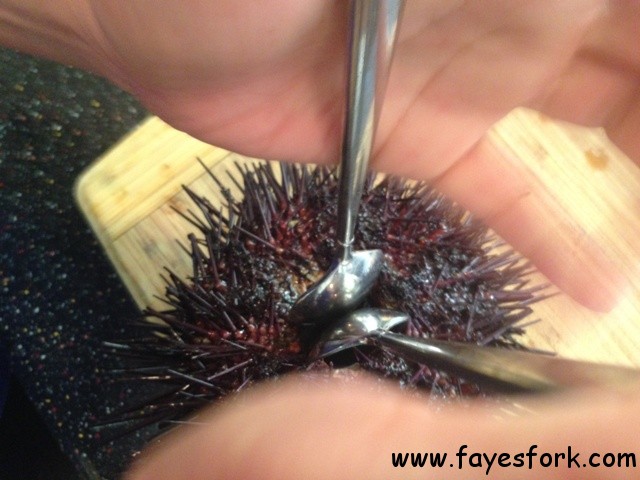 Insert the spoon into the mouth of the uni.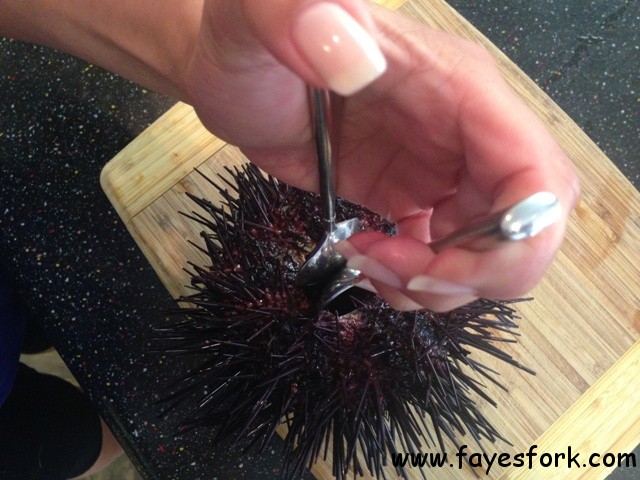 Make sure the spoons are about half way inside the cavity of the uni and that the BACK OF THE SPOONS are touching. It should create a 'squeezing effect' with the handles of the spoons (hope that makes sense as I'm trying to paint a visual for those who've never used this technique before).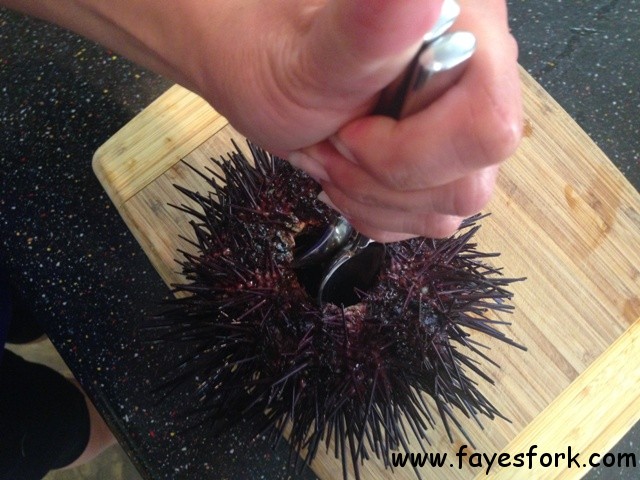 Now give the handles a firm hard SQUEEZE.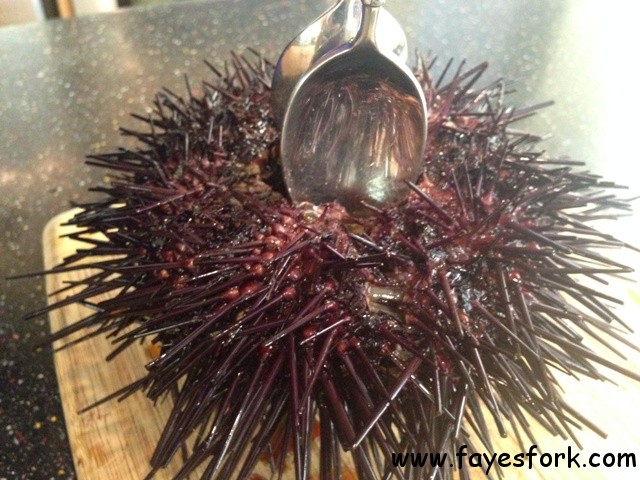 There should be no tension between the spoons after you give the first hard squeeze. The shell should have cracked. You can also turn the uni 90 degrees and repeat the same technique if the shell didn't crack open enough.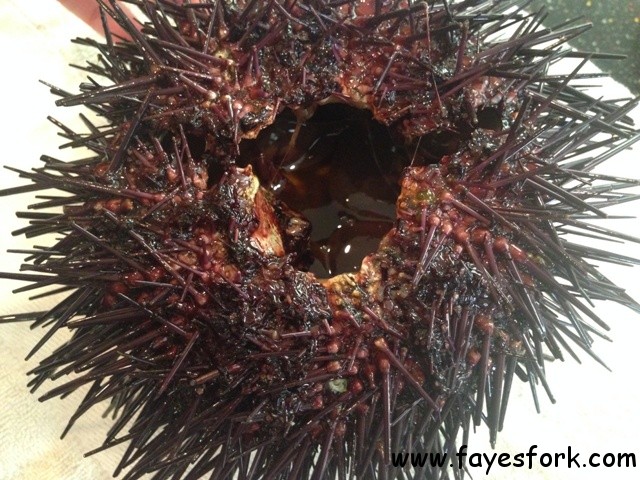 This is what you should get at the end of a successful crack (or cracks). Glorious ain't it.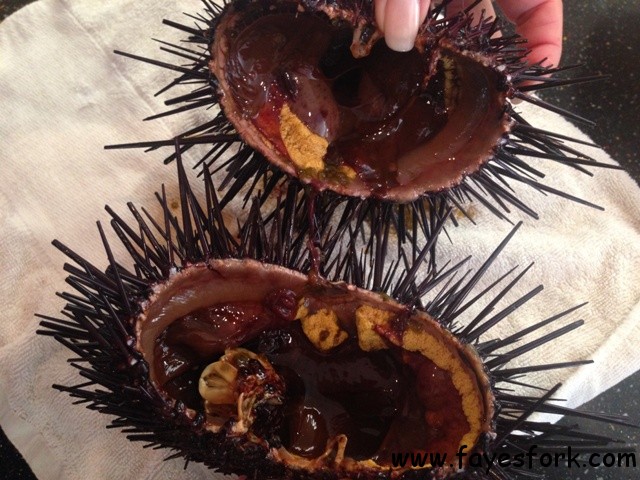 Now gently open the two halfs.
Ok, well this is where I got confused. I forgot what to do with the purple/reddish innards of the uni once I opened it. I remember Poppa's rinsing out each half with fresh water so that's what I tried to do.
V had to take the pics at the point because my hands were a mess.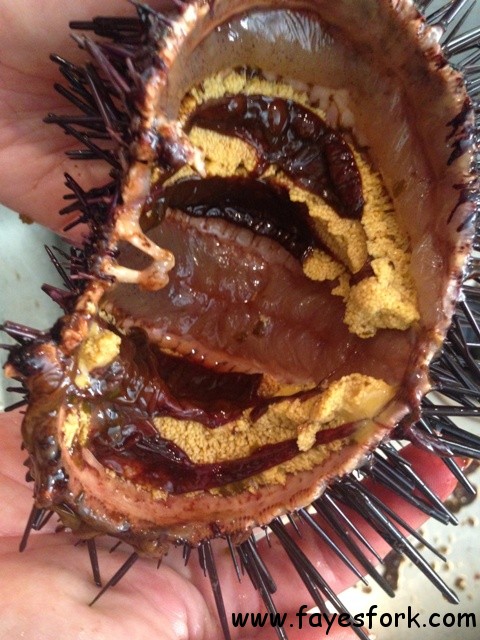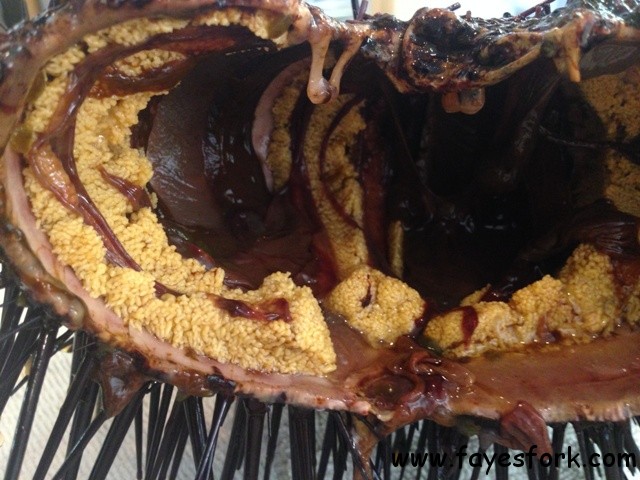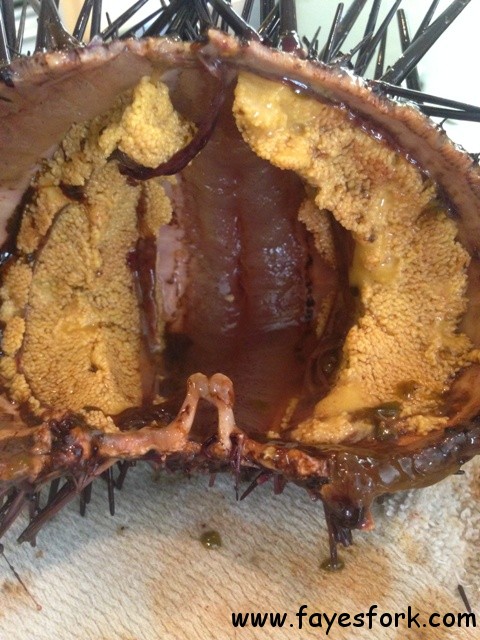 The most difficult part was separating the purple/reddish film over the roe/gonads. I was also sad that the roe wasn't as orange as I had remembered.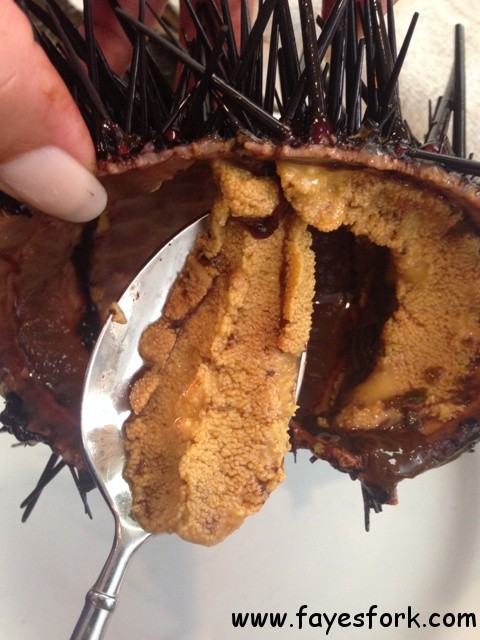 Use a spoon to scoop out the roe.
I didn't want to show this pic as it pretty much showcases how awful of a job I was doing. But hey, trying to keep it real here.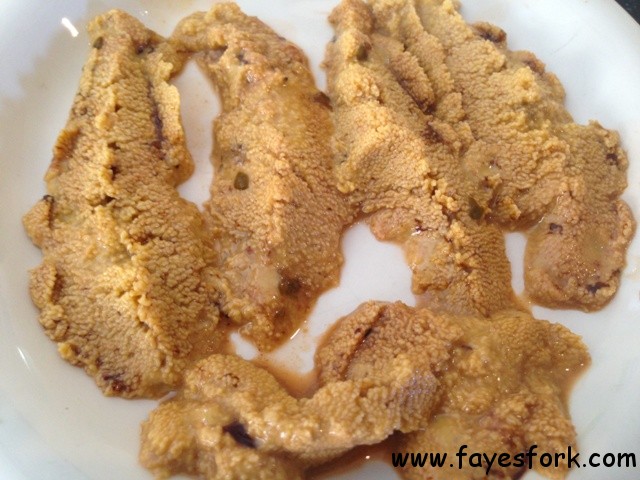 FINAL PRODUCT
I think I extracted about 6 pieces. I used cold water to rinse off as much 'film' from the roe as possible. Then I used my fingers to GENTLY remove whatever the water couldn't rinse off (see, finger nails come in handy).
So how did it taste.
Well. For those who have never tried uni, here's what NOT to do when you're consuming one. 1) DON'T have someone with you who keeps whispering 'You're not going to *EAT* that are you' during the whole roe extraction process; 2) DON'T have someone with you who keeps playing with the still-moving-uni when you're trying to eat the uni roe.
I think all this talk of killing live seafood kinda got to me (thanks J.S). It was INCREDIBLY hard, for me, to eat the roe with V hovering over me AND me staring at this: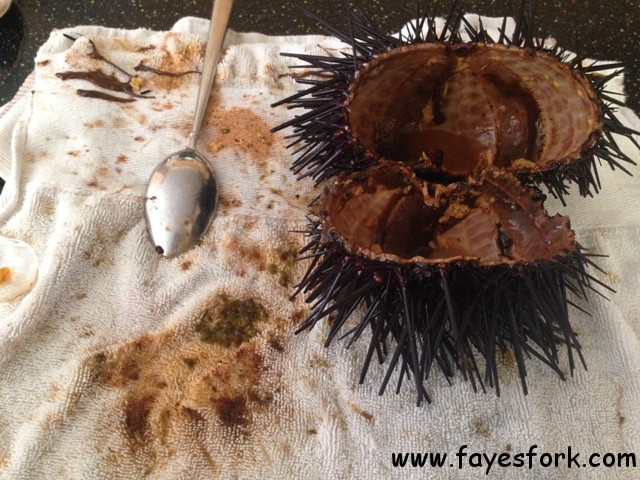 SLAUGHTER STATION
And then V exclaiming 'ewwwwww….look at the sink!':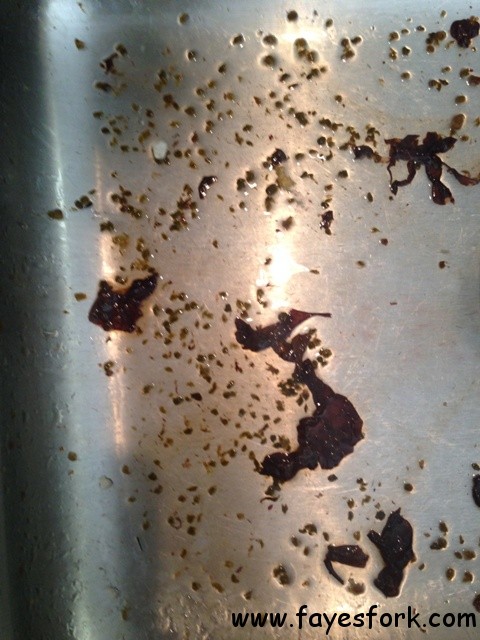 I'm kind of a visual eater so all this extra stimuli just got to me. Was the roe alright nonetheless? Sure. It tastes like buttery (?) hamachi (if you close your eyes and just focus on the taste). That's just MY interpretation of it. Peanut swears it tastes like ocean custard. I think it would help if I had the roe ice cold versus room temp.
So there ya have it. Hope this post shed a bit of insight on this mysterious creature for a few others out there.
(PS – I went to H Mart this weekend and the live uni was on sale for $4.99!)