I've been trying to re discover San Diego. Usually I prefer to do this alone but sometimes I need a little help. Yelp recently partnered up with Hornblower Cruises & Events and 20+ vendors to host an event for a ton of yelpers. This wasn't an elite event so anyone with a valid yelp account could rsvp and wait, like everyone else, to see if they got in.
I wasn't really feeling this event as it's on a BOAT. Let's break it down: I hate the water, I get sea sick, I CAN'T get off the boat when I'm done with the food, and there will probably be tons of people there I don't know (or really want to know). Plus, the event is from 6-9p (with a one hour check in time from 6-7p – yikes). So the actual cruise portion of this event was two whole hours.
I figured if I got in, it would a sign from up above to enjoy a sunset cruise with people I don't know. Woe is me.
The event took place on a Wednesday evening. It took me over 45 min to drive to the Harbor from North County. I had forgotten how bad the 163 freeway gets during rush hour traffic. The invite clearly states that the last check in is at 6:45p SHARP. And the boat will take off (is it take off?) promptly at 7p. I was still stuck in traffic at 6:15p. I was totally going to miss the boat. I FELT it.
Luckily I arrived just in time and found underground parking for $10 (not because it was easy to find but because I researched like a madwoman the day of for parking options).
There were no lines to check in so that was a nice change. Maybe showing up late IS a good thing at these events.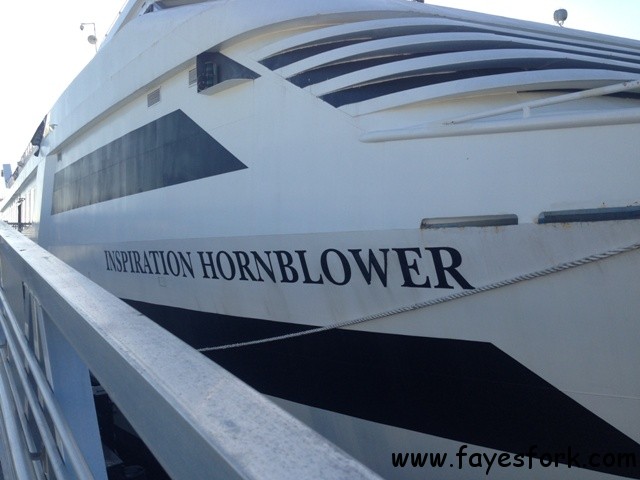 INSPIRATION HORNBLOWER
Oh crap. This is a LEGIT boat. The captain and two crew members stood at the entrance to greet people.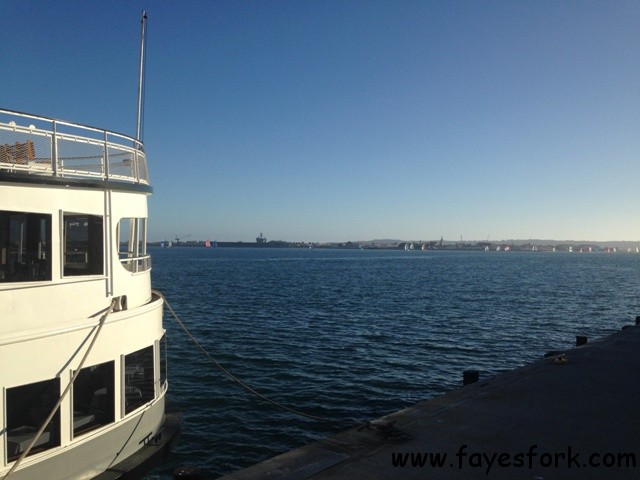 It was such a pretty day. I was actually taking the time to soak it all in.
I didn't take a photo how the vendors were set up on this 3 tier ship (I think ship is a better word than Gilligan's boat no). I mostly took pictures of the food so let's start shall we :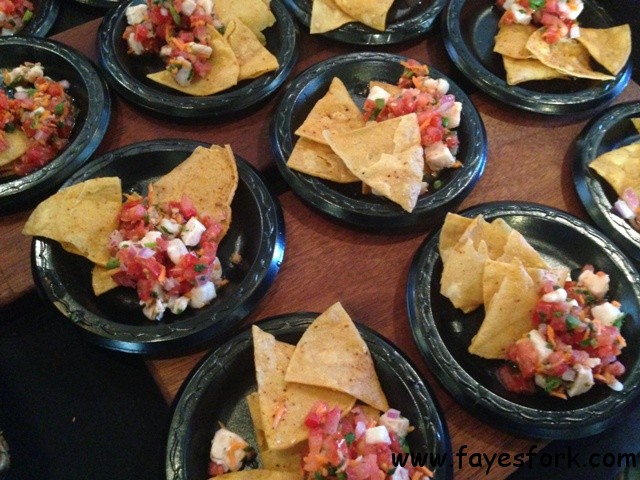 SPIKE AFRICA'S
Chips and ceviche 
The best item of the evening. I loved the crispy seasoned chips and the ceviche tasted incredibly fresh.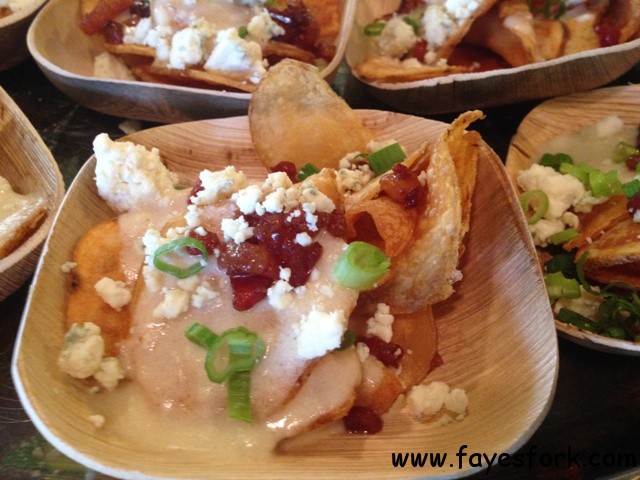 Hornblower Cruises (?)
Fried potato chips with blue cheese and bacon
I am not sure if this item was made by Hornblower. The cruise has it's own kitchen/catering I believe so they provided a few different dishes to sample that evening.

Caramel pudding?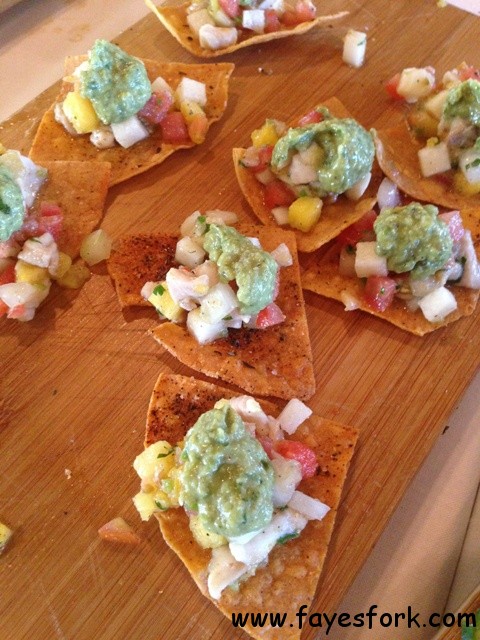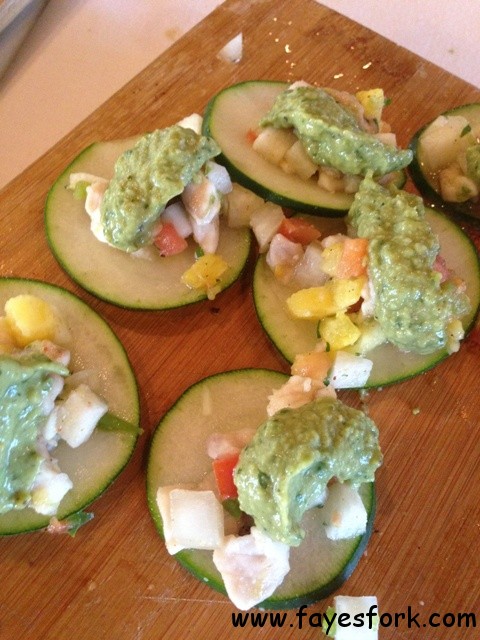 TAVERN AT THE BEACH
citrus vodka ceviche
They also served the ceviche over cucumber for a gluten free option.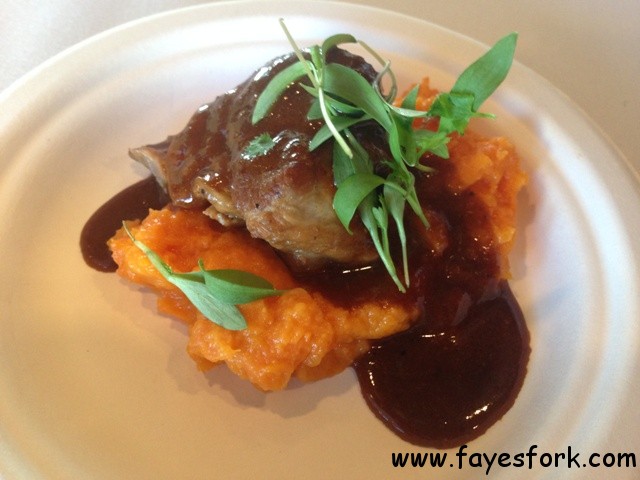 TOAST CATERING
braised country style pork with red mole sauce & sweet potato puree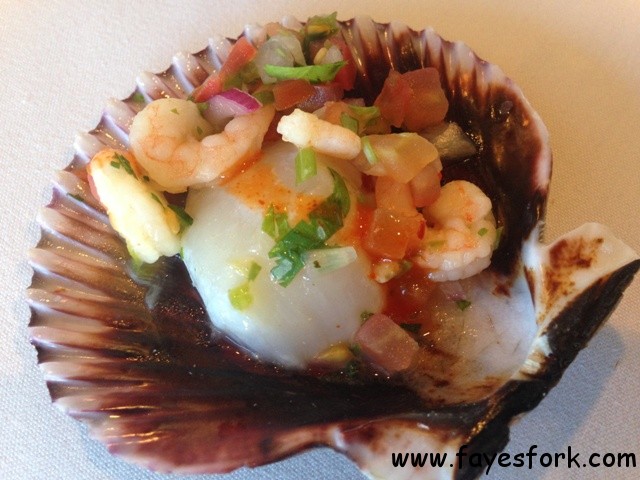 HORNBLOWER CRUISES
scallop ceviche
I was quite surprised by the quality and presentation of this dish provided by Hornblower. The plump raw scallop was delicious.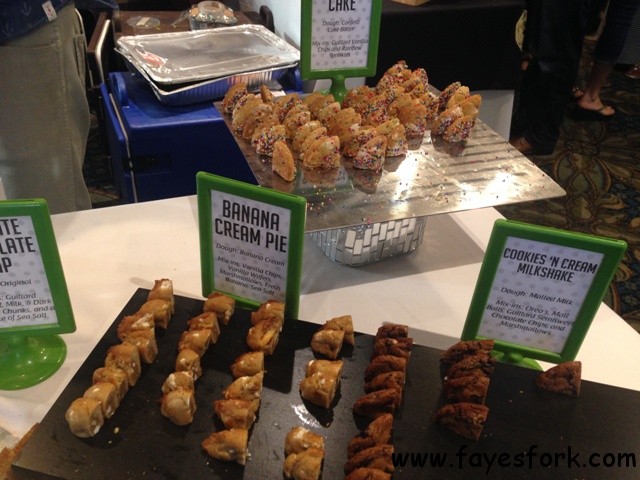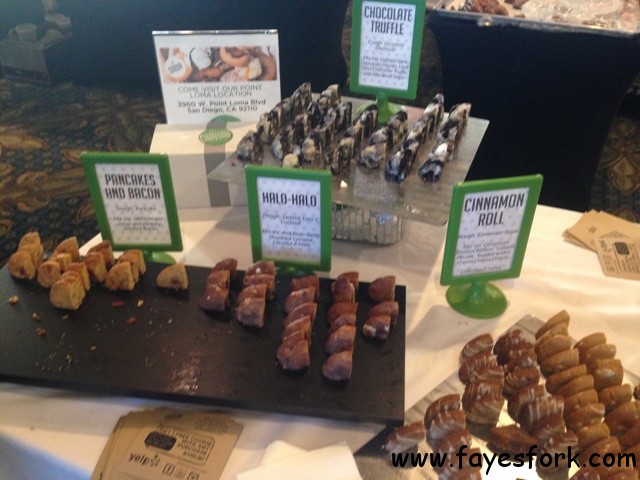 THE CRAVORY
Look at all the variety of samples!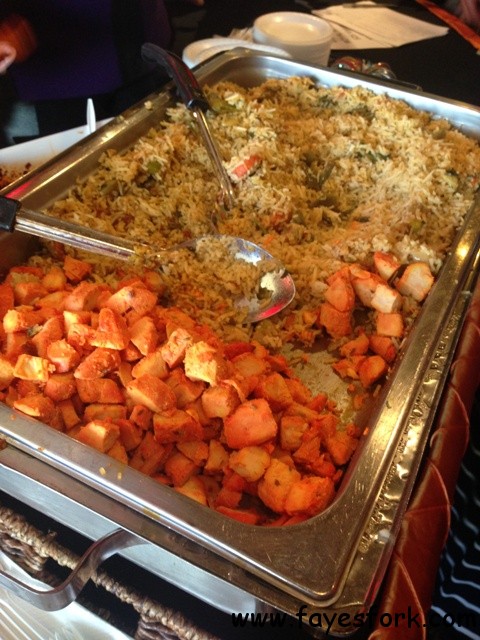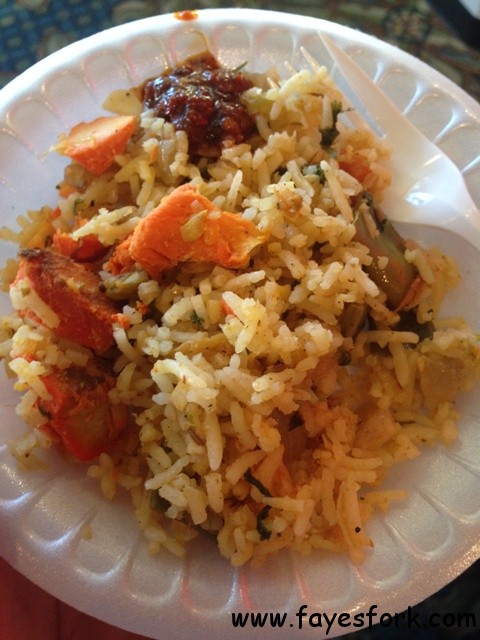 ROYAL INDIA
chicken tikka masala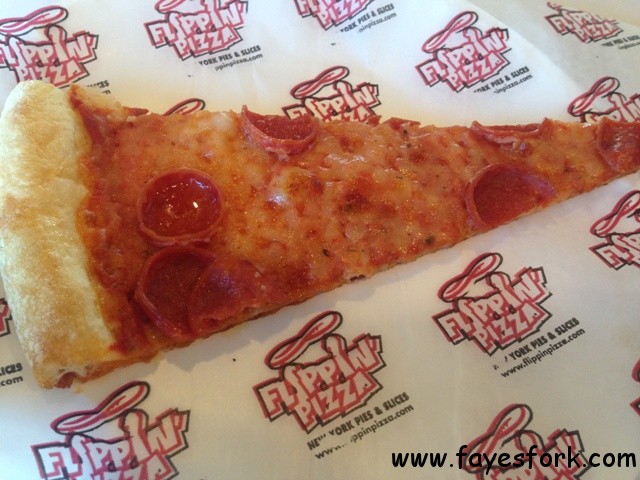 FLIPPIN' PIZZA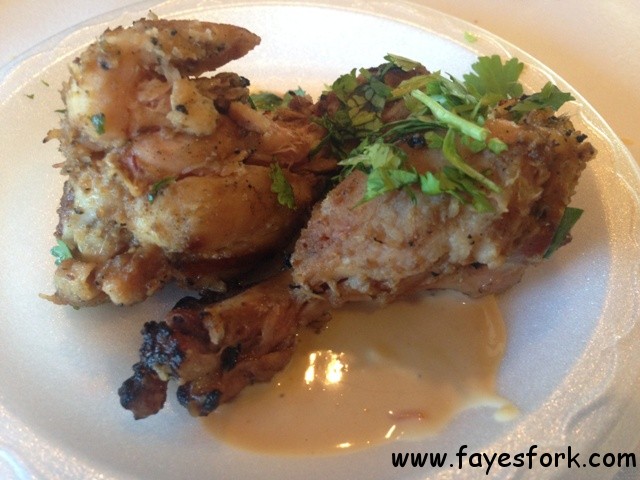 WEREWOLF AMERICAN PUB
ginger garlic soy sauce wings
I thought wings were a bit cold and dry. The fresh cilantro was a nice touch.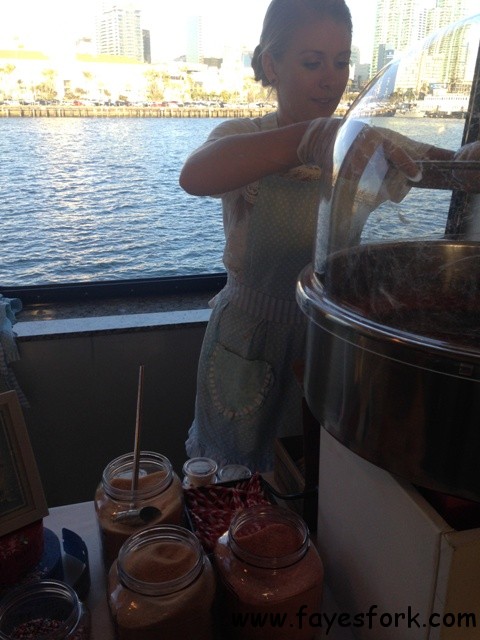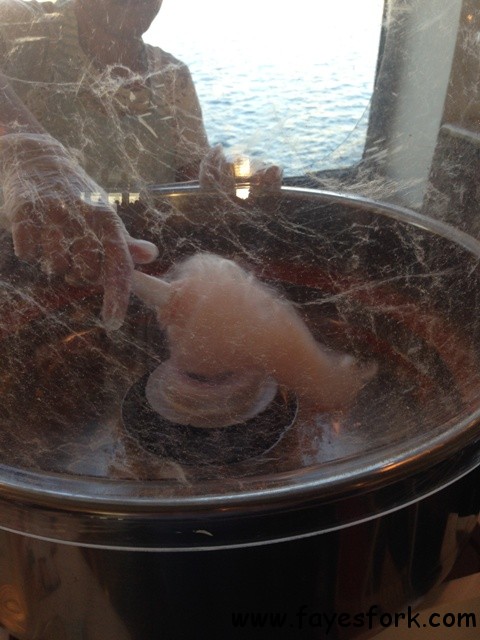 COTTON CLOUDS FOR A CAUSE
freshly made cotton candy
I want her outfit 🙂
Ok. So this is where I took a break from sampling everything. I was quite content sitting alone at a table and bopping my head to the beat of live music on this happenin' dance floor: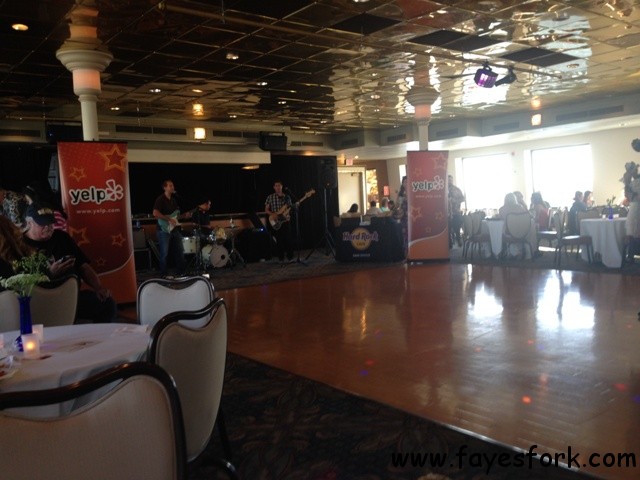 Just kidding. No one was dancing because, um, we're not at the prom.
I was so happy to see PJ there. We both knew we'd be at this event. She almost missed getting on the boat too. PJ would be my foodie partner that night (thank goodness).
We decided to venture to the third floor to see what was going on.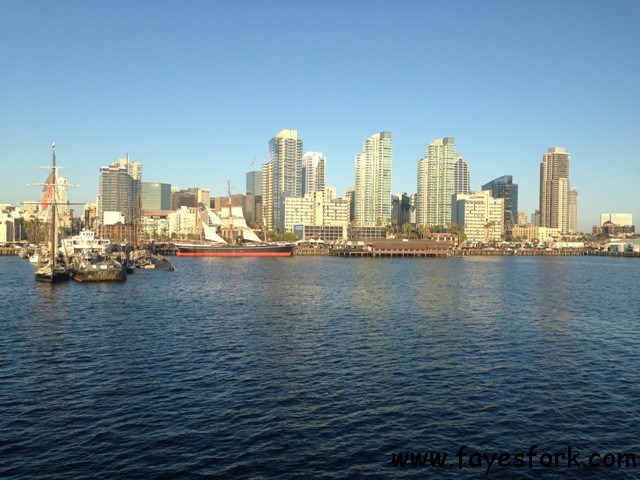 SAN DIEGO
Goodness gracious people.
Could I have ASKED for a prettier day.  Look at our city. Isn't it beautiful? This photo came out so nicely.
We decided to come back to the 3rd floor when the sun was setting. In the meantime, where the heck is the rest of the food.
Ahhh-haaa…yes…bottom floor we must a go.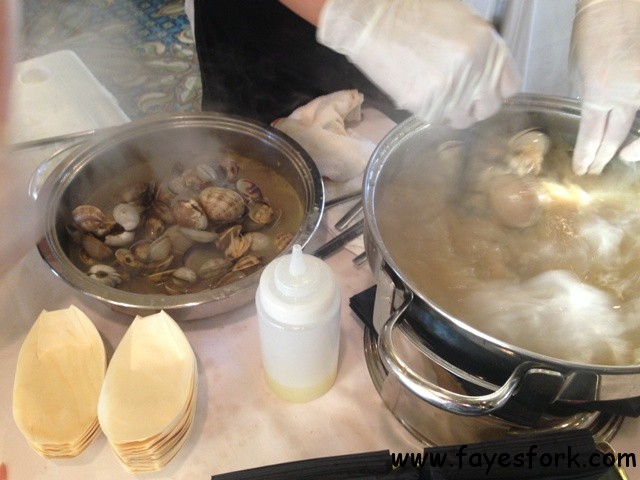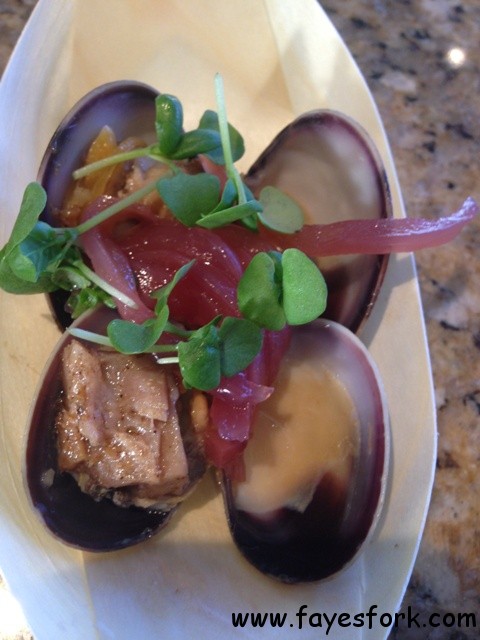 GREAT MAPLE
smoked pork belly with manila clams, pickled onion & soy glaze
I've wanted to visit this restaurant for quite some time so it was great seeing them at this event. I wasn't a fan of this dish though. All the flavors (belly, clams, pickled onion) got lost within each other.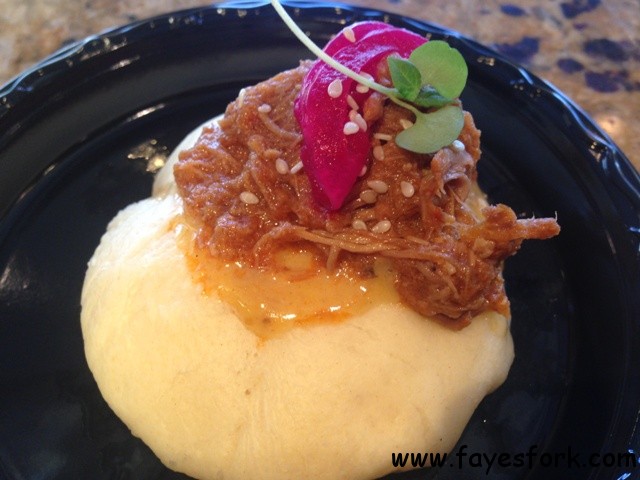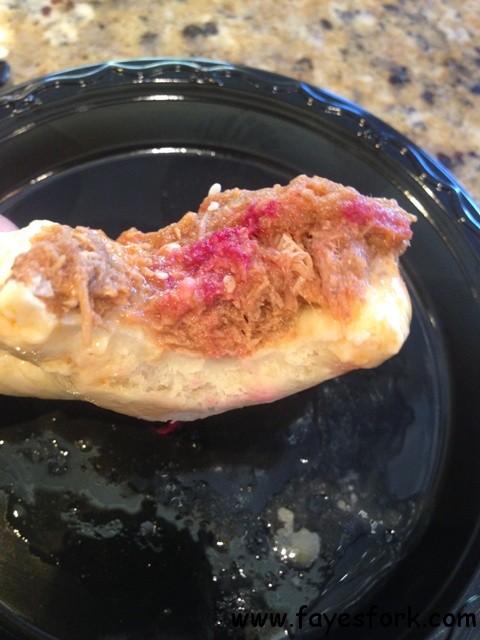 UPTOWN TAVERN
braised pork bao bao
My eyes opened wide when I saw this bao (not sure why they call it a bao bao but that's how it's typed on the flyer) . Unfortunately, this was the worst item of the evening. The only thing you could taste was the YEAST in the under cooked bun (bao).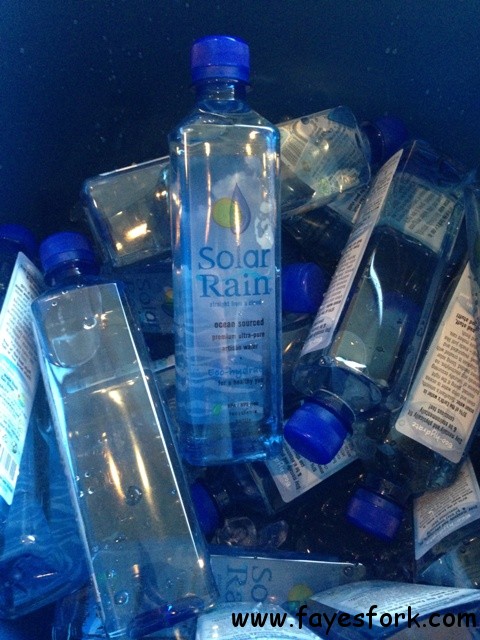 SOLAR RAIN WATER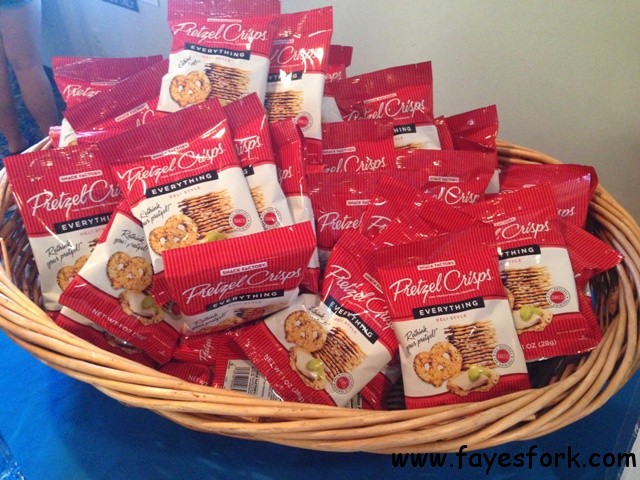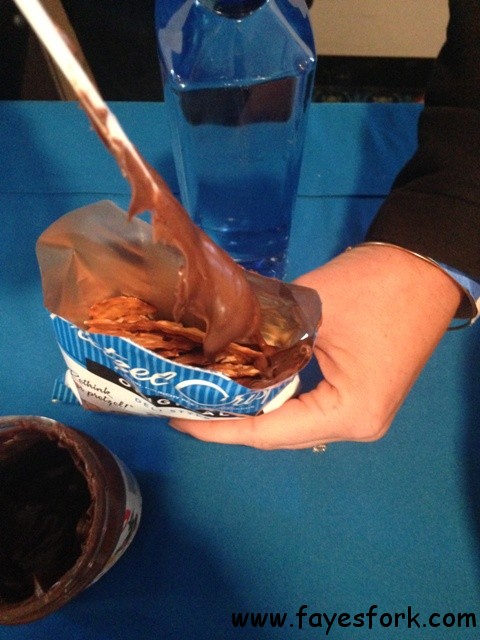 PRETZEL CRISPS
snacking station with dips
I like nutella so the girl showed me how to make a dessert snack with their pretzels. She opened up a small bag of their plain pretzels and then put a big ol' dollop of nutella on the (in)side of the bag. You then take a pretzel and run it over the side of nutella.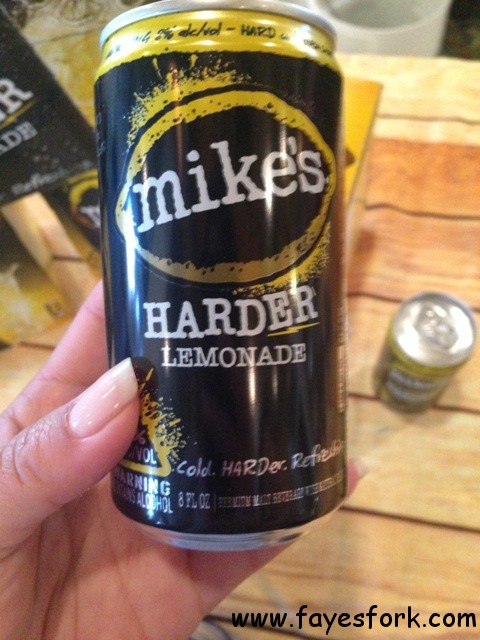 MIKE'S HARD LEMONADE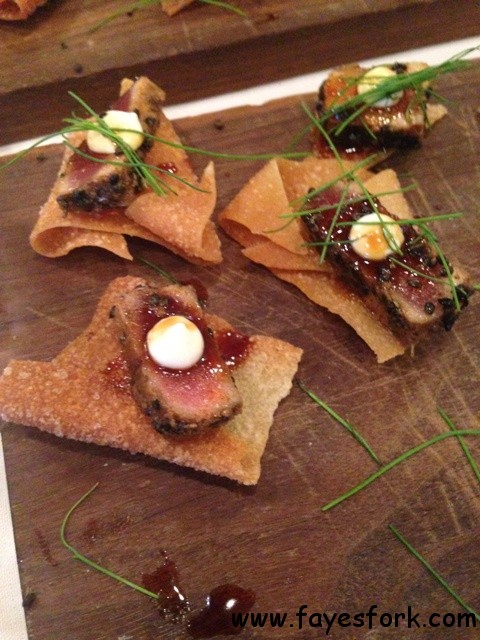 West Coast Tavern
sesame crusted ahi , ginger aioli, soy glaze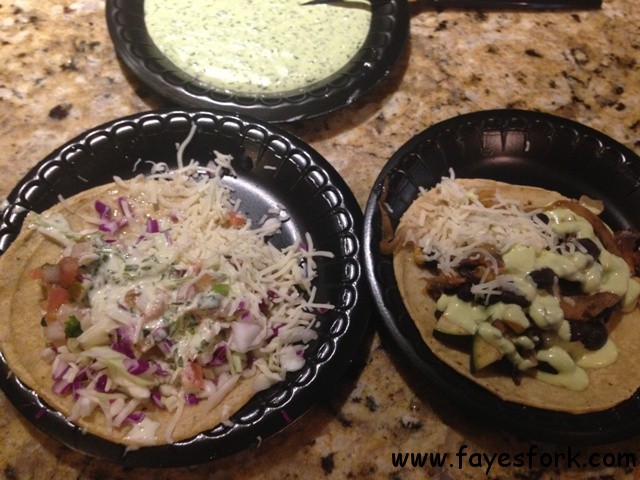 LUCHA LIBRE
mini shrimp & mini veggie tacos
We were happy to see Lucha Libre at this event. These tacos weren't very good though. They did have a container full of that creamy cilantro sauce I loved so much on my last visit to their restaurant.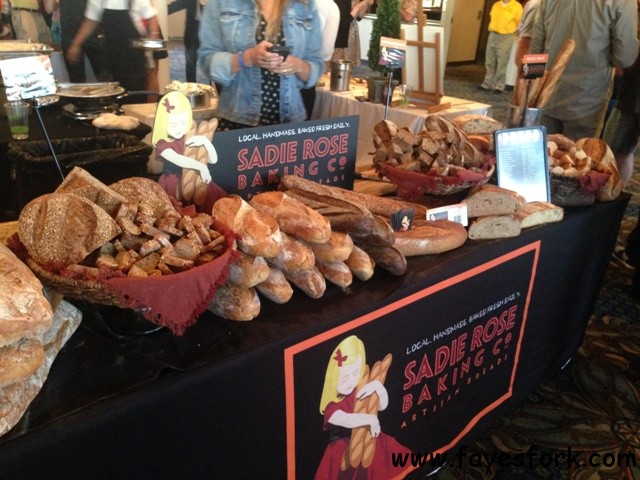 SADIE ROSE BAKING COMPANY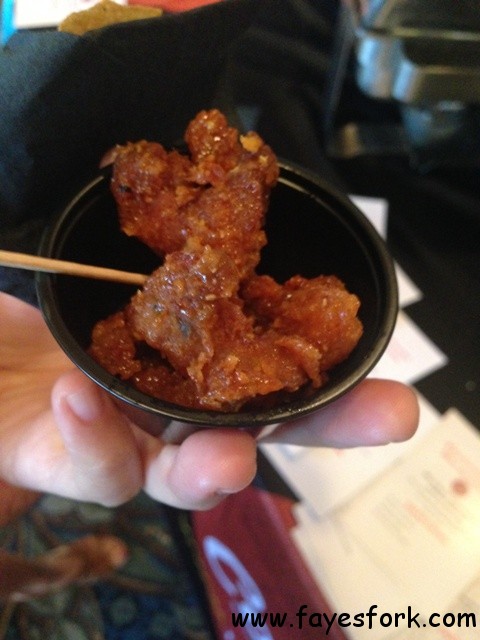 THE COMMONS BAR
popcorn chicken bites
I didn't sample this but PJ said it was pretty bad.
Ok, back to the 2nd floor because we just HAD to have dessert.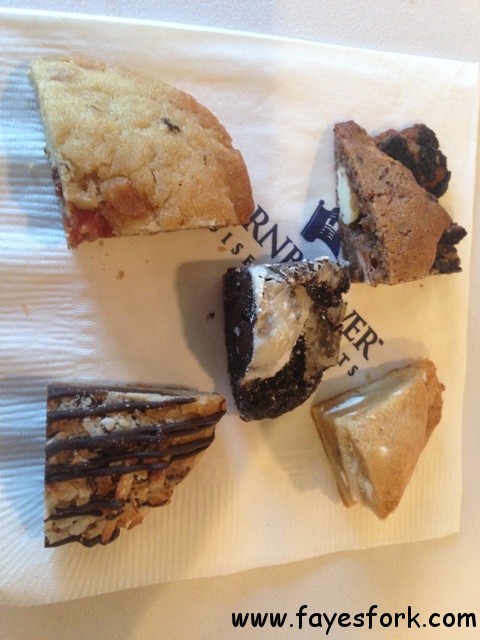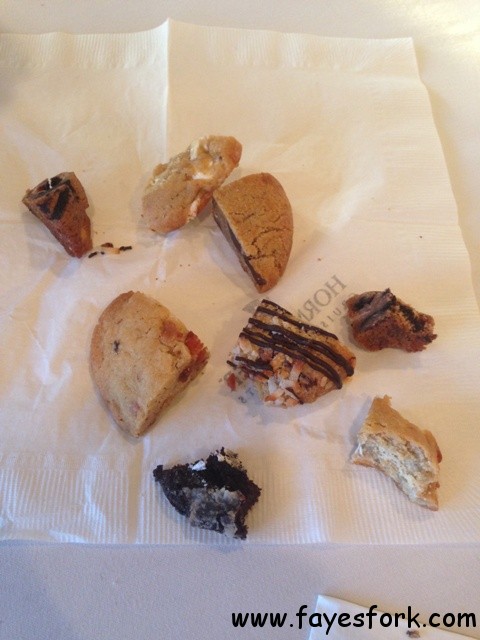 THE CRAVORY
I think we got about 8 samples for the both of us to try. I've never had one of their cookies so I was excited to try these samples. One of the owners was there and he was so incredibly nice. I don't remember which cookie was my favorite though (sorry, I was so full at this point).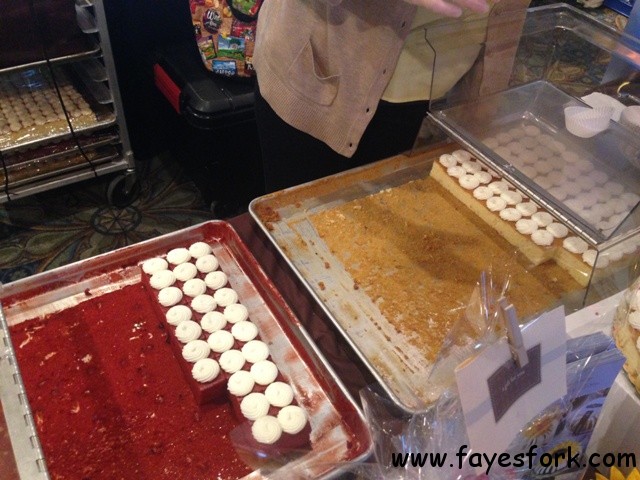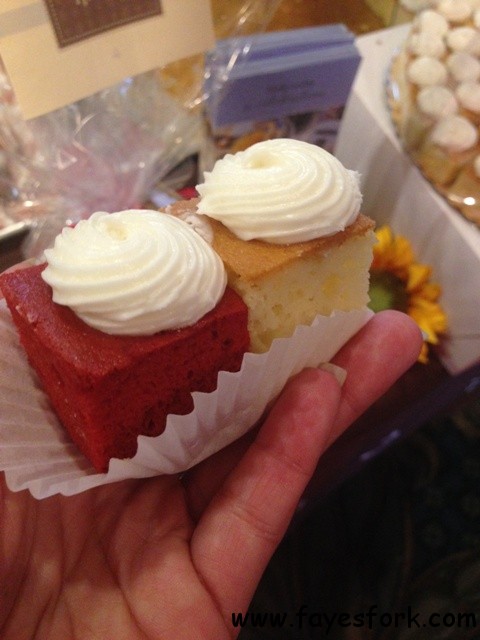 NOTHING BUNDT CAKES
red velvet and white chocolate (?)
PJ and I were too busy eating, drinking, talking that we TOTALLY forgot about the sunset on the top deck. I grabbed her arm and we bolted upstairs.
I finally bumped in Mayor Soo! He always gets into these events and everyone knows him.  I also bumped into another friend whom I hadn't seen in ages. But forget all that. I needed a moment or two to take in this: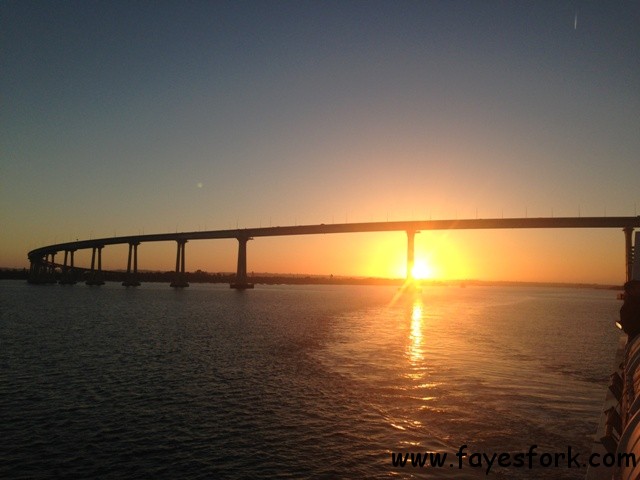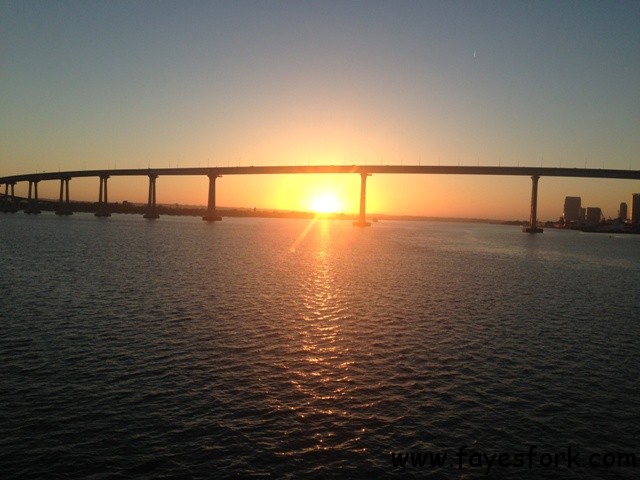 SUNSET WITH THE CORONADO BRIDGE
I was truly, so much, just enjoying the moment. Sunsets are usually nice (especially at the beach) but it's a totally different sensation when you're watching one from the deck of a ship. I don't know. Things just felt peaceful and right at that very moment.
I've been trying to find better ways to take pictures. It seems light plays a huge part in that (well of course right). Soo was teaching me a thing or two about that and the rest (of the pics) are just me playing around with the iphone camera features: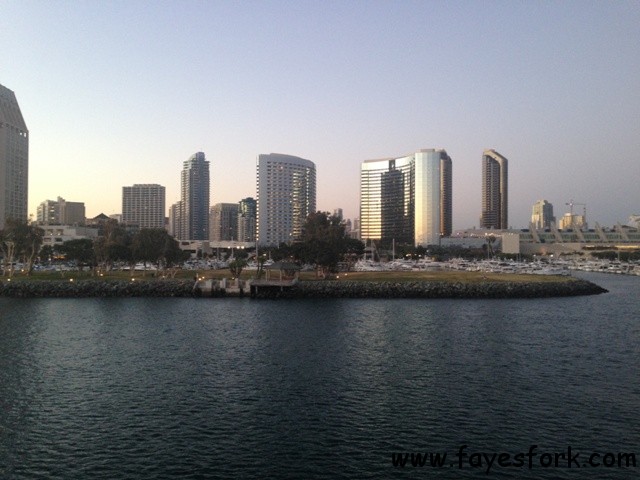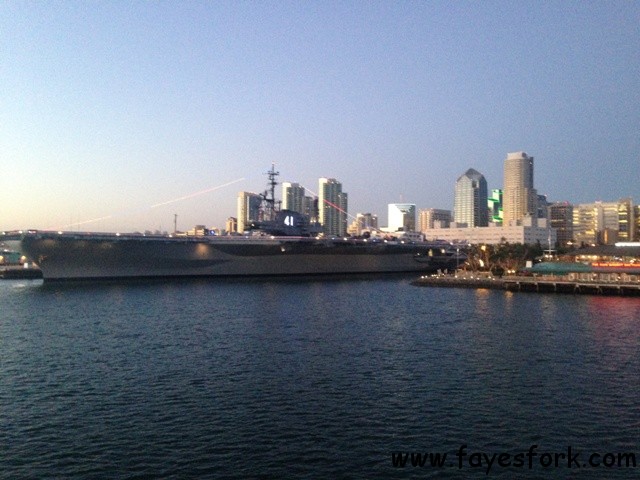 We were able to get the the 'Xmas lighting' hanging on the ship! Can you see it?
Soo said the camera wants to adjust the lighting (or something) so with the iphone, you must take the picture as quickly as possible (before the camera tries to adjust). But look at the difference in the last two pics taken within seconds of each other.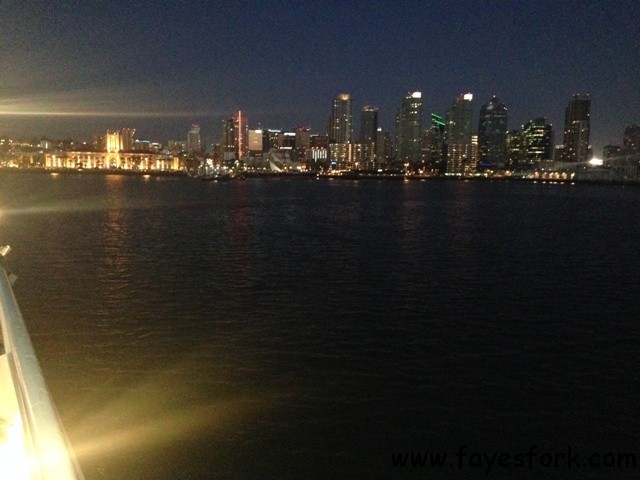 Using a bit of the lighting from the boat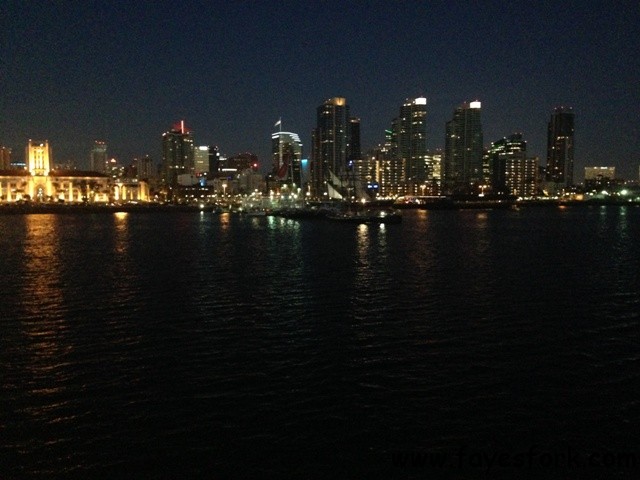 Though it's not a clear pic, I still love the above photo.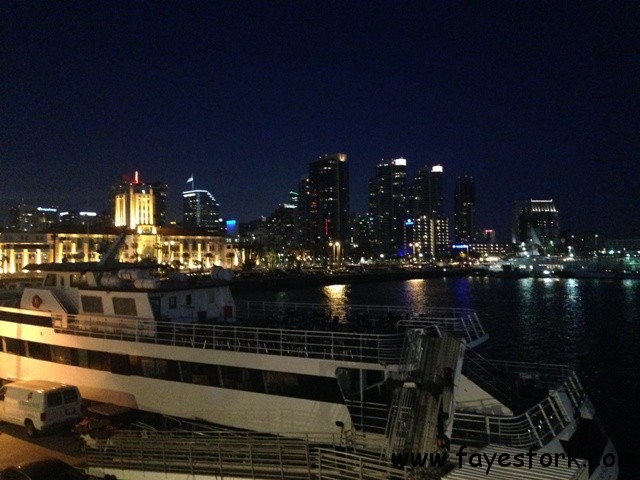 Docking around 9p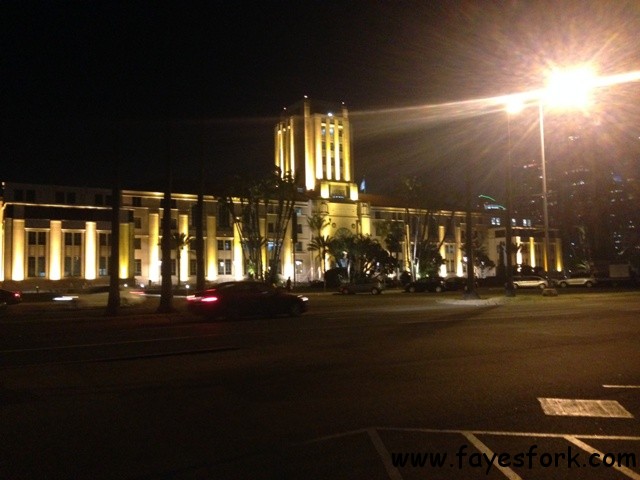 County of San Diego Tax Assessor 
This is why the city is broke. She just *HAS* to have a beautiful building overlooking the water. Just kidding. It was still a pretty sight to look at while I walked back to my car.
I had a nice time at this event. I really enjoyed the whole cruise part actually. I researched a few of their local cruise options afterwards. They have a Sights & Sips Sunset Cruise that totally piqued my interest. I just purchased two tickets after I remembered seeing it on Groupon (plus, I received an additional 15% off because the site was promoting local deals or something). The stars must be aligned. Booyahh.
So maybe this summer will be filled with sunsets, ocean breezes, and fun times for this blogger 🙂