Jeong Won Korean BBQ Buffet
This place is my go-to AYCE Korean BBQ here in San Diego. I believe they are the only KBBQ, here in San Diego, that offers 'serve yourself' meats/vegetables/banchan. I, personally, prefer that as it gives you a wealth of variety to choose from. Besides, I like LOOKING at what I can choose from at the buffet set up (versus looking at grainy photos on a menu). That's just me though.
I've been very sketch on vegetables since my food poisoning incident. Well, specifically arugula and perhaps mushrooms. Just anything green and leafy. My stomach seems to only want meats and soups recently. I wasn't really feeling an AYCE at 2:30p for a late lunch last week (especially right before the 4th of July long weekend). But CDJ convinced me to go.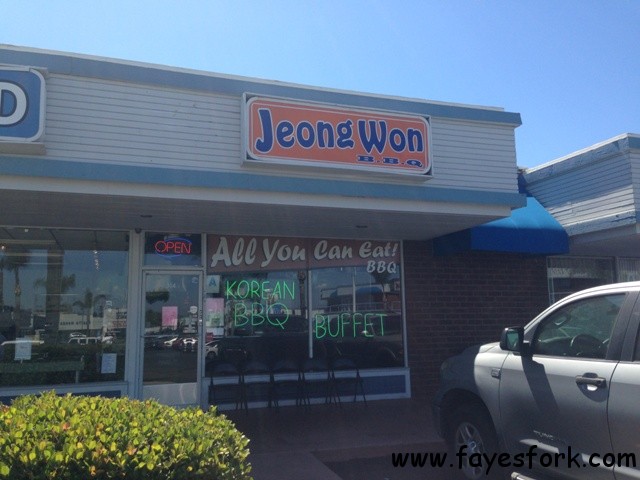 FRONT ENTRANCE
CDJ was asking if the lunch price was still being offered at $16.95 (he actually remembered my last post on this place – shocker). I told him I heard they no longer offer a discounted lunch price. So I called (because he's lazy) and the restaurant confirmed that it's now $21.95 for lunch AND dinner.
There was no wait that weekday afternoon. I'm assuming it's because it was late and not a lot of people want to pay $21.95 for lunch. It had been a while since we visited this place though so we thought a lunch meal here would be worth it.
This was the first time I didn't see a Korean staff member anywhere in the front of the restaurant. The restaurant wasn't busy at all and a nice girl sat us at a table.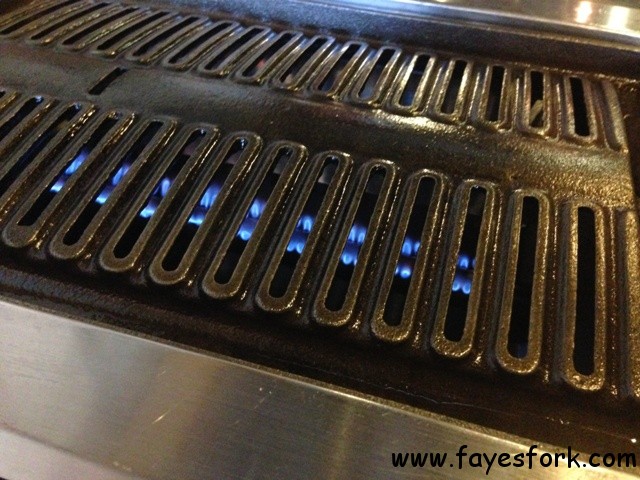 GAS GRILLE AT EACH TABLE
She quickly lit the grill and let us go to the buffet to start our foraging 🙂
My routine is always the same: get the utensils, then sauces, then head back to table.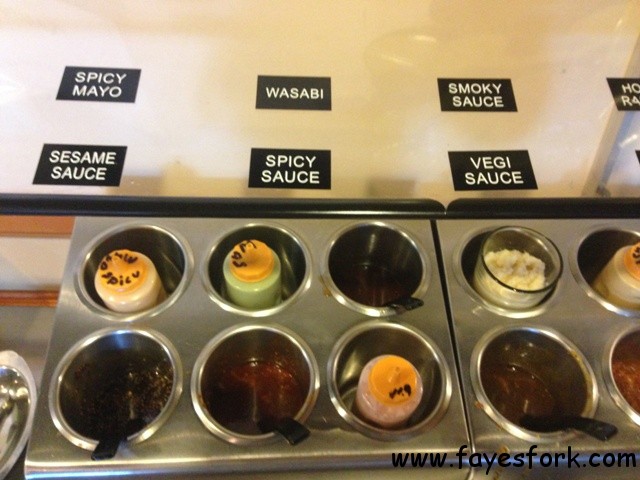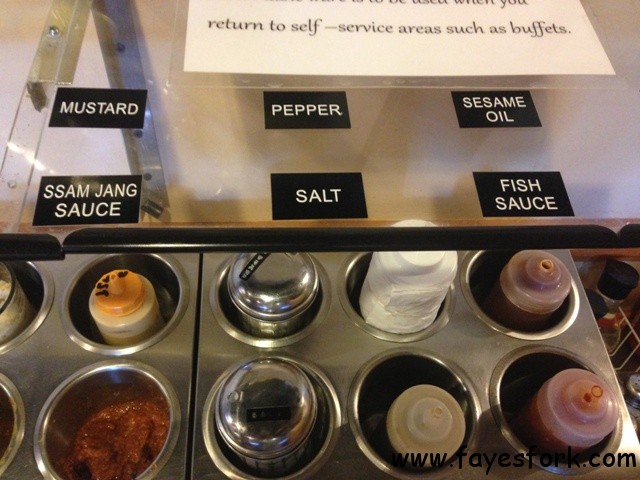 JEONG WON SAUCES
spicy mayo, wasabi, smokey sauce, sesame sauce, spicy sauce, vegi sauce, mustard, pepper, sesame oil, ssam jang sauce, salt, fish sauce
I love their selection. I usually get the sesame sauce. I've never seen another establishment offer as many sauces as Jeong Won.
JEONG WON MISO SOUP AND KOREAN PANCAKE
The soup and Korean pancake is usually waiting at the table by the time I return with my utensils and sauce(s). They gave BOTH of us our own order of Korean pancakes this time too! I usually LOVE the Korean pancakes here but the version that day was cold and dry.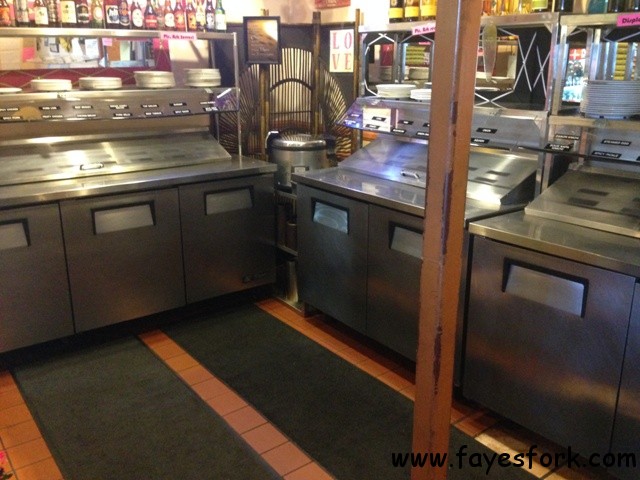 SELF SERVE BUFFET SECTION
The photo makes this area look incredibly small (which it kinda is but that's ok). There are 3 components to this self serve area: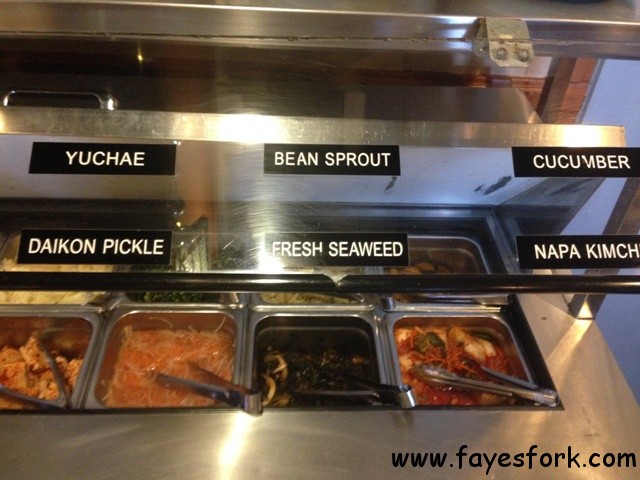 JEONG WON BANCHAN
yuchae, bean sprout, cucumber, daikon pickle, fresh seaweed, napa kimchi, daikon kimchi, steamed egg, potato salad, sour napa kimchi, spicy pickle, tofu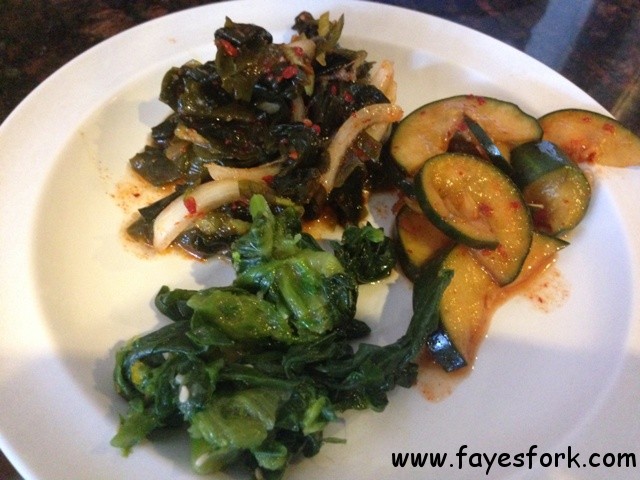 I usually get the seaweed, cucumber, and the yuchae (I think that's what it is but when I googled it nothing came up for yuchae).
The seaweed is the best as it's tart and refreshing which tastes even better when you're taking a breather in between sampling different bbq meats.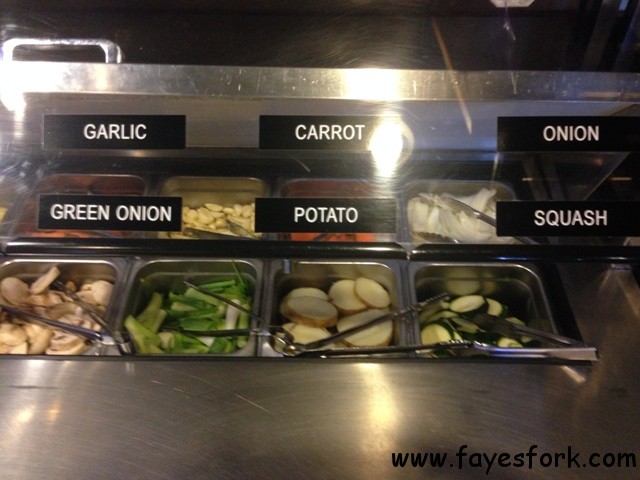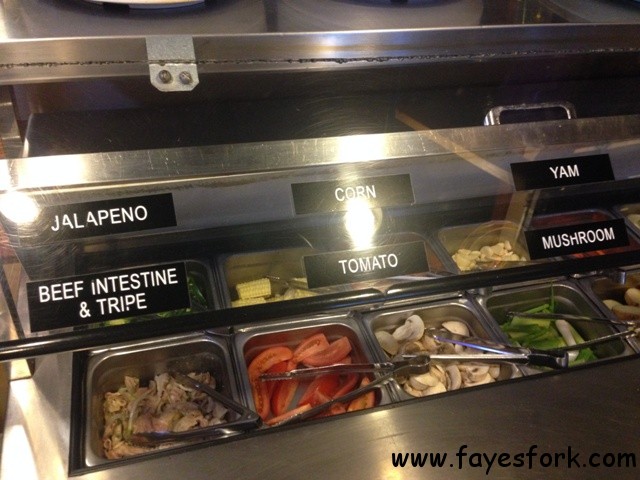 JEONG WON VEGETABLES AND SIDES
garlic, carrot, onion, green onion, potato, squash, jalapeno, corn, yam, beef intestine & tripe, tomato, mushroom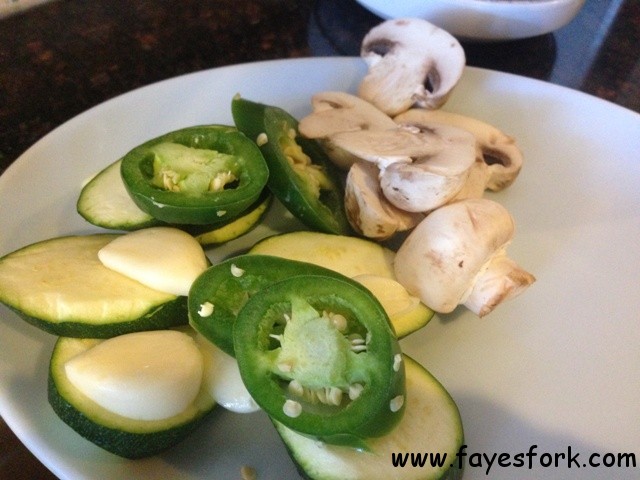 I always get the squash (zucchini), garlic, and jalapenos. CDJ usually likes the button mushrooms here.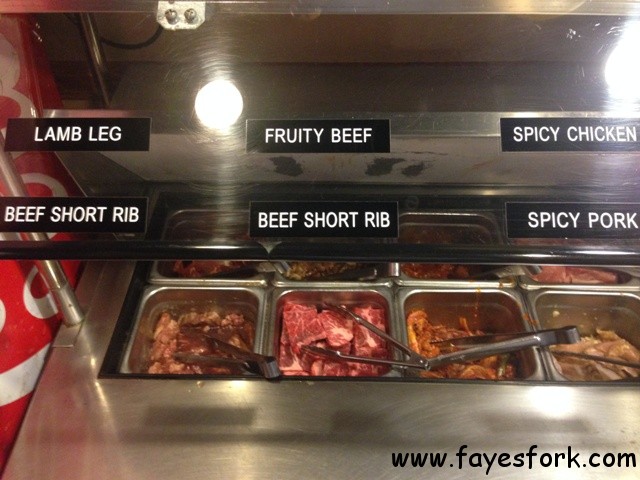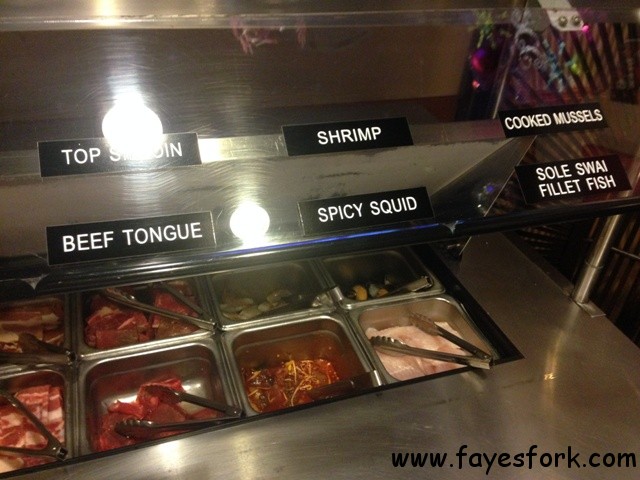 JEONG WON MEAT & SEAFOOD SELECTION
lamb leg, fruity beef, spicy chicken, beef short rib, beef short rib (unmarinated), spicy pork, top sirloin, shrimp, cooked mussels, beef tongue, spicy squid, sole swai filet fish (I'm missing a section I think: pork belly, smoked honey bacon, and maybe a few others)
And what is Fruity Beef ? They had Fruity Chicken on my last post.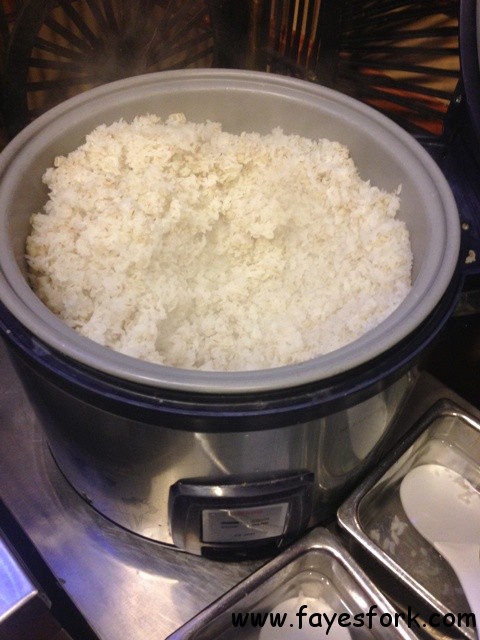 SELF SERVE RICE
The rice is now self serve in the buffet area. They used to serve it to each person at the table.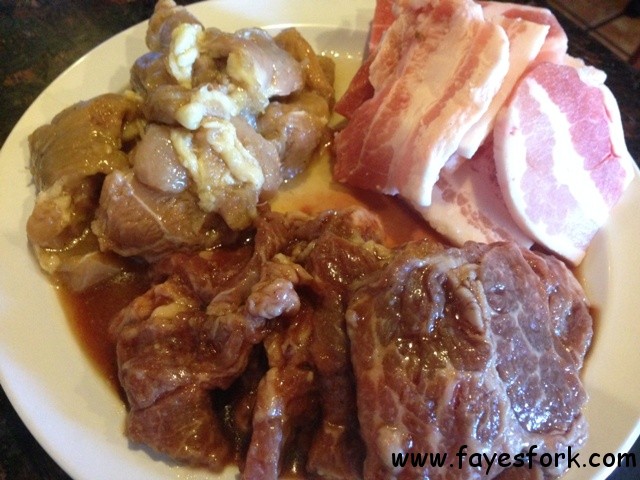 I always get the marinated chicken, pork belly, and marinated beef short ribs. They use dark meat for the chicken.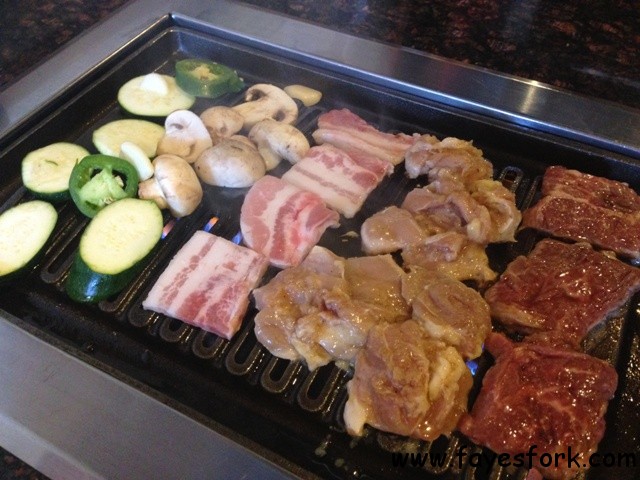 I like to grill my items with some order to them (no commingling meats and trying not to have items touching each other too much).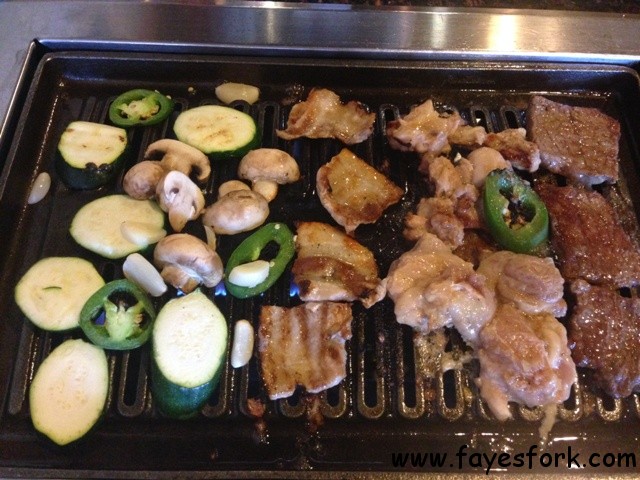 I always study the grill to find out what areas are the hottest for the best sear.
The chicken is one of my favorite items here. I'm not sure how they marinade it but it grills nicely and has a nice flavor to it.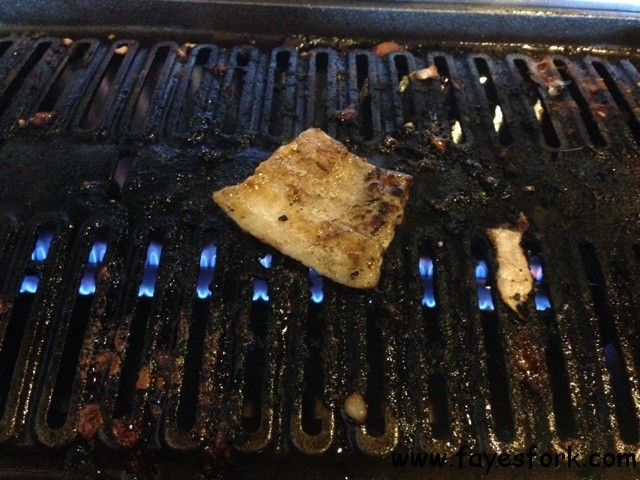 The pork belly is great and the fat crisps up nicely when you leave it long enough on the hot portion of the grill. I took this picture of the lone pork belly piece to showcase how the nice waitress asked, at this point, if we wanted a new grill. So that was cool of her.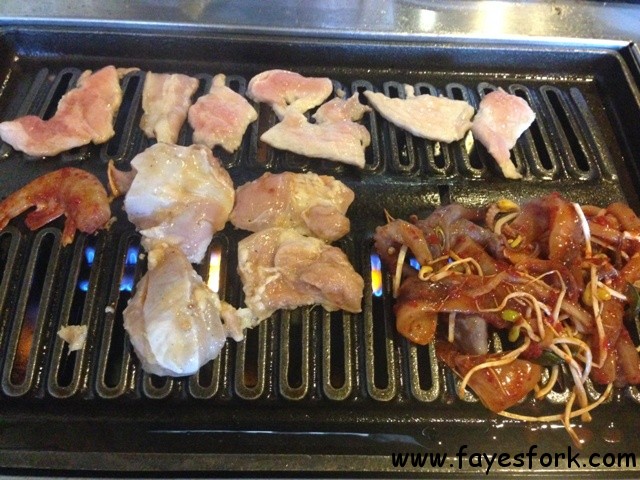 CDJ also got the mussels but I forgot to take pics of that. I added a shrimp and spicy squid to the second grill.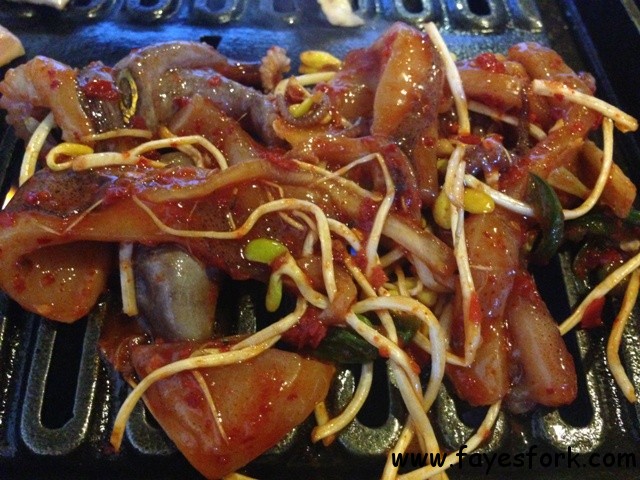 SPICY SQUID
I usually enjoy this but the squid tasted off-puttingly-fishy that afternoon.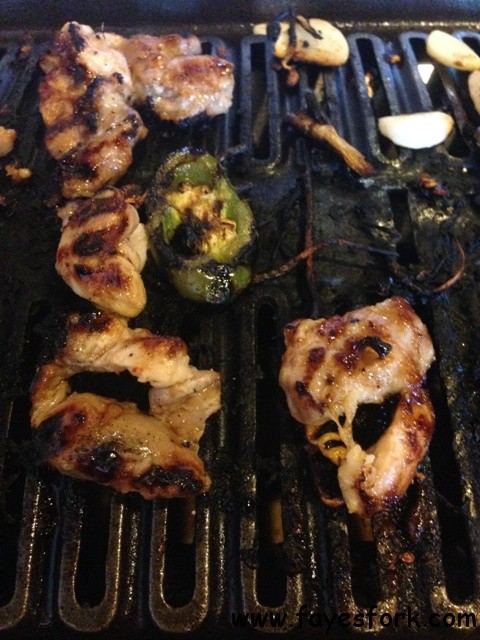 We were getting full at this point so the chicken was kinda being ignored on the grill. Another great thing about the buffet style serving is that you can portion control what you'd like to try out.
Service was attentive and our drinks were always refilled. A fountain soda costs $2.95 but has free refills (that's why I always stick with water or in this case soda water which was free of charge).
Sure $21.95 is an expensive lunch but we easily ate our fair share. Would this be a weekly lunch outting. Probably not. I've been trying to find another AYCE that offers as many sauces, banchan, vegetables as Jeong Won but nothing seems to compare. I recommend this AYCE KBBQ if you have yet to visit.
You can read about This Tasty's life visit from earlier this year.
Jeong Won Korean BBQ Buffet
4690 Convoy Street #104
San Diego, CA 92111
858-292-4670