TOBEY'S 19TH HOLE CAFE
Do you ever just wake up in the morning WANTING to eat something for breakfast SO BAD. Granted, my last meal was at 11a the previous day so I woke up starving. BUT, you know what I'm sayin' about that breakfast craving.
I woke last Sunday with the biggest hankering for anything smothered with country gravy. Keith's in Miramar used to be my favorite place to go for a chicken fried steak with country gravy. I'm not sure if they even made that country gravy in house and I honestly didn't care because the gravy just tasted good.
It just HIT THE SPOT. You know that feeling when it comes to food right. Like you're craving something and when you finally get it, you close your eyes and float away to your special foodnarnia place.
I was going to visit Original Pancake House again as they have a country gravy over biscuits on their menu. But it hit me that I've visited OPH a few times recently so why not try something new. I remembered reading Cathy's post about Tobey's some time ago. It was a beautiful weekend morning so why not try something new for a change.
CDJ agreed to go after lecturing about my eating habits. He's never been there before either so he wanted directions which I told him that's what Siri is for and it sucks to be him because he has an outdated BlackBerry because he's an old fart. I can be so mean in the morning.
Tobey's is actually located at the Balboa Park Golf Course. They even have parking which surprised me. CDJ asked why the restaurant was called 19th hole and I said 'oh, um, because it's behind the 19th hole or something'.
His response. 'Oh yeah? There's a 19th hole Faye. Really.'
Oh.
The restaurant is located right next to the clubhouse. Look for this sign when you're driving up the hill to the clubhouse. There was ample parking that morning.

TOBEY'S CAFE SIGNAGE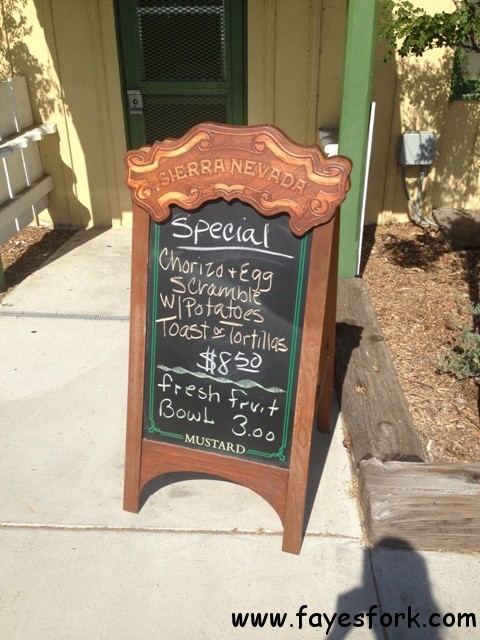 SPECIAL OF THE DAY
Chorizo and eggs was sounding good that morning too. But no. I'm here for country gravy ya'll.
The front entrance is strange. The door behind this special's board takes you to some strange bar area of the restaurant. No one was there so I walked to the back of the restaurant. I couldn't tell who was working so I finally asked a kind busboy if it's a seat yourself kinda deal. He nodded yes and followed me with menus to my table of choice.
There  are only a few tables with a prime view of the golf course. The small laid back restaurant has two flat screen mounted tvs as well (I was sad there wasn't any World Cup soccer that day).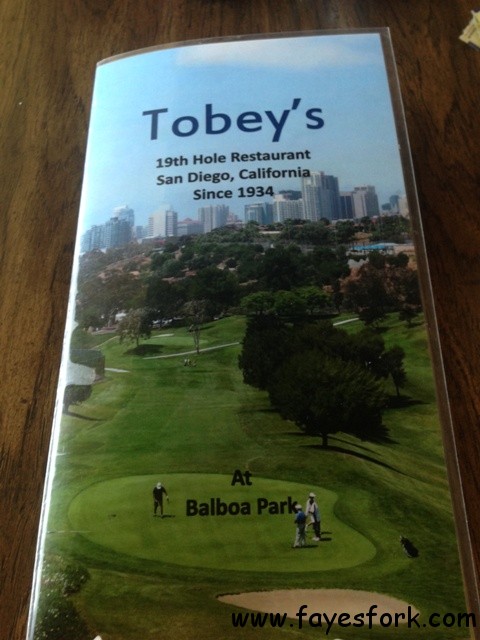 TOBEY'S MENU
Left side: Breakfast; Right side: Lunch
Ok so maybe they didn't have all the fancy waffles/omelettes/hashes that other places have. But sometimes a smaller menu makes for better prepared food in my opinion.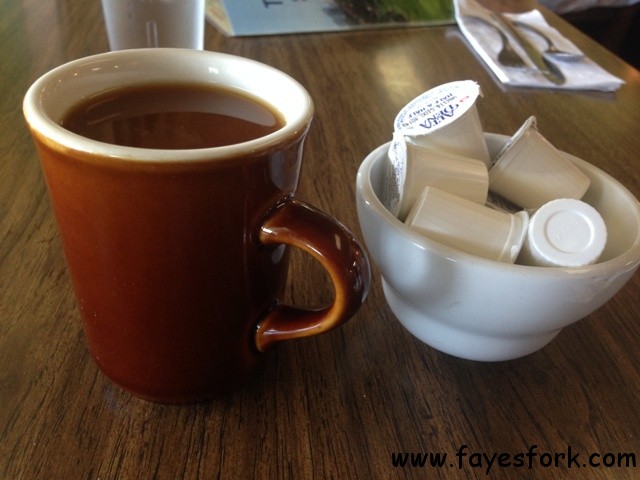 COFFEE $2.00 (FREE REFILLS)
I didn't see anything other than 1/2 & 1/2 plus regular sugar offered on the table. The coffee was nice and constantly refilled during breakfast.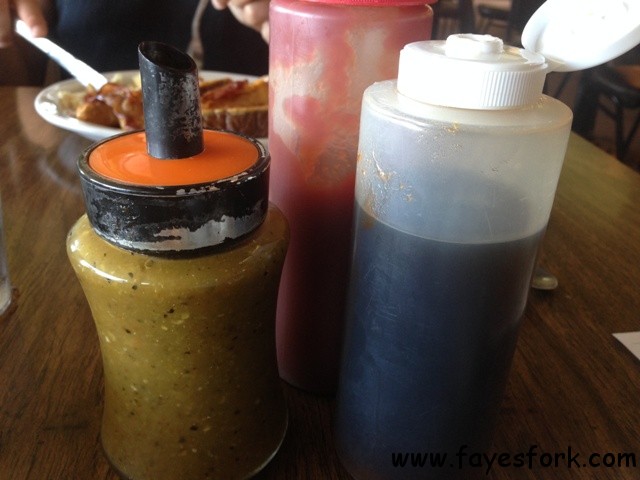 CONDIMENTS
homemade salsa, maple syrup, and ketchup
CDJ thought the ketchup was bbq sauce. Why.
Beware – their homemade salsa is SPICY.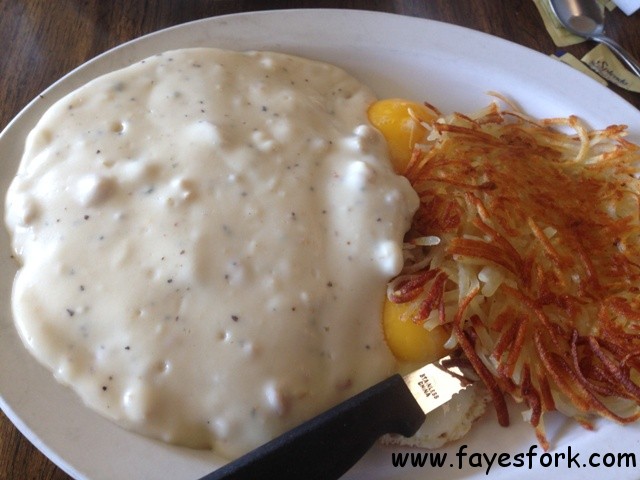 CHICKEN FRIED STEAK TOPPED WITH COUNTRY GRAVY, EGGS, POTATOES & TOAST $9.50
Now *THAT'S* what I'm talking about. I asked for extra gravy, over easy eggs, hash browns, and wheat toast.
The gravy came out piping burn-the-roof-of-your-mouth hot. I was too busy digging into this meal before I realized I had forgotten to take pics.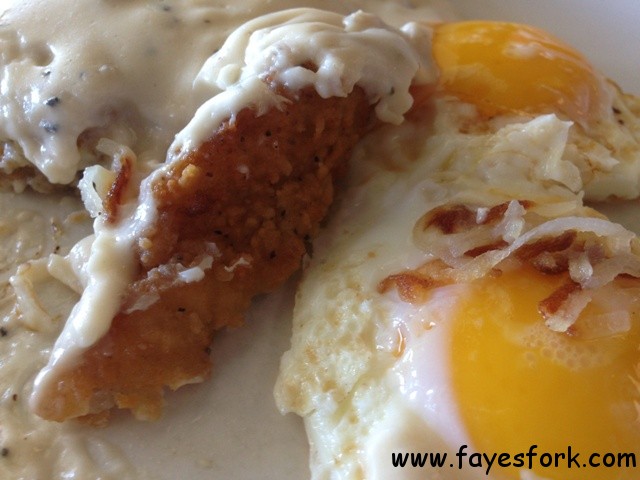 The breaded fried steak was great. The breading was perfectly fried and seasoned. The 'steak' portion was surprisingly tender and moist. Sometimes I like my eggs prepared over easy as I like the way the whites taste this way (I avoid the yolk though). The hash browns were crispy and the wheat toast was nicely toasted and buttered.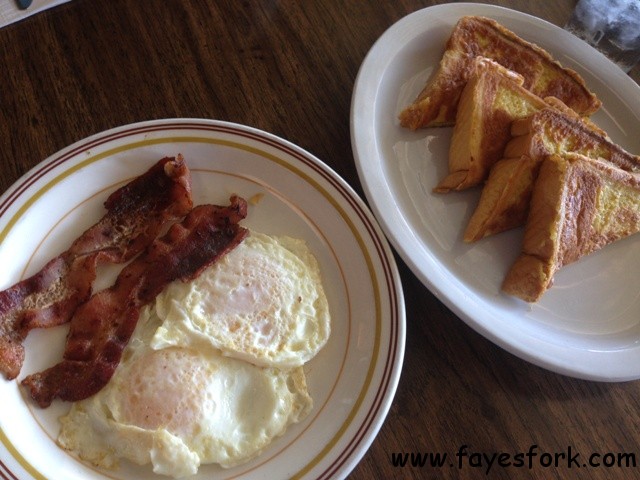 TWO FRENCH TOAST. TWO EGGS, TWO BACON $7.00
I liked the presentation – no fuss and everything wasn't crowded and touching on one plate. Of course CDJ had to do the following: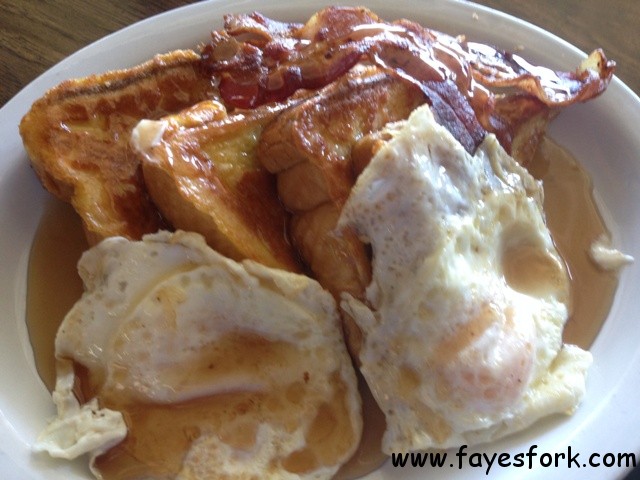 Could he have used any more maple syrup ALL OVER the food. He enjoyed this french toast combo. The eggs were cooked nicely and the bacon was crispy. I thought the french toast was a bit too egg-y and dense.
The total for this meal was only $18 (before tax and tip). Service was great and the busboy (also coffee server) always made sure we had a hot cup of coffee. He even poured coffee into CDJ's Starbucks cup and didn't charge him.
Here's a view from their outdoor patio: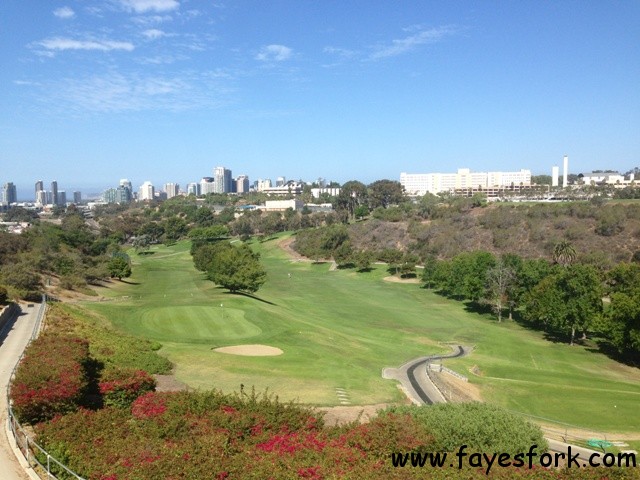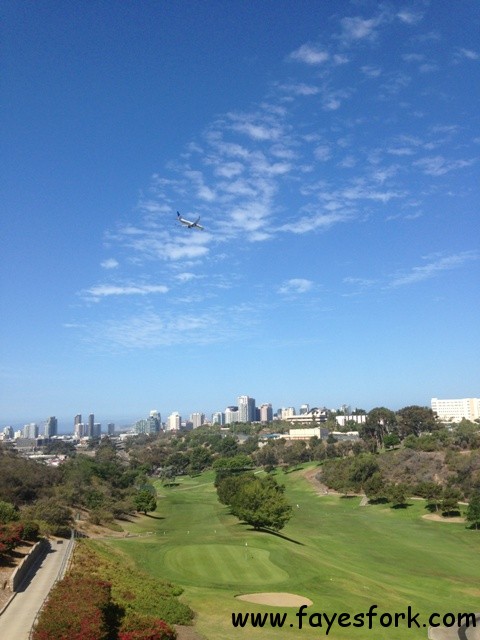 Tobey's is a bit of a drive for me but I'd come back in a heartbeat if I was in the area (I'm hoping to do a run/jog at the Harbor soon).
Tobey's 19th Hole Cafe
2600 Golf Course Drive
San Diego, CA 92102
(619) 234-5921
NOTE: I forgot to post that it's CASH ONLY. There's an ATM in house but remember to bring cash if possible.
…
…
I can't remember the last time I visited Balboa Park. I'm not really into museums, parks, or walking. Plus, it was SUPER hot this weekend. CDJ convinced me to take an hour or two to explore this part of town. He agreed to drive, so alright – let's go explore.
It was still early in the morning that there was ample street and lot parking for Balboa Park. He wanted to visit a few museums but I didn't want to pay the $8 or so admission fee for each museum. So we agreed to do an IMAX movie at the Reuben H. Fleet center (the a/c kinda sold me). We had some time to kill before the movie so we walked around the park a bit.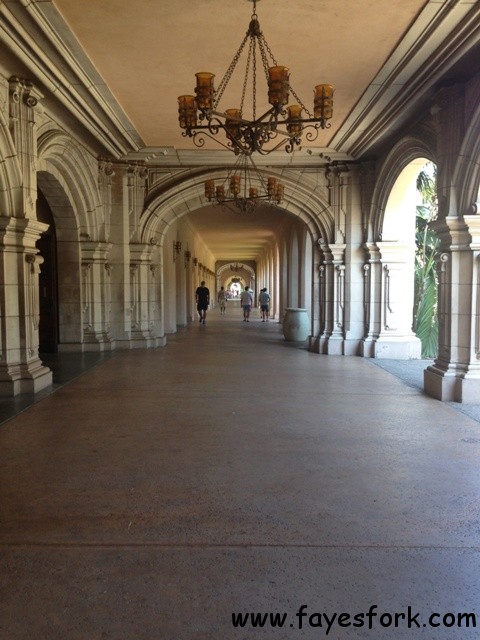 His father is an architect so columns and archways always fascinate him.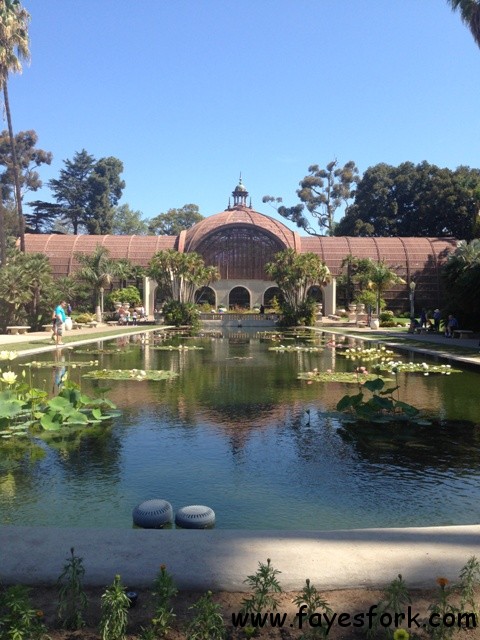 I know this sounds ridiculous but I've been afraid of this pond for most of my life. I remember someone telling me, when I really little and visited this park, that the Loch Ness monster lived IN this pond. It made total sense when I was 7 years old. I remember the pond being covered with the lily pads and therefore hiding the big bad dinosaur water monster. I haven't been up close to this pond since then. So I was surprised, walking slowly around the pond at that moment, to see this: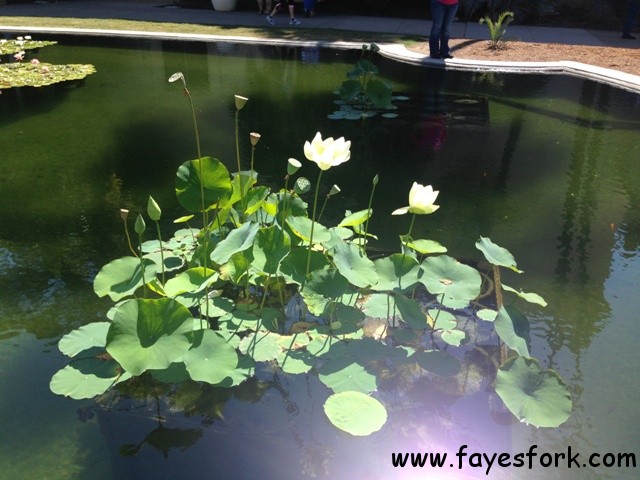 Beautiful lily flowers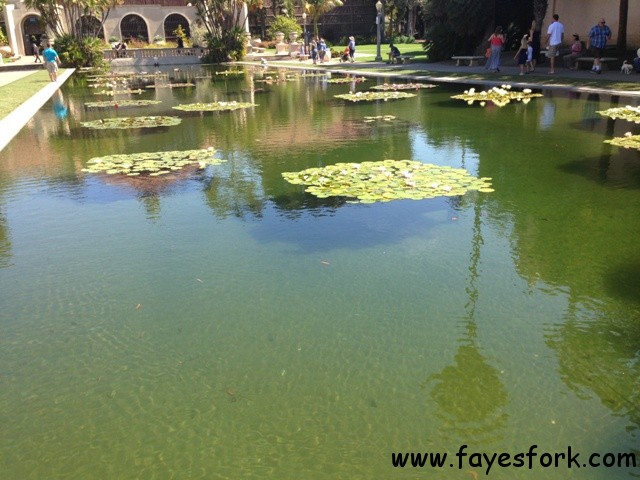 Open exposed water with swimming fish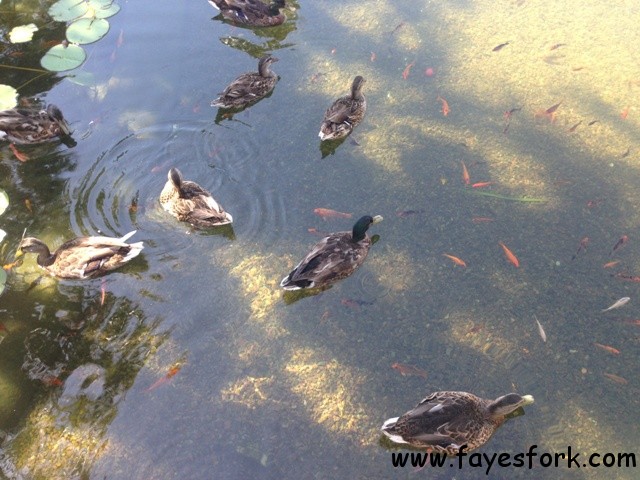 Live and well ducks getting along with baby koi fish
What DA f*ck. Where the hell is the Loch Ness Monster.
CDJ insisted on visiting the botanical something room (it's behind the pond). I was still in shock from not witnessing the Loch Ness so I wasn't in the mood to look at no dumb plants.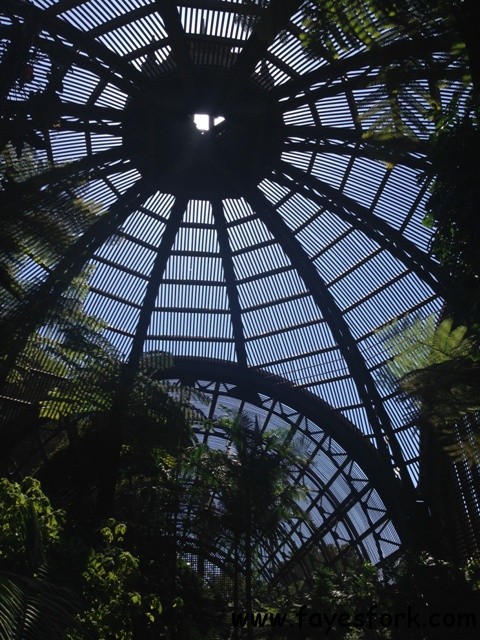 The ceiling of the 'atrium' was truly breath taking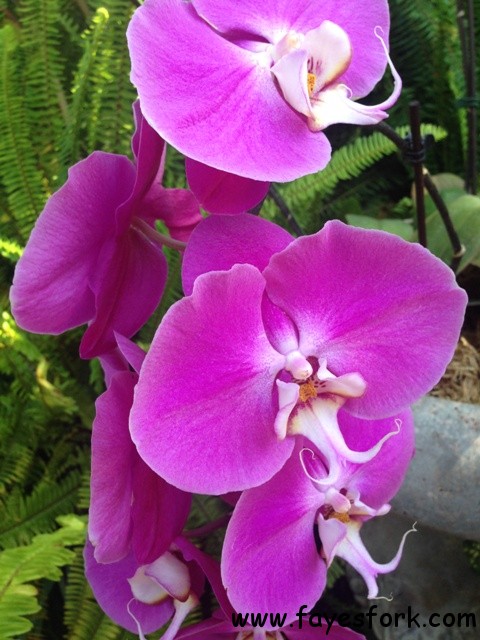 Doesn't purple just make you smile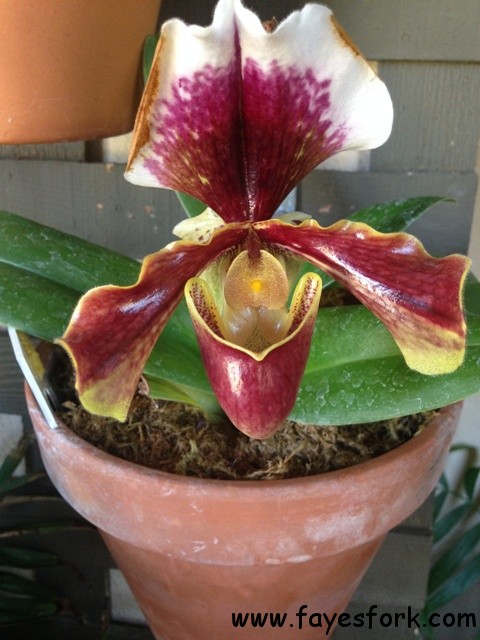 Ballet slipper Orchid
Sis and best friend LOVE this orchid. They used to go to orchid shows together (they were total green thumb dorks) and would tell me about these prized ballet slipper orchids. I never noticed, until JUST NOW, that it DOES look like the front toe section of a ballerina slipper (like you can ALMOST just slip your pretty toes into the ballet slipper and start doing pirouettes).  Do you see it too? I always thought it looked like a gross body anatomy or something.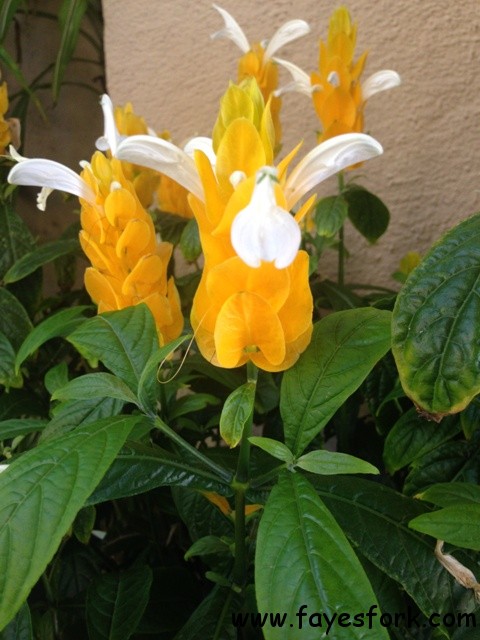 Just seeing how the iphone pics up lighting and colors in the atrium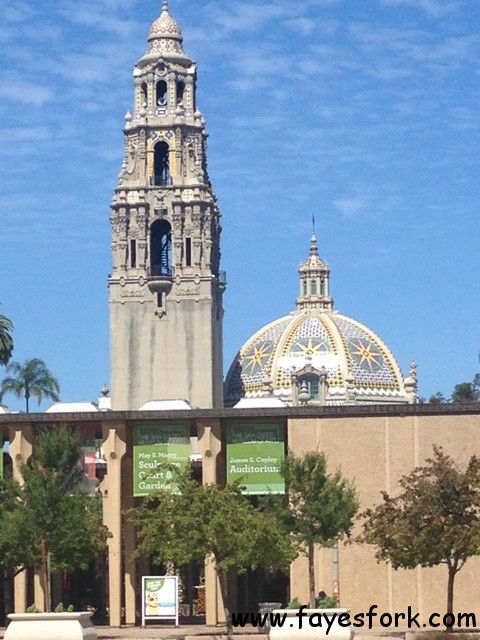 Playing with the zoom feature
So I was getting bratty from the heat and the walking. It had literally only been 30 minutes since we left the Reuben H Fleet. It felt like 3 hours to me though.
I didn't know the ticket price to watch a 45 min children's IMAX movie (Journey to the Pacific) would cost a whopping $17.95. The mean sales lady said it includes the price of admission to their Illusion exhibit too.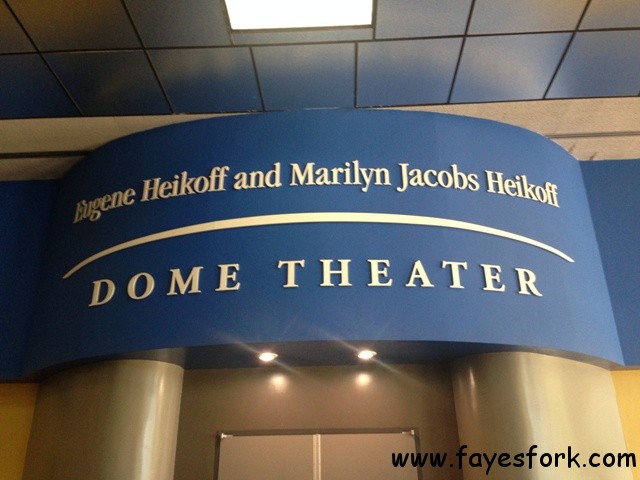 I remember coming here as a child and being blown away by the indoor dome theater. We watched something about stars and galaxies so it was magical back then. It's almost like a 360 degree movie screen.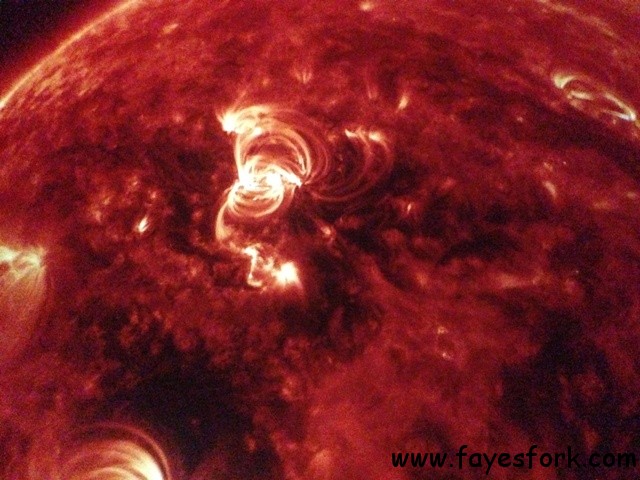 I was able to take a picture of this, shown on the ceiling, when the opening credits were playing. Cool right?
I personally didn't like the Journey to the Pacific movie but CDJ liked it so that was nice. I was looking forward to the illusion part of this museum though.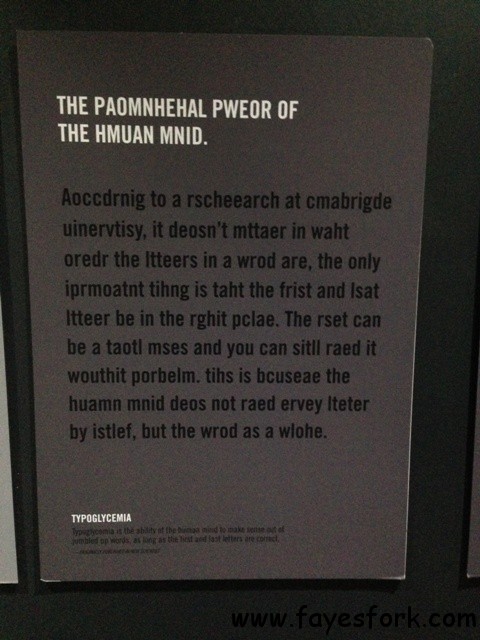 TYPOGLYCEMIA
This was the most fascinating part of the Illusion museum to me (which is kinda sad).
Click on the photo and see if you can read what's written.
I had heard about this "typoglycemia" phenomenon so I was happy to be able to read this board (with the exception of mses – I read that as moses for some reason).
Here's what Wiki says about Typoglycemia:
" The legend, propagated by email and message boards, purportedly demonstrates that readers can understand the meaning of words in a sentence even when the interior letters of each word are scrambled. As long as all the necessary letters are present, and the first and last letters remain the same, readers appear to have little trouble reading the text. "
I was reading up on typoglycemia and laughed so hard when I stumbled across this example. It tripped me up at first. Hope it makes you take a second glance at the phenomenon and how we see things:
Tell me that didn't make you smile. Just a lil' bit…
Happy Wednesday all 🙂