Eureka! Discover American Craft
Gosh. I've wanted to like this place. Friend and I went to try out their Happy Hour one early evening. I just called Eureka! to confirm their Happy Hour days. It's offered everyday from 2p-6p. 2p sounds a TADDDD bit early for Happy Hour but the nice gentleman on the phone repeated '2 pm' several times (granted I re- asked 'are you SURE' a few times too).
You can sit anywhere in the restaurant for their Happy Hour. So we decided to grab a table as the bar area was full.
My last visit here was post- breakup so my appetite sucked. I've seen recent blog reviews about Eureka! from Oh-SoYummy and This Tasty Life. Plus, I had a $25 gift card for the restaurant that I wanted to use as well.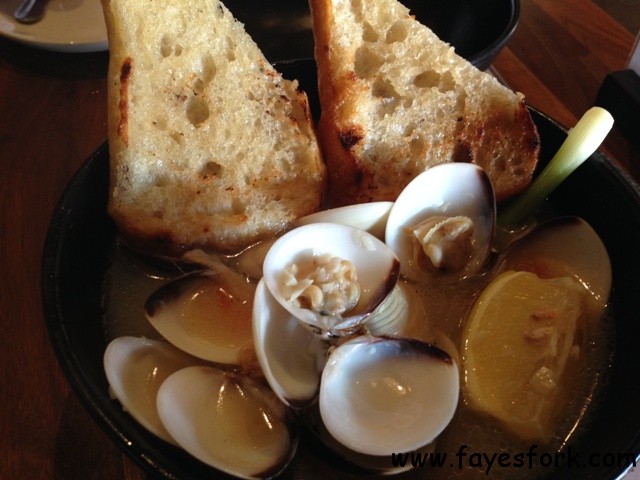 Steamers $10 (normally $14.95)
Manila clams steamed with butter, garlic, herbs, and sherry wine. Served with grilled ciabatta
I was excited to see this on their HH menu as it's usually mussels being offered.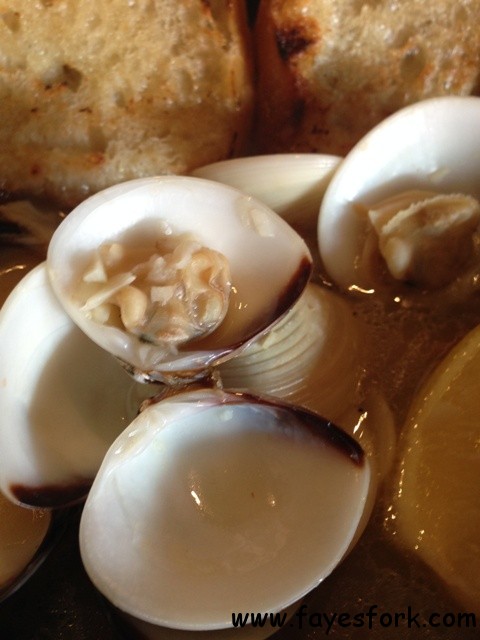 The clams weren't very meaty and the sherry wine broth, used to steam the clams, tasted a bit too 'sherry' for me. The dish looked to be a decent portion but we both felt unsatisfied after eating this item.
House Side Salad $3.00 (normally 3.95)
House side salad served with mixed greens, chopped red onion,
cherry tomato, dried cranberry, blue cheese crumbles, and your
choice of dressing.
I felt like trying this for some reason (minus the dried cranberry and blue cheese). The nice waiter substituted the blue cheese with feta cheese. The balsamic vinaigrette was nicely tart and sweet for this refreshing salad.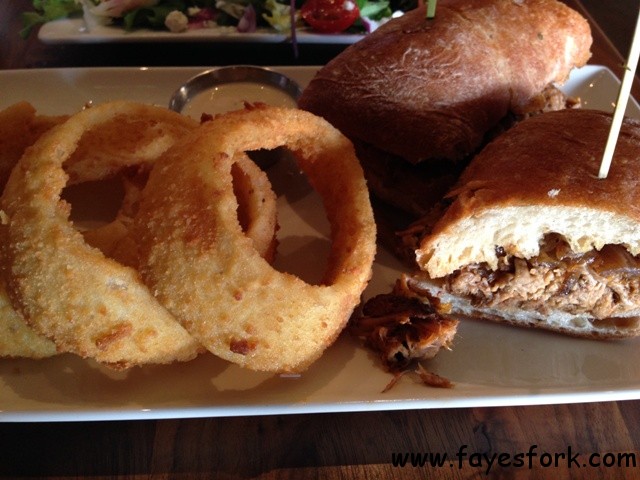 Hickory Pulled Pork Smoked Sandwich
Slow roasted pulled pork shoulder with caramelized onions. Served on a homemade roll and signature handcut fries. $10.75
Friend wasn't digging the rest of the items on HH so he opted for this pulled pork sandwich.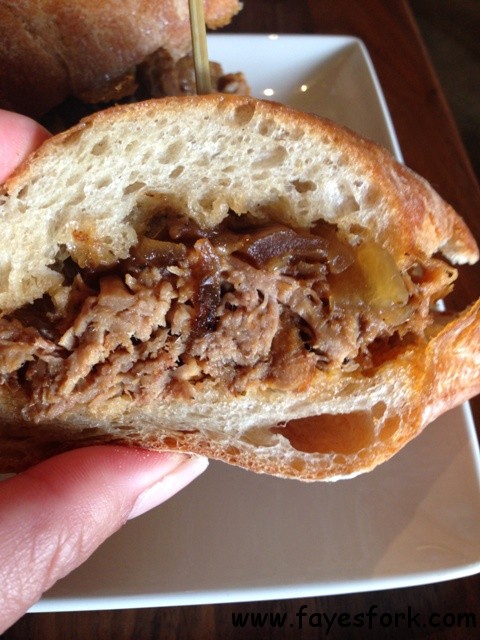 The pork was a bit dry but tasty nonetheless. Perhaps it needed a side of spicy tangy BBQ sauce.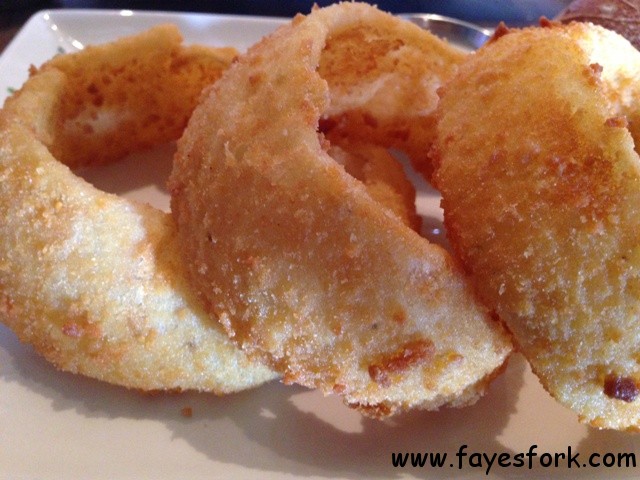 Onion rings + 1.25
You can upgrade the regular fries to onion rings for a small price. The onion rings here are LEGIT. They are sliced thick and was almost the size of 1/2 the sandwich. The panko crust was nice and crunchy.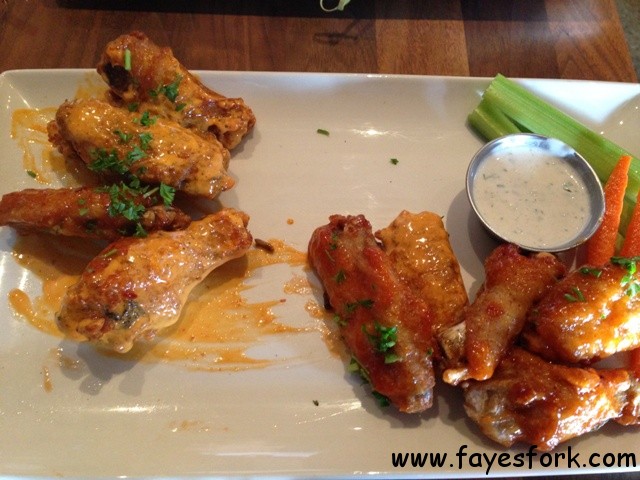 Eureka! Wings
(also available in homemade firecracker) Tossed with chili garlic sauce. 10.50
Sorry for the ugly picture. I think we started to dig into these wings before I took a pic. The waiter let us split the dozen wings into two different flavors: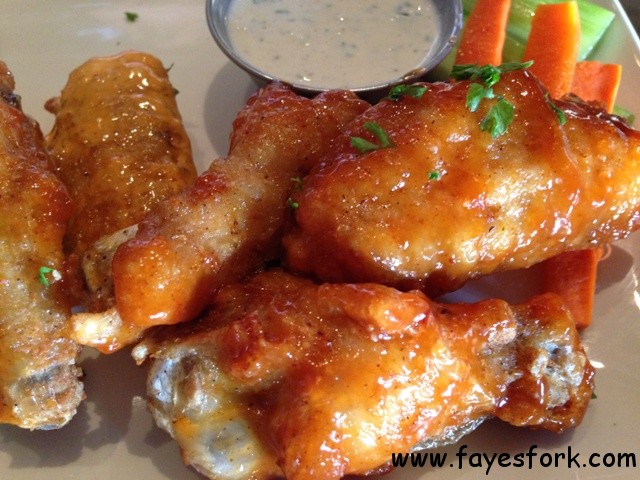 Chili garlic sauce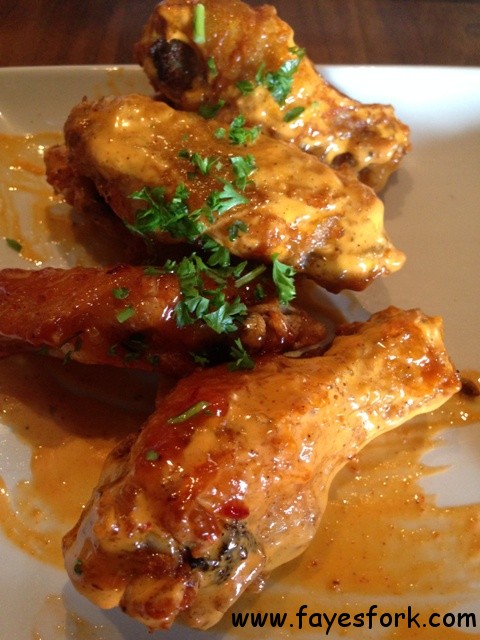 Firecracker
We both preferred the chili garlic sauce. Our waiter recommended I ask for the sauce, next time,  to be put on the side so the wings stay crispy. Yesss!
Nothing really impressed me during this meal (except for the service). The food wasn't bad but it wasn't memorable enough to warrant another visit back.
Fast forward a few weeks later when Brazil is playing Germany in the World Cup. I was terribly busy that day but wanted to take a break. CDJ suggested we meet at Red Robin at UTC but that sounded terrible (besides we just ate there the week before).  I asked if we could visit Eureka! instead as I remembered seeing Lynn's photo of the tortilla burger.
Brazil was getting their a**es handed to them by the time I got to the restaurant. The place was kinda full with others wanting to watch the game as well. The nice thing about Eureka! is that there are TV's almost everywhere you look.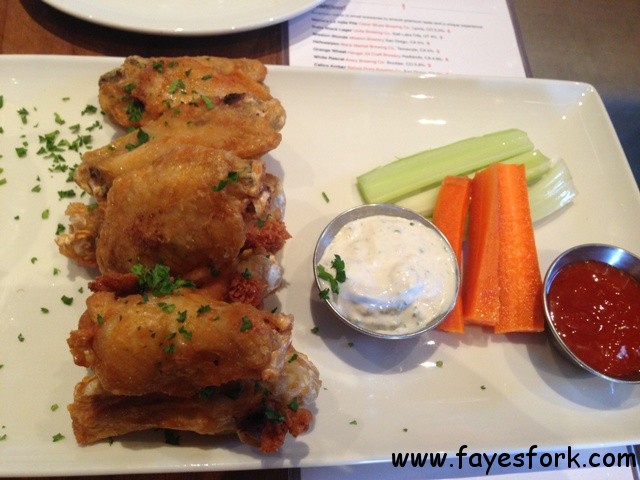 Eureka! Wings $10.50
I asked for chili garlic sauce to be on the side and the waitress said 'oh ok so naked wings?'.
Nude. Naked. Stripper style. I don't care. I just want chicken wings CRISPY when I'm watching this sad soccer game.
Scooooorre!!!!
The chicken wings …not Brazil, unfortunately, as of that point. I was delighted with these naked wings. The skin was crunchy and the dark meat of these wings tasted relatively juicy. My ONLY suggestion would be to sprinkle the wings with salt when they come out of the fryer. It lacked seasoning but I think they assumed I'd use the small side of chili garlic sauce for the wings.
Napa Burger
Oven-roasted Roma tomato, pesto aioli, Havarti cheese, pancetta, and arugula. 11.25
Sorry for the almost upside down pic. The 2nd half of game was starting so the entire restaurant was getting rowdy and nervous.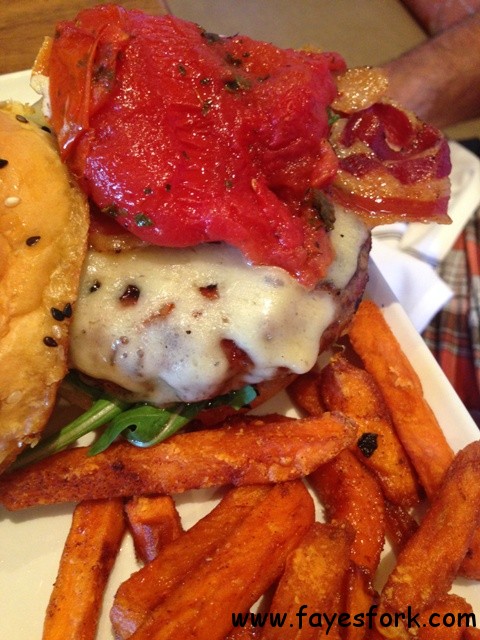 +1.25 for upgrade to Honey Cinnamon sweet potato fries
I didn't try this burger as there's arugula on it (I don't know when and how I'll ever be able to eat arugula again since 'the incident'). CDJ liked this burger but didn't really say why. I still think the sweet potato fries were a bit soggy and would benefit from the honey to be put on the side (or maybe this can actually be requested already?).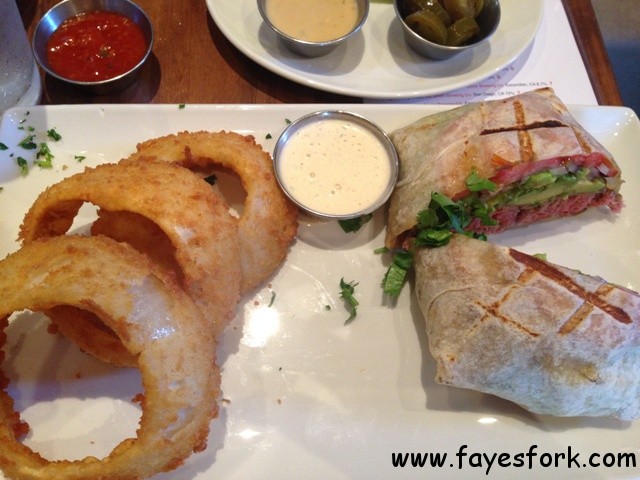 Tortilla Burger
Tomato, red onion, pickled jalapeño, homemade guacamole, cilantro, Monterey Jack cheese, and spicy chipotle sauce.
Wrapped in a grilled flour tortilla. 10.50
Another horrible photo but I was more into the game than taking photos at that point.
I couldn't quite understand why I wanted to try this particular burger so badly.
But then it hit me. It reminded me of the Beijing meat pies I've been craving lately.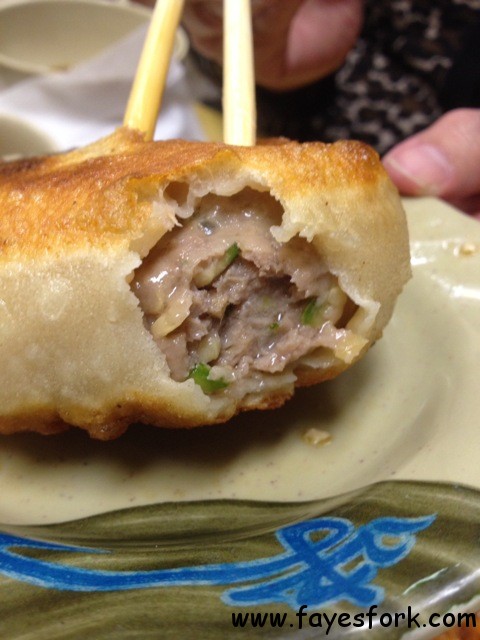 How weird am I.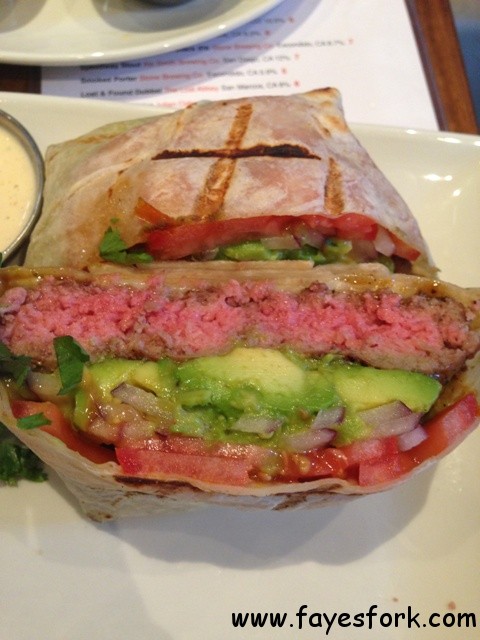 I think they grill the burger (might I add to a perfect medium rare as requested), top it with all the goodies, then wrap it in a flour tortilla which they then put back on the grill. (I asked for the pickled jalapenos on the side).
I requested medium rare because I think, subconsciously, it would mimic the 'soup' inside the Chinese meat pie.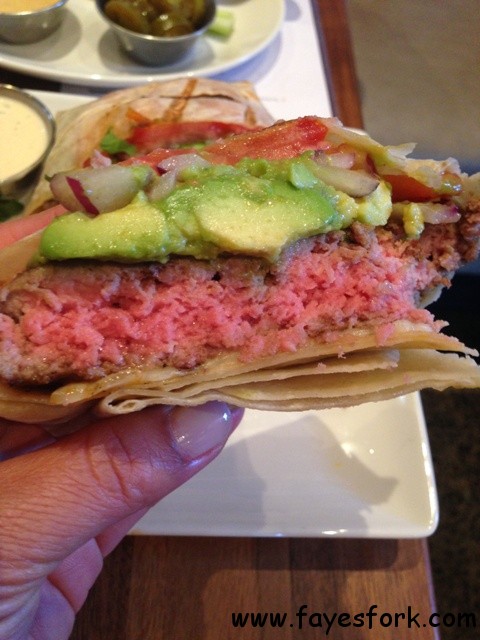 This pic showcases how they tuck the tortilla folds underneath. The tortilla tasted pretty darn good. It was thin up top and on the sides.
I'm not sure if I'm ready to say this. But this might have been the best burger I've had in 2014 (well, aside from In N Out but that doesn't count). There was something about a juicy bloody medium rare burger, wrapped in a grilled flour tortilla, that had me in a mad boy crush. All the components of this burger (minus the omitted jalapenos) were a match for me. Go figure.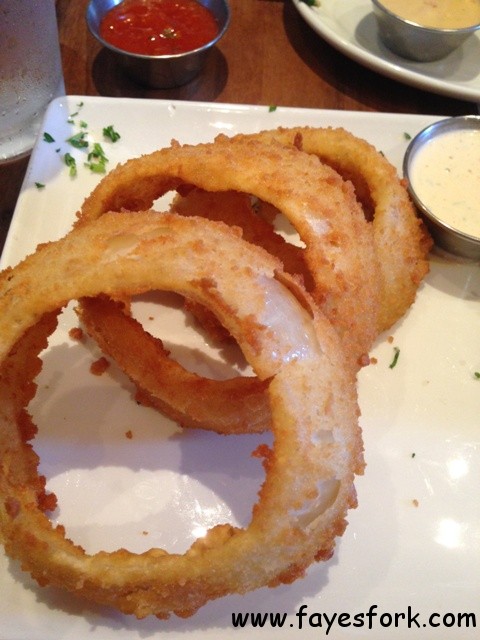 +1.25 for upgraded Panko Crusted Onion Rings
Funny as this was one of my favorite items from the past two visits. But these rings, fried perfectly, were just an afterthought after I had the naked wings and the tortilla burger. No offense panko rings.
Service was decent considering how busy the restaurant was for the game. It was the first time I felt pretty content talking to strangers sitting next to us as we were all cheering for Brazil. Plus, CDJ, being the dummy that he is, totally didn't realize one girl was crushing on him pretty hard. I even texted him 'Make a move ya dummy!' Oh well. You snooze ya loose 🙂
Happy Friday everyone…
Eureka! Discover American Craft
4353 La Jolla Village Drive
San Diego, CA 92122
(858) 210-3444