Hong Kong BBQ & Dim Sum
Sis, nephews, and I decided to try out Hong Kong BBQ in Mira Mesa last week for an early dinner. I used to order their roast duck bbq plate a few years ago for my dog (I mean this as a compliment as he was old and a super finicky eater). Sis, who is a stuck up brat when it comes to roast duck, swore the roast duck at Hong Kong BBQ was better than Sam Woo's roast duck. But that was a few years ago so we figured why not try out the restaurant for a sit down dinner this time around.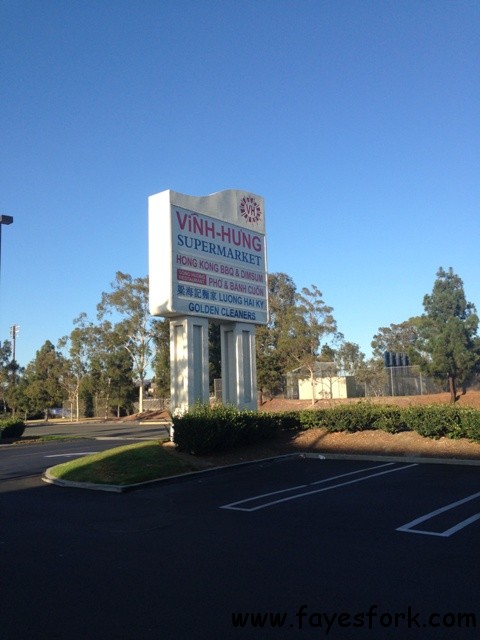 VINH HUNG SUPERMARKET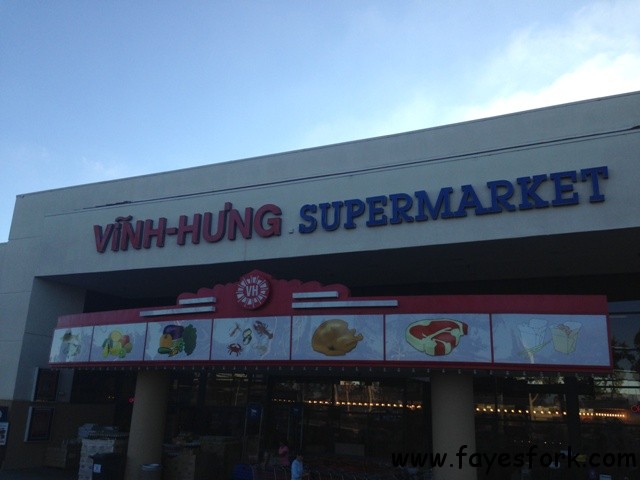 OLD  EDWARDS MOVIE THEATRE
The images of the steak, chicken, seafood used to be where the movie titles were displayed.
CC has a nice write up of Vinh Hung here.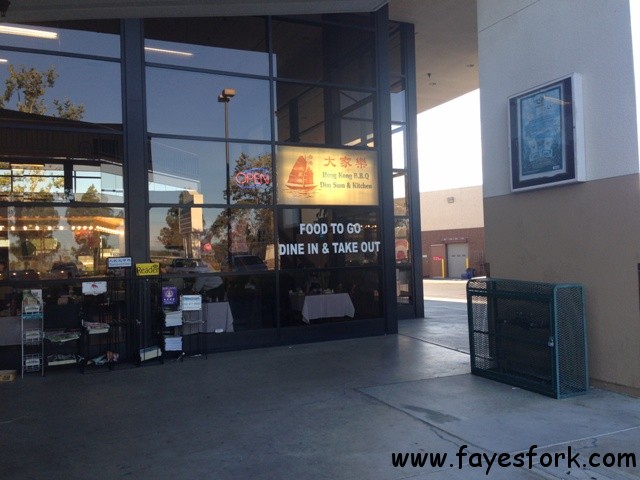 HONG KONG BBQ & DIM SUM SIGNAGE
You can either enter the restaurant from the supermarket entrance OR from the right side of the market where there's a separate door to the restaurant.
The restaurant was 100% empty on this Tuesday evening. We tried to justify it by saying it was still early and maybe people wanted to eat later that day. Sounds better than 'the food must be PRETTY bad huh'.
The decor is a bit out dated and sis found the aluminum foil and Christmas wrapping paper coverings (on windows) super weird. I told her to stop talking because she's jinxing the food.
The main difference between this place and Sam Woo is the price (of all their dishes). Everything was priced significantly higher.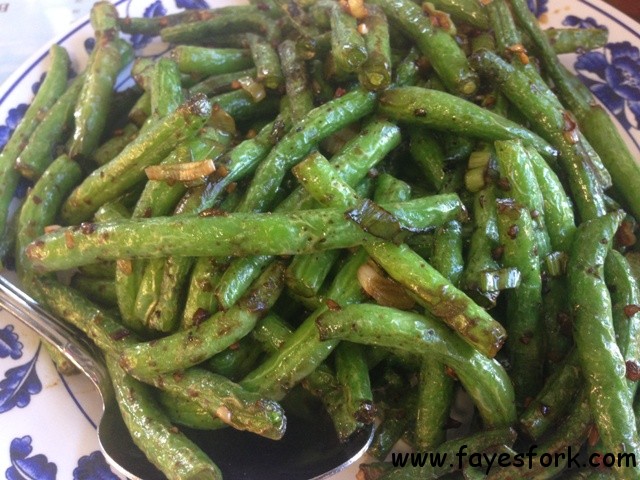 CRISPY GREEN BEANS $9.95
I loved this dish as the beans were cooked perfectly.  There was a garlicky sweetness to the sauce that I really enjoyed.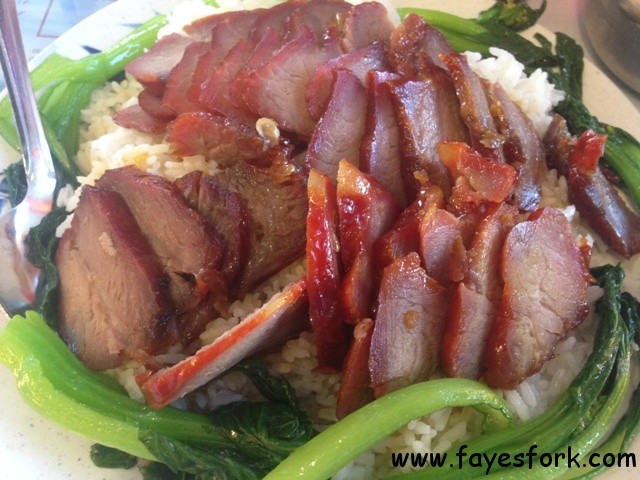 BBQ PORK ON RICE $8.95
I thought the portion size of this item was great but sis reminded me that the price is probably $2 bucks less at Sam Woo. The bbq pork, unfortunately, was pretty bad. Look at the color of the pork. It was a bit gray.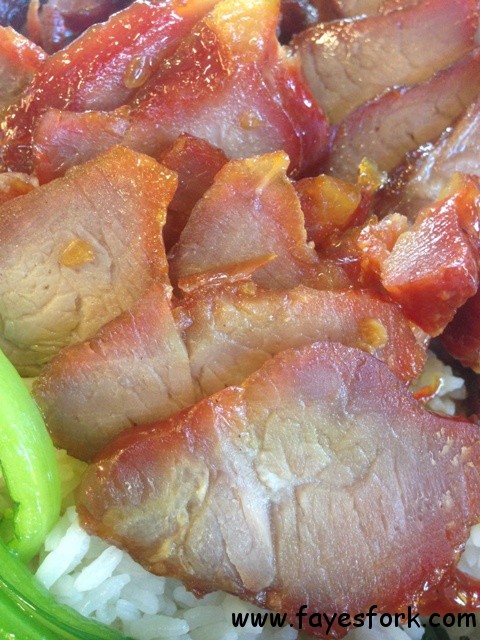 The rim of the pork should be a nice red (from the marinade) but the middle should be a moist white. The slices here were dry and did not taste fresh at all. The gai lan (Chinese broccoli) tasted as if it was quickly re-boiled and served without a second thought on the plate.
Funny side note: sis and I were discussing this vegetable afterwards in car and I said the gai lan tasted off. She said noooo, it's not gai lan, it was CHINESE BROCCOLI. Then I'd argue back and say noooo, it's NOT Chinese broccoli, it's GAI LAN. We went back and forth for a few minutes, repeating the same thing, over and over, to one another. We're both so stupid in such ironic ways. Hopefully you get the humor in this argument.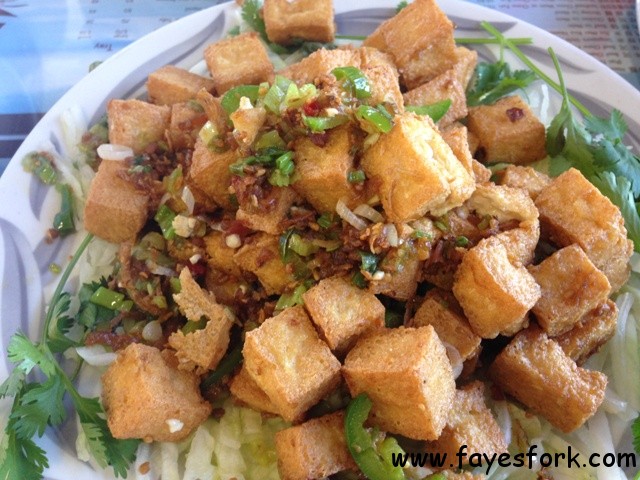 XO SAUCE DEEP FRIED TOFU $9.95
I originally wanted to order the regular stuffed tofu but the waiter highly recommended this dish. He said it wasn't spicy so the kids could enjoy this dish as well. I wanted the sauce to be on the side (so tofu stays crispy) but the waiter said it wasn't really possible.
I was pleasantly surprised how much I liked this fried tofu. The tofu comes in fried cubes and is tossed with a wonderful concoction of dried scallop, dried shrimp, garlic, green onions, and I think a bit of jalapenos (I think this is what the waiter explained to me in Chinese).
I always thought XO sauce meant there was liquor somehow incorporated in it. So the waiter's explanation of the sauce that night really piqued my interest to research the sauce a bit more. Here's what wiki says about XO sauce:
Developed in the 1980s in Hong Kong for Cantonese cuisine, XO sauce is made of roughly chopped dried seafoods, including scallops, dried fish and shrimp, and subsequently cooked with chili peppers, onions, and garlic. The name XO sauce comes from fine XO (extra-old) cognac, which is a popular Western liquor in Hong Kong and considered by many to be a chic product there. In addition the term XO is often used in the popular culture of Hong Kong to denote high quality, prestige, and luxury. In fact, XO sauce has been marketed in the same manner as the French liquor, using packaging of similar colour schemes. In Hong Kong English, XO is pronounced exactly the same.
Interesting right? This dish also re heated nicely in the oven the next day.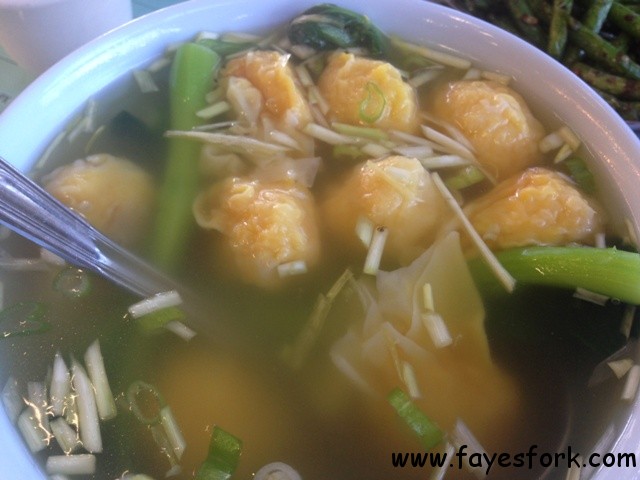 WONTON SOUP $8.95
Sis loves wontons so she wanted to try this soup. It comes out with a handful of big shrimp wontons, gai lan, and chives.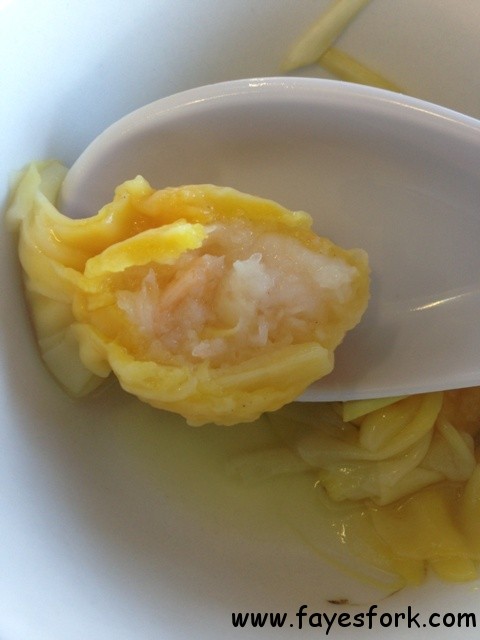 The wontons tasted alright with the mostly shrimp filling. The broth, on the other hand, tasted like barely seasoned warm water. It was a disappointment.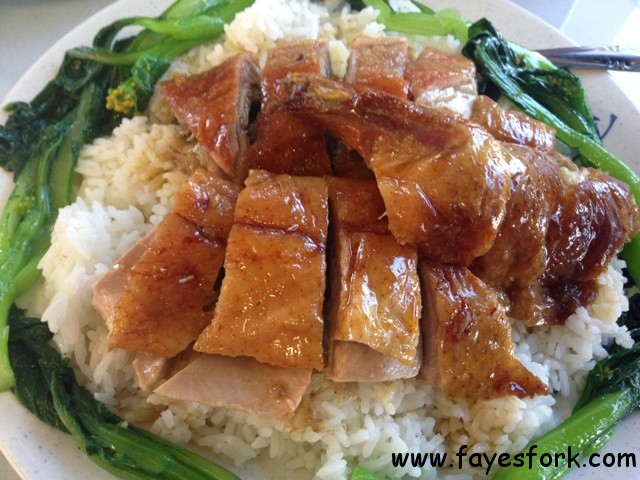 ROAST DUCK ON RICE $8.95
Ahhh. Our pièce de résistance.
Or  plain ol' piece de resistance (said Valley girl style) if you didn't study French in High School because Spanish was way more useful.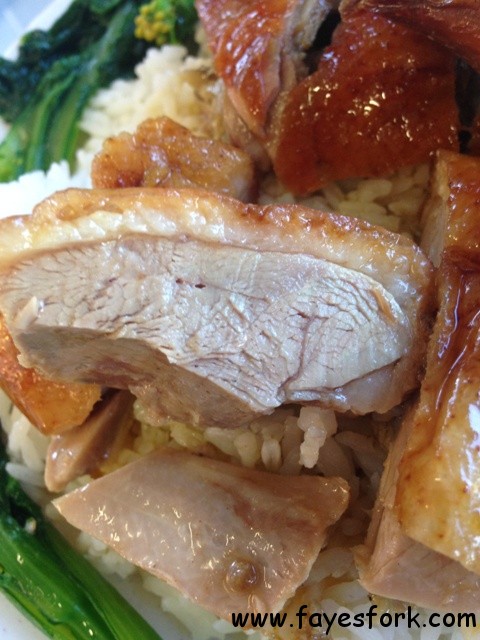 Experienced 'Roast Duck on Rice' eaters will go straight for the duck breast portion of the plate. The breast portion here looked moist and had a nice gamey-duck taste to it. BUT, the duck in general just didn't taste amazingly fresh. Sam Woo reheats their roast duck in the microwave but sis felt Sam Woo's duck tasted better than what we were eating that night. The skin wasn't crispy but I didn't fault them too  much for that. I wish they served plum sauce with this dish.
Sis really wanted a Vietnamese iced coffee and wanted me to ask the waiter if it's made fresh. She speaks Chinese decently but feels like an idiot when she has to use it at a restaurant. The waiter said 'of course it's made fresh' so alright, let's get one.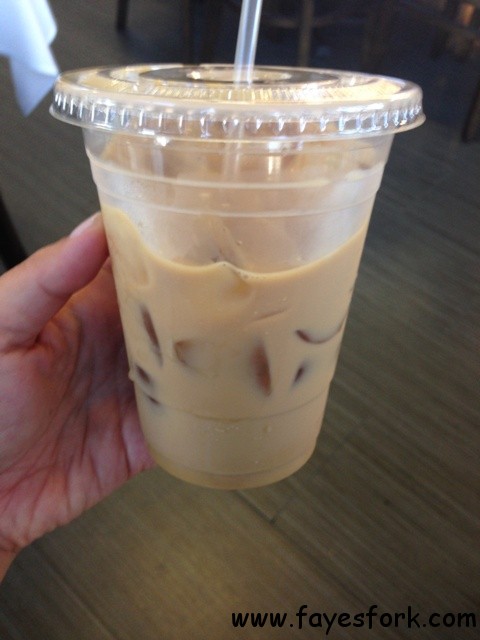 VIETNAMESE ICED COFFEE $2.50
Let me tell you how I know when sis gets irate. She says 'you BETTER yelp that it's _________' or 'you should blog that it's ____________'
THAT'S when you know a certain food/drink item infuriates/disappoints  her that it deserves mention in my blog. Thanks sis. Thanks for never reading blog but wanting a part in it when something is worth complaining about 🙂
The coffee didn't taste of the creamy sweet condensed milk that Vietnamese iced coffee is known for. Sis said the coffee was incredibly weak and didn't taste like the slow drip espresso version she loves so much. It was a waste of $2.50 for her.
The meal was about $60 after tax and tip. That's quite a bit for dinner in Mira Mesa. Sis wanted to point out that she can have a full meal at Yakitori Yakyudori for the same price (with husband and kids) PLUS it includes a beer. So $60 for what we had that night was too much. Sam Woo has better 'roast whatever' over rice dishes but I don't think they beat HK BBQ in the green beans and XO Fried Tofu department.
Hong Kong BBQ has great lunch specials so I suggest trying this place out if you're in the area one afternoon. It's a nice change of pace from visiting  Convoy (well, specifically grumpy Sam Woo).
I forgot to take pics of the menu but V had one on hand and took these for me just now:
Thanks V –
Hong Kong BBQ
10550 Camino Ruiz
San Diego, CA 92126
858-408-4888
Open 7 days: 9a-9pm