GATTEN SUSHI
This post will be mostly pics of sushi because 1) I'm a bit exhausted from a long week and 2) this sushi place reminds me of my family (who happens to be in town).
AT&T set up new service at my house the other day. Long story short, I spent over 10+ hours on phone with them, prior to install, auditing every detail of the new account before the install date. Come install date, yesterday, the tech(s) were at my house from 1:00p-6:35p. Am I happy with the end results. Not really.
I thought I could work on a few blog posts during the 5+ hours they were there. But, the cable and tv were both inoperable. Sigh…what to do. Not sure how other bloggers choose what they will write about on any given day. For me, lately, it's the photos of food that are bright and pretty. Go figure.
My mom first introduced me to Gatten Sushi two years ago. She's not a general fan of conveyor belt sushi restaurants but she liked this particular restaurant. Plus, they give you a reward points card that my mom likes to show off.
Our last visit to a sushi belt conveyor restaurant was in Hualien which I'm kinda missing at the moment (the city & the food).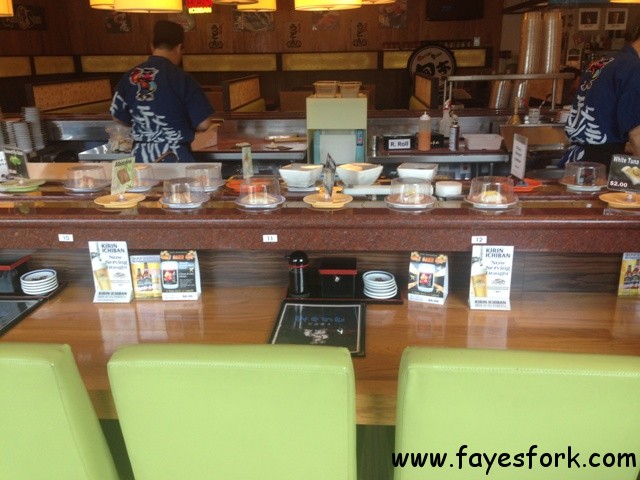 SUSHI BAR SEATING AREA
They also have booths that have access to the sushi belt as well.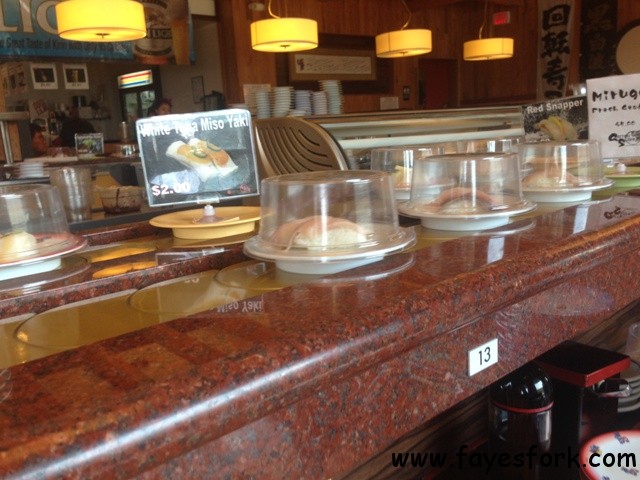 Each sushi plate is covered with a plastic top. It's an easy system here at Gatten. You simply pick whatever plate you want and all the plates, at the end of the meal, will be tallied according to their plate colors.
There are six different plate codes/colors ranging from $1.50-$5.00. You are also able to order hot/cold appetizers from their menu as well.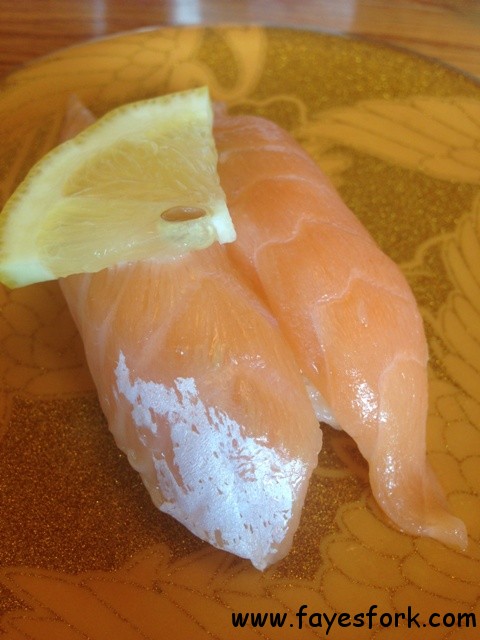 SALMON NIGIRI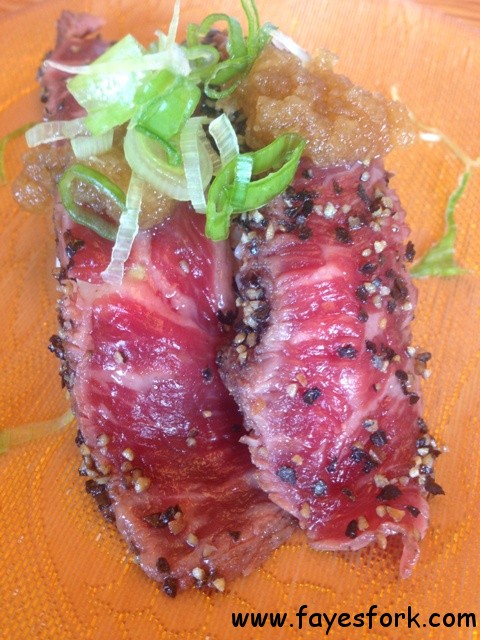 KOBE BEEF TATAKI NIGIRI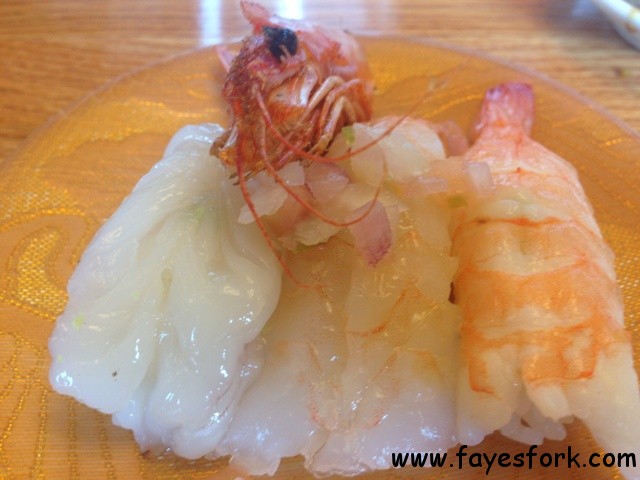 SHRIMP NIGIRI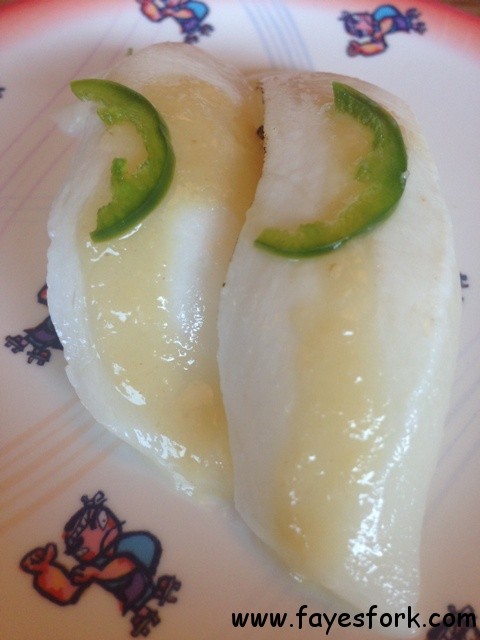 WHITE TUNA MISO YAKI
This is the 'good' plate because it's only $2.00 🙂 I just noticed the sushi chef anime on plate flexing his arm.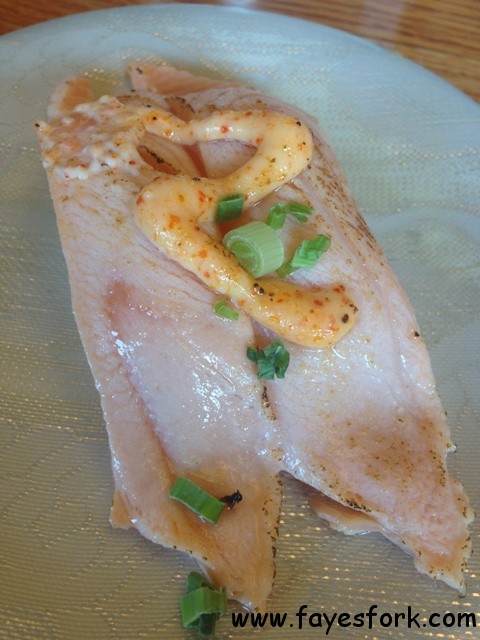 SEARED ALBACORE (?)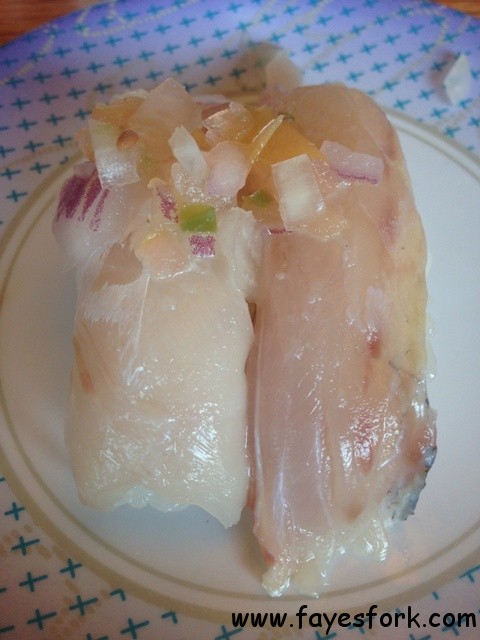 SNAPPER NIGIRI  (?) WITH SALSA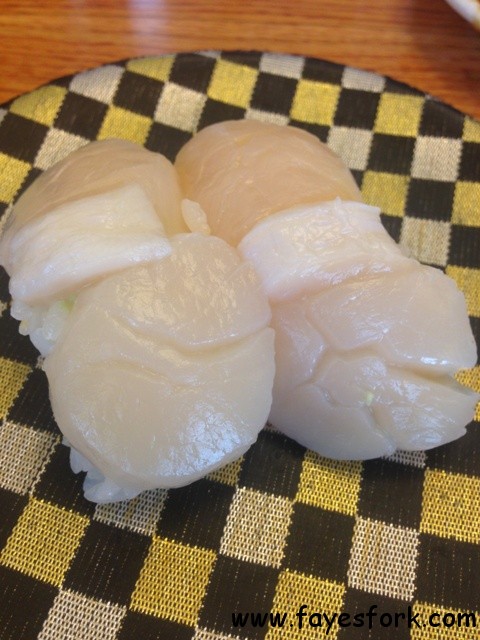 SCALLOP NIGIRI
The 'BAD' plate as my mom calls it. The checkered plates are the priciest at $5.00.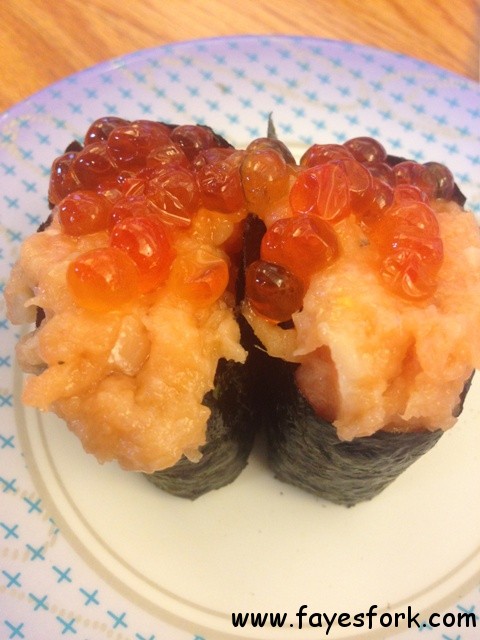 SALMON IKURA

MACKEREL NIGIRI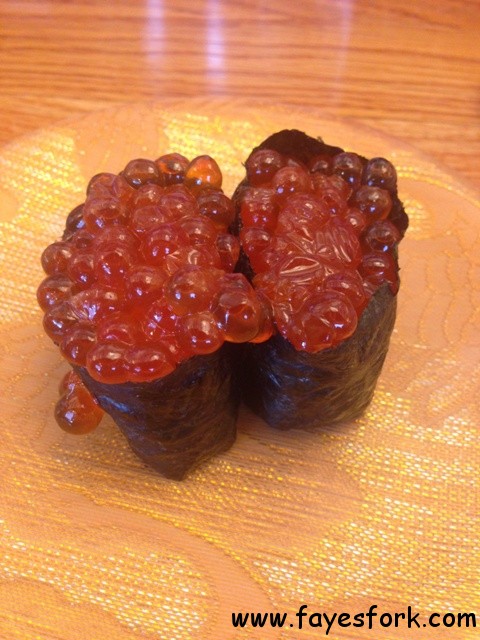 SALMON ROE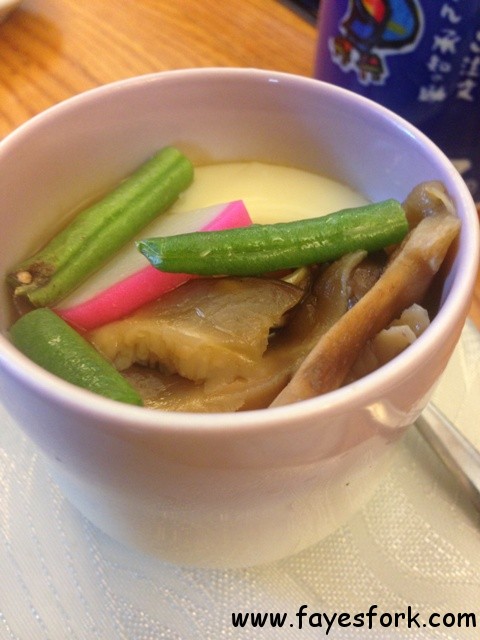 CHAWANMUSHI $3.50
You order this from the waitress as it's not offered on the sushi belt. She then brings out a fresh, piping hot chawanmushi from the kitchen. It's still brought out on the designated price colored plate.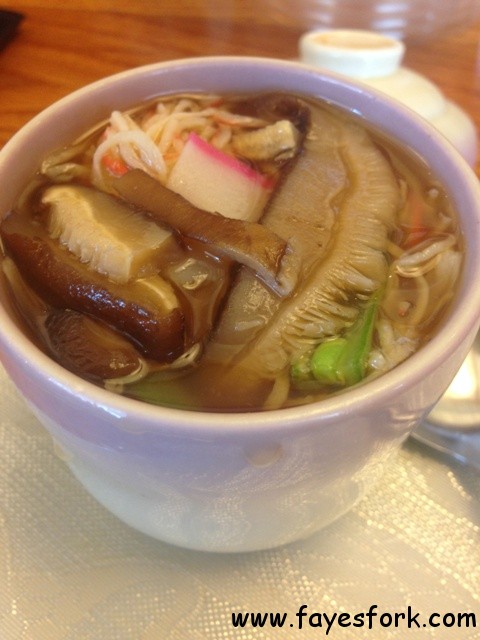 CRAB CHAWANMUSHI $3.50
I think this might have been the same price as the regular chawanmushi. And my goodness, it was SO VERY GOOD.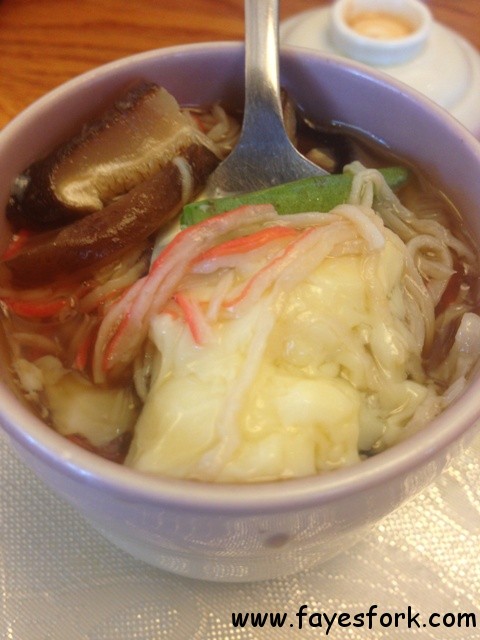 My grandmothers used to make this for us when we were little. These savory egg flans are one of my favorite things in the entire world. The version here is perfect: smooth and savory; right amount of dashi broth; all the goodies (shitake mushrooms, crab/krab cooked just right.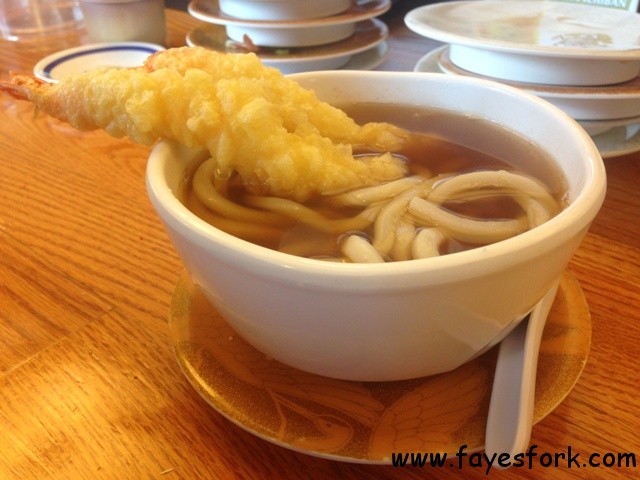 SHRIMP UDON
Not a bad portion for $3.50. This is another item you order from kitchen and is brought out to you on designated color plate.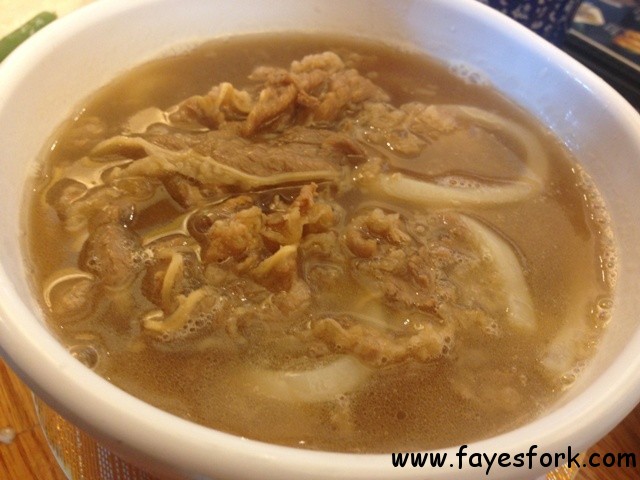 NIKU UDON
It seems all their udons are priced at $3.50. Sis ordered this and said she liked this beef udon. I thought the broth looked a bit too scummy for my liking.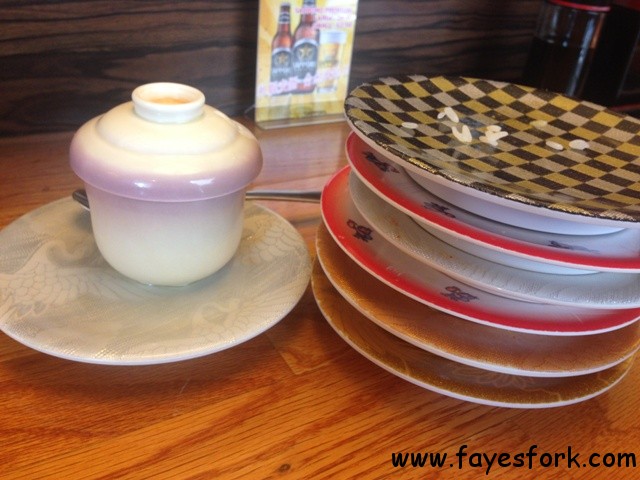 PLATES STACKING UP
I always start to organize the finished plates at the meal. I'm always convinced the restaurants will try to 'pull a fast one' if you don't reconcile your meal before they tally.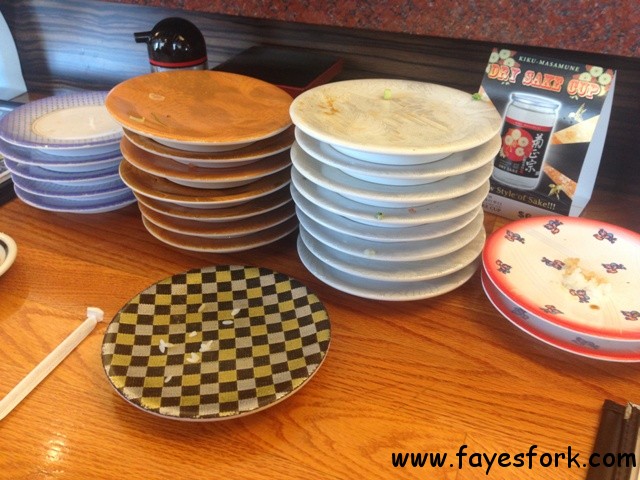 VOILA- ORGANIZED & READY TO TALLY – YOU'RE WELCOME
So here's the deal with eating at this restaurant (or at any sushi conveyor belt restaurant). THINGS (WELL, PLATES) ADD UP QUICKLY. See how there's only ONE checkered plate in the bunch . Mom has trained me and sis to NOT order many of these plates as they're really expensive (and I tend to grab the checkered plates off the belt a bit too quickly – sorry mom).
The meal was about $78 (with tax and two hot teas). That's kind of a pricey lunch for three girls. We didn't leave hungry but we weren't stuffed either (should you ever be stuffed after a lunch). I'm pretty sure I could easily make the total over $100 if my mom would let me order whatever the heck I wanted but alas, she's always tried to teach me restraint 🙂
Service was alright but mom and sis both said when the restaurant is busy, things weren't always that great. So this was the first time in months they have returned. When I asked why they both started laughing, referenced that infamous kid cupcake video, and said in Chinese, 'the San Diego brat is in town'.
Funny. REAL funny.
Gattten Sushi
500 N Atlantic Blvd #125
Monterey Park, CA 91754
626-457-5943
…
…
I'm not a fan of watching beautiful horses race at the Del Mar race tracks every year. Well, more so that I'm not a fan of gambling. BUT, I am a fan of the track's FREE DONUTS , COFFEE, & ORANGE JUICE they offer twice during the racing season.
Sis actually discovered this little 'secret' some years ago (before she had her boys). She used to ride horses so the races every year fascinated her. Our 'nanny's' husband would take her to the tracks and let her choose which horses to bet on.
Anyways, she heard about these Free Donut days some time ago and we try to go every year. It's gotten crowded but it's still incredibly fun (not just because of the free donuts provided by Yummy). I usually try to sneak to the horse barns and wander the barn in search of a horse I'd like to take home for a pet.
The event is only from 8a-10a. Here's what it states on their website:
Join us for free coffee, orange juice and yummy donuts, as you take a behind-the-scenes look into the world of Thoroughbred racing. Track announcer Trevor Denman will host the festivities which include question and answer sessions with famous jockeys and trainers while watching the horses during their morning workouts.
July 19 Lineup of guests:
8:15 to 8:45 —  Bugler Les Kepics (celebrating 30 years at Del Mar)
8:45 to 9:15 –  Former Trainer Gary Jones (who will be inducted into racing's Hall of Fame in August)
9:15 to 9:45 – Apprentice jockey Drayden Van Dyke (leading apprentice on the So Cal circuit)
Donuts Day is held July 19 and August 23 from 8:00 to 10:00 a.m. in the Seaside Terrace area at the West end of the Grandstand. Park in the main parking lot off Jimmy Durante. Trams will transport to West end of Grandstand.
Other activities include a meet and greet with the Del Mar Mascot Pony Boy along with face painting, entertainers, and free prizes for the kids. Also, enter to win a Family Fun Pack.
Hope you get a chance to go to this and eat some donuts !