OB NOODLE HOUSE
I love my dude buddies. Buddies are sometimes better than girlfriends because they're just non fussy, clumsy, and just plain ol' funny. You know – like dudes. I don't have a lot of buddies that are foodies. They honestly don't care where or what they eat. Because, you know – they're dudes.
Few of them read this blog because they don't care enough about food (or me). That doesn't hurt my feelings.
You know what DOES hurt my feelings. These buddies will all listen to what Guy Fieri has to say when it comes to food. THAT hurts my feelings.
Like come on. You'd rather visit a restaurant GUY FIERI is suggesting, HERE IN SAN DIEGO, than (listen to) ME (who LIVES IN SAN DIEGO). Are you frekkin' kidding me.
My best buddy from college was in town. He texted me last minute asking to meet up for lunch. When I asked where, he texted 'OB Noodle House'. I was surprised he suggested that restaurant as another buddy had been bugging me for years to try OB Noodle. I asked why he wanted to visit and wouldn't ya know it.
"Because I saw it on Guy Fieri…"
I rolled my eyes because CDJ mentioned the EXACT SAME thing the night before (only he said it was a Chinese restaurant that had chicken wings but wasn't able to name the restaurant because he's a dummy & a dude).
So if THREE dudes suggested this place (let's make that 4 dudes since Guy Fieri is so damn awesome), then fine. I'll drive the extra distance to Ocean Beach for lunch.
I don't visit Ocean Beach because it's a farther drive for me. Besides, I always associated that part of town with flip flops and ya'll know my hate of all things feet.
I researched OB Noodle House and it appears this restaurant is wildly successful partly due to Guy Fieri's visit. I used to like Guy before he made it 'big'. But his DDD show just got annoying. He was overly animated and gregarious to a point where the focus on the food got lost (to me). Plus, did you notice how each segment would only be 20 min with 10 min commercials.
Friend was driving from LA so we agreed to meet around 12:30p. There's only street parking for this restaurant and I was lucky enough to get a parking spot right around the corner.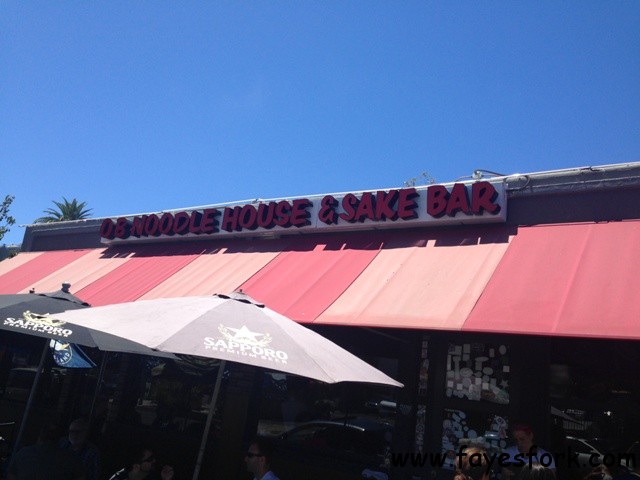 FRONT ENTRANCE
There's a few outdoor tables on the sidewalk but they didn't seem too comfortable. Friend was seated at the tiniest baby table inside. The tables in our section were extremely close to one another.
I took a moment to take in the restaurant.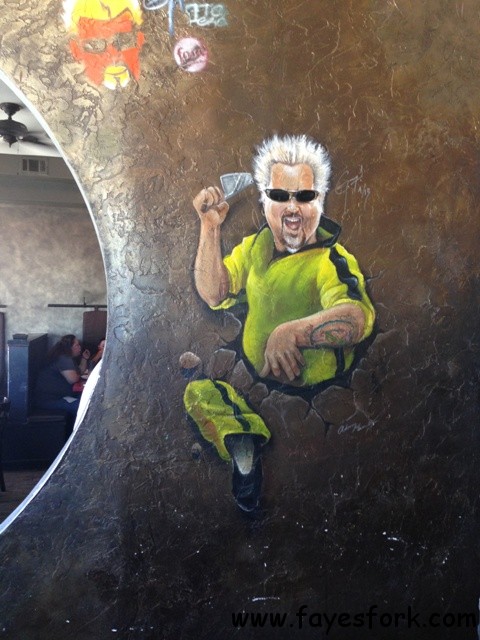 GUY FIERI MURAL
I'm sorry. Was Guy Fieri HERE. At *THIS* restaurant. Because I'm not really clear on that.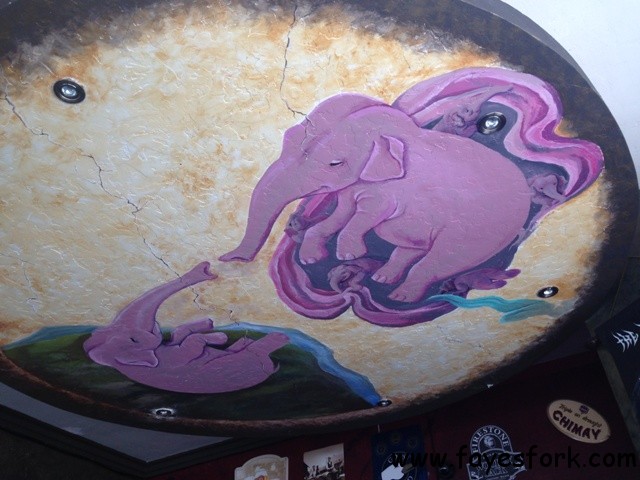 ELEPHANT CEILING
We were staring at the ceiling for a bit. Friend asked what's the significance of elephants to, I quote, "my people". I explained to him 'my people'  don't have ties to elephants that I know of.
I whispered to him that I was the ONLY Asian at the restaurant which I found to be odd (for a popular Asian restaurant).
"Don't worry they're probably all working in the kitchen right now" he commented.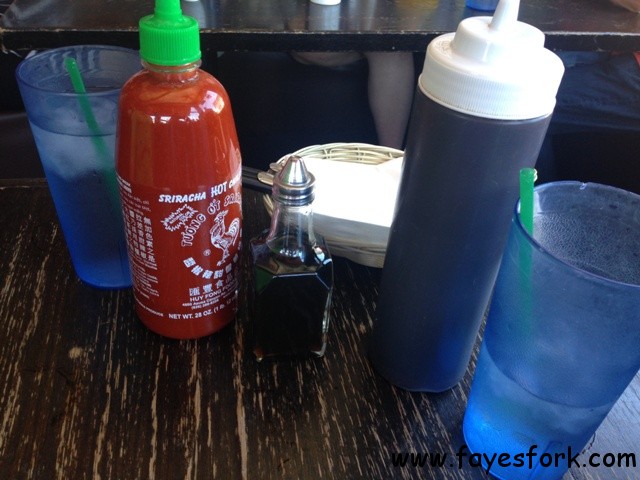 CONDIMENTS: SRIRACHA, SOY SAUCE, HOISIN SAUCE
There's also a wooden basket with napkins and chopsticks on the table.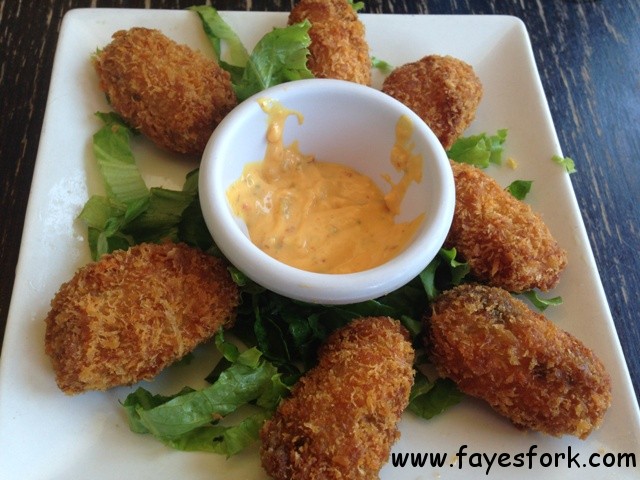 KAKI FRY $7.00
top quality Japanese oysters deep fried with panko bread crumb, served with a house special sauce
I am a sucker for fried oysters. A straight up sucker. I love fried oysters but find it difficult to find a place that does them right.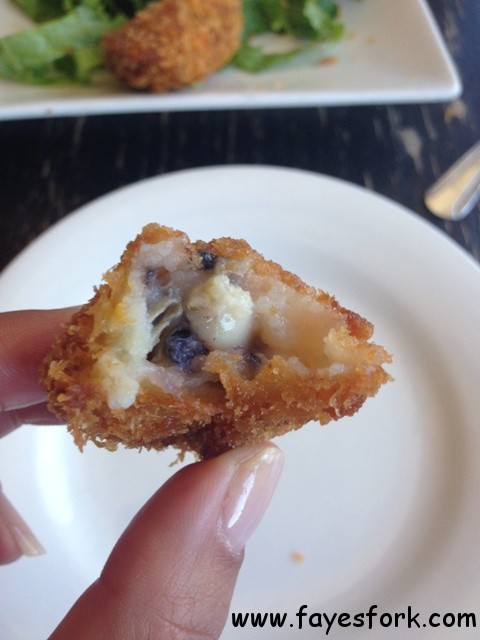 Guess what folks. The fried oysters here were AMAZING. My first bite was an explosion of flavors (actually, it was probably the explosion of hot oil). The oysters were plump and was briny-creamy inside the perfectly fried panko exterior.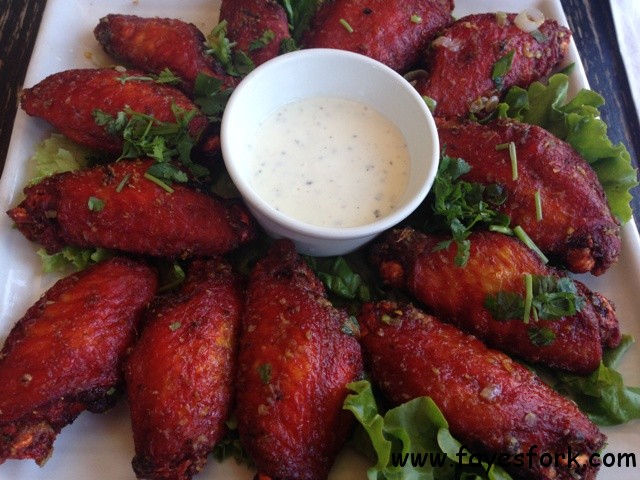 SPICY GARLIC WINGS $11.95
jumbo premium mid-joint chicken wings marinated with garlic and spices
A dozen arrives hot and fresh to the table after about 20 minutes.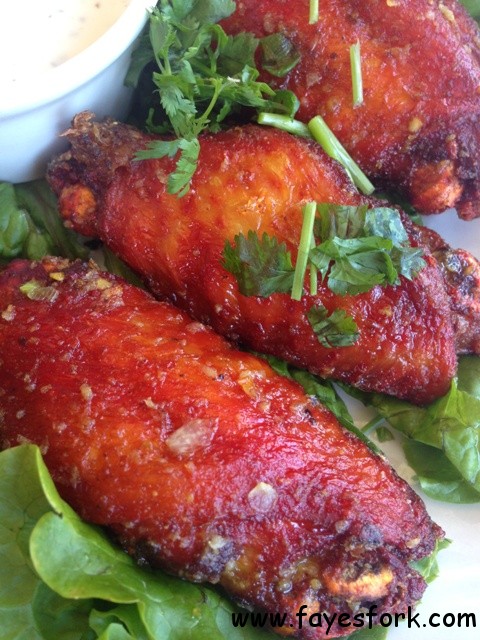 I guess these were the wings CDJ had seen on the show because my buddy was so eager to eat these things.
We both felt the wings weren't spicy at all.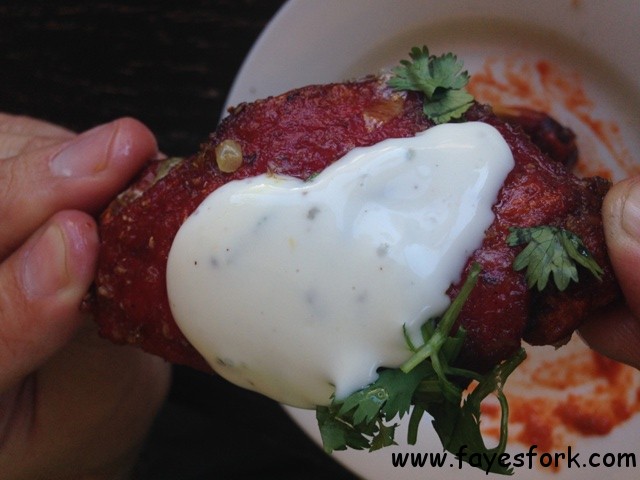 He likes to eat his wings with ranch. He thought the wings were good.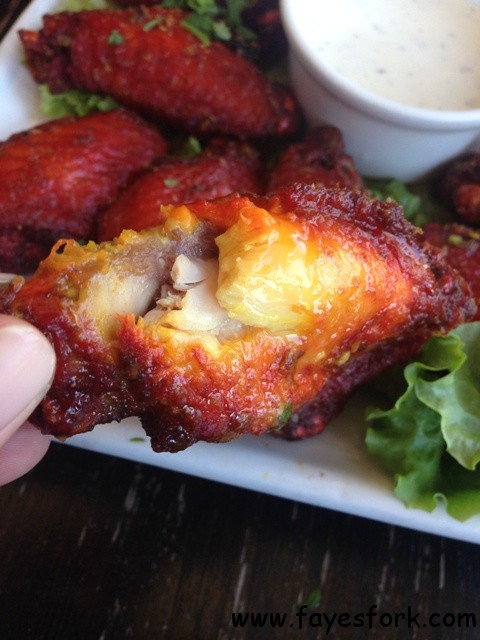 I felt the wings were fried too long and dry. The skin was alright crispy but the marinade tasted a bit strange to me. Perhaps the red coloring was off putting to me. I thought we'd polish these off but there were 6 remaining by the end of the meal which rarely happens when I eat wings.
Sorry to say that these wings pale in comparison to my beloved wings at Phoung Trang. You hear that Guy Fieri.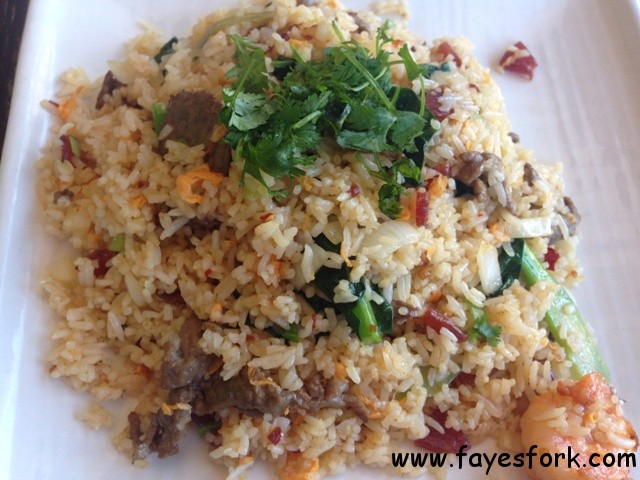 HOUSE SPECIAL FRIED RICE $12
Chinese broccoli, shrimp, beef, eggs, and Chinese sausage with chili sate sauce 
Friend wanted to order this as it was on the show too. Man, Guy Fieri really has a following doesn't he. I thought this better be darn good fried rice for $12 bucks here in OB. He was excited to try the Chinese sausage in this dish.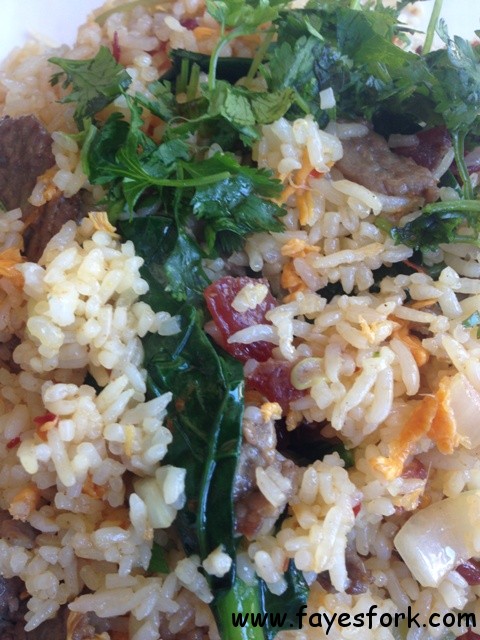 It was a decent portion and I loved how they added fresh cilantro on top of the rice. I believe they used broken rice for this dish. It seemed the Chinese sausage was cut into thin slices then quartered. There were maybe 4 medium sized shrimp in the rice as well. The fried rice was prepared nicely and had a nice taste to it.
Was this amazing fried rice. Not really. Maybe if they used butter it woulda been (just kidding – still culo hurt about the Benihana experience). I thought this dish was expensive especially for Vietnamese food in Ocean Beach.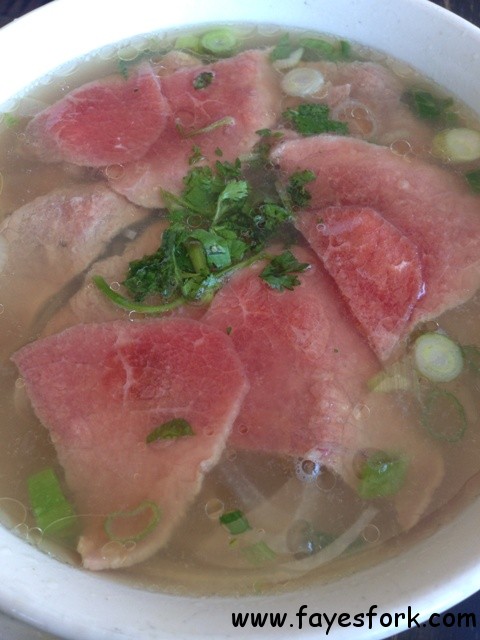 RARE STEAK PHO $6.95
Friend wanted to order this as it's his go-to pho bowl when he eats at a Vietnamese restaurant.
I was pleasantly surprised by how much I liked the broth. It had a nice clean beefy component to it that I enjoyed. Friend said he saw, on the show, how they prepared the broth with all these beef bones so that's probably why. Well, thanks dude for giving me your pho 101 lesson you learned from Guy Fieri on DDD. I appreciate it.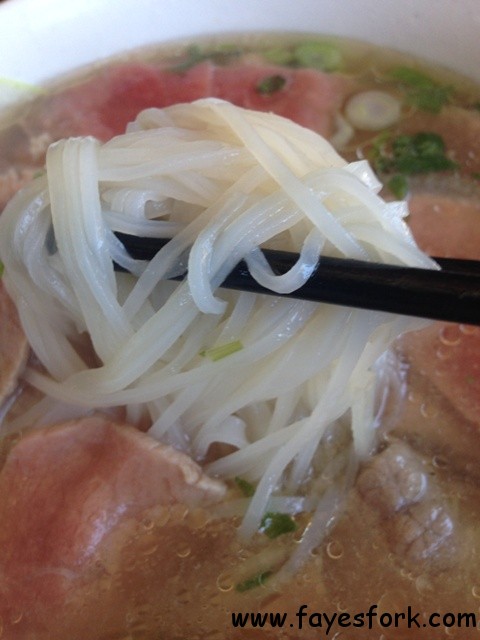 He thought the noodles were cooked just right and weren't too mushy. I tried the rare steak that quickly cooked in the hot broth. I must say the steak was tender and tasted pretty darn good.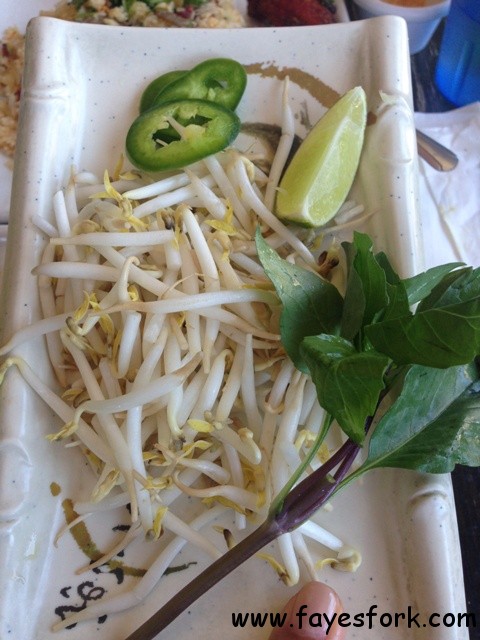 PHO CONDIMENTS: BEAN SPROUTS, JALAPENO, BASIL LEAVES, AND LIME
It wasn't a huge portion but it was enough to satisfy a grown man my friend said. He likes to add all this into his pho and then squirt a ridiculous amount of hoisin and sriracha sauce all bloody over the pho. I swear my friends do this so I won't touch heir pho (they know I can't stand hoisin or sriracha in the pho). Smart friends right.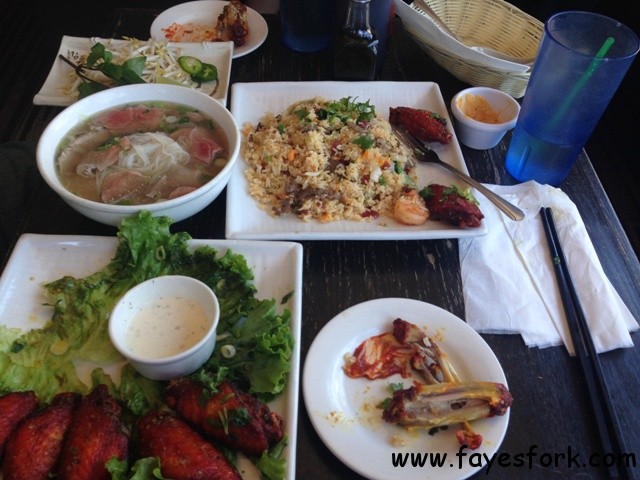 Our table really felt tiny. Imagine the table as a clock: I sat at the 6p position (where you see the wings) while friend had to sit at the 9p position (look at the pho bowl) because those were the only seating options at this table. There was NO 12p or 3p option. Our knees kept knocking each other so it wasn't the most comfortable of meals if that makes sense.
Service was nice and our water was refilled most of the time. I noticed alot of people drinking cold beers and cocktails during our meal. I always wonder how one does that and then head back to work. There's a laid back kinda vibe to this restaurant and it does get loud.
The total was $42.98 before the tip. I told my friend there are quite a few Vietnamese restaurants, here in San Diego and LA, where he could eat like a king for $43 bucks. This restaurant was a fun place to try but like with most places Guy Fieri recommends, I leave thinking 'WTF was he raving about'. 
Friend walked me to my car. I asked how he liked Ocean Beach so far and he replied 'you mean Rat Beach'. I laughed and asked if he heard that on DDD or if he said that because of my hate of feet or something. He said no – he saw the Jackass dudes on TV and the guys were in OB drinking/eating and kept calling the city Rat Beach.
So, let me get this straight. Just so we're on the same page. Guy Fieri brought you here and Jackass taught you about this town. Nice.
OB Noodle House
2218 Cable Street
San Diego, CA 92107
(619) 450-6868