Rarely do I have a new found 'whatever' obsession. But holy cow – do I have one now. Like, BAD. Super bad. I go to bed dreaming about it. I wake up dreaming about it. It's like having my first boy crush all over again. Recently my mom and sis went to H Mart to pick up a bunch of items to make a homemade shabu shabu for dinner. They brought home this huge box of fresh young coconuts that made me shake my head in disbelief. I've seen these boxes being sold at H Mart in Mira Mesa but never understood why people would even buy them.
I had my first taste of coconut water from a real young coconut when I visited Thailand some years ago. I bought it from a street vendor and watched him hack off the top of the coconut and then insert a straw into the coconut. I was beyond excited to try the coconut. I took my first sip and that was it for me. I HATED it. The coconut water tasted un-sweet and strange to me. There was a weird after taste to it that made me nervous. And that was the last time I ever tried coconut water.
Coconut water is all the rage right now. I hear about this water EVERYWHERE. Sometimes I'd read the nutritional labels on the back of the carton and be shocked at how high the carb count would be.
So after my mom's awesome shabu dinner, my youngest sis decided it was time for me to try a coconut. She'd do all the work so all I had to do was watch. These photos were taken in 3 different sessions:
Session 1 (after shabu dinner):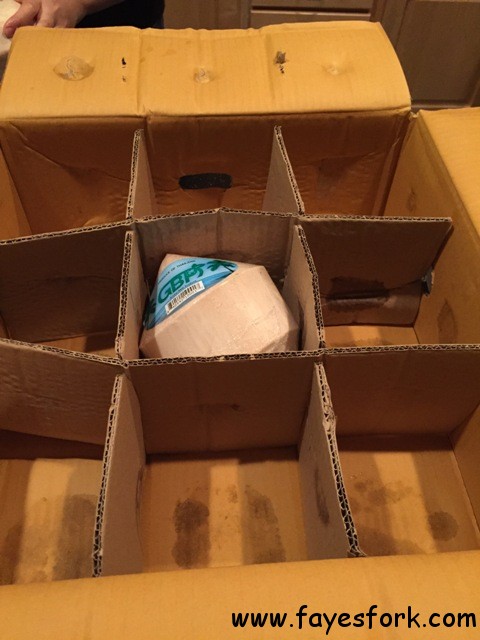 Sis had already placed all the coconuts in my fridge so I had to take one out and put back into the box for you guys to see.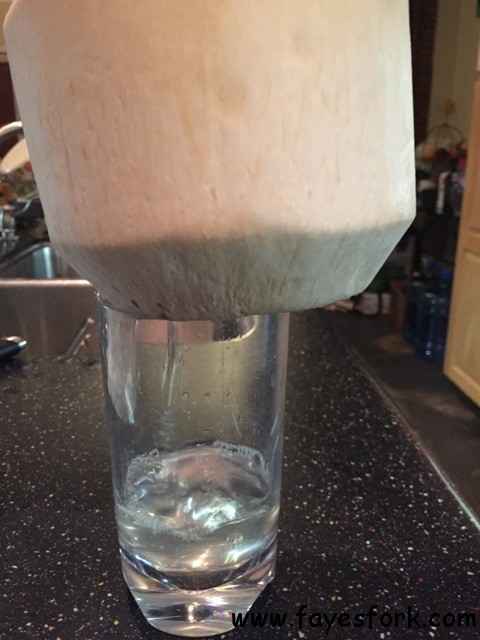 She started the process before I could take pics. I asked why she used the bottom of the coconut vs the top of it to extract the coconut water. She explained that she was taught to poke around the bottom of the coconut as the 'eyes' of the coconuts are on the bottom and therefore easier to poke around for the hole (vs chopping off the top hard portion of the top of coconut).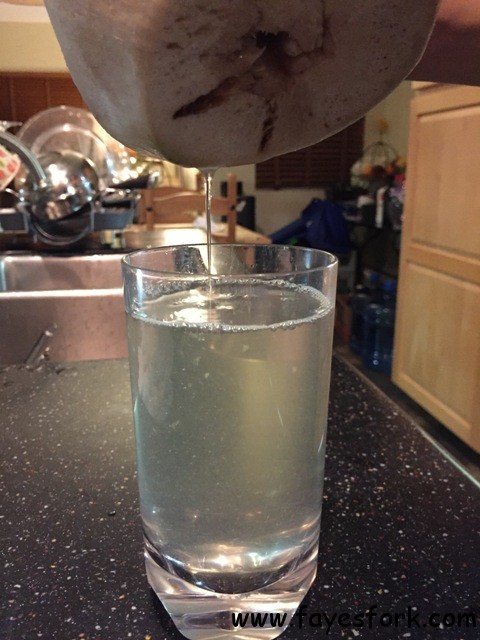 Look how much coconut water came out of the nut! Isn't that crazy?
The water was already chilled as the entire box was bone cold when they bought it (not sure how H Mart stores the boxes). But OMGGGGG – the taste of the coconut water was UNREAL.
It was the most refreshing natural tasting anything I've ever had. It tasted light, yet sweet, and yet faintly nutty at the same time. I was a little put off after the first sip because it tasted weirdly sweet to me. But keep in mind that I usually use Splenda or an artificial sugar for my coffee/drinks. I haven't had a natural fruit (apple, orange, etc) drink in ages. So the taste of this beautiful natural water that came from this particular coconut was such an odd sensation for me. I was sold.
Sis and I started talking about how to extract the meat/flesh inside the coconut. I asked how she usually does it and she said 'well, I usually throw it on the ground'. I couldn't tell if she was joking. Then she said that at our sister's house, she would take the coconut and bang it on the granite stool sitting thingy in the backyard. I started laughing and screeched 'Like a monkey????'.
I suggested that we use one of my crappy knives and a mallet to bust the thing open. The outer portion of this coconut is mostly fiber. The hard part to crack is the middle hard shell of the coconut (beneath the fibrous layers).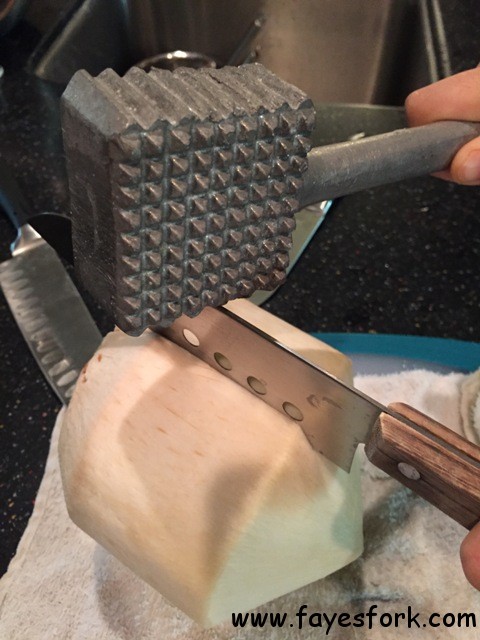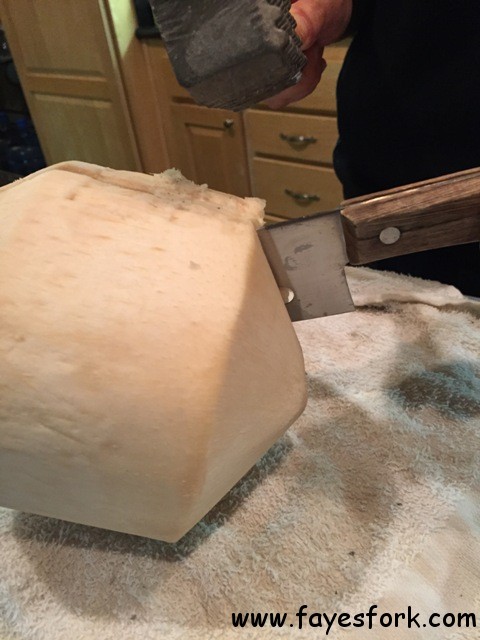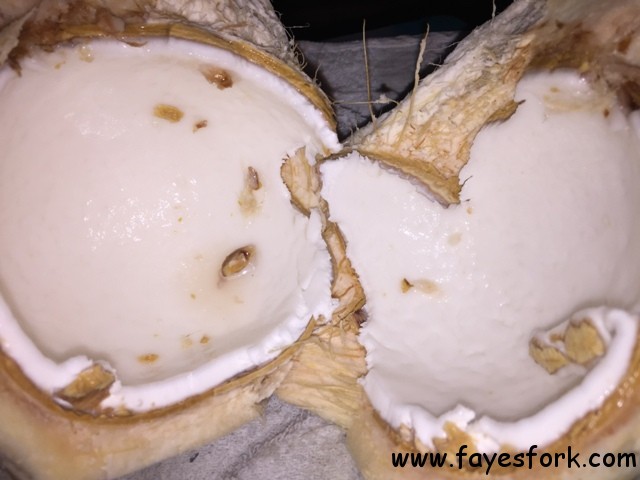 Voila!! See, you don't have to throw on floor or bang against something like a dumb monkey.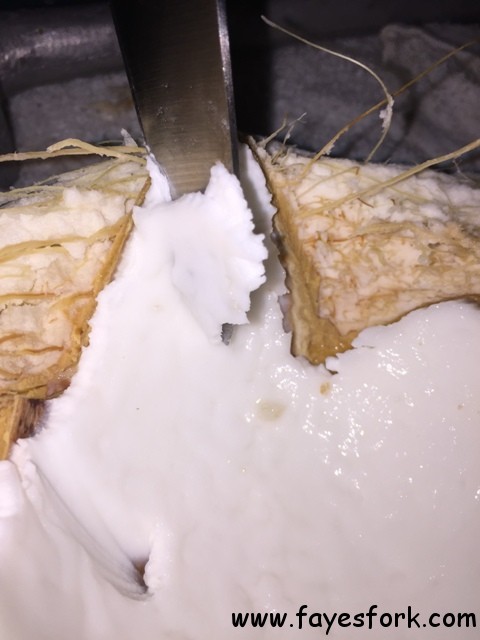 You can scoop the flesh out with a spoon. The coconut flesh is a bit firm-jelly-like (a texture that can be strange at first). I didn't like the first few nibbles I took of the flesh and even FratB commented that he felt the texture was just off putting to him.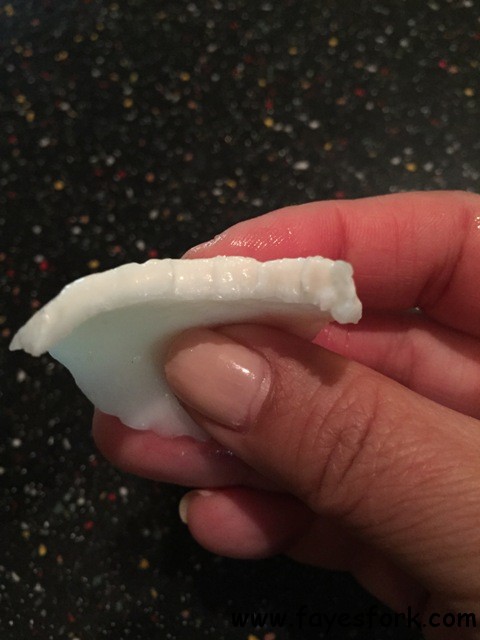 Alright, so that was session 1. I wasn't totally hooked-obsessed JUST yet but I told mom and sis to go back to H Mart the next day and buy some more of these coconut boxes. I mean come on – let's do the math now – each coconut, with FRESH COCONUT WATER AND COCONUT MEAT – cost a whopping  0.67c. Where else can you get that kinda deal.
So of course H Mart was completely sold out of the coconuts by Sunday evening. We went back Monday afternoon and found a different brand selling still the 9 coconuts but only now for $7.99/box.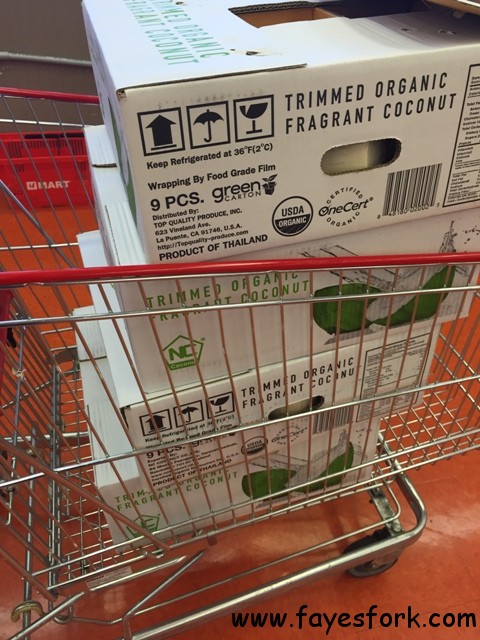 Organic?!!! We couldn't remember if the first box from Saturday was organic. Regardless, mom said the $7.99 for the 9 coconuts was still a great deal (hence why we bought 4 boxes!).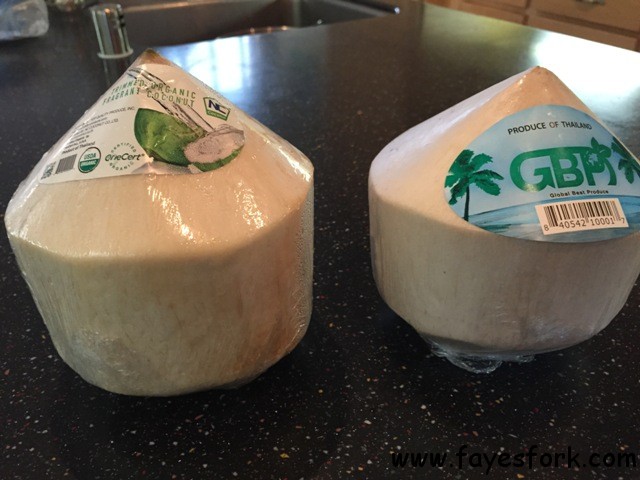 The one on the left was from the $7.99 organic box and the one on the right was from the $5.99 box on Saturday.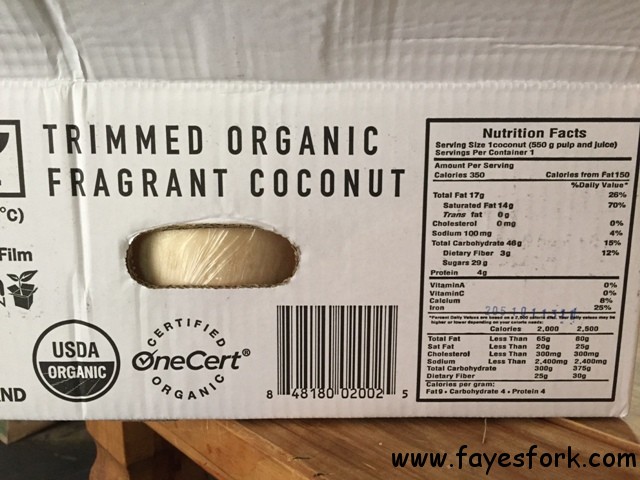 I believe the coconut water itself is only about 4g of carbs or so though.
SESSION 2:
I read somewhere to slice off the top of the coconut and look for the 3 veins.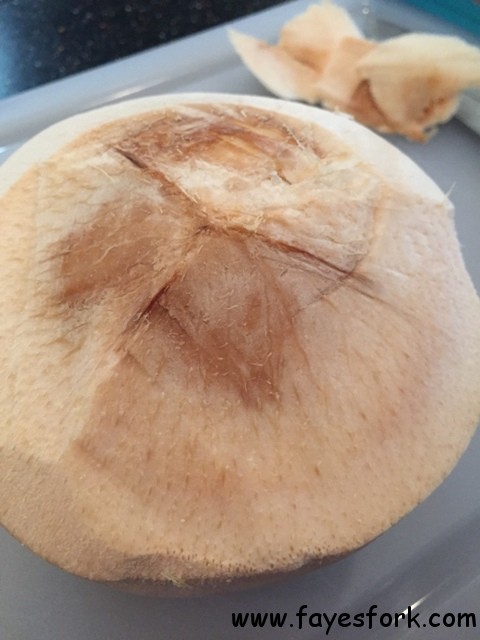 Do you see the 3 veins right above.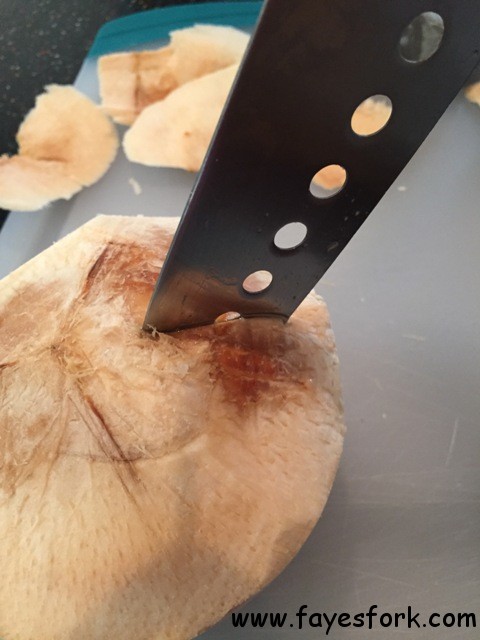 Then you're supposed to take the knife and place it between the veins and tap the knife in. Then you turn the knife horizontally and then twist the knife to pop open the coconut flap. That probably makes no sense right now as I'm typing it so click here for a much better explanation 🙂
This technique totally didn't work for us and we ended up just forcing the knife into the top of the coconut. This was a terrible idea as it 1) ruined the knife even more and 2) made our hands hurt.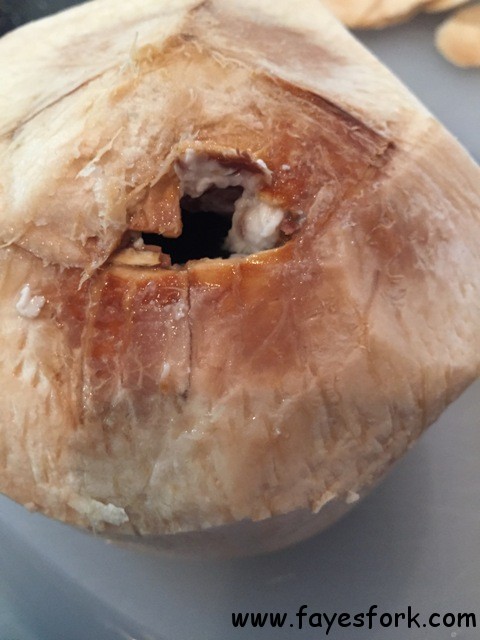 But at least we punctured a big ol' hole in the thing! And looksees what we gots here…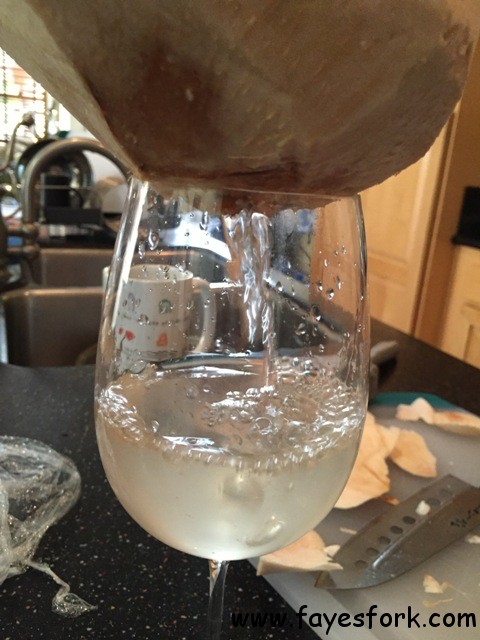 AHHHHHH – FRESH COLD COCONUT WATER…
Can't you just *TASTE* it.
This coconut produced quite a bit of water. It filled this wine glass about 3/4 way up! And oh myyyy goodnessssss – it was like pure liquid gold for me and sis.
Session 3:
Rarely does youngest sis ever out-know me in ANYTHING. But I must say that with fresh young coconuts – well – she's the master. She's right about poking the bottom of the coconut to find the eyes. It's easier and safer in our opinion to do it this way.
Use a steak knife to poke (and give a little twist with knife) the bottom of the coconut. You're trying to find 1 of the 3 eyes of the coconut.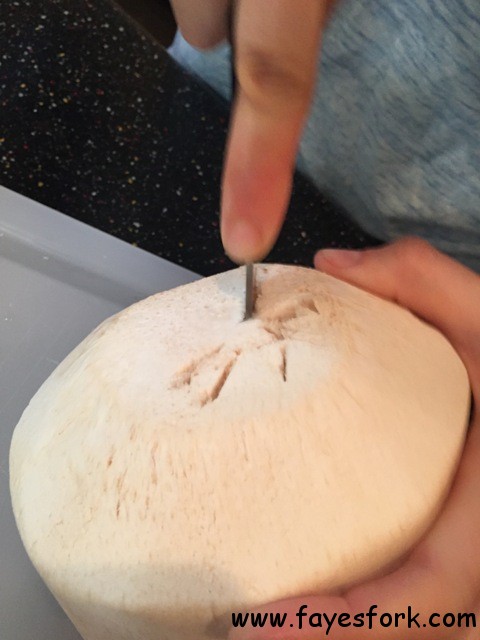 I think she found one of the eyes here. You can see the knife was able to go farther into the coconut than the other 'pokes' or 'stabs'.
Once you find that eye (hole), gently twirl the knife in a circle and try to create a nice exit hole for the water to come out of the coconut.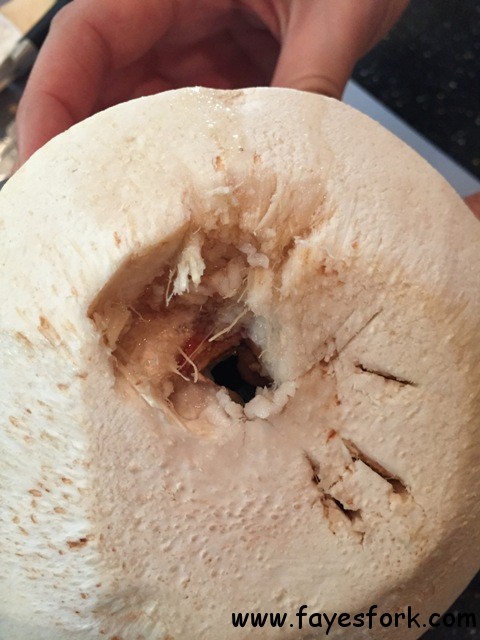 Kinda like this!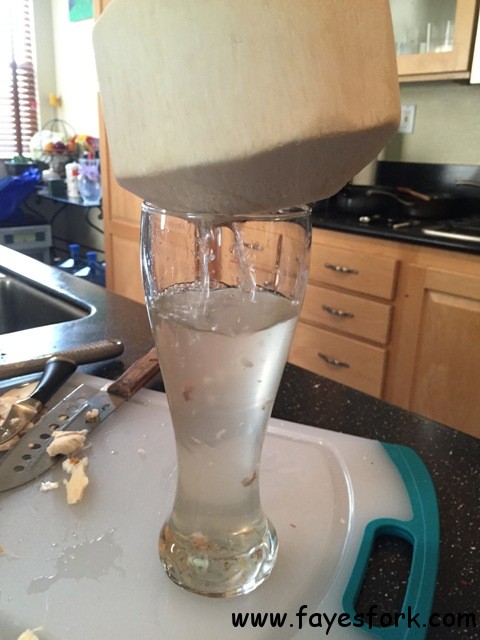 That's a CHILLED beer glass. Now *THAT* is the IDEAL way to drink this water folks. Do you see a bit of the coconut flesh floating in the water too 🙂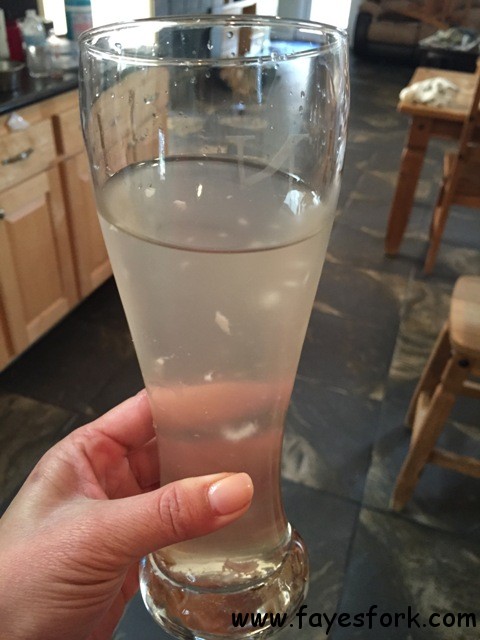 Just so dang refreshing. So dang dang dang much. I want to drink this all freakin' day and night. And I want J.S. to geek out with her crazy science/biology and tell me how coconut water will somehow make me younger and more powerful. My mom thinks the coconut water has helped me recoup faster from being sick.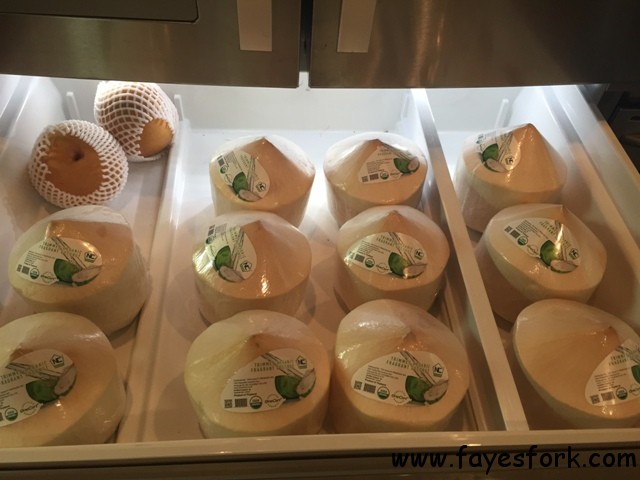 If this pic doesn't show I'm coconut obsessed than I don't know what will. The funny thing is that I've been scooping out the coconut meat and storing the meat in a ziploc in hopes of giving it to my best friend to somehow use. The funnier part is that I'm too lazy to crack the coconut (after I extract water) so I throw the whole waterless nuts into fridge for FB to later crack (he jokes that he's now my labor monkey).
Even at $7.99/box, each fresh young coconut costs only $0.89c. The fresh coconut water that you extract from each coconut is way fresher and healthier than what you can get at a supermarket. I was reading somewhere that a lot of companies pasteurize the coconut water in order to store in the bottle/canister/etc. Or they'll use coconut concentrate and add tons of sugar. My mom said it's tough to ship young coconuts to the States because the weight of the nuts are so heavy and therefore makes it quite costly.
So however H Mart is doing it, take advantage of the cheap price they're selling the coconuts for right now. When it was $5.99/box, it was only ONE per person. But when it was $7.99/box, there was no limit. If you didn't think you liked (fresh) coconut water before, I humbly suggest you try one from H Mart now as it might just change your opinion for the better on this water. Trust me – you're reading this from a convert now…
Happy Friday all…
HMART
9440 Mira Mesa Blvd
San Diego, CA 92126
(858) 577-0060
UPDATE 1/16/15 @ 3:09P:
Like an compulsive idiot, I had to call H Mart earlier to see if they had any more young coconuts for sale and at what price. I SWEAR I wasn't going to get more boxes. I SWEAR. But after hearing that they were selling the boxes of fresh young coconut for $5.99 again…wellllll….yeahhhhh….I had to go.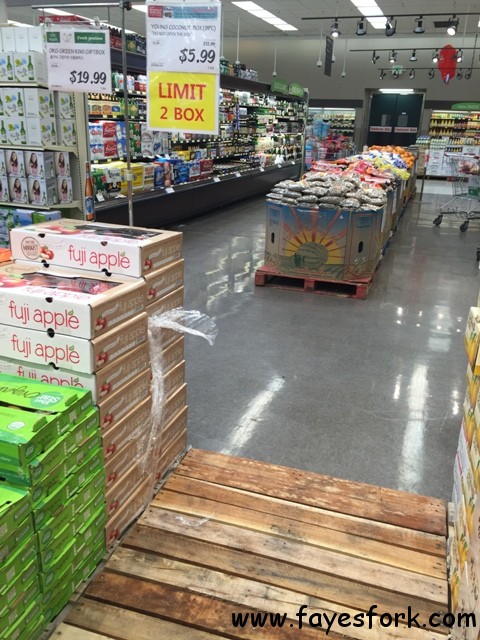 My heart sank when I saw the entire inventory SOLD OUT. There was actually one box left that was stacked on top of the Asian pears but that box looked terrible (someone had opened it and the coconuts looked smaller). I asked a worker if there were perhaps more in the back and he irritatingly shook his head and said NO. I was so heart broken and lost that I started to aimlessly wander the fruit section. Then I felt a tap on my shoulder from the same disgruntled co worker and he pointed to this: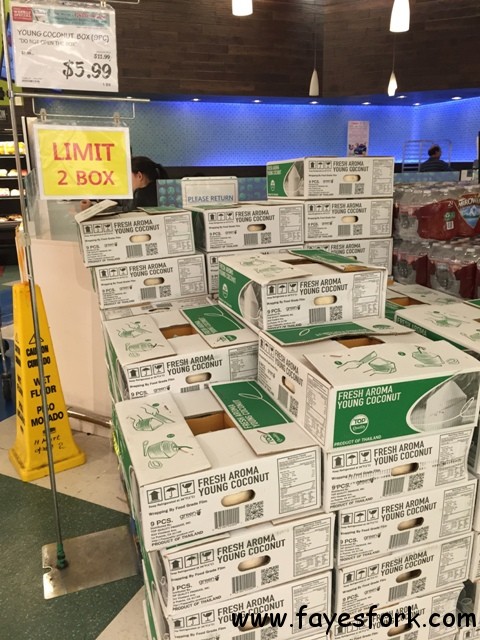 HA! SUCCESS!!! YES!!!! They stashed another inventory right next to the food court so look for this area if you go and don't see young coconuts.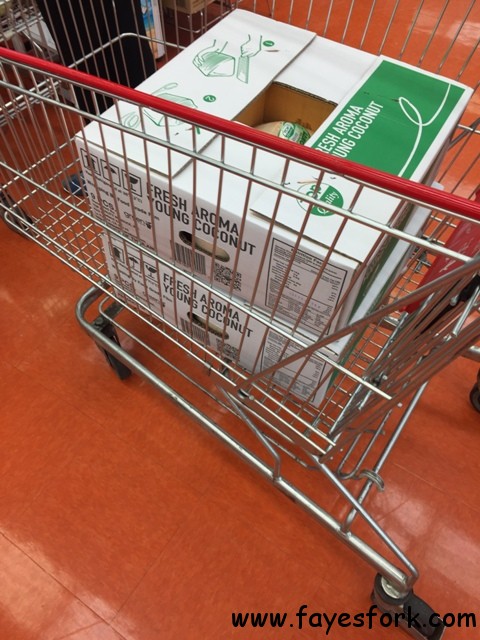 They are strict about the 2 BOX LIMIT. I'm sure you can cheat and find another cashier to check out (for a second purchase). I, fortunately, have an amazing accomplice so he was able to meet me here to help buy another 2 boxes (we are going to visit my family in LA tomorrow so these coconuts are going to make for great gifts!).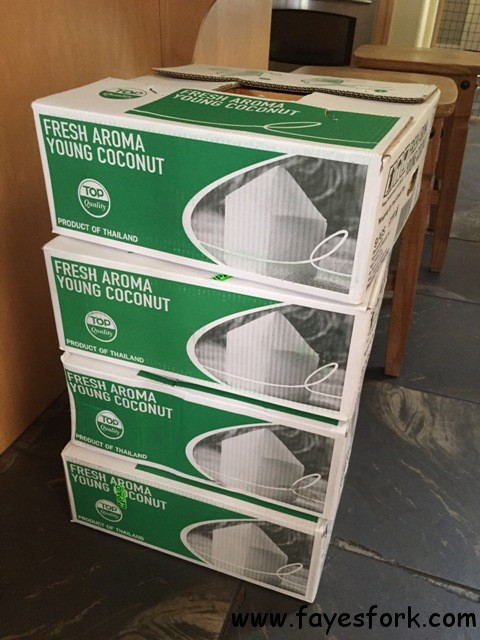 Yeah. I Know. I'm crazy. I managed to unload two of the boxes (total of 18 coconuts) into my fridge and I can honestly say that I can't fit any more stuff into my over packed refrigerator now. I believe that these fresh coconuts must be refrigerated after 5 days but I'm not sure.
Note: 1) the coconuts were again super cold in boxes when I purchased them; 2) take your time to lift the box and feel for THE HEAVIER BOXES (I picked one box that was significantly heavier than our other three boxes) 3) this $5.99 box is NOT labeled organic as was the $7.99 box es we purchased on Monday and 4) customers seem to know about this coconut deal because I saw a TON of people with at least ONE box of coconuts in their cart when I was checking out.
I want to say the $5.99 sale price started again today, Friday 1/16, but I am not sure how long this deal will go on for. Probably at least until Sunday (or when their inventory runs out).
And my happy Friday pic to you all (and to laugh at)…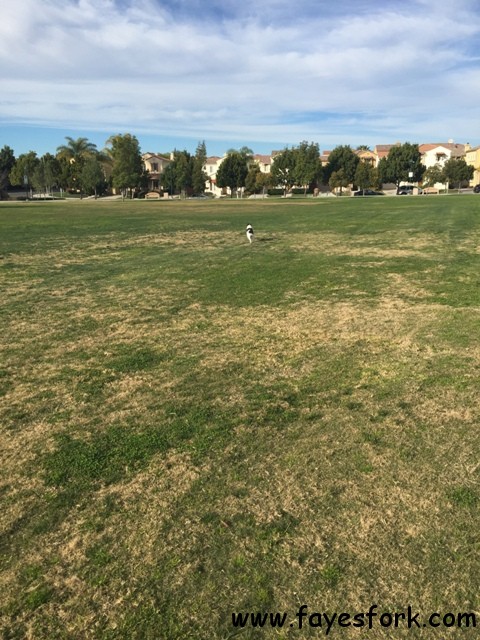 FratB's dog is over today and the effer took off when I was unloading the coconuts into my house. That's me chasing the dummy around the park trying to catch him. He's so fast. Like a weirdly fat butterball turkey that can run.