How much romance does a girl need these days ( the answer is ALOT right). Remember when Carrie dated The Russian and his romantic gestures were just TOO much and she fainted in front of the museum. I like my fair share of romance but I'm not the type of girl that absolutely needs it. I guess I grew up with 'whatever a guy can buy/do for you, you can buy/do for yourself as well'. So I was really taken aback (in a very good way) when FB recently took me for a surprise staycation at Estancia La Jolla. I was equally surprised to find that Adobe El Restaurante, located on the top floor of their casita style resort, offered two types of an AYCE Sunday Brunch. I considered myself Carrie Bradshaw with the Russian that day (well, except I'm Asian , Fb's not Russian, and I live for food and not shoes…so yeah… virtually I have nothing in common with Carrie).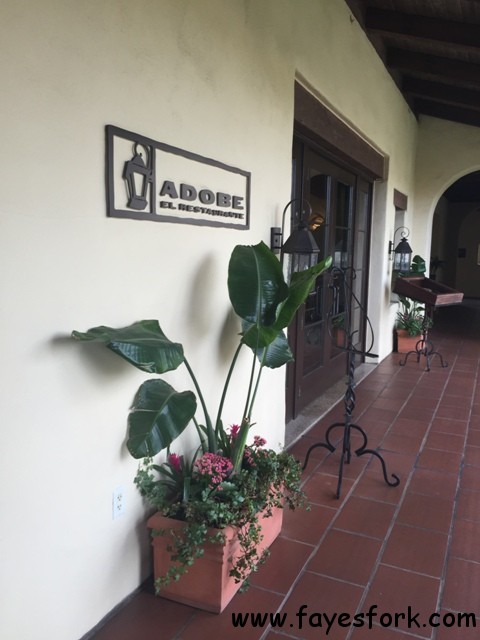 There's indoor seating but there's also outdoor patio seating that gives you a nice view of the garden.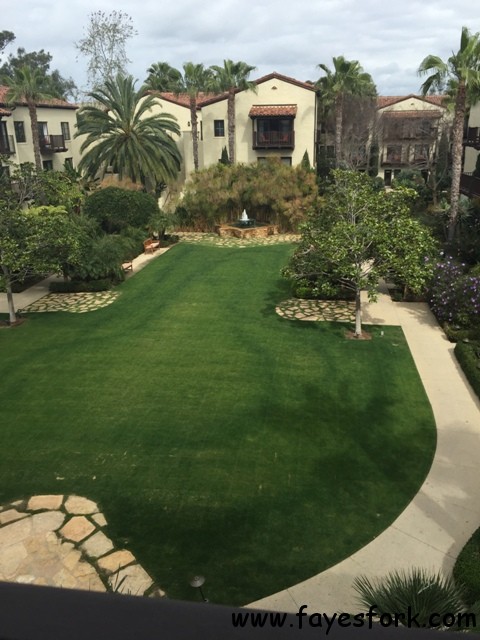 I was happy there wasn't a wedding or event going on that morning as it was just very peaceful and serene.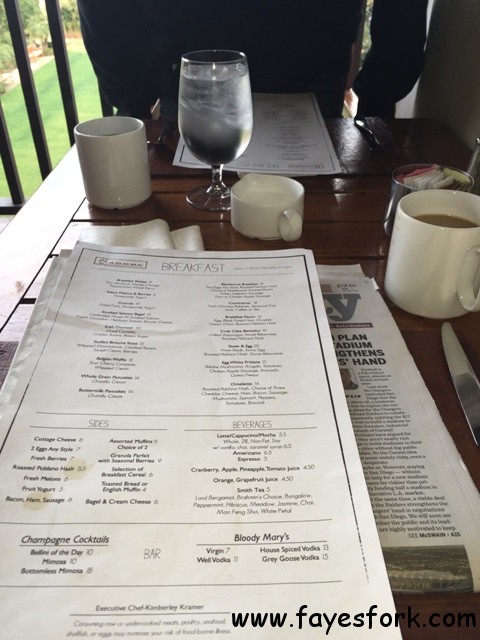 There wasn't a hostess working the patio so it was confusing on where to sit and who to order from. It was only when I went inside Adobe El Restaurante that I noticed there was an AYCE Buffet station in the back of the restaurant.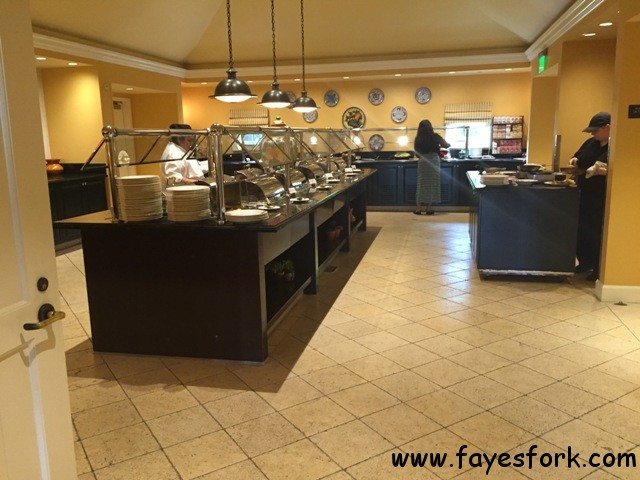 The waitress told us to take a seat and that she would explain our options. She said we can either do an $18 AYCE Continental breakfast (cold items only) or $27.50 for the AYCE all-inclusive brunch (omelette station, french toast, etc). As you can see, the buffet area is TINY. We didn't really think much of the AYCE option at first as it didn't seem to be worth it. But then we analyzed the regular breakfast menu and realized the items we were going to order started at $18. So I decided to go with the Continental option while FB opted for the all-inclusive option.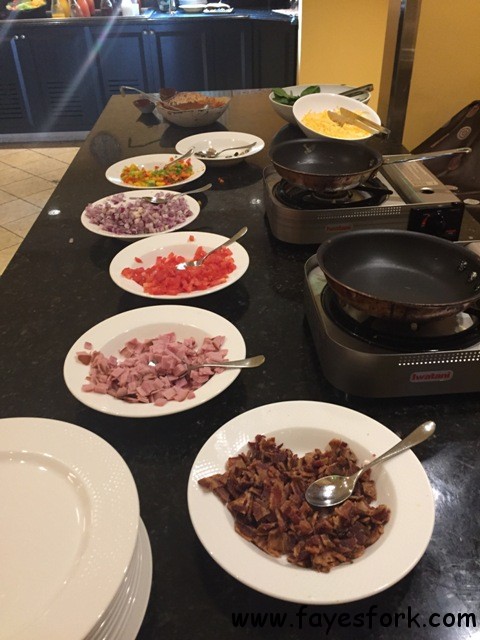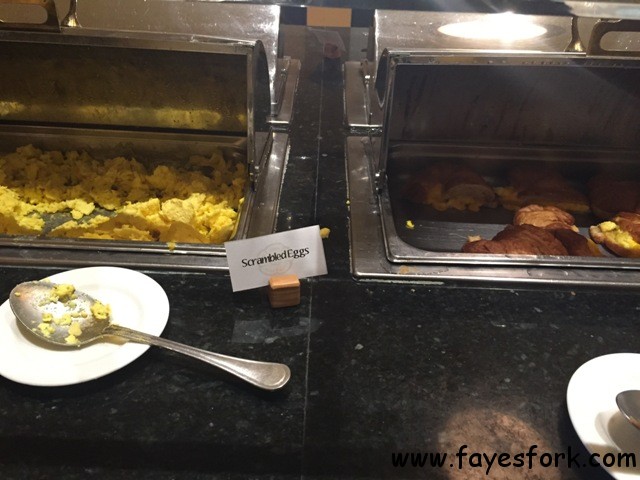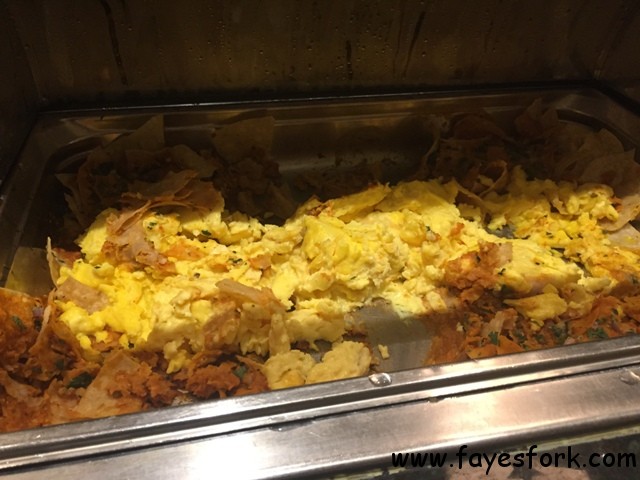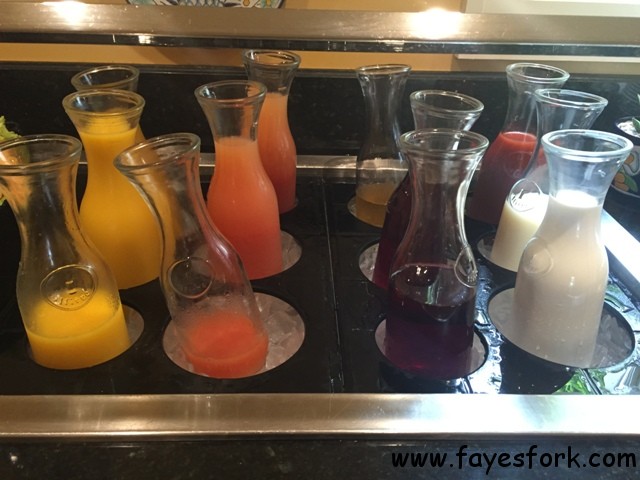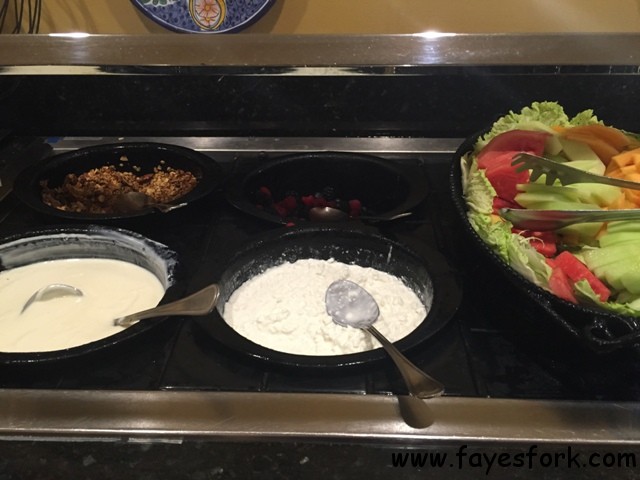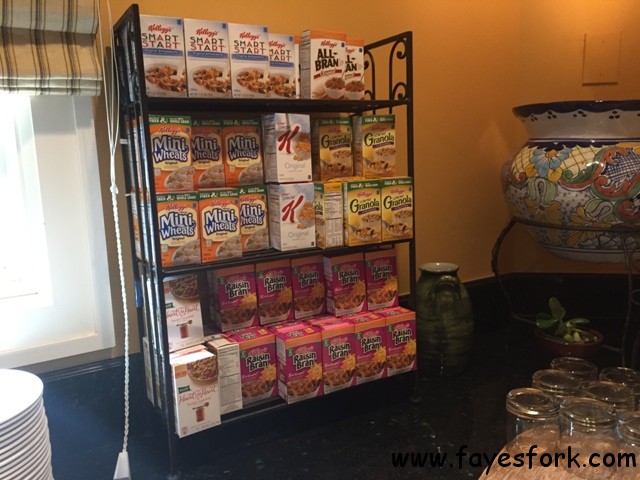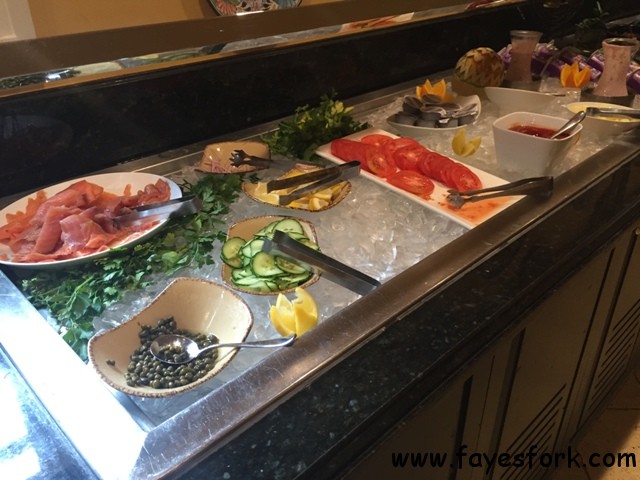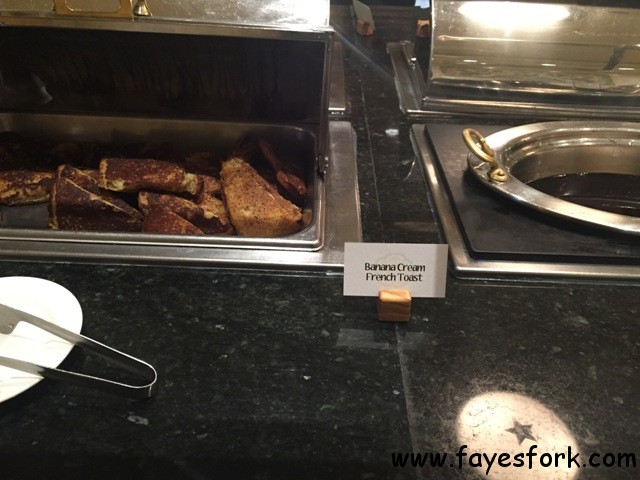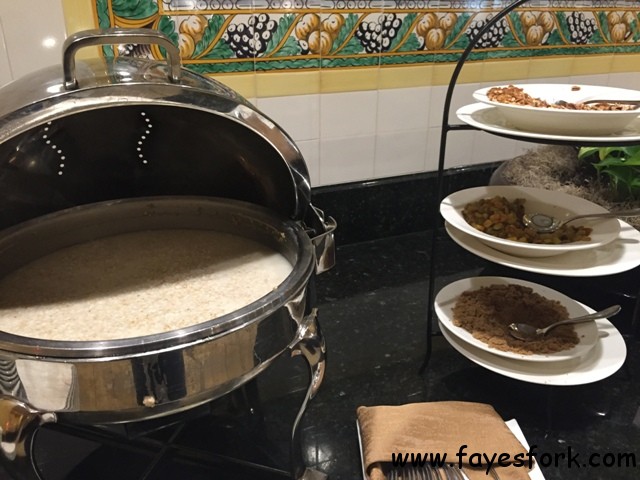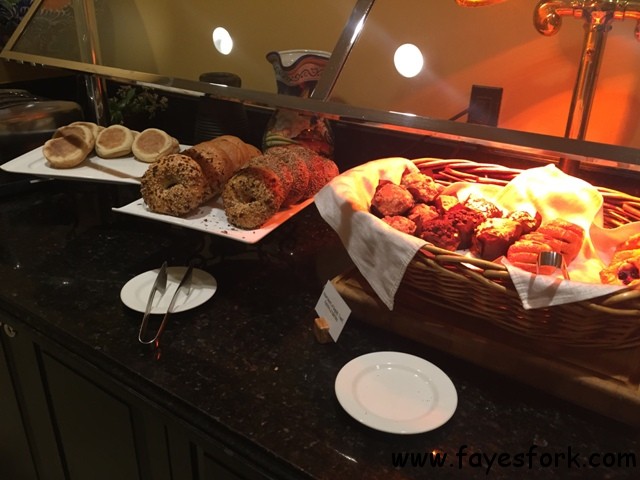 So there's not much and nothing stood out as 'wow'. But for those whom have gotten to know me via this blog, let me show you what JUST makes any bad day/meal instantly better…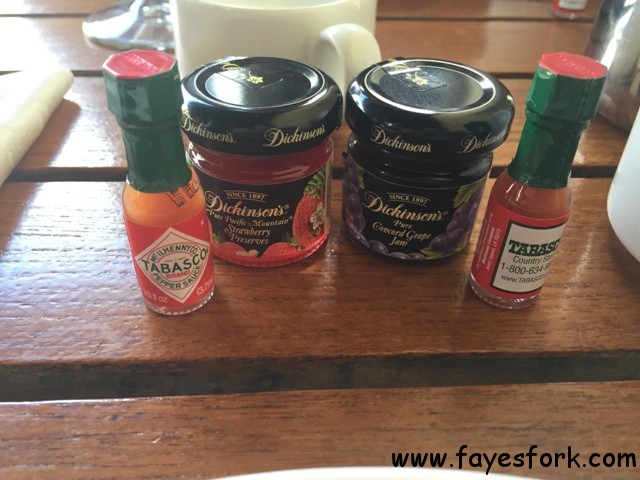 I still don't understand what it is about miniatures that makes me so infant-like giddy.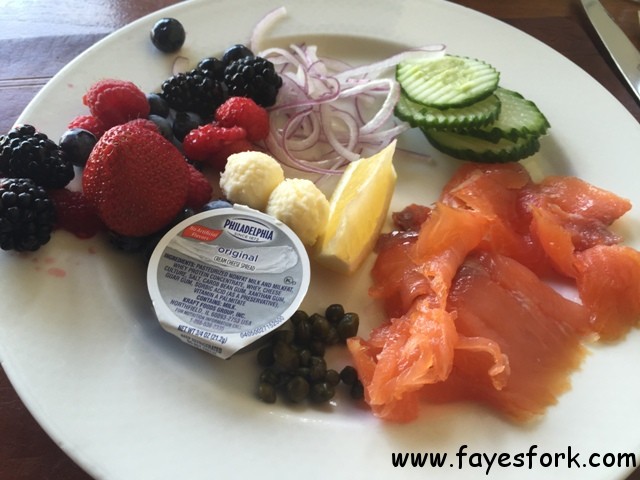 As you can tell, I'm kinda on a low carb thing so the Continental AYCE option was going to be tough for me. BUT, I'll be danged if I don't manage to eat my $18 dollars worth that morning.
The smoked salmon tasted nice and not overly salty. A few slices were tough to chew but I think that might have been the angle in which a particular piece was sliced.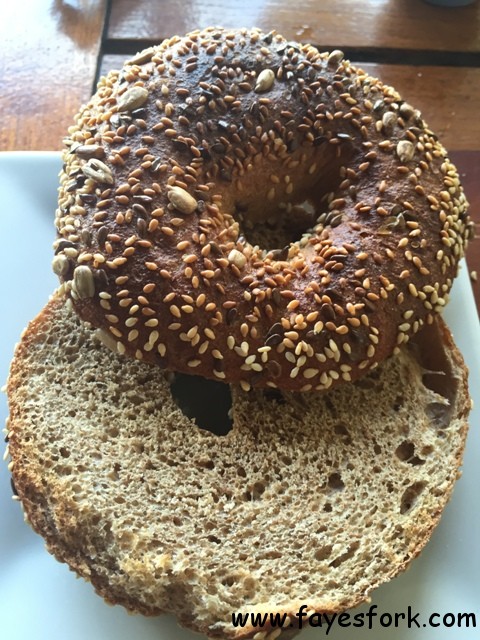 Yeah so I'm a bad low carber alright. They only had two bagels to choose from that day and there was a toaster in that station. I didn't realize it until later but there is a 'bagel' button on the toaster so make sure to press that so the bagel gets a better color and toast to it.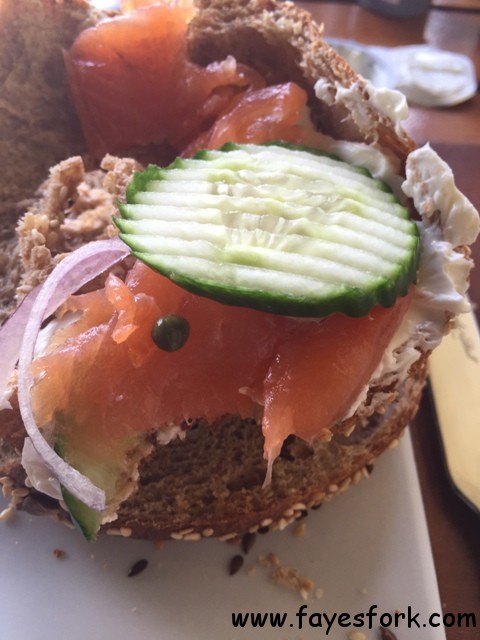 What I do to save on carbs is to scoop out the toasted bagel 'flesh' and then stuff the vacancy with cream cheese. Then I top the loaded cream cheese with cucumber, red onion, and salmon. The extra crispy exterior of the bagel (from the extra toasting) was the perfect pocket to hold the soft cream cheese and toppings. It was truly bliss.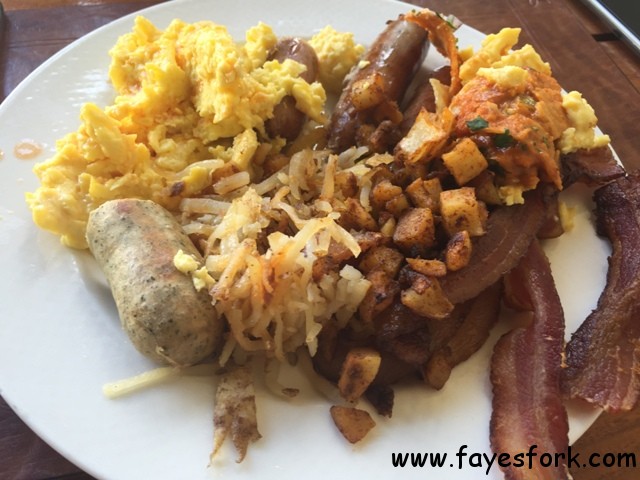 This is FB's plate and all he wanted to say to everyone about his plate was 'the eyes eat first ok'. I can't believe how much stuff he piled onto ONE plate. I think he forgets it's AYCE and that he doesn't have to have all his food stacked on top of each another (that's like far worse than having food touching). He said the chilaquiles were AMAZING and that the chips remained crunchy the entire time. He didn't like the chicken sausage but instead preferred the regular less-plump breakfast sausage (that's buried in the pile somewhere).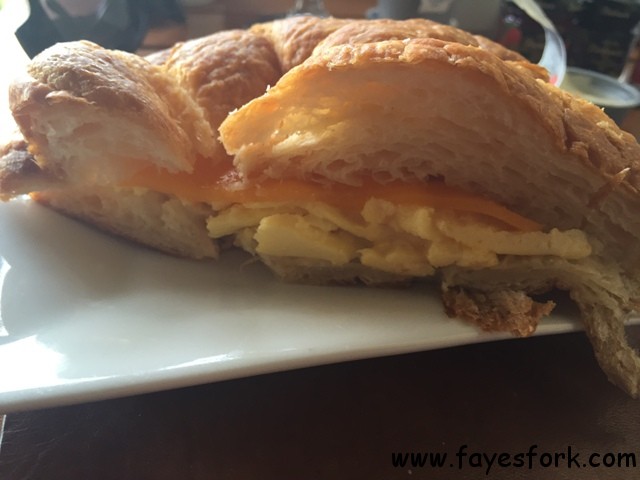 He got up to get sandwich when I told him I saw a new tray of this item come out. I believe there's only scrambled eggs and cheddar cheese inside the croissant. He didn't say much about this dish and only ate about half of it.
My second plate consisted pretty much the same as my first. But let me tell you what really blew us both away that day – the FRESH BERRIES.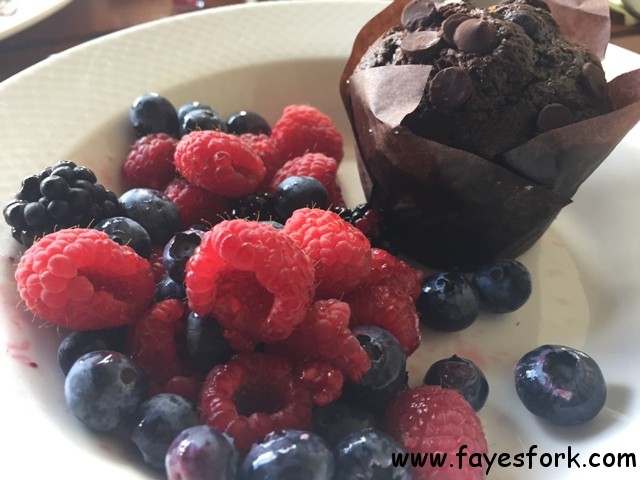 They offered blueberries, raspberries, blackberries, and strawberries. I cannot express how I loved these four berries. Each berry tasted plump and sweet and just plain FRESH.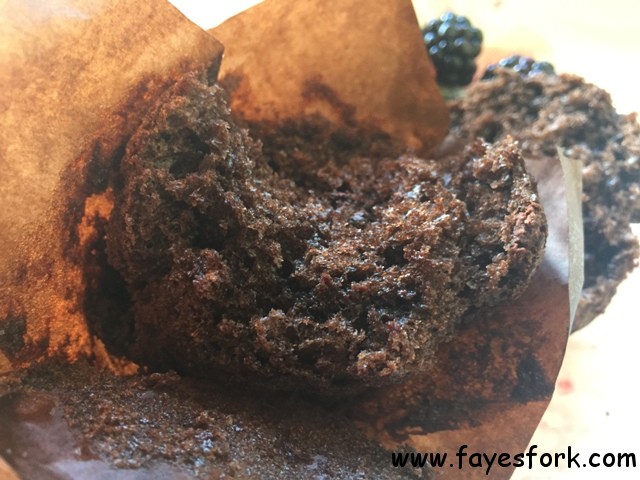 We questioned if the pastries were made in house. The paper wrapping was a nice touch but I personally found the muffin to be dry.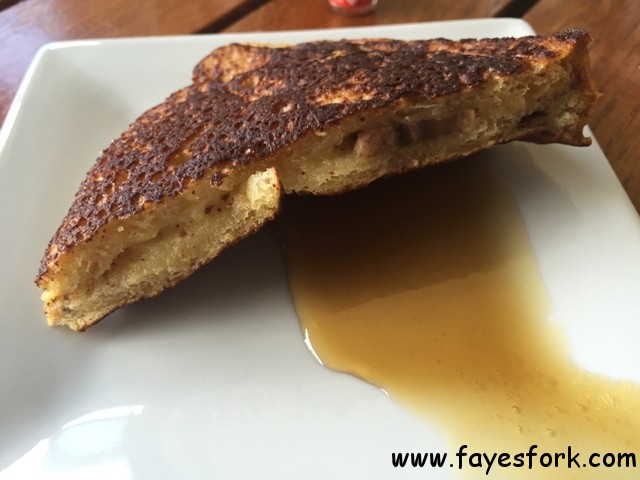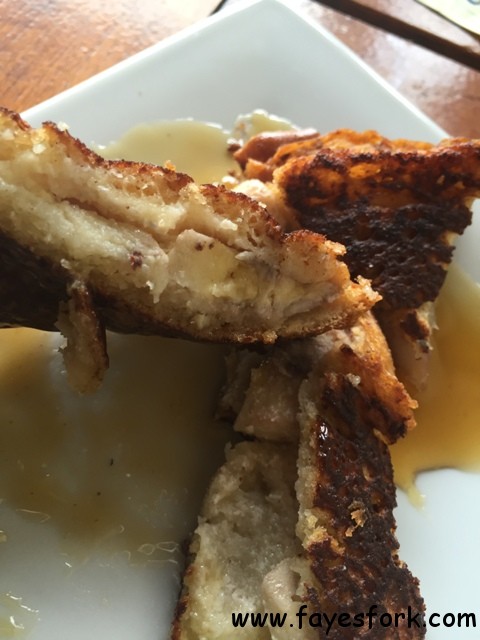 I know I wasn't supposed to take a bite of this item (low carb plus I chose the Continental option) but the two bites I had of this special french toast was delicious. The exterior was wonderfully crunchy and tasted almost rich of yummy butter. The interior had a lusciousness from the banana and some sort of cream (perhaps a custard?). FB even thought it was really really good french toast (he only took a few bites as he was more interested in proteins that morning). But I would absolutely recommend this french toast to anyone. I can't imagine how amazing this breakfast item would be if it was made to order (versus sitting in a chaffing dish).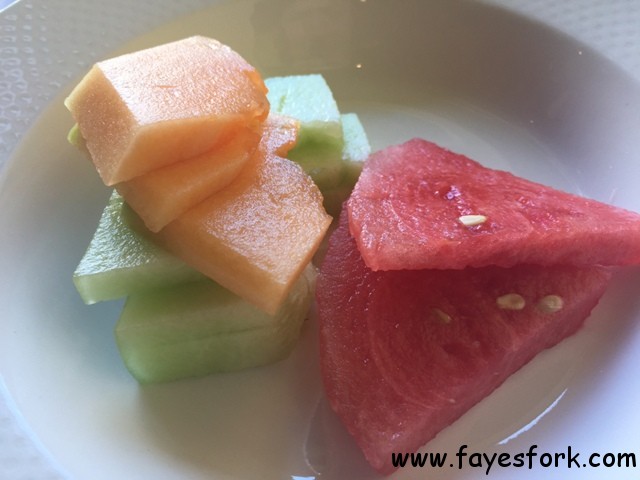 FB is kinda Asian at times because he enjoys having fresh fruit for his 'dessert' portion/ending of a meal (whereas I just want straight up right-to-the-gut chocolate desserts). He said the melons tasted great and the watermelon, in particular, tasted like it was grown in Estancia's backyard (don't you love it when he gets all Martha Stewart). So there's absolutely something about the fruit they serve here at Adobe El Restaurante Sunday Brunch that stood out for us.
Service was a bit cold at first but we really loved our server as the meal went on. She was funny and let us have as much time as we needed that morning to just ENJOY brunch. Life gets hectic at times and it's absolutely amazing when you get a chance to just relax and have a long breakfast with someone you actually want to spend time with.
My few gripes were: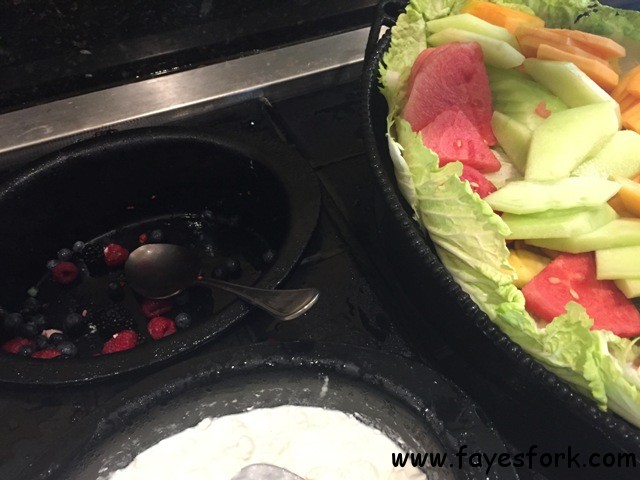 The raspberries, blackberries, and blueberries were in the bowl you see on the left. The strawberries were on the same tray as the melons you see to the right. There was a period where all the berries were gone and we were told they weren't sure if the berries would be replenished. That seemed odd as the brunch ends at 11:30a and it was only 10:15a at this point or so? The bowl of berries were eventually re filled but I only noticed after I went in to take a few more pictures for this post. I never saw the strawberries again though.
I noticed that our server had to do all the refills of water and coffee as well as taking away the dirty dishes. There were times when things got a bit 'cozy' on our table from dirty dishes but 1) we had a tiny table for two and 2) it was getting busy that morning. But I think, perhaps, there are enough bussers that could help the primary servers clear plates, refill drinks, etc.
So how was the overall experience. FB didn't think it was worth the price but he also didn't take advantage of their omelette station. For me, the $18 was worth it because I enjoyed the fruit and the smoked salmon. More importantly though, the experience of having a laid back un-rushed breakfast in a beautiful resort trumped all other factors that morning for me.
ADOBE EL RESTAURANTE @ ESTANCIA LA JOLLA
9700 N Torrey Pines Rd
La Jolla, CA 92037
858-420-9328
Breakfast Buffet: 6:00 am – 11:30 am Saturday & Sunday