I was in the area getting a coffee and realized I hadn't had lunch yet. My sister just told me about Pizza Rev the other night as she went with her family to their soft opening. So I figured I'd stop by this place real quick and spend $8.25 for a simple create-your-own-as-many-toppings single pizza. What would be the big deal right. Never been excited about a place like this before so why start today.
To my surprise, I found out I was visiting on their official Grand Opening day. I wasn't sure if there were any promos but one of the girls told me that each customer gets either a complimentary pizza or salad with a donation to the Boys & Girls Club for that day (3/12/2015).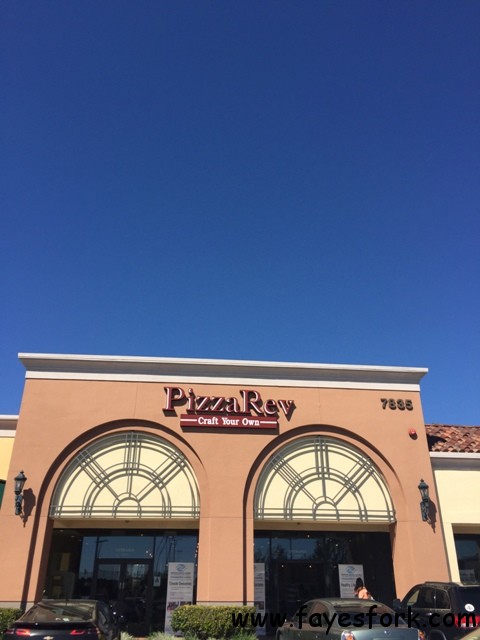 A few of us have been waiting for this pizza joint to open up for some time now so it was kinda cool to see them pairing up w/ the Boys & Girls club to give back to that organization.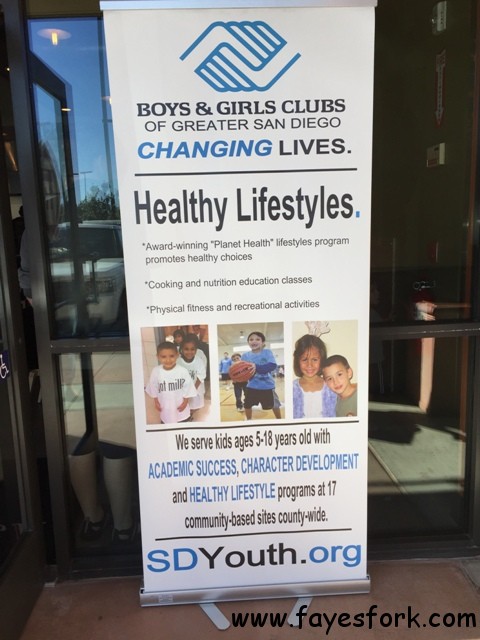 You can donate as much or as little as you want. The staff never pressured anyone to donate more than they gave for their pizza or salad.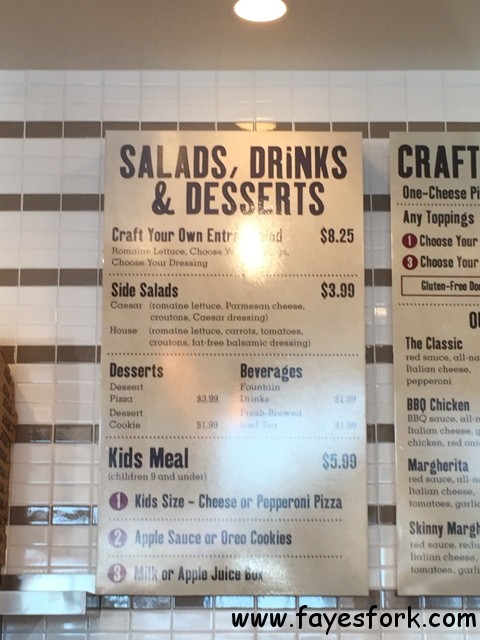 Here are their stations where you build your own pizza: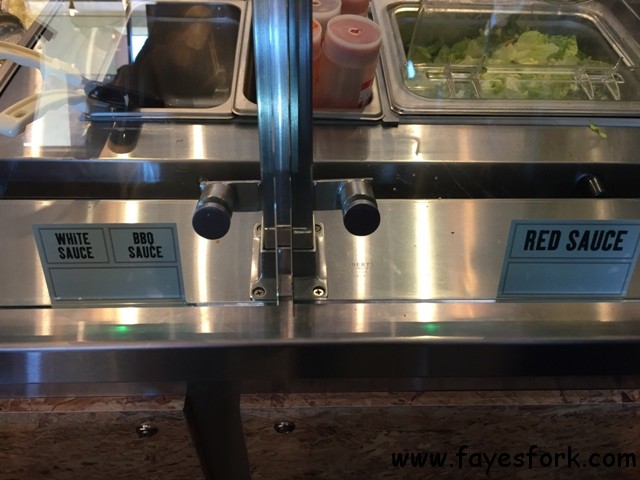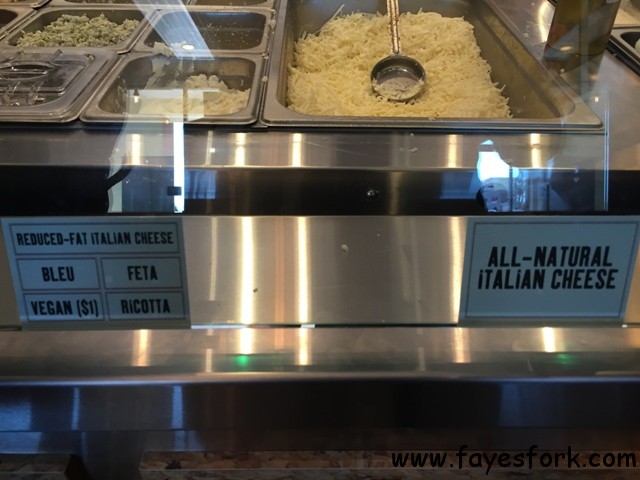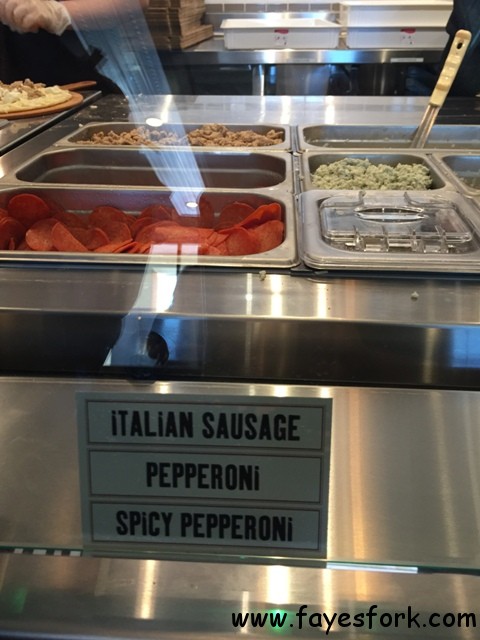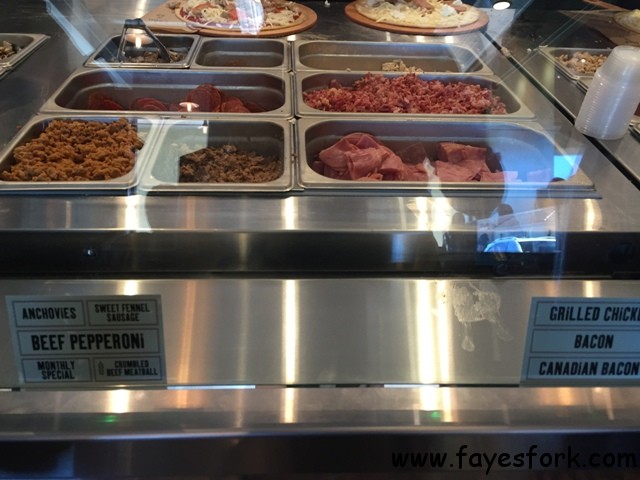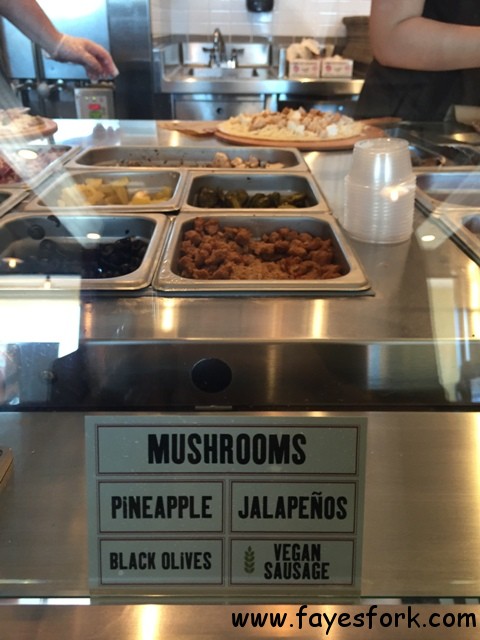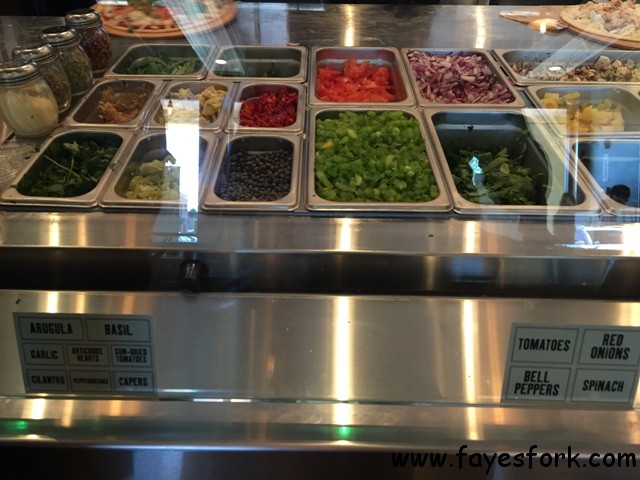 This is my second Chipotle/Subway-style 'build your own' pizza place I've visited. Pizza Rev, hands down, beats the other place I visited some years ago (Urban Pi in Del Mar). This new location is quite bright and large. They have ample people working the line. Kirbie recently visited their Scripps Ranch location which you can read about here.
You first choose your dough (regular or gluten free), choose your sauce (red sauce, BBQ sauce, white sauce, olive oil), choose your cheese ( all-natural Italian cheese, reduced-fat Italian cheese, bleu, ricotta, feta, vegan) , choose your proteins ( see pic),  and then choose your veggies (see pic). It's a quick efficient process. The dough girl will actually write your name on the paper so that each assembly person at each station will say your name before they ask what topping you want on your pizza. Nice touch.
The pizza dough turns out super thin which is what I prefer. Because the dough is thin, it only takes 3 min for the single pizza to bake in their (stone?) oven.
You pay and then wait for your name to be called.
Because I was hungry and feeling like a piggy, I ordered:
(1) BUILD YOUR OWN PIZZA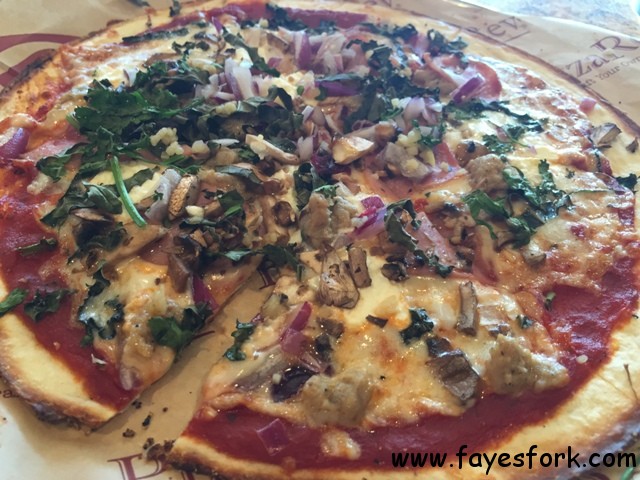 signature dough, red sauce, mozz cheese, italian sausage, canadian bacon, mushrooms, red onions, extra basil, garlic, and cilantro
(seriously, I went for broke on the add as-many-toppings-part)
The pizza turned out so well. The crust was crispy and light. If you're generally a low carber like me, you won't feel so guilty eating this crust.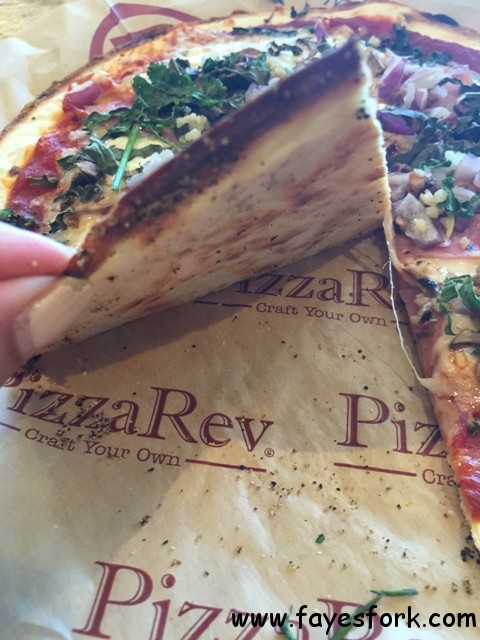 They don't pack on the toppings but that was ok with me as I didn't expect them to for an $8.25 pizza. Their proteins are fully cooked beforehand (I think) so the 3 quick minutes in the oven doesn't destroy the freshness of the veggies that I choose for this pizza.
(2) BUILD YOUR OWN SALAD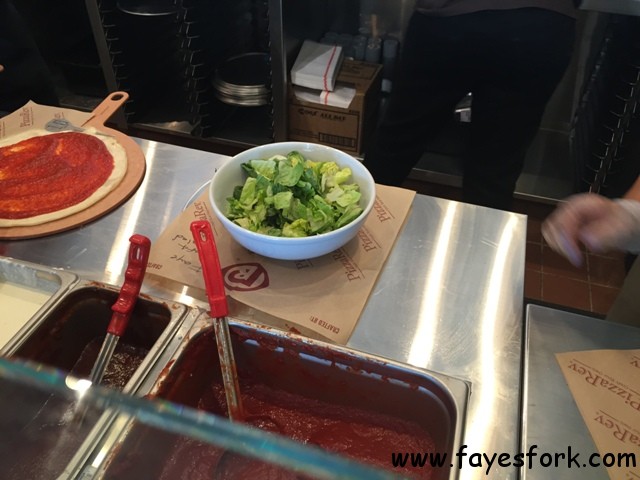 They only have romaine lettuce for this option (which they might want to expand to arugula too b/c argula is on their veggie toppings options as well I just noticed). They let you add ANY cheese, ANY proteins, and ANY veggies you want to your salad.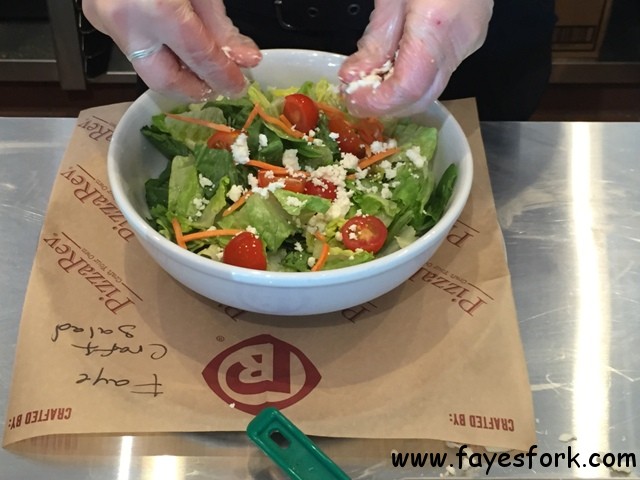 I added mozz & feta cheese, sausage, tomatoes, carrots, bacon, canadian bacon, red onions, basil.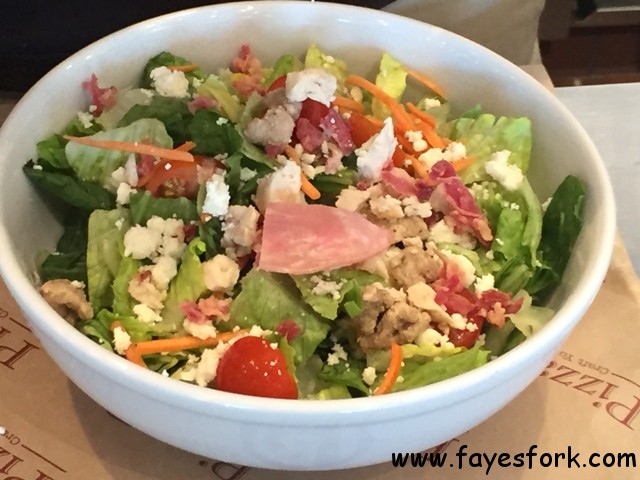 Do they throw in a TON of proteins. Of course not but again, I didn't expect them to for $8.25.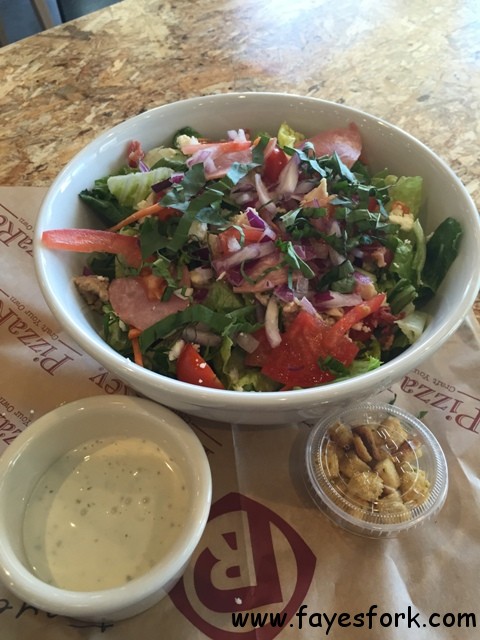 Made that salad name up by myself too.  They put the dressing (I opted for ranch) on the side and also asked if you'd like croutons as well.
The salad was abundant, fresh, and well worth the $8.25. A bit more dressing would have been preferred but I'm a salad dressing fiend.
(3) BUILD YOUR OWN PIZZA (GLUTEN FREE)
I'm a foodie and always want to learn more about food so it's always cool when something new (food, service, trend, anything) sheds a new light for me. When I ordered a gluten free, I was asked 'is that preference OR allergy'.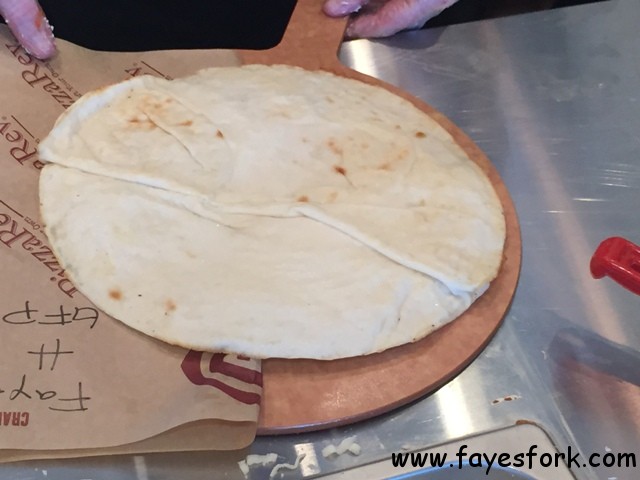 I had an idea what she meant but I asked for clarification. She said if it's preference, they take precaution but if it's allergy, they take the precaution to the next level. I think it's that type of consideration that made me smile when I was ordering.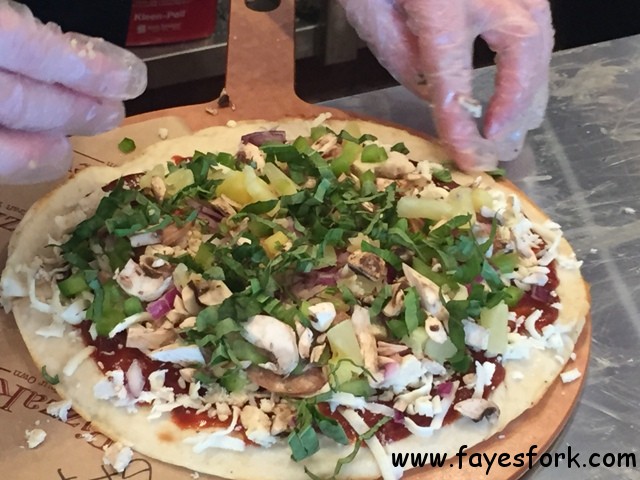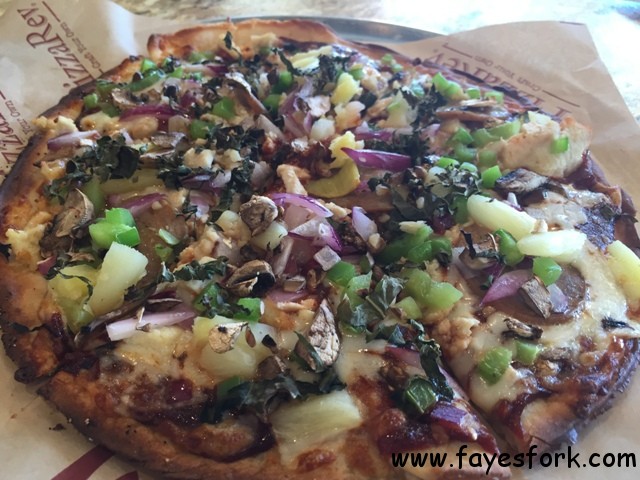 I made this pizza with their bbq sauce, chicken, pineapple, basil, red onions, mushrooms, Canadian bacon, cilantro, and garlic.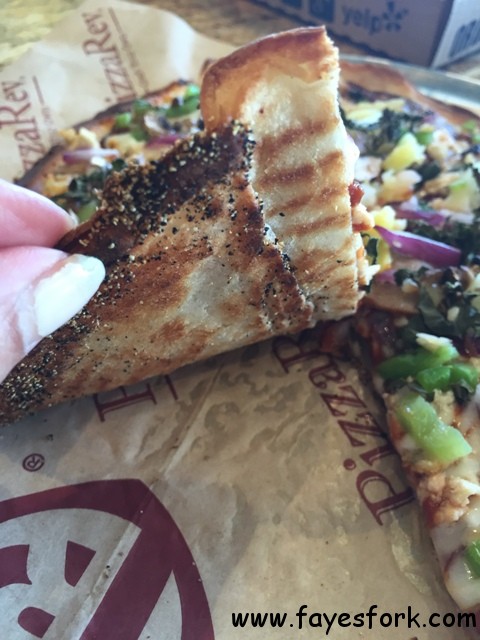 The crust turned out just as crispy and I honestly could not tell the difference b/w that crust and their signature dough one. I never ever liked the CPK (CA Pizza Kitchen) bbq chicken craze but Pizza Rev's bbq sauce with their white meat (?) chicken was pretty darn good.
I don't know what happened but a staff member and I started talking. He was just humble, helpful and kind. We joked that I noticed they have Ballast Point Sculpin on draft and maybe that's when he realized I was cool. It turns out this Nicholas dude (I was speaking to) is one of the founders of Pizza Rev and has been in town getting this location up and running.
I wanted to order a pizza to go for sis and I asked Nicholas if he could suggest one of their Our Way Pizzas. So he got in line with me and waited our turn to order (I thought founders were able to cut in line – I kid I kid!).
(4) OUR WAY PIZZA : FENNEL &SAUSAGE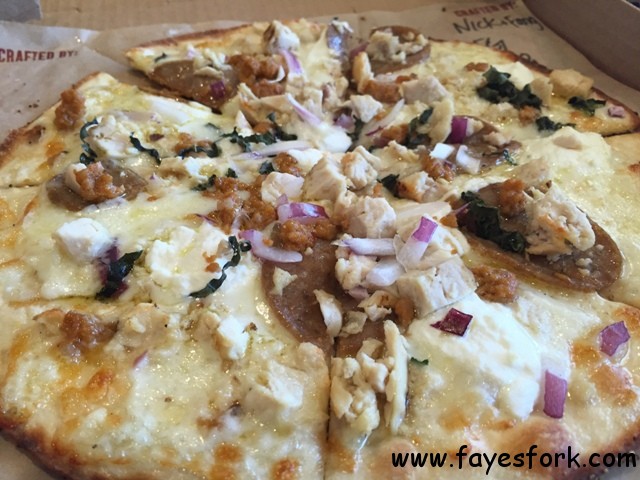 olive oil, mozz cheese, ricotta, sweet fennel sausage, and fennel seeds
Nicholas also added chicken and red onions to this pizza (on their regular dough)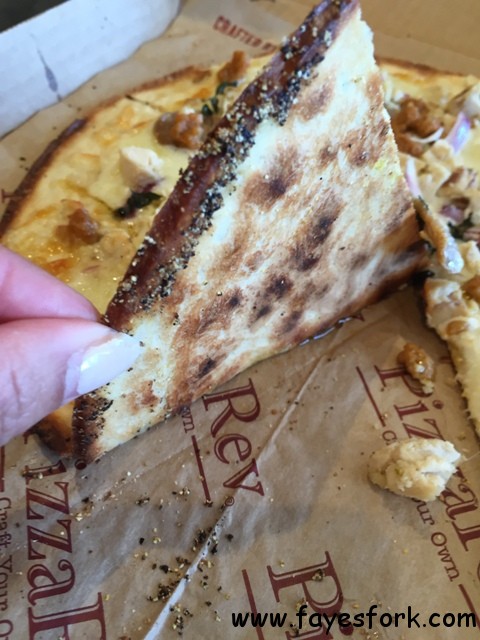 Again, the thin crust is really good. I'm not sure how they get each crust so crispy. I would have preferred a sauce on this pizza (vs just the olive oil) but this pizza was a hit with sis and FratB later that night. The pizzas reheated perfectly in the convection oven at 350 degrees (for about 4 minutes).
Ballast Point Sculpin. DRAFT. Need I say more.
Hey, anyone notice the Coors Light in this bunch. It's like the gramps trying to be cool with all the hipsters in the neighborhood.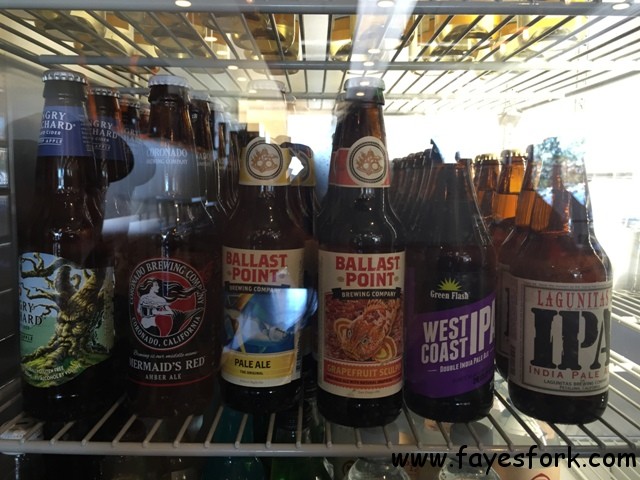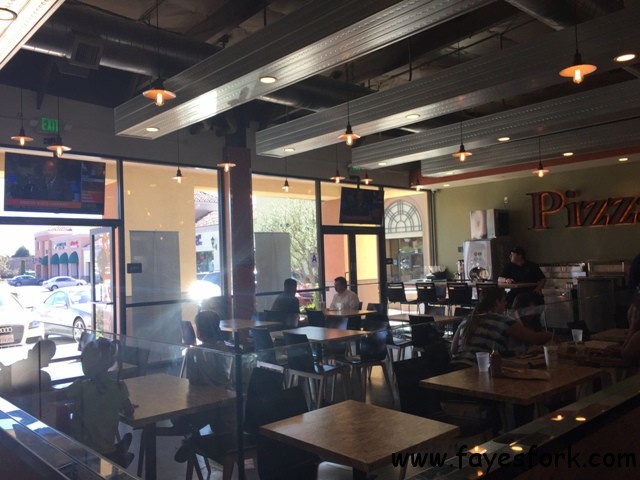 It's a bright, spacious place to visit for a fast lunch or perhaps a longer lunch/dinner (they have tvs, draft beer, and I think happy hour in near future).
Funny how I was only going to stop by to grab ONE pizza and be on my merry-boring-get-back-to-work day. So it was just beyond awesome to try this place out when 1) they were giving the proceeds to a local organization; 2) the food was pretty darn good; and 3) I met a staff member who happened to be the least pretentious owner you'll probably ever meet.
So if you're in the area, give them a try.
PIZZA REV
7835 Highlands Village Place
San Diego, CA, 92129
Phone:(858) 324-1200