My knowledge of Venezuelan food is pretty limited. In fact, if you go to the search tab on this website and type in Venezuela, you will find the lame words NOTHING FOUND. I have heard so much about arepas over the years but never had the chance to really try them out. I mean, what was my excuse. An arepa, to me, looked like a fat chubby gordita stuffed with lots of meat and stuff. But then again, I'm not a die hard fan of Mexican food so perhaps that was another reason I never got my bottom outta my work chair to try an arepa. So I was curious when I stumbled across Arepex Grill at a farmer's market.
Leave it to Mary from This Tasty Life to spark that arepa-fire under my a**. Actually, she first sparked a legit takoyaki-fire under said a**  with her recent post about takoyaki at the Mira Mesa Farmer's Market. THAT was the reason me and V went to this Farmer's Market on a Tuesday at 2:30p. I ate a tiny lunch in preparation for gorging on hot ooey-gooey octopus and cheese fritters. I remembered Mary also saying there were arepas at this market and wouldn't ya know it…the arepas stand was RIGHT NEXT TO the takoyaki stand.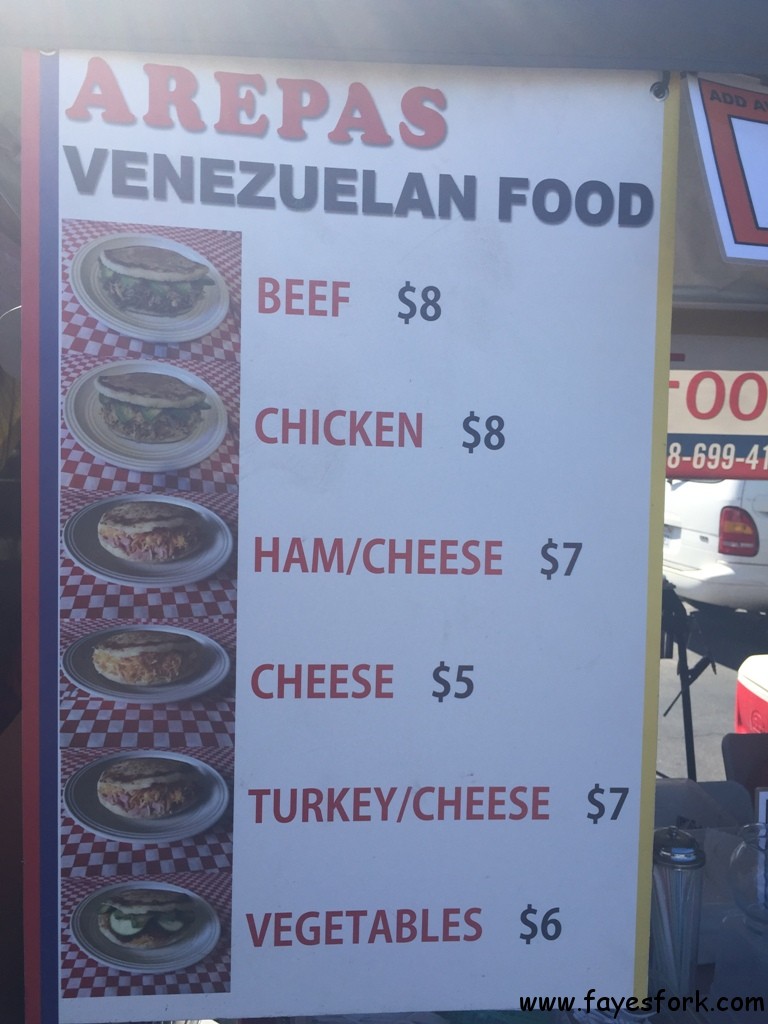 I thought $8 bucks for what appeared to be a large arepa seemed like an ok price.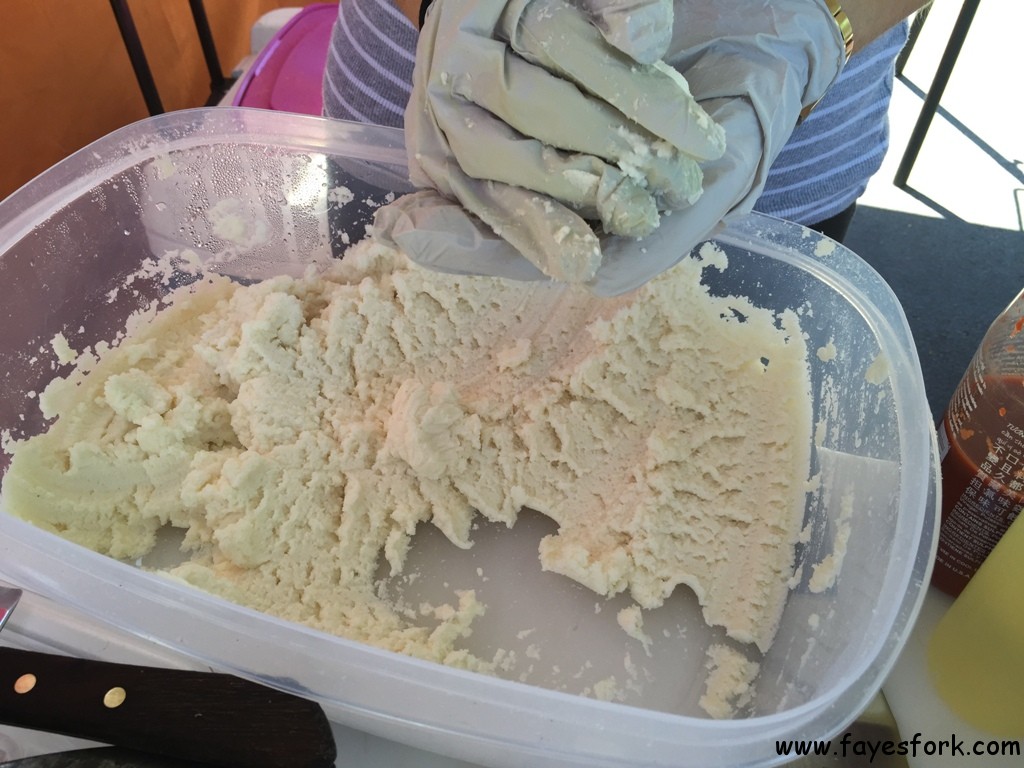 A nice woman was forming each arepa dough and then putting them on the griddle.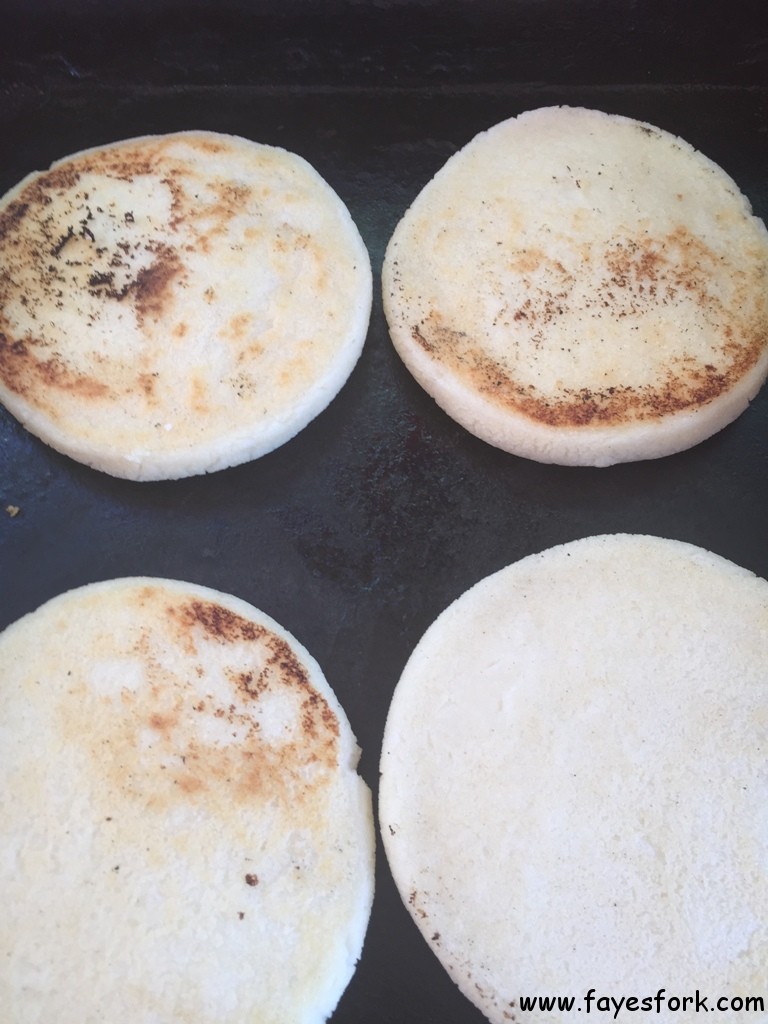 Each arepa looked different from the next so you could tell each dough was hand formed. The dough appeared to be puffy thick and yummy. Glaivmar, the nice woman, explained that there's simply white corn, water, and a pinch of salt in their arepa dough. So THAT'S what makes these puffy things white. I thought it was just regular flour. White corn made total sense now.
Allan (one of the owners of Arepex Grill) suggested I try the chicken arepa with avocado (+$1 more). He said it was the best item on the menu. Sounds good to me.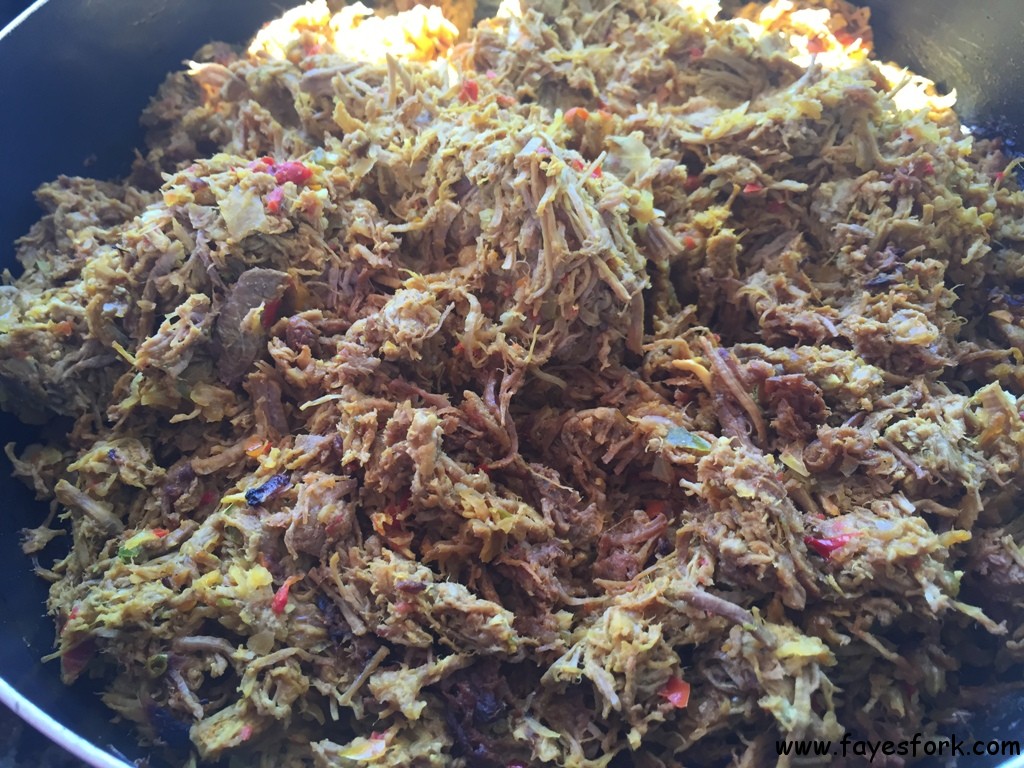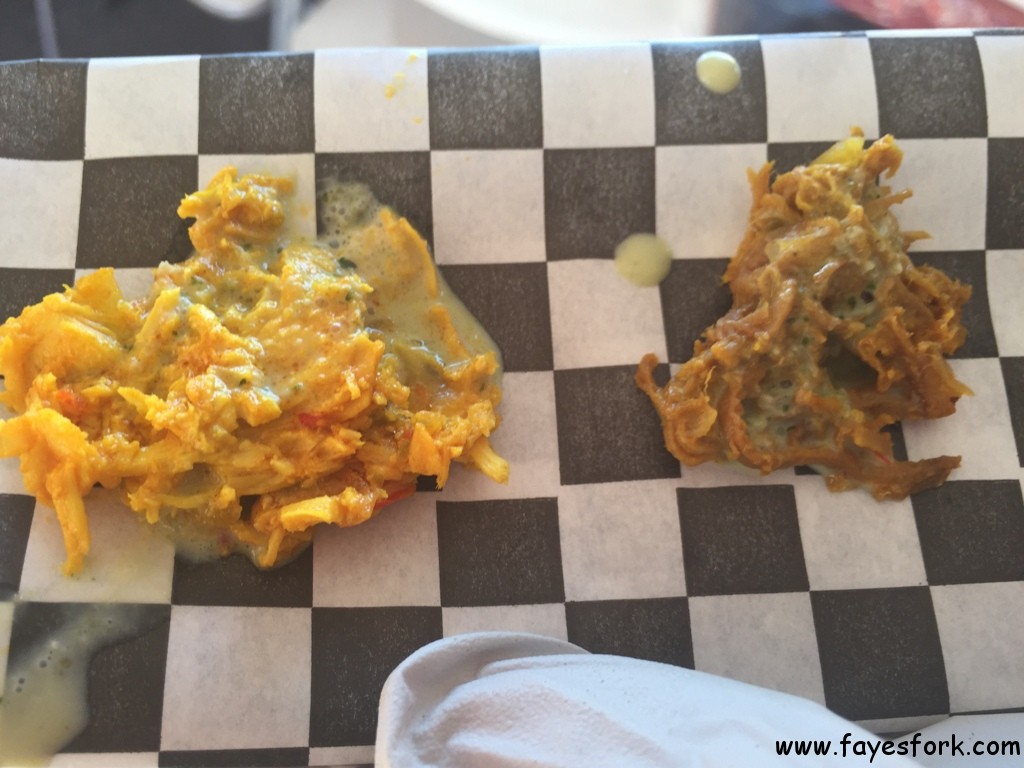 Glaivmar wanted me to sample the beef as well. She added their cilantro cream sauce on top of both samples.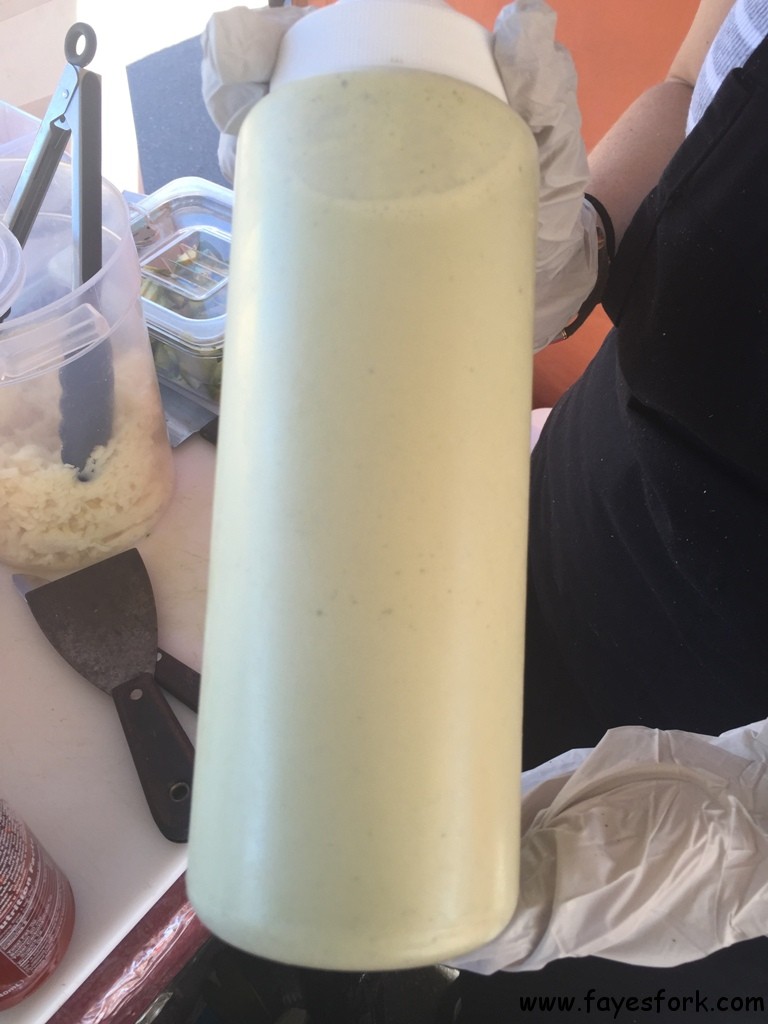 I was surprised that I liked the chicken more than the beef. I believe she said they add only garlic, tumeric, salt, red bell pepper, and onions to their beef and chicken. The white meat chicken tasted flavorful and juicy.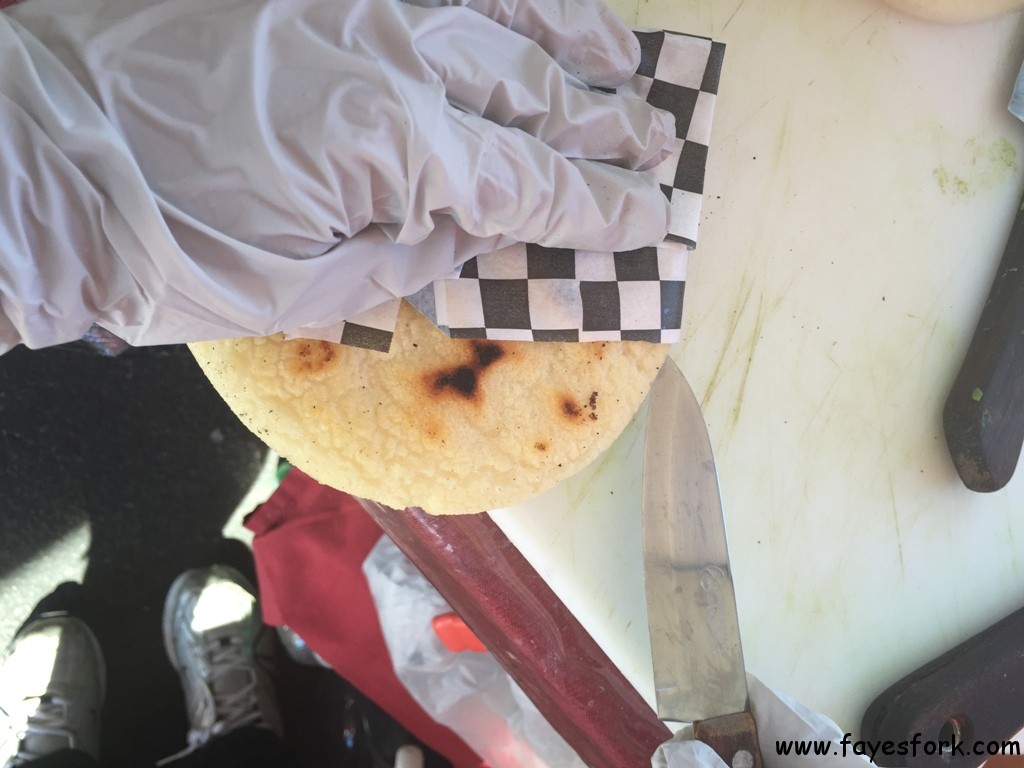 This was the part I was anticipating most. She took an arepa off the grill and proceeded to cut it in half. She scoops out the soft mushy interior and squeezes the arepa open even more. Then she adds cheese, then the chicken, then a different type of cheese, avocado, cilantro sauce, and then the sriracha sauce.
Here's the video I took. It's the best way to show how she put this arepa together here at Arepex Grill:
And this is what you get…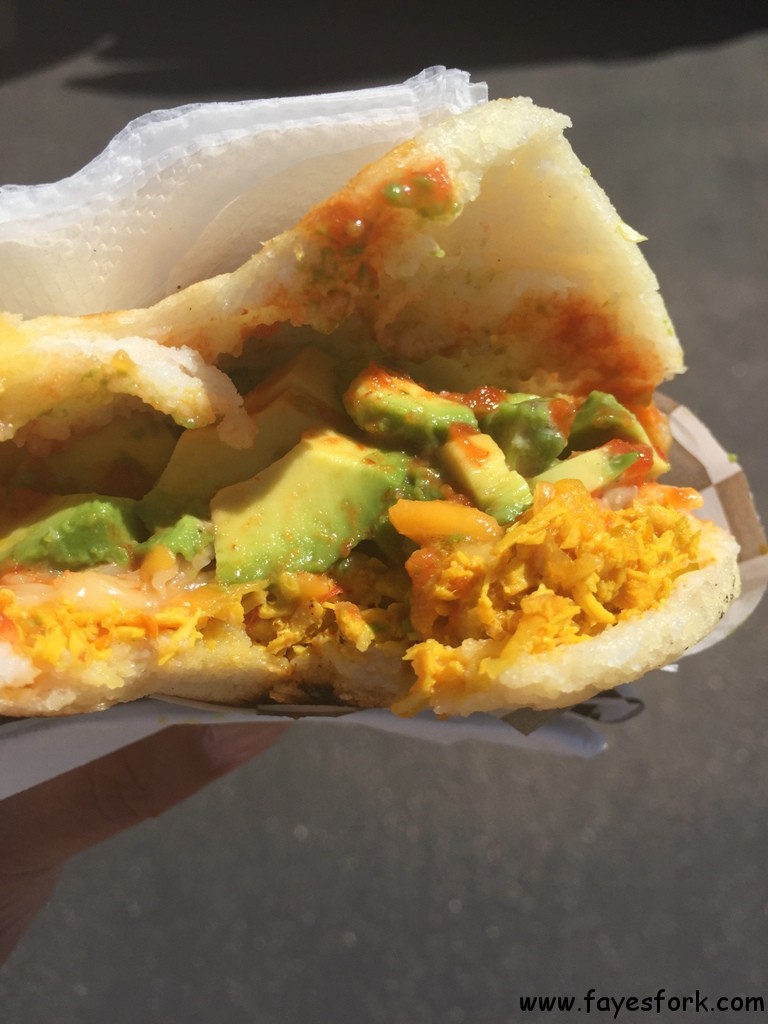 CHICKEN AREPA WITH AVOCADO $9.00
They taught me how to eat this Guy Fieri style – no kidding. While standing, spread your legs apart, hunch over, and then take a bite because this chicken arepa is juicy and will get all over your shoes and shirt  if you don't Guy Fieri it ( damn it – did I just use Guy Fieri as a VERB).
I liked the arepa and it tasted, to me, kinda like a very stuffed chicken taco in a corn tortilla. I could definitely taste the corn in the arepa dough and I liked the nice crunch it had from being pan fried on the griddle. There was quite a bit of yummy liquid from the chicken as the arepa soon started to drip the (tumeric colored?) liquid from the chicken. I could taste the abundant melted cheese(s) and I liked the creaminess the avocado brought to the arepa. I was really surprised how the sriracha didn't overpower this arepa – I'd ask for more next time as I thought it brought this dish to another level. Please keep in mind that this was my first time having a Venezuela arepa so I'm still figuring out what I like and don't like about it.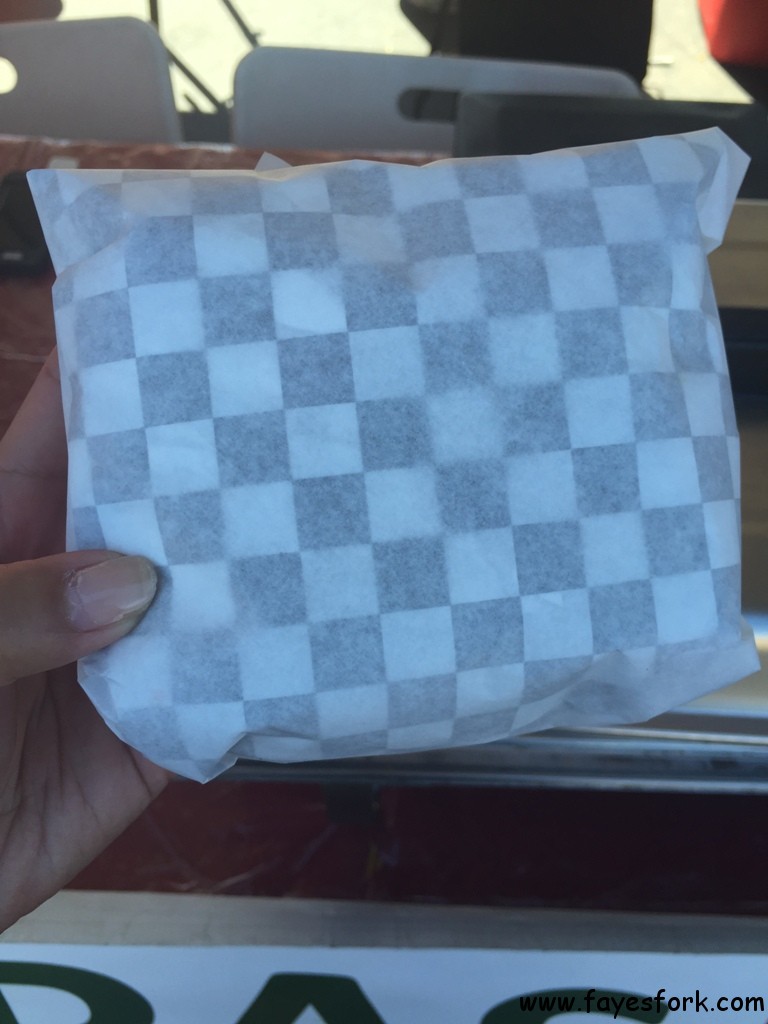 I only managed to take a bite or two before I asked them to package it to go. They said the arepa could be easily reheated in an oven or better yet, a panini grill.
It was a fun quick snack that I'll have to enjoy later on (probably for breakfast). I'm finally happy to say that I tried an arepa. At a Farmer's Market. In Mira Mesa of all places.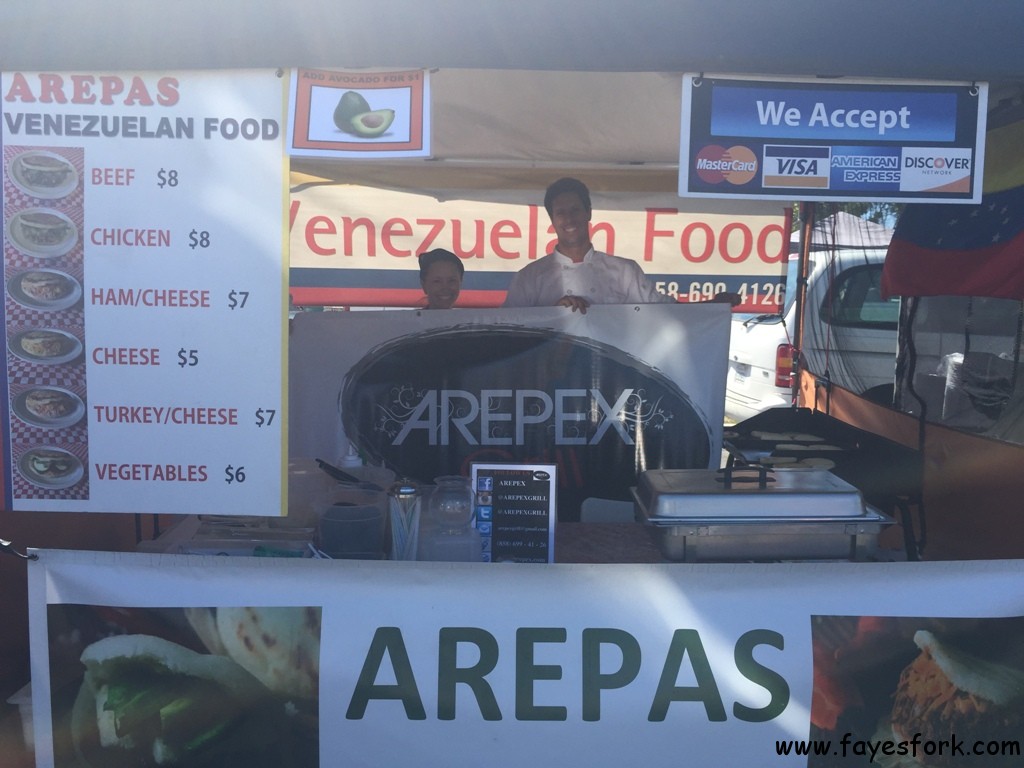 These guys were quite knowledgeable and so nice. I asked if I could take a picture of their stand and they wanted to hold their company's banner for the pic. They do accept credit cards and there wasn't an extra fee to do so. I thought my $9.27 (including tax) was a fair price for what was given to me that afternoon (plus I learned a lot about arepas as well).
They are at the Mira Mesa Farmer's Market each Tuesday from 2:30p-7p (current market hours). Arepex Grill is a fun spot to try out especially if you've never had an arepa before.
AREPEX GRILL
www.arepex.com
(858) 699-4126