MANNA BBQ
I was excited when I heard an all you can eat Korean buffet was coming to Mira Mesa. This type of gluttony is only reserved for the elite of the elite (I love you Joey Chestnut). Joking aside, this part of town needed new AYCE blood that they could sink their fangs into. My go to AYCE Korean bbq has always been Jeong Won in Convoy. I've visited the Manna in Convoy but would always think of Jeong Won in the back of my head (sounds like a bad K-drama soap opera if you substitute 'visited' with 'dated'). So I was a bit hesitant when friend suggested Manna BBQ in Mira Mesa for a mid week lunch as spending $21.99 for their cheaper  AYCE option seemed crazy. That hesitation went away when he said the two magic words. "My treat".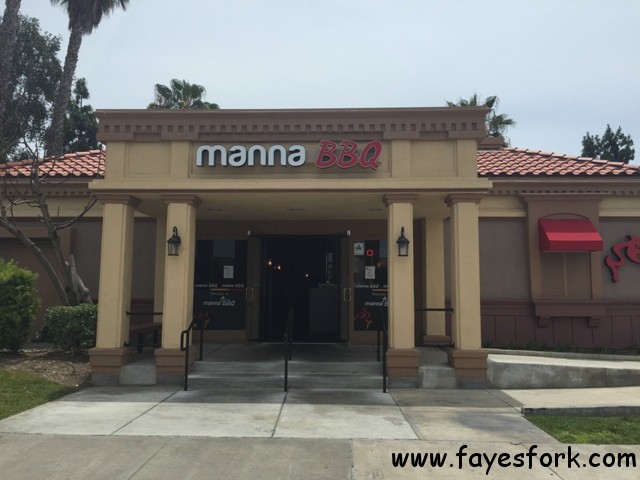 Manna BBQ took over the Pizza Hut that used to reside in this building. I was surprised how empty the parking lot was that afternoon around 12:45p. Maybe others didn't want to pay $21.99 for an afternoon lunch.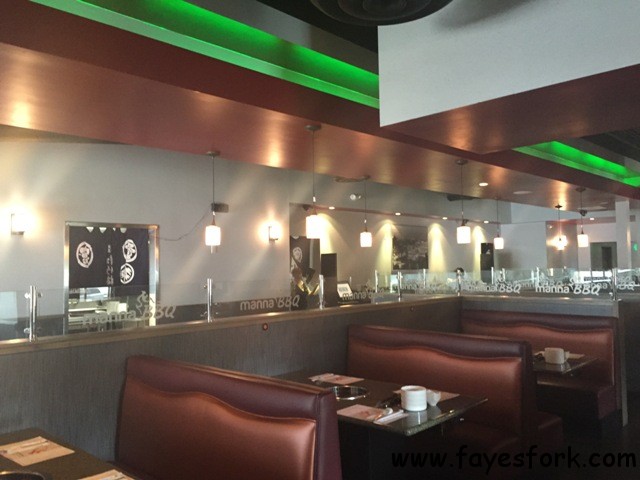 The restaurant is huge and spacious with lots of flat screen tvs (thankfully playing sports and not k-pop music on all the screens). As you can see, the restaurant was as empty as the parking lot that day.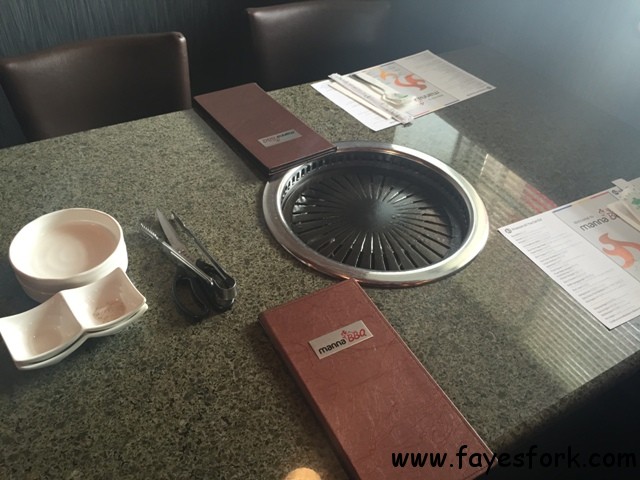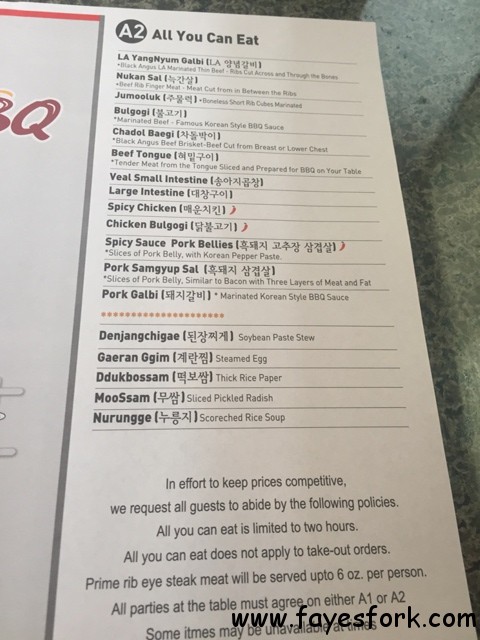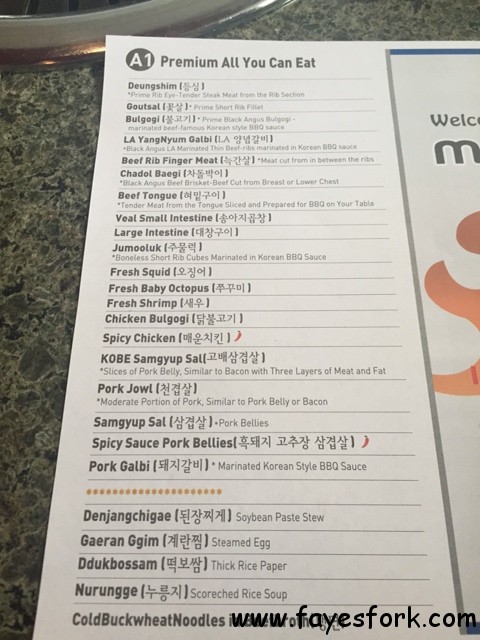 I decided to go with the A2. The A1 Premium has seafood and a few other meats for $27.99 so no thanks. You can read Lynn's take about her A1 visit here a few weeks ago.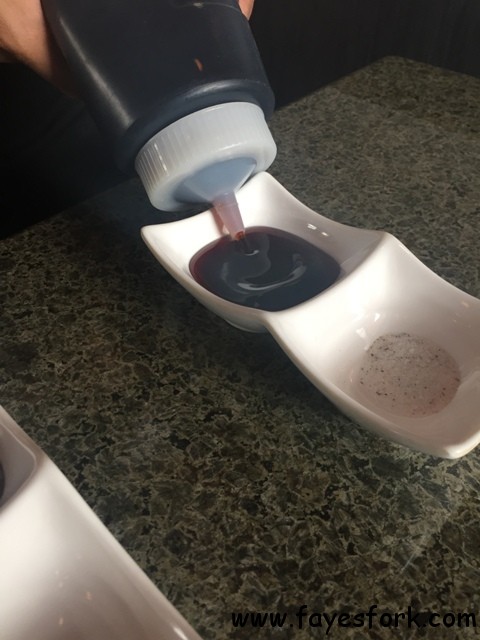 We had the cutest server. That's him above putting the bulgogi sauce into the individual sauce tray for each person. He was funny, efficient, and knew I didn't want to make small talk because all I wanted to do was eat. Friend was late so I did what a good friend would do when she's being treated to a nice lunch – I ordered for the both of us and started eating before he got there.
Doesn't this picture look like the banchan came from heaven or something with the bright light shining through in the background.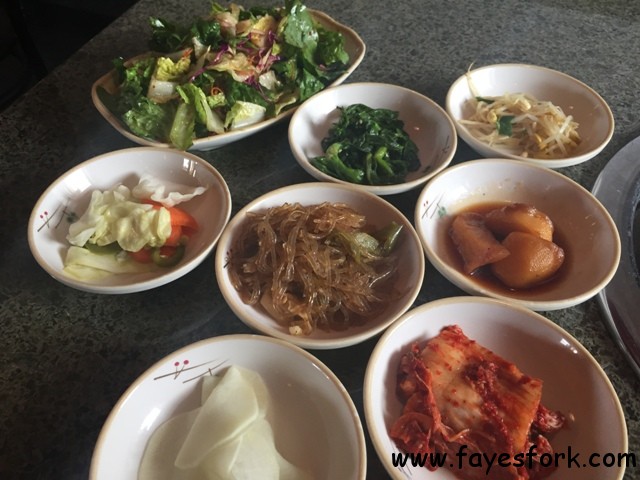 salad, pickled cabbage. bean sprouts, japchae, potatoes, kimchi, sliced daikon (?), green veggies I don't know the name of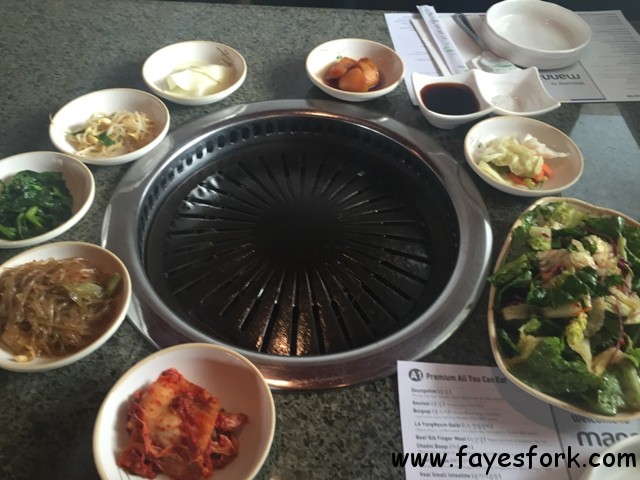 So here's what I did while waiting for the grill to heat up. I arranged the banchans around the grill for easier eating for both parties. But, the trick is to arrange the banchans YOU LIKE closer to you so friend doesn't eat all of them before you do. Hence why the salad and japchae (noodles) are closer to the 6oclock position than the 12 oclock position.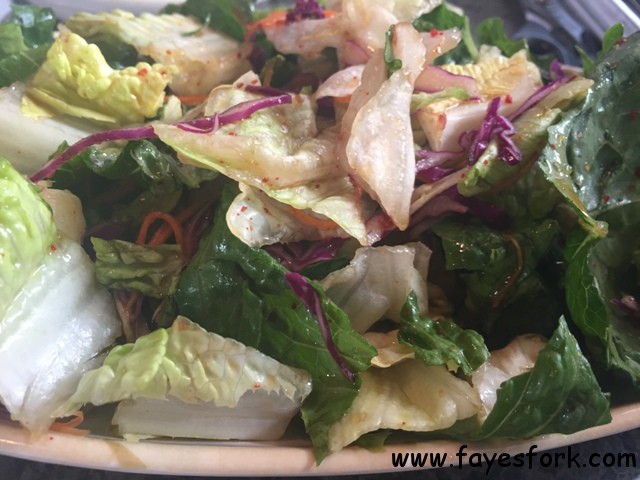 I will say their salad here is quite good. The dressing wasn't too sweet and was almost a good palate cleanser in between the meats we tried that day.
Ok that's when friend finally arrived and didn't even blink an eye when he saw how the table was strategically arranged.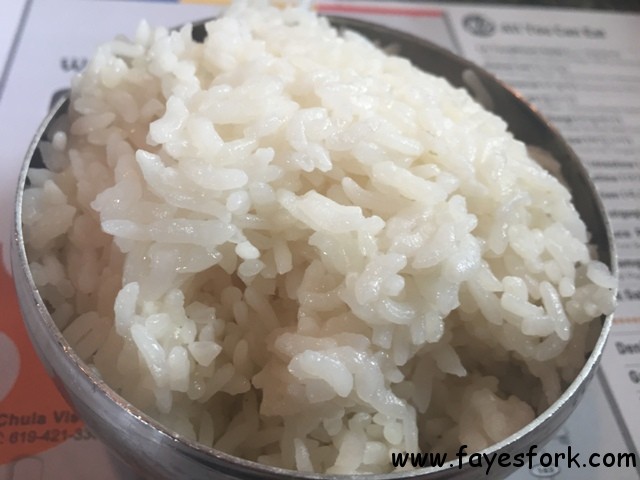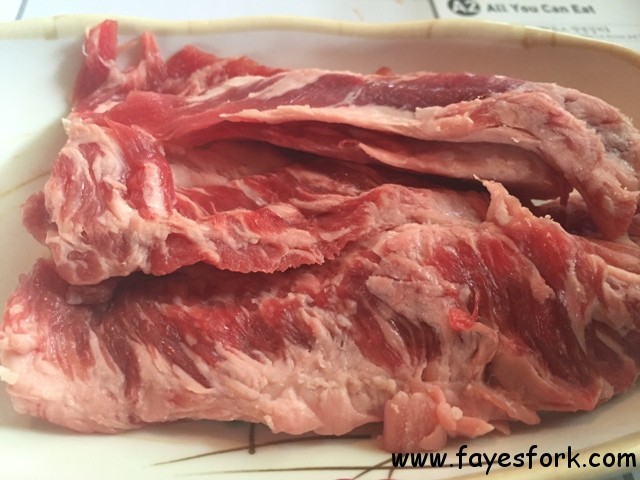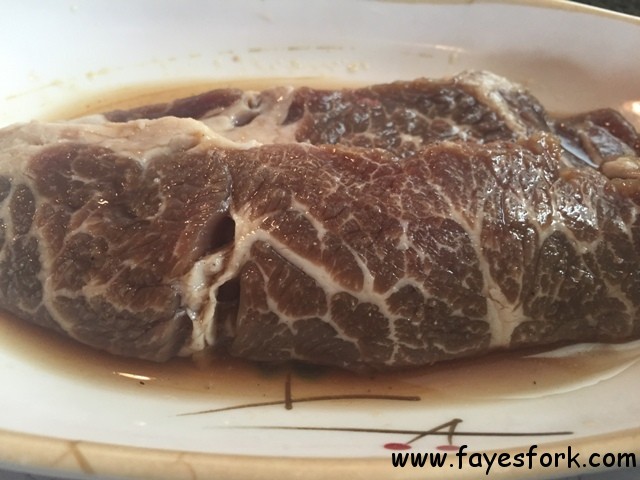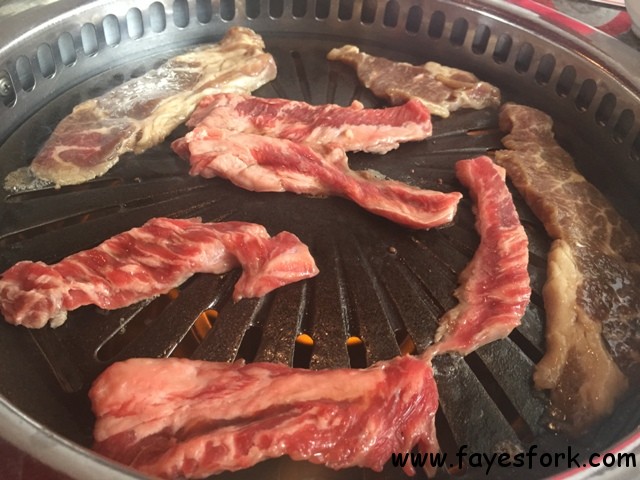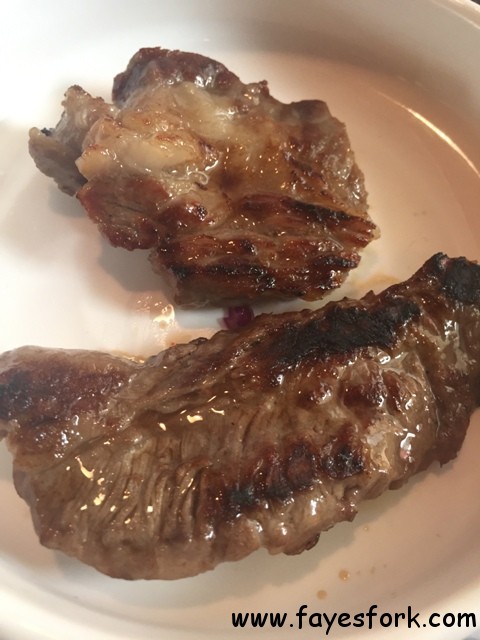 The scissors on the table came in handy when we were getting ready to eat these meats. The galbi was a bit too fatty for me and was hard to chew at times. The finger meat, though, was SO SO SO good – especially dipped in the bulgogi sauce on the side. The finger meat had a nice beefy taste to it that was perfectly fatty with the right amount of meat-chew to it.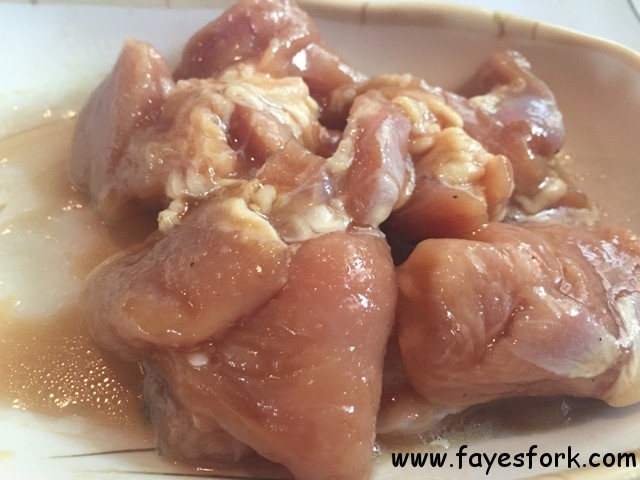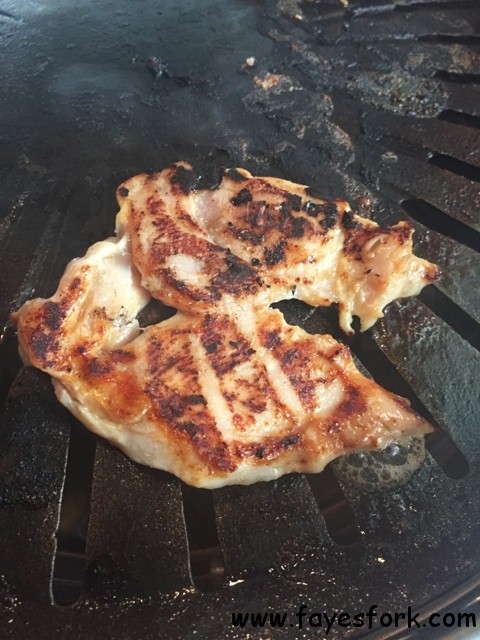 They use dark meat here for their chicken dishes. I prefer and like that. The chicken was marinated nicely and cooked evenly on the gas grill. The meat tasted fresh. I was really enjoying my meal at this point when I turned around and saw this being served to us: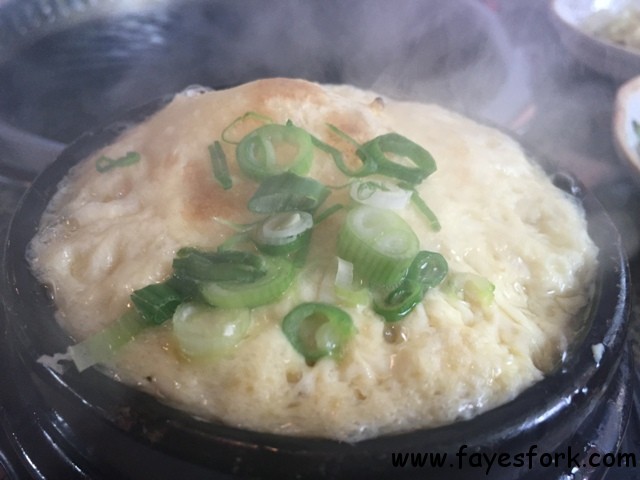 I don't know why I lose my mind when I'm served this banchan. I think because 1) we never had this when we ate at KBBQ when I was younger; 2) it's scorching hot and comes bubbling to your table; and 3) it reminds me of chawanmushi ( which I did grow up eating and loved dearly). The steamed egg here at Manna was ok. It remained bubbling for the longest time (ask friend how many pictures I took of this thing during bubble time) and the green onion was a wonderful addition to sprinkle on top. But, the egg was absolutely under seasoned (hey, but that's when you remember to use the salt/pepper mixture on table to add to the steamed egg). Another issue was that the eggs on the bottom and side of the cauldron tasted bitter – almost burned – from being cooked too long. So careful to avoid those sides if possible.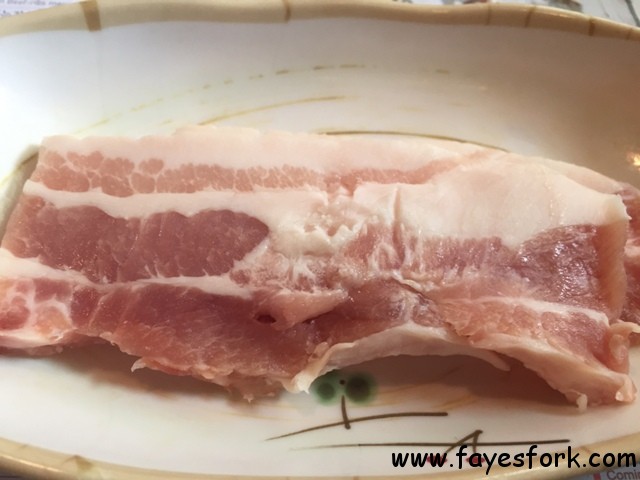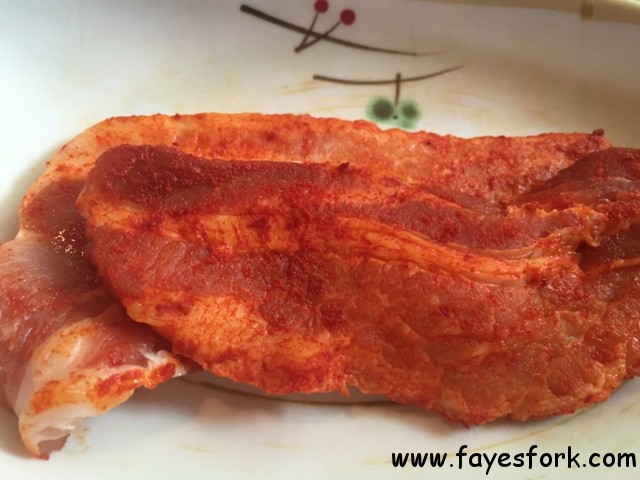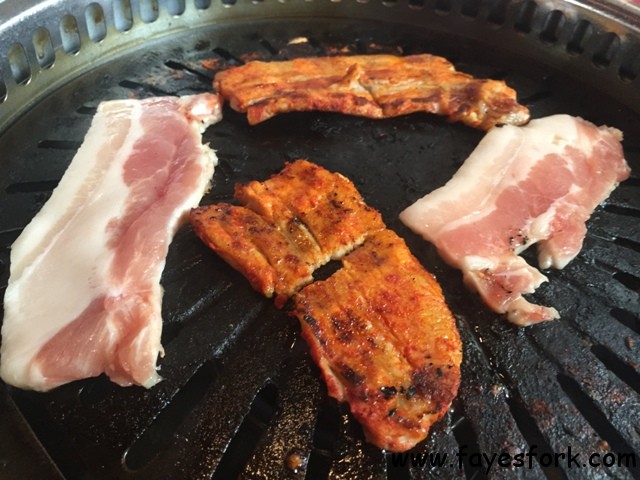 The other servers here are nice. I asked for SMALLER portions of these two pork bellies as we wanted to try as many items that day without blowing up our stomachs. So it was great that they brought out only a piece or two of these bellies for us to try.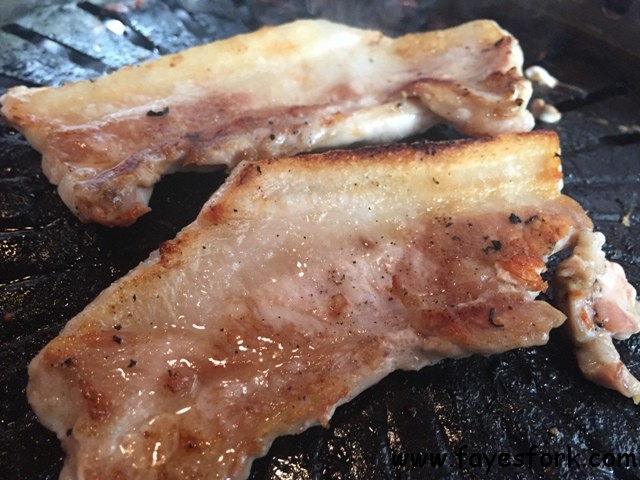 I preferred the plain non marinated pork belly. I usually like to cook the belly pieces until the fat get nice and charred. Then I would dip the crispy pork belly into the bulgogi sauce (friend preferred to dip his piece in the salt/pepper mixture because he likes everything to taste like a salt lick).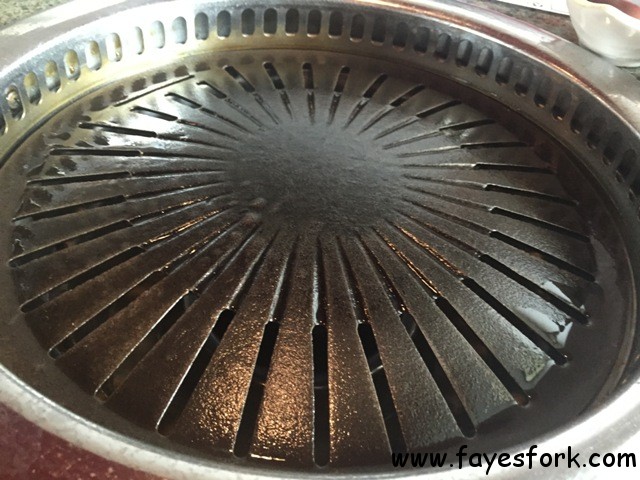 Our original server actually offered to swap out our grill after we grilled the chicken. I was ready to clap my hands in glee as that was incredibly thoughtful of him but friend scoffed and said 'are you crazy – the grill is clean – we've only cooked three meats so far'. So I was relieved when he said ok to swapping out the grill for a new one after we cooked the pork bellies.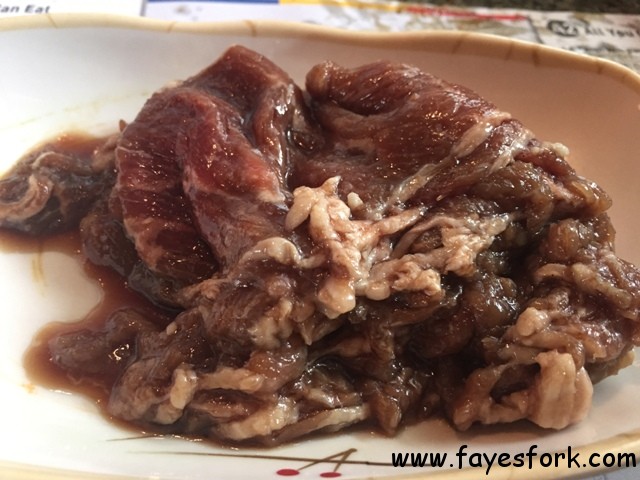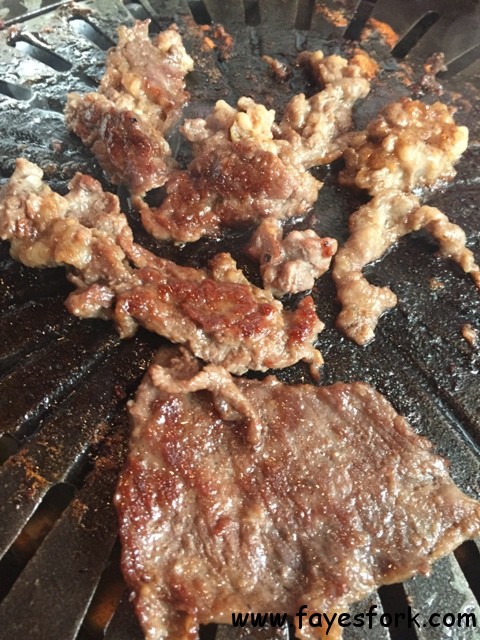 As you can see from the pic, there was alot of fat and gristle in most of the beef bulgogi. Each bite was hard to chew and we quickly gave up as the fat & gristle from this beef wasn't exactly doing wonders for our already expanding guts at that moment.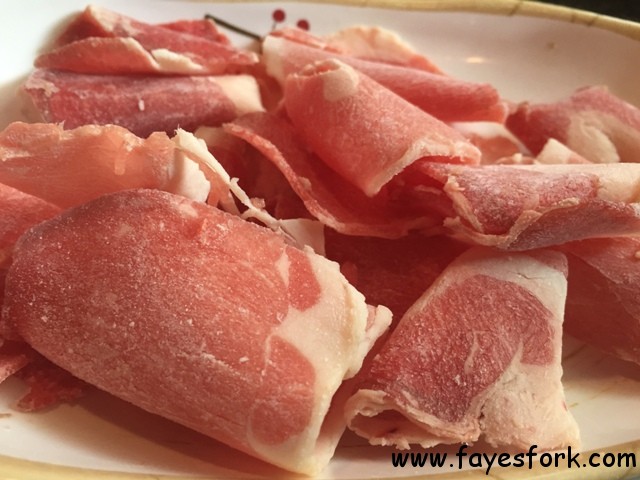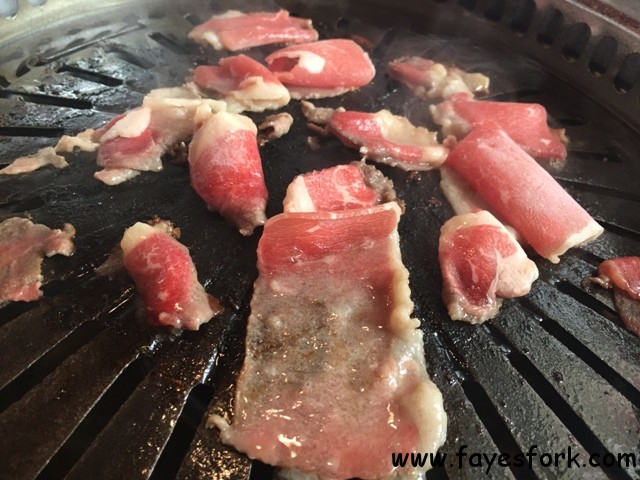 This is their black angus beef brisket. I asked for only half an order but they initially brought out what appeared to be a serving for 5 people. No joke. They kindly took back the portion to the kitchen and came back with a smaller serving. I've never been a fan of this brisket as it tends to taste dry and a bit tough. Perhaps I was already too full at this point so I can't really say my sentiments for this cut of meat are truly fair.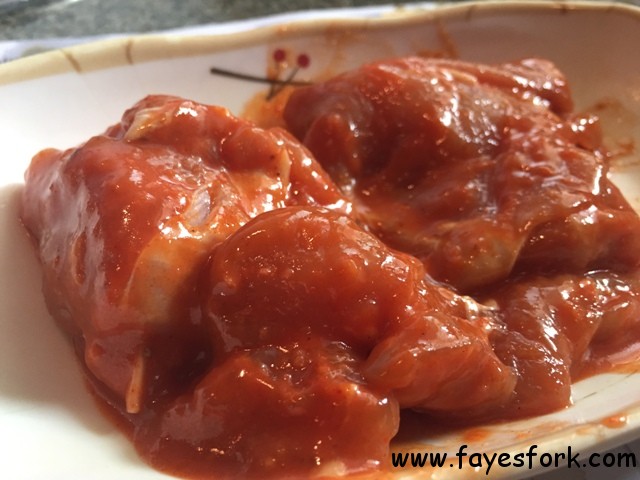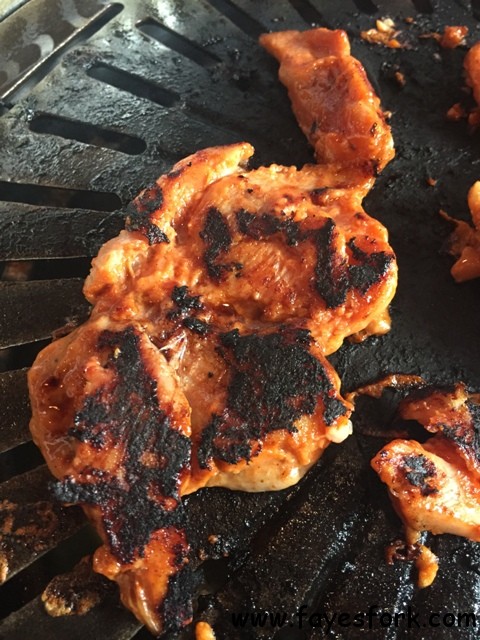 This is the same chicken as the Chicken Bulgogi except it's marinated in a spicy sauce. I didn't like the spicy marinade and much preferred the sweeter bulgogi version of this chicken. The bulgogi marinade on the chicken produced a better taste from the grill in my opinion.
I was so full at this point. Friend was busy on a work call so I decided to take a self guided tour of Manna BBQ Mira Mesa. My tours are free if you're wondering.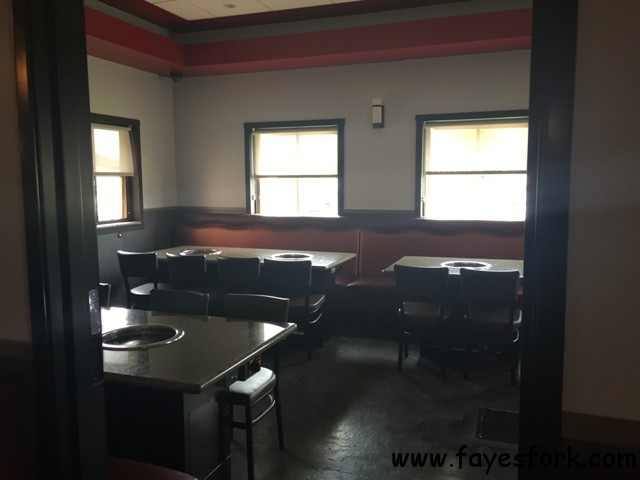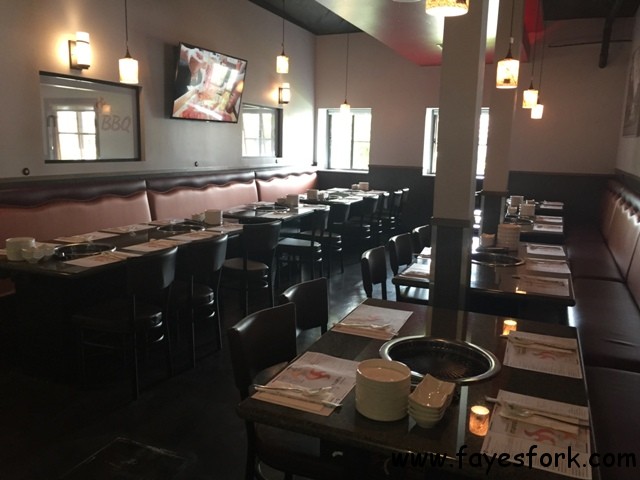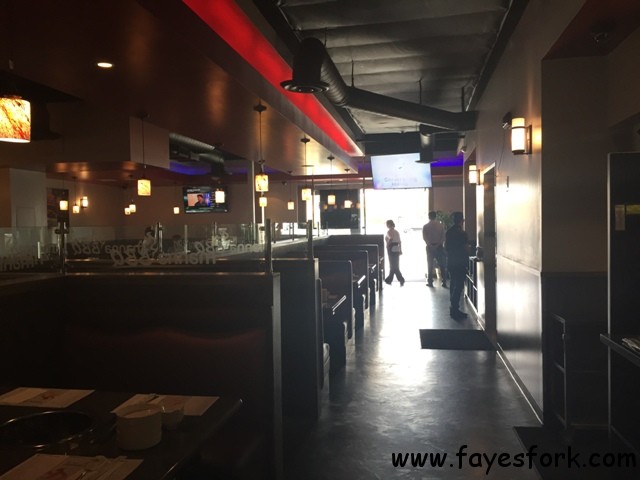 I was, again, surprised at how empty Manna was that day. I mean, their Convoy location is always packed at dinner (not sure if Convoy is open for lunch though). $21.99 is pricey to spend on lunch so I can understand why this location might be struggling a bit during this time of day.
BUT. I will say that the quality of the meats served here was excellent. You could taste the difference in their meats  – sorry Jeong Won but Manna BBQ in Mira Mesa won my stomach's little heart that day (doesn't that make you want to hug Lifu right now). I would recommend this place for anyone who likes meat (like, ALOT of meat) and doesn't want to wait in the long lines that you often see at their Convoy location. I am not sure how busy this Manna location gets during dinner though. Either way, I'd eagerly come back for lunch or dinner here.
Side note: I went to Fogo de Chao (post to come) over the weekend for a birthday dinner and was kicking myself the ENTIRE meal wishing we were at Manna BBQ Mira Mesa instead. So that should be a testament on how not-bad-of-place this Manna is …
MANNA BBQ
8188 Mira Mesa Blvd
San Diego, CA 92126
(858) 578-0300